I love the idea of sharing platter and eating with hands, and for this reason, I loved nachos. For me, it doesn't really matter the ingredients as long as it's tasty and healthy food, but I wanted to re-create the experience of eating nachos. I've made this dish before with chicken, and I'm still due to upload it on here, hopefully soon. Until then, the seafood nachos option is as delicious, if not better.
Grain-free tortilla chips loaded with healthy goodness
For grain-free tortilla chips I used the Siete Almond Flour Tortillas
, which I cut in triangles and baked for five minutes at 350F (I found the almond ones work better than the cassava ones for making chips, they are thicker). You can use homemade tortilla chips or any compliant ones you find.
Initially, I wanted to make this dish with salmon, but when I went to Whole Foods to buy it I found this wild-caught seafood medley in the frozen section that looked beautiful and inspired me. You can make your own, or just make it with fish and shrimps, or only shrimps, whatever inspires you when you do your grocery shopping.
Other ingredients for the seafood nachos
Other than that, the ingredients are super fresh veggies and herbs: cilantro, scallions, red radishes, avocado, olives and grated Pecorino Romano cheese.
The sauce is made of a mix of the sauce from the pan I cooked the seafood in, with goat yogurt, lemon and spices. Why did I call it fusion? Because despite the nacho concept, these seafood nachos taste very much Italian.
*This post contains affiliated links, which means I get a small commission if you choose to purchase something via one of my links, at no extra cost to you.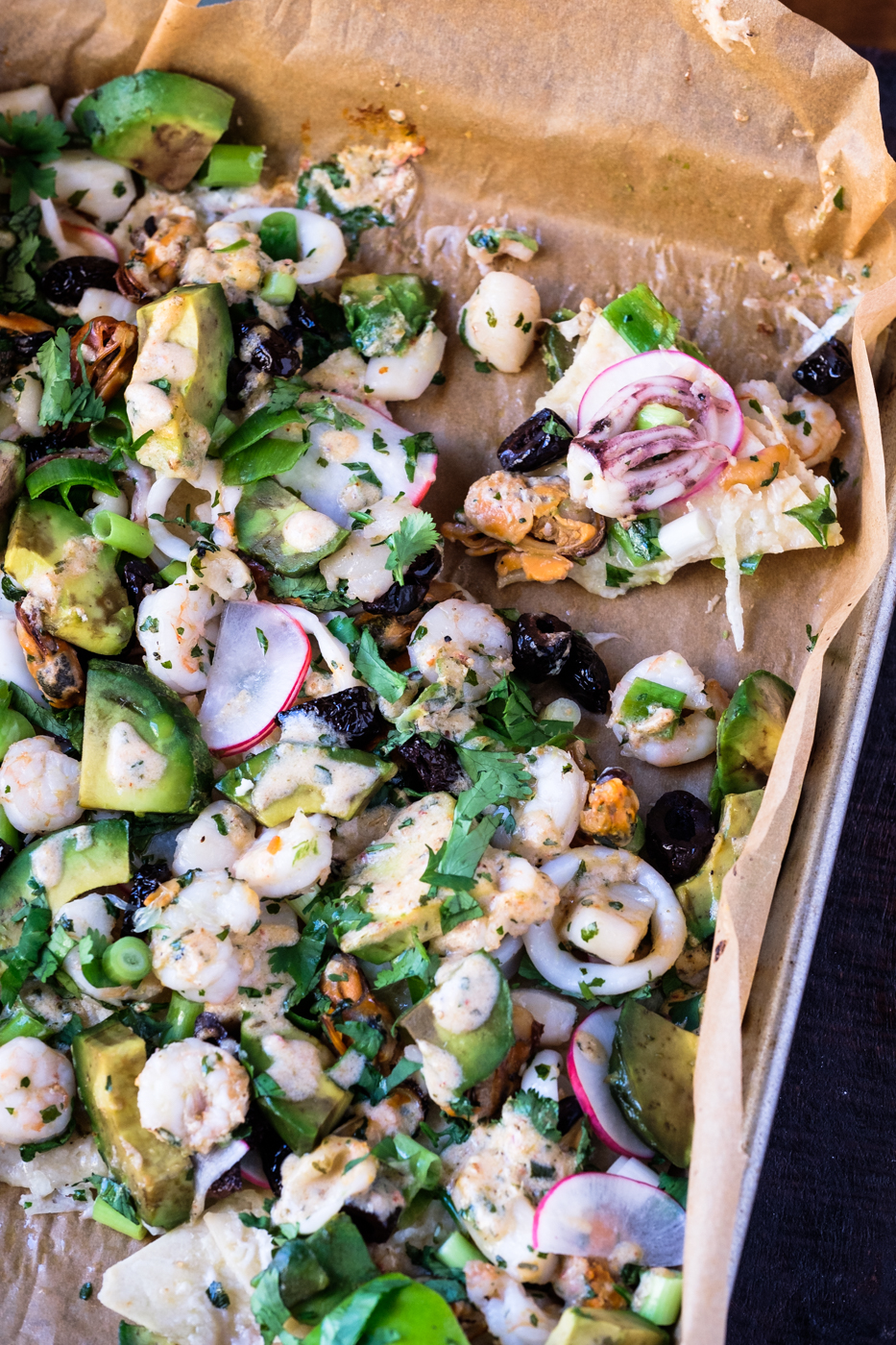 Print Recipe
Italian Fusion Seafood Nachos
Ingredients
FOR THE CHIPS BED:

6 Siete Almond Flour Tortillas (or any other plant paradox tortillas or tortilla chips you have)

1/4 - 1/2 cup grated Pecorino Romano

FOR COOKING THE SEAFOOD:

1 lbs seafood medley / mixed seafood

1 organic lemon (juice and zest)

2 big garlic cloves, smashed

extra virgin olive oil

salt and pepper

FOR TOPPINGS:

1 bunch cilantro

1 avocado

1 small bunch of scallions

1/2 cup pitted olives (I used dry-cured Beldi)

4 medium red radishes

1 lime

FOR SAUCE:

1/4 cup goat yogurt

cooked juices from seafood

extra virgin olive oil

spices: cumin, thyme, oregano, salt, pepper, sriracha
Instructions
2
Prepare all your vegetables: wash, dry, chop.
3
If you don't have the chips already made, cut your Siete tortillas in triangles and bake them in a sheet pan, at 350F for 5 minutes. I made mine in two batches, so it took 10 minutes in total.
4
Meanwhile prepare your seafood. Frozen or fresh, wash and pat dry them with paper towels before cooking. Heat extra virgin olive oil in a frying or sautéing pan (low to medium). Add the smashed garlic and fry until fragrant, about 3 minutes. Add the seafood to the pan and cook for few minutes (mine were small pieces so it didn't take long. Add a squeeze of lemon, sprinkle some lemon zest, add salt and pepper. Remember, they'll go to the oven for another 10 minutes so don't overcook them in the pan. Take the seafood out, let the juices in the pan.
5
Make the sauce by mixing the juices from the pan with the rest of the ingredients. Add spices for your taste.
6
Add parchment paper on a sheet pan, arrange the tortilla chips and add the grated Pecorino Romano on top and in between. Add the seafood and vegetables in layers, you can leave some fresh cilantro and scallions for decoration, I also added the radishes at the end, but if you don't like raw radishes you can add them at the beginning.
7
Add some of the sauce on top and bake for 10 minutes at 350F.
8
Take out and sprinkle with more fresh cilantro and scallions, and serve with the other half of the sauce and fresh lime.
Notes
Unleash your creativity, the sky is the limit with this type of dish.