There is a big preconception out there that if you are following the Plant Paradox program, you can't eat beans. To quote Dr. Steven Gundry, "you can eat beans, just detoxify them first". So, if you have passed Phase 1 and Phase 2 of the Plant Paradox and are willing to give Phase 3 a try, beans, and legumes are a new fascinating world to explore.
It didn't take me long to use beans to make a sweet treat, and wow, I'm impressed! These lectin-light, gluten-free, sugar-free, vegan adzuki bean brownies are delicious.
Adzuki beans are a powerhouse of nutrition
In another post, I have shared my favorite ways to enjoy black beans, Lima beans, and chickpeas – Reintroducing Beans. Three Easy and Delicious Recipes. The other day I found a bag of Organic Adzuki Beans in Central Market.
I loved the look, and after reading about how important they are in Asian cuisine and what a powerhouse of nutrition they are, I decided to give them a try. You can use the canned Adzuki beans, Eden brand, if you don't have a pressure cooker. They are presoaked and pressure cooked. They are spelled Aduki, but it is the same thing.
How to cook adzuki beans in a pressure cooker
The entire bag (1 lbs) is soaked in filtered water overnight. I change the water several times and rinse them well before cooking. I pressure cook them for 25 minutes in my Instant Pot, using filtered water.
Ensure you add enough water as they tend to expand a lot (about three times as much). I'm not sure if this is based on facts, but I do not use the water the beans have boiled in. I drain them, put them in mason jars or Stasher bags, and refrigerate or freeze them for later use.
Inspiration for this adzuki bean brownies recipe
The idea to make something sweet with them came when I read about the adzuki bean paste used in Asian desserts. Unfortunately, a lot of sugar is used to make this paste.
And I had another idea when I read somewhere that chestnut is often a flavor added to this paste or the desserts made with it. You might know I love chestnuts and love using chestnut flour. So the whole idea of making a plant-based bean brownie with chestnut flour was born.
If you don't find Adzuki beans, you can always use black beans and make a black bean brownie.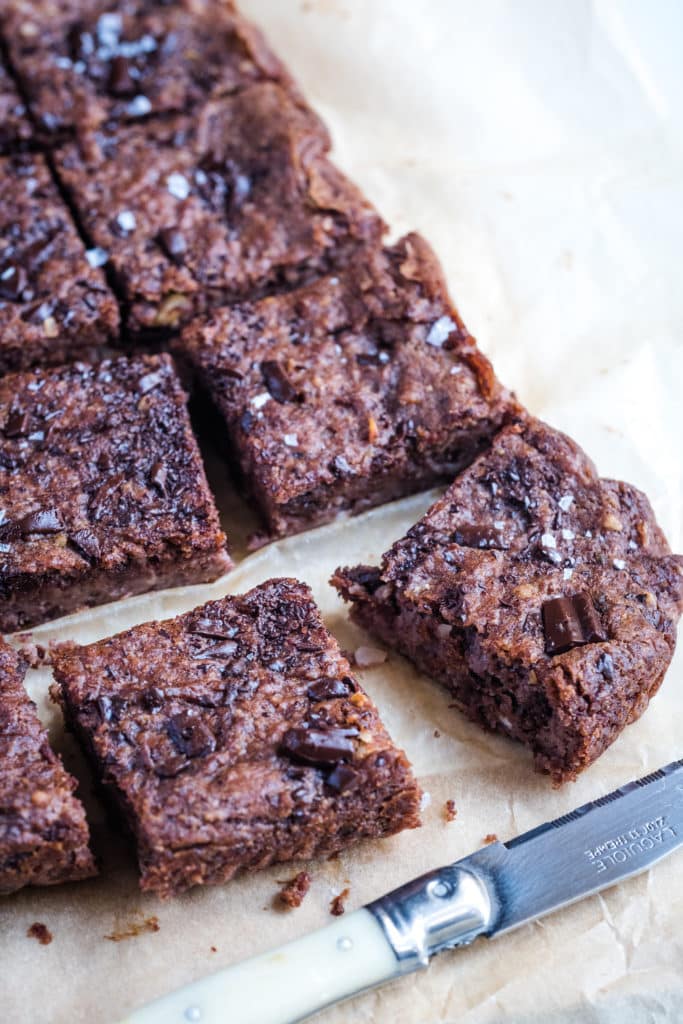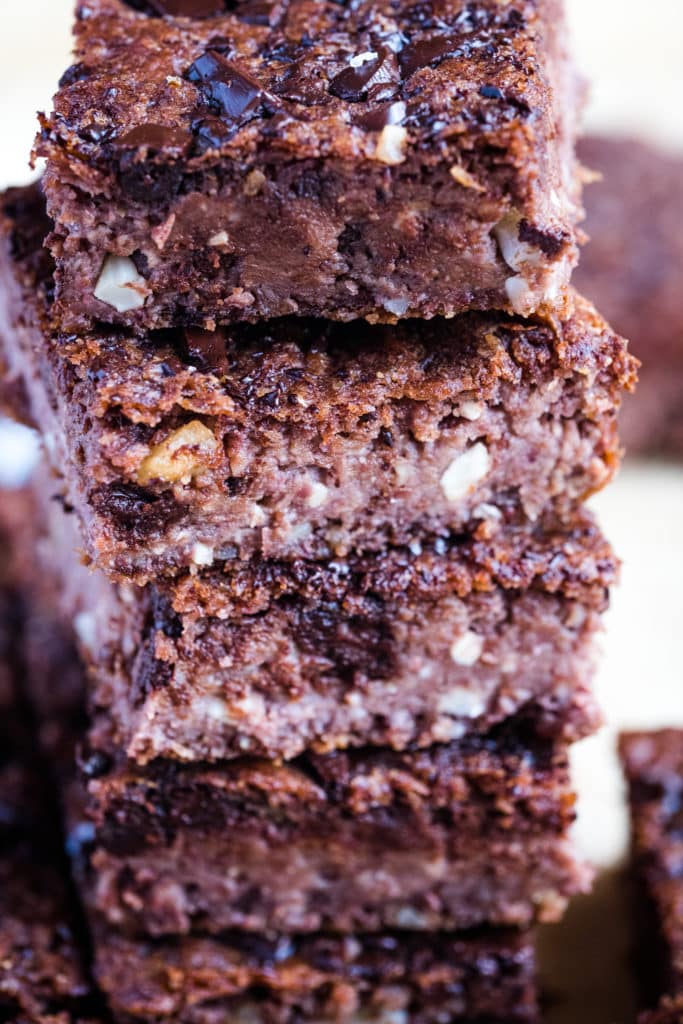 Although quite popular in Europe, especially Italy, chestnut flour is not the easiest thing to find in the US. However, you can order it online at Nuts.com. It's a delicious flour, naturally sweet and nutritionally dense.
If you love chestnuts, check out my recipe, Boiled Chestnuts, the Perfect Lectin-free Snack.
You can also use chestnut flour to make the best lectin-free crepes: Chestnut Crepes with Rose Water and Wild Blueberries or this Chestnut Pie with Root Vegetables.
I also recommend reading my article Quick guide to lectin-free, gluten-free flours for more information on the different types of flours available.
Making and serving the adzuki bean brownies
Back to our brownie, these are all the ingredients you need. I'll link the brands I use and like, but you can use any brand you find:
raw macadamia nuts
pressure-cooked Adzuki beans
chestnut flour
yacon syrup (or another sweetener of choice)
dark chocolate (above 85%)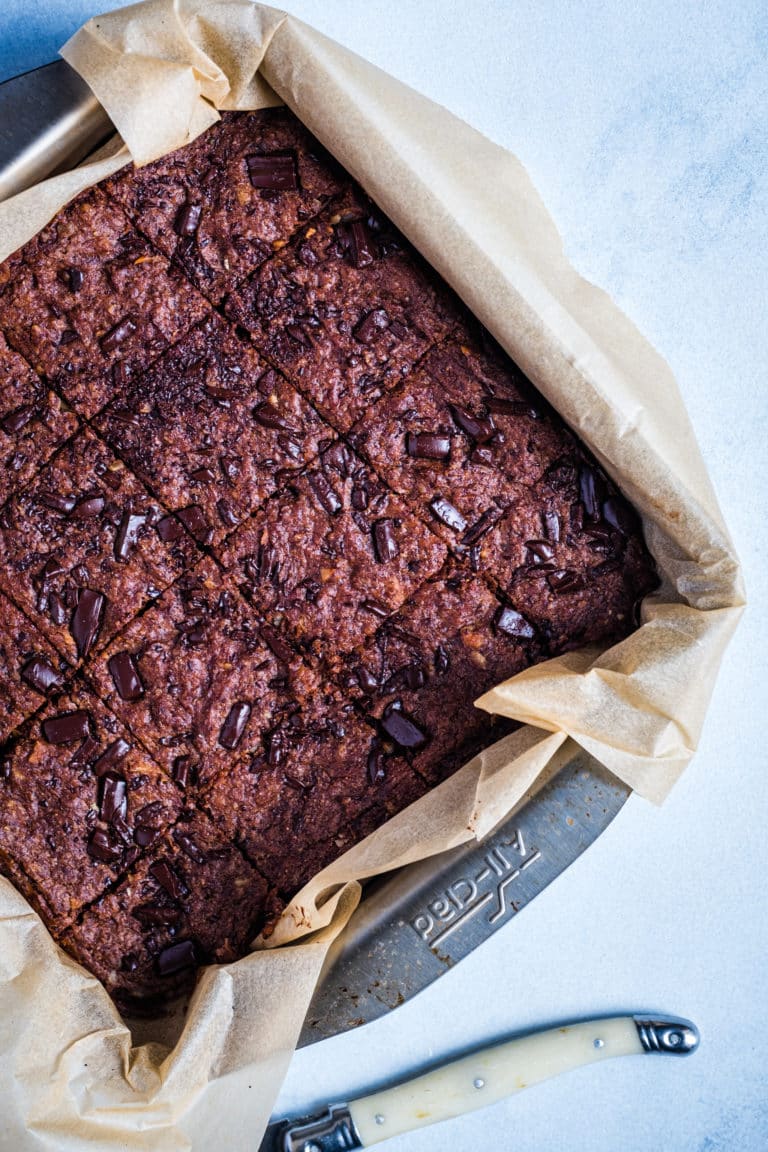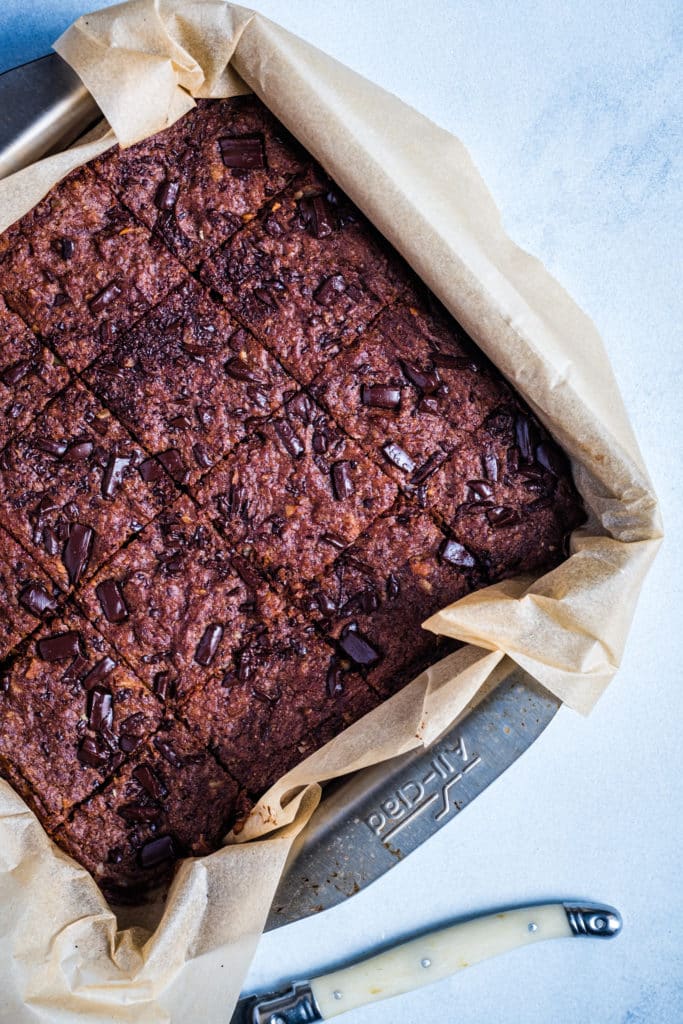 I use a square pan, an All-Clad staineless steel 8×8 inch pan for baking brownies and these types of cakes. I usually grease it well and don't use parchment paper. I didn't want to risk sticking to the pan, so I lined it with parchment paper.
Preheat the oven to 350F and bake for 35-40 minutes, until no longer soft to touch.
Let it completely cool before you portion it. I would even recommend refrigerating it for about an hour before you cut it. The brownie tastes the best cold from the fridge. You can also freeze it and take it out just a few hours before serving (perfect if part of a lunch box).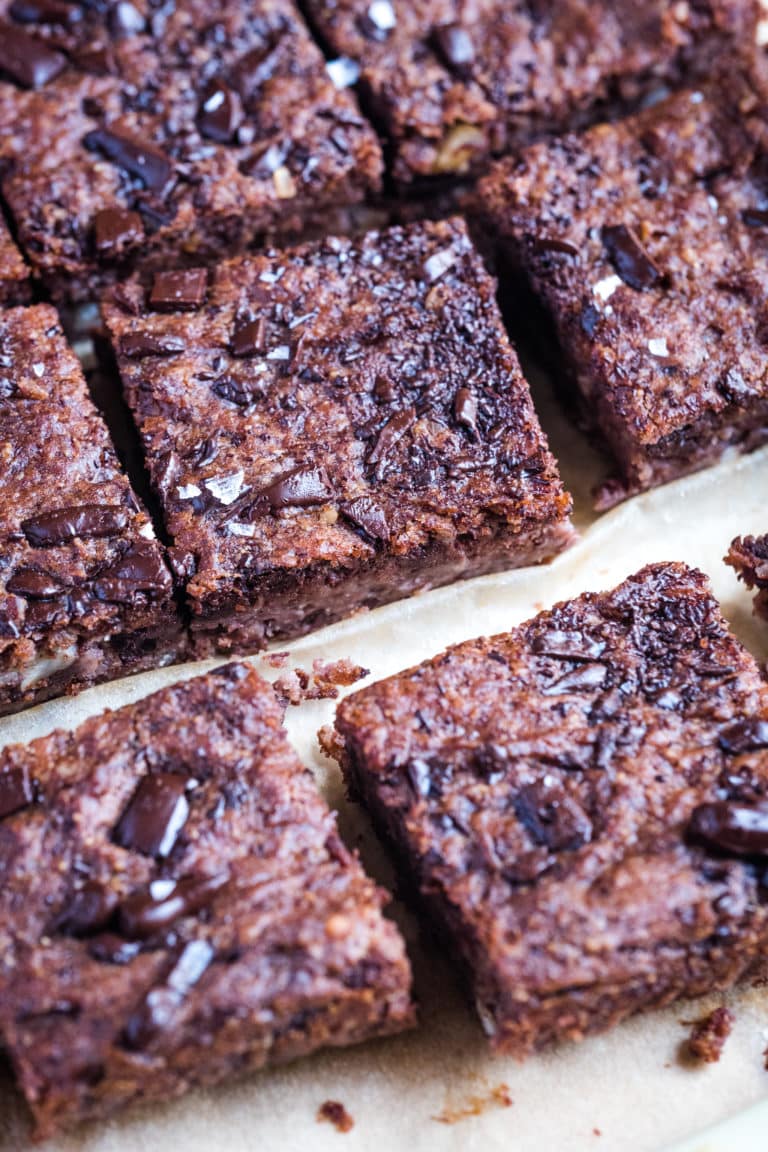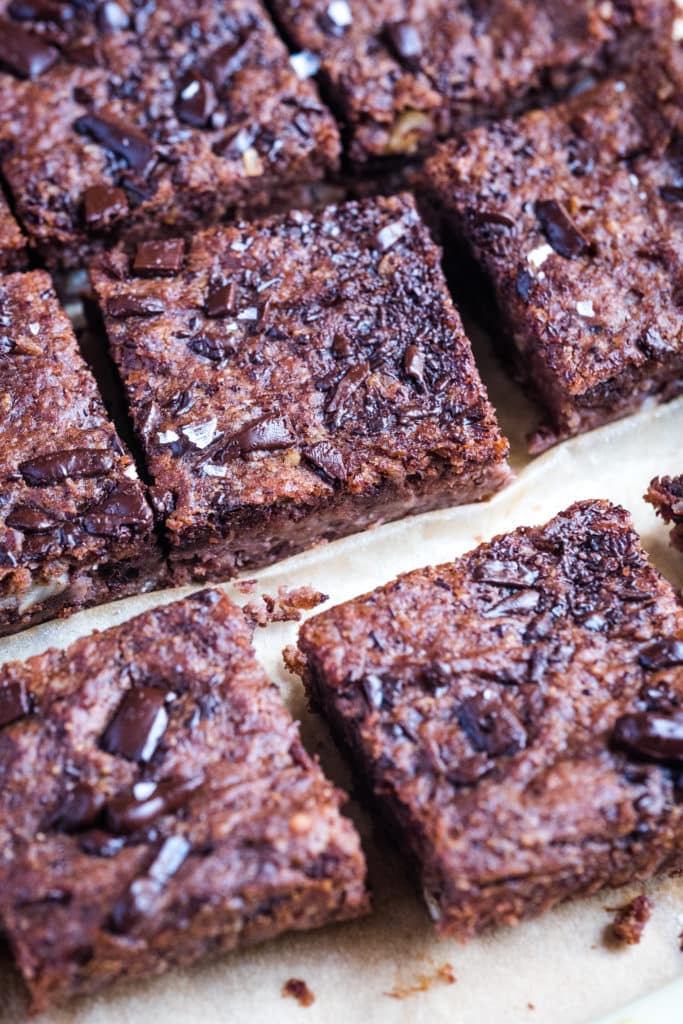 More brownie recipes
You may also like my other no-refined sugar, healthy brownie recipes:
Enjoy!
*This post contains affiliated links, which means I get a small commission if you choose to purchase something via one of my links, at no extra cost to you.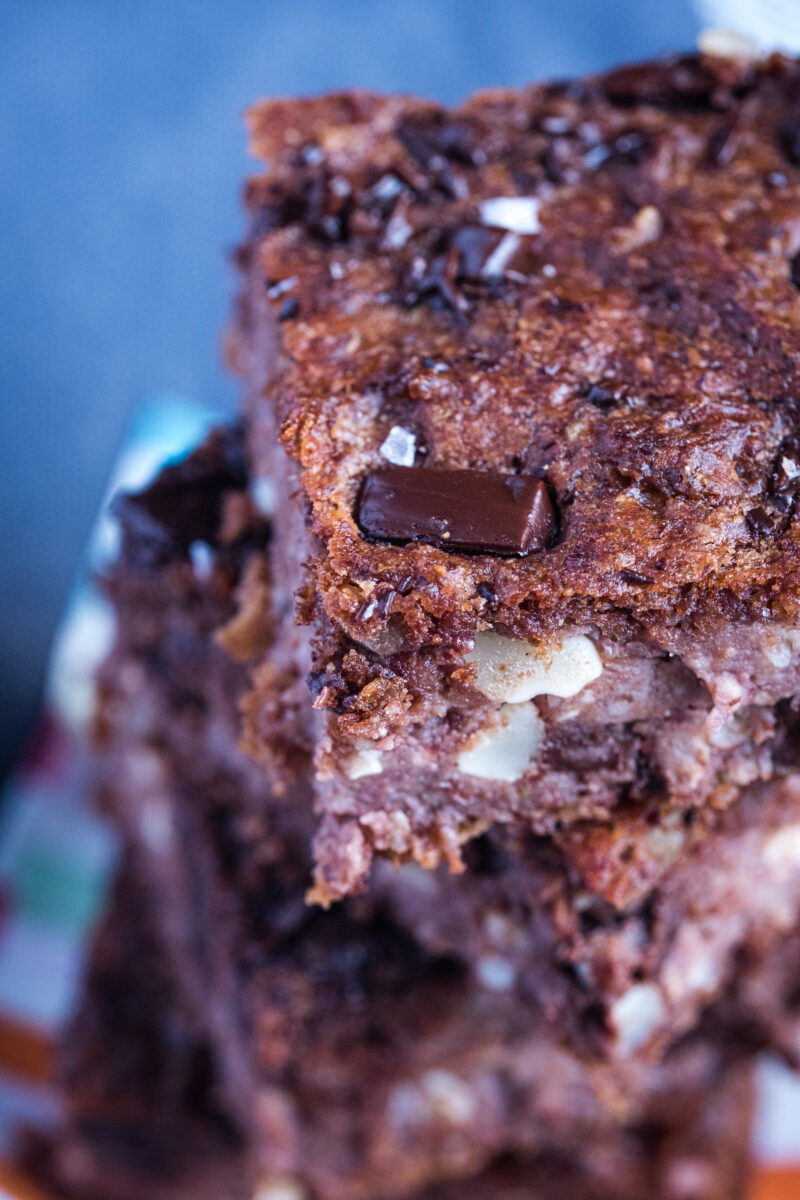 Print Recipe
Adzuki Bean Brownies with Olive Oil and Macadamia Nuts (Lectin-Light)
A delicious sweet treat made with real, nutritious foods
Ingredients
1/2 cup raw macadamia nuts
2 cups pressure cooked adzuki beans (drained)
2 tablespoons hemp seeds
1 tablespoon flax seeds
1 tablespoon psyllium husk flakes
1/2 tablespoon yacon syrup (or more if you like it sweet)
1/2 cup extra virgin olive oil
5 tablespoons chestnut flour
2 oz dark chocolate, chopped (or you can use chocolate chips), divided
1/4 tsp salt for the batter
Sea salt flakes for topping
Instructions
1

Preheat the oven to 350F.

2

Prepare an 8x8 inch (or something similar) baking pan with parchment paper.

3

Chop the macadamia nuts in a food processor, take them out.

4

In the same food processor add the beans and salt and process until it becomes a paste.

5

Grind the hemp seeds and flaxseed in a coffee grinder or Nutribullet with a milling blade (or use already ground) and add them to the food processor. Add the psyllium husk flakes, yacon syrup and olive oil and process until all creamy.

6

Add the chestnut flour and process until all mixed together.

7

Transfer the content to a mixing bowl, add the macadamia nuts and the 1.2oz chopped chocolate and fold everything in with a spatula. Transfer the batter to the baking pan and level. Sprinkle with the remaining chocolate.

8

Bake for 35-40 minutes, until no longer soft to touch. Sprinkle with sea salt flakes. Let it cool completely before cutting. Store in the refrigerator or freeze.
Notes
I prefer eating them cold, from the fridge. Texture and taste are the best, in my opinion.