I had the chance to experience some of the finest Middle Eastern cuisines while living in Dubai for eight years. And I have to say I've never tasted anything more flavorful and rich. I missed those flavors a lot and every now and then I want to recreate something that will remind me of those days. This Persian-style pomegranate chicken is just that. Thank God pomegranates are easy to find pretty much everywhere and I've been on a mission to eat more of this delicious and healthy fruit.
Pomegranates have anti-histamine properties
In fact, the idea to make this recipe started with two pomegranates I had in the fridge and wanted to use. Pomegranates have powerful health benefits and even anti-histamine properties. That's why I've been using them a lot in the past year or so.
Interestingly enough, the pomegranates I find in Europe are much better quality than those I would buy in Dallas, which were always a hit or miss. So many times they were just bad. If you want a little trick on how to easily take the arils out of a pomegranate, without the mess, check this video I made on Instagram.
Pomegranate reduction
Making a pomegranate reduction is something I've been experimenting with a few times, especially while being on a low histamine diet. I wanted the sweet and sour taste and texture of balsamic vinegar, which is high in histamine. So I made a reduction that I really loved, put it in the fridge overnight, and thought about how I can use it. Persian Pomegranate Chicken sounded like a good idea.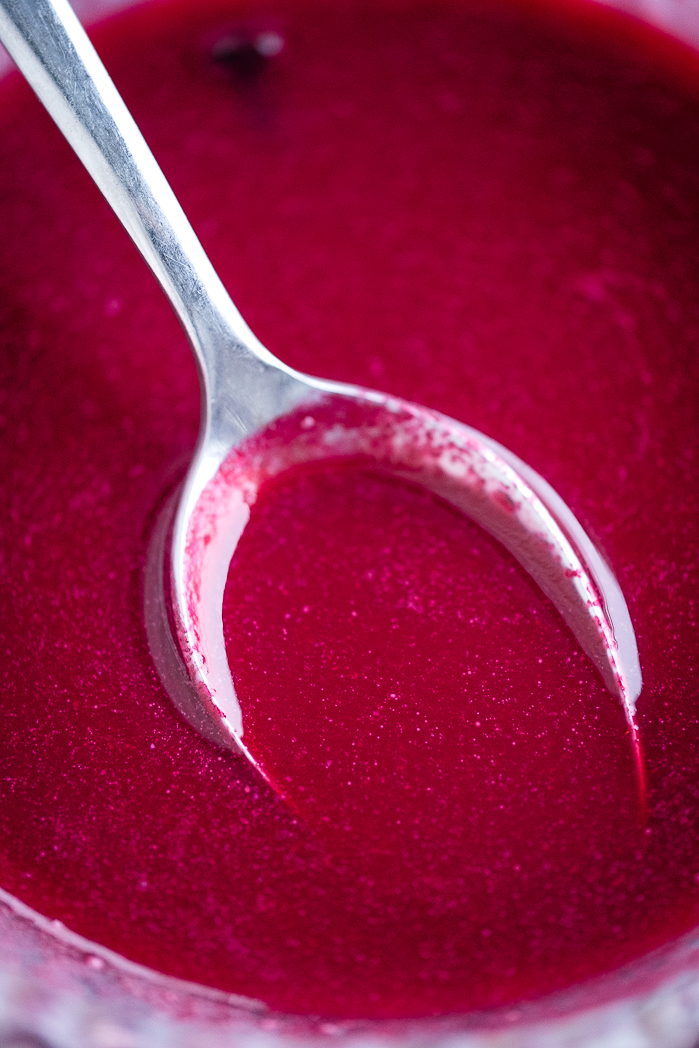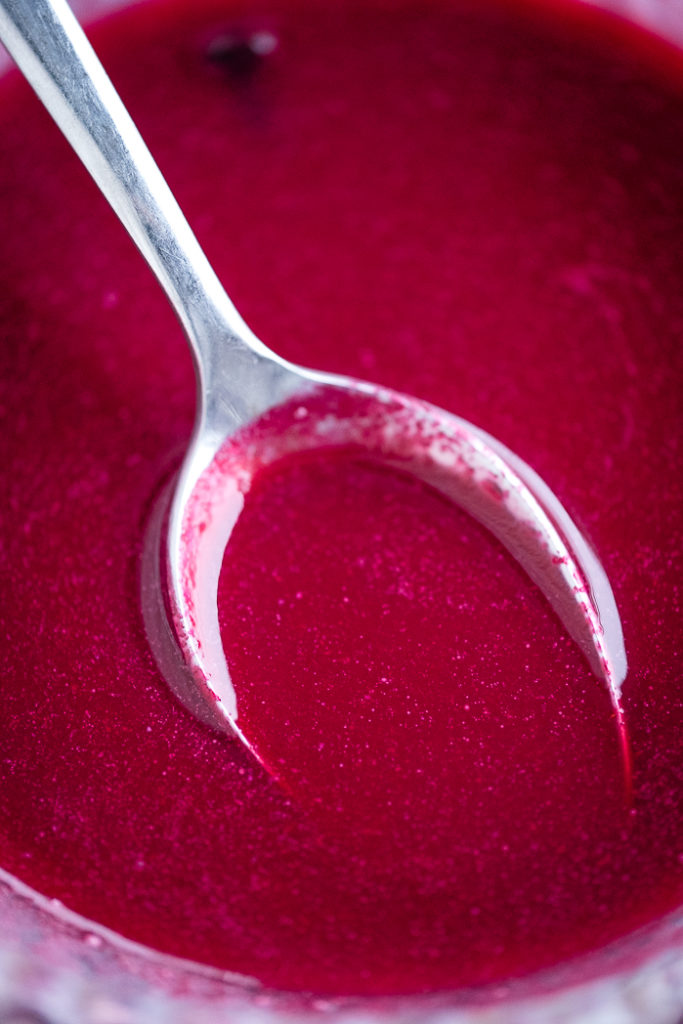 Cooking rice in pressure cooker (De-lectinize the rice)
And to recreate the whole Middle Eastern experience, I did adventure into phase 3 (of the plant paradox) and pressure-cooked organic Indian Basmati rice. I've been pressure-cooking rice for a while now. I do it this way even when I cook it for my non-compliant family.
I wash the rice, add it to the pressure cooker, cover with 1 1/2 the quantity of water, cover and pressure cook for 3 minutes. Then I let the pressure release naturally. It comes out so nice and fluffy and never sticks to the pot. Here I use a manual pressure cooker, but I guess an electric one will work even better (some have the rice option so you can use that).
After the rice is cooked I let it cool down completely, and reheat it when I serve it. This way your rice becomes lectin-light and a resistant starch.
But, if you are not ready for phase 3 or you just want to keep it low carb, cauliflower rice will make a good replacement. For instructions on how to prepare cauliflower rice from scratch, please check this post: Lectin-Light Beef Burrito Bowl with Cauliflower Rice.
The rest of the ingredients for the pomegranate chicken
Once the Pomegranate sauce is made, the Persian-style chicken dish is very simple to put together. You will need:
A few pieces of chicken, I like bone-in because they add more flavor to the sauce, especially if you used water and not stock. It's hard to find truly pasture-raised, lectin-light chicken stock, so I'd rather use chicken with bones. You can use boneless pieces and use chicken stock instead of water if you prefer. Chicken breasts will be fine. If you use a whole chicken, as I did, portion in drumsticks, thighs and breast. If you buy it, you can only use chicken thighs or whatever pieces you'd like. Find out more about lectin-light chicken.
About 1 1/2 or 2 cups of walnuts. You will have to slightly roast them and process them for a coarse texture.
Two big onions and spices: turmeric, cinnamon and nutmeg.
A good quality extra virgin olive oil. But you already know that :).
And as usual, I'm going to share a few pictures of the process, for all of you visual people out there.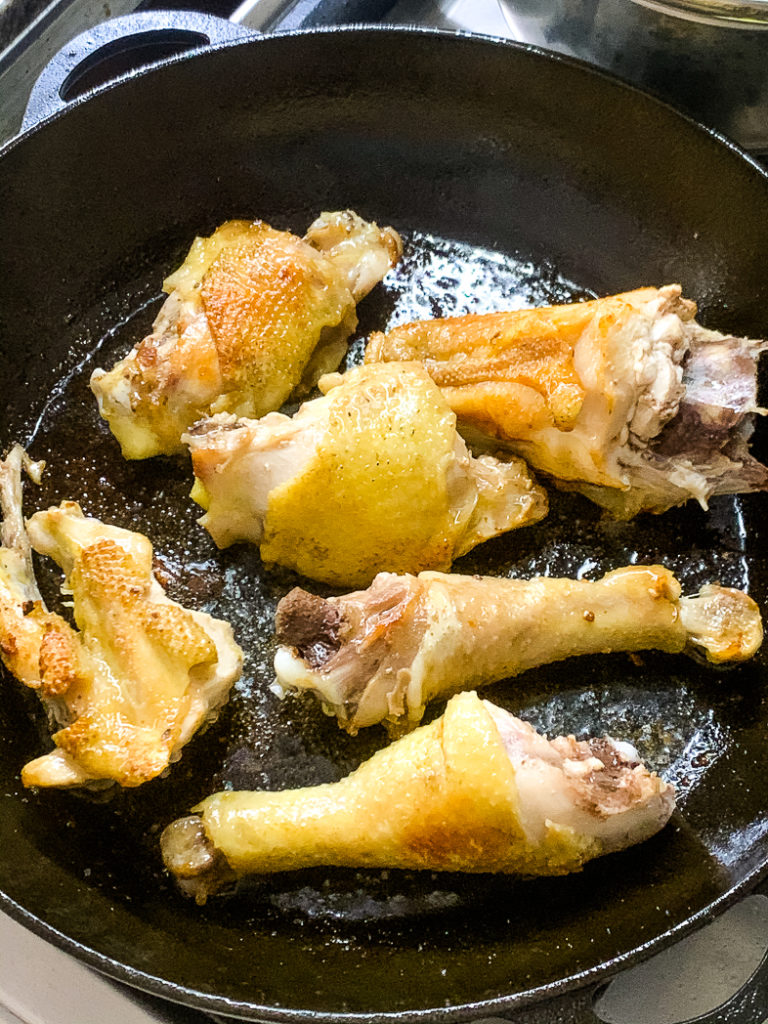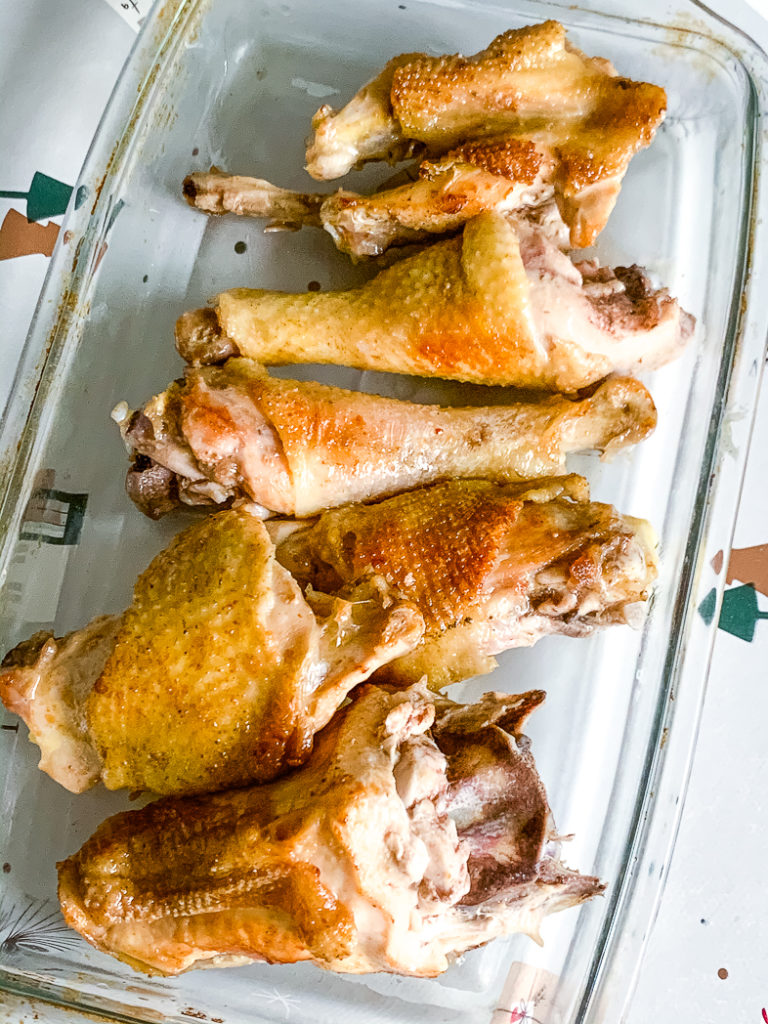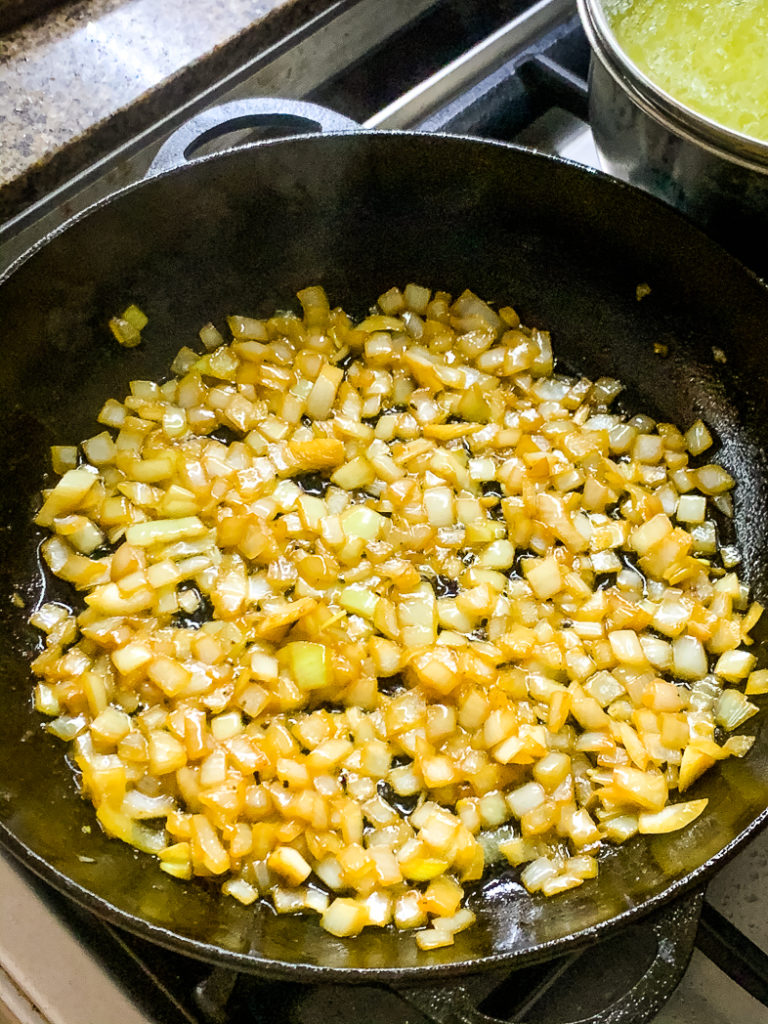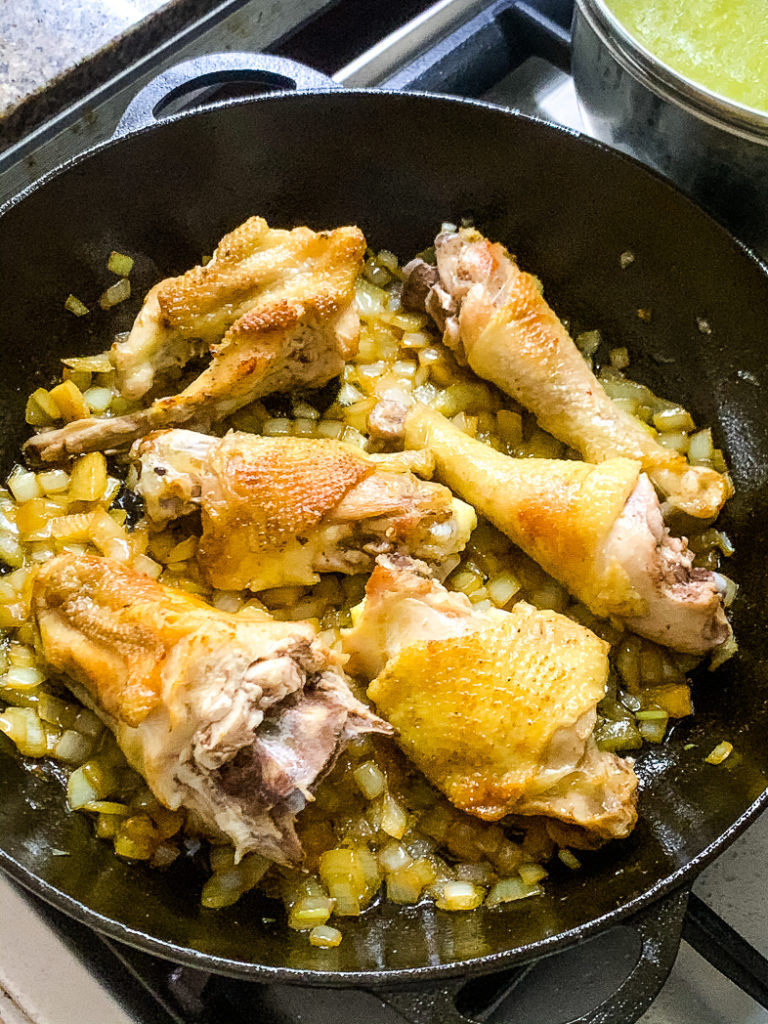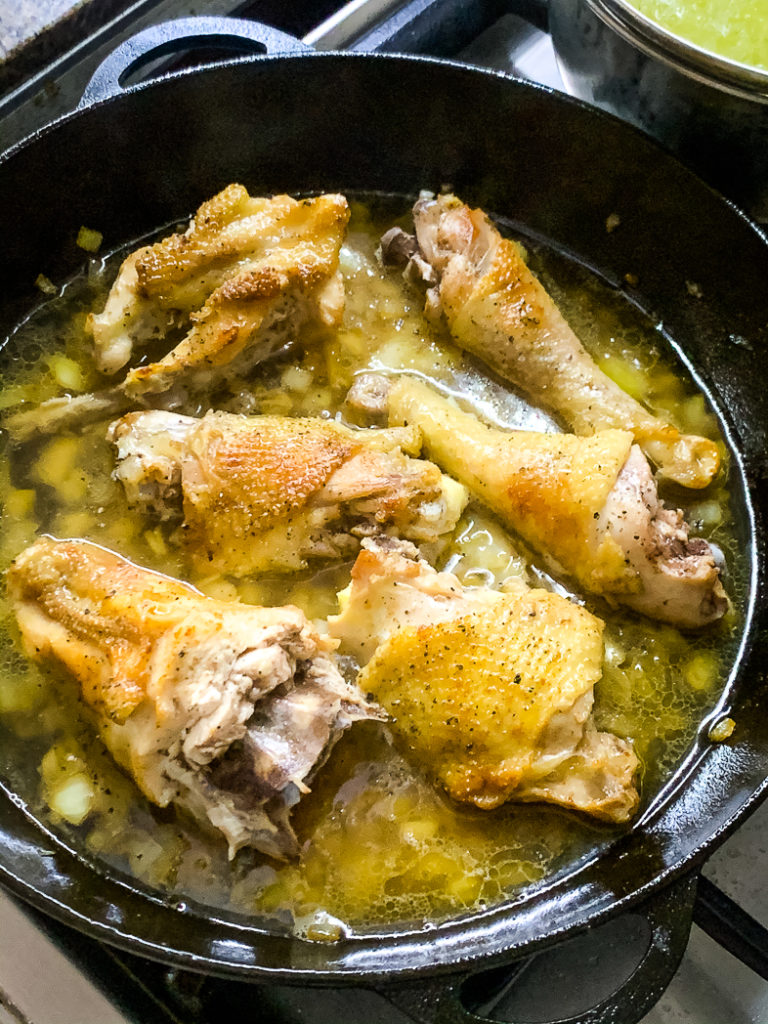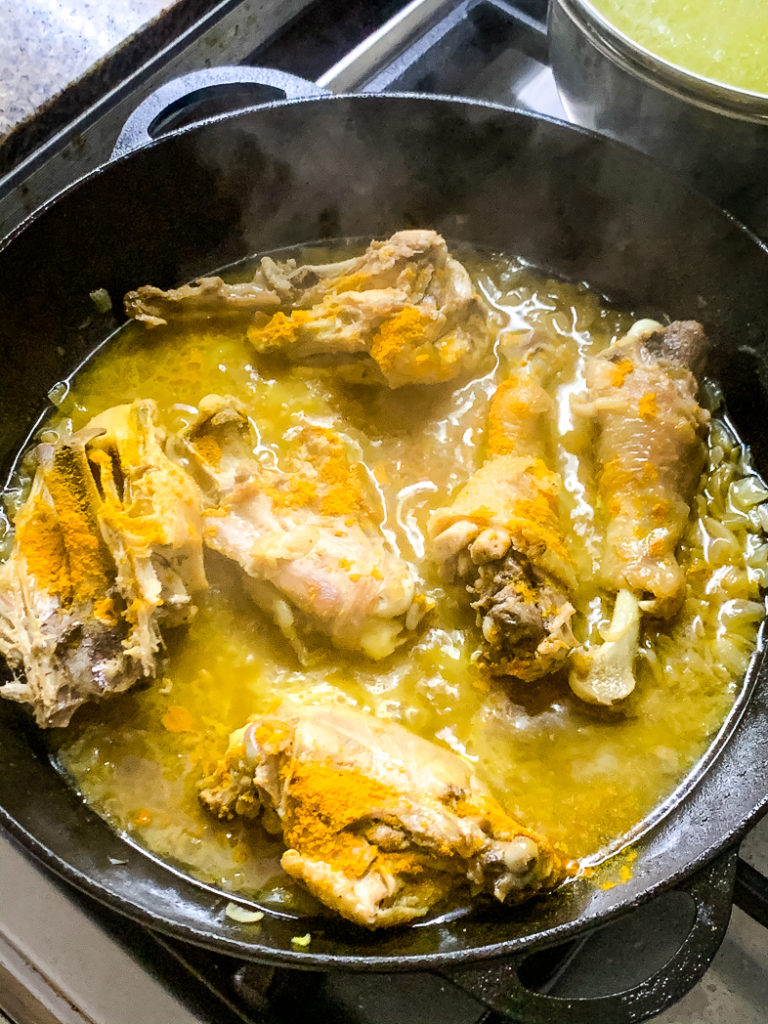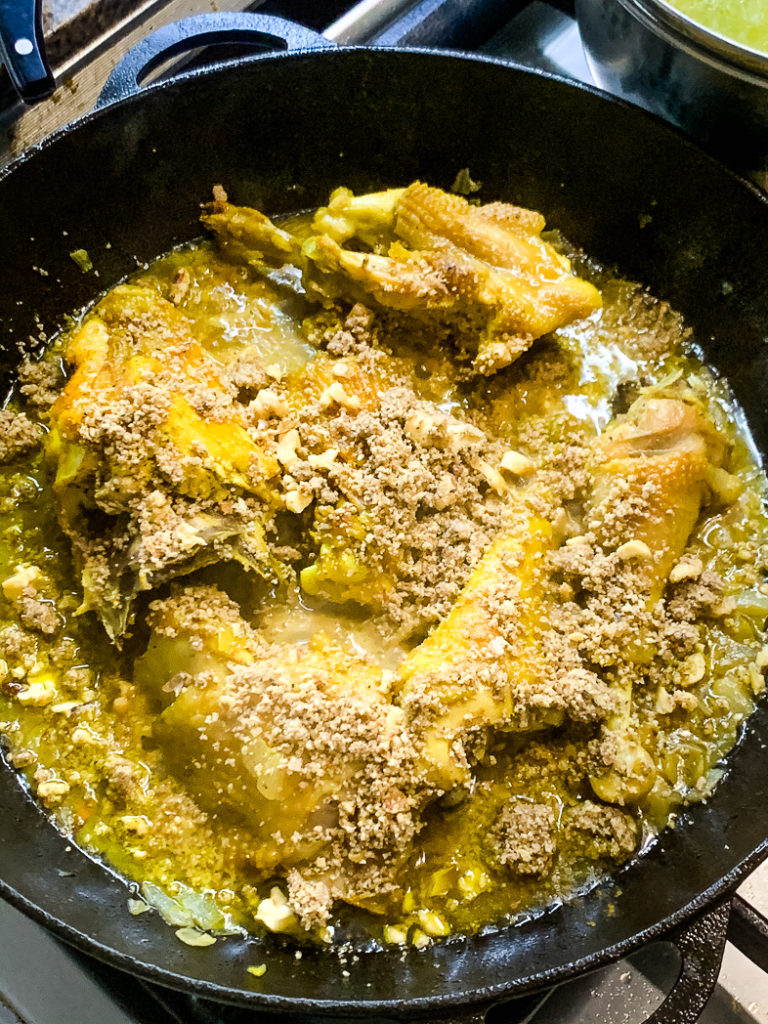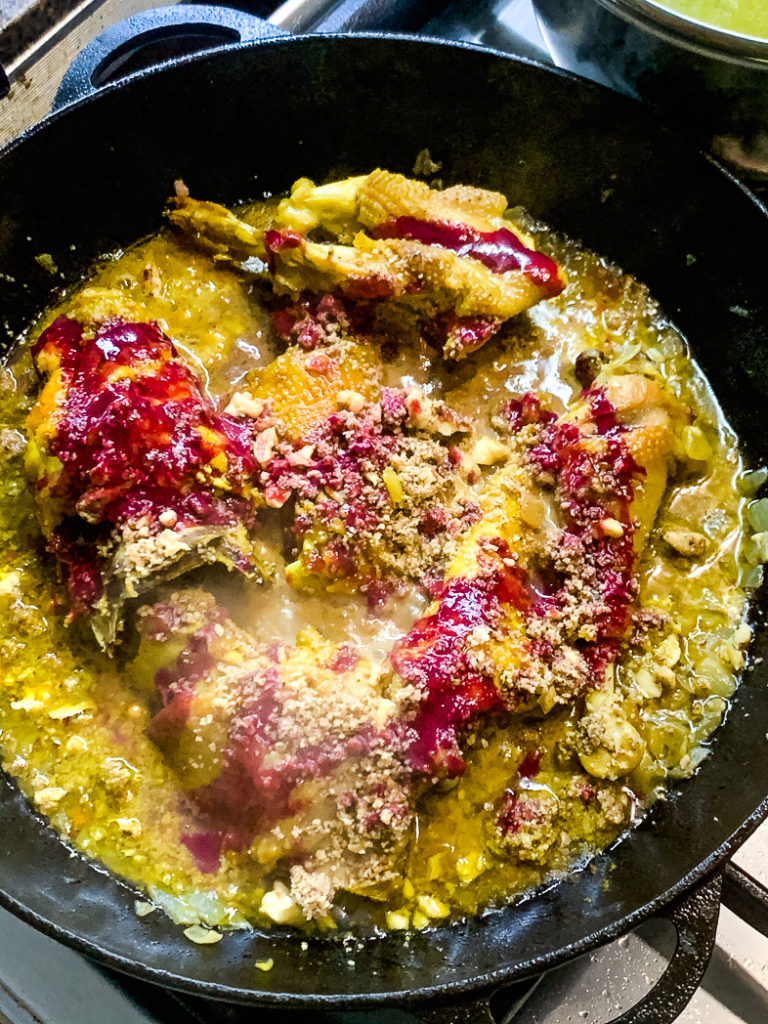 More chicken recipes
For more delicious chicken recipes, make sure to try below:
*This post contains affiliated links, which means I get a small commission if you choose to purchase something via one of my links, at no extra cost to you.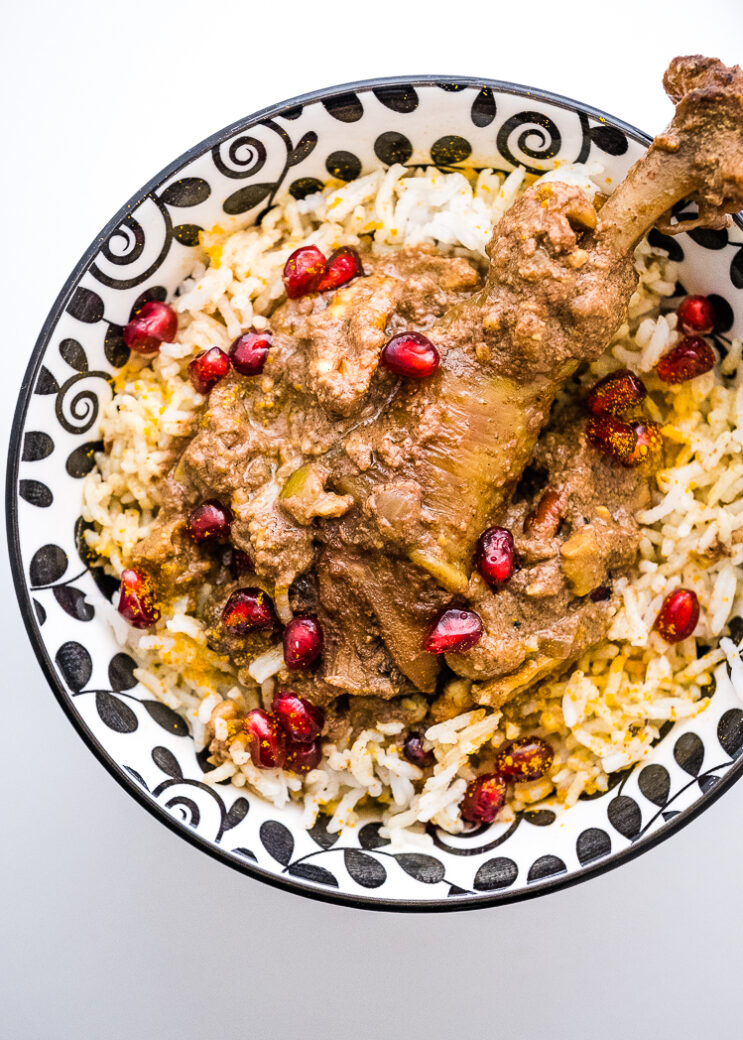 Print Recipe
Persian Style Chicken with Pomegranate Reduction
A delicious lectin-light meal with Middle Eastern flavors.
Ingredients
arils from 2 medium pomegranates (keep a few for garnishing)
1 clove
1 teaspoons inulin powder
about x6 pieces of chicken (thighs, drumsticks, bone-in breasts)
extra virgin olive oil
2 big yellow onions, chopped
2 cups water (you can use compliant chicken or vegetable stock if you want)
1/2 teaspoon turmeric
1/4 teaspoon cinnamon
1/4 teaspoon nutmeg
salt and pepper to taste
2 cups ground walnuts
pressure cooked Indian Basmati rice (preferably organic) or cauliflower rice (please check the above post for instructions on how to make the rice)
Instructions
1

Make the pomegranate reduction (you can make it one day before and store it in the fridge in a jar with a lid): blend the pomegranate arils in a high-power blender and strain through a sieve, cheesecloth, or nut milk bag making sure you get all the juices out. Add the juice and the inulin powder to a saucepan and simmer on low heat until it's reduced to half the quantity.

2

Preheat the oven to 300F (150C) and roast the walnuts, for about 10 minutes. Check and stir a few times keeping an eye on them so they don't burn. Add the roasted nuts to a food processor and pulse a few times until you get a coarse texture.

3

Warm a big skillet with extra virgin olive oil and sear the chicken pieces on all sides, until golden.

4

Take the chicken out on a plate and add the onions to the pan, sautéing until they are fragrant and golden, for about 10 minutes.

5

Add the chicken back in, add the spices, stir well, add the water, cover and let it simmer for about 20-30 minutes.

6

When the chicken is cooked, add the walnuts and the pomegranate reduction, combine well, cover and simmer for 5-10 more minutes.

7

Serve with pressure-cooked and cooled rice (Indian Basmati) or cauliflower rice.

8

Garnish with pomegranate arils.