Being creative in the kitchen, at home, is awesome, but when a real chef creates a lectin-free gourmet recipe, things get a little special. That's why I decided to start a collaboration with some of my favorite chefs and bring you some lectin-free gourmet recipes that you can easily make at home. And since Valentine's Day is around the corner, we decided to focus on creating a starter and a main dish for a lectin-free gourmet menu, perfect for a romantic dinner for two. Something a little more special, but healthy and easy to make at home. This is the starter salad Valentine's 2021 edition, brought to you by Chef Adrian Bandyk. Of course, you can prepare it any time you have a special occasion: Brussels Sprouts, Baby Spinach & Endive Salad, Green Apple, Cranberries and Pomegranate, with Miso & Tahini Dressing.
As you can see, this is quite the restaurant dish. But before I go any further into details, this is where you find the main dish for this lectin-free gourmet menu: Grass-Fed Beef Tenderloin with Celeriac Puree, Chard, King Oyster Mushroom, Kale and Macadamia Pesto.
Meet Chef Adrian Bandyk
When I asked Chef Adrian Bandyk if he wanted to start this collaboration, he didn't hesitate, although he is very busy. And he didn't even flinch when I told him that he can only cook with certain ingredients (although I was nervous). He asked me for the YES list (the plant paraodox) and his reaction was very optimistic: "It's longer than I expected". Then he delivered not one, but two amazing recipes: a starter (read on for details and recipe) and a main dish (find it here). I love that he not only inspired me to cook more as a chef, but also this project confirms once again that the plant paradox is not that restrictive. Plus, I learned a few new cooking tricks.
I met Adrian while I was doing the PR and communication strategy for the company he was working for, Ghaf Kitchen, a gourmet food truck, the first of its kind in the country. We were both working in Dubai, United Arab Emirates. Needless to say, the food I got to eat, made by Adrian, was absolutely delicious. Adrian, who grew up in Poland, loved to experiment with new flavors as a child and he figured he has to cook for himself because his mom was a terrible cook (something he has the permission to share). But his career in the food industry didn't start until he moved to London, where he found the culinary melting pot which inspired him to experiment and learn something new. Since then he worked with some of the biggest names in the restaurant industry around the world, from Cru in London to Tosca in Baku, Rivington Grill in Dubai, and Masso in Bahrain. Now he is a private chef in Bahrain and does what he loves most: creating healthy and delicious meals inspired by flavors and ingredients from around the world.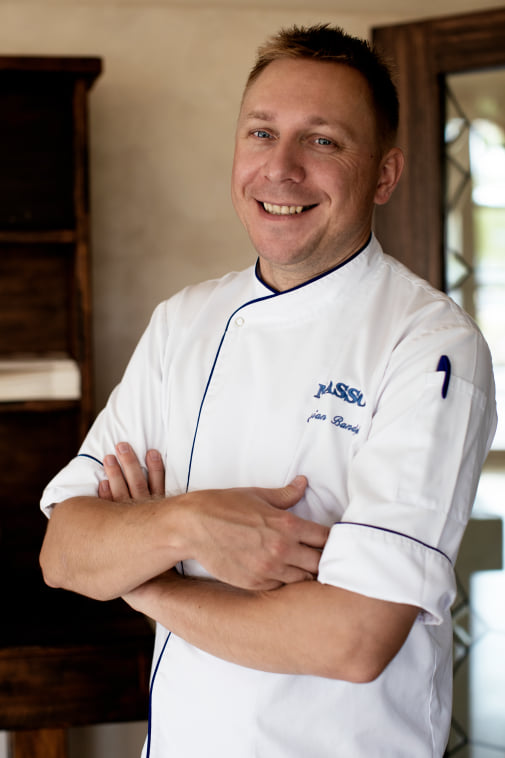 As you can imagine, I was a little nervous to tell him I have a "restrictive" list of foods he can use, but he was actually quite impressed by the diversity of the plant paradox YES food list. When I asked, out of curiosity, his opinion about it, he said it was "…pretty impressive, very rich, diverse and lots of stuff to work with. It's definitely all you need in a healthy diet." He also has a piece of advice for us trying to cook as much as possible at home: "Don't be afraid to try new things and let it be yourself, sky is the limit." In other words, be creative in your kitchen :).
Check the recipe card below for all the details, but I wanted to walk you through the process especially if you are the messy cook type like I am. I recommend reading everything before your start anything. You will also find a shopping list for the appetizer below, so you can organize your shopping and pantry before you start and make sure you have all the ingredients. Here you can find the recipe for the main dish, Grass-Fed Beef Tenderloin with Celeriac Puree, Chard, King Oyster Mushroom, Kale and Macadamia Pesto, with its own shopping list.
Lectin-Free Gourmet Dinner, Appetizer: Brussels Sprouts, Baby Spinach & Endive Salad, Green Apple, Cranberries and Pomegranate, with Miso & Tahini Dressing
To make this salad, you will need a salad spinner, a sauteeing pan and a pot with boiling water for blanching the Brussels sprouts. To save on time and spend as little as possible with the preparation of the dinner, have all the ingredients ready in advance. You can even blanch and sear the Brussels sprouts in advance and surely you should make the dressing in the morning. You will need toasted sesame seeds, and it's very easy to lightly toast them for a couple of minutes in a pan on low heat. To sear the Brussels sprouts, use a good quality olive oil, like GundryMD Chef's Selection.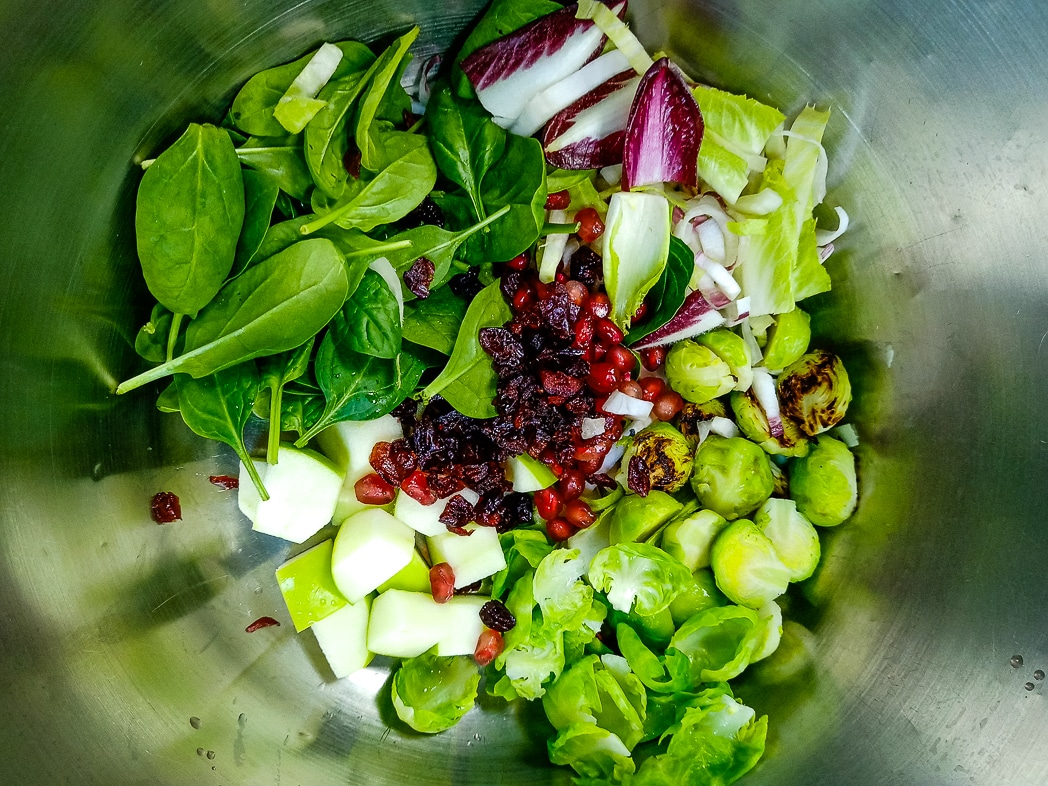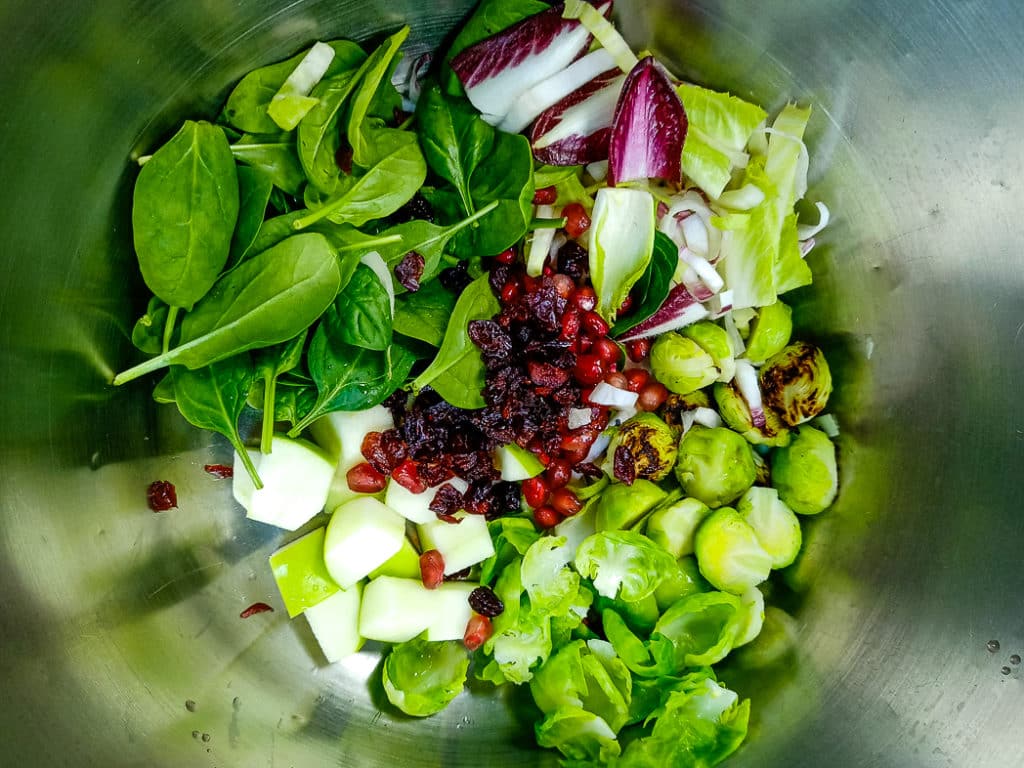 Shopping List
freshly ground black pepper
1 bag Brussel sprouts
1 bag, bunch, or box of baby spinach
1 green apple
1 white endive
1 red endive
Fresh pomegranate seeds or one pomegranate whole
Sea salt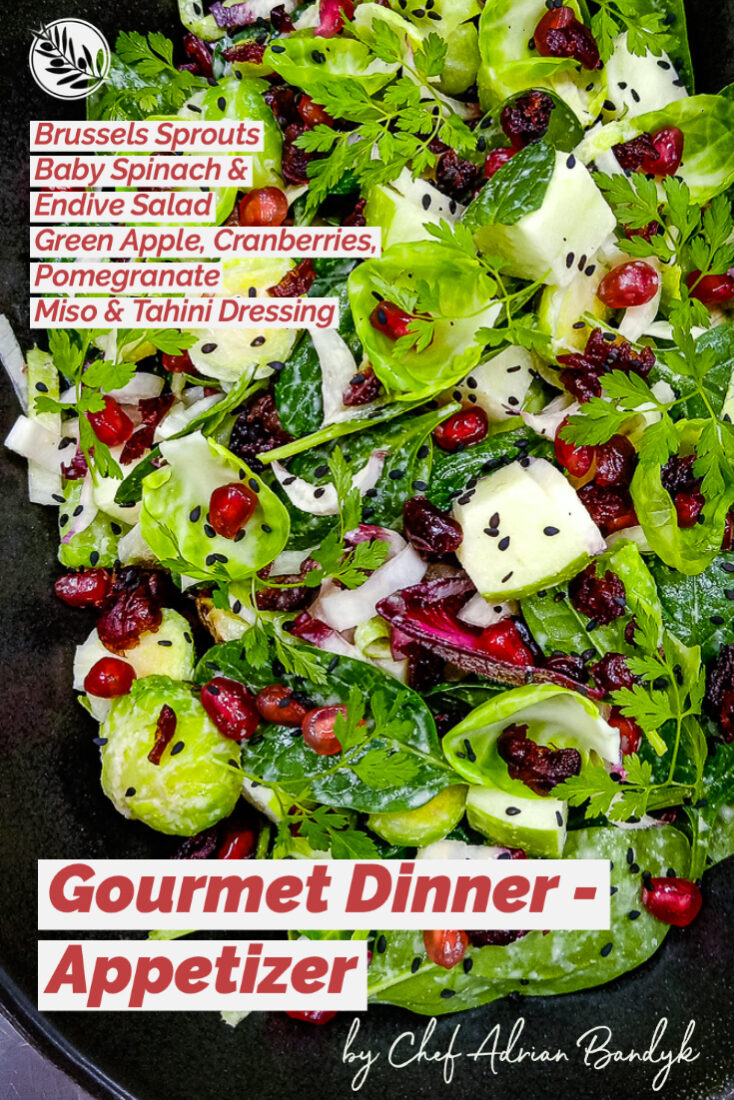 Print Recipe
Brussels Sprouts, Baby Spinach & Endive Salad, Green Apple, Cranberries and Pomegranate, with Miso & Tahini Dressing
A lectin-free gourmet dinner for two created by Chef Adrian Bandyk for the plant paradox community.
Ingredients
FOR MISO AND TAHINI DRESSING:
65 grams tahini paste
1 tablespoon red miso
1 tablespoon apple cider vinegar
80 ml (about 1/3 cup) warm water or more
1 tablespoon toasted black sesame seeds
Freshly ground black pepper
FOR THE SALAD:
Brussel sprouts: 250 grams (about 10 pieces) washed, good outer leaves peeled off and saved, blanched
Baby spinach: 80 grams (about 2.5 cups) washed and dried
Green apple: 1 cup, diced
Endive white: 1 piece, sliced
Endive red: 1 piece, sliced
Dry, unsweetened cranberries: 20 grams
Fresh pomegranate seeds: 2 tablespoons
½ tablespoons toasted black sesame seed
Miso & tahini dressing: 4 tablespoons or so
Sea salt, freshly ground peppers to taste
Instructions
2

In a mixing bowl combine tahini paste, red miso and apple cider vinegar, mix into a smooth paste then add water until dressing reaches desired consistency, it may require a little bit more water. Add freshly ground black pepper and toasted black sesame seed. Set aside.

4

Rinse brussels sprouts and cut off a small piece of the stem end, then peel off a few good-looking outer leaves and reserve them.

5

In salty boiling water blanch the brussels sprouts for about 2 minutes, then immediately shock them into ice water to stop further cooking. In the same boiling water quickly blanch reserved outer leaves for 20 seconds then shock them into ice water as well. Drain the brussels sprouts and leaves and remove excess water with a salad spinner.

6

Cut the brussels sprouts in half and lightly brown them cut side down on a hot pan with extra virgin olive oil, you can brown half of the sprouts or all of them, browned sprouts combined with the blanched ones will add another dimension of flavor to your salad.

7

Dice apple and toss in lemon juice to prevent it from oxidizing.

8

Finely slice red and white endive.

9

Place all ingredients in a large mixing bowl, browned and blanched brussels sprouts, leaves, baby spinach, diced apple, sliced red and white endive and cranberries. Add miso and sesame dressing and mix gently, right before serving.

10

Divide between two salad bowls, garnished with pomegranate seed and toasted black sesame seeds.
Notes
Check the post above for more details and a shopping list.