Almonds and lectins are one of the most confusing health topics out there. That's because almonds are considered a high-lectin food. However, there is a relatively easy way to remove lectins in almonds and enjoy this superfood in moderation.
Do almonds contain lectins?
Yes, almonds contain lectins. But the lectins are in the skin of the almonds, which can be removed. Also, you can find almonds that are already blanched (have their skins removed).
Commercially, almonds are sold in many forms, so let's see which ones are safe to buy and which ones are not.
Almond products that are lectin-free (because skins have been removed):
White almond butter is lectin-free (made with blanched almonds) – the color of the butter is white, compared to butter made with whole almonds, which is brown
Almond flour is lectin-free (NOT almond meal) – almonds flour is made with blanched almonds, while the almond meal is made with whole almonds (you will notice almond meal has brown speckles, as opposed to almond flour, which is cream / white)
Blanched almonds are lectin-free – which can be whole, slivered, or sliced
NOTE: Look for organic almond products to avoid contamination with glyphosate and PPO (propylene oxide), chemicals used in the pasteurization process. Organic almonds are steam pasteurized (not using PPO).
Almond products that contain lectins:
Whole almonds contain lectins (that have the skin on)
Almond butter made with whole almonds is NOT lectin-free (the one that is brown)
Almond milk and lectins. Does almond milk contain lectins?
The short answer is yes, almond milk contains lectins if it's made with whole almonds.
But almond milk and lectins is still a confusing topic. Commercially, almond milk is made with whole almonds and then is strained. This way, the almond milk becomes silky and white, and the skins resulting from blending are removed. So, you would say that almond milk doesn't contain skins. Therefore, almond milk is lectin-free.
However, during the blending process, lectins leach into the water, so almond milk made with whole almonds is not completely lectin-free, even if skins are discarded and some of the lectins are removed.
So far, we know of one brand that makes almond milk with blanched almonds: MALK. It's not mentioned on the bottle, but the company confirmed that they make their almond milk with blanched almonds. They are also one of the cleanest brands of non-dairy milk you will find in the US.
I think more brands are becoming aware of this issue, so we will probably see other brands launching organic almond milk made with blanched almonds. If you know of such a brand, let us know.
How to make lectin-free almond milk at home?
If you don't have access to a lectin-free almond milk brand, or you can't afford it, know that making lectin-free almond milk at home is super easy and more cost-effective.
You just need a bunch of blanched almonds, filtered water, a blender, and maybe a few flavors: a dash of salt, some sweetener, vanilla, etc.
An even easier way to make lectin-free almond milk is to blend white almond butter with filtered water.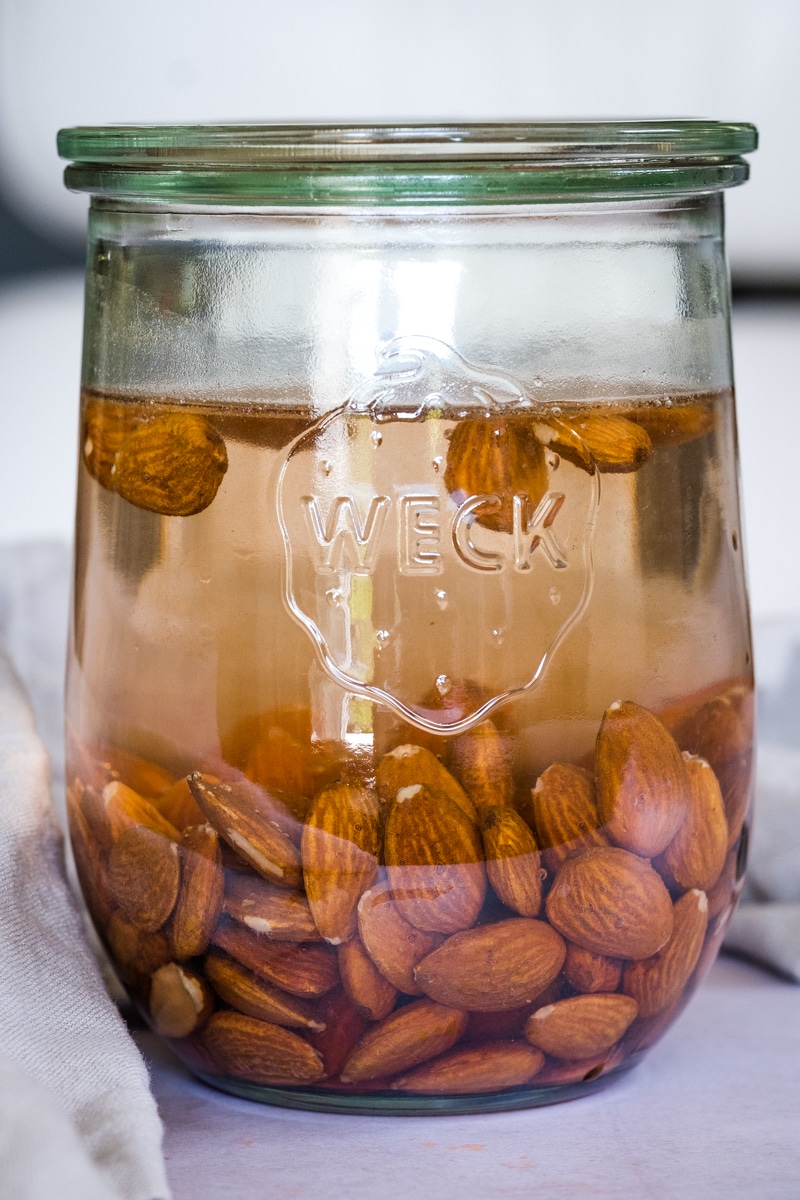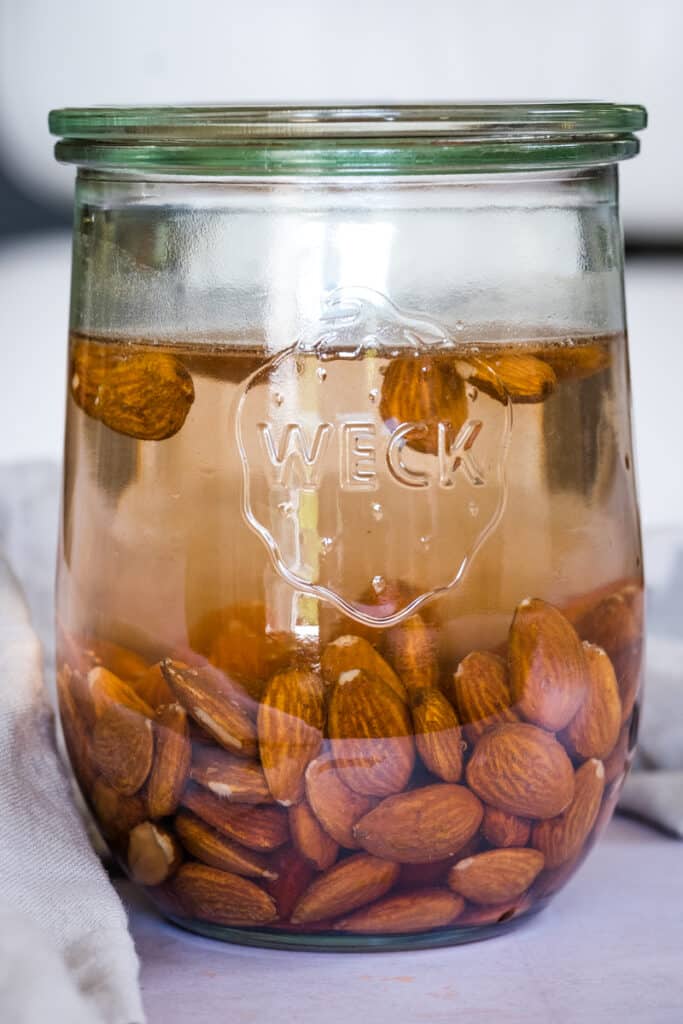 How to blanch almonds at home?
My favorite way to blanch almonds is to soak them in cold water overnight or even for 16-18 hours. Skins will come off easily, but it is a bit time-consuming. However, those are the best almonds you can have. They are so fresh and tasty.
Another way to blanch almonds is to throw them in boiling water for 60 seconds, then remove the skins by rubbing them with a dry cotton towel.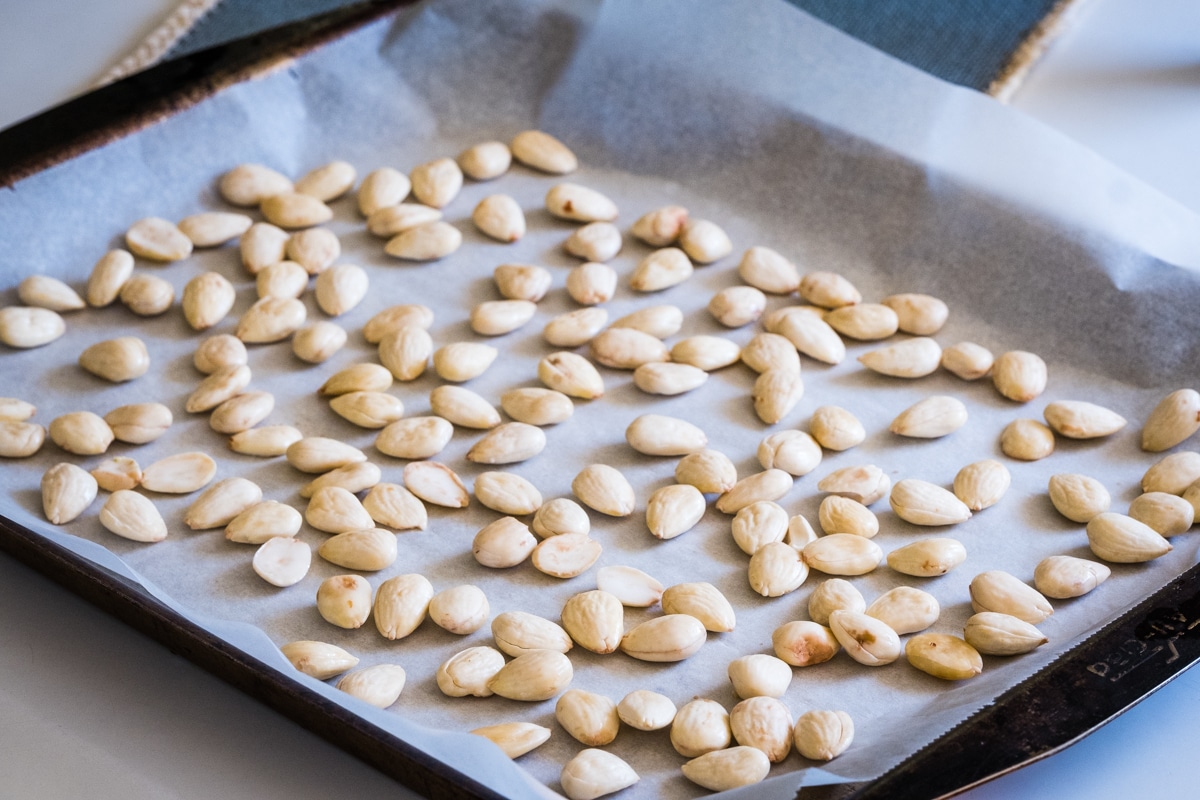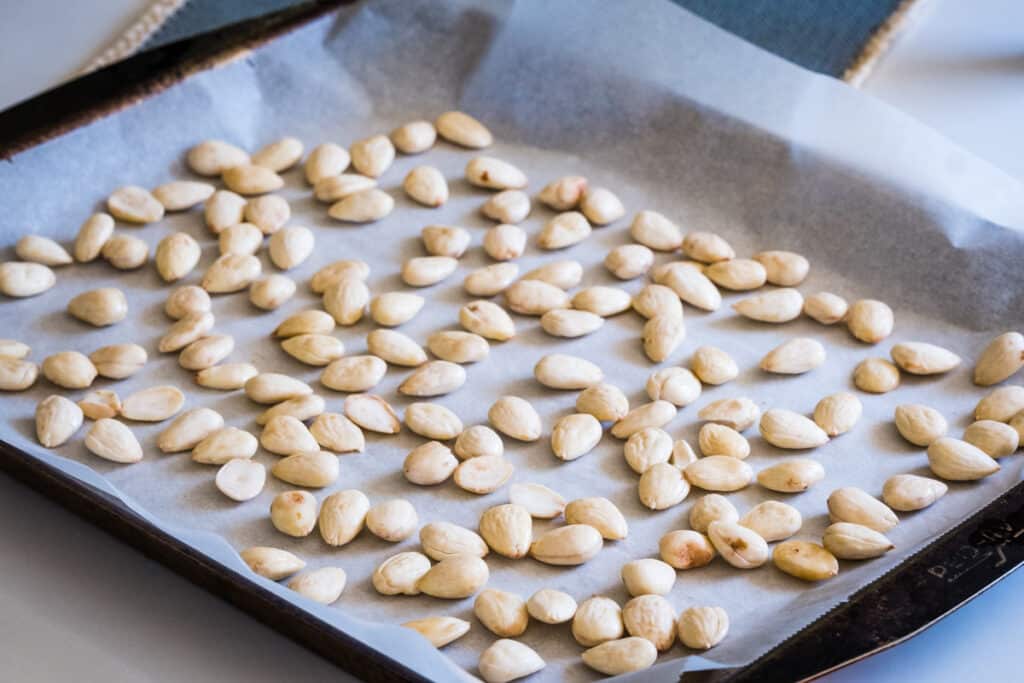 How to make lectin-free almond butter at home
Almonds are drier than other nuts, as they contain the least amount of fats, which makes them a bit more challenging when making almond butter. But these steps below will help.
To bring out some of the fat in almonds, slightly roast them before.
Use a powerful blender like a Vitamix for the best results.
Add another type of healthy fat to the blender, like coconut oil or MCT oil
Add flavors like a pinch of salt, cinnamon, cacao, vanilla

GUNDRY MD AMBASSADOR SHOP
Upgrade your wellness game with Gundry MD's supplements and products designed for your plant paradox lifestyle and lectin-free diet.
Get must-haves like Total Restore and Lectin Shield. And don't miss out on our Polyphenol-Rich olive oil – save over 30% when you stock up!
RECIPE: Almond butter plant paradox cups (lectin-free)
These no-bake sweet treats are so delicious and so easy to make. They are one of my favorite lectin-free treats to make.
To make these lectin-free almond butter cups, you need mini muffin paper liners.
Ingredients (yields about 10 mini cups):
1/4 cup white/blanched almond butter
1/4 cup coconut butter (softened)
1/4 cup dark chocolate (melted)
1 tablespoon coconut butter
two drops of stevia
Shredded coconut, optional
Method:
Mix and soften the almond butter with coconut butter (that might require a few minutes in the microwave or on top of steaming boiling water – my favorite way to do it). Add the stevia drops.
In a separate bowl, mix and melt the chocolate + coconut butter (optional, you can add another drop of stevia if you find the chocolate too bitter).
Fill the paper cups 2/3 with the almond butter mixture. Put them in the fridge for about 30 minutes (or for faster cooling, 10 mins in the freezer).
Take them out and add the melted chocolate mixture on top. You can sprinkle some shredded coconut on top if you want.
Cool in the fridge or even the freezer before eating. I like to keep them in the freezer and take them out for a few minutes before eating.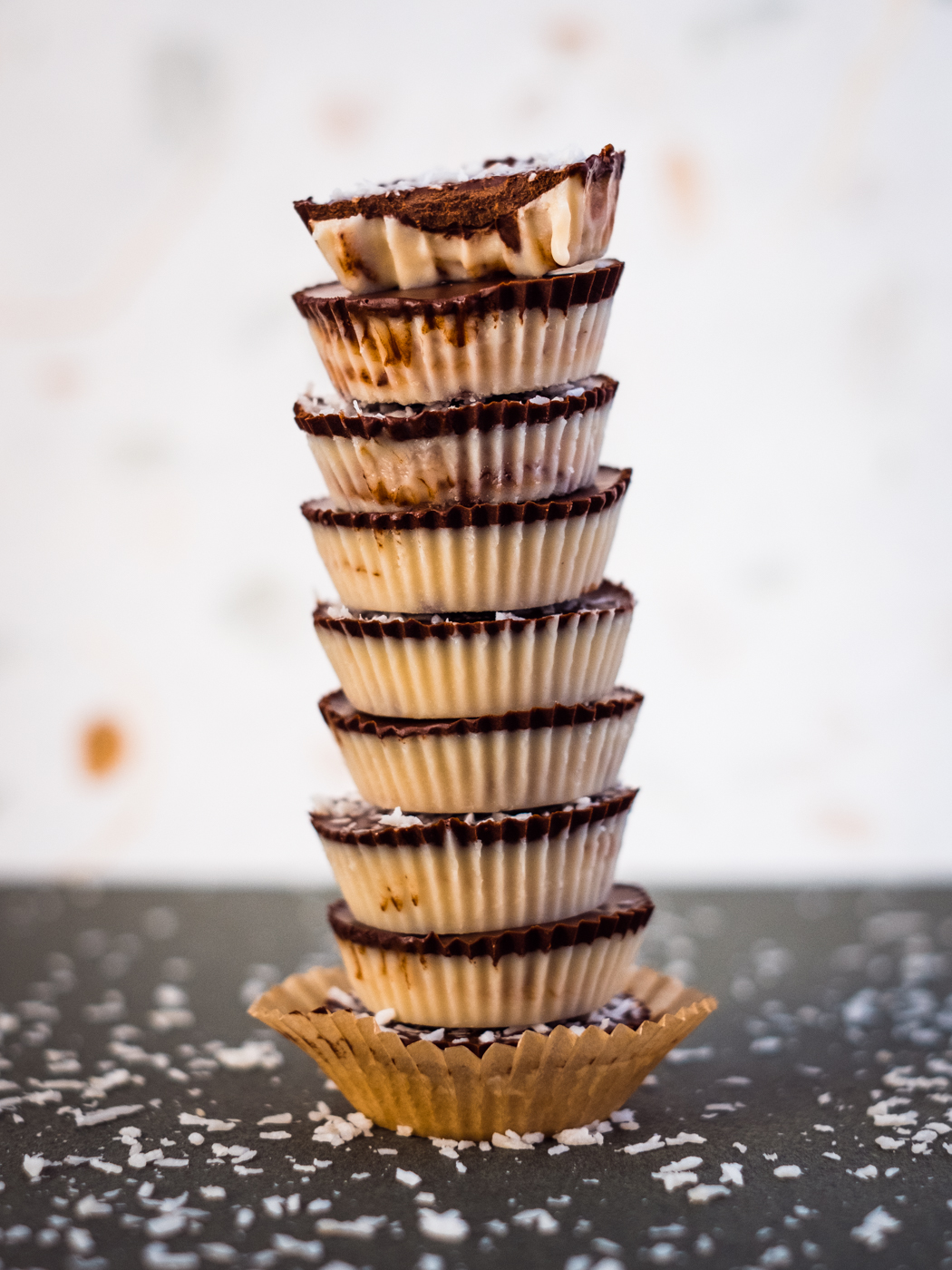 Lectin-free savory snacks: roasted almonds
Roasted almonds are lectin-free if you use blanched almonds. One of my favorite ways to eat blanched almonds is to roast them with extra virgin olive oil and Himalayan pink salt and serve them as savory snacks (coat them with EVOO and salt and roast them for about 10 minutes at 350F).
Even better than the common almonds, roasted Marcona almonds with fresh herbs are the ultimate gourmet lectin-free snack. They are called the 'queen of almonds' for a reason.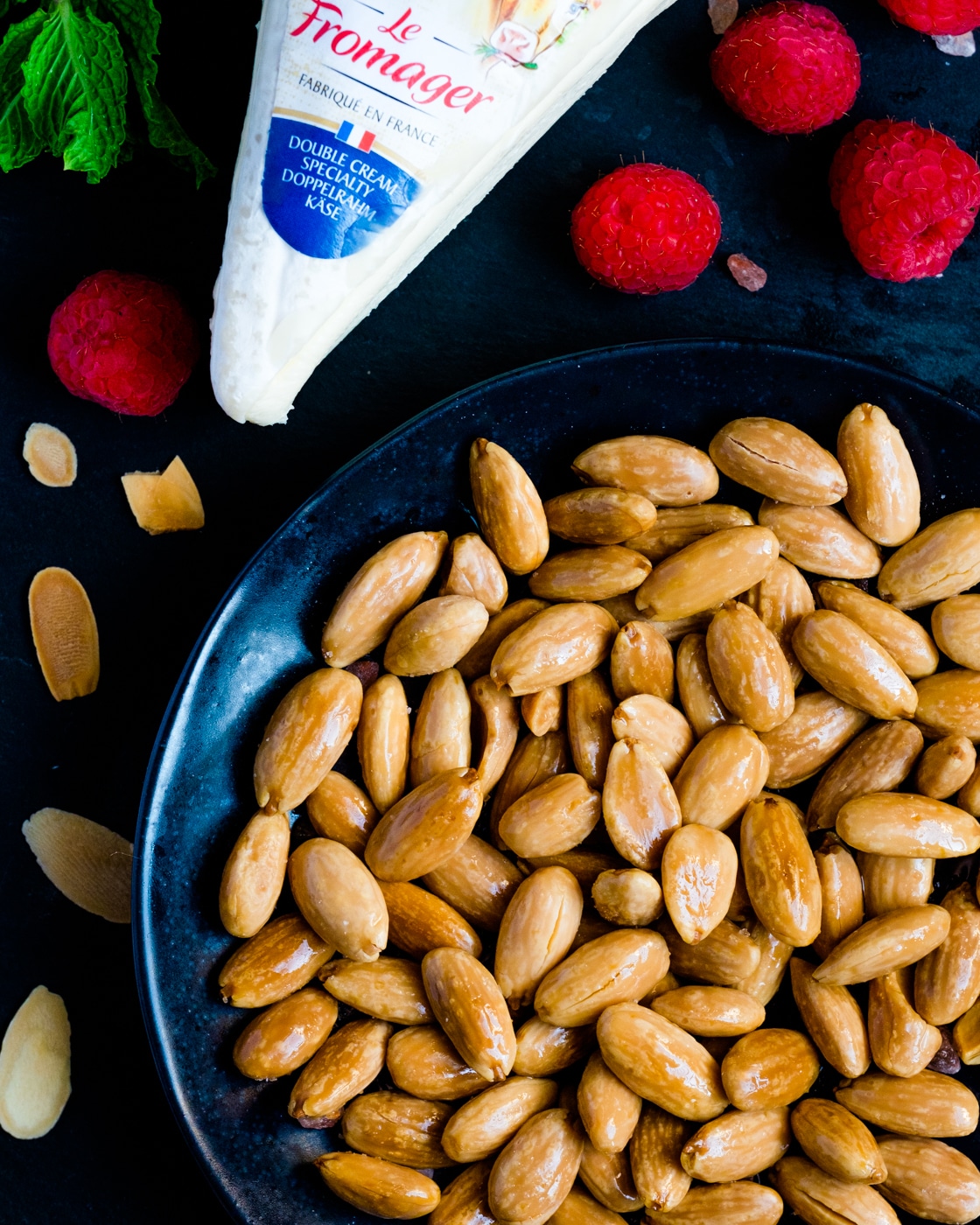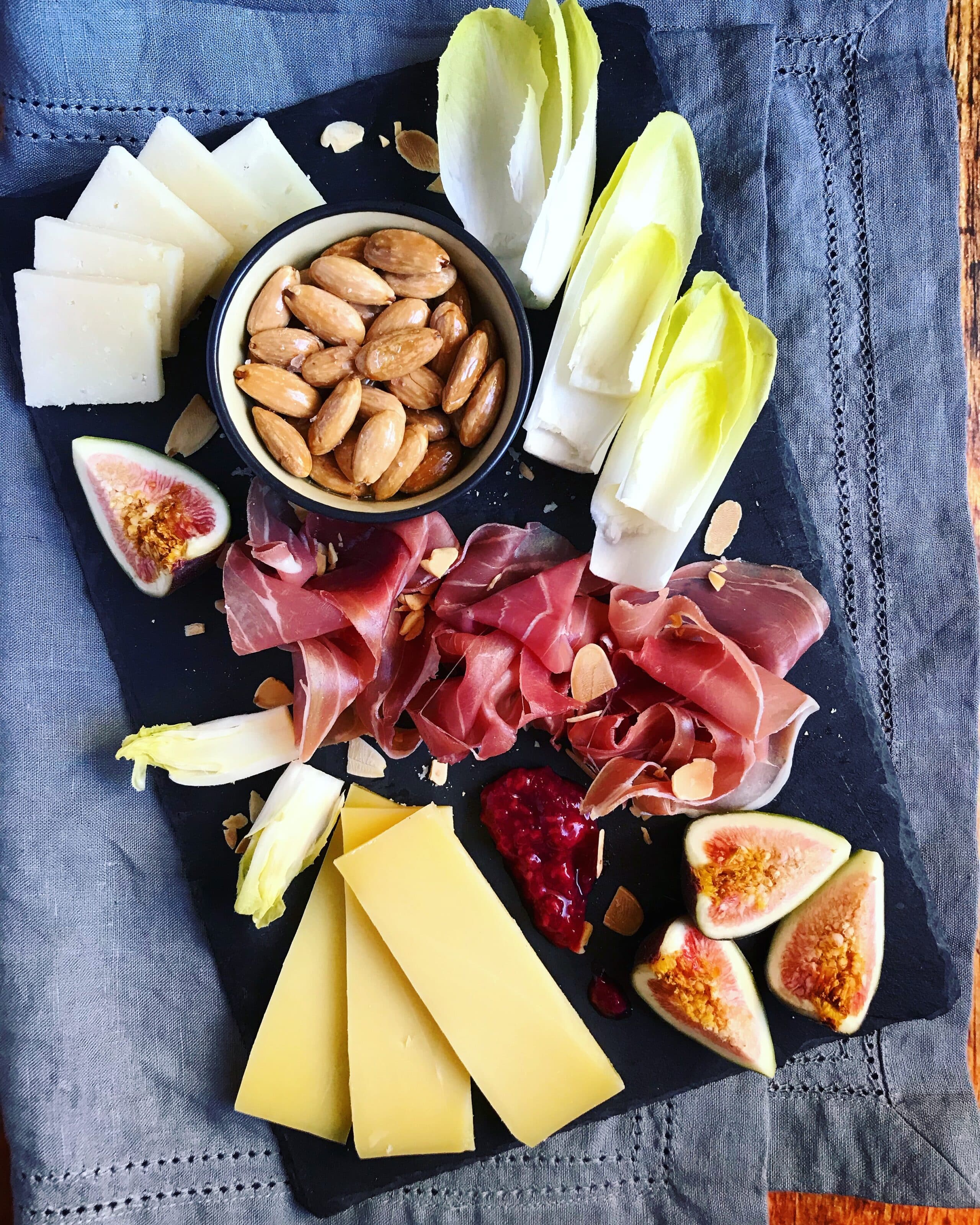 Almond cheese and recipes
Almond cheese is made with blanched almonds, so you can safely consume almond cheese if you are on a lectin-free diet. Of course, make sure you check the ingredient list to make sure there is no other ingredient that can be a problem.
I haven't adventured into making non-diary cheese at home (any cheese, for that matter), but there are a few options out there you can buy, depending on where in the world you are.
In the US, I used to buy cream cheese and ricotta cheese from the KiteHill brand.
Below are a few lectin-free recipes and ideas on how to use almond cheese: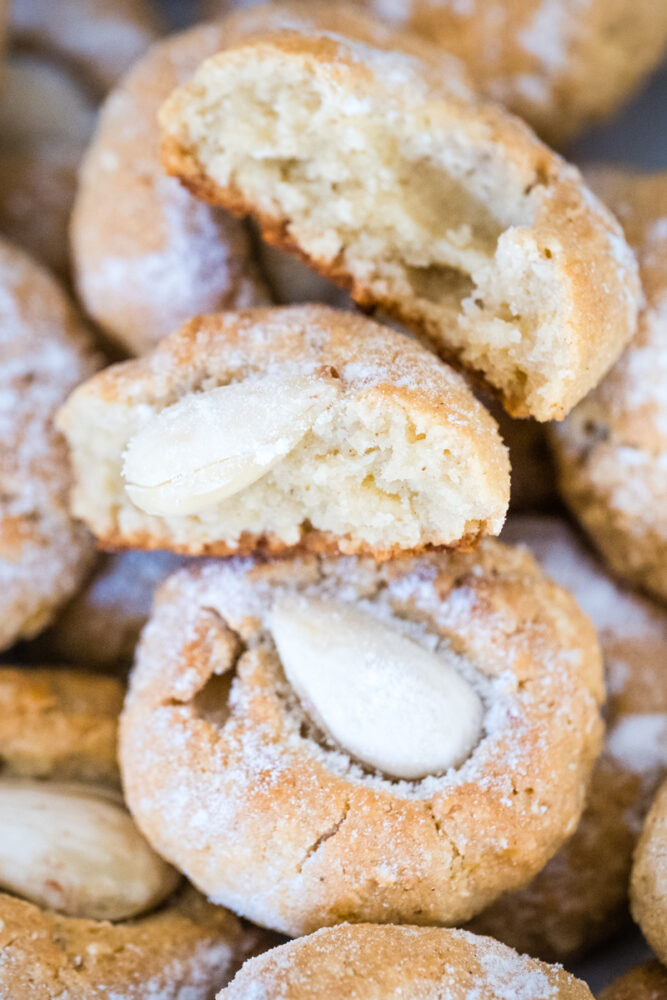 More lectin-free recipes with almonds
*This post contains affiliated links, which means I get a small commission if you choose to purchase something via one of my links, at no extra cost to you.