Paprikash is an old Hungarian recipe that, due to the proximity to the Romanian borders, has also become a traditional meal in certain parts of Romania, like Transylvania.
But you know I always like to add my own twist and I have to say I have borrowed the best of goulash, paprikash and the traditional Romanian stew and I created my own, creative in my kitchen, version.
This lectin-light pork paprikash has no tomatoes, although all these three traditional recipes require tomatoes. Well, in my humble opinion, any stew is better without tomatoes. It also has no dairy and no noodles or pasta, but I found a way to safely add potatoes.
Inspiration from three traditional dishes
While I got my inspiration from three traditional dishes, I didn't follow any of them exactly, but I feel calling it paprikash makes the most sense since this dish it is only possible because of the paprika.
A Romanian stew will not have paprika but will have a lot of tomato sauce. Goulash has tomatoes and it's made with beef, so next time I'll buy the right meat for goulash I might try to make a lectin-light version, without tomatoes or tomato sauce.
Paprikash can be made with pork and although it still requires tomatoes, we can do very well without, in fact, I absolutely love cooking without tomato sauce, which always gives me heartburn and it makes meals too acidic.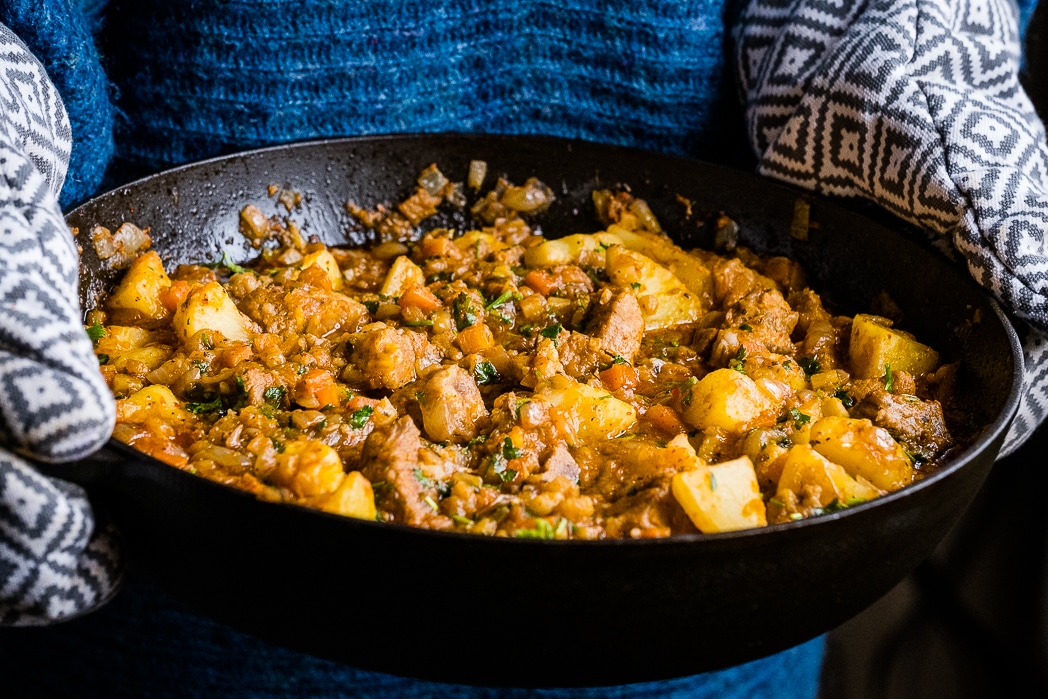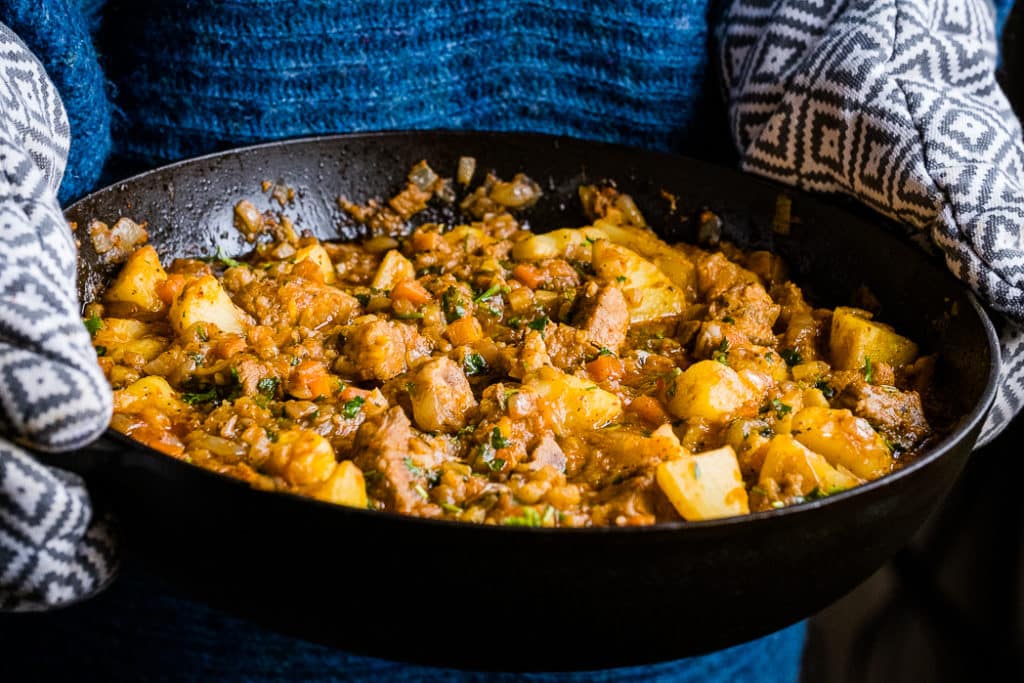 I really love something about the Romanian stew, something I remember my mom always telling me: the more onion, the better the stew. So I started big, with 7 medium onions (I guess it was about 1kg or about 2.2 lbs).
When you start making my version of lectin-light pork paprikash, make sure you have enough onions. Yellow or sweet onions are the best in this case.
Pick and choose your paprika
I love adding paprika in stews and I'm really happy paprika is plant paradox compliant although, technically, it still has the skins of the peppers mixed in. Thank you Dr. Gundry for making this concession.
Just make sure your paprika is organic and preferably Hungarian, as peppers are on the Dirty Dozen list in the US (lots of pesticides). Plus, cheap paprika doesn't taste like anything, it's a must to buy good quality paprika.
I love paprika because of the taste, but also because it gives that beautiful red color that otherwise you will only get by using tomatoes. Lucky me, my dad makes our own paprika, with peppers he grows and dries himself, so it's even more exciting to use it, while still (temporarily) living with my parents.
I only used sweet paprika for this, but if you want a spicy paprikash, you can add a little extra spicy paprika or cayenne pepper (also plant paradox approved).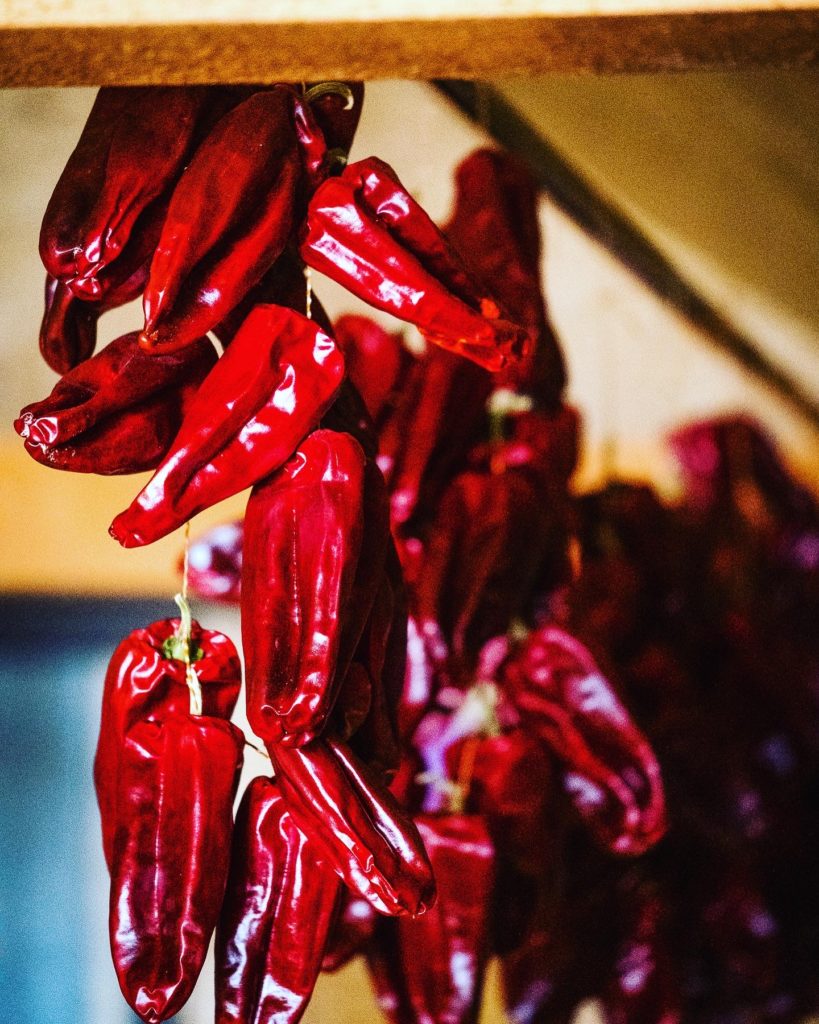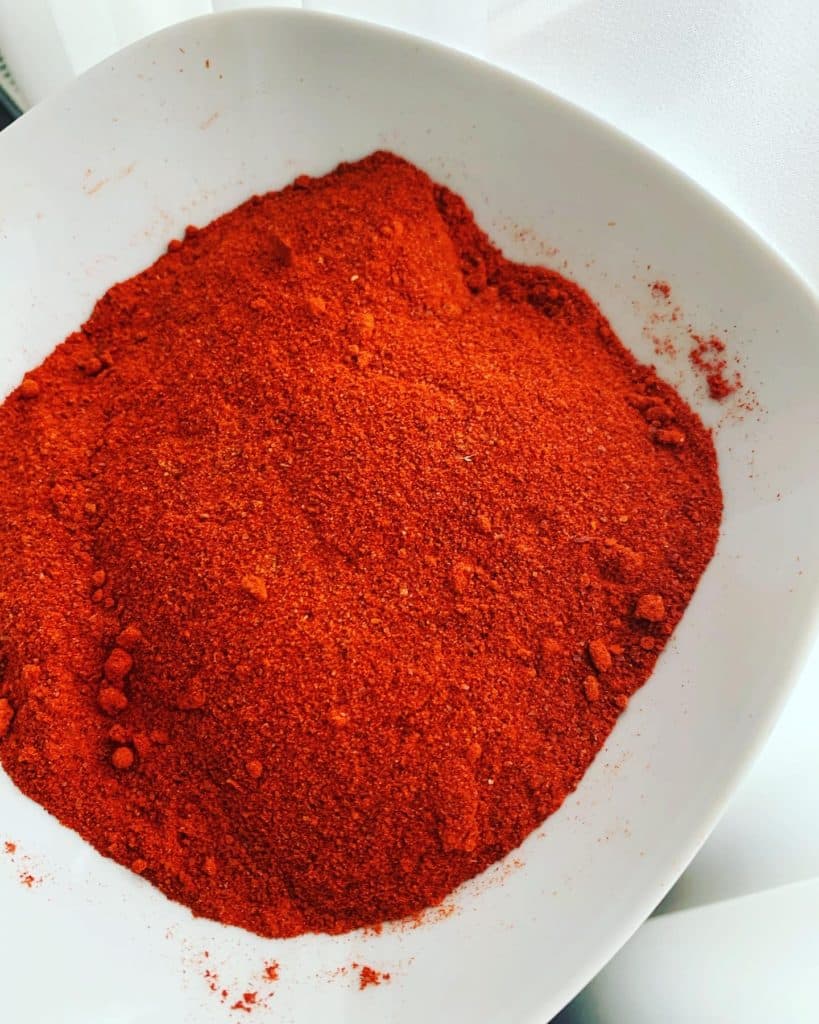 What about white potatoes?
Now, this is the question: can we use white potatoes for this dish? Honestly, they are not necessary. You can totally skip them, the sauce is already amazing without them.
Then you can go on and serve the paprikas the way it is with a salad, a cauliflower puree, next to a sweet potato or whatever compliant side you might think of.
However, there is a way to reduce lectins in white potatoes, by pressure cooking them. Not only that, but after they cool down they become a resistant starch that is actually good for your gut.
If you are really sensitive to lectins or at the very beginning of your journey, both the paprika and the potatoes might be too much for you (both are nightshades), but if you are healthy and already in phase 3 of the plant paradox program this dish is comforting, satisfying and nutritious which will benefit you a great deal (even more if you have any Eastern European genes in you).
Another solution is to replace the white potatoes with sweet potatoes or sunchokes.
So, what I did was pressure cooking a few potatoes whole, in their skin. They only need five minutes on high, covered by water (at least that's how I do it). Let them cool down completely (so you have to make them in advance), peel and roughly cut them and add them to the dish 10-15 minutes before turning off the heat.
The moral of the story, if you don't have a pressure cooker yet, get one. Can make a lectin-light lifestyle much, much easier. My Instant Pot is in a storage room in Denmark, but my mom's manual pressure cooker does the job.
Pork paprikash – Step by step visual guide
You know I'm a visual person and I think, when it comes to cooking, many of us are. I took some pictures of the steps to make the process easier for you. Just make sure you prepare your potatoes in advance if you choose to use them.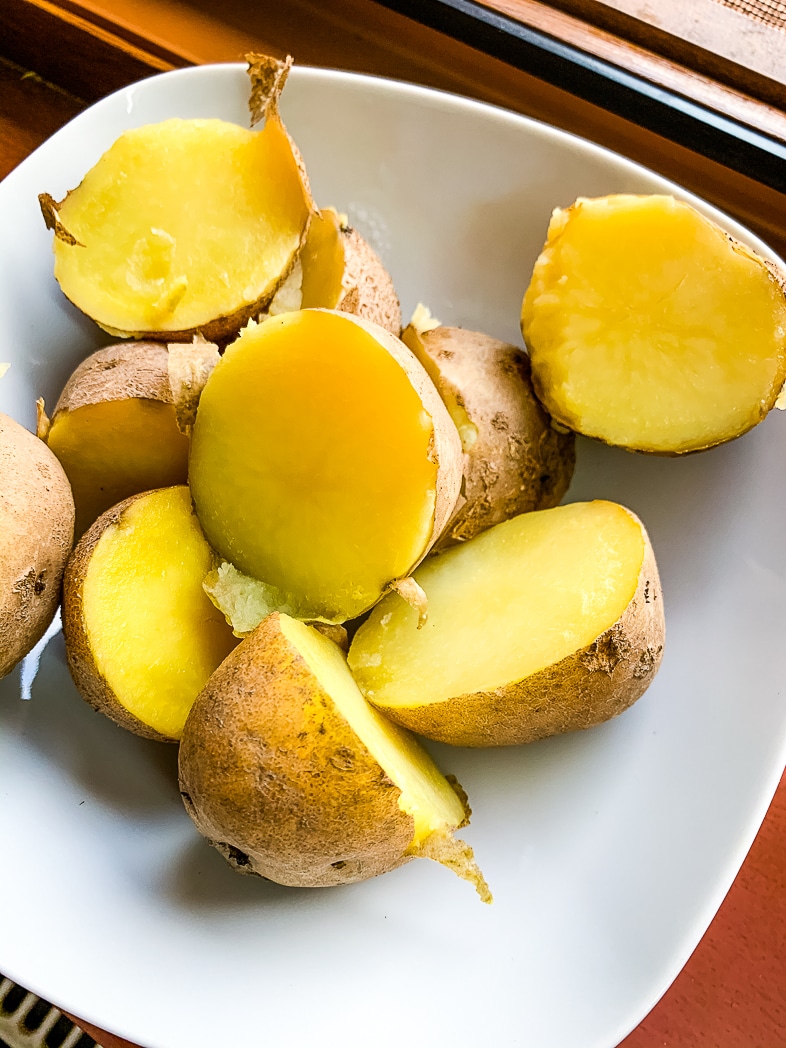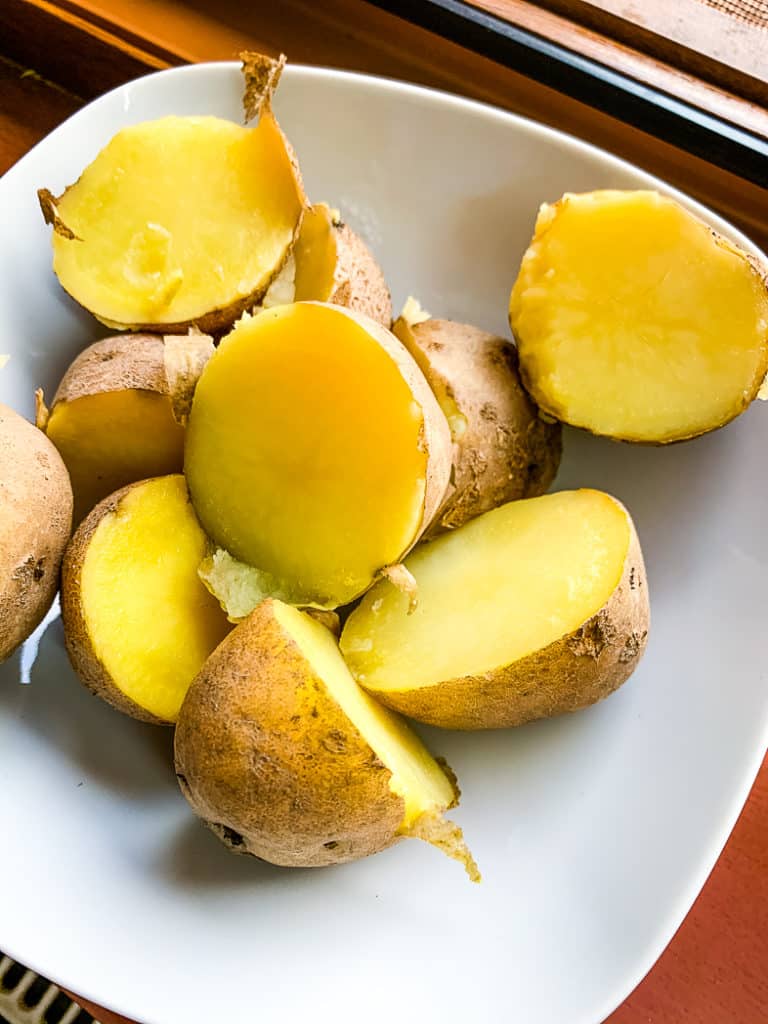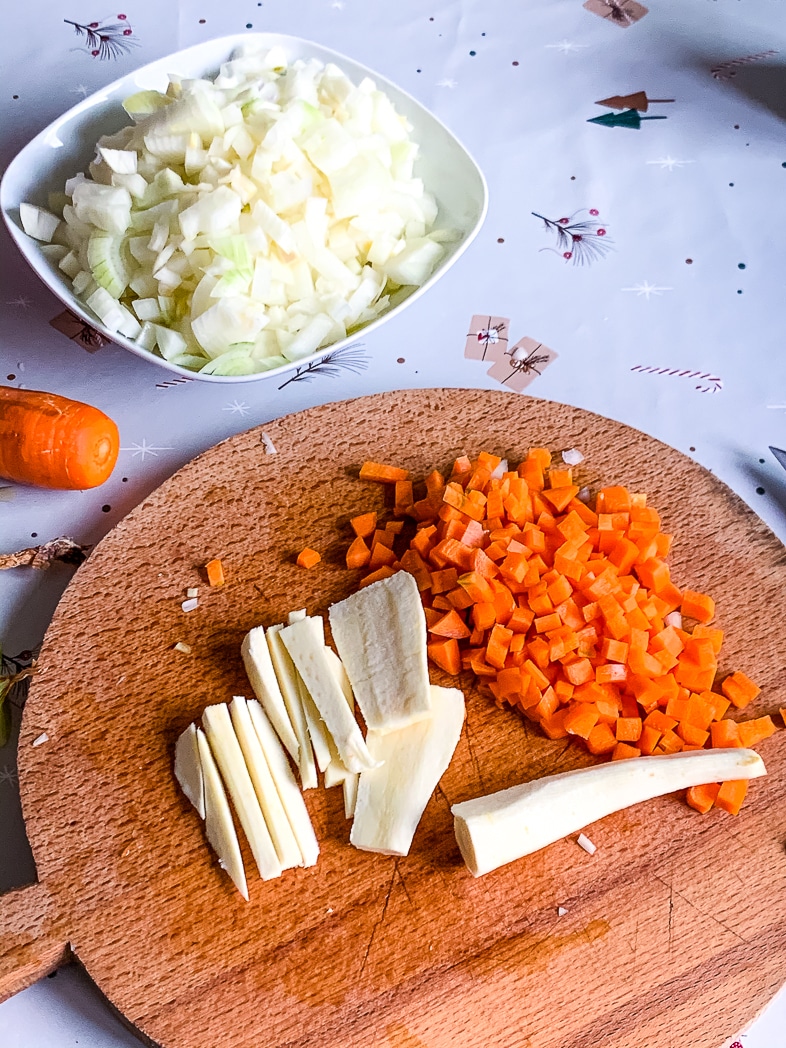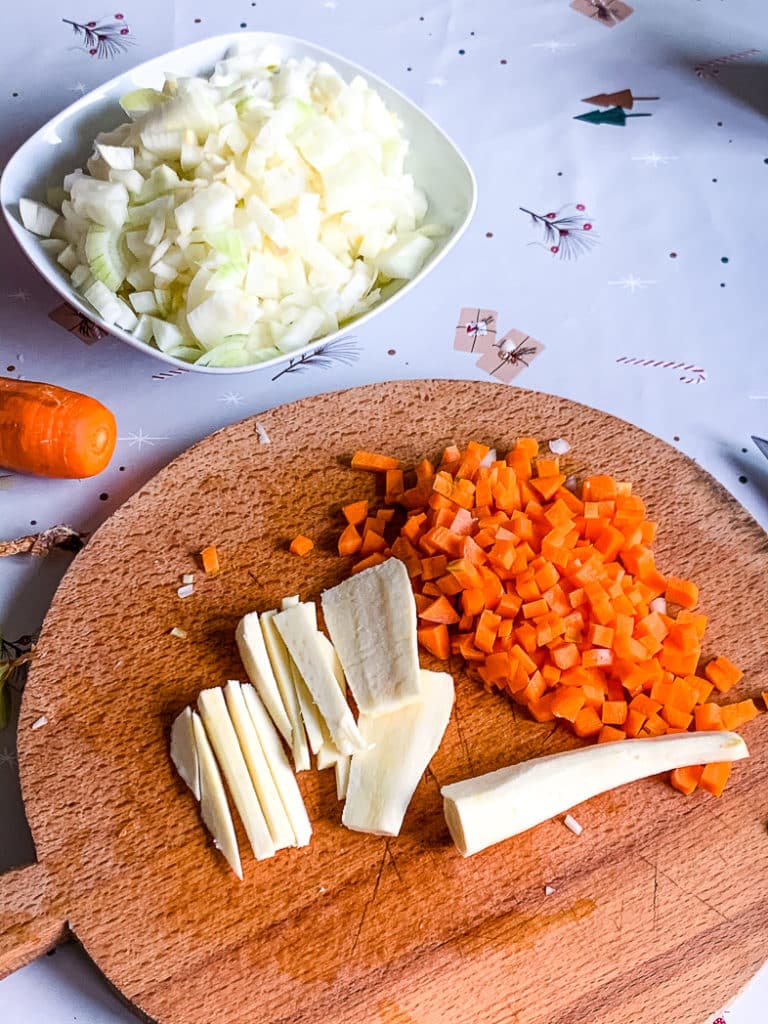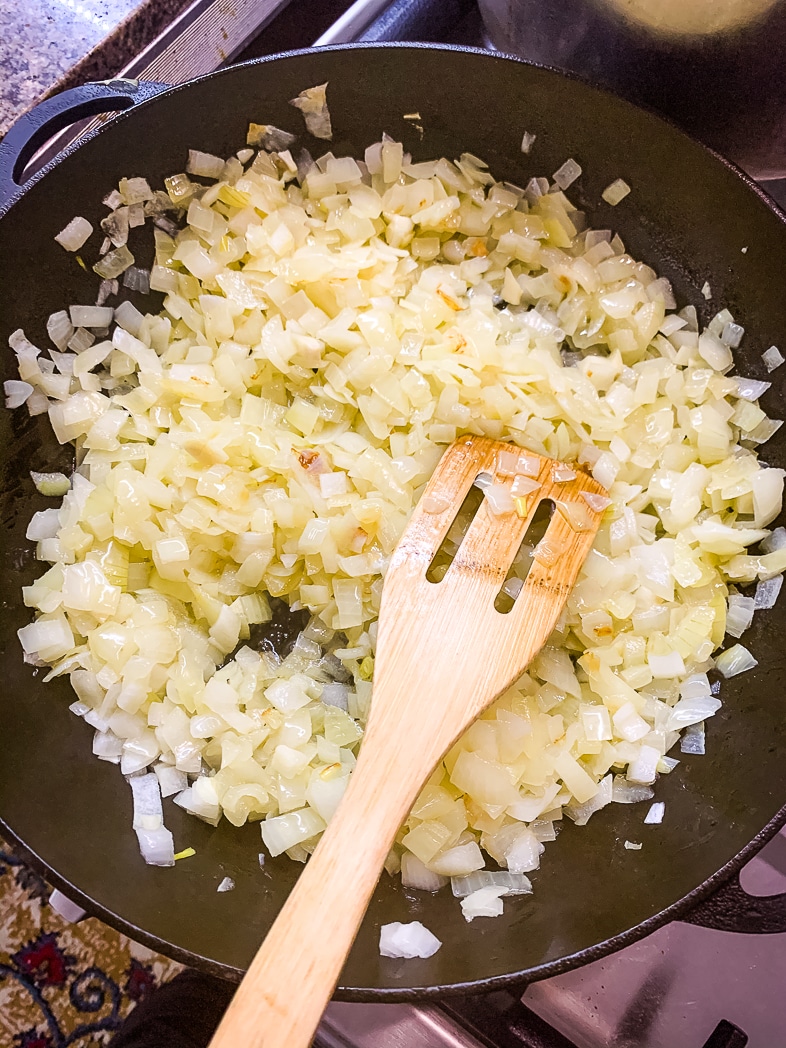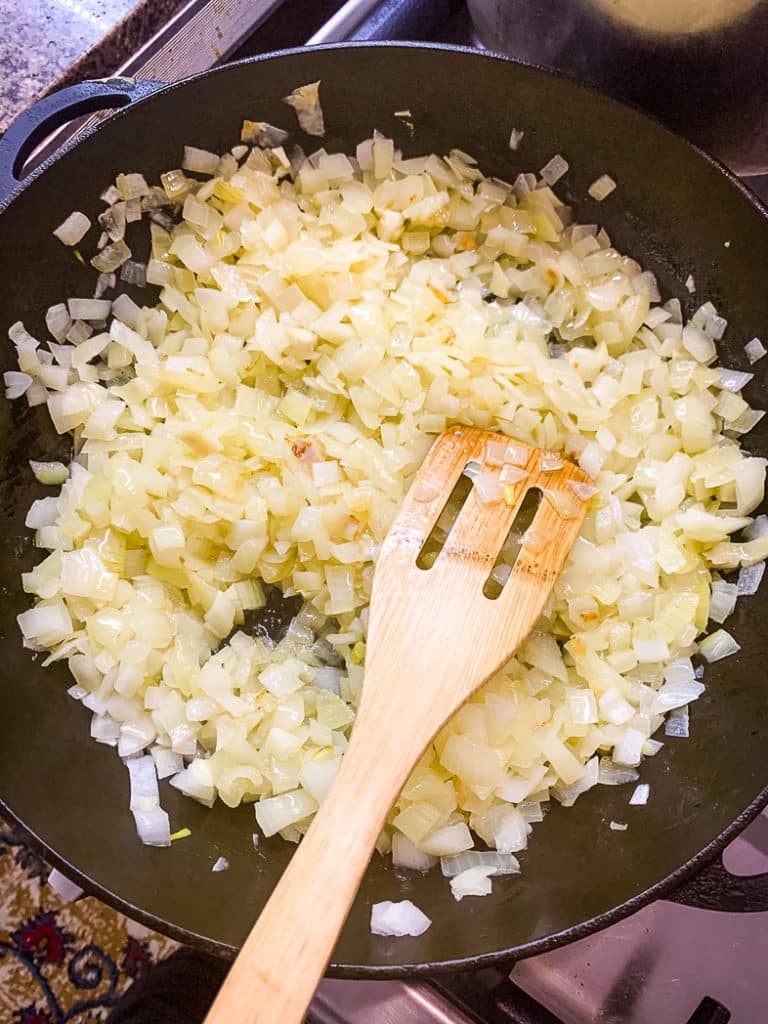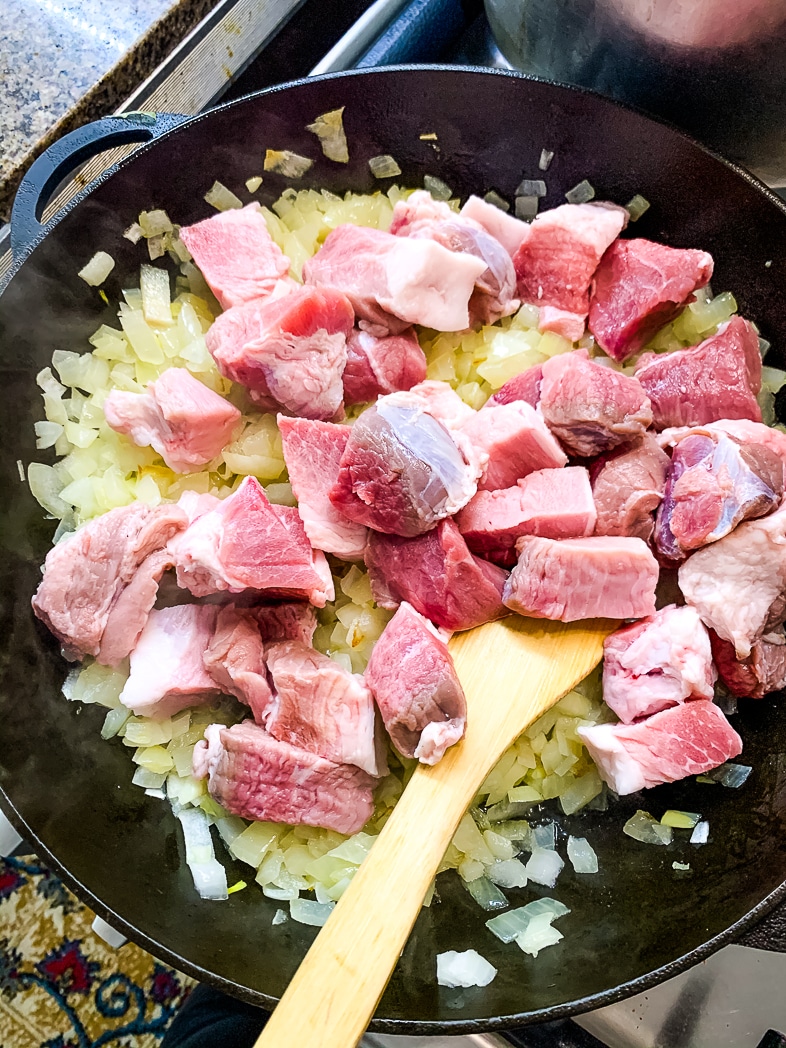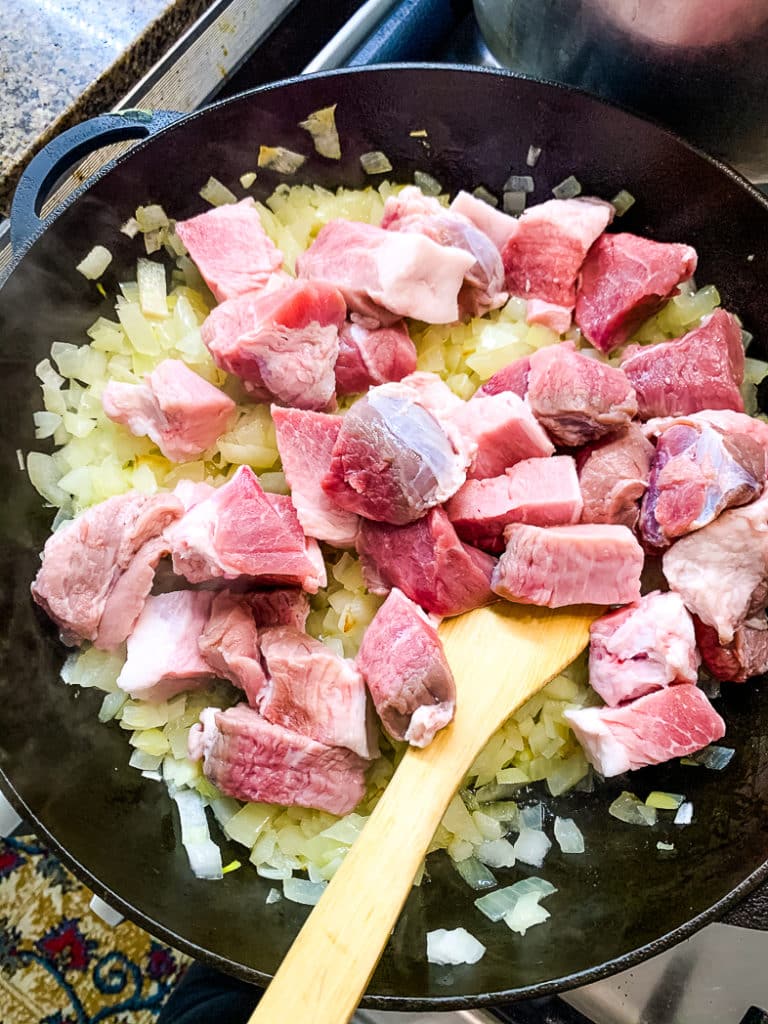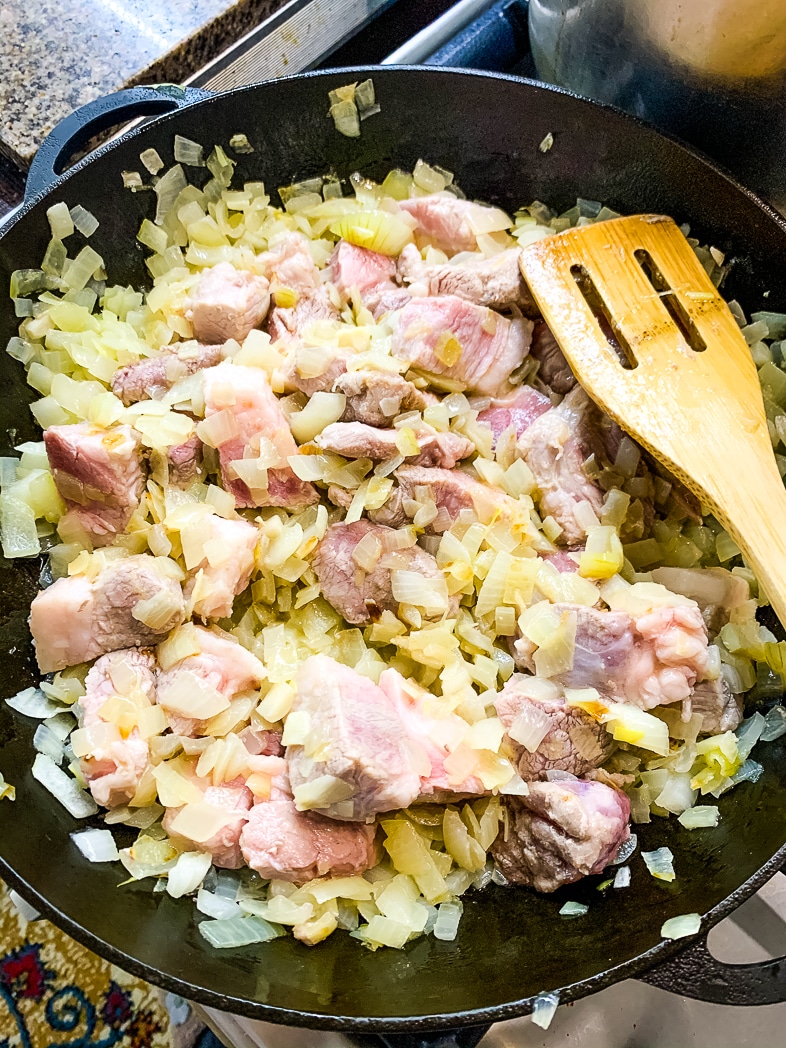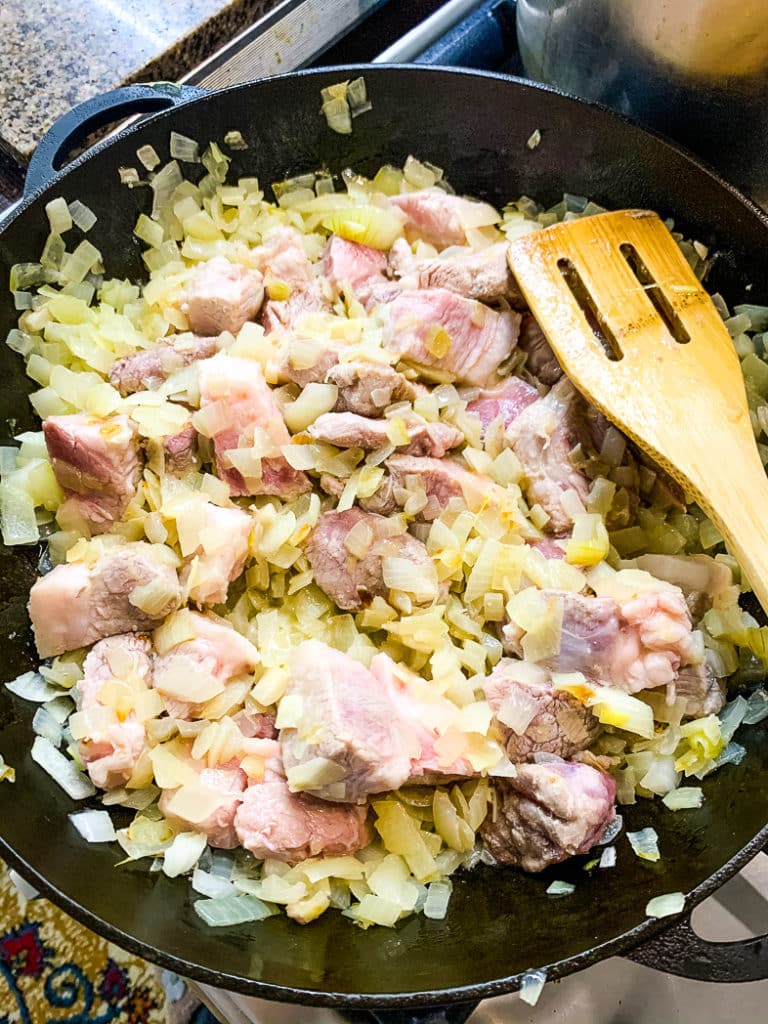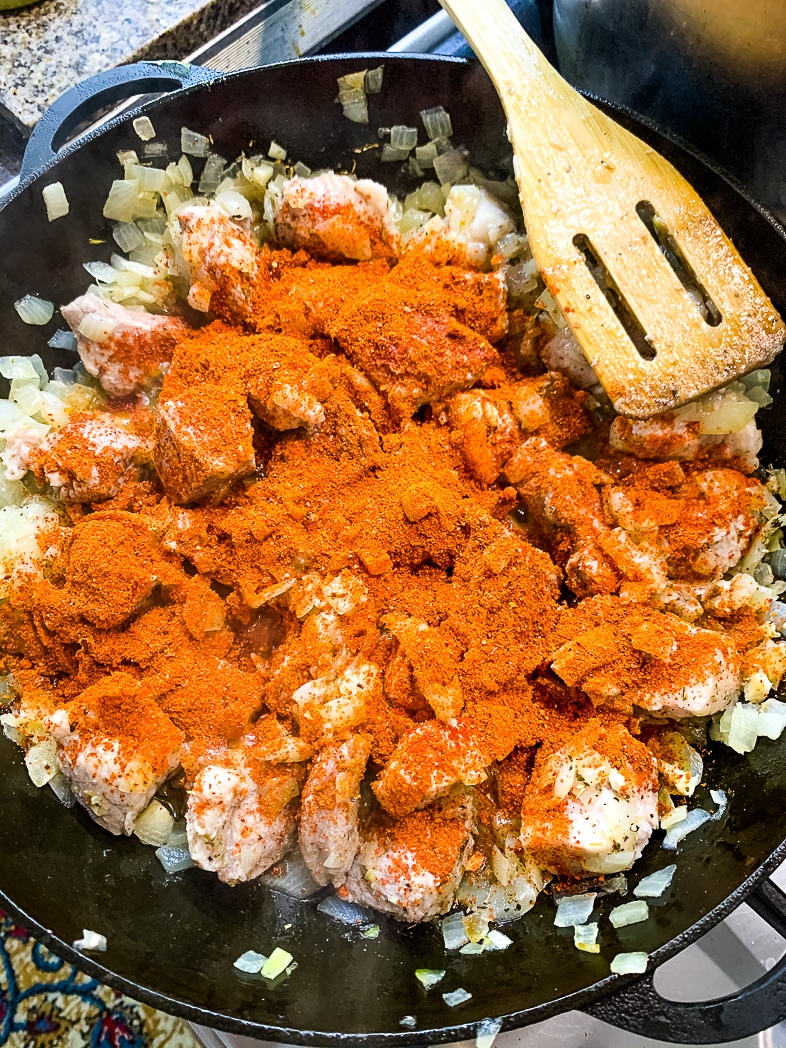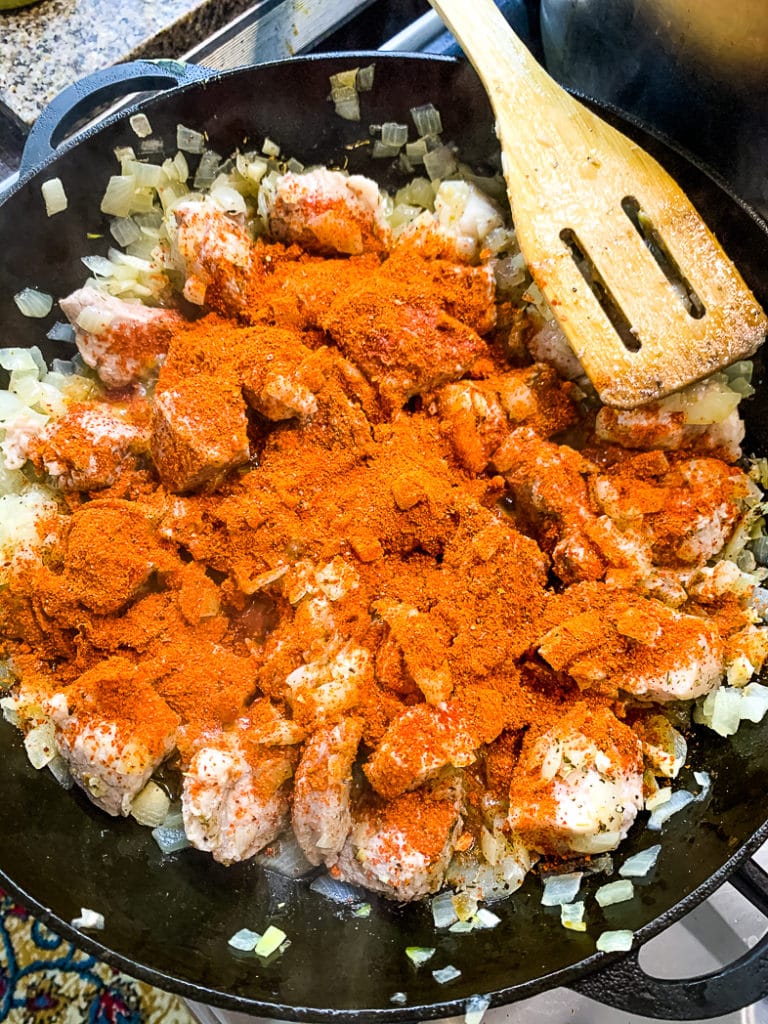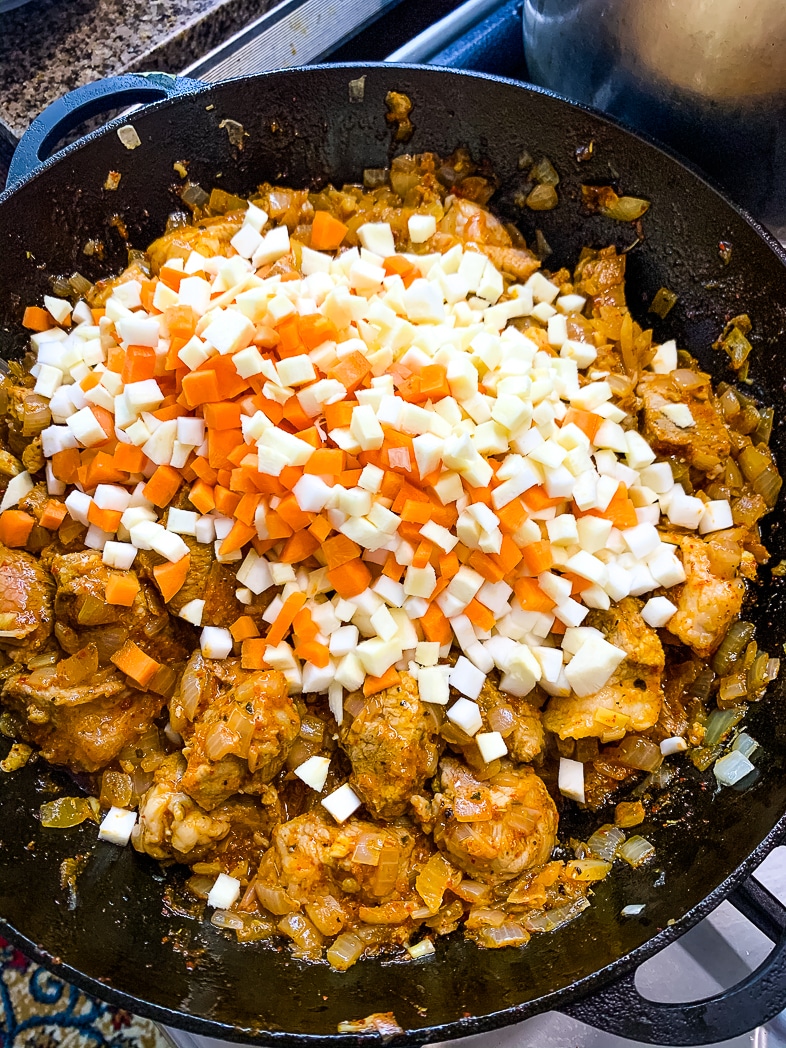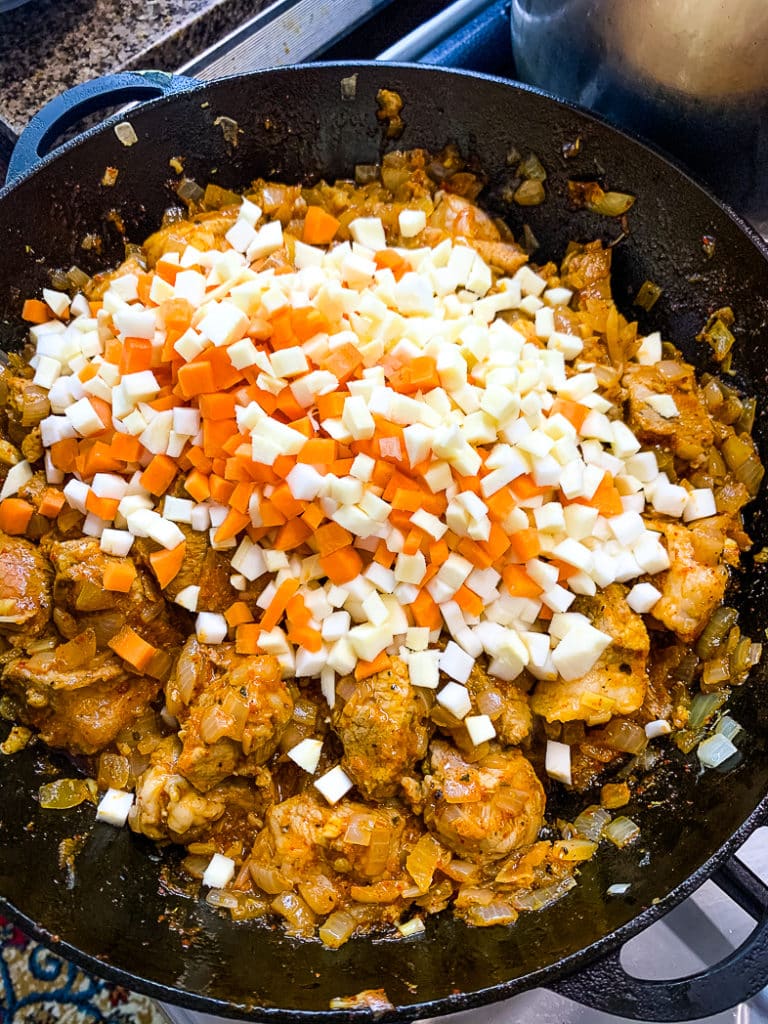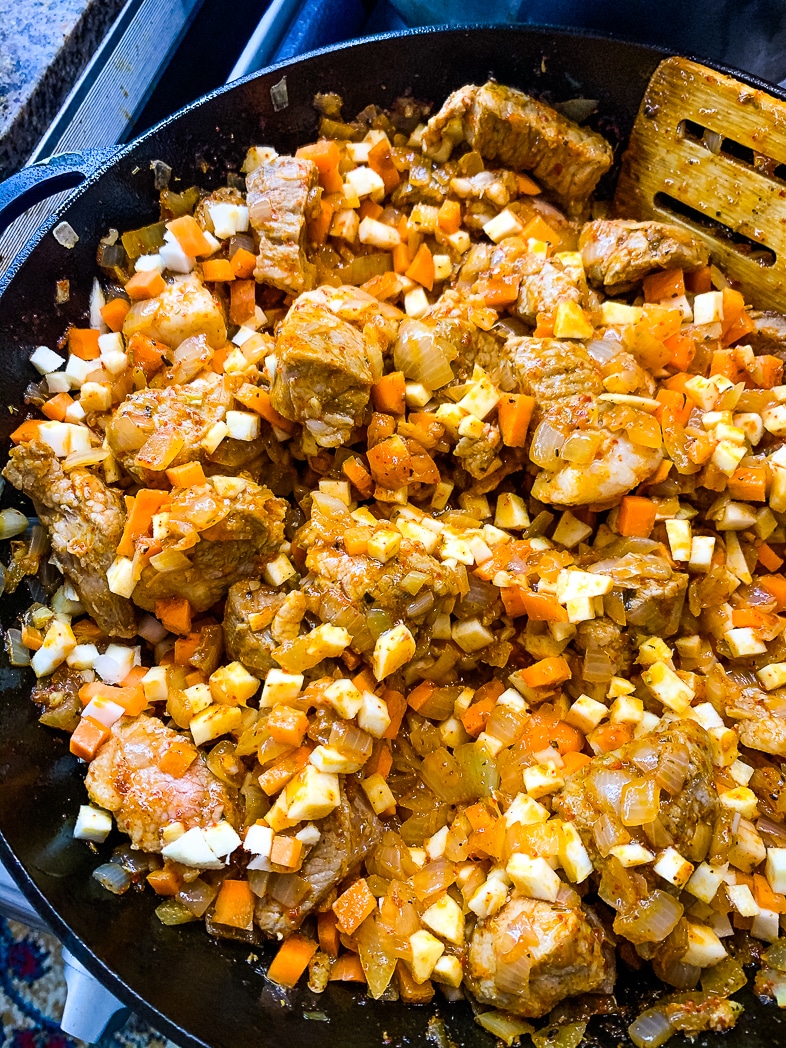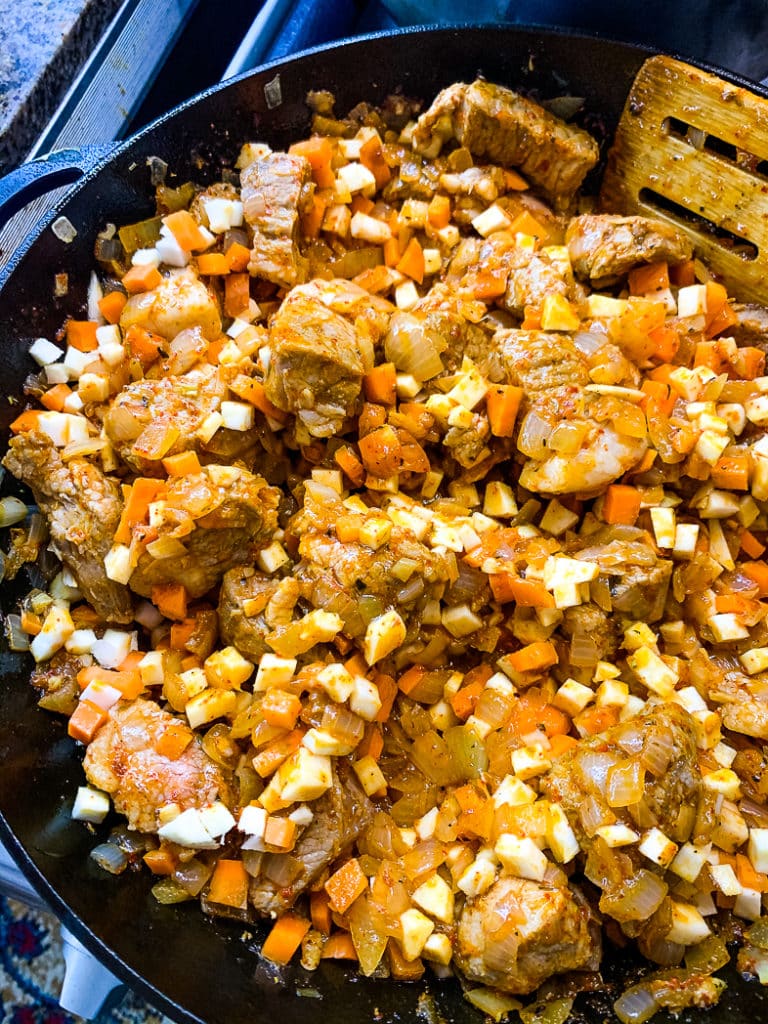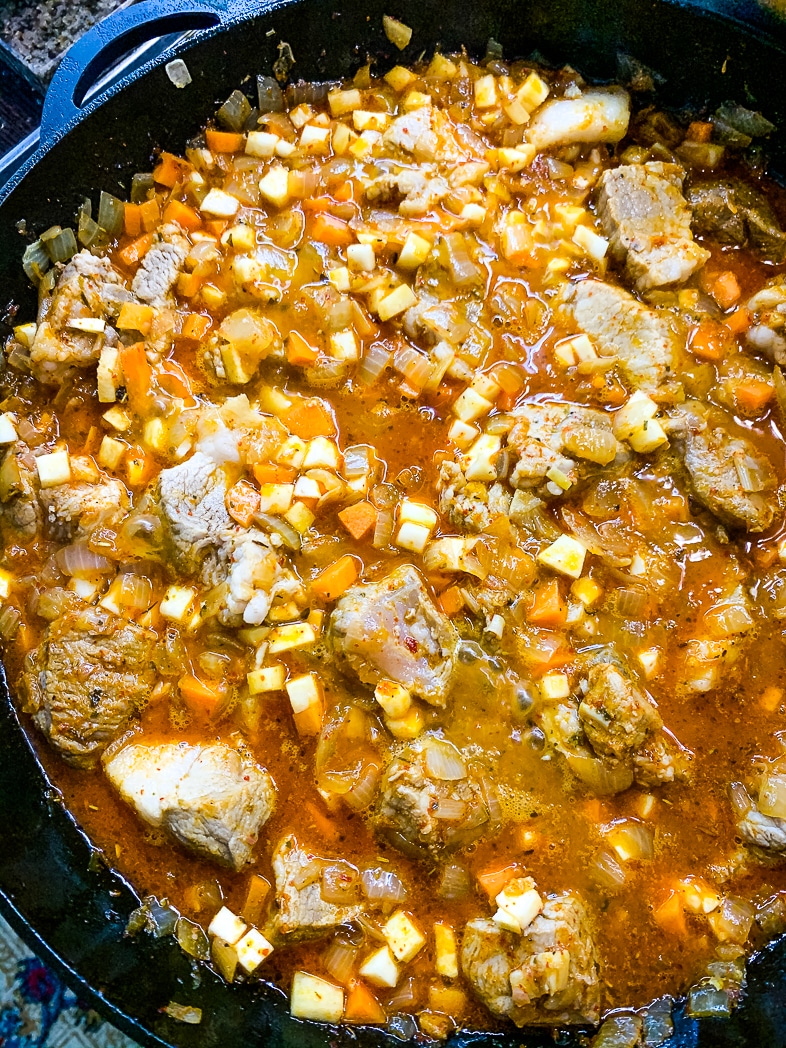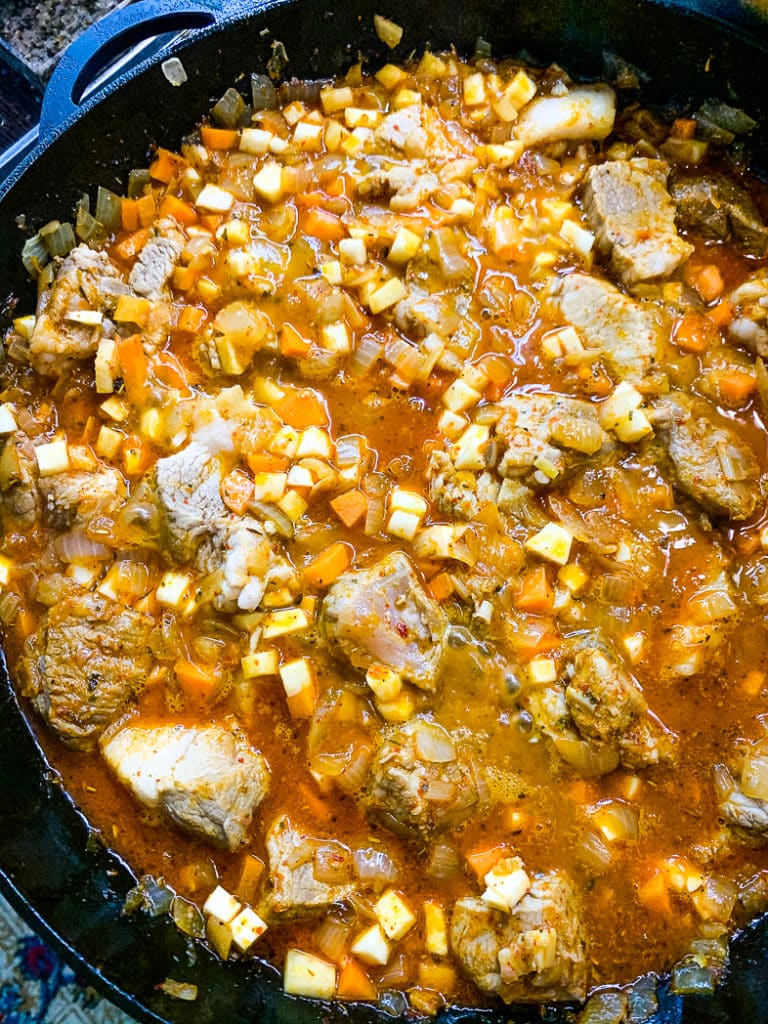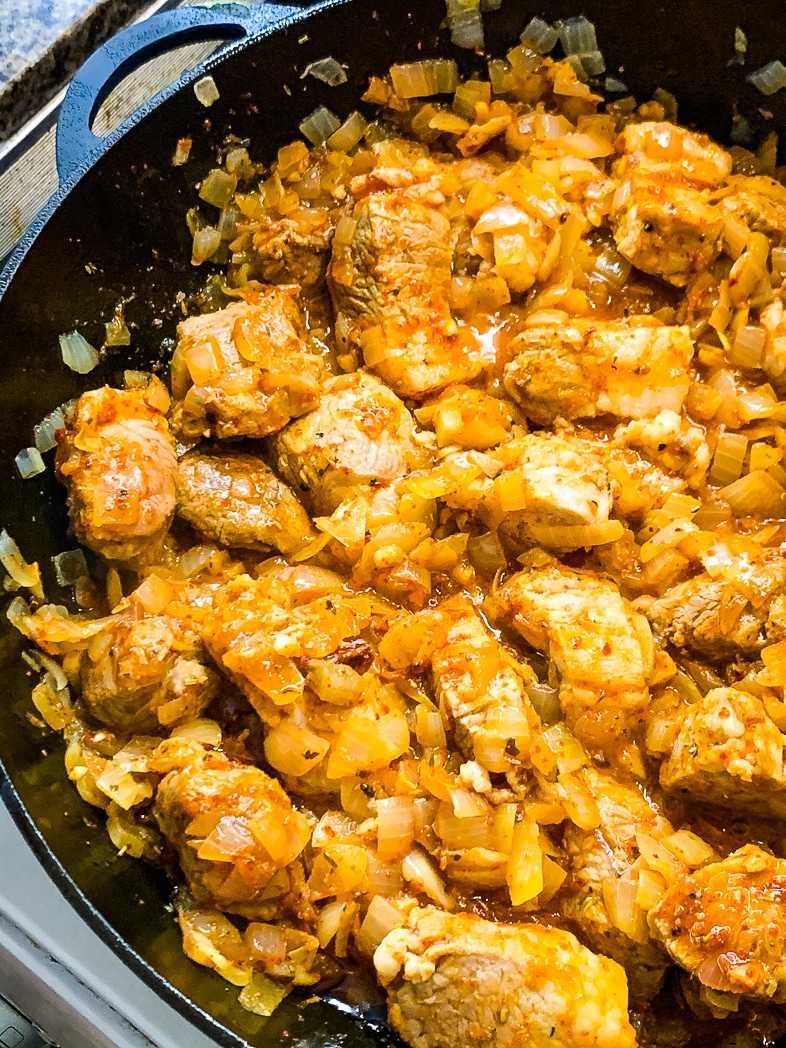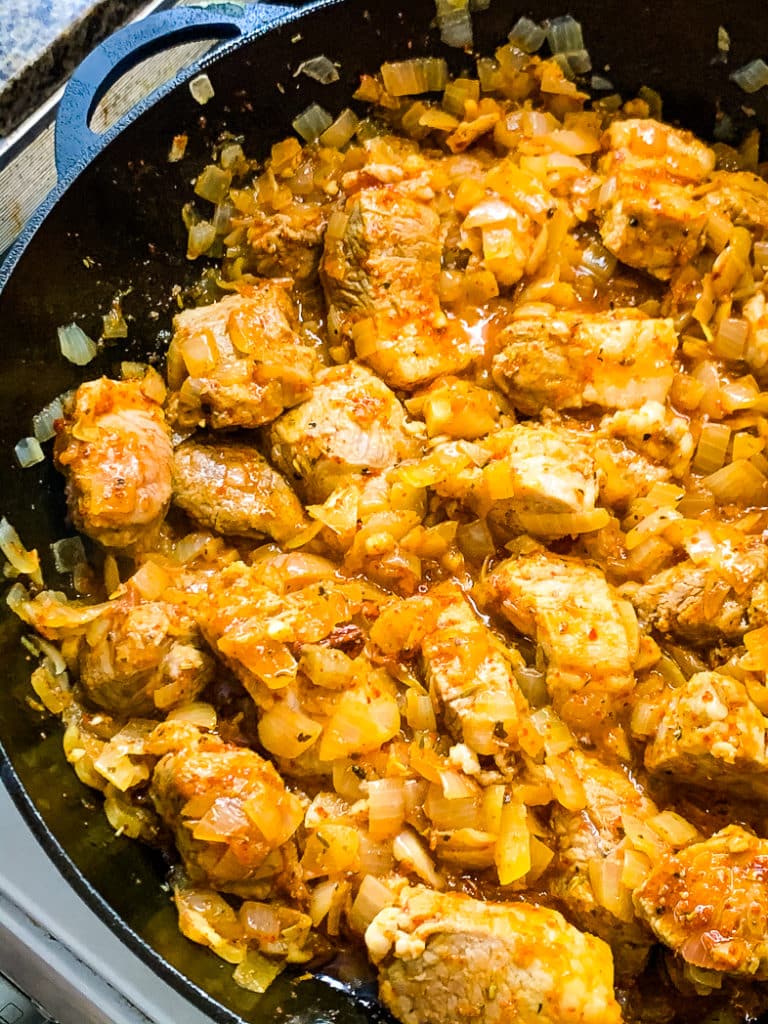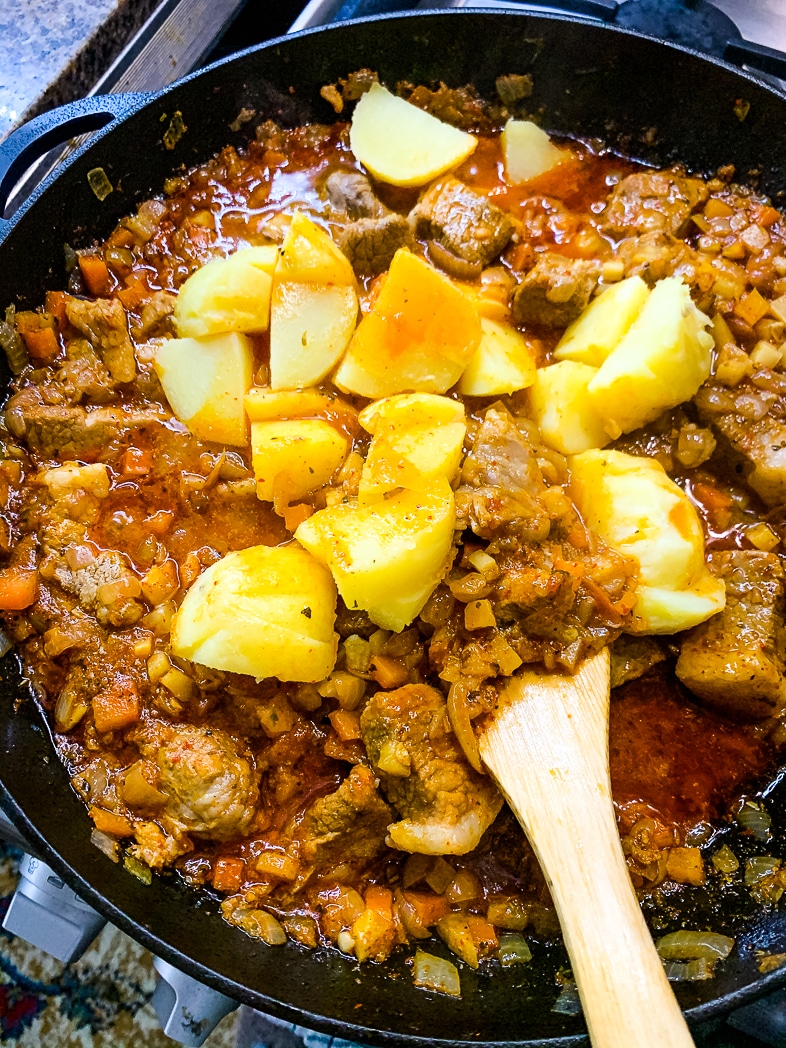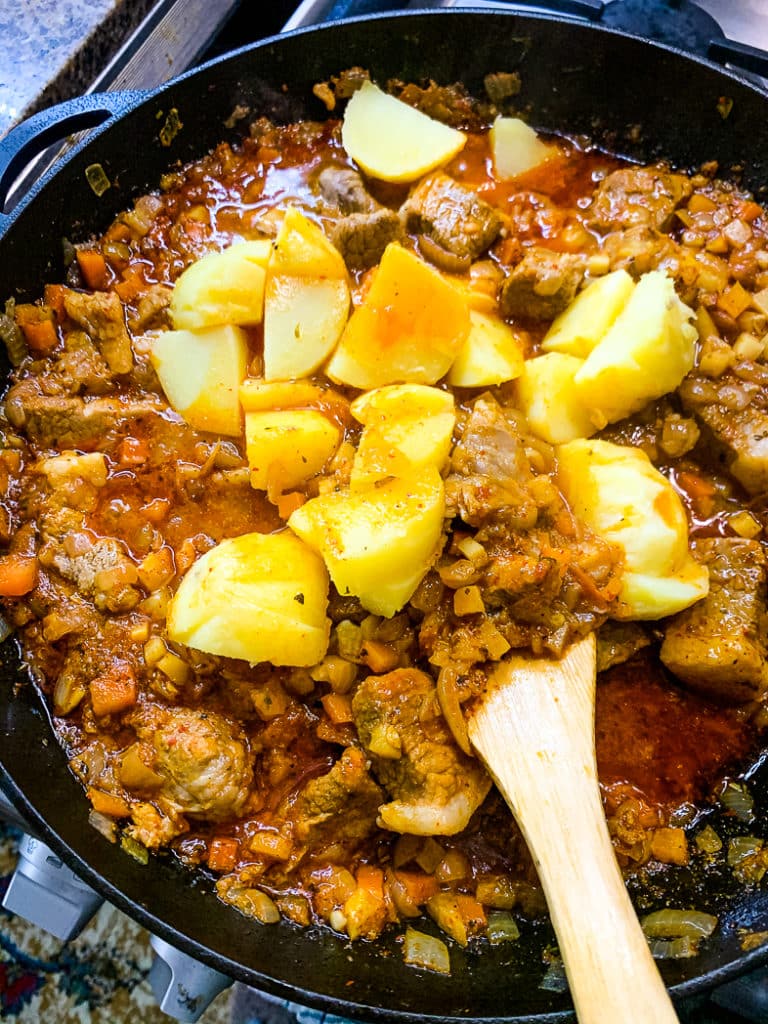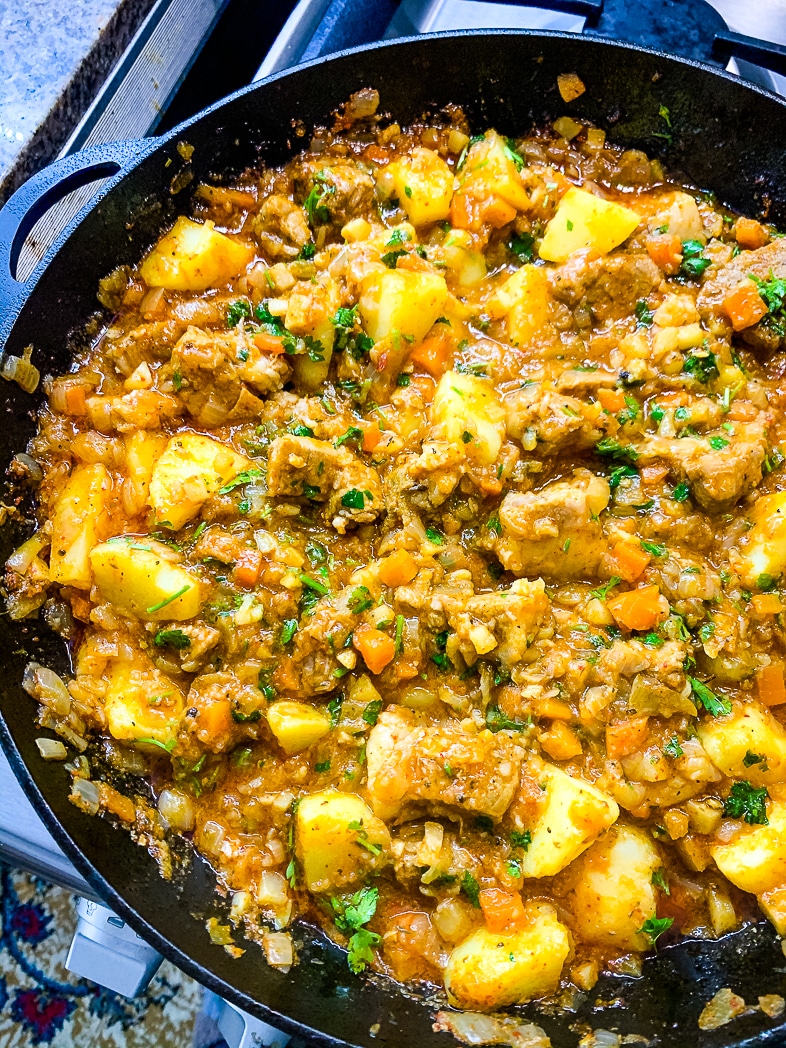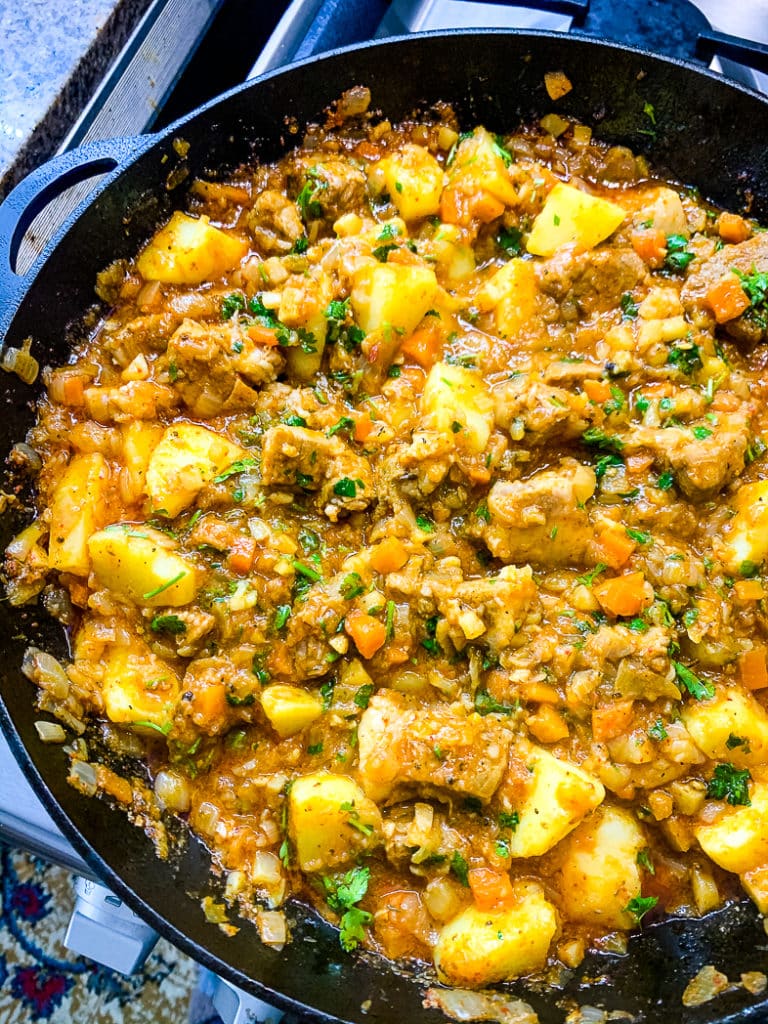 How to serve pork paprikash
Since this version has potatoes, it doesn't need a starchy side dish, but in Romania, we love to eat it with fermented cabbage or fermented mixed vegetables. A big salad would be great too.
It would pair well with our Beetroot and Horseradish Side Salad. And if you don't add potatoes, you can make a cauliflower mash next to it, or even steamed cauliflower.
That's it, folks, that's my recipe for lectin-light pork paprikash, I hope you make it and love it. If you do, leave a comment below.
More pork recipes
For more pork recipes, check out these two easy recipes: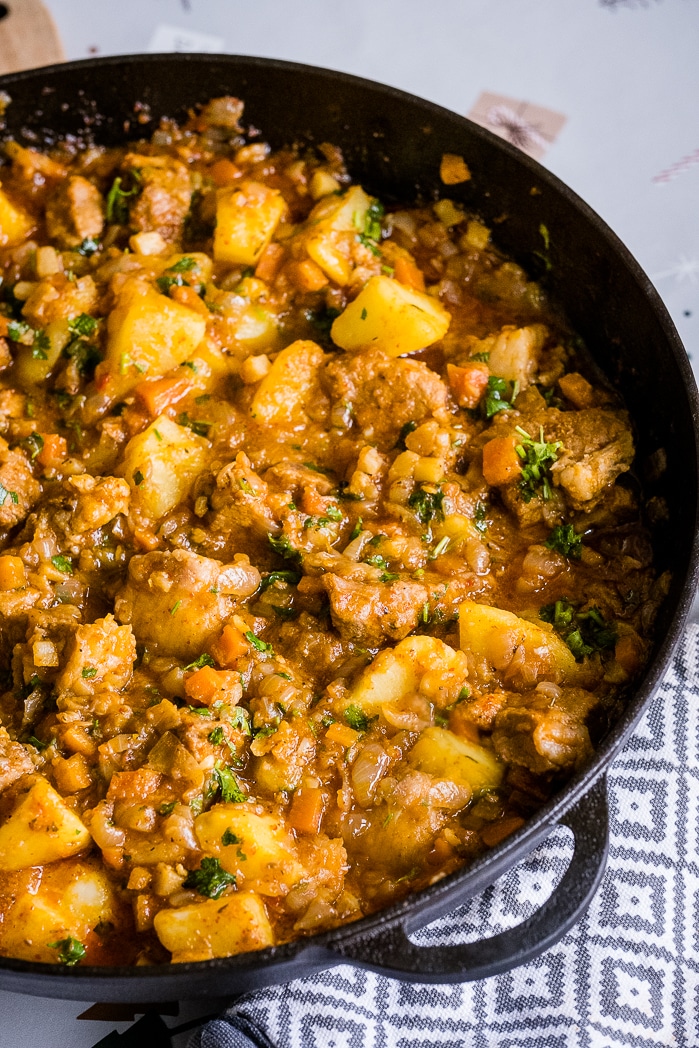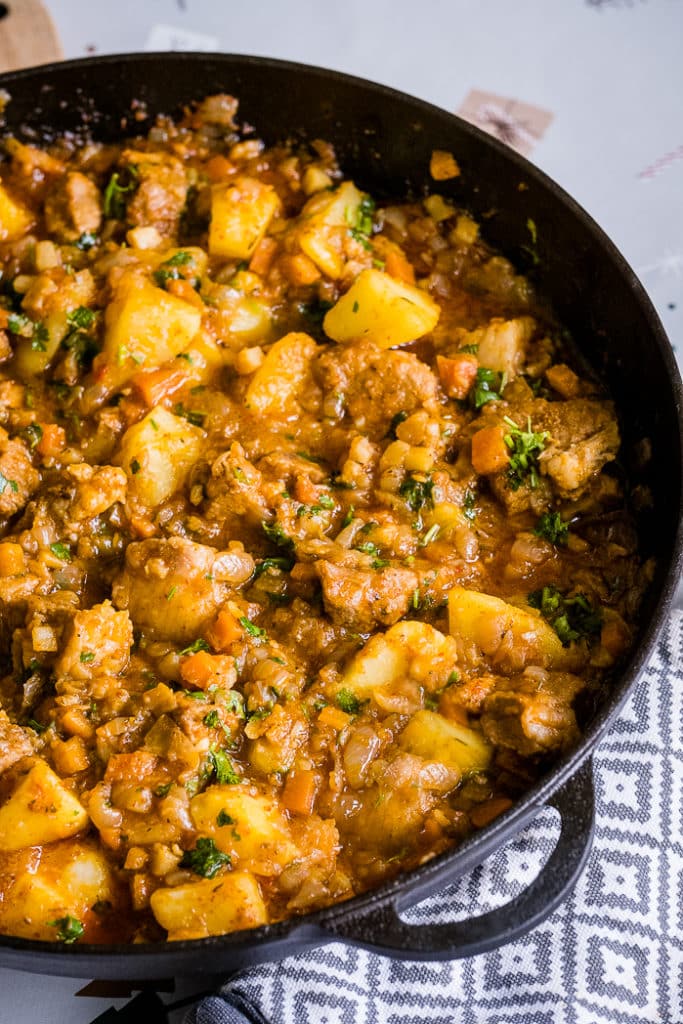 Print Recipe
Lectin-Light Pork Paprikash (no tomatoes, no dairy, no flour)
A comforting, nutritious and delicious lectin-light stew, perfect for phase 3 of the plant paradox program
Ingredients
lard + extra virgin olive oil (to generously cover the pan)
7 medium yellow onions, chopped
1 big carrot, chopped
1 parsnip, chopped
1 small celery root/celeriac, chopped
2 lbs pork leg cut (ham) OR tenderloin, cut in bite-size pieces or a little bigger
6 garlic cloves, minced
2 teaspoons salt
1/4 teaspoon pepper
1/4 coriander seeds powder
3 heaping teaspoons sweet Hungarian paprika
Optional: if you want the stew to be spicy, add extra spicy paprika or cayenne (I didn't use)
1 sprig of fresh thyme
1 sprig of fresh rosemary
Optional: If you don't have fresh spices you can add dry, or replace with Herbs de Provence mix, about 1 teaspoon
about 2.5 cups of hot water
3-4 pressure cooked and cooled white potatoes, peeled and cut in big chunks
1 bunch fresh parsley, chopped
Instructions
1

Add the fat to a heated big heavy pot like a cast iron, French or Dutch oven, with a lid.

2

Add the chopped onions and sauté for about 10-15 minutes, on low heat, until the onions become translucent, fragrant and soft but remain white. Stir occasionally.

3

Add the pork pieces to the pot and cook and stir often, for about 10 minutes. Add the spices: salt, pepper, garlic, coriander, paprika, fresh or dry herbs. Stir well so all the meat gets coated with the spices (the heat will remain on low or somewhere in between medium and the lowest setting). Nothing should stick to the pan, as paprika becomes bitter and loses its vibrant color if burnt. Add a few tablespoons of water, cover and simmer on low heat for about 10 minutes.

4

Take the lid off and add the carrots, parsnip and celery. Add about 2 cups of hot water, stir well and cover with the lid. Let simmer on low heat for about 45 minutes. Open and stir occasionally and add more water if necessary (again, it should not stick to the pan).

5

Add the already cooked potatoes, combine so everything gets coated with the sauce, cover and simmer for 10 more minutes.

6

Add fresh parsley, taste and adjust for salt if necessary.
Notes
Please read the entire post and recipe before starting cooking.