This creamy lentil soup loaded with vegetables is one of my favorite meals after a period of feast. Thick, comforting, and nourishing, this vegan lentil soup or stew is perfect for cold winter days, especially after the holiday indulgences.
Made with pressure-cooked lentils, this meal is lectin-light and easy to make.
Do lentils have lectins?
Yes, lentils have lectins, but pressure-cooking lentils removes most of the lectins, making this nutritious staple easier on your digestive system and more friendly for those sensitive to lectins.
The only problem when pressure cooking lentils is that they easily lose shape and get mushy. My solution is to use small green lentils, sometimes called French green lentils.
How to pressure-cook lentils to remove lectins?
Canned lentils are pressure-cooked, but since they are so easy to prepare, I never buy the canned version. Feel free to use canned lentils for this recipe. Before I make this meal, I pressure-cook a larger quantity of lentils and freeze whatever I'm not using for future meals.
To pressure cook French green lentils:
Clean the lentils well, and soak them for about one to two hours, changing the water a few times in the process until the water is clean.
Add the lentils to a pressure cooker. To 1 cup of lentils, add 1 3/4 cups of filtered water. Optionally, you can use two bay leaves, one carrot, and one onion for extra taste. Add the rest of the seasoning after they are cooked.
Pressure cook for 6 to 10 minutes (the time is different for other types of lentils).
Lentil soup is great for meatless Mondays, a fasting-mimicking diet, and Phase 3 of the plant paradox program
I wanted to keep this lectin-light lentil soup relatively low in calories. Not because I love counting calories, on the contrary. But I wanted to be able to use this kind of soup for The Five Day Fasting Mimicking Diet, which I'm planning to do again soon.
I will just not add the extra olive oil when blending. That's why for this 4-portion quantity, I used only 2 cups of cooked lentils. As they tend to be high in calories and protein and this cleanse is low in both.
So, in case you also want to use this easy recipe for a fast mimicking plan, one serving of soup, without the extra olive oil added at the end to the blender, has 350 calories.
A plant paradox phase 3 meal
This is a Phase 3 Plant Paradox meal, but also compliant if you follow a vegan, lectin-light version of the plant paradox program.
Lentils and beans are great for us if cooked appropriately. But they may still bother you if your gut is not healed. I personally took a 2-year break from beans and legumes. But I reintroduced them successfully, and they helped me keep my animal protein in check.
A PRESSURE COOKER IS ESSENTIAL IF YOU WANT TO REINTRODUCE BEANS INTO YOUR DIET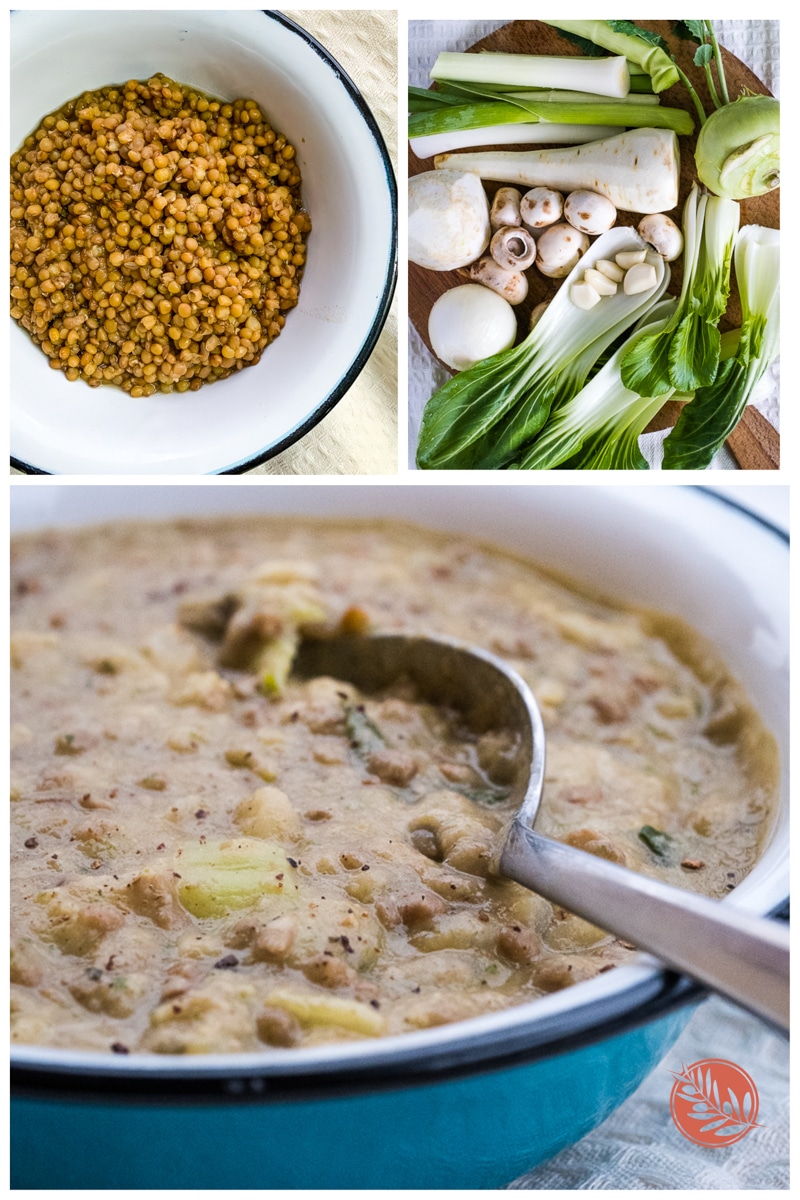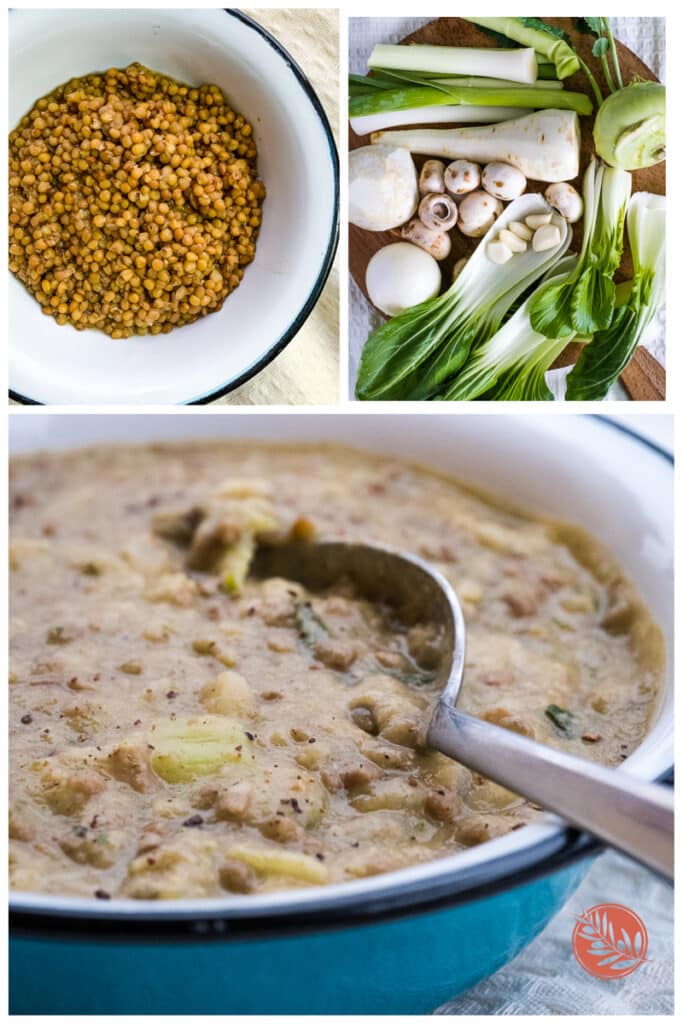 The other vegetables I used to make this lectin-light soup were: leeks, onion, celeriac or celery root, kohlrabi, parsnip, mushrooms, bok choy, garlic, and parsley. You can always improvise if you don't have one of these, but they do work very well together.
More recently, I created a recipe for homemade bouillon cubes, and now I add them to everything, but they work particularly well with soups. They are easy to make and a great meal prep hack to help you cook more flavorful and nutritious food with less effort. Add one or two cubes to this soup to add more flavor.
How to serve creamy lentil soup
For my husband, who is a little more hungry than I am, I cooked some homemade smoked sausage and added it to the soup. The combination works great, and bacon would also add a great flavor if you don't care to keep this meal plant-based or have family members who need more protein.
To get a creamy consistency without using any dairy, alternative cream, or flour, I like to blend a part of the composition and add it back to the remaining unblended soup.
Enjoy, and let me know if you make it. It might not look like much (the challenge with any soup, haha), but this soup is delicious, filling, and comforting.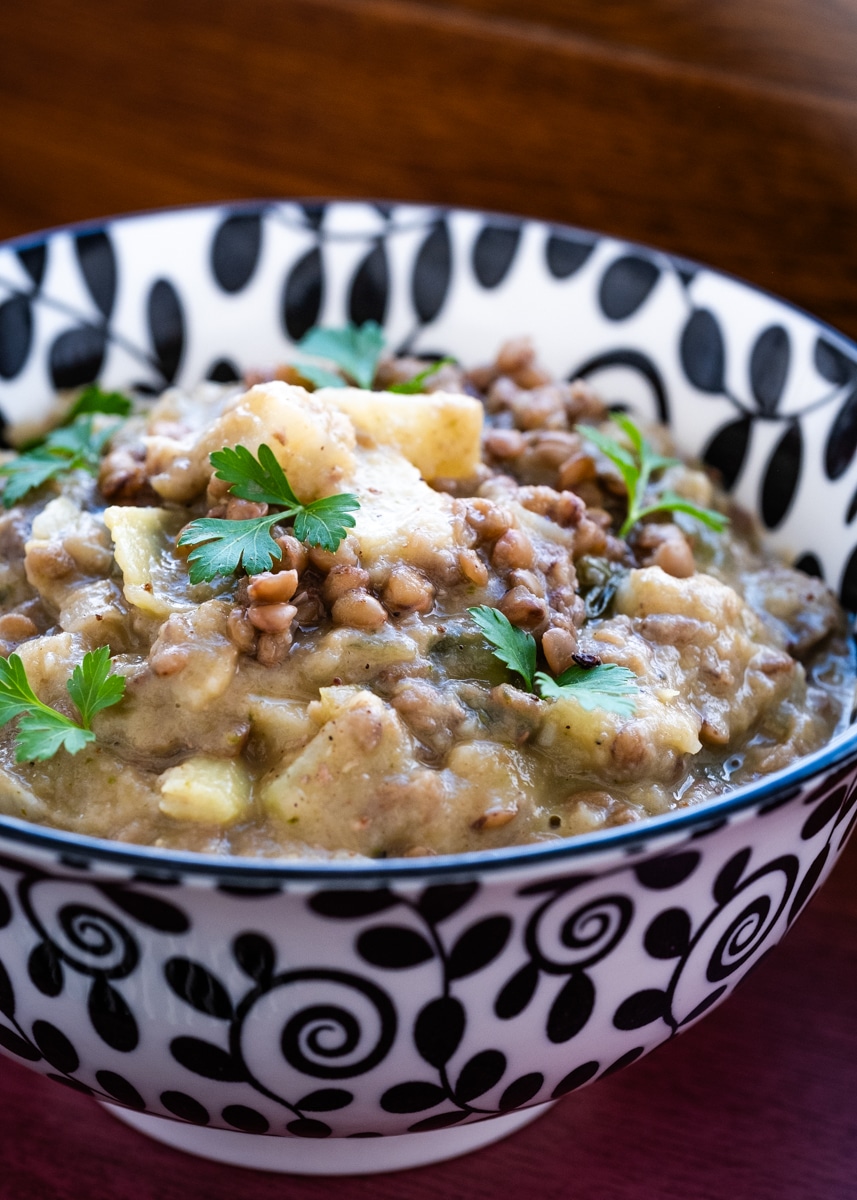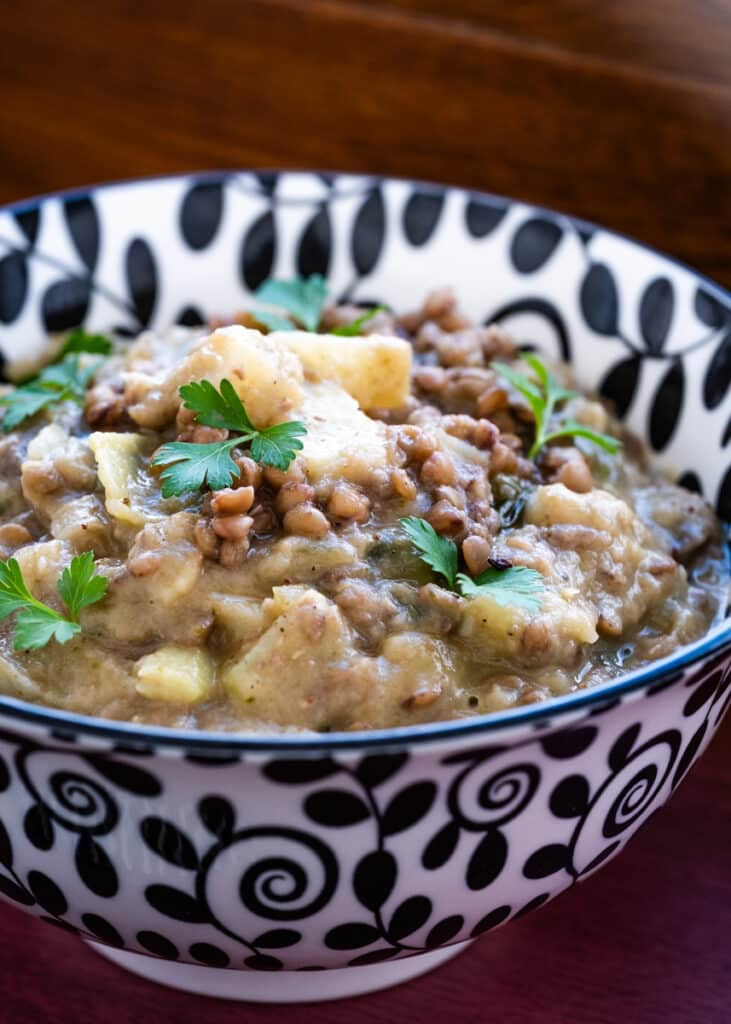 More nourishing soup recipes
More comfort food recipes
*This post contains affiliated links, which means I get a small commission if you choose to purchase something via one of my links, at no extra cost to you.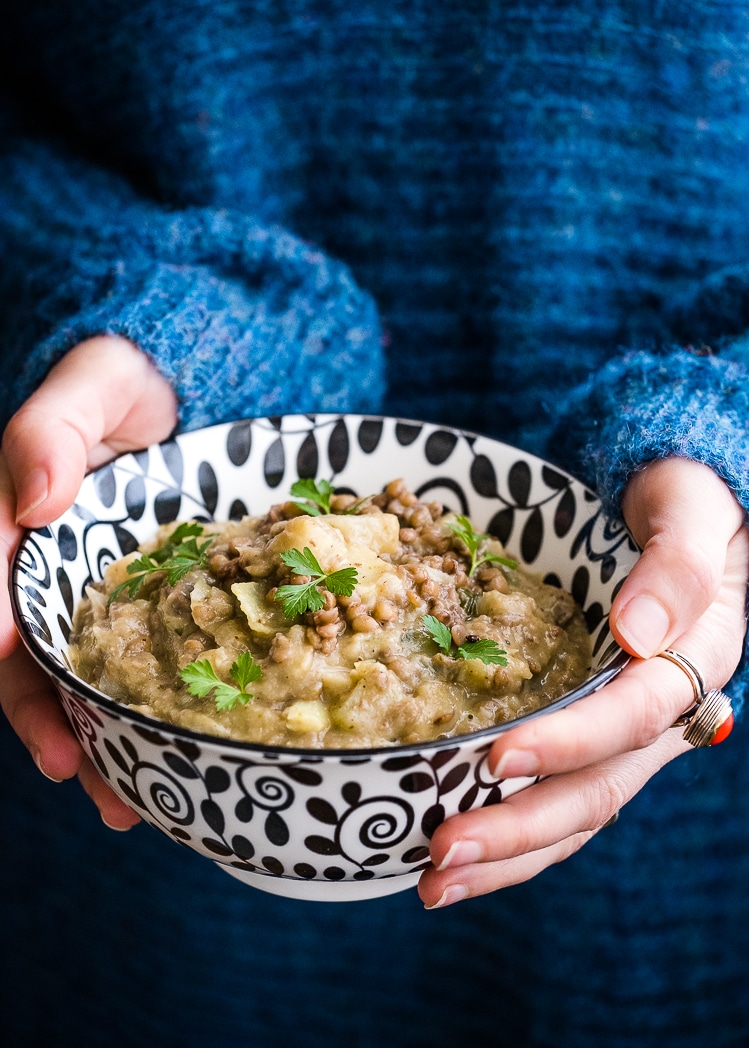 Print Recipe
Creamy Lentil Soup with Vegetables (Lectin-Light, Vegan)
This creamy lentil soup loaded with vegetables is one of my favorite meals after a period of feast. Thick, comforting, and nourishing, this soup or stew is perfect for cold winter days, especially after the holiday indulgences. Made with pressure-cooked lentils, this meal is lectin-light, vegan, and easy to make.
Ingredients
4 tablespoons extra virgin olive oil (for sauteeing)
1 leek, cleaned and chopped
1 medium yellow or sweet onion, chopped
8 small button mushrooms, quartered
1 medium parsnip, peeled and cut into small cubes
1 medium kohlrabi, peeled and cut into small cubes
1 small celeriac, peeled and cut into small cubes
5 garlic cloves, peeled, smashed and minced
1 baby bok choy, chopped
1 1/2 teaspoon salt (start with one teaspoon add more if necessary, to your taste)
1/2 tablespoon herbs de Provence
1/4 teaspoon black pepper (or more, to taste)
2 cups hot water
2 cups pressure cooked lentils
3 tablespoons extra virgin olive oil (for the blending)
a handful of fresh parsley
a squeeze of fresh lemon
Instructions
1

Add the olive oil to a big soup or stew pot and add chopped onion, leek, mushrooms, parsnip, kohlrabi, and celeriac. Stir well and saute for 10 minutes on low heat, occasionally stirring so it doesn't stick. If it gets too dry and starts sticking too much to the pan, add 2, 3 tablespoons of hot water.

2

After 10 minutes, when all the veggies will soften up and get fragrant, add the garlic, salt, herbs de Provence and pepper. Stir well and cook for 5 more minutes.

3

Add the bok Choy, and a few tablespoons of water, stir and cook for a few minutes.

4

Add the pressure-cooked lentils and the 2 cups of hot water and cook for about 5 more minutes, stirring occasionally. Turn the heat off.

5

Take out about half of the composition, or at least 1/3, and blend with three tablespoons of olive oil (I like to let it cool a little bit before I put it in a blender, especially if using a plastic cup). Add the blended composition back to the soup or stew pot, stir everything together and turn the heat on and simmer for a couple more minutes. Add the fresh parsley. Adjust for salt and pepper, add a squeeze of fresh lemon and serve.
Notes
If you have family members that want something a little more consistent, cook some compliant smoked sausage separately and add it when you serve the soup. The combination is delicious. Check the post above for instructions on how to pressure-cook lentils as part of your meal-prep process and have them ready for meals like these. Alternatively, you can use a good brand of canned, organic lentils, such as Eden (they use a BPA-free can and always soak and pressure-cook their beans and lentils). Feel free to use any similar vegetables you have available.