Mustard greens are not something you easily find in stores, especially if you shop at small stores as I do. But you most probably find a vendor selling mustard greens at the farmer's market.
We went to the Dallas farmers market on Saturday and found a super nice lady from whom I bought the mustard greens, some small and super delicious carrots, and a big bunch of daikon radishes with the greens on.
An easy, healthy and warming dinner for days
I've been wanting to make mustard green soup for a long time, but never found them in the grocery store I go to regularly.
My inspiration for this one was the Italian white beans and mustard green soup. I can see why beans would work very well. We even have similar soups in Romania, but since I'm not eating beans at the moment, I decided to replace them with sweet potatoes.
Chicken stock for the mustard green potato soup
You need good chicken stock for this soup. I had some chicken bones and vegetable scraps to make one at home, so I used that, feel free to use any compliant chicken stock you have. Alternatively, you can use vegetable stock but not beef. The Gundry MD Vegetable Broth would work perfectly.
I assume you already know how to make chicken stock, so this will not be included in the recipe, but in case you don't, know that you just need a few chicken bones and all the veggie scraps you have around. I used: onion with skin, garlic with skin, celery sticks and celery root, turmeric and ginger (also with skin on), carrots, fresh thyme, whole peppercorns, a daikon radish, some parsley, some mushroom scraps. Add some salt. Boil everything for about 40 minutes. Drain and voila, you have the stock.
How to make Italian style mustard green soup
To make the soup, I started with an Italian soffrito, sauteeing finely cubed celery sticks, carrots, daikon radish, yellow onion. When fragrant and translucent I added some cubed sweet potato (small size), garlic, chopped Prosciutto di Parma, and continued to cook on medium heat until the prosciutto started to crisp up.
Added the mustard greens, cooked for 10 more minutes in the pot/pan. Added the stock, brought to a boil and that's it. Add salt, pepper and lemon juice to taste. Serve with shavings of Parmigiano Reggiano and more lemon.
Nutritional profile of mustard greens
If you need more convincing to make this mustard green potato soup, check out the nutritional profile of mustard greens here. Pretty cool stuff, although I don't need to read anything to know these bitter leafy greens are good for us.
*This post contains affiliated links, which means I get a small commission if you choose to purchase something via one of my links, at no extra cost to you.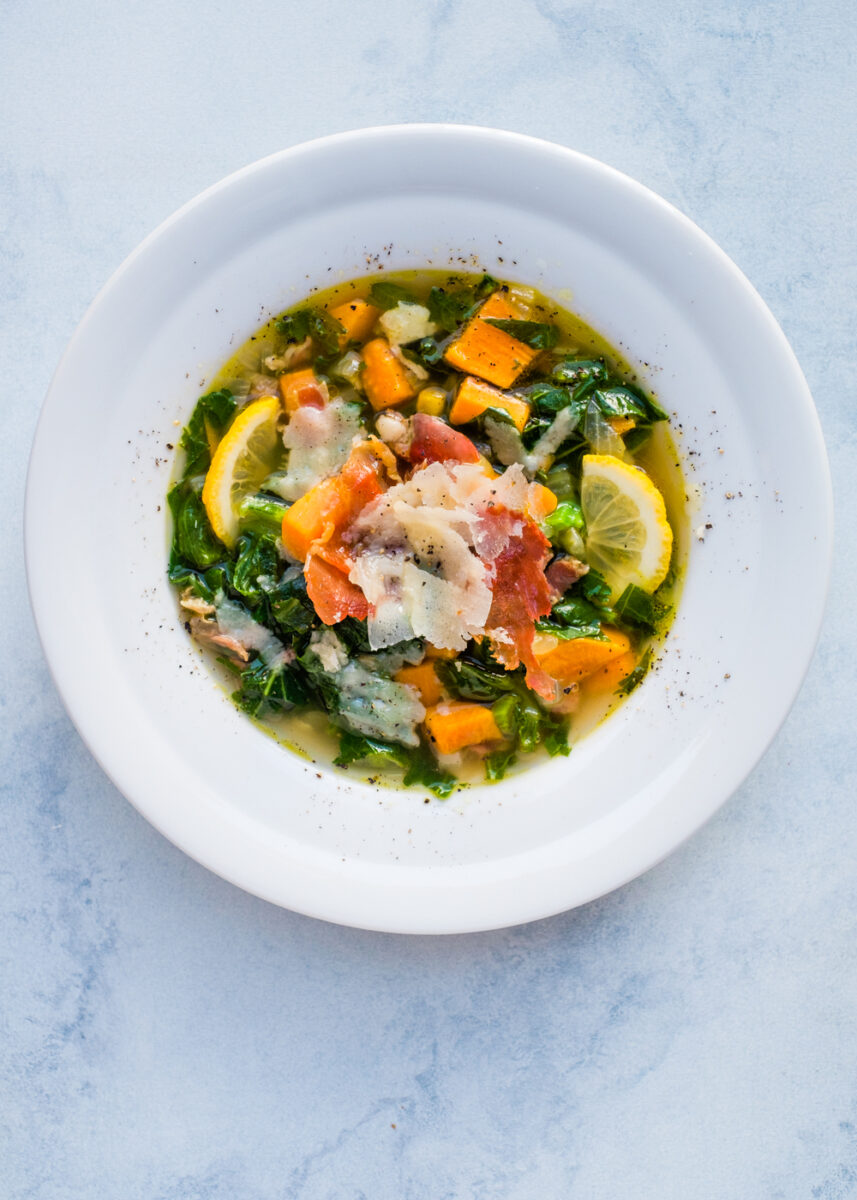 Print Recipe
Italian Style Mustard Green and Sweet Potato Soup
Easy, light and warming Italian-style soup.
Ingredients
About 2QT chicken or vegetable stock (homemade or store-bought, plant paradox compliant)

1 medium yellow onion, finely chopped

1 big celery rib, finely chopped

1 medium carrot, finely chopped

1 small to medium sweet potato (you can use any color), cut into small to medium cubes

1 big bunch of mustard greens (ribs and leaves), finely chopped

1 small daikon radish (optional), finely chopped

2 garlic cloves, smashed and chopped

few slices of Prosciutto di Parma (I used about 5, but you can add more or less), sliced

shavings of Parmigiano Reggiano for serving

lemon juice and lemon wedges

salt and pepper to taste

extra virgin olive oil
Instructions
1
Wash and prepare all the veggies.
2
In a large skillet add a generous quantity of extra virgin olive oil and heat on medium. Add the finely chopped onions, carrots, celery, daikon if using and sauté for about 10 minutes or until the vegetables soften and become very fragrant. Add the garlic and the prosciutto and cook for few more minutes. Add the cubed sweet potatoes, stir well and cook for about 5 more minutes, stirring regularly. Add the chopped mustard greens, stir well and cook for few more minutes until all the greens are wilted and the potatoes cooked.
3
Add everything to the stockpot and bring to a boil. Season with salt and pepper and lemon juice. Serve with shavings of Parmigiano Reggiano.