A salmon pizza with creamy white sauce was one of the best pizzas I've ever had, and I still remember how good it tasted. It might sound weird for some, but there is something about this combination that works well. Once I figured out how to make a decent lectin-free pizza crust – or where to buy it from – I recreated that type of pizza, and I loved it.
This is a perfect no-fuss, casual celebratory dinner that doesn't require spending hours in the kitchen and a ton of ingredients. Pair this salmon pizza with your favorite red wine, or why not, with a glass of champagne.
Buying the lectin-free, gluten-free pizza crust
Let's start with the pizza crust, which I won't share the recipe for here, as everyone already has their favorite. If you are new to the lectin-free diet and lifestyle, there are a few options you have when it comes to buying.
If you live in the US (and possibly Canada), get the Cappellos Naked Pizza Crust from the frozen section of Whole Foods and other supermarkets. Just follow the instructions on the box. This is the easiest way, as the pizza crust is already made, and you just have to bake it.
Also, in the US, you can buy the Simple Mills Pizza Dough flour mix. Follow the instructions to make your pizza crust (you will have to add additional ingredients) and make your pizza crust in the shape you want. Both my husband and I love both of these options. Taste-wise, I prefer Simple Mills, but for convenience, I love Cappellos.
Making your own lectin-free, gluten-free pizza crust
If you are not in the US, I don't know yet of any other lectin-free pizza crust, but no worries, I have options for you that are even much better tasting and nourishing, but you will have to make them from scratch.
Firstly, I have the perfect Naked Pizza Crust recipe in my Cookbook – The Living Well Without Lectins Cookbook. It's tasty, can be crispy or softer depending on how you like to make it, and it's even vegan.
And another vegan and super tasty option, more readily available, is using the dough for my Pao de Beijo recipe, which is made with cassava flour, sweet potatoes, extra virgin olive oil, water, and spices. If you want something more neutral-tasting, I recommend using the dough for the Cassava Flour Tortillas.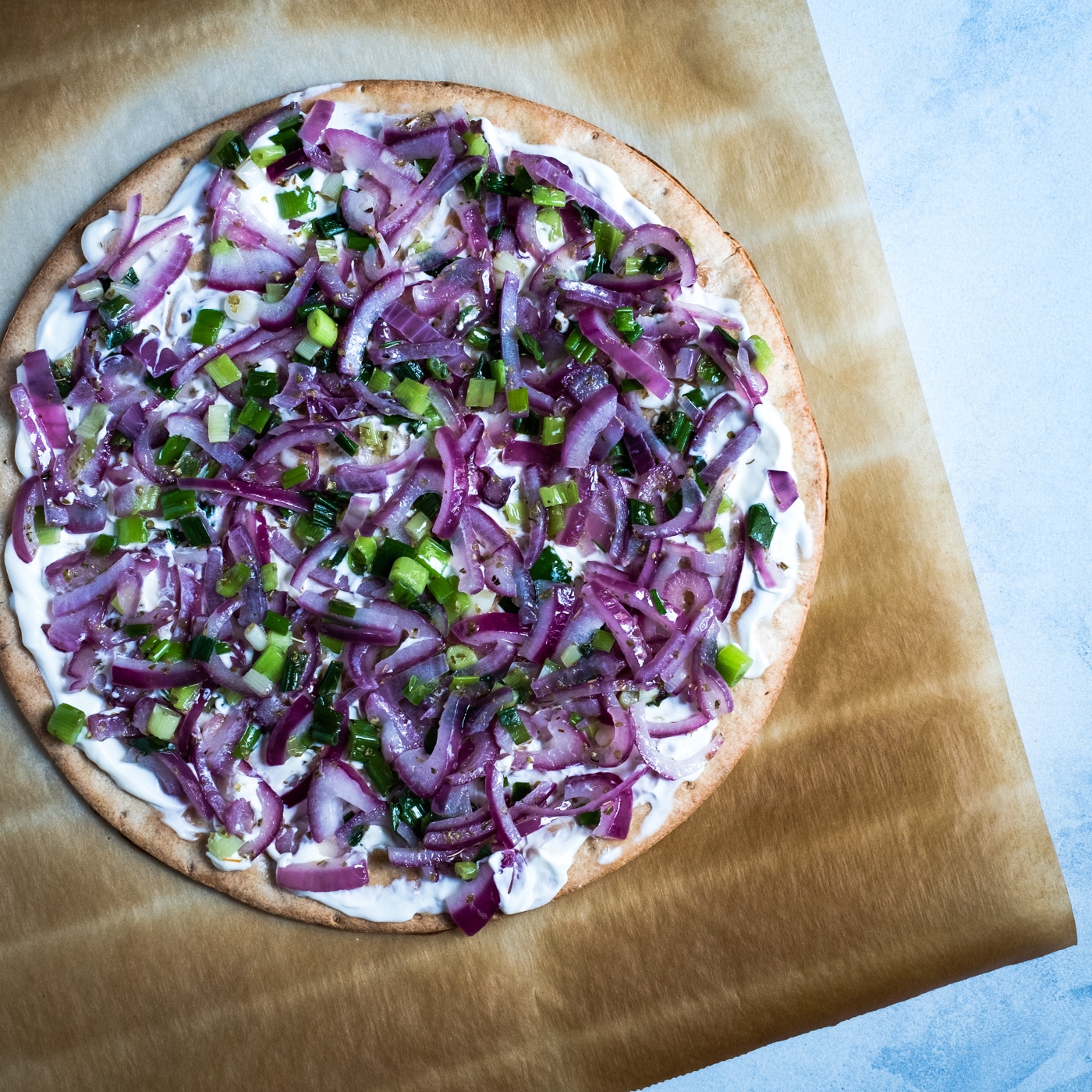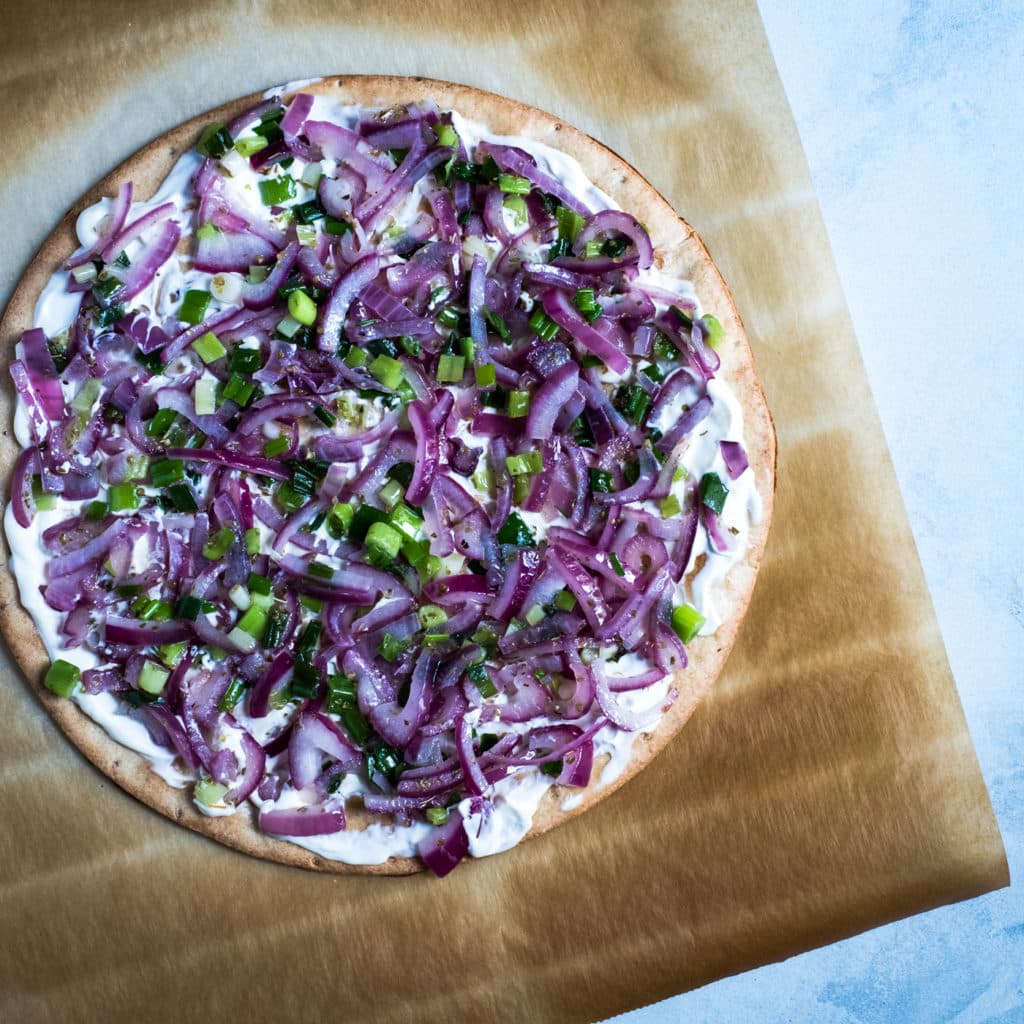 Wild-caught smoked salmon for the pizza
As per the salmon, the easiest option is to use wild-caught smoked salmon. Some sugar is used in the making process, but very little actually gets on the slices of salmon, which is acceptable (less than 1g). Other options are good quality canned salmon, which can be a more affordable option, or freshly cooked wild-caught salmon. Some of you living next to the coast can get excellent quality, newly smoked salmon from local specialty stores.
Sour cream has to be organic, casein A2 if possible; if not, regular sour cream is also ok. Organic cream cheese can be a replacement if you don't like or don't find organic sour cream. If you don't eat dairy, Kite Hill makes a great almond cream cheese, which is unfortunately only available in the US. I'm sure other clean nut cheeses are available worldwide.
I found wild salmon caviar in Whole Foods; I'm sure it can also be found in other stores. If you don't find it, it's too expensive, or you don't like it, I have another suggestion: use GundryMD Polyphenol Pearls. They'll be a perfect match.
Let me know if you make this salmon pizza. I hope you love it.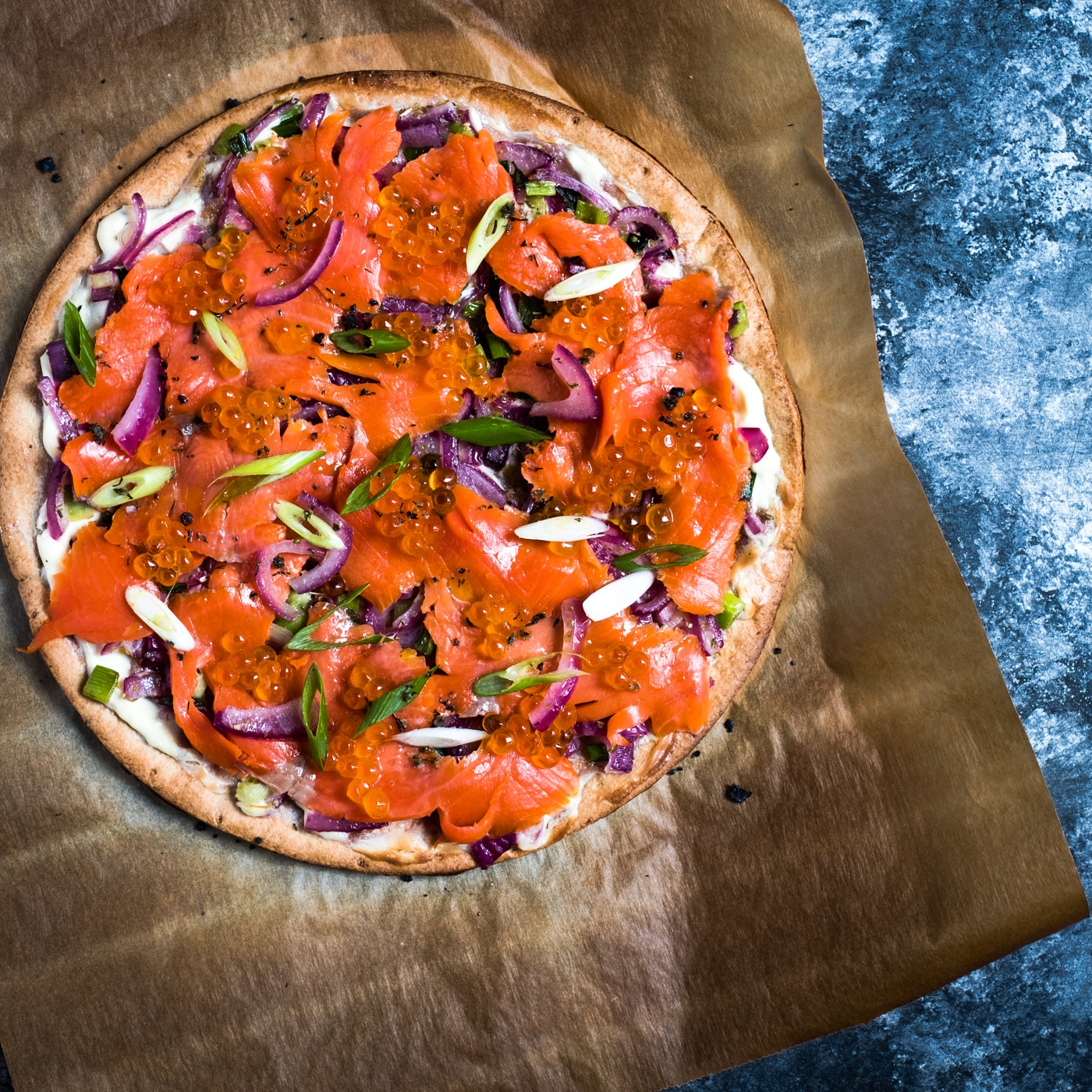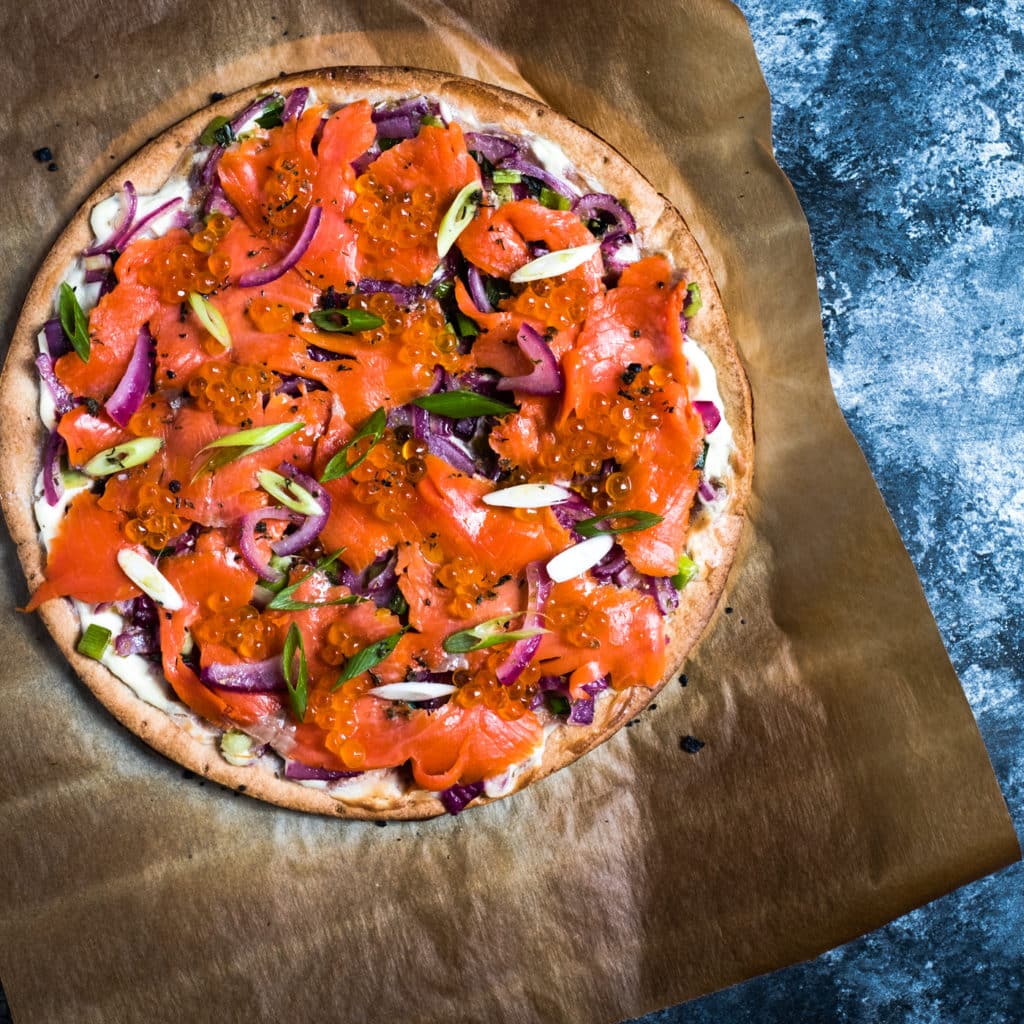 *This post contains affiliated links, which means I get a small commission if you choose to purchase something via one of my links, at no extra cost to you.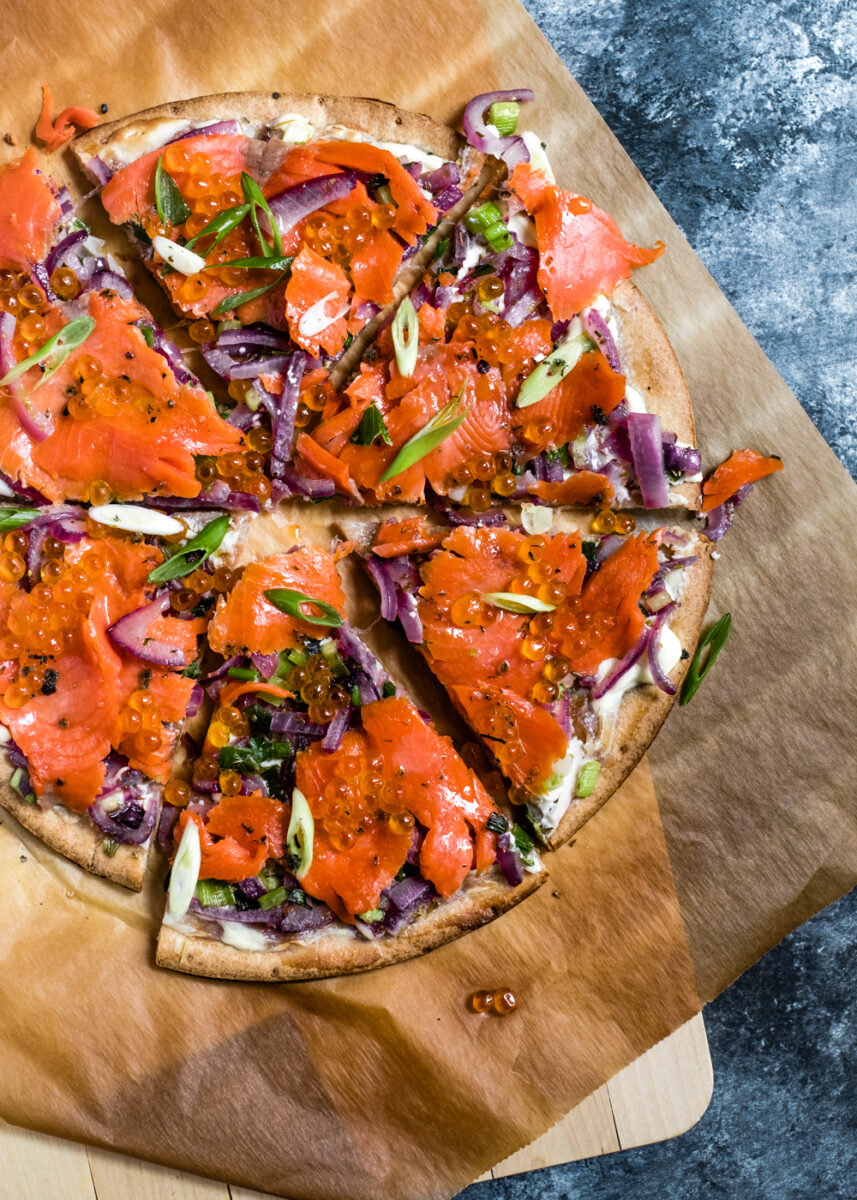 Print Recipe
Pizza with Wild Caught Salmon and Caviar (Lectin-Free)
A casual and easy to prepare dinner for two that goes well with a glass of champagne.
Ingredients
1 lectin-free pizza crust, pre-cooked
2, 3 tablespoons extra virgin olive oil
2 medium red onions, finely sliced
5 green/spring onions, chopped
3 tablespoons sour cream or cream cheese
1/4 teaspoon dry oregano
pinch of salt
6-8oz smoked salmon (canned or freshly cooked can be used)
a few tablespoons wild salmon caviar
lemon wedges
Instructions
1

Prepare the pizza crust (check my blog post above for options). Whatever you choose, the pizza crust needs to be already pre-cooked when putting the toppings on top, to the point is not soft or soggy anymore but not already browned (it will go in the oven with the toppings for 8 more minutes).

2

Sautee the red onions together with 2 of the spring onions and 1/4 teaspoon dry oregano, a pinch of salt, for about 5 minutes. Careful with the salt because the salmon and the caviar tend to be salty. If in the end, you feel is not salty enough, you can always add some salt flakes on top.

3

In the meantime, spread the sour cream on the pizza crust, add and spread the cooked onions and bake for about 8 minutes, at high heat (425F - 450F).

4

Prepare the salmon and caviar. When the time is up, take the pizza out, add the salmon on top, followed by the caviar and some fresh spring onions. Follow by a drizzle of lemon and extra virgin olive oil, if you like.