Pressure-cooked stews are some of the easiest meals to put together. Usually, they are loved by all the family members. I have extensive experience in cooking for a family whose members eat different types of diets. Stews always work for all of them. This beef and fennel stew are easy to make, hearty and satisfying even for people who usually need more meat and protein. It's also easy to combine with millet, steamed broccoli, or a big green salad for more nutrition.
Why beef and fennel stew?
Do you think this is maybe a weird combination? Since I started my low histamine diet almost two years ago, I've been using a lot of fennel in my food, which has anti-histamine properties. And great flavor profile, I would add. I just love the flavor it gives to my aromatics base.
This is also a great way to prepare a low histamine beef stew. The cooking time is so much shorter (long cooking times increase the level of histamine-producing bacteria in animal protein).
An easy weeknight dinner recipe
This beef stew tastes a lot like Boeuf Bourguignon. But it is a much easier meal to put together on a weekday. If beef Bourguignon is something you would prepare for a festive dinner, for a weekend, or when you have guests, this beef and fennel stew is something you will quickly put together for a weeknight dinner (the first one looks spectacular, the second looks just like a normal family meal).
Beef is one of those foods that are high on the plant paradox pyramid. That means it's ok to eat once or twice a week and it has to be grass-fed and grass-finished. But, if eating beef is alternated with fast mimicking days and intermittent fasting and combined with healthy vegetables, can be a very nutritious addition to our diets.
Ingredients for the beef and fennel stew
For this beef and fennel stew you need onions (I used both red and yellow), celery, parsnip, garlic, one big fennel bulb, or two if they are smaller and parsley. For thickening, in the end, I used a little bit of tapioca flour.
If you don't have a pressure cooker, you should get one, it makes life so much easier. I'm at my parent's now and they have a manual one. It works perfectly but an Instant Pot is certainly an easier one to work with.
Some of you say they are scared of it which believe me, I totally understand. I didn't use my Instant Pot for a month or so after I bought it because I was too scared of it. And the first two times I used it, I didn't get anywhere close to it. But once you figure out how it works, it will become second nature.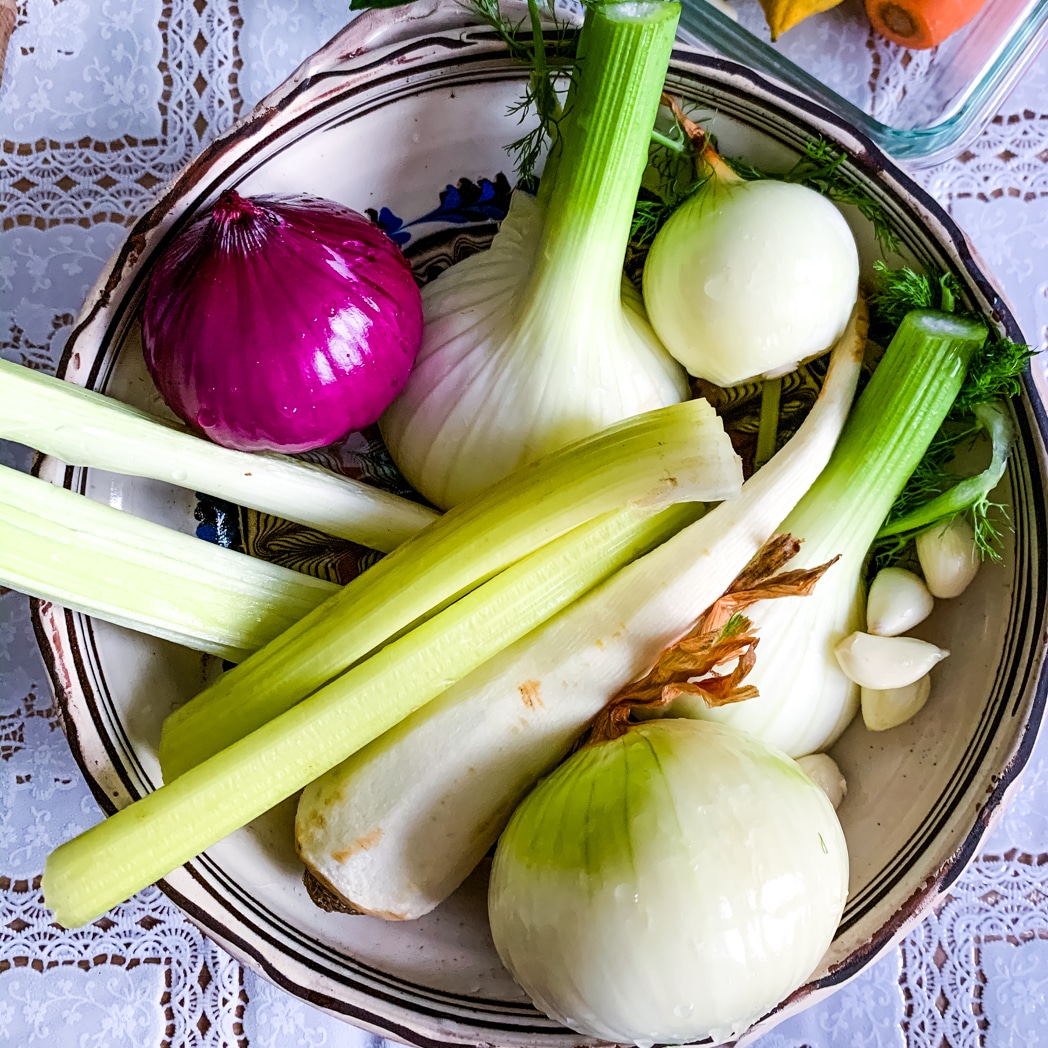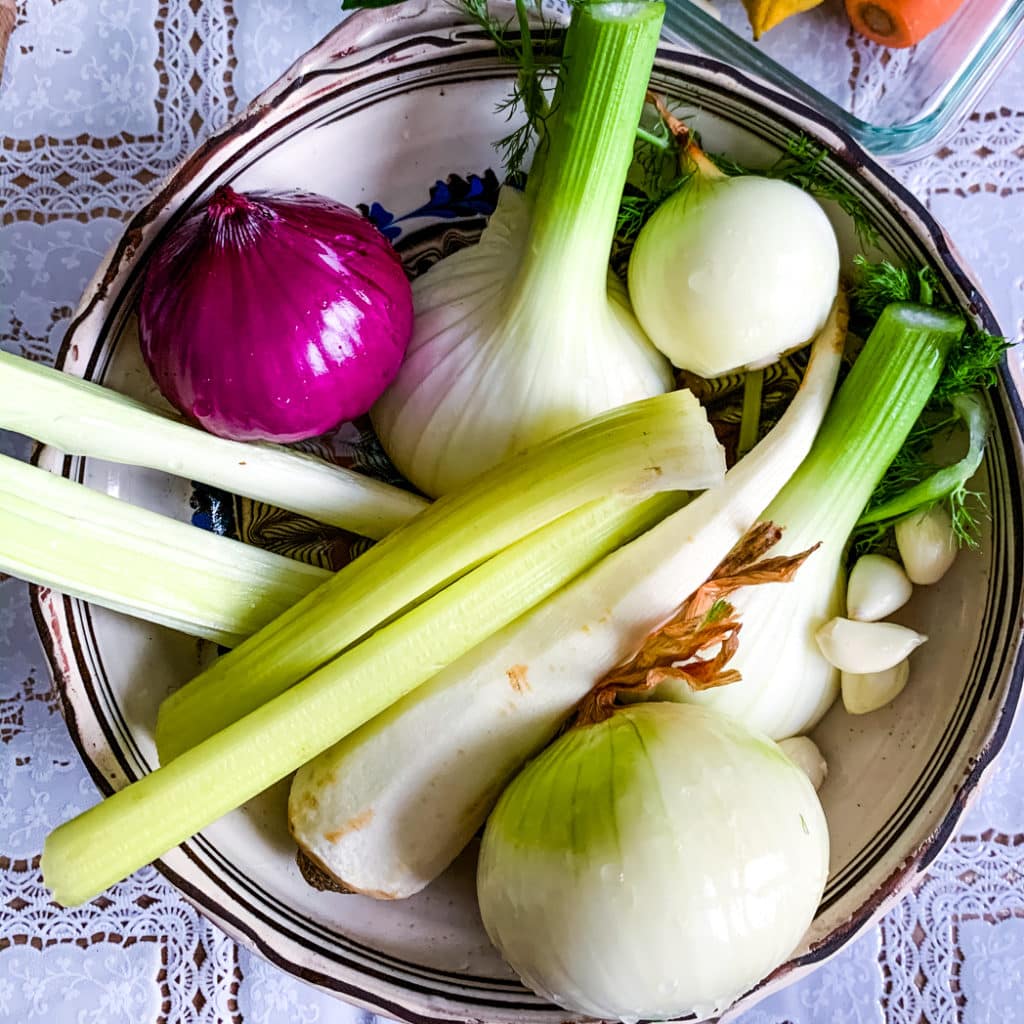 Serve with a small side of millet, and add a big green salad or some steamed broccoli for a healthy and nutritious dinner.
More stew recipes
If you enjoy this stew, be sure to also try some of my other stew recipes:
*This post contains affiliated links, which means I get a small commission if you choose to purchase something via one of my links, at no extra cost to you.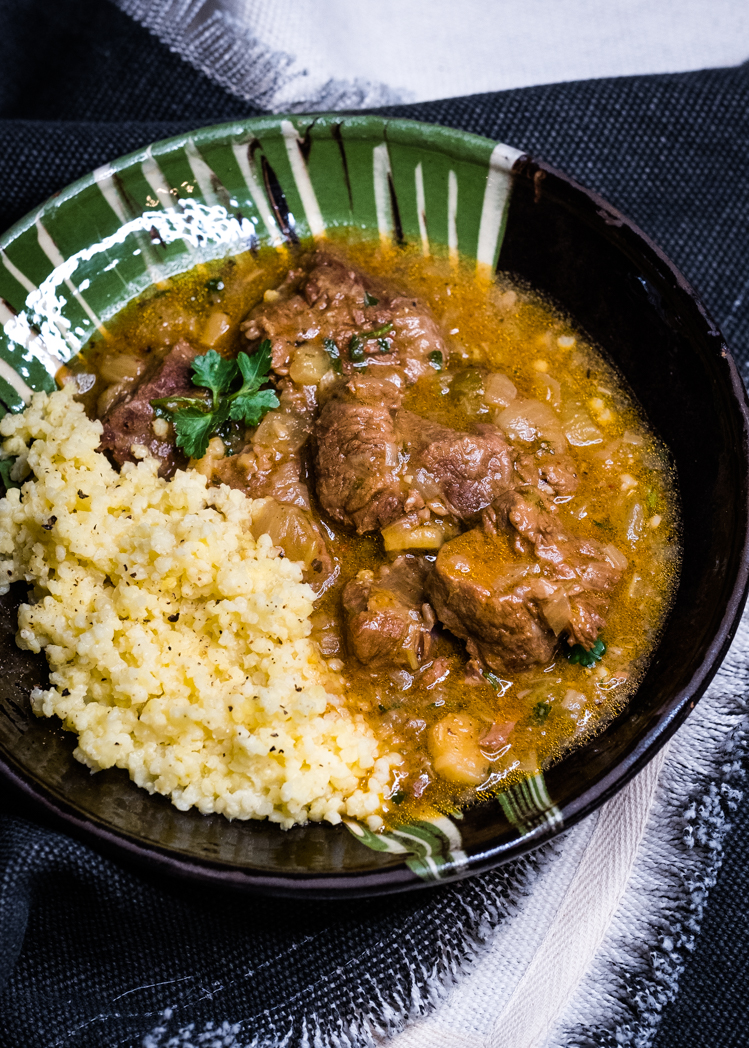 Print Recipe
Easy Beef and Fennel Stew, in a Pressure Cooker
This beef and fennel stew are easy to make, warming and comforting, and probably a hit with all your family members. A perfect lectin-free weeknight dinner.
Ingredients
2.5 lbs stew meat, cut in big chunks
extra virgin olive oil
3 onions, choppes
1 leek, chopped
1 fennel bulb, chopped
1 celery rib, chopped
1 parsnip, chopped
5-6 garlic cloves, smached and minced
1 teaspoon salt
1 teaspoon herbs de Provence
pepper
2 cups warm water
1 tablespoon tapioca + cold water
1 cup raw millet + 3 cups water
Instructions
1

Prepare the meat, rinse and pat dry.

2

Turn your Instant Pot on the sautéing option and generously cover the bottom with extra virgin olive oil. If you use a normal pressure cooker heat on medium heat.

3

Add the onions, leeks, fennel, celery and parsnip and sauté for about 10-15 minutes, until the vegetables soften up and become fragrant. Stir well a few times.

4

After 15 minutes, add the meat to the pot, the spices and sauté for about 10 more minutes, stirring so everything gets well combined.

5

Add the two cups of warm/hot water, cover, and set the pressure cooking timer to 40 minutes.

6

In the meantime start preparing the millet. Wash the millet, add to a pot and cover with x3 times more water and a little bit of salt. You need one cup of raw millet for about four servings. Cook on low heat and stir occasionally until all the water is absorbed. It will take about 20 minutes.

7

Back to the pressure cooker, once the time is out, let the pressure release naturally, uncover and add the mixture of tapioca and water. Simmer for five minutes until the sauce thickens.

8

Serve the stew with a side of millet and a green salad or steamed broccoli.
Notes
Eat this meal with some steamed broccoli or a big, green salad.