I grew up in a country where the stew is the national dish (Romania), and I don't feel like stew is so much of a precision recipe, it's more about the quality of the ingredients, spices and patience, especially with beef.
Yesterday was St. Patrick's Day and I like to let international celebrations like this one inspire me. I don't know much about Irish cuisine, but I know beef stew is a staple. An Irish-style beef stew looked like something approachable and achievable, given my extensive experience with making and especially eating stews.
So here it is, an Irish-style beef stew with parsnips, turnips and sunchokes, using only lectin-free ingredients.
It's about the quality of the ingredients and the steps
I had 100% grass-fed beef stock from our local farm Burgundy Pasture Beef, and I found a relatively good piece of 100% grass-fed beef at Whole Foods. I won't pretend I'm an expert in beef (I'm not at all), but at least I know beef for stew has to be well marbled with fat.
For this dish don't focus too much on specific quantities, you can use another combination of vegetables if you want, but it needs something starchy since there are no potatoes. Carrots, a stew staple in any cuisine I think, can be easily replaced by parsnips.
So here are the few steps I consider important to make a good beef stew:
Choose a pan that is thick
I usually make stew in a French/Dutch oven, but now I have a new All Clad 4Qt soup pot and I wanted to try it. It is thick and it worked perfectly.
Brown the meat
Like brown it, not steam it. I'm not renowned for being a patient person and sometimes I throw all the meat in a pan and it steams instead of browning, but not for this one. I only added few pieces at the time, in heated olive oil (medium heat), and let them brown on one side before flipping them around. I had to do it in three batches, but it's all worth it.
Also, after you cut the beef into cubes (at room temperature) and salt them, pat them dry with a towel before you throw them in the oil. Use a good quality extra virgin olive oil. Contrary to what we were told for a long time, good quality extra virgin olive oil is more stable than more oils. You are using medium heat for this anyway.
The stock and the red wine
Make sure you have a grass-fed, clean, quality stock and a good dry red wine.
Spices
Be generous, spices are what give any dish a particular flavor. I used dry thyme (you can use fresh too), allspice, nutmeg, bay leaves, Hungarian paprika, salt and pepper.
The vegetables
Of course, since this is a lectin-free stew, only vegetables that are lectin-free were used: sweet onion, garlic, parsnips, turnips, sunchokes, fresh spring onion and fresh parsley. Don't add the vegetables at the beginning, since beef needs time to cook. I simmered the beef for more than 1h and sauteed the vegetables separately, and only added them in the last 45 minutes of the cooking process.
The thickener
Sometimes I need sometimes I don't, depends how much liquid I use. This time I needed a little bit, so I used arrowroot powder. When you eat the first time after cooking it might be a little liquid, but for the next days (this is a dish I make for more days) it will thicken up. You can adjust the quantity of arrowroot to make it as thick as you want.
The side dish
I love to serve the beef stew with clean cooked vegetables. Sometimes I do steamed broccoli, this time I made a big raw cabbage salad finely sliced, massaged with salt, then with apple cider vinegar. Dressed with lots of extra virgin olive oil and pepper. It complements the stew perfectly.
Pressure cooking (later edit)
Since I got my Instant Pot, pressure cooking is a good, faster alternative. I would follow pretty much the same steps (browning the meat is important) but I would only pressure cook the meat first, with the spices and aromatics (garlic and onion), for about 40 minutes. I would release the pressure manually or if you have the time let it release naturally, then add the rest of the veggies and only pressure cook for 5 more minutes. Finish with the parsley and spring onions, and thicken with arrowroot if necessary.
More stew recipes
For other stew recipes be sure to try Creamy Lentil Stew with Winter Vegetables (Lectin-Light, Vegan) or Easy Beef and Fennel Stew, in a Pressure Cooker.
*This post contains affiliated links, which means I get a small commission if you choose to purchase something via one of my links, at no extra cost to you.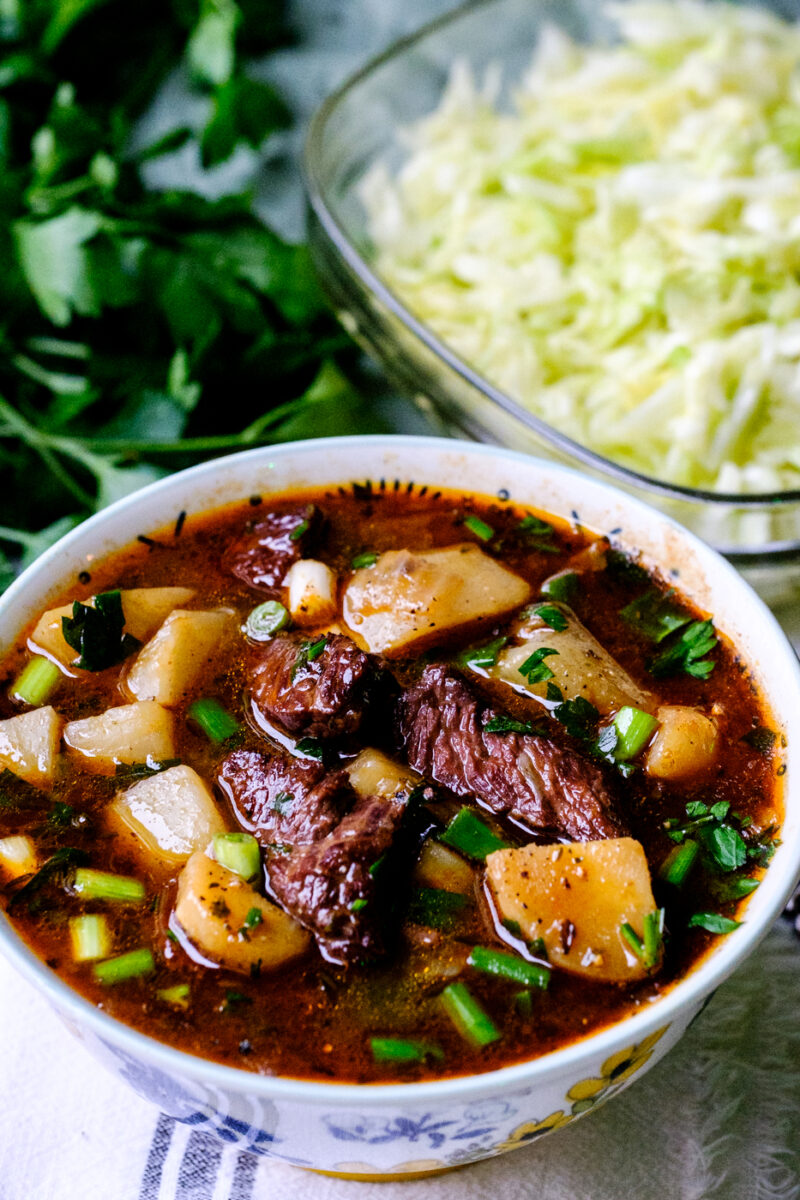 Print Recipe
Beef Stew with Parsnips, Turnips and Sunchokes
Warming Irish style beef stew with lectin-free root vegetables.
Ingredients
1 1/2 lbs 100% grass fed beef (talk to the butcher to give you the best piece available for stew)

1/4 cup extra virgin olive oil (or more if needed)

2 big parsnips (or more if they are small), peeled and chopped (small chunks)

1 big turnip, peeled and roughly chopped (big chunks)

3 medium sunchokes, peeled (medium chunks)

2 medium sweet onions, roughly chopped

6 garlic cloves, peeled and minced

2 cups 100% grass fed beef stock

1 or 2 cups of water

1/2 cup red wine

1 big bunch of fresh parsley, chopped

3 small spring onions, chopped in 1/2 inch pieces

2 bay leaves

1 tsp dry thyme / or a few sprigs of fresh thyme

1/2 tsp all spice

1/4 tsp nutmeg

1 tablespoon Hungarian paprika

salt and pepper to taste

1 tablespoon arrowroot powder / tapioca flour (for thickening if needed), dissolved in water
Instructions
1
Heat the oil in the pan on medium heat. Cut the beef in cubes, sprinkle with salt, pat dry with a paper towel and start browning them in batches (see instructions above). Once all the beef is browned, add it all back to the pot and add the garlic. Saute until fragrant, for about 40 seconds, then add the beef stock, the red wine and the water. Bring to a boil. Add thyme, all spice and nutmeg, cover and simmer on the lowest heat for about 1h and 15 mins.
2
When the simmering time is almost done, start preparing the vegetables. Put extra virgin olive oil in another pan and saute the 2 onions and parsnips for about 10 minutes, add paprika and mix well so the paprika doesn't burn (add a few tbsp of water, as burnt paprika turns everything bitter), add the sunchokes and turnips, stir well and saute for a few more minutes. Add the vegetables to the meat pot and simmer uncovered for about 45 minutes. At this point you can add salt and pepper to taste. When done you can remove some of the fat on top (or not, your choice) and add the thickener if needed (arrowroot powder or tapioca flour mixed with cold water first, then mixed with 1 tbsp of the hot stew liquid), then you add it to the pot and simmer for 5 more minutes. Add the fresh parsley and spring onion.
3
Serve with a side of raw cabbage salad or steamed vegetables.
Notes
Please read the entire post before starting. This stew can also be made in a pressure cooker.