"Finally a meal with sauce!" These were the exact words of my husband when he saw the dish. While he wants everything to be soaked in juices, I don't mind just eating dry food. I'm happy with just adding extra virgin olive oil. But this is an easy and juicy lectin-free chicken meal with Moroccan flavors and just a few wholesome ingredients.
Ras el Hanout, the best of all spices
Another thing he said was that the dish reminded him of the food we used to eat while living in the Middle East (Dubai) and he was right, I used Ras el Hanout, a mix of Moroccan / Middle Eastern spices such as nutmeg, cumin, ginger, turmeric, clove, cinnamon, allspice, coriander, paprika, etc. The one I bought from Whole Foods, even had organic rose petals.
Ras el Hanout means 'the head of the shop' and it means the seller offers a mix of his best spices. And best spice it is because the flavors are absolutely amazing. This is a guideline of how to use it with chicken breast, but you can get your creative juices going and add to different meats or even vegetarian dishes.
Where to buy Ras el Hanout spice mix
If you don't find the spice mix in your grocery store, I checked all the options on Amazon (every single mix is different) and this is the one I would buy. Not too many ingredients (some have as many as 30 spices, some of which are not revealed) but it has the essential ones and I love it has rose petals.
TO CHECK ALL PLANT PARADOX SPICES IN ONE PLACE CHECK MY SHOP PAGE
A healthy Moroccan chicken recipe
My version with chicken breast is a little drier than if you would use chicken tights or even pieces from a whole chicken, with bones. The advantage of the chicken breast is that it cooks fast and this meal is ready in no time.
If you eat rice, it goes very well together (my husband had Indian basmati rice) but if you don't is as good. I added the baby broccoli in the same pan. You can also cook it separately, or eat the Moroccan chicken with any vegetables you want.
In my opinion, needs a salad, so I made a simple red cabbage and shredded carrots salad with extra virgin olive oil, apple cider vinegar, salt and pepper. A fresh green salad would work too.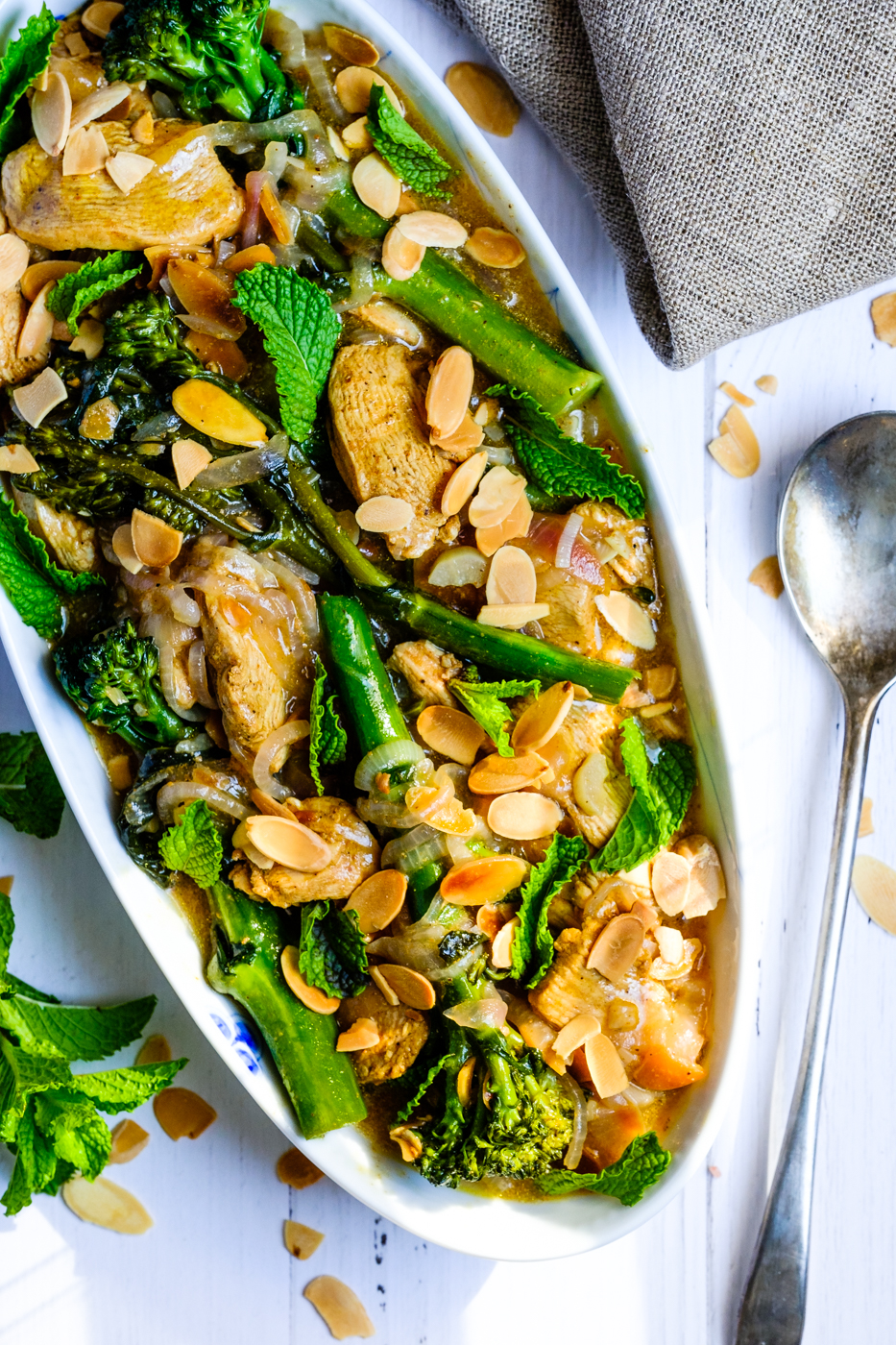 Print Recipe
Moroccan Chicken with Baby Broccoli and Almonds
A lectin-free, easy chicken breast meal with Moroccan flavors.
Ingredients
2 pasture-raised boneless chicken breast, cut in bite-size pieces (or a little bigger)

1 red onion, cut in half and julienned

1 big garlic clove, slashed and finely chopped

zest from 1/2 lime

about 4 tbsp ras el hanout spice mix

few tbsp extra virgin olive oil

1 bunch baby broccoli

1/4 cup slivered blanched almonds

10-15 leaves of fresh mint

1 tbsp arrowroot powder

salt to taste

water
Instructions
1
Cut the chicken into smaller pieces, cover with about 2-3 tbsp of the Ras el Hanout, the lime zest and about one tbsp of extra virgin olive oil. Leave to marinate for about 15-20 minutes.
2
Heat the oven to 350F (for toasting the almonds).
3
Place the sliced almonds in a baking tray (with no oil) and toast for about 7-8 minutes keeping an eye on them so they don't burn. Take out and put aside.
4
In a sauteing pan, on medium (to low) heat add extra virgin olive oil to cover generously and saute the onion until soft and fragrant. Add the garlic and another one or two tbsp of raw el hanout and cook for more few minutes, stirring well.
5
Add the chicken and stir well while cooking until the chicken doesn't look pink anymore (takes about 5 - 7 minutes).
6
Add some water, depending on how much sauce you want. Alternatively, you can use compliant chicken stock. I used about 1/2 cup of water. At this moment you can add some salt.
7
Arrange the baby broccoli on top of the chicken and cover the pan with a lid, turning the heat to low. The broccoli will steam. After a few minutes mix the broccoli with the rest of the sauce and cook for a few more minutes. I like my broccoli to be al dente, so I take it off before is overcooked.
8
Mix a tbsp of arrowroot with a little bit of cold water and add to the pan, stirring. Leave it for about 30 seconds and see how thick the sauce gets. If you feel you want it thicker, you can add more arrowroot dissolved in water.
9
Add the toasted almonds and the fresh mint leaves and serve.
Notes
This dish re-heats well so it makes a great meal prep contender. I had mine with some red cabbage and carrots salad/slaw. My husband had it with Indian Basmati rice. Any fresh green salad or even something more starchy like sweet potatoes will make a great side dish.