Looking for a sweet treat easy to make that is delicious, and also healthy? These almond thumbprint cookies are lectin-free, gluten-free, and sugar-free. They have a great texture and flavor, freeze well, and are easy to personalize to your taste. If desired, you can use a homemade, sugar-free jam as a filling.
The idea for these almond thumbprint cookies came after I tasted a (sugar-loaded) almond cake while in Denmark. Here, marzipan is king, and it used to be one of my favorite flavors. It still is, but getting sugar-free, clean marzipan is difficult, and for making it, I don't have all the tools yet.
If you don't know already, marzipan is actually a blanched almond paste mixed with sugar and sometimes with egg whites.
But I did find almond butter made with blanched almonds and I thought that would be a good substitute, mixed with almond flour and the right flavors.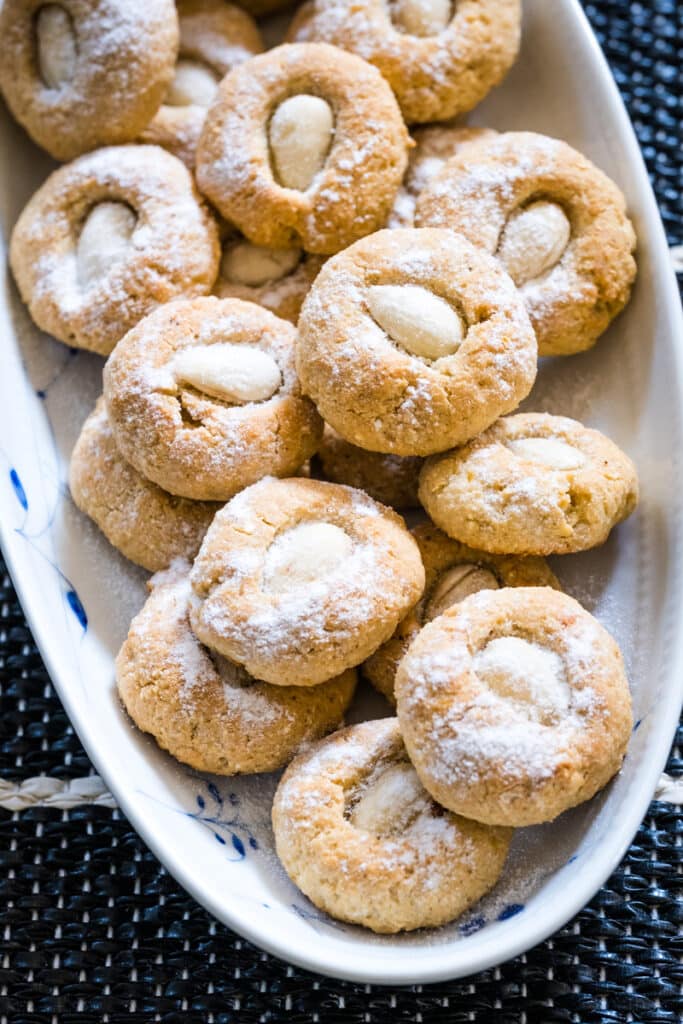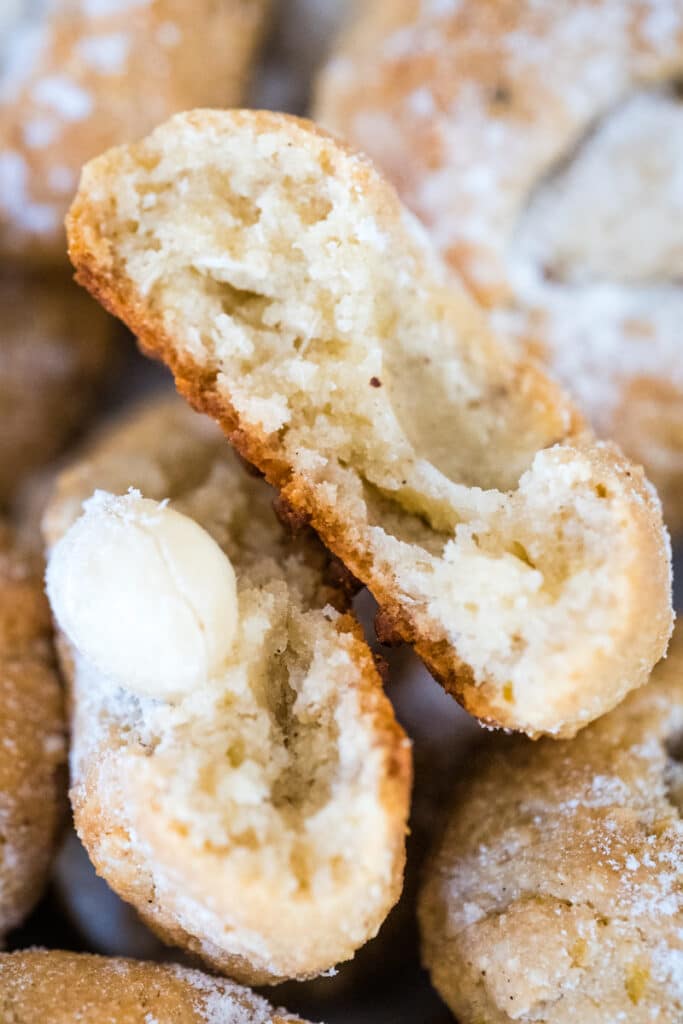 About almond flour and butter
When it comes to almond flour, whenever possible, I choose organic almond flour (as well as other almond products), from trusted sources. Conventional almonds, especially those from California, tend to contain glyphosate and other toxic chemicals used in the blanching process.
The almond butter was also made with organic almonds, and it was delicious. Blanched almond butter is a little more difficult to find, but not impossible. A lot of small producers are making it now, in Europe and in the US. The one I find in Denmark is called Monki White Almond Paste – search it online to find it closer to where you live. I think is a Spanish brand, but I'm not 100% sure. They make great nut butter.
In the US, you find a few options for blanched almond butter on Amazon and in specialty/health stores and small producers' websites. Wellbee's makes a white almond butter, but it's not organic. There is a newer one available on Amazon at the time I'm typing this, Once Again Organic Creamy Blanched Almond Butter, which would be my choice at the moment. Barney has blanched almond butter available in stores, but it's mixed with palm fruit oil.
For more details about almonds, you can check my post: Are Almonds Plant-Paradox Compliant?
How to blanch almonds
Alternatively, you can make your own butter, if you have a good food processor. Buy organic almonds, soak them for 24 hours or more in cold water in the fridge, and the peel should come off easily. Check the post I linked above about almonds for more details.
This is what I did for the almonds I used as a filling.
About millet flakes
Another main ingredient in these almond thumbprint cookies is millet flakes. While this is easy to find in Europe in gluten-free sections of stores, it hasn't been that easily accessible in the US. However, I can see there are more options added to Amazon – like this one – and I'm sure soon will be something more common to find.
In case you don't find millet flakes where you are, I think you can just use almond flour.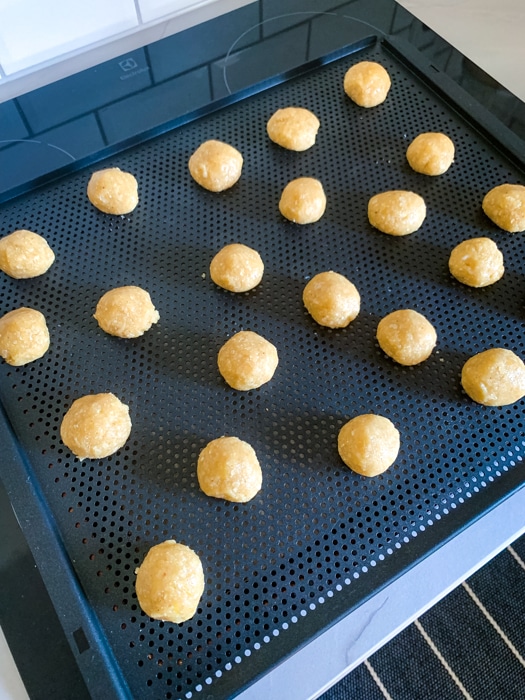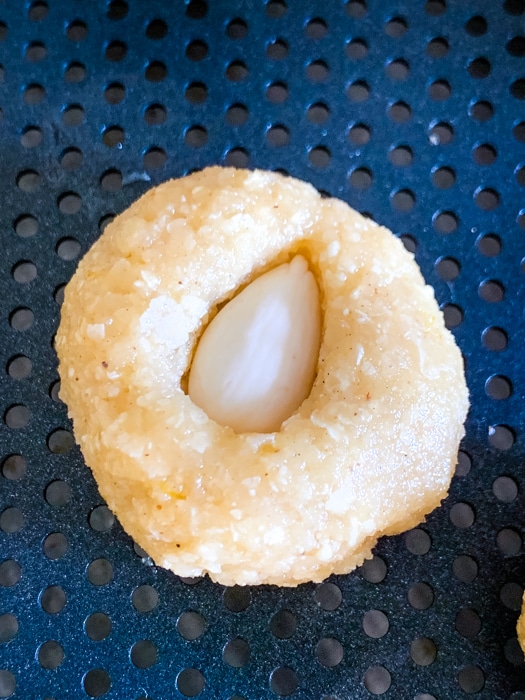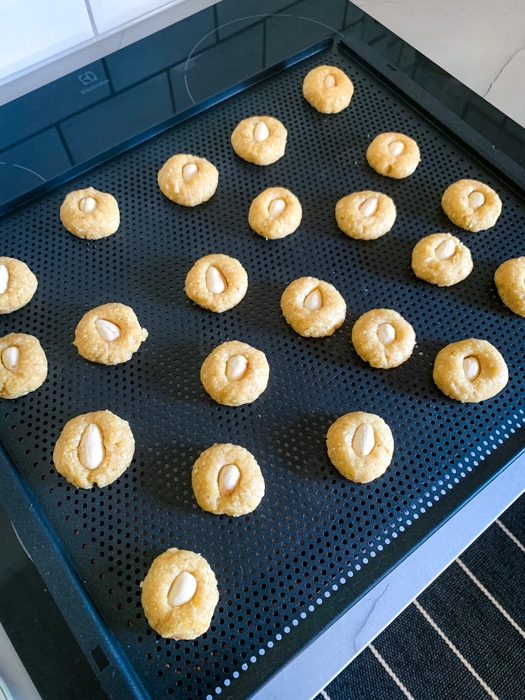 The filling for almond thumbprint cookies
While I did want everything in these cookies to be about almonds, I will certainly try to use another filling in the future, like a homemade sugar-free berry paste/jam. You will just have to make the imprint in the cookies using your thumb.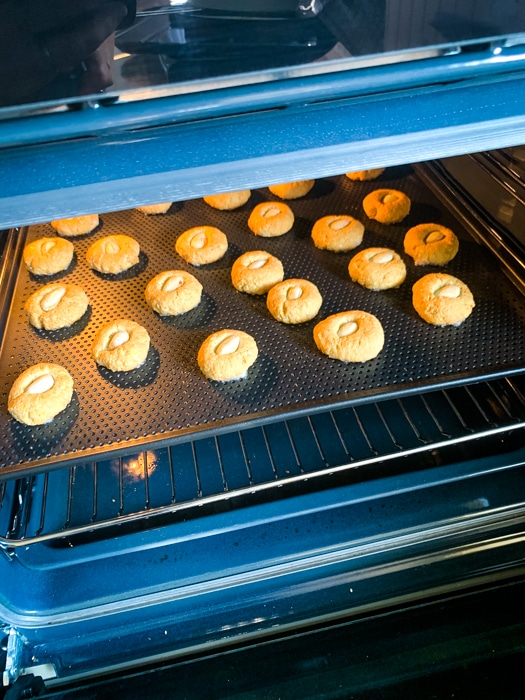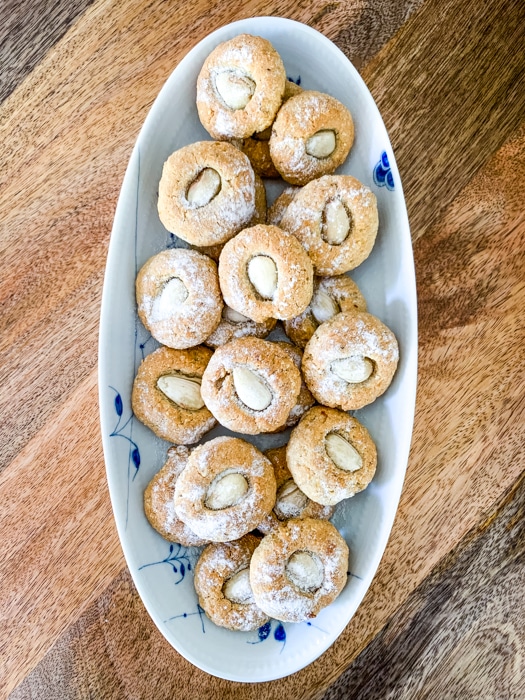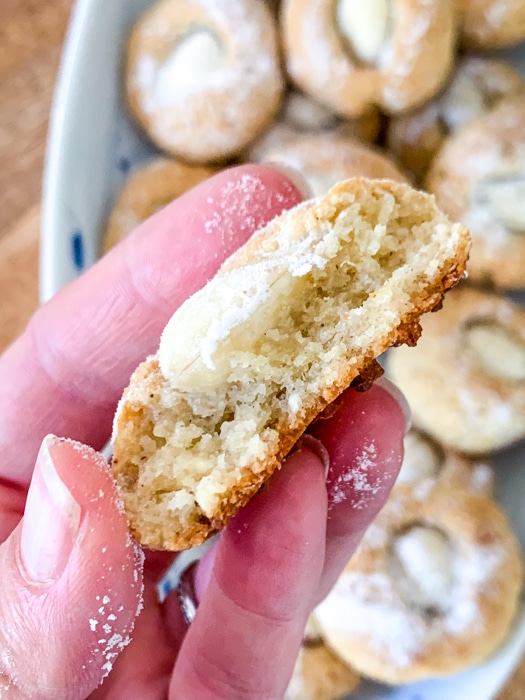 How to store and serve these cookies
I love these cookies because they are easy to freeze and they'll thaw easily and taste great even after freezing. You can make a big batch and store them in the freezer in stasher bags. They are a great road snack.
The sweetness
The sweetness of these cookies was just perfect for my taste, but if you have a sweeter tooth you can add more sweetener to the dough.
Measurements
To measure the nut butter and the coconut butter, I use a normal spoon. A measuring spoon is hard to use to measure nut butter, as most of it will stick to the spoon. You don't have to be precise, this is a forgiving recipe and you can always add a little more flour at the end if you feel the dough is too soft.
Also, you don't need to soften the coconut oil before using it, as it will soften up when you mix the dough with your hands.
*This post contains affiliated links, which means I get a small commission if you choose to purchase something via one of my links, at no extra cost to you.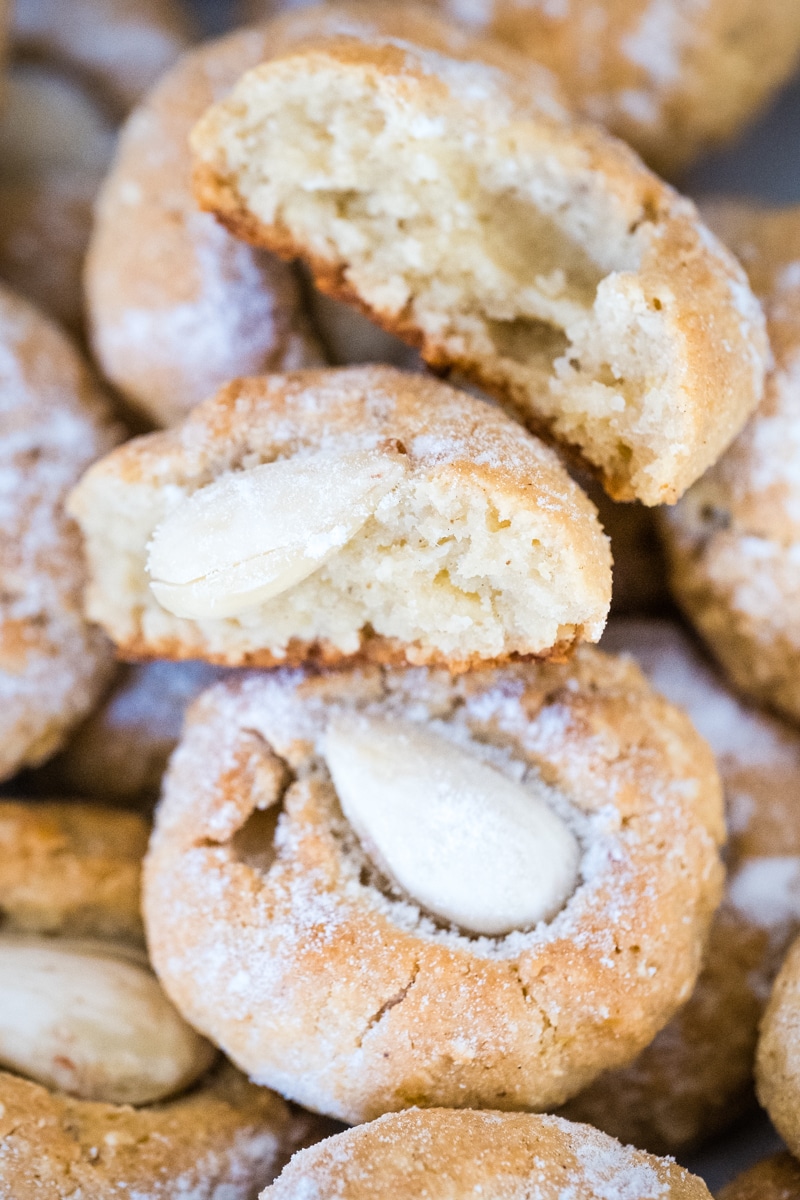 Print Recipe
Almond Thumbprint Cookies (Lectin-Free, Sugar-Free)
Looking for a sweet treat easy to make that is delicious and also healthy? These almond thumbprint cookies are lectin-free, gluten-free, and sugar-free. They have a great texture and flavor, freeze really well, and even are easy to personalize to your taste. If desired, you can use a homemade, sugar-free jam as a filling.
Ingredients
2 pastured eggs
1 cup millet flakes (check the post above for replacement)
1 cup almond flour + 2 tablespoons
4 tablespoons almond butter (made with blanched almonds)
4 tablespoons coconut oil, room temperature
2 teaspoons local honey / Yacon syrup / another preferred sweetener
2 tablespoons rose water
2 teaspoons pure vanilla extract (or vanilla powder/seeds from a pod, be generous if you like the vanilla flavor)
pinch of salt
zest from 1 big organic lemon (or from two small ones)
22-25 blanched almonds, whole
1 tablespoon inulin powder
Instructions
1

Preheat the oven to 350F and prepare a cookie baking sheet.

2

Beat the eggs lightly in a small bowl.

3

In a big bowl, mix the millet flakes and almond flour. Add the coconut oil, almond butter, honey, rose water, vanilla, lemon zest, salt and beaten eggs and combine. Start mixing everything with your hands, until you get a sticky dough.

4

Take about 1 tablespoon of dough and shape it into a ball. Add to the baking sheet. Repeat, making sure you leave some space in between.

5

Take one almond and gently press it in the middle of a dough ball. Repeat until you make all the cookies. I get about 22 cookies from this quantity.

6

Bake for about 20 minutes. Let them cool down and powder them with inulin powder. You can eat them immediately, store them in the fridge for a day, or freeze them.
Notes
You can use the same dough but make another filling - like a sugar-free homemade jam. To make these cookies I used a cookie sheet pan with wholes, so time might vary depending on the type of pan you will use.