Ok, this might be the easiest salad I've ever made. If you have the croutons ready, it literally takes five minutes to make, counting washing and drying the kale. The almond ricotta and kale salad is an easy healthy fix for any day.
Almond ricotta and kale salad, who says fast food can't be healthy?
Yesterday I had carrot cake muffins as my first meal (brunch). Then I had some stuff to do and came back home at 4 pm, hungry. I was really craving some greens and didn't have time to prepare a complicated meal.
I was also set to use my latest amazing discovery, almond ricotta made by Kite Hill, which I finally decided to test and I absolutely love it. Kale and ricotta are a good match and a perfect vehicle for getting some olive oil in for the day. So just decided to make a very simple, nutritious salad.
How to make the croutons
Now, if you don't have croutons ready, it will take an extra 20 minutes to make them. I had some old loaf I made with the California Country Gal bread mix. I sliced it and cubed, added it to a sheet pan with olive oil, rosemary and garlic powder and baked for about 12-20 minutes at 350F. My bread was made with eggs, hence this salad is not vegan. If you have vegan bread or croutons you can make it lectin-free and vegan.
Ricotta
If you choose to use dairy ricotta, keep in mind that only the one imported from Italy is plant paradox compliant. It adds up to your animal protein intake.
Also, for this salad, I used my Pickled Red Onion, if you don't have any you can use a shallot, but I would soak it in iced water for 5-10 minutes before using it to take away some of the strength.
If you like this Almond ricotta and kale salad, you might also like:
This post contains affiliated links, which means I get a small commission if you choose to purchase something via one of my links, at no extra cost to you.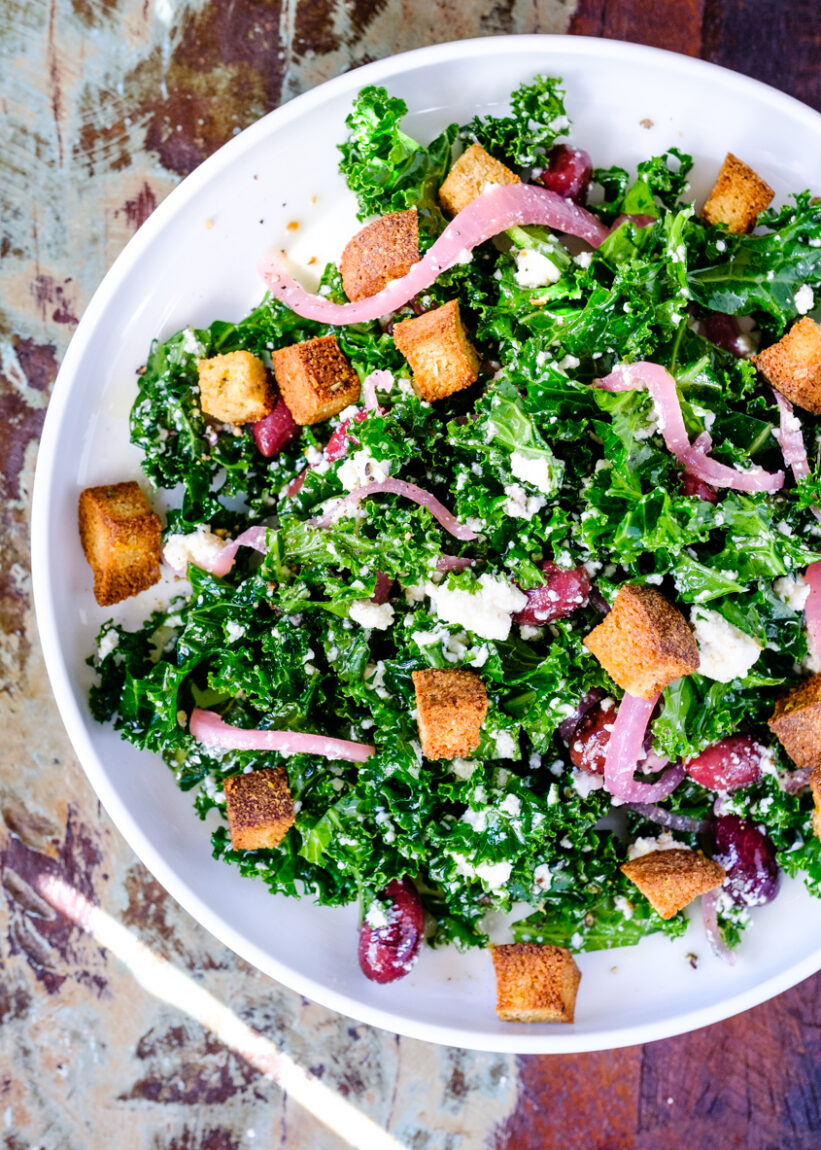 Print Recipe
Easy Almond Ricotta and Kale Salad
Ingredients
2/3 cup croutons (you need olive oil, dry rosemary and garlic powder)

1 bunch curly kale, washed and dry

few tbsp of almond ricotta

a handful of pickled red onion

a handful of kalamata olives

1/4 cup extra virgin olive oil

1 tbsp lemon juice

salt and pepper to taste
Instructions
1
Make the croutons if you don't have them already (the cooking time above is for making them). Cut your bread into small cubes, add to a sheet pan, drizzle with extra virgin olive oil, dry rosemary and garlic powder. Bake at 350F for 15-20 minutes or until they get crispy. Keep an eye on them as they can easily get burnt.
2
Chop the kale finely and add to a mixing bowl.
3
Add salt, extra virgin olive oil and lemon juice and massage the kale with your hands.
4
Add ricotta, olives and the pickled onion (or fresh one if you use) and mix.
5
Transfer to a serving plate and top with croutons.
Notes
You can replace almond ricotta with normal ricotta if imported from Italy. Or you can make it vegan if your bread/croutons are not made with eggs.