A delicious and nutritious meal, this lectin-free broccoli and mushroom stir-fry with oregano is an easy side or main dish to put together. Quick, easy, and ready in ten minutes, this plant-based meal is fresh, tasty, healthy, and affordable.
Recently I went to a Greek restaurant in my home town in Romania. I picked a side dish from the menu. It was a mixture of sauteed vegetables with olive oil and oregano. When I eliminated all the nightshades in the dish – the eggplant, zucchini, and peppers – I was left with carrots, mushrooms, and broccoli.
I don't know how good the original version is, but my three veggies meal was delicious and satisfying. Even my husband wanted to have some.
A great recipe to break your fast
So I decided to recreate that dish and have it more often at home. Sometimes we try so much to create fancy meals, and we forget the simplest and most available combinations and cooking techniques. This broccoli mushroom recipe is excellent as a main dish if you are vegan. You can add some feta cheese on top if you are vegetarian or serve it as a side dish with chicken or meat.
I love to break my fast with this broccoli mushroom recipe as it is. Add some resistant starch as green plantains, sweet potato, or millet, or even serve with scrambled or a fries egg next to it.
I did add some pine nuts for a bit of crunch and texture. You can use other nuts or even sesame seeds. You can finish it with some good-quality balsamic vinegar or use some lemon juice for a little bit of acidity.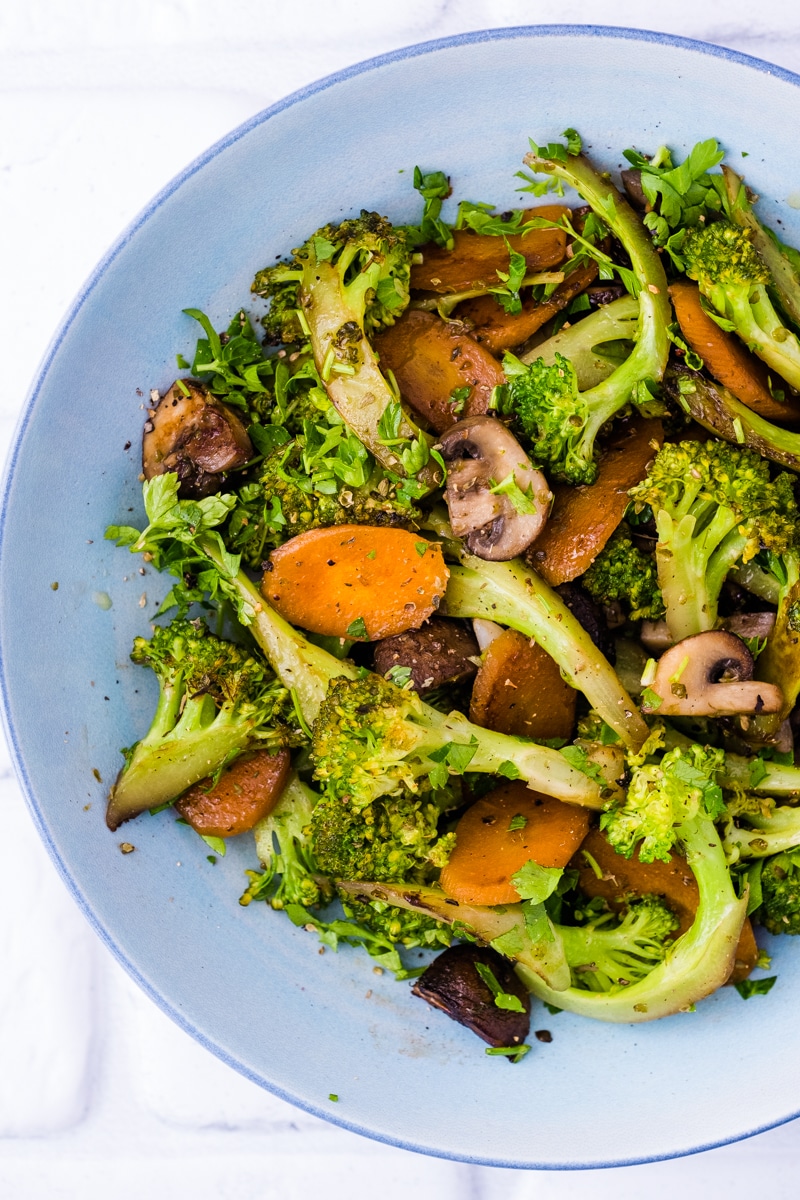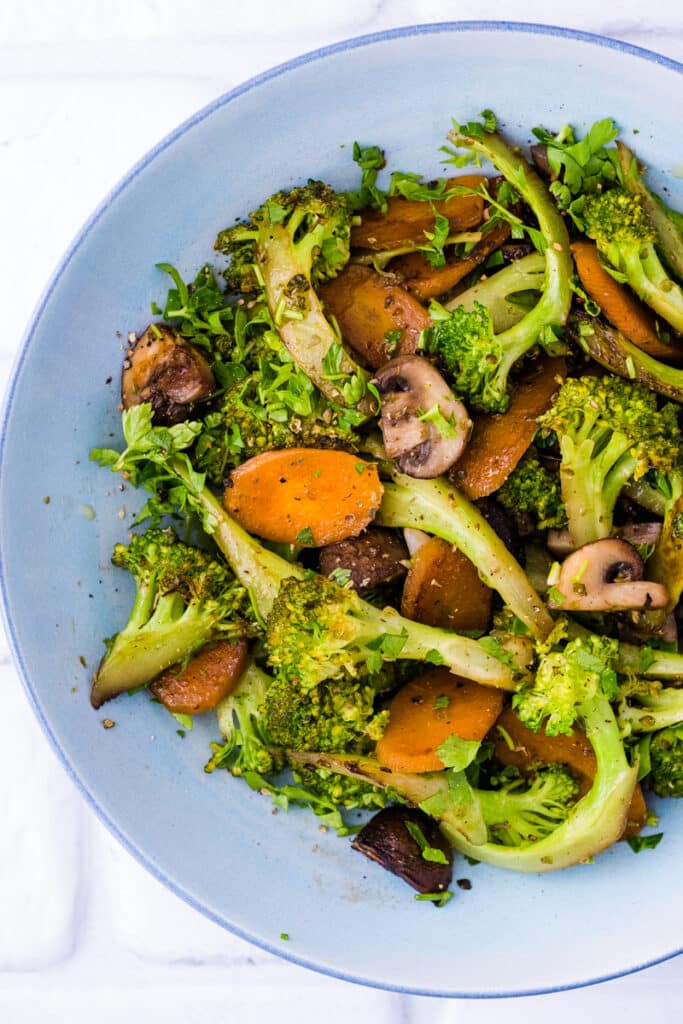 The shopping list for broccoli and mushroom stir fry with oregano
It is that easy. Here is a shopping list for this dish to make it easy for you. As per the serving size or the quantity, this is one of those meals that you can have as much as possible. It also depends if you have it as a main dish or as a side dish. The quantities I share in the recipe card below make about two servings.
broccoli
button mushrooms
carrots
dry oregano
salt & pepper
garlic
fresh parsley
pine nuts
More stir fry recipes
For a similar combination of vegetables but with Asian flavors, please check our Bok Choi, Broccoli and Mushroom Stir-Fry recipe.
And for more ideas to prepare easy nutritious meals, see our article How to Prepare Nutritious and Tasty Low Lectin Meals in a Few Easy Steps.
*This post contains affiliated links, which means I get a small commission if you choose to purchase something via one of my links, at no extra cost to you.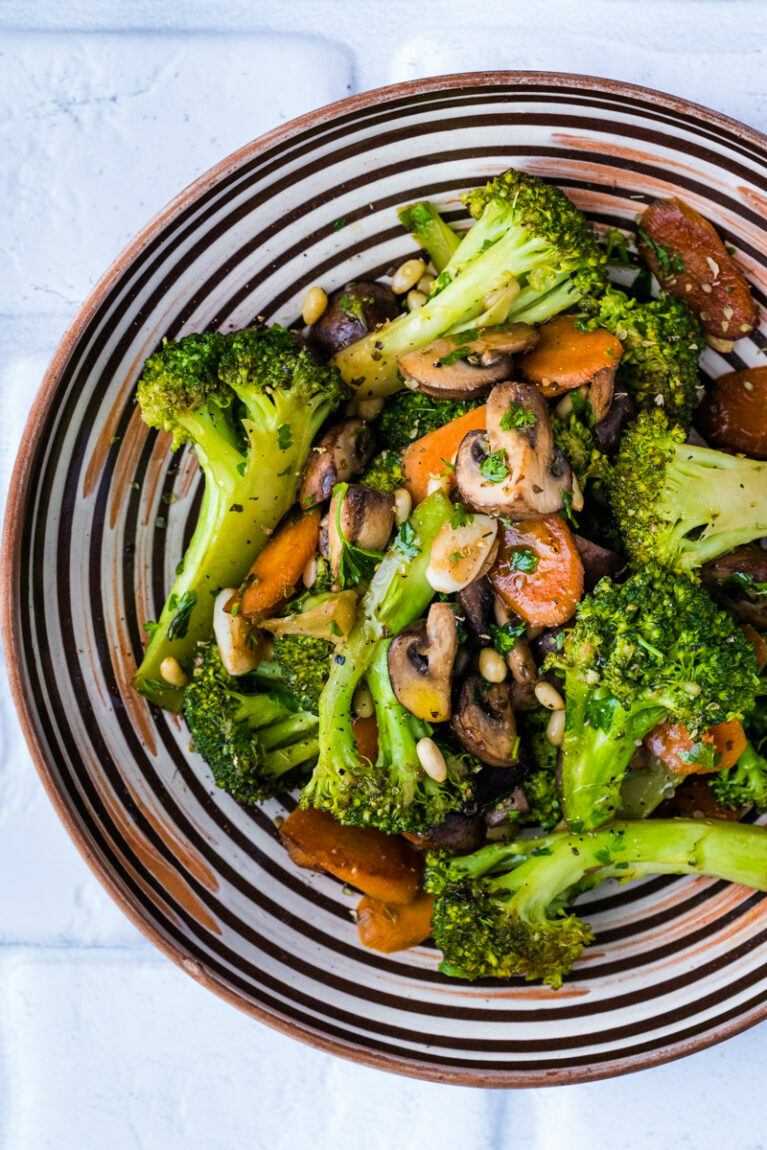 Print Recipe
Broccoli and Mushroom Stir-Fry with Oregano (Mediterranean Style)
A delicious and nutritious dish, this broccoli and mushroom stir-fry with oregano is an easy side or main dish to put together. Ready in ten minutes, this meal is fresh, tasty, healthy and affordable.
Ingredients
2 tablespoons extra virgin olive oil
1/2 broccoli crown (about 15 small florets)
8 medium brown mushrooms, quartered
2 small carrots, sliced at an angle
3, 4 garlic cloves, smashed
1/2 teaspoon salt (or more to taste)
1/2 teaspoon freshly ground pepper
1 teaspoon dry oregano
lemon juice
one small handful of pine nuts
one small handful of chopped fresh parsley
Instructions
1

Heat (on medium heat) a big skillet with extra virgin olive oil and add the broccoli, mushrooms, carrots and the smashed (but whole) garlic cloves. Stir well so the veggies get coated with oil. Sautee on medium heat for about 5 minutes or until the skillet gets very dry.

2

Add a little bit of water so the veggies don't burn or stick to the bottom. Add the oregano, pepper and salt. Let the veggies cook with the steam from the water. It takes about 10-15 minutes in total or until the broccoli and carrots are done to your likeness (you can always add a few extra tablespoons of water).

3

In the meantime toast the pinenuts in a separate skillet, on low heat for a few minutes until they form golden-brown spots and are fragrant.

4

Add the pine nuts, fresh parsley, and a squeeze of lemon or a drizzle of balsamic vinegar.

5

Serve as a main meal or as a side.