This bok choy stir fry is a super easy recipe and not much to comment about. I have tens of recipes waiting to be uploaded and I decided to do this one today because in one of the Plant Paradox support groups we remind each other every week that plants are the core of our diet, and this week's hero plant was bok choy.
I love stir-fries and I love eating with chopsticks, so here it is, one of my favorite ones.
Bok choy stir-fry, an easy, plant-powered meal
Bok choy, broccoli, mushrooms – this nutritionally dense trio is made in heaven. Add some Asian flavors with sesame seed oil, coconut aminos, fish oil, ginger, and garlic and you have yourself a lectin-free, meat-free, soy-free, low carb treat, much healthier than your usual Asian takeaway.
You can serve this as your main meal, or as a side dish. You can add some pan-seared tuna, salmon, or even shrimps. It can be a great side dish for chicken or steak. Or, ad a gooey boiled egg on top for a late, filling breakfast.
While traditional stir-fry dishes require medium-high heat, I never go higher than medium, for any meal. If you have a wok, you can use one, but any large stainless steel skillet would work.
The aromatic base for this nutritional trio of veggies is fresh ginger and garlic. The vegetables don't need much cooking, so this dish is perfect for when you have little time to cook but want something warm, comforting, and healthy. For a vegan version, skip the fish oil and add more coconut aminos. Finish with salt and pepper to taste.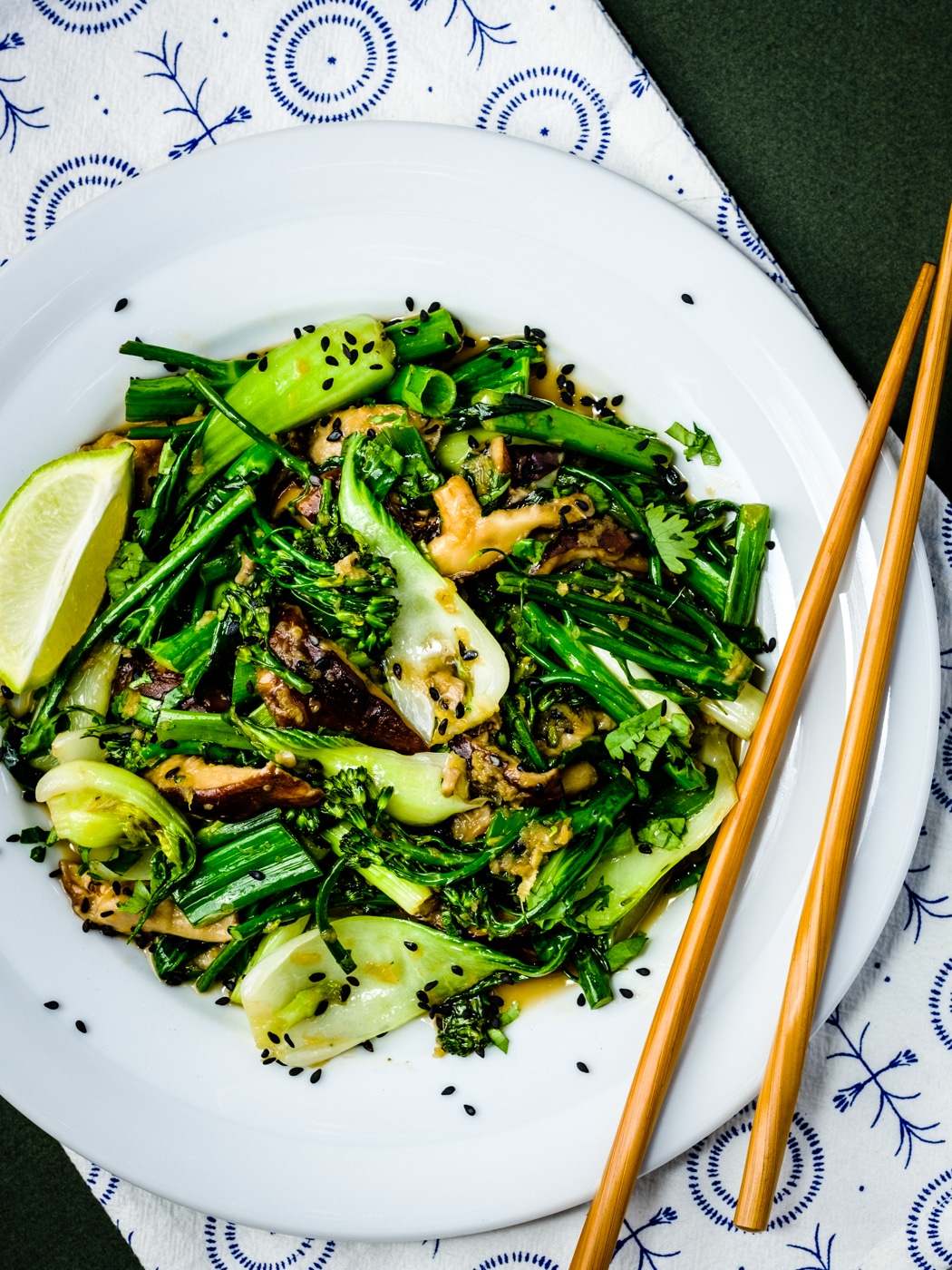 More healthy stir-fry recipes
If you would like to try more healthy stir-fry recipes you may also like my: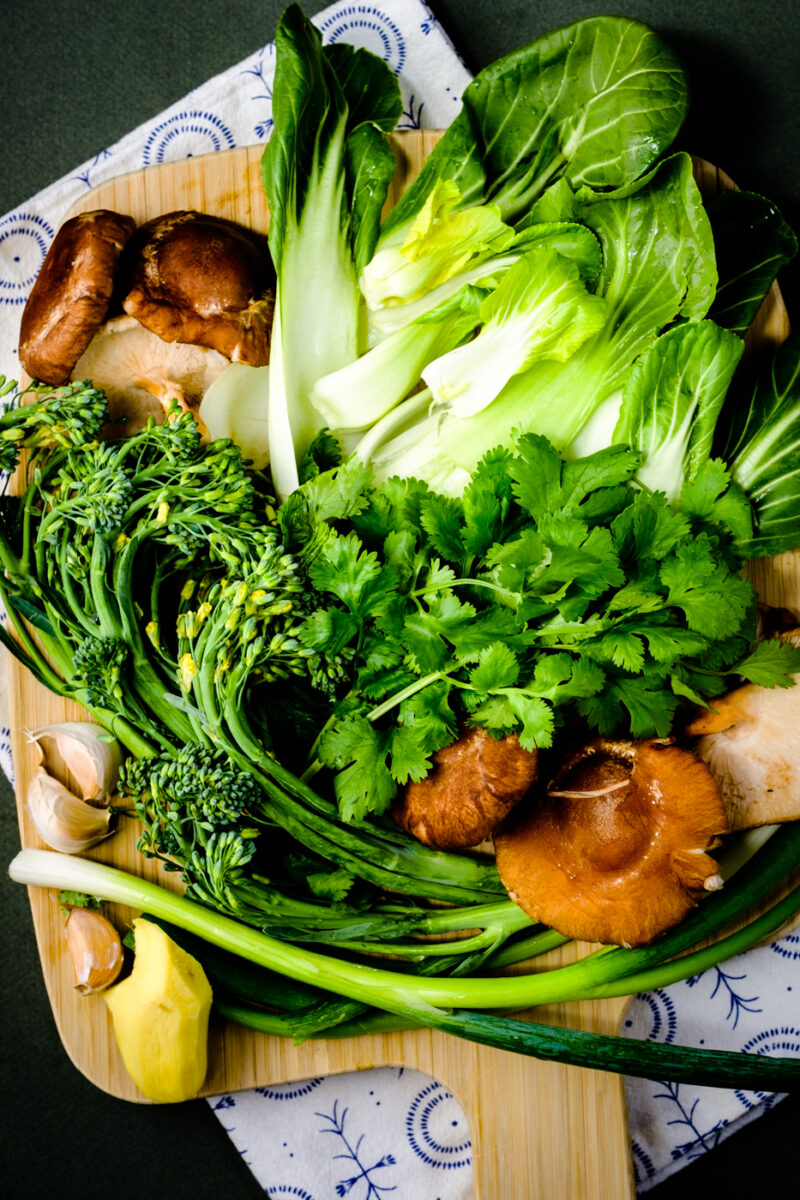 Print Recipe
Bok Choy, Broccoli and Mushrooms Stir Fry
Bok choy, broccolini, mushrooms - this nutritional dense trio is made in heaven. Add some Asian flavors. This bok choy stir fry is a super easy recipe.
Ingredients
1 tablespoon toasted sesame oil

1 thumb size ginger, grated

3 grated garlic cloves

1 bunch broccolini, chopped in big chunks

1 bunch baby bok choy

12 medium shiitake mushrooms, stems removed, sliced in big chunks

1 bunch fresh cilantro, chopped

few spring onions, chopped in 1 1/2 inch length

1 tablespoon sesame seeds

1 tablespoon coconut aminos

1 teaspoon fish oil

1 teaspoon rice vinegar

fresh lime

salt and pepper to taste
Instructions
1
Heat the toasted sesame oil on medium heat in a pan.
2
Add the grated garlic and ginger and stir well, for about one minute, making sure the garlic and ginger don't burn.
3
When the aromatics are fragrant, add one tablespoon of water and add the sliced shiitake mushrooms, cook for about 5 minutes or until the mushrooms become fragrant.
4
Add the broccolini and bok choy.
5
Drizzle the veggies with coconut aminos, fish oil, and rice vinegar. Cook for about 5 minutes, stirring occasionally.
6
Finish with sesame seeds, sliced spring onion, and chopped cilantro, salt and pepper to taste.
7
Serve with fresh lime juice.
Notes
The recipe is for the vegan, basic stir fry, not including any toppings or add ons which you can add at your heart's desire. Skip the fish oil for a vegan version.