When I say a meal is super easy to make, I really mean it. This crunchy stir-fry with tahini sauce is another one that takes ten minutes, it's satisfying and delicious, on top of being healthy, nutritious and lectin-free. I know, too many adjectives, but it's the truth. You just need broccoli, mushrooms, ginger, carrots and cabbage, and a few Plant Paradox pantry essentials.
The perfect meal for 'meatless Mondays'
Whenever I make a plant-based meal, I think of my friend Cristina, who is following the Plant Paradox program while having a plant-based diet. I know it's always harder to figure out meals when you don't eat animal protein but on a lectin-free diet. But this meal will satisfy anyone, plant-based or not.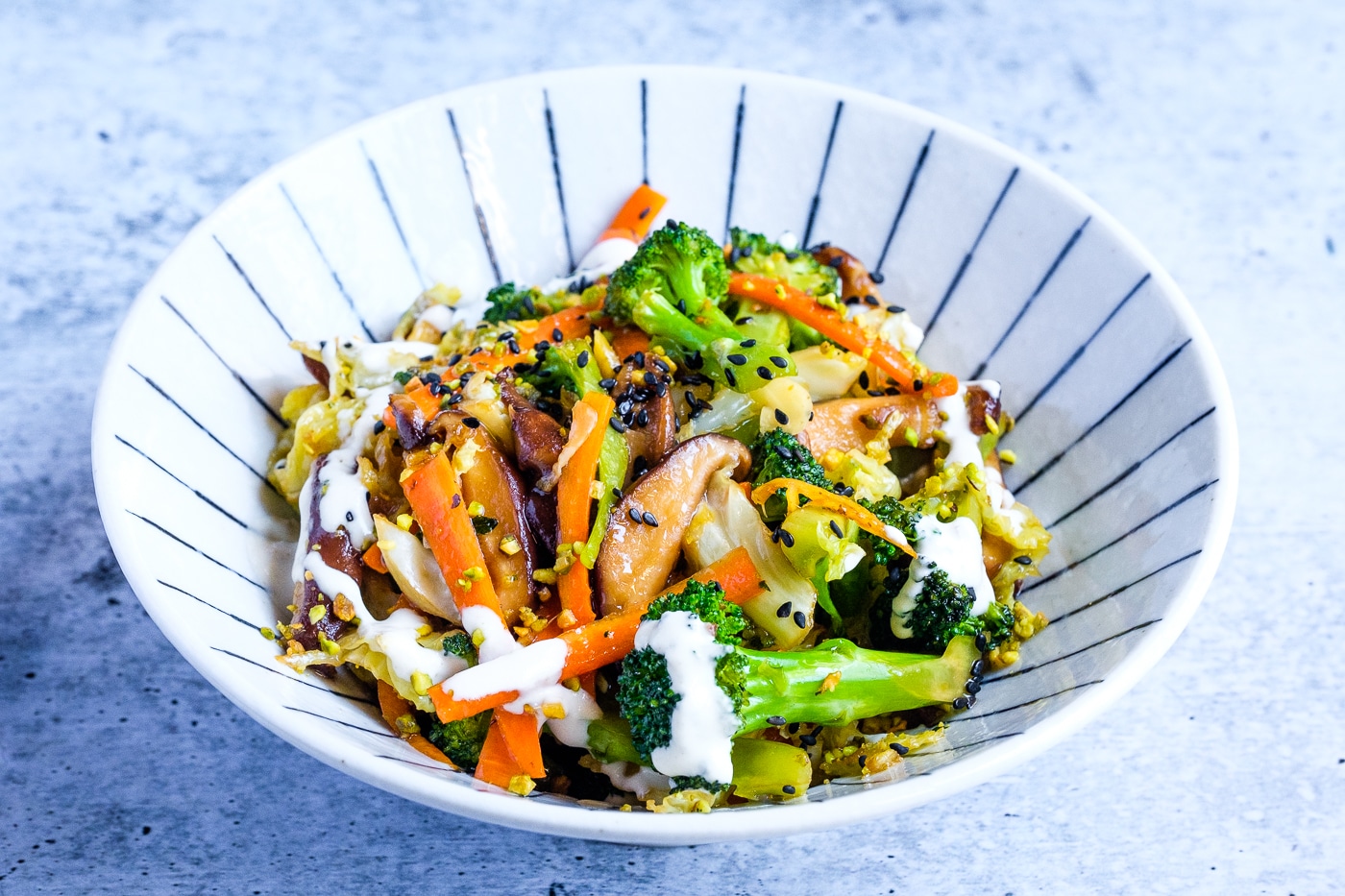 This is also an excellent meal for meal prep, but instead of preparing the meal in advance, which we know is not as good as freshly made, you just prepare the veggies: clean and wash them. You can even cut them and store them in the fridge in a Stasher bag or whatever good storage system you have. Don't cut the cabbage, it stays fresher when whole or halves.
You can cut the carrot, the broccoli, and peel the ginger. You can even add some more veggies to change it up: like some scallions, or red cabbage. For this one, I used Savoy Cabbage, but Napa would work well too, as well as normal green and red cabbage. For mushrooms I used shiitake, they have a nice texture in a stir fry. But if you don't find them in your grocery store you can replace them with any other mushrooms. Or use a mix of them.
Now, for the stir fry sauce and seasoning, you need: coconut aminos, Mirin (rice cooking wine), toasted sesame oil, some sesame seeds, avocado oil for frying. Salt might be needed depending on your taste. (TIP: Once open, keep your coconut aminos, Mirin and toasted sesame oil in the refrigerator.)
Don't cook them too much, so they remain crunchy and vibrant. Mine takes about 10 minutes.
And the Tahini Dressing, you find it here, link below. Make it in advance and use it on your meals throughout the week. If you want to be able to drizzle it on your dish, just add some coconut aminos and cold water to the portions you are serving and mix.
HOMEMADE TAHINI SAUCE WITH GARLIC AND CUMIN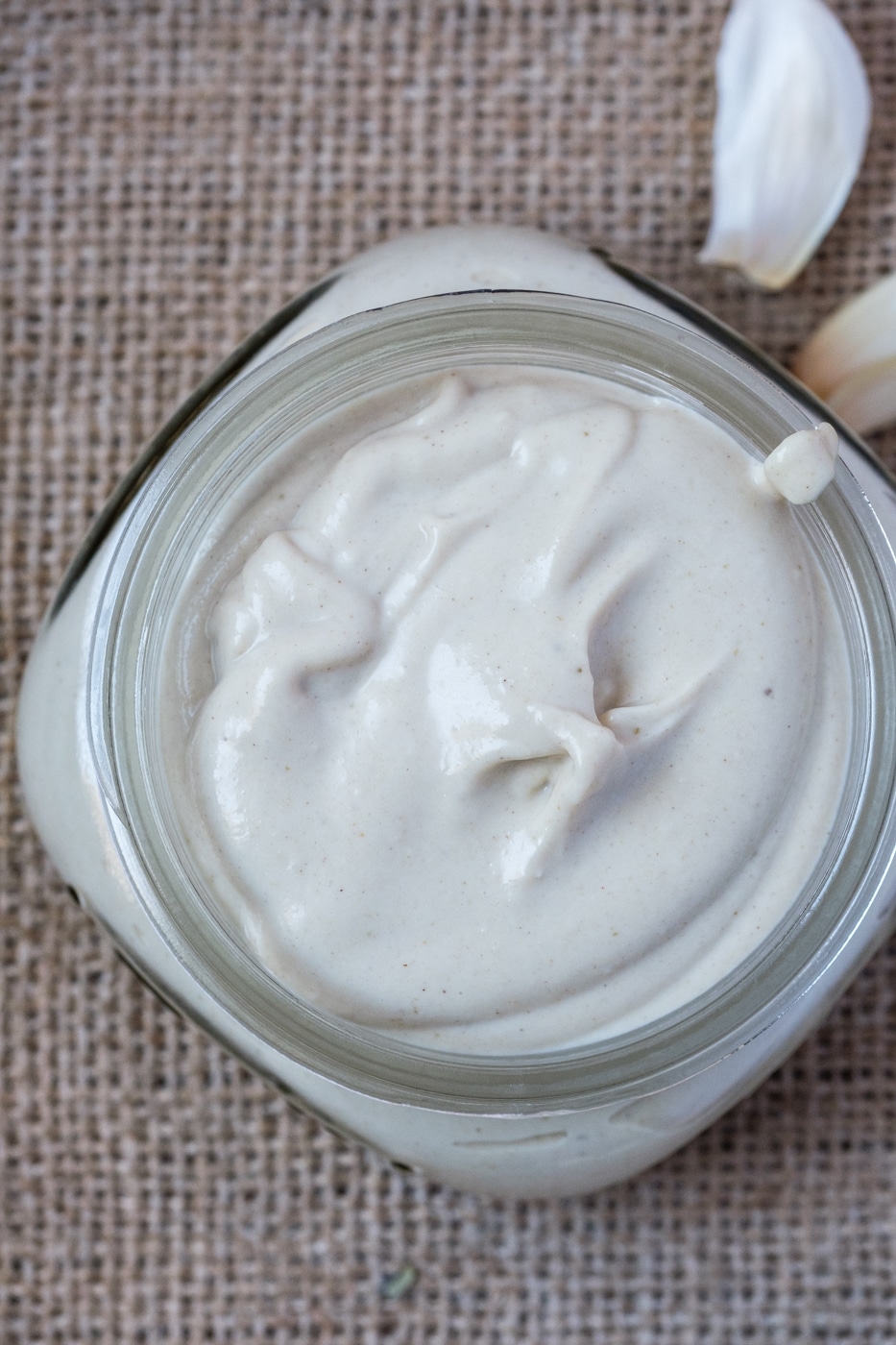 Enjoy this tahini stir-fry and let me know if you make it!
For another lectin-free stir-fry recipe, you might like
*This post contains affiliated links, which means I get a small commission if you choose to purchase something via one of my links, at no extra cost to you.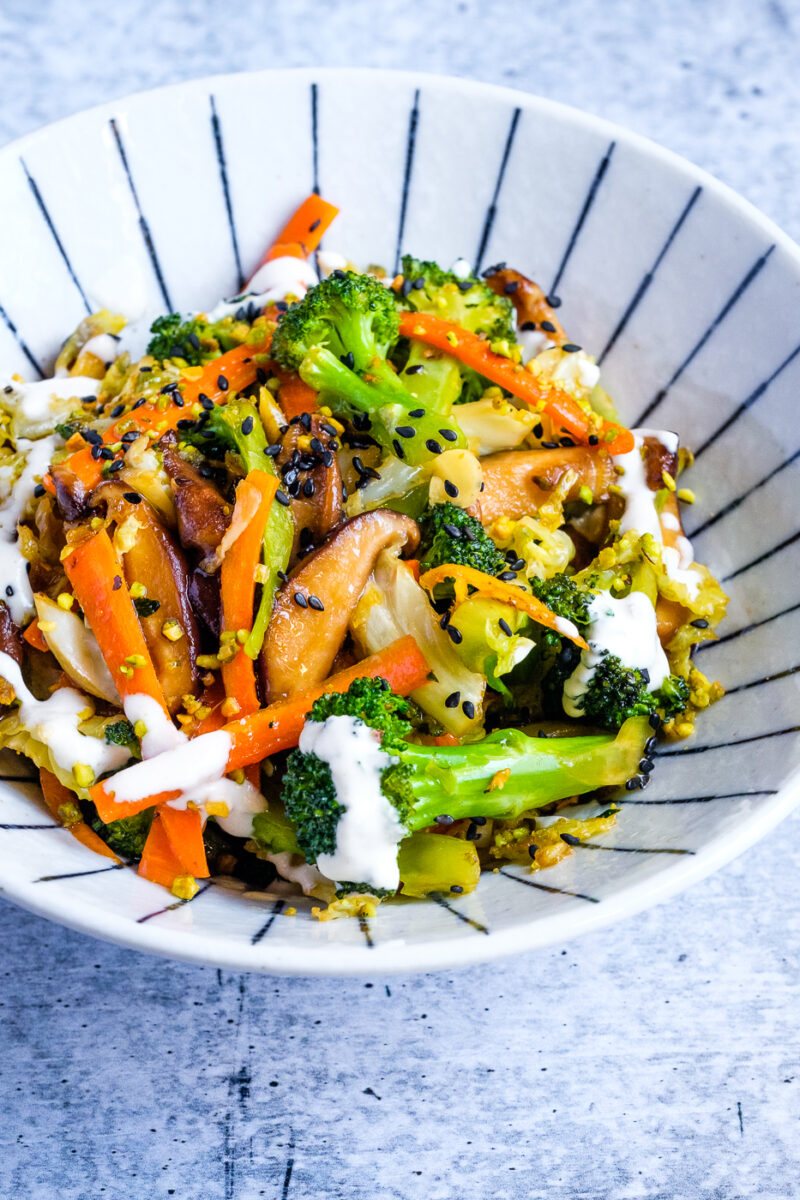 Print Recipe
Crunchy Stir-Fry With Tahini Sauce
An easy, delicious and healthy meal for your meatless Mondays.
Ingredients
FOR STIR FRY:

2 cups broccoli florets, cut small so they cook with the rest of the veggies

8 medium shiitake mushrooms, stem removed, sliced

1 small Savoy Cabbage (You can also use Napa or any other cabbage instead), roughly sliced

1 thumb-size piece ginger, cut in fine sticks

1 small carrot, cut in fine sticks

2 garlic cloves, smashed

3 tbsp avocado oil

2 tbsp coconut aminos (to taste)

1 1/2 tbsp rice cooking vinegar (Mirin)

1/2 tsp sesame oil

FOR DRESSING:

2-4 tbsp of tahini dressing (recipe linked in the post above) + cold water and coconut aminos

1 tbsp sesame seeds
Instructions
1
Make sure you have tahini dressing prepared in advance (use the recipe linked in the post above).
2
Prepare a large pan with avocado oil, on medium heat.
3
Prepare all the veggies and add them all (except for the carrots) to the hot pan; stir occasionally. After about 7 minutes add the coconut aminos, Mirin and the carrot sticks and stir well. Cook for few more minutes. At the end add the toasted sesame oil. Taste and add salt if necessary. Serve with sesame seeds and a drizzle of tahini dressing (the prepared tahini sauce mixed with some cold water and coconut aminos).
Notes
The tahini dressing doesn't take long to prepare, but it's better to make it in advance, as part of your meal prep, and use it all week for different dishes or as a dipping sauce for vegetable sticks. It will satisfy your cravings for hummus.