Recently I asked for feedback on Instagram about what you ladies and gentlemen will love to see more on my website in the new year. Some of you asked for more Chinese-inspired dishes. I love Asian-inspired food, but we all know it is close to impossible to eat Plant Paradox compliant in an Asian restaurant. So I made it a mission to create more lectin-free Asian-inspired recipes. This is the five-spice pork belly.
A lectin-free Chinese inspired dinner
Every now and then I buy freshly sliced pork belly from my local meat store, Burgundy's Local, where they have heritage/pasture-raised pork. So far, the only reason we bought fresh pork belly was to make Grain-Free Fettuccine Carbonara, one of my favorite recipes on this website, and one my husband loves. This time I felt like using the pork belly I had defrosted a few days ago to make something different. And who doesn't like the sticky, sweet, salty, pork belly prepared the Chinese way?
I searched for information on how this type of dish is usually prepared, and of course, soy sauce and sugar are essential. I have been using Coconut Aminos to replace soy sauce for a long time. To be honest, I was never a fan of the taste, so I wanted to test a way to use it where the difference will not be felt.
I have to say this five-spice pork belly was one of the best I've had lately. It doesn't require a lot of ingredients, which I love, but it requires a little bit of time and attention. So make sure you have an hour or so when you want to make this dish.
How to make five-spice pork belly
The reason it takes that long (compared to normal stir-fries which are usually pretty fast) is that you need to caramelize onions first. You need this step to add the extra depth and umami flavor to the dish since you don't have the depth of dark soy sauce. Caramelizing onions is easy, but requires low heat and about 20-30 minutes of watching the pan, stirring and adding some water if necessary.
After caramelizing the onions you infuse the oil with garlic. Then you have to fry the bite-size slices of pork belly. Even if my pan was pretty wide, I decided to cook them in batches so I get them all cooked equally. After this step is done it's pretty easy. You just add the sauce, cover and simmer on low heat for about 30 minutes or until the sauce is reduced and thickened.
CHINESE FIVE-SPICE POWDER (cinnamon, fennel, star anise, cloves, white pepper)
You can use any vegetables or side dish for the pork belly, but I recommend cauliflower rice, maybe mixed with carrot rice and some small pieces of broccoli, and something nutritious, fresh and green, like broccoli sprouts (or sprouts of other compliant greens). My husband, who is not 100% plant paradox compliant, had some Indian Basmati rice next to all this.
You can use an oak to make this dish, but I don't have one and I used my All-Clad, stainless steel sauteeing pan that has a lid. It worked perfectly.
Enjoy this lectin-free Asian dish and let me know if you make it.
*This page contains affiliated links, which means I get a small commission if you choose to purchase something via one of my links, at no extra cost to you.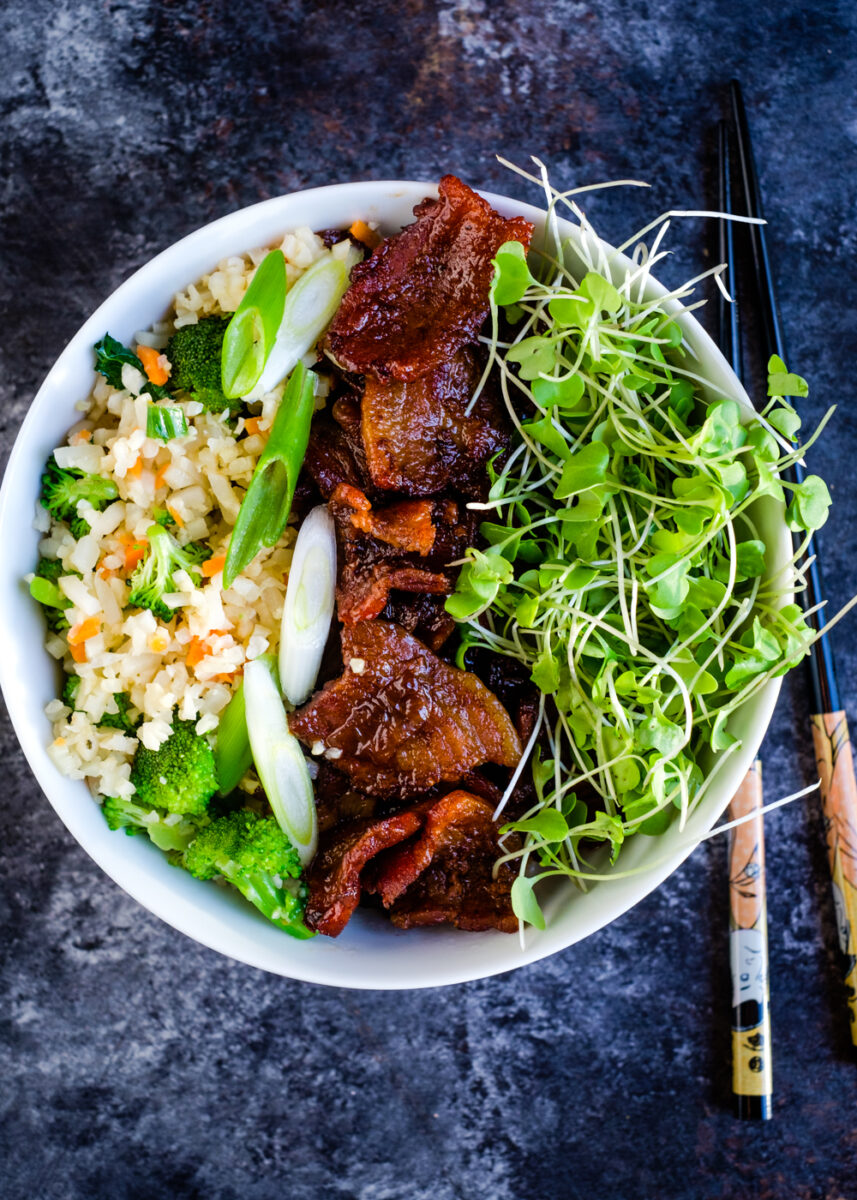 Print Recipe
Five-Spice Pork Belly with Cauliflower Rice and Broccoli Sprouts
A delicious lectin-free Chinese-inspired meal.
Ingredients
1 lbs freshly sliced pork belly, cut into bite-size pieces

1 cup of roughly chopped red onion

3 garlic cloves, peeled and smashed

1/4 cup coconut aminos

1 tsp Chinese five-spice mix

1 1/2 tbsp Chinese cooking wine (Mirin)

2 tsp monk fruit granulated sweetener (Lakanto)

3/4 cup filtered water

avocado oil for cooking

few cups of broccoli sprouts washed and dried

14 oz / 400g riced cauliflower (or riced mixed veggies) + coconut aminos + wine vinegar +avocado oil

2 springs of green onion, finely sliced
Instructions
1
Add a small amount of avocado oil to a large pan, heat and add the onions. Cook and stir regularly on low to medium heat, until onions are caramelized, add 1 tsp of water at the time if necessary. It will take about 20 minutes.
2
While the onions are cooking, mix the sauce ingredients: coconut aminos, cooking wine, Chinese five-spices, monk fruit sweetener. You will add the water to this mix before adding it to the pan.
3
When the onions are caramelized, take them out in a bowl, and add a little more avocado oil to the pan and add the smashed garlic cloves. Infuse the oil with garlic for a couple of minutes. Take the garlic out, chop it finely and add it to the onions bowl and start cooking the pork belly slices, in batches. Increase heat to medium. When a batch is nicely browned, take it out in the onions bowl and add the next. Do this until you are finished with the pork belly. The pork belly will release a lot of fat, and I removed (with a spoon) most of it (I left enough to cover the pan and coat all the ingredients). Add everything from the bowl back to the pan, mix well and add the sauce you prepared previously, and the water. Bring to a boil, turn heat to low and cover. Simmer for about 30-40 minutes, or until the sauce has reduced and thickened.
4
When the pork belly is almost ready, add some avocado oil to a different large pan, add the cauliflower or vegetable rice, sautee for few minutes, add a drizzle of coconut aminos and a drizzle of cooking wine, salt if necessary. I like my rice to be crunchy, so I only give it few minutes. Taste, adjust and cook to your liking, but mushy is not nice.
5
Place the vegetable rice, pork belly and broccoli sprouts in a serving bowl and garnish with sliced green onion.
Notes
If you have family members that are not 100% compliant, you can make Indian Basmati rice for them. This quantity makes 2 or 3 portions, I would say 3 for people like me, and only two if you have a husband who is very hungry.