I love spring and seeing all the fresh greens and herbs. My soaked and pressure-cooked chickpeas called for the spring treatment, and that's how this low lectin spring chickpea salad with Mediterranean flavors was born. This is the perfect salad for your summer meals, picnics, and garden parties.
Chickpeas lectin
I love chickpeas, and I'm glad I could reintroduce them after taking a break for two years. Chickpeas are a great food to have in your diet if appropriately prepared.
Chickpeas have lectins. They need to be soaked overnight and pressure-cooked in an Instant Pot or manual pressure cooker for 20-24 minutes. This process will remove the lectins.
Sometimes I cook them with only water, sometimes I add rosemary, and sometimes I add one carrot and some onion. But I never add salt when pressure cooking.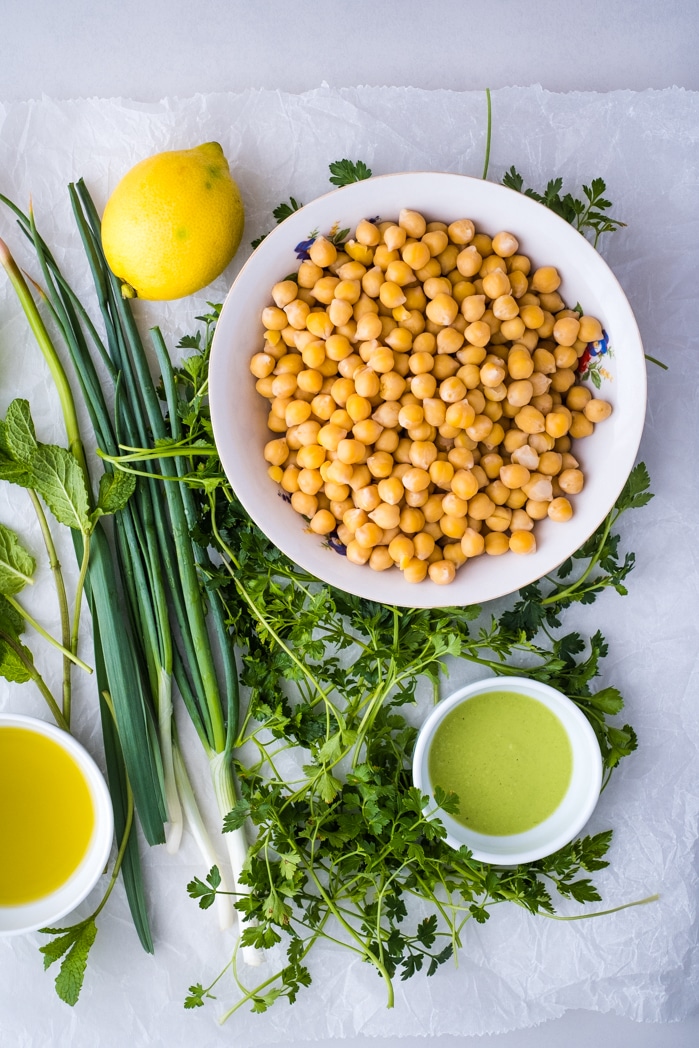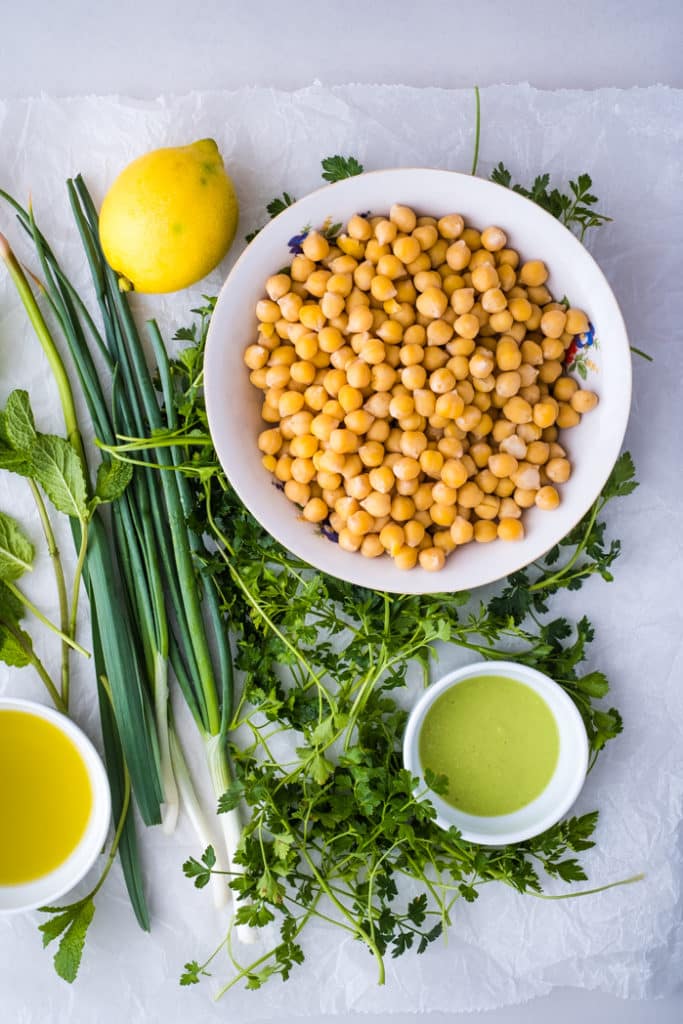 How to prepare the garlic sauce
This garlic sauce is a favorite in our house. We make it with spring garlic. If you can't find spring garlic, the next best thing is wild garlic leaves. I guess it will be ok with normal garlic, but it won't come out green, and there will be a slight flavor difference.
The ingredients are spring garlic, extra virgin olive oil, hemp milk (see my hemp milk recipe), apple cider vinegar, salt, and pepper, to taste. You won't use that much for this salad, but you can store it in the fridge for a couple of days and use it for other meals. It was the original sauce for my Lectin-Free Zucchini Baked Fries.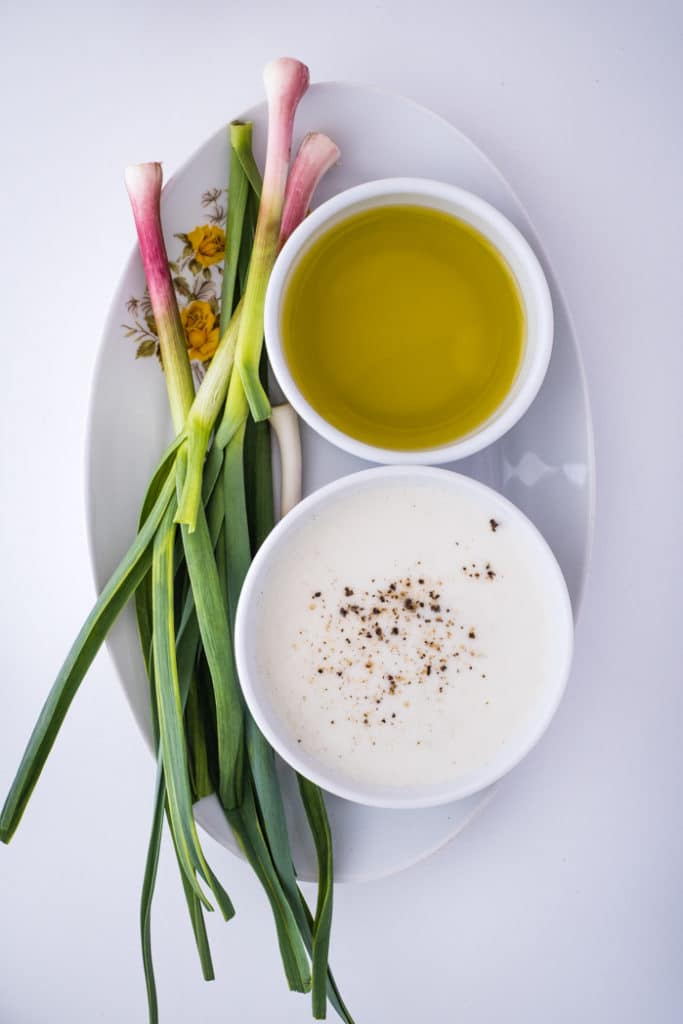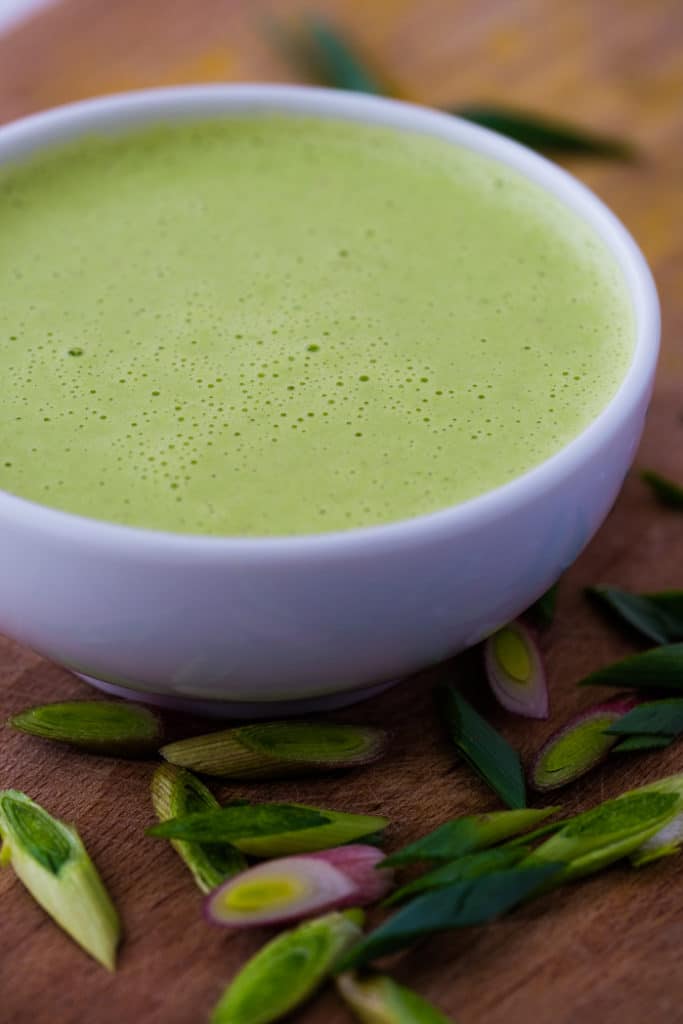 Spices and aromatics for the low lectin spring chickpea salad
For a mix of Mediterranean and Middle Eastern flavors, I used lots of fresh parsley, fresh mint, lemon zest, cumin, salt, and pepper.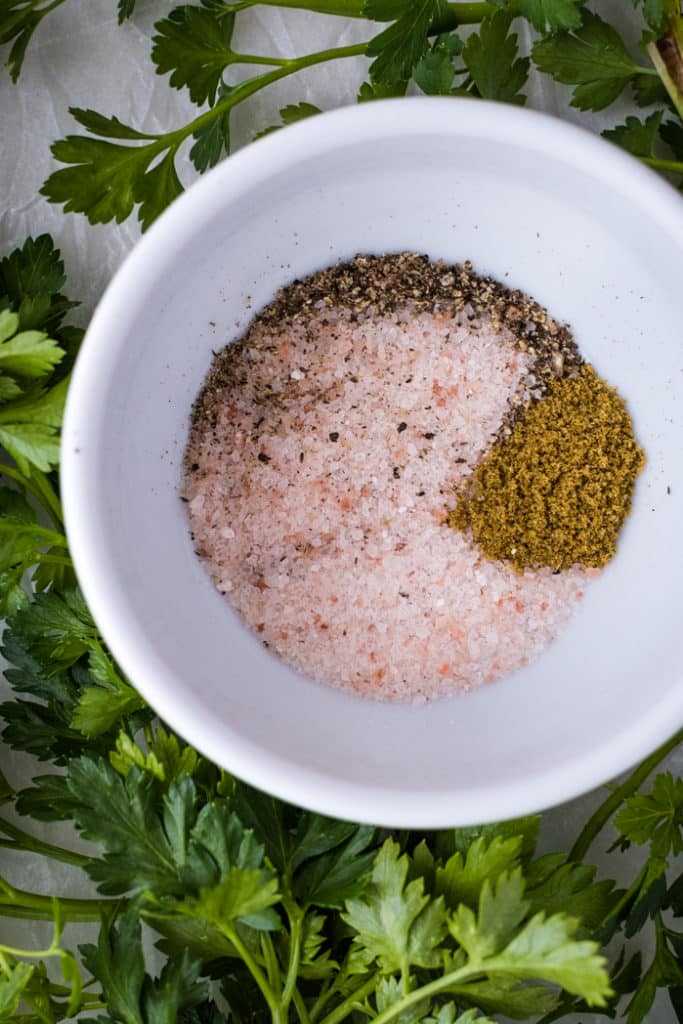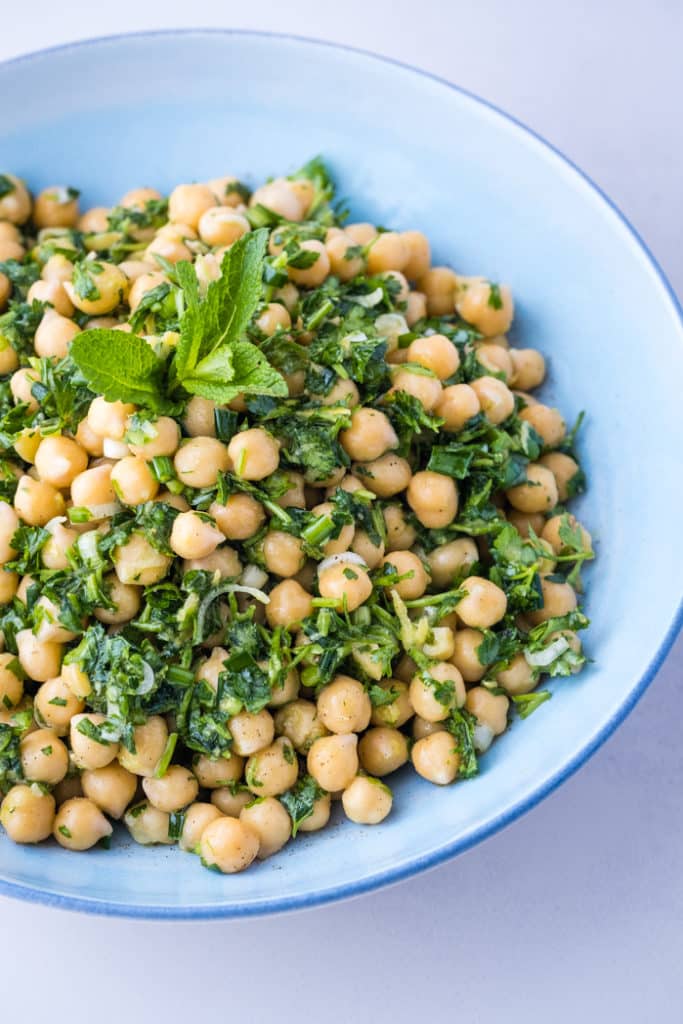 How to serve
I love this salad served in a combination of tapas-style dishes. It goes well with flatbread or green cassava tortillas, kebab style meat or grilled chicken, olives, feta cheese, and pickled mushrooms salad. Enjoy!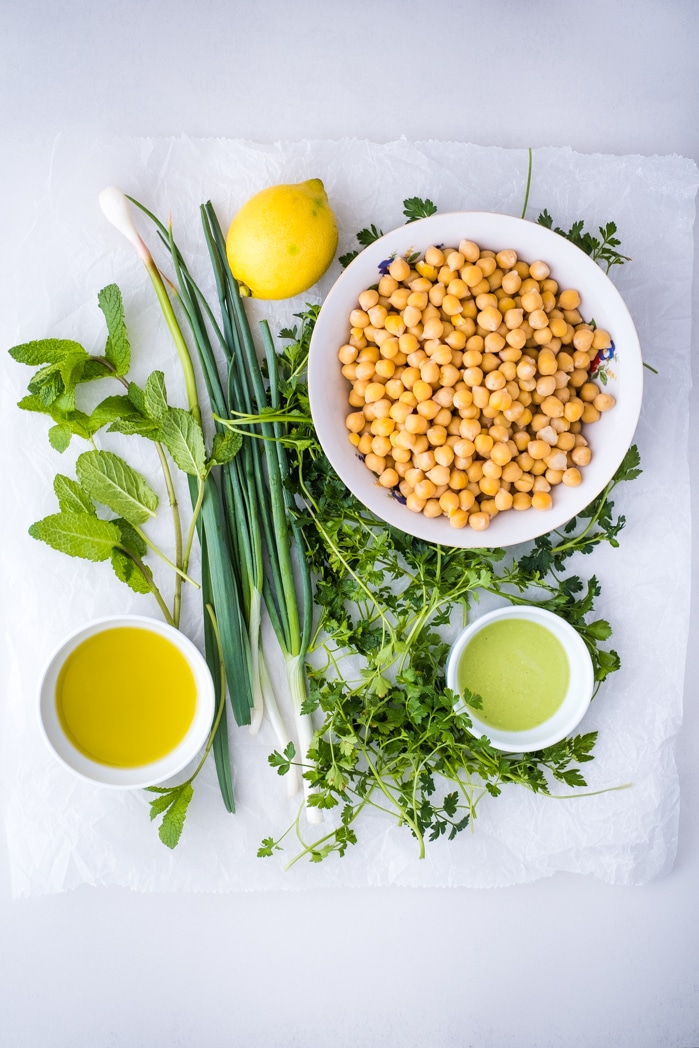 Print Recipe
Low Lectin Spring Chickpea Salad
This low lectin spring chickpea salad with fresh herbs and Mediterranean flavors is the perfect accompaniment to your summer meals, picnics, and garden parties.
Ingredients
FOR THE GARLIC DRESSING:
3 spring garlic (the very young ones, if they are bigger use less), chopped
4 tablespoons extra virgin olive oil
1/4 cup hemp milk (you can use other compliant milk but not coconut, too much flavor)
1 teaspoon apple cider vinegar (or more, to taste)
salt and pepper to taste
FOR THE SALAD:
2 1/2 cup pressure cooked chickpeas (you can also use canned)
1 big parsley bunch, finely chopped
3 spring onions, finely sliced
1 spring garlic, finely sliced
about 20 leaves of fresh mint, chopped
1 tablespoon garlic sauce (or more to taste, if you like the garlicky taste)
4 tablespoons extra virgin olive oil
zest of one organic lemon
1 teaspoon salt
1/4 teaspoon cumin
1/4 teaspoon pepper
a squeeze of fresh lemon juice, to taste
Instructions
1

TO PRESSURE COOK THE CHICKPEAS (the time it's not included in the cooking time): Soak them overnight changing water several times. Change the water and pressure cook (you can add some carrot and onion to the pot for more flavor, but it's not necessarily) for 23 minutes. Let the pressure release naturally, discard the water and the veggies, let the chickpeas cool and store them in a glass container in the fridge (or freeze for later use). You can also use canned chickpeas, like an organic, BPA free brand that soak and pressure cook their beans, such as Eden (rinse before using).

2

TO MAKE THE GARLIC DRESSING: In a high-power blender mix all the ingredients until smooth. Store in a jar in the fridge for a few days and use on meats, salads, or veggies.

3

TO MAKE THE SALAD: Add all the ingredients to a bowl and mix well.