I am in love with these lectin-free, gluten-free, and low-histamine homemade green gnocchi. They are a great addition to any meal, even for breakfast, they look pretty and are full of goodness.
I made them one day I had too much arugula, spring onions, and spring garlic picked from our garden and had to find a creative way to use it all. So I made green gnocchi with arugula and cassava flour.
They can be easily frozen and are perfect to build quick meals with them. Like this dinner I'm sharing here: green gnocchi with sausage and arugula. I used a homemade pork sausage but you can use any sausage. And if you want to keep it plant-based, replace the sausage with mushrooms.
What ingredients do you need for green gnocchi with sausage and arugula?
The name seems pretty self-explanatory, but there are a few more ingredients that give this dish a special flavor.
Firstly, you need the green gnocchi. You find the recipe here: Homemade Green Gnocchi with Arugula and Cassava Flour. Once you make these, you can freeze them and only take out 10 minutes before preparing the green gnocchi with sausage and arugula. They don't even have to be completely thawed. I use 10 gnocchi per serving.
You will also need spring onion and spring garlic, but if you can't find spring garlic, use normal garlic. They will be quickly sautéed in a mix of extra virgin olive oil and sesame oil (the non-toasted one).
The sausage can be any sausage you like. Here I used homemade pork sausage, which we made a while ago, and froze immediately. My dad usually smokes all sausages, but we kept a few for me non-smoked as I try to keep my diet as low histamine as possible. Chicken sausage will work perfectly with this dish.
The sausage I used was cased, but I didn't remove the casing since it was thin and small. You can remove the casing before adding it to the pan, depending on what kind of sausage you have. Or just use the sausage meat without casing that is very popular in the US.
And, if you want to keep it plant-based, replace the sausage with mushrooms.
I really love the flavor lemon zest gives to this dish, and for this, you will need an organic lemon. After testing you will use some of the lemon juice to finish the dish.
I wanted to add some creamy sauce to this dish. Since I don't eat dairy, I mixed some homemade hemp milk with a little bit of tapioca starch and added it at the end. Hemp milk is super easy to make: just blend hemp seeds with water in a high-power blender (about 1/4 cup hemp seeds to 2 cups water). My favorite store-bought hemp milk in the US is Pacific, Original, Unsweetened. Always check the ingredient list before buying as they might change.
Some more fresh arugula will intensify the peppery, earthy taste of the dish.
How long it takes to make the green gnocchi with sausage and arugula?
Once you have all the ingredients ready, is one of those meals that is put together in a few minutes. Everything goes one after another in the pan and all together won't take more than 15 minutes to cook, even less.
Why is this meal low histamine?
The only problematic ingredients here for a low histamine diet are the sausage and the lemon. If the sausage is super fresh or flash-frozen, especially if it's homemade there shouldn't be a problem. Alternatively, some fresh stripes of chicken breast could replace the sausage and make it more histamine friendly.
The arugula, which has powerful anti-histamine properties, can balance things out, especially the small amount of lemon juice. I don't find that to be a problem for me and lemon zest should be ok.
Maybe remove the sesame oil and only use extra virgin olive oil.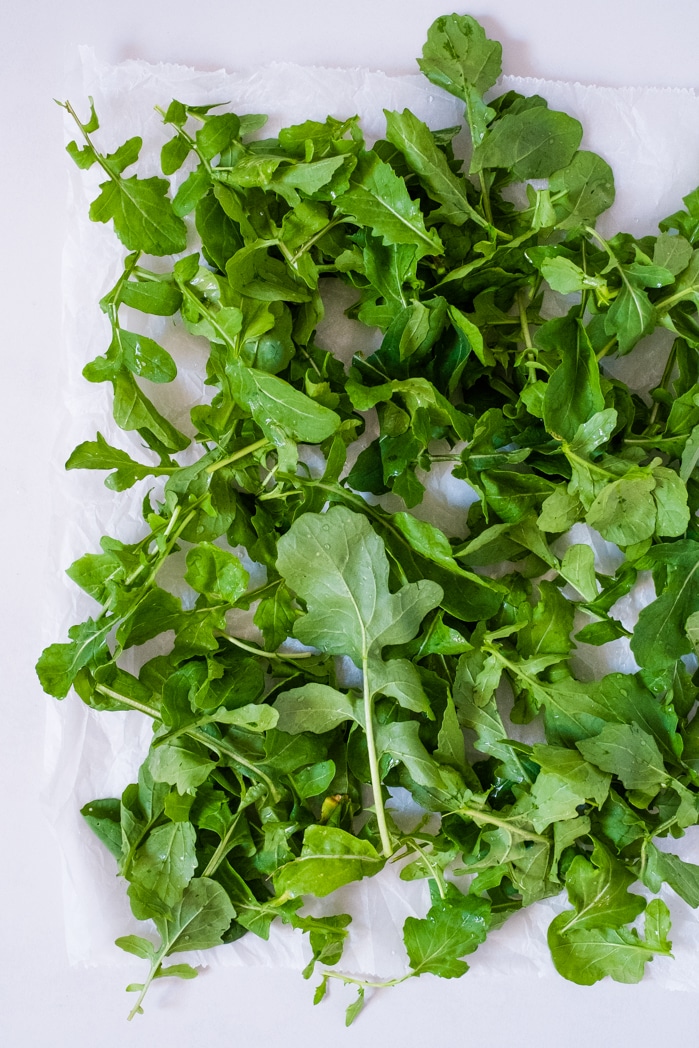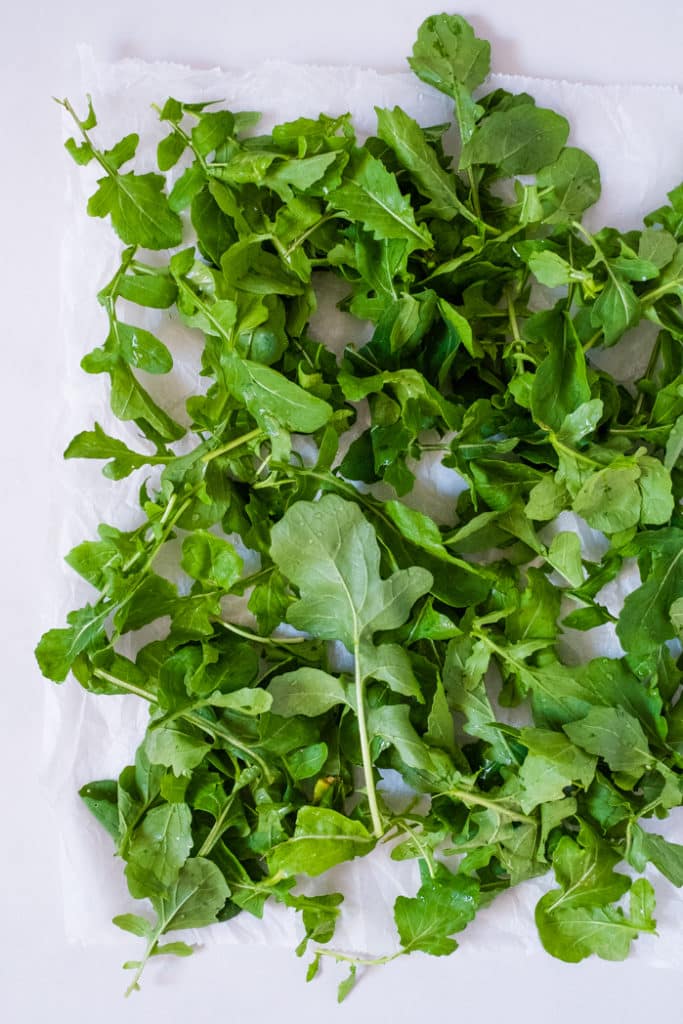 *This post contains affiliated links, which means I get a small commission if you choose to purchase something via one of my links, at no extra cost to you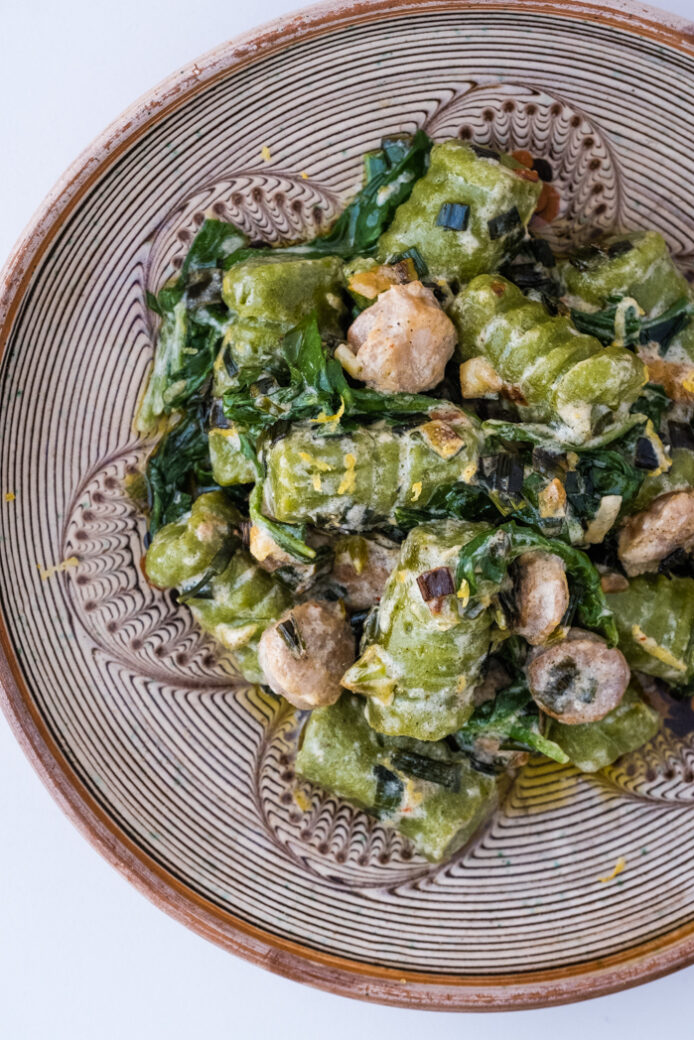 Print Recipe
Green Gnocchi with Sausage and Arugula
Quick and easy weeknight dinner with homemade green gnocchi. A lectin-free, gluten-free, and dairy-free delicious meal.
Ingredients
3 tablespoons extra virgin olive oil
1 tablespoon sesame oil
6 spring onions, finely chopped
4 pcs spring garlic, finely chopped (bulb and stems)
20 pcs green gnocchi
4-6 oz fresh sausage (pork, or chicken, can be with or without casing, if in casing slice)
2 handfuls of fresh arugula
zest of one small organic lemon
1/4 cup hemp milk
1/2 teaspoon tapioca starch
fresh lemon juice
salt and pepper to taste
Instructions
1

Heat the oil in a skillet on low to medium heat.

2

Add the chopped garlic and onions, stir well and saute for 1 minute.

3

Add the finely sliced sausage or the crumbles if you remove the casing and cook for a few minutes until the sausage starts becoming fragrant.

4

Add the gnocchi, stir well and cook for 4, 5 more minutes.

5

Add the arugula and stir well, cook for 1 more minute. Turn heat to low.

6

In the meantime add the tapioca to a small bowl and mix with the hemp milk.

7

Add the mixture to the skillet, stir well and add the lemon zest. Keep for 1 more minute on heat.

8

Finish with a squeeze of fresh lemon and pinch of salt and pepper (the amount will depend on how salty your sausage is already).