I love the texture and taste of pickled mushrooms. Combined with fresh herbs and spices they make a nutritious and refreshing spring or summer salad and side dish. And quick pickling the mushrooms is super easy. This pickled oyster mushroom salad was so good even my mom, who doesn't like mushrooms, loved it.
I have a fond childhood memory of pickled mushrooms. Mushrooms of all kinds are very common in the area I grew up in Romania and my dad used to pickle mushrooms sometimes. Not often enough to become a staple, which made me think of them as a nice treat.
Although a recent addition to our diets (they have been cultivated for about 100 years), oyster mushrooms (Pleurotus Ostreatus) are common in many parts of the world, and a favorite, especially for those eating a plant-based diet. While they are low in calories, oyster mushrooms are packed with proteins, fiber, niacin, and riboflavin.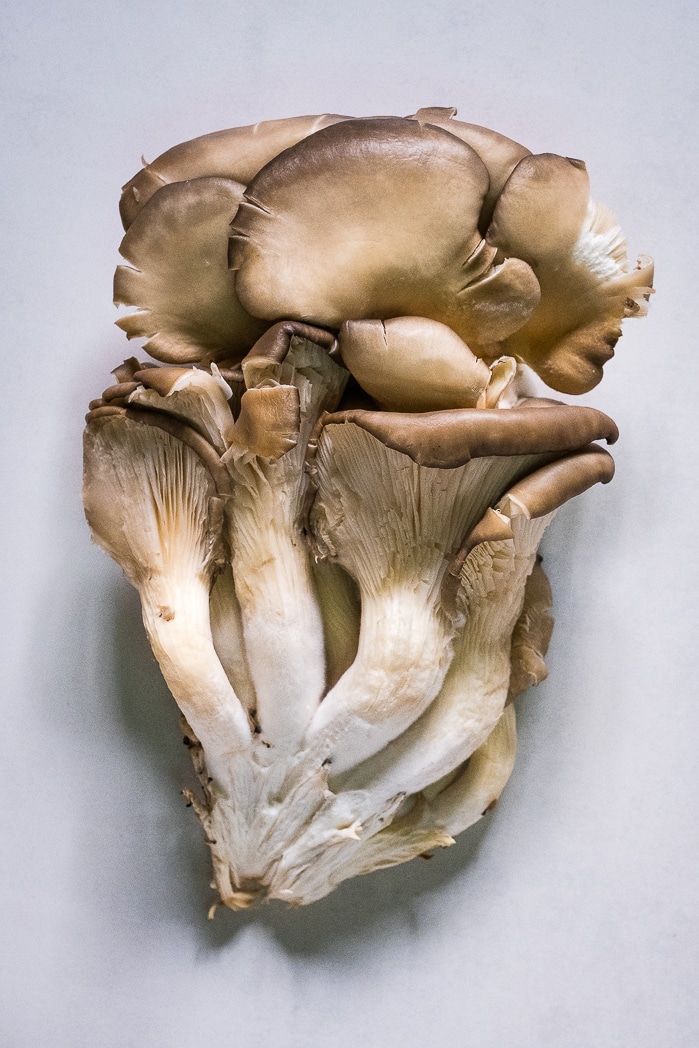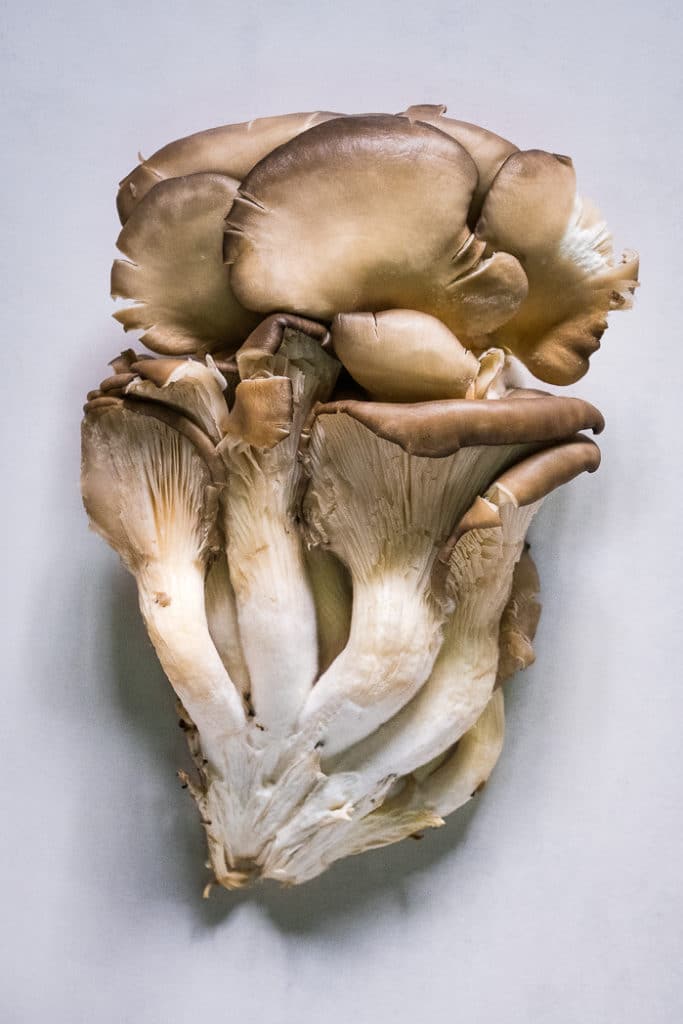 Oyster mushroom health benefits
According to Dr. Josh Axe, oyster mushrooms are high in antioxidants and may help reduce inflammation and cholesterol while boosting brain health and inhibiting cancer growth.
Dr. Steven Gundry says that mushrooms have two powerful compounds with anti-aging properties: ergothioneine and glutathione. Also, unlike some other types of food that lose part of their nutritional value after cooking, heat exposure doesn't seem to affect the key polyphenols in mushrooms.
What is quick pickling?
In this case, it means that I prepare the mushrooms the way you prepare pickles, let them cool while marinating in the pickling juices for only a few hours, and then use them to make a salad. This process gives the oyster mushrooms the texture and taste of pickles, but you don't have to wait for a few days to eat them.
Since I plan to use them the same day, I don't add a lot of vinegar and salt to the water. One of the reasons I like quick pickling is that is more histamine friendly and since I've been on a low histamine journey, I don't like using vinegar that much. This is by no means a low histamine dish, but if you are reintroducing and paying attention to meal prep, as I do, it's a better version.
How to make the pickled oyster mushroom salad?
The first step is to quick-pickle the mushrooms. After you clean them and cut them in stripes, depending on their size, you will boil them with pickling spices for 25 to 30 minutes. You can also boil them whole, but the more surface exposed to the pickling juices the better. You also don't want them too small, as it will be hard to separate them from the spices at the end.
The second step is letting them cool and marinate for a few hours, in some of the pickling juice and the spices, in a glass jar or glass container (like pint jars).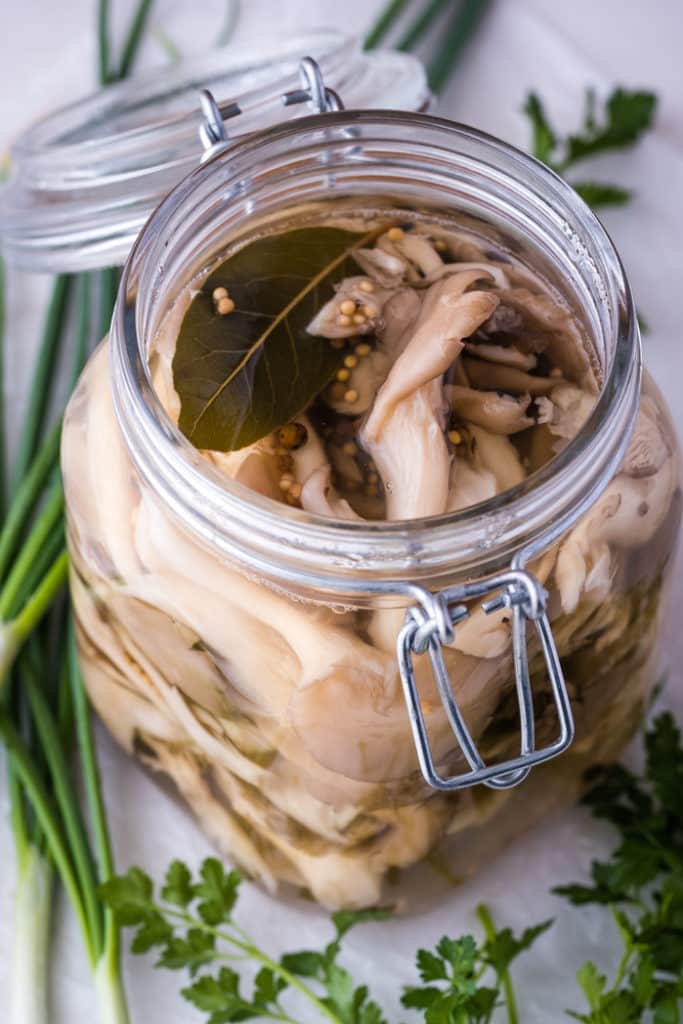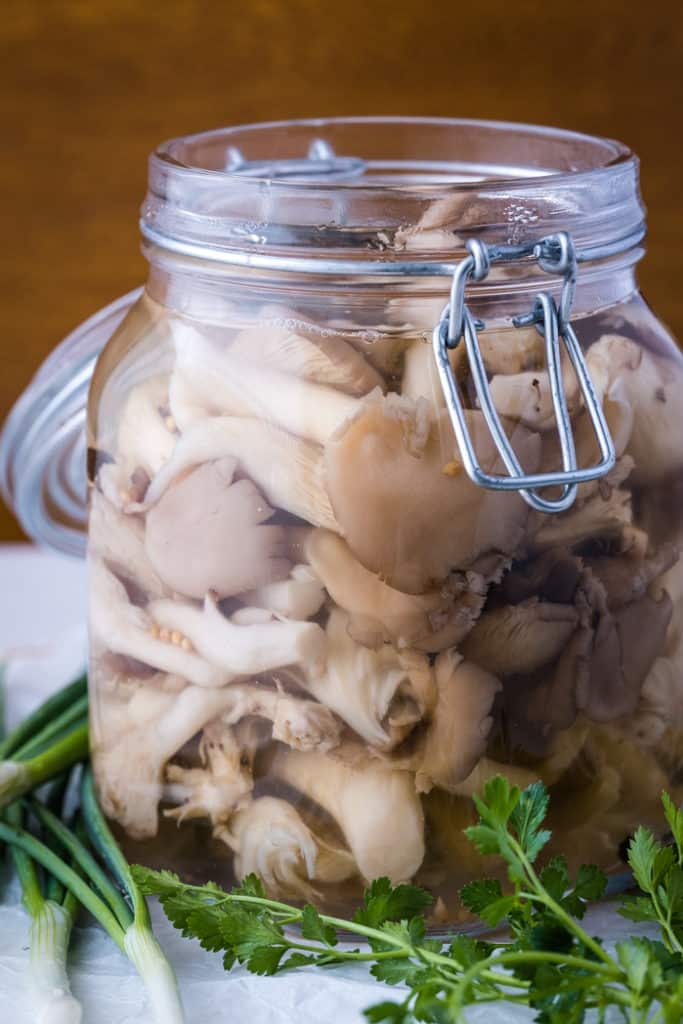 The third step is to drain them, making sure you get as many of the spices discarded. This might take a little patience but it wasn't as hard as I imagined. Alternatively, you can use a heat-resistant spice bag where you can put the peppercorns, mustard seeds, coriander seeds, and allspice berries. But, to be honest, I'm not a fan of mixing food with textiles, especially when high heat is involved.
The fourth step is to put together the oyster mushroom salad. Chop the oyster mushrooms and mix them with fresh herbs. Add the seasonings, adjusting quantities to your own taste. Make sure you don't add too much salt.
Oyster mushroom salad is a great combo for a garden party
This is my favorite way to serve this oyster mushroom salad during spring and summer: with my green cassava flour tortillas, a kalamata olive spread, a spring chickpeas salad, steak, and garlic sauce. Delicious combination and great combo for your garden parties. The mushrooms and chickpeas provide enough protein for a meal, so skip the steak if meat is not part of your diet.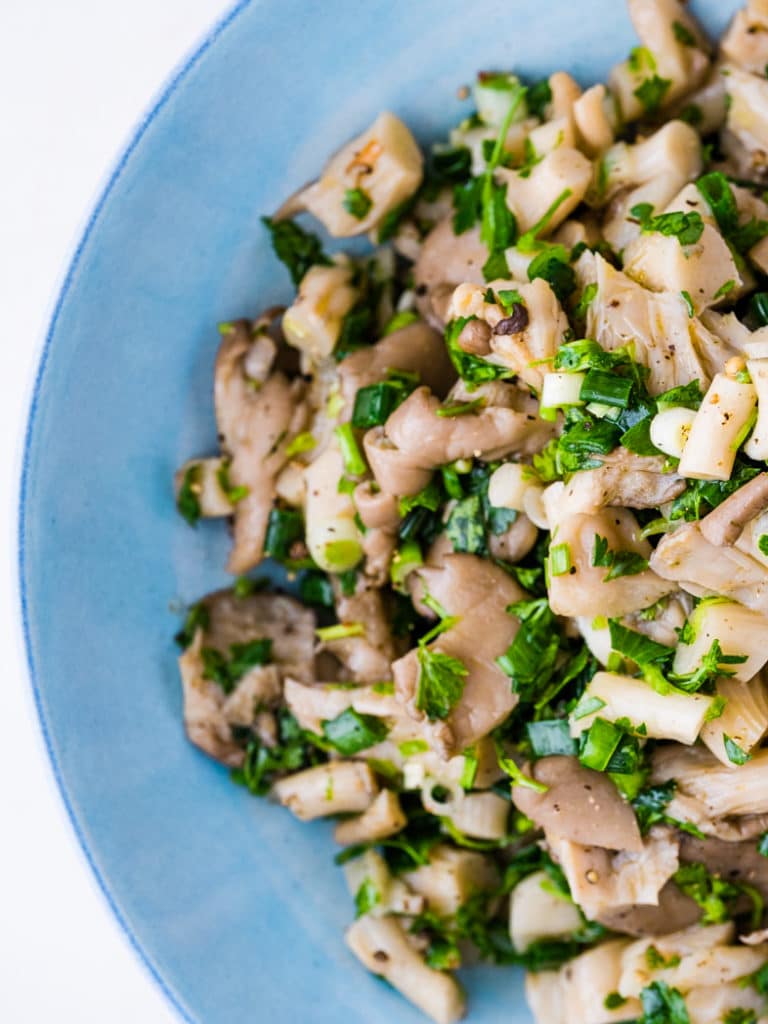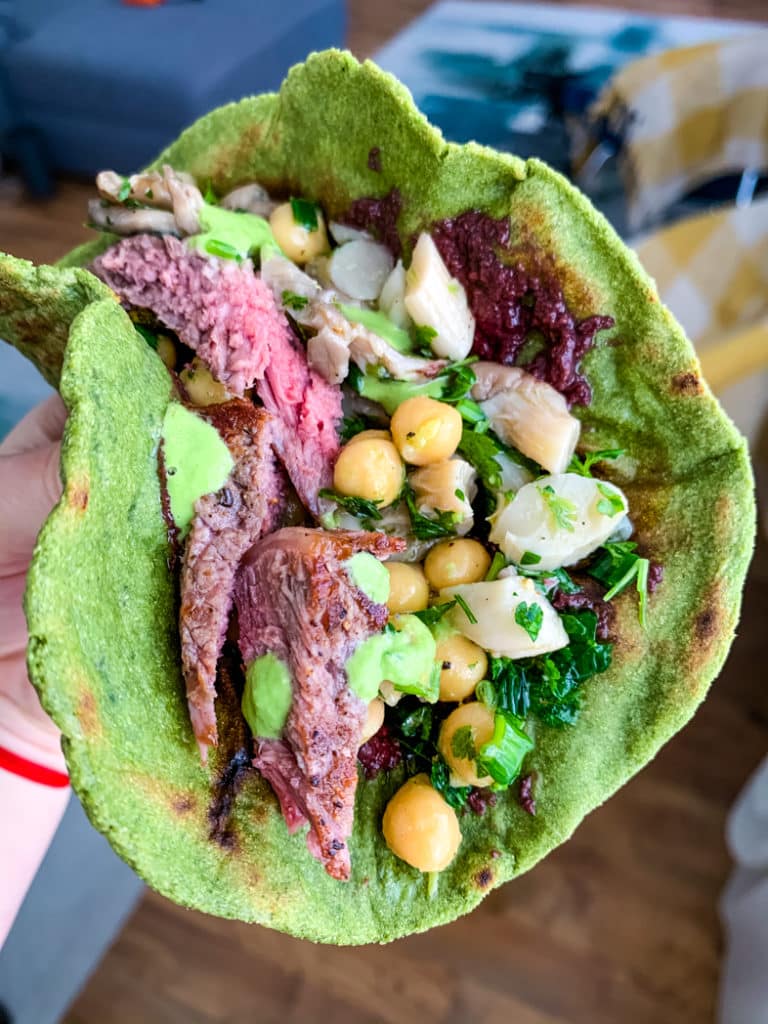 For another delicious, lectin-free way to serve mushrooms, try my: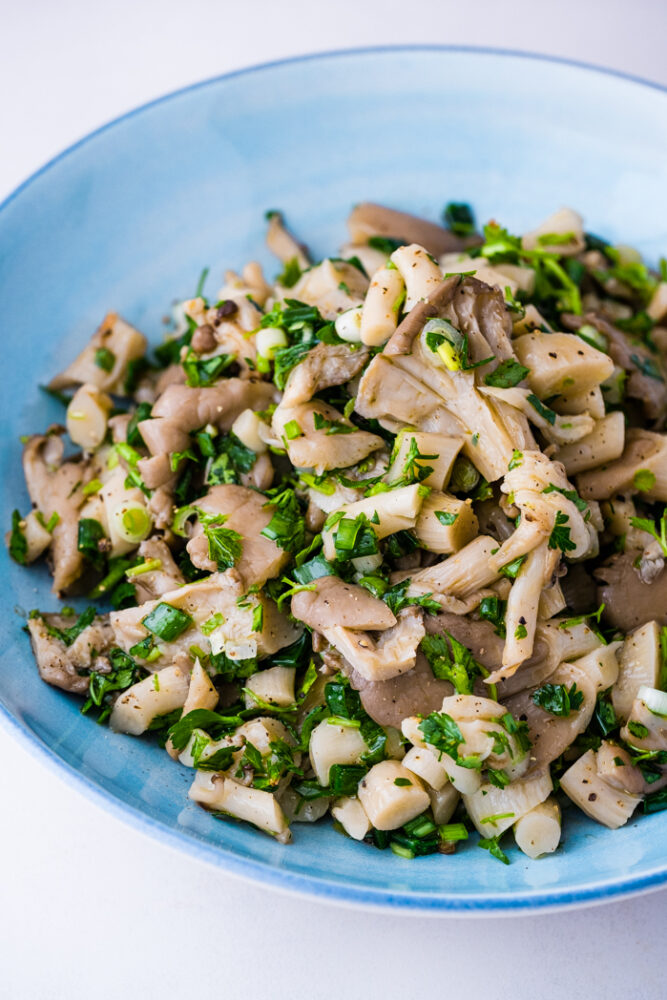 Print Recipe
Pickled Oyster Mushrooms Salad
This pickled oyster mushrooms salad is easy to make and a delicious, nutritious and refreshing addition to your spring and summer menu.
Ingredients
TO PICKLE THE MUSHROOMS:
500 grams (1.2 lbs) oyster mushrooms, cleaned
2 liters water
1/4 cup apple cider vinegar
3 bay leaves
1 teaspoon peppercorns
1 teaspoon mustard seeds
1 teaspoon coriander seeds
1 teaspoon salt
6 allspice berries
TO MAKE THE SALAD:
1 handful fresh parsley, chopped
3 spring onions
1 spring garlic
1/2 teaspoon salt (start with 1/4 teaspoon and increase to your taste)
1/8 teaspoon freshly ground pepper
1 tablespoon apple cider vinegar
4 tablespoons extra virgin olive oil
fresh lemon juice, to taste
Instructions
1

Pickle the mushrooms a few hours in advance. Add the water to a big pot and add all the rest of the ingredients for pickling. Bring to a boil.

2

While the water is heating prepare the mushrooms. Separate the stems, cut the hard ends and wash well. Depending on how big your mushrooms are, try to slice them lengthwise, in stripes, but not too small; you want more surface to be exposed to the pickling juices but they need to be big enough to handle when making the salad. They should be the size of some big fries (weird analogy, I know 😁).

3

When the water starts boiling, add the mushrooms, set the heat on low, and simmer for about 25-30 minutes.

4

Prepare a jar or a glass container with a lid. You will need to leave the mushrooms cool before you use them for the salad. Plus, the extra time will allow for them to marinate more.

5

After the mushrooms have simmered, turn the heat off and let them cool down a little. Add them to a jar or glass container, pour some of the liquid and spices over to the jar, and once cold, store in the refrigerator for a few hours.

6

about 15 minutes before your meal, prepare all the ingredients for the salad. Wash the parsley, onions, and garlic and let them dry.

7

Take the mushrooms out, trying your best to separate them from the whole spices.

8

Chop the mushrooms and the greens and mix them in a bowl.

9

Add all the rest of the ingredients, but add the salt gradually and taste. Squeeze more fresh lemon if you want and an extra drizzle of extra virgin olive oil is always welcome.
Notes
Pickle the mushrooms a few hours before you plan to eat. They have to be cold for the salad and a few extra hours in the fridge will add more flavor.