What do you make if you have a big bunch of fresh spinach? Chances are not pancakes but don't say no before you try it. I first discovered I can make spinach pancakes while reading one of my favorite cookbooks, inspired by Nordic cuisine. I made them once and since then I keep thinking of them. And because today, when I write this, is Pancake Day 2019, and I had this big bunch of spinach, I decided it's time to make them again and write the recipe down.
A Finnish inspired recipe
The book I was talking about is The Nordic Cookbook, by Magnus Nilsson. If you are interested in exploring Nordic cuisine I totally recommend it. You can also see more about Magnus Nilsson on Chef's Table, Season 1, Episode 6. Spoiler: he is running a restaurant in the middle of nowhere in Sweden, hard to get to, and as you can imagine you need a booking :).
Back to pancakes, I was inspired to make a lectin-free, grain-free, dairy-free version of the Finnish pancakes: pinaattiletut when I saw the recipe in the book. They were quite simple: flour, milk, eggs, spinach. Not only I replaced the wheat flour with cassava flour and almond flour, but I added way more spinach.
The milk was replaced with a mix of full-fat coconut and hemp milk; you can use only one if you wish. I wanted the fat of the coconut milk but I didn't want the taste to be overpowered by coconut, hence I mixed in some original, unsweetened hemp milk. You can also make your own hemp milk, it's easier than you might think.
It took me a few trials until I found the right quantity of flour; if not enough flour they'll be too soft. Mine came out perfect in the end, but you might need to make your own adjustments. Collagen isn't necessary but it's a nice nutritional boost for these spinach pancakes. I use Premium Marine Collagen from Further Foods. You can get it here on Amazon.
How to serve spinach pancakes
When it comes to toppings, even if they are savory pancakes, I like them with warm blueberries (I use wild frozen blueberries and bring them to a boil in a saucepan). But you can get creative and use them the way you feel. I also eat the leftovers, cold, just as they are or next to another meal. They also make a nice lunchbox addition.
If you like this spinach pancakes recipe, be sure to try my:
This recipe is part of The Ultimate Lectin-Free Breakfast Guide, Recipe Round-Up, check it out for more tasty and satisfying lectin-free breakfast ideas.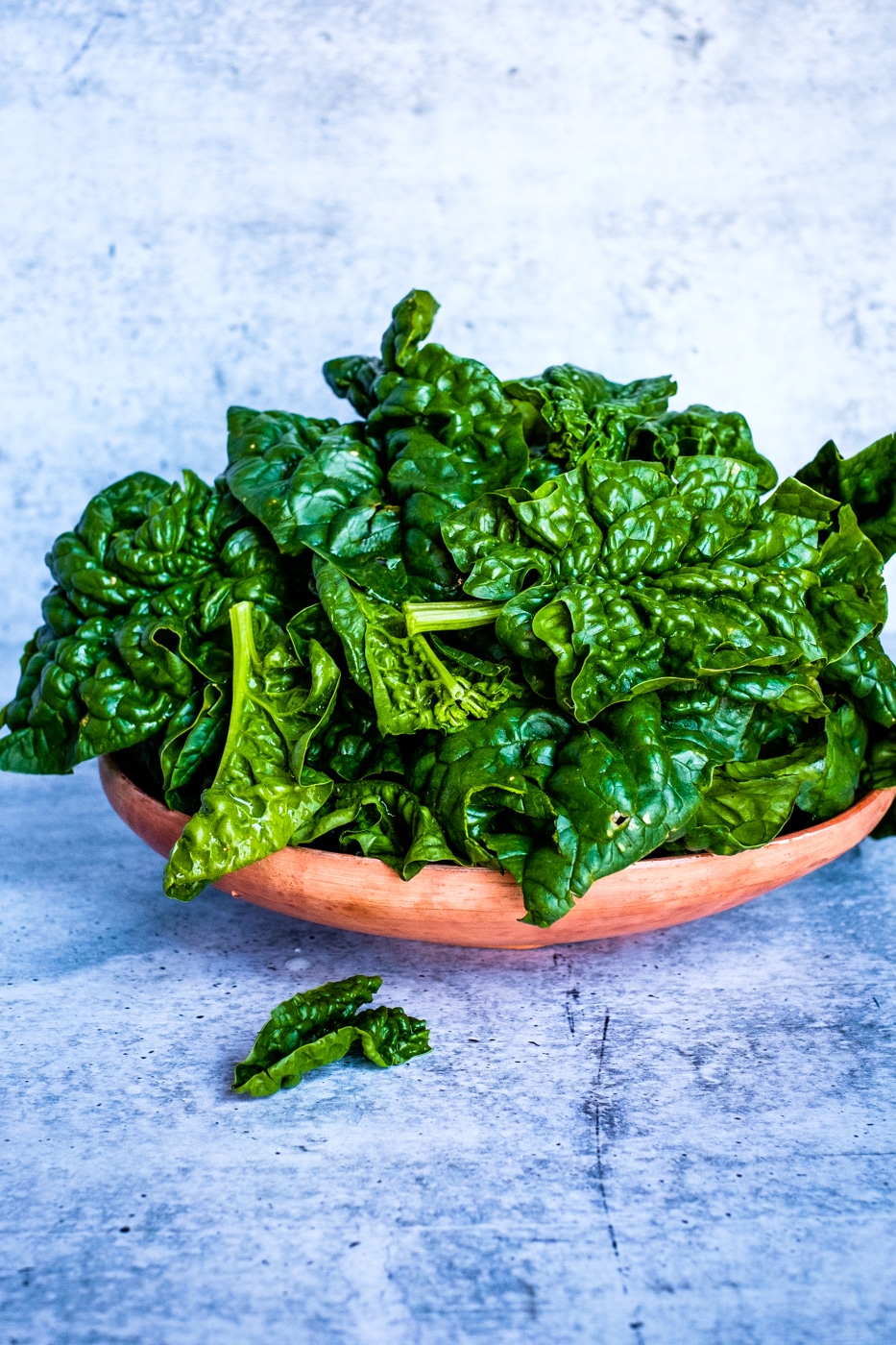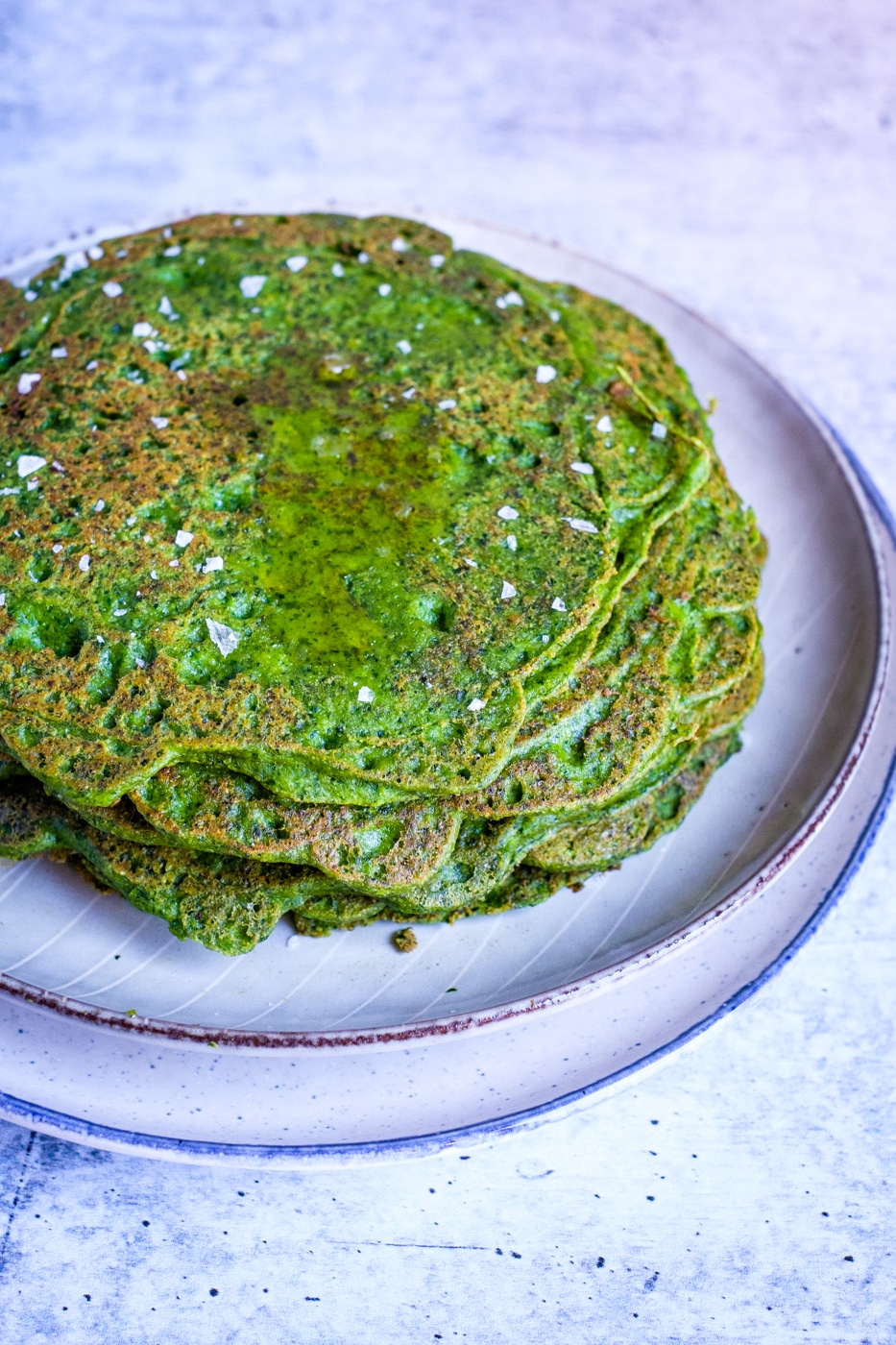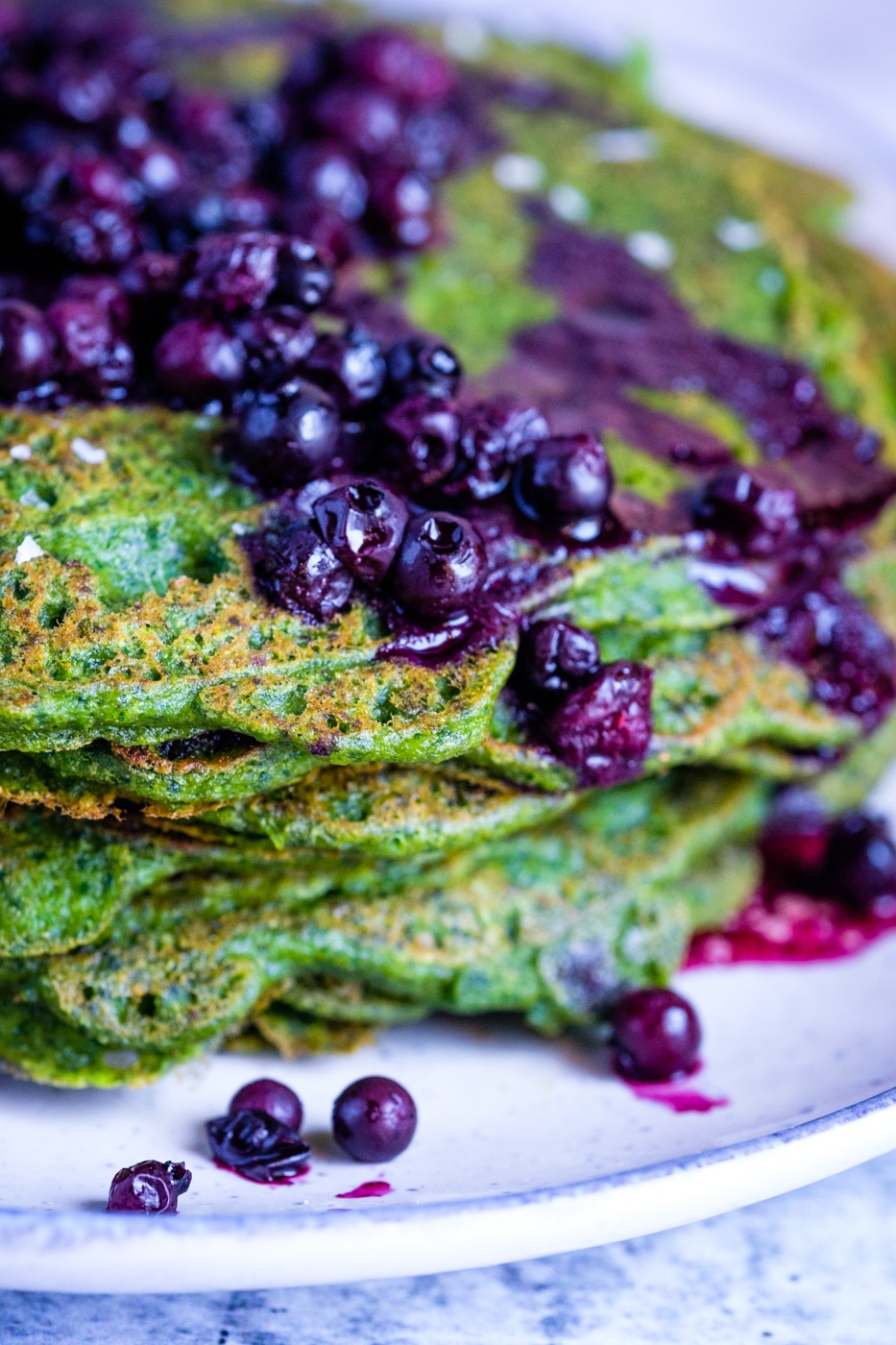 *This post contains affiliated links, which means I get a small commission if you choose to purchase something via one of my links, at no extra cost to you.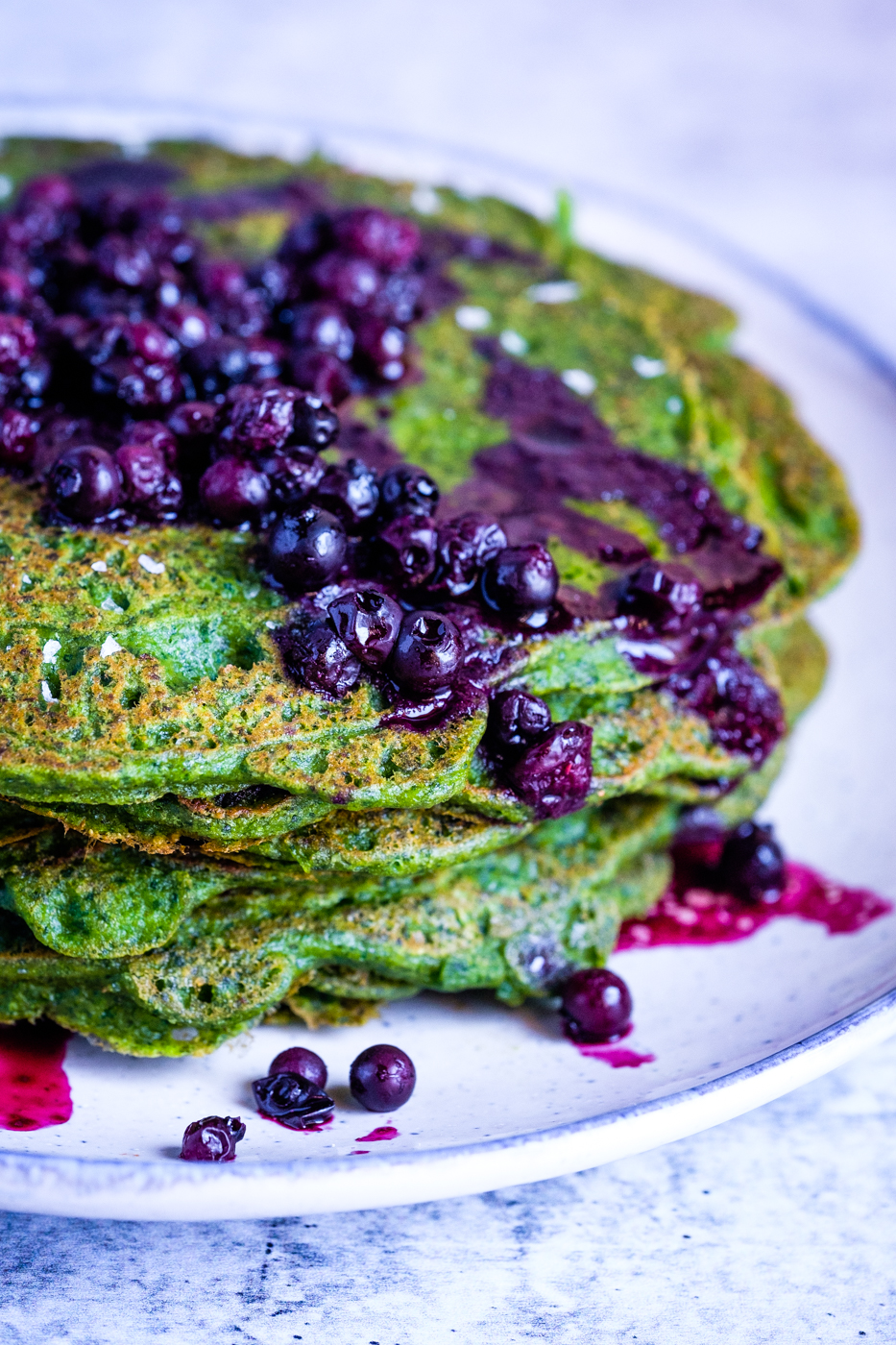 Print Recipe
Grain-Free Spinach Pancakes with Wild Blueberries
A new delicious way to use spinach
Ingredients
275g (about 10oz), clean fresh spinach

2 pastured raised / omega 3 eggs

1 cup full fat coconut milk

3/4 cup hemp milk, unsweetened

9 tbsp almond flour

9 tbsp cassava flour

2 scoops of marine collagen (optional)

1 nutmeg, grated

1/2 tsp sea salt

frozen wild blueberries for serving

pepper
Instructions
1
Blend the spinach, eggs, milk, salt, pepper and nutmeg in a high-speed blender.
2
Transfer the mixture to a bowl and start adding the flour while you are whisking, finish with marine collagen (adjust the quantity if needed and you can have a taste to see if it needs more salt).
3
When the batter is ready cook the pancakes in a pancake pan or griddle, with a little ghee or coconut oil. This makes about seven pancakes, depending on how big you make them, but if you have a griddle and can make more at the same time it will be faster (I had to make them one at a time).
4
Warm the blueberries in a saucepan and serve with the pancakes.
Notes
These pancakes can be served as they are, with a little bit of salt flakes, Parmigiano, cream cheese, almond yogurt, or just with blueberries as I did. They are savory and I like how the sweetness of the blueberries balances them out.