Wow, if y'all know me, you know I'm not a smoothie person. But I think I changed my mind for the spring and summer to come. I've wanted to get some superfoods for a long time and have always been taken aback by the prices. They are super expensive, at least some of them, but I figured I'm worth it and finally took the plunge and bought spirulina, maca powder, Lion's Mane, and chlorella. And this collard greens superfood smoothie is my new favorite food in the world.
The best collard greens smoothie I've ever had
This is a personal experiment, and I'm curious to see how it will work for me, so I'll keep you updated on that. But unless you have specific restrictions or are on specific medication, this smoothie is worth a try because just WOW. It feels like I drank the ocean, the forest, and the sun, haha. Great energy, focus, mental clarity, feeling satisfied and nourished, creative, awake.
So, if I'm not a smoothie person, how come I'm suddenly interested in smoothies? I've been watching a little bit of David Wolfe, and I'm like, "I want to have what he's having" :))). The vitality, energy, and radiance of this guy made me want to try it, and now I understand where all that energy comes from.
Plus, I want to simplify my life in the kitchen and not compromise on nutrition and taste. So I had this good idea of what I was going to use, but I was a little nervous about the combination. Firstly, this smoothie made mainly with avocado, and collard greens (raw collard greens!) tastes AMAZING. Taste like a treat, a dessert, a mousse, like smooth ice cream. My husband said it was a little bitter, but I didn't add any sweetener. If you still have that sweet tooth, add a little yacon syrup or even a few drops of stevia. So let's take it step by step. What's in it: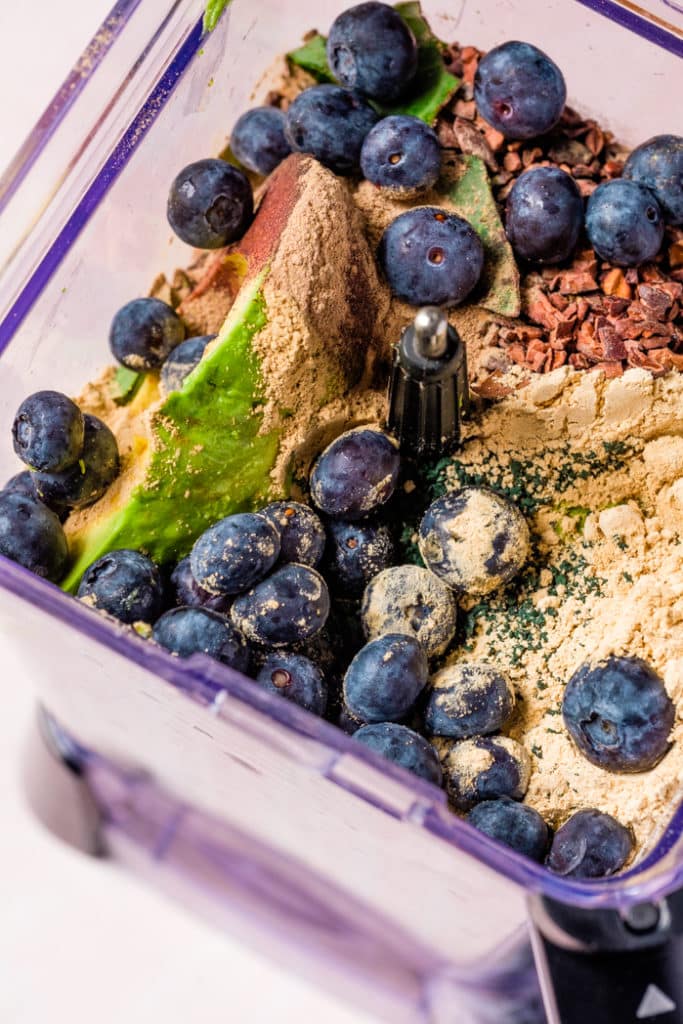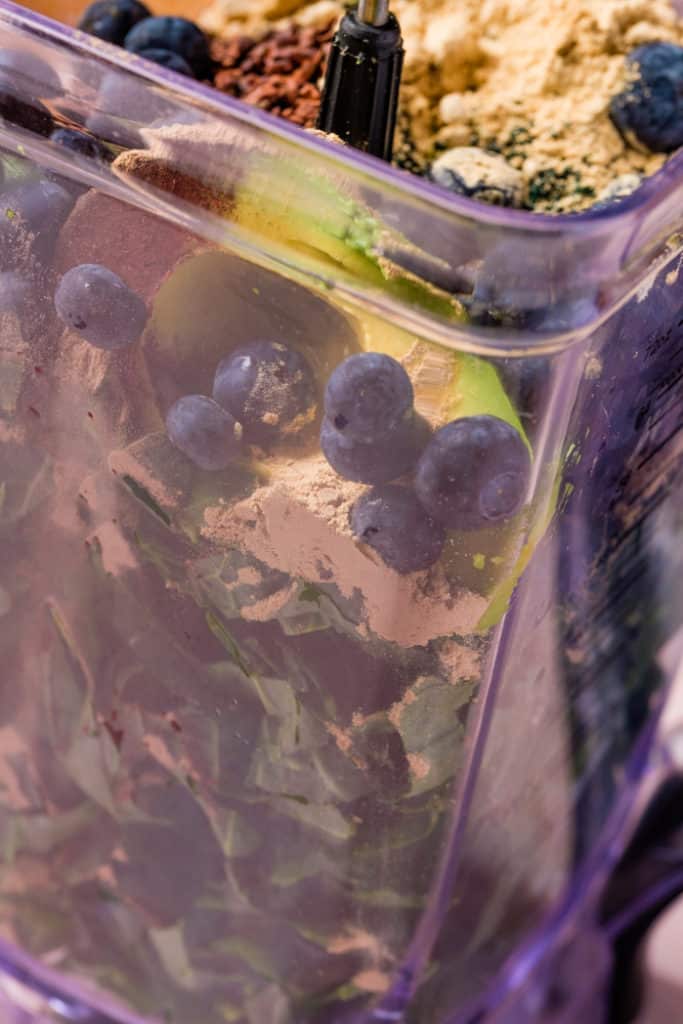 Ingredients for the collard greens smoothie
Base (fats and greens)
Avocado, raw collard greens (only leaves). Feel free to use other leafy green: romaine, spinach, kale, green chard. Of course, taste and texture will change. Collard greens are somewhere in the middle when it comes to bitterness, more bitter than spinach but less bitter than kale. I was personally surprised by how refreshing it tasted.
Liquid
Filtered water (I have a Berkey filter), full-fat coconut milk (you can use any alternative milk you want, taste and consistency will slightly differ since the coconut milk in cans are super creamy and thick).
Superfoods
Organic spirulina, organic maca powder, organic Lion's Mane, cacao nibs. I've linked the ones I used below, for cacao nibs, I used some local roasted ones from OAK CLIFF COFFEE ROASTERS in Dallas, but in the past, I've used the Navitas brand, which I linked below in case you need a suggestion.
Supplements
Vital Reds (a polyphenol, vitamins, minerals and probiotic blend, my favorite supplement ever, I've been taking it for almost two years almost every day); It has a little stevia in it, so it will add some sweetness.
CBD Oil
You don't have to, but having a smoothie is a perfect vehicle for it if you use it. I used Charlotte's Web Hemp Extract Oil, Extra Strenght, Mint-Chocolate.
Extras: organic blueberries
I used fresh because I had some in the fridge, but I put them in a freezer an hour before. I like when all the ingredients of the smoothie are super cold. Who wants a warm smoothie anyway? You can use frozen too. I only used 1/2 cup for two smoothies, so 1/4 cup per person is acceptable even if you are on a keto diet (not the intensive one though, then you skip the fruits; Vital reds will add a sweet berry taste).
Fyi, if you use frozen blueberries, especially wild, the purple from the blueberries will be more intense and will add a darker shade to your smoothie. Just in case you think your smoothie is not as green as mine :).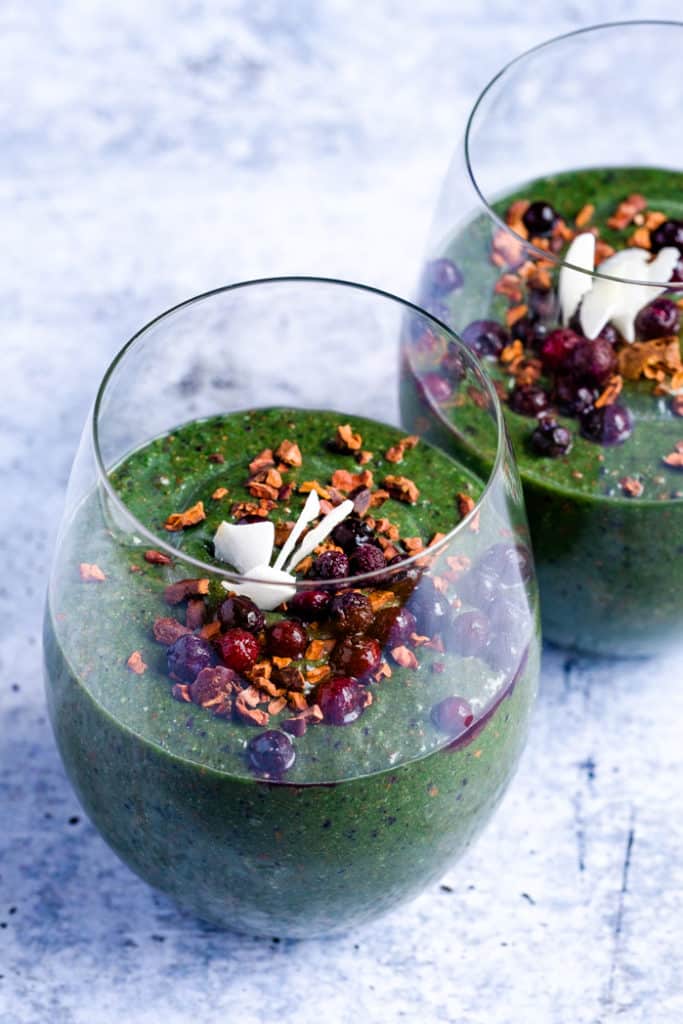 Optional
I didn't add any of these, but I will in the future, depending on what I feel I need for the day: extra virgin olive oil, coconut oil, coconut manna, MCT oil, fresh mint.
You can also replace coconut milk with hemp or almond milk.
Consistency
I got super creamy for the quantities below, like a mousse or a soft ice cream, and since I'm not too fond of straws, I ate it with a spoon, but you can use a stainless steel, smoothie straw (I think I'll get myself one anyway). You can adjust your liquid content to suit your preference.
Drink this collard greens superfood smoothie fresh
And last but not least important, drink or eat this collard greens superfood smoothie recipe fresh, or at least the same day. There is too much powerful and expensive stuff to let it die before eating it. This stuff is alive, and I think the best way to have it is freshly made.
For another great-tasting superfood smoothie recipe try the Green Dream, The Plant Paradox Smoothie.
This recipe is part of The Ultimate Lectin-Free Breakfast Guide, Recipe Round-Up; check it out for more tasty and satisfying lectin-free breakfast ideas.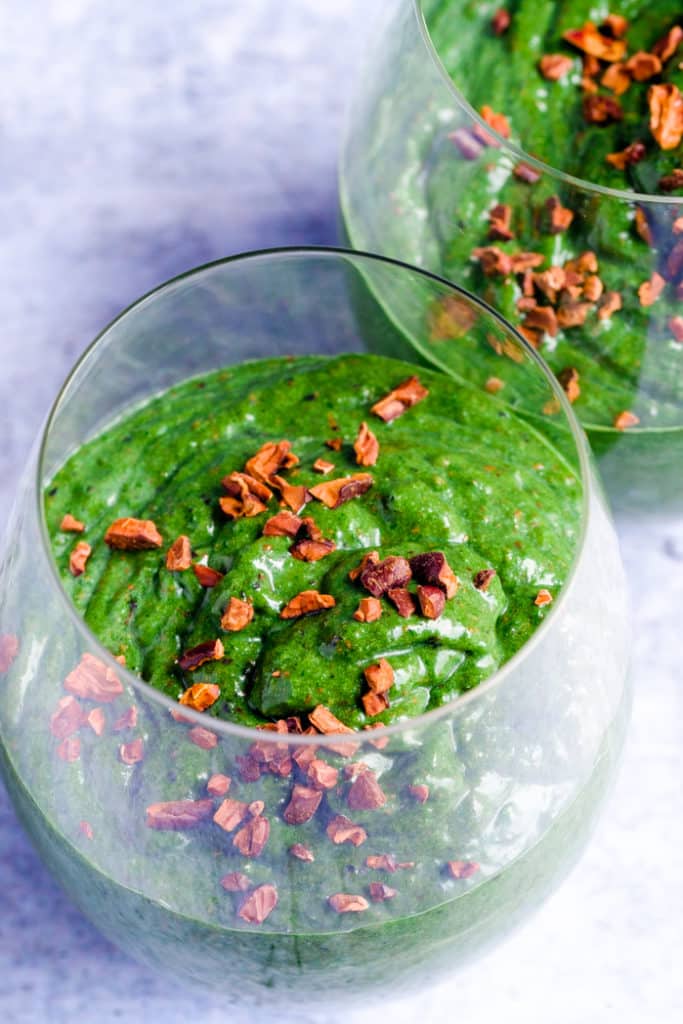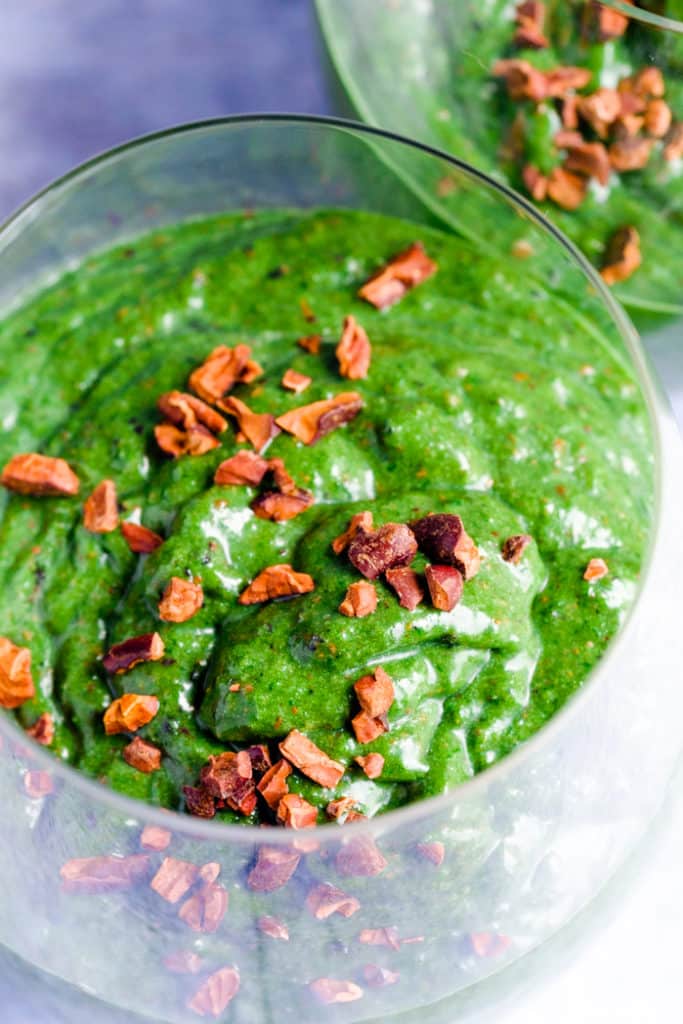 *This page contains affiliated links, which means I get a small commission if you choose to purchase something via one of my links, at no extra cost to you.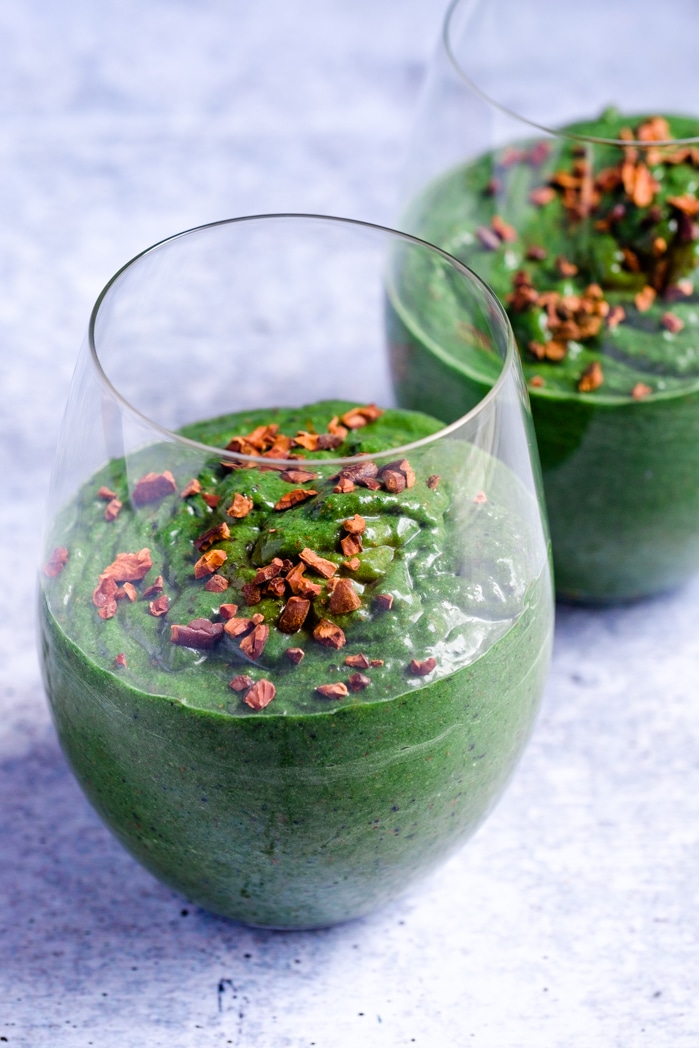 Print Recipe
Collard Greens Superfoods Smoothie
A great-tasting, nutritionally dense, superfood green smoothie.
Ingredients
1 avocado

2 heaping, packed cups chopped collard greens leaves

1 cup full fat coconut milk

1/2 cup blueberries (fresh or frozen, best if they are frozen or super cold)

4 tbsp cacao nibs (plus more for serving)

2 tbsp maca powder

2 tbsp spirulina

2 tsp Lion's Mane

2 scoops Vital Reds

about 2 cups cold, filtered water (I added gradually until the desired consistency, you can do the same)

Optional: 2 servings of CBD Oil (I used Charlotte's Web, Extra Strenght, Mint-Chocolate) or you can add MCT or coconut oil, even extra virgin olive oil.
Instructions
1
Wash the collard greens, separate the leaves from the stems (keep stems for later use in another dish). Use only the leaves for the smoothie. Chop them finely and measure two heaping, packed cups (it was one bunch for me).
2
Add everything to a high-power blender and blend on high until smooth and creamy. You can add more water or milk to adjust consistency, I love to eat mine with a spoon.
3
Add the CBD oil to your glass, before serving (I don't like to add it in the blender because I don't want any of it wasted).