It smells like Christmas in my house my friends. This morning I felt like a treat and had some Honeycrisp apples I was planning to use, so decided to re-make an old recipe of Dutch pancake and use the apple as a topping.
But then it's fall, and I have Pumpkin Pie Spice on hand and had lemons and orange too, so I decided to celebrate all the season's flavors.
The perfect lectin-free comfort breakfast to celebrate autumn's flavors
If only for the smell and I would make this again, but it is truly a super delicious treat. If you want to wake up early and surprise your family with a warm and delicious breakfast and a cup of good coffee, this is how you do it. And if you have a fireplace and it snows outside, even better.
This quantity makes two or three portions, depending on how much appetite you have, even four if you are happy with just a slice. I used one big Honeycrisp apple, so if you have smaller apples I suggest using two.
You need grass-fed ghee, hemp milk (or other non-dairy milk), organic lemon and one organic orange, pumpkin pie spice, vanilla, pasture-raised or Omega-3 eggs, a mix of lectin-free flours: coconut, cassava and almond.
Serve with sour cream or a compliant yogurt
Sour cream for serving is optional, or it can be replaced with coconut cream or a compliant yogurt, but it works really well with all the other flavors. When I first posted this recipe on my Instagram (the basic, not the same toppings) someone commented that they made it with flax eggs and it worked. So if you can't have eggs, you may still want to give it a try.
For sour cream, I buy Wallaby Organic Cultured Sour Cream from Whole Foods, European Style. I use Otto's Cassava flour, Bob's Red Mill coconut flour and almond flour. For milk, I love to use the Unsweetened Original Hemp Milk from Pacific. I use many brands of ghee, but THIS so far is my favorite. I got the Pumpkin Pie Spice from Whole Foods but in case you don't find it in stores this is what you can get. My skillet is a 9-inch enameled cast iron pan from Le Creuset.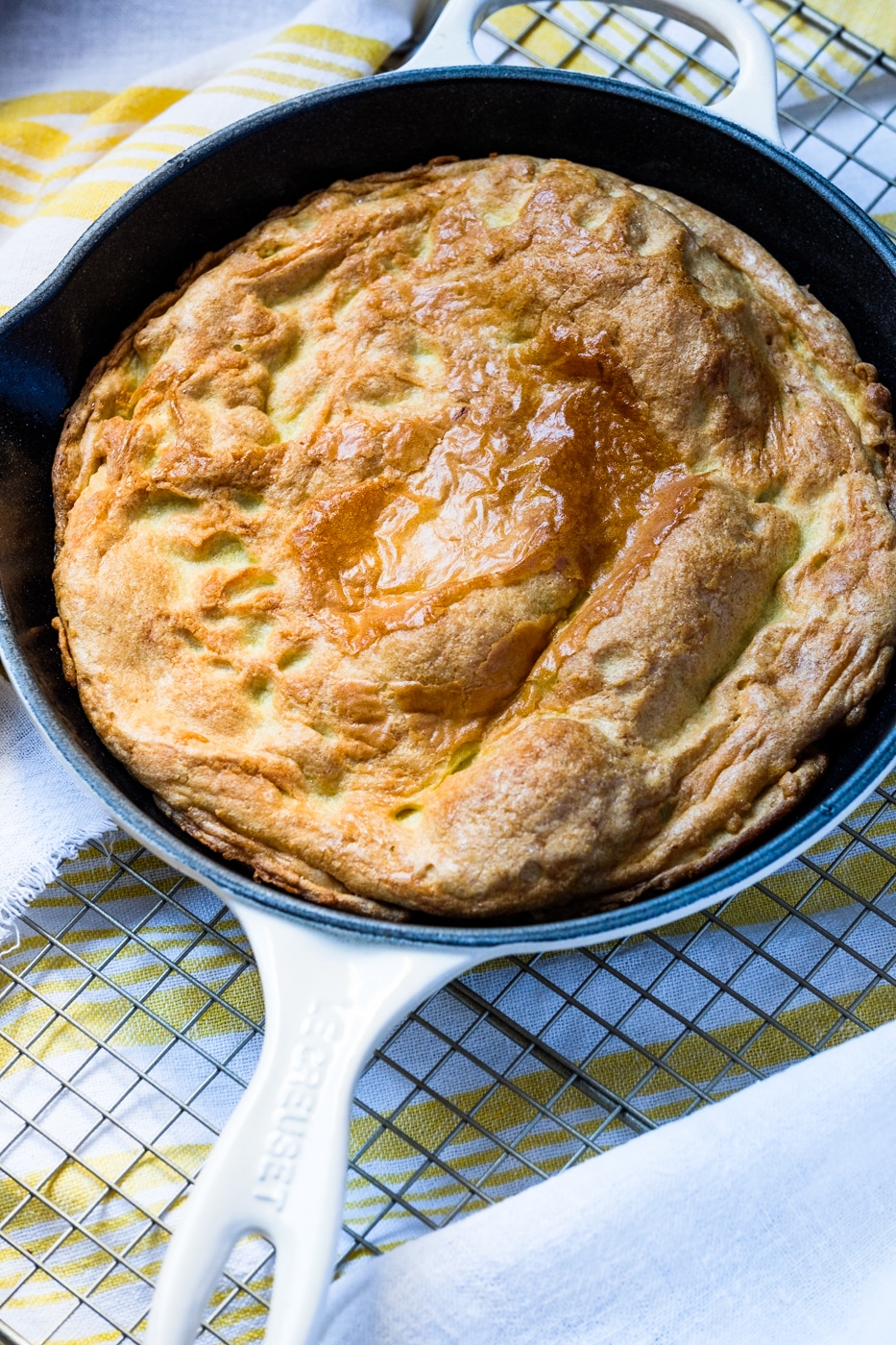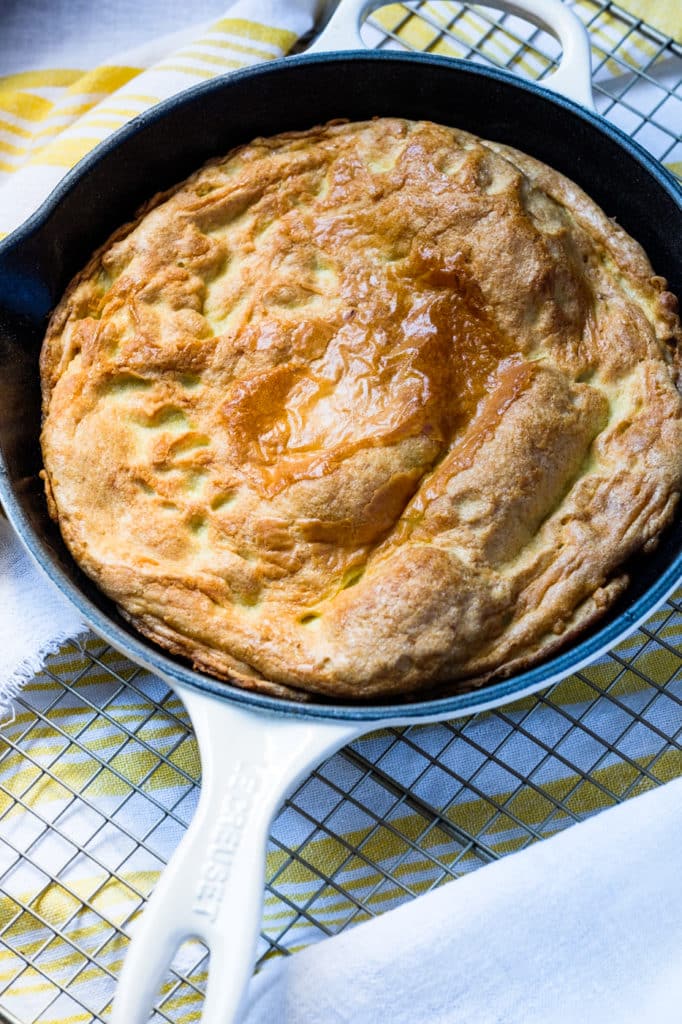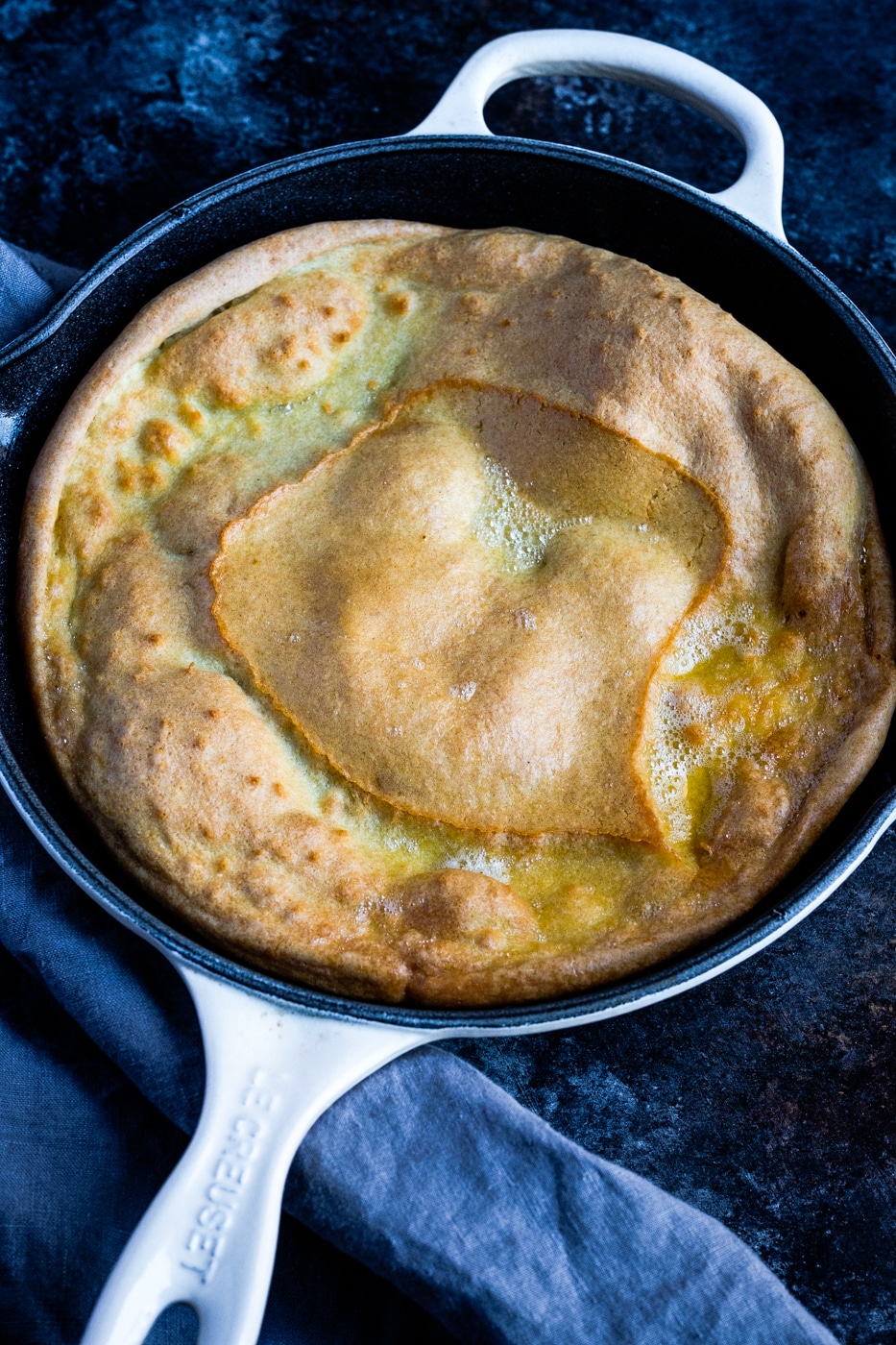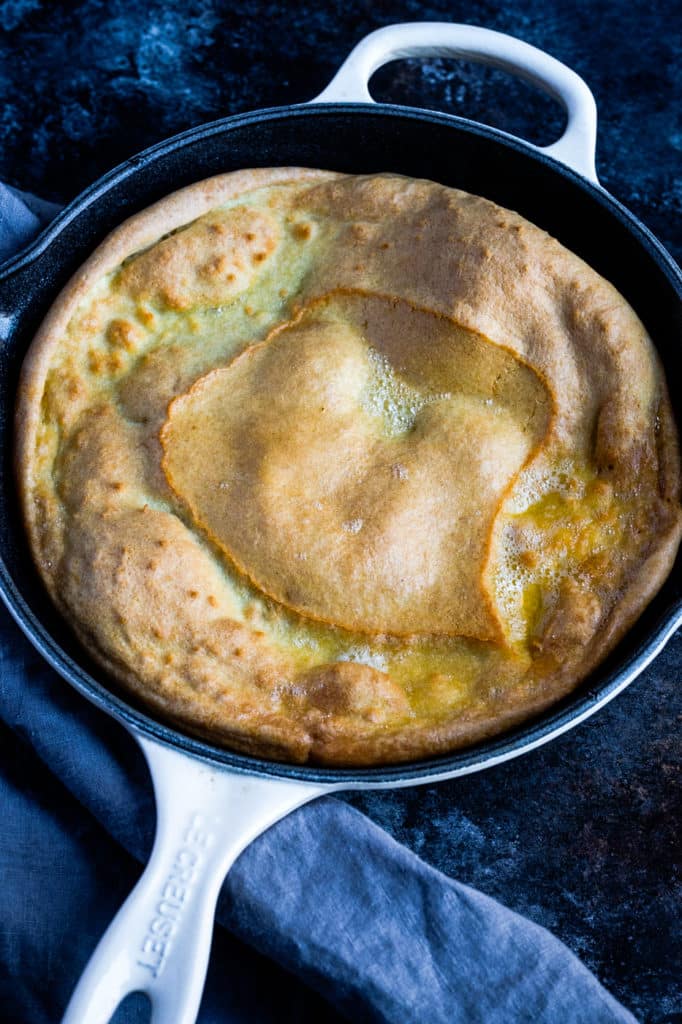 *This post contains affiliated links, which means I get a small commission if you choose to purchase something via one of my links, at no extra cost to you.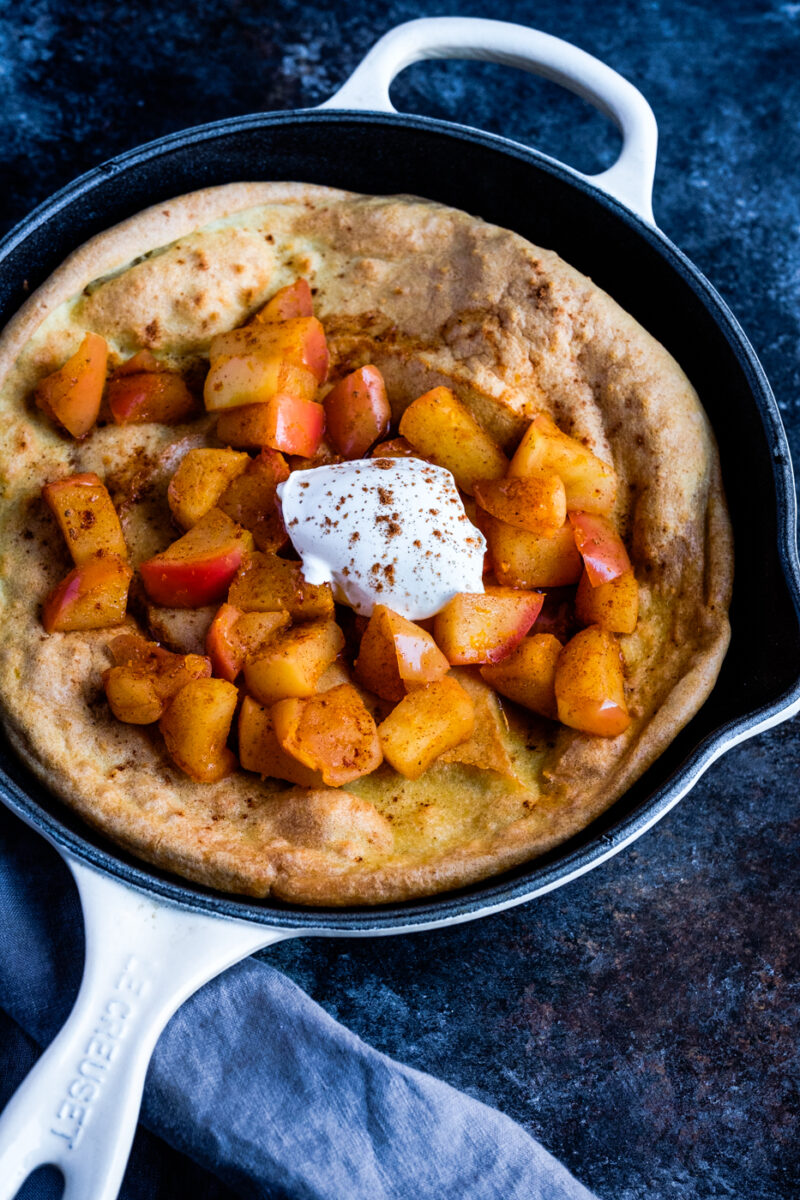 Print Recipe
Citrus Infused Dutch Baby Pancake with Apples
The perfect lectin-free comfort breakfast to celebrate autumn's flavors.
Ingredients
FOR THE PANCAKE:

1/2 cup lectin-free flour mix made with: 2 tbsp cassava flour + 2 tbsp coconut flour + 2 tbsp almond flour (if there is some space left in your cup, complete with along flour until you fill 1/2 cup)

150 ml hemp milk, original unsweetened (Pacific brand), or any other compliant non-dairy milk

3 pastured or Omega-3 eggs

3 tbsp grass-fed ghee

1 tsp pure vanilla extract

lemon zest of one organic lemon

FOR THE TOPPING:

1 big apple (I used Honeycrisp) or two smaller ones

1/2 tsp pumpkin pie spice

1/2 tsp monk fruit sweetener

1 or 2 tbsp orange juice

zest of one organic orange

1/2 tsp vanilla extract

1 tsp ghee

1 dollop sour cream for serving
Instructions
1
Preheat the oven to 425F.
2
TO MAKE THE PANCAKES: Add the ghee to the cast iron skillet and make sure the walls of the skillet are greased. Put the skillet in the hot oven (keeping an eye on it). Meanwhile, mix the three flours. Beat the eggs, milk, vanilla, lemon zest in a big bowl. Add the flours and beat well until a smooth runny batter is formed. Take the skillet out of the oven (the pan and ghee should be hot, but don't leave it too long in the oven, about 5-7 minutes at 425F). Pour the batter in the middle of the hot pan and put it in the oven (middle rack). Bake for 20 mins.
3
TO MAKE THE TOPPING: Cube the apple with the skin on, and add it to a saucepan, on medium heat. Add the monk fruit, the ghee and start cooking, stirring occasionally. After about 5-7 minutes add the pumpkin pie spice, the orange juice and the vanilla. Cook for few more minutes stirring, you can even cover the pan. When the apples look cooked but still have the shape, add the orange zest, mix well and take it off heat (the whole process takes about 15 minutes, while the pancake bakes).
4
TO SERVE: Add the apples and the cooking juice on top of the pancake, add the sour cream if using and sprinkle with pumpkin pie spice.