Cooking for St. Patrick's Day is always fun. I love green food and I love a good soda bread. While I can't say I ever tasted a traditional, homemade soda bread, I had a few times the American version of soda bread, and the taste was familiar. Maybe it's our Romanian versions of sweetbreads made with butter and dried fruits. I love thematic food and making lectin-free Irish soda bread was one of my first projects after I started the plant paradox program, almost 4 years ago.
For mornings when you want to spread butter on something
This lectin-free soda bread is good warm, out of the oven, with a little bit of butter or even nut butter. Makes a perfect breakfast on special occasions, like St. Patrick's Day, of course. It's also easy to make and doesn't require very special ingredients. These are usually ingredients that every lectin-free foodie has in their pantry.
The mix of flours is made of almond flour, coconut flour, arrowroot or tapioca flour and cassava flour. For more binding properties, you can add Xanthan gum or psyllium husk flakes. I assume the latter is more common and it works perfectly.
An Irish soda bread made with hemp milk
The butter has to be French or Italian (I use President brand) and the eggs have to be pasture-raised. Traditionally, soda bread is made with buttermilk. Since this is not an option for me I made a 'buttermilk' with hemp milk and lemon juice. I don't eat dairy other than occasionally some butter or ghee. But if you do maybe homemade buttermilk made with A2 casein milk would be an option? The hemp buttermilk works well and you can use any non-dairy milk you wish.
TIP: Making nut milk at home is super easy, especially if you have nut butter on hand. Just blend 1 cup filtered water with 1 tablespoon nut butter and add some vanilla if you want more flavor.
I love to add unsweetened dry cranberries to this bread but they are not easy to find outside the US. So when I don't have them I add dry dates plus dried figs, chopped really small. You can mix the three of them or use only one.
I know once a reader made these lectin-free Irish soda bread using a flax egg replacement. Although I haven't tried it myself, I think it will work.
The below version is one with cranberries and Xanthan Gum, while the above (and the featured picture) are made without cranberries and psyllium husk flakes.
If you like this lectin-free Irish Soda bread you should also try my:
*This post contains affiliated links, which means I get a small commission if you choose to purchase something via one of my links, at no extra cost to you.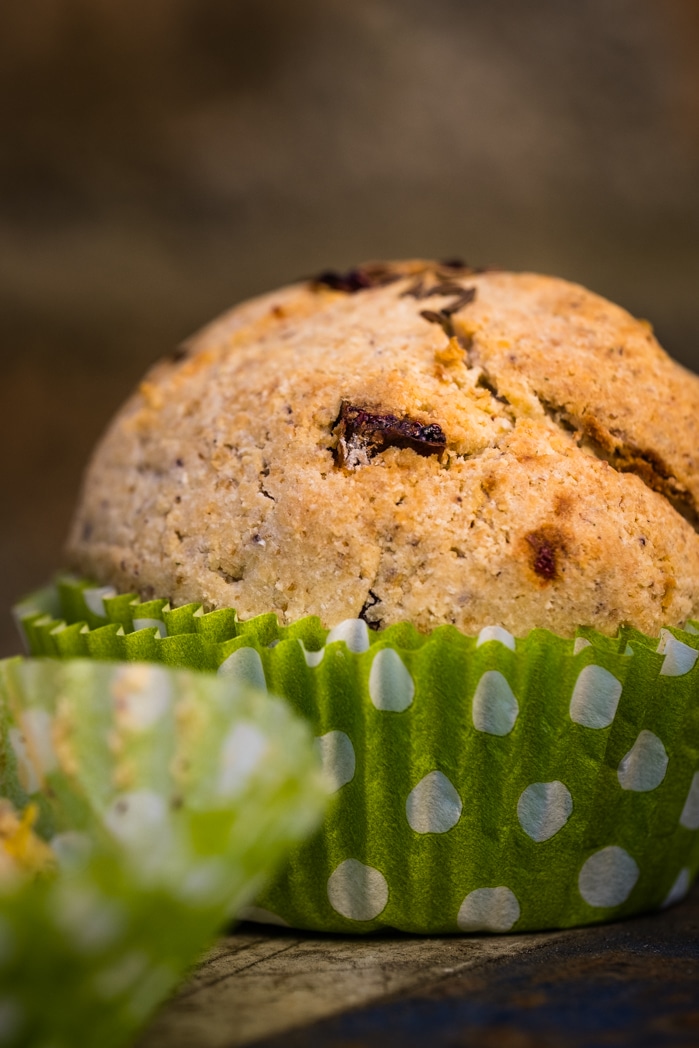 Print Recipe
Lectin-Free Mini Irish Soda Breads
A perfect St. Patrick's Day healthy treat or for any day you want to spread butter on warm bread.
Ingredients
1 cup almond flour

1/2 cup coconut flour

1/4 cup cassava flour

1/4 cup arrowroot flour OR tapioca flour

1 1/2 teaspoon Xanthan gum OR 2 tablespoons psyllium husk flakes

1 teaspoon baking powder

1/4 tsp salt

5 teaspoons approved sweetener such as inulin powder, swerve or monk fruit

75 grams cold butter (French or Italian), cubed

2 pasture-raised eggs

1 cup nondairy buttermilk: 1 1/2 tablespoons fresh lemon juice + 1 cup hemp/almond milk

1 tbsp lemon zest

1 teaspoon vanilla

about 1/2 cup of dry unsweetened cranberries mixed with finely chopped dry figs and / OR dry dates

caraway seeds
Instructions
1
Heat the oven to 375F and grease a muffin pan (I used avocado oil) or you can use muffin paper liners, or silicon muffin cups.
2
Make the 'buttermilk': add the lemon juice to a measuring cup and add one cup of cold hemp or almond milk on top. Let aside for a few minutes, until it curds or thickens a little bit.
3
In a big bowl mix all the dry ingredients well (except for the sweetener). Add the cold butter cut into small cubes, coat the cubes with the flour and press each cube with your fingers. Add the mix of dry fruits and mix well (with a spoon or your hand) to coat them in flour.
4
In a separate bowl whisk the eggs, 'buttermilk' and sweetener. Add the lemon zest and vanilla and combine well.
5
Make a well in the dry ingredients and start adding the egg-buttermilk mixture and mix with a spatula. When the dough starts getting hard, mix with your hands but not too much. If you feel like the butter is getting too soft, you can put the dough in the fridge for 10 minutes or so.
6
Portion the dough into eight equal parts and put each of them in the muffin pan. Gently press with your palm on top of each bread. Cut a cross shape on top of each. Sprinkle some caraway seeds on top.
7
Insert the muffin pan in the freezer for 10 mins. Bake for 20-25 mins, until it gets slightly golden on top. Cool for 10 minutes before serving.
Notes
This bread is best out of the oven, warm with some butter. You can also freeze and warm in the oven before serving. If you store them in the fridge for one night, just pop them in the oven the next day, at 375F, for about 10 minutes.