Hello friends. This was my birthday cake, totally Plant Paradox compliant, grain and sugar-free, lectin-free and absolutely delicious. I've had my share of carrot cakes in my life, especially while living in Dubai, where for some weird reason, carrot cake was one of the most popular cakes around. I wanted to recreate something as good as the best carrot cake I can remember. I have to say I was pretty close with this happy birthday carrot cake.
A carrot cake that is grain-free, sugar-free and lectin-free? Yes, please.
My inspiration and the starting point for this lectin-free carrot cake was Dr. Gundry's carrot cake muffins from The Plant Paradox Cookbook, pages 96-97. I've already made the muffins and knew what worked and didn't work for me. So it was pretty easy to apply my modifications and turn it into a birthday cake. This is where you can find my initial review and modifications for the carrot cake muffins.
Firstly, what are the modifications I make to the recipe and why? From my experience and after seeing some feedback from other people who tried the recipe, it seemed the muffins came out too moist and needed more than double the time for baking. So when I measure the almond flour, I pack the cup by pressing it down with the back of the spoon or my hand. If you don't do that there won't be enough flour for the amount of liquids required.
Secondly, I do not add the entire amount of sweetener, I only add 2-3 tbsp for the entire batter. I also added three chopped black mission figs and increased the amount of nuts from 1/4 to 1/3 and mixed walnuts with pecans. You can use only walnuts but nothing can replace the sweetness of pecans, so I would recommend them. I measured the carrots in cups and from two medium to big carrots I got 1 cup of grated carrots, so this is the measurement I will use.
Adding turmeric tonic
If you followed my recipes for a while you know I add Turmeric Tonic to almost everything baked. A carrot cake makes the perfect vehicle for this tonic full of adaptogens and superfoods. The original recipe asks for ginger, nutmeg and cinnamon as spices.
The turmeric tonic has cardamon, cloves, ginger, cinnamon and few more ingredients, plus the turmeric. If you want to get the Turmeric Tonic, which also makes an incredible turmeric latter, use my code CLAUDIA for a 10% off on Further Food website.
When it comes to frosting, I usually look for noncheese ingredients or use an Italian Mascarpone. But because it was my birthday, I decided to splurge with using regular cream cheese and French butter, to which I added some coconut cream and a small quantity of Swerve.
Baking a small happy birthday carrot cake
Size-wise, I wanted a small cake, because we don't eat much and didn't have a party to share it with a lot of people. So for baking, I went with a 5 inch Le Creuset stoneware tapas dish. I know, it sounds super weird, but it works perfectly. I have two so I baked both layers at the same time.
These two I got from an outlet store with a big discount. They were discontinuing the color, and I'm super happy with the purchase. Even full price they are not super expensive. You can find them here.
Please read the entire recipe before you start making it, there are few items that require advance preparation. And let me know if you make it, I'd love to know how it came out.
If you like this happy birthday carrot cake, be sure also to try the Lectin-Free Chocolate Strawberry Birthday Cake and my Sugar-Free Carrot Cake (Nut-Free, Gluten-Free).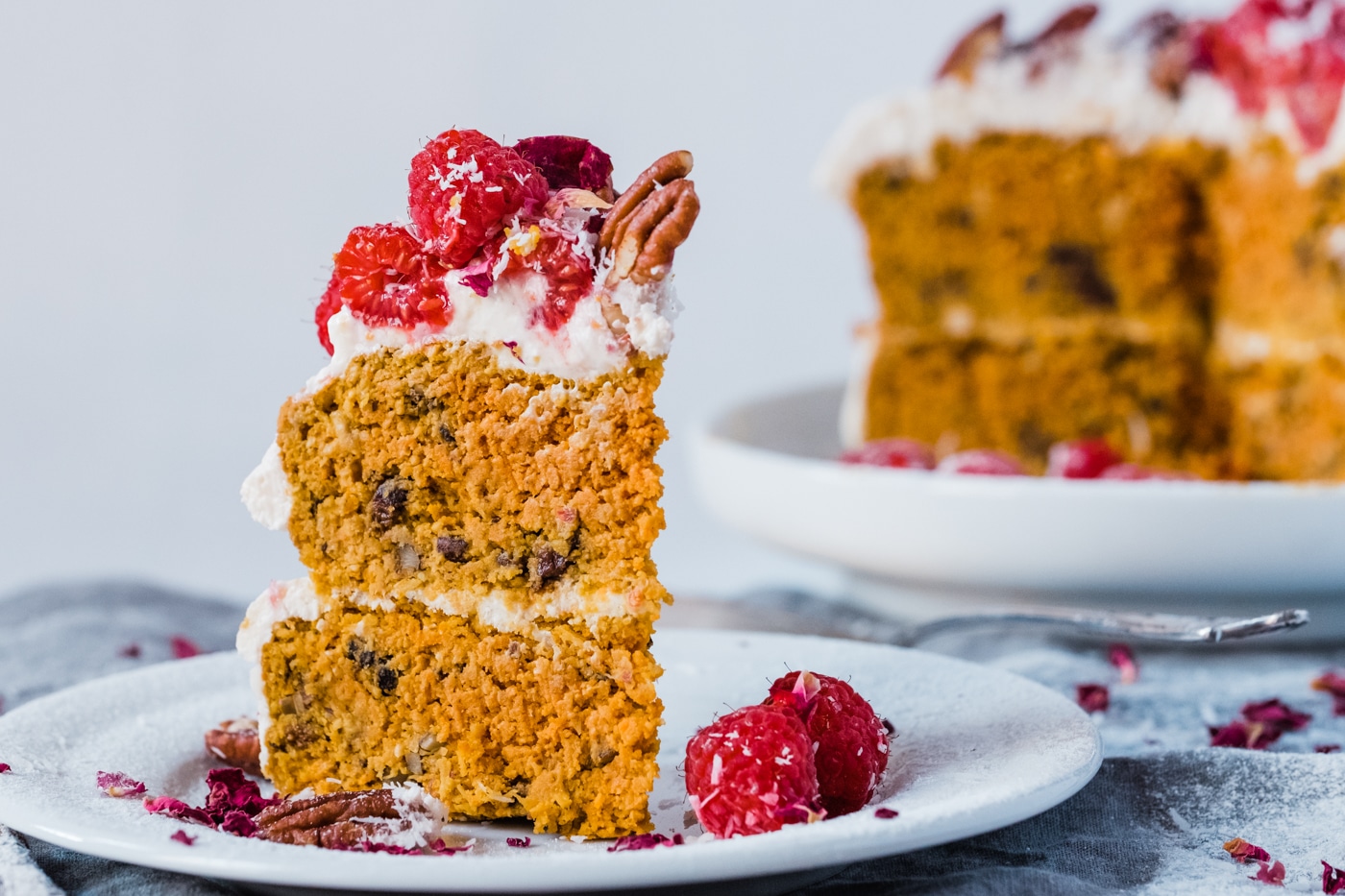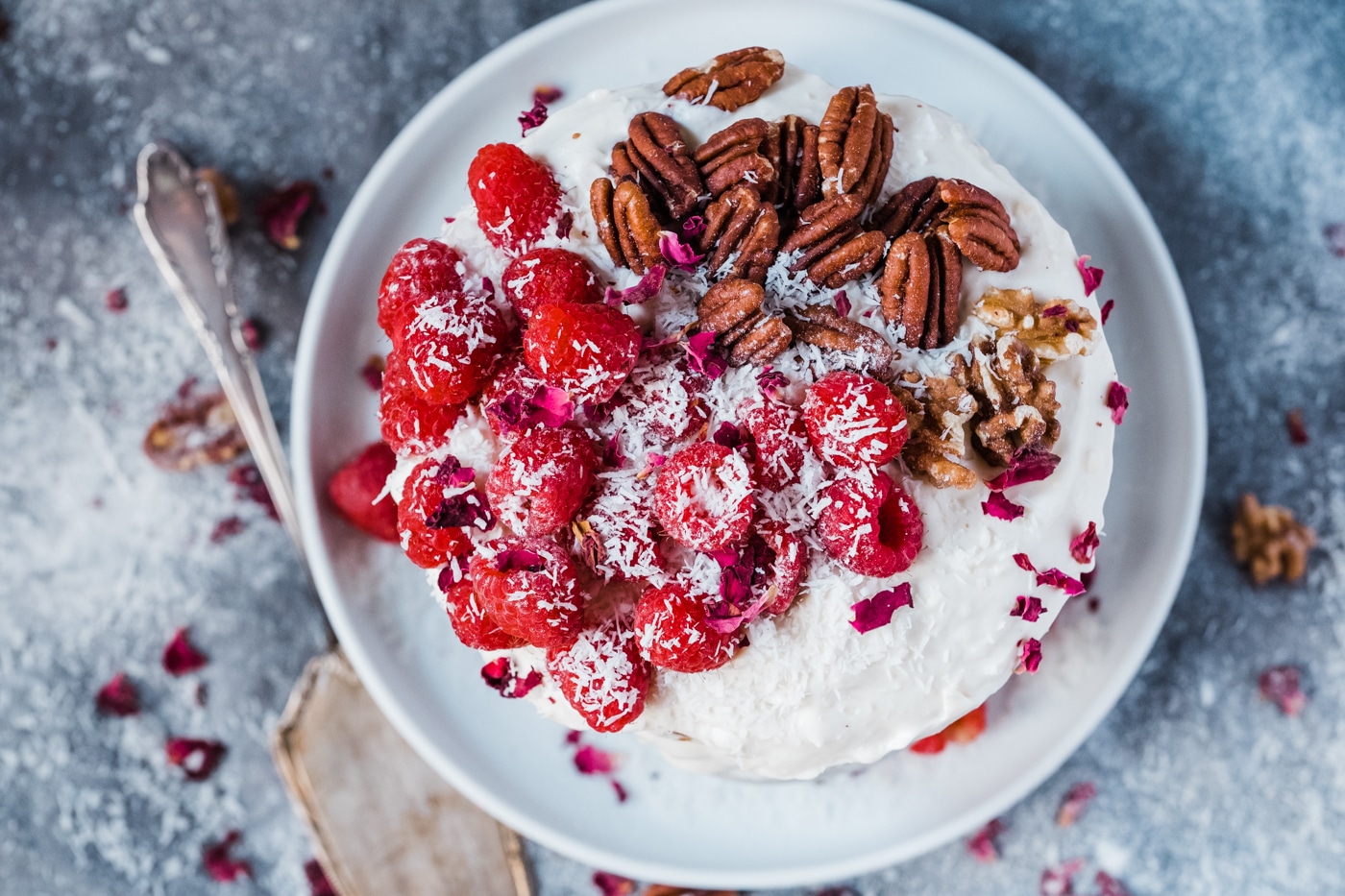 *This post contains affiliated links, which means I get a small commission if you choose to purchase something via one of my links, at no extra cost to you.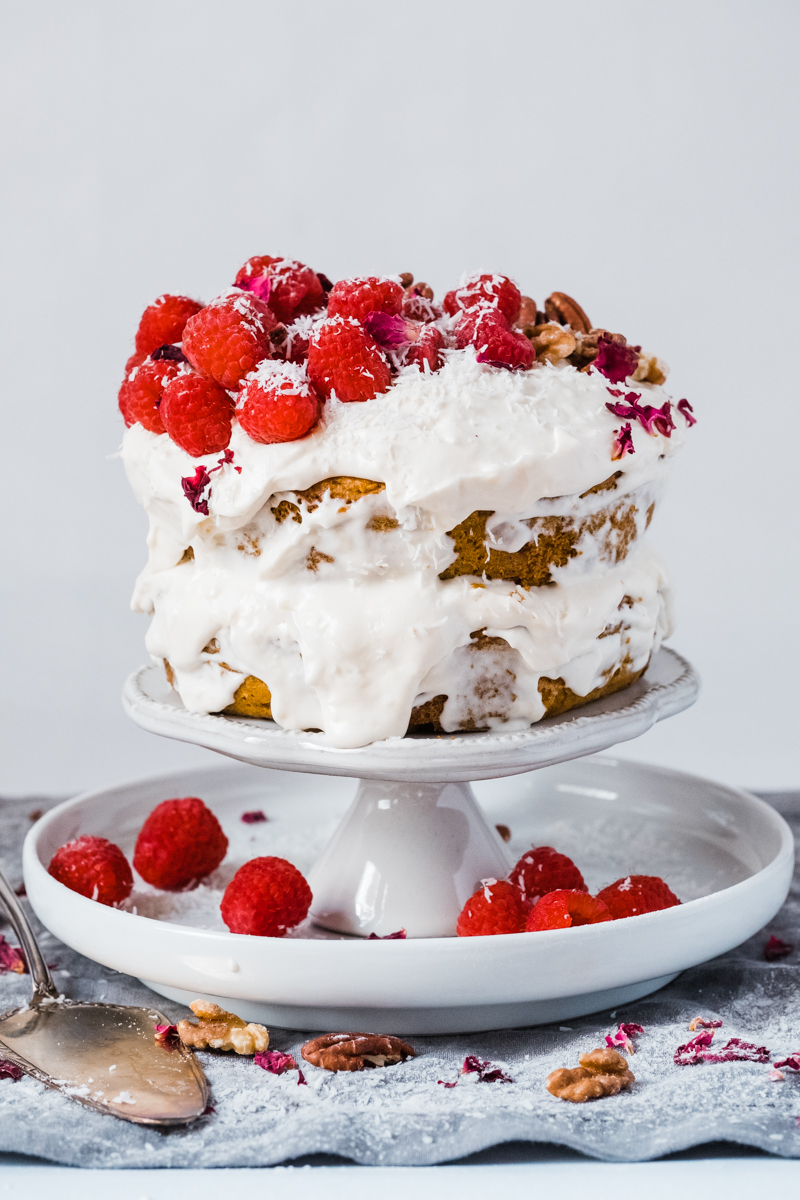 Print Recipe
Happy Birthday Carrot Cake
A grain-free, sugar-free, lectin-free and Plant Paradox approved birthday cake.
Ingredients
FOR THE LAYER CAKES:

1 1/4 blanched almond flour, measured with packed cups (press down as much as you can)

3 tbsp coconut flour

2/3 tsp baking soda

1/8 tsp salt

3 scoops of Turmeric Tonic from Further Foods (or use 1 1/2 tsp cinnamon + 1/4 nutmeg + 1/2 ginger powders instead)

about 1/4 cup shredded coconut

1 cup grated carrots

1/3 cup of chopped nuts (walnuts + pecans)

3 black mission figs finely chopped

1/3 cup avocado oil

2 pasture-raised eggs

2/3 cup unsweetened coconut milk

2-3 tbsp Swerve (non-GMO erythritol)

2 tsp vanilla

FOR THE FROSTING:

8oz organic cream cheese (I used Organic Valley)

5 tsbp French butter at room temperature

7 oz of coconut cream (refrigerate your coconut milk can overnight and scope out the cream on top)

2-3 tsp confectioners Swerve (or you can use few drops of Stevia instead)

1-2 tsp vanilla

Optional: Berries, roasted nuts and shredded coconut for decorating.
Instructions
1
Preheat your oven to 350F.
2
Grease your stoneware or the pans you are using with avocado oil, and line them with two ribbons of parchment paper in a cross, leaving few inches outside the pans (see photo).
3
Chop your nuts and figs and powder them with a little bit of coconut flour so they don't stick together.
4
In a big bowl, mix almond and coconut flours, baking soda, salt and turmeric tonic or spices.
5
In a smaller bowl mix eggs, coconut milk, avocado oil, vanilla, Swerve.
6
Add the wet ingredients to the dry ingredients bowl, mix with a spatula until incorporated, add the grated carrots, and the mix of nuts and figs. Fold to combine.
7
Add the batter to the two prepared baking dishes and bake for 30 minutes.
8
Let them cool completely before you take them out. The two parchment ribbons should make this step super easy.
9
To make the frosting, beat with an electric mixer all the ingredients. Taste and adjust sweetness if you wish.
10
To assemble the cake, add frosting in between the two layers and on top and decorate with seasonal fruits or/and nuts (if you are roasting nuts, you can do it at 350F for 8-10 minutes).
11
The cake is better after refrigerated overnight or at least for few hours.
Notes
Please note that if you are using coconut cream from a coconut milk can, the can should be refrigerated overnight. the cream rises on top so just scoop it out without mixing it with the water on the bottom. Alternatively, you can use cans of unsweetened coconut cream, but that's more difficult to find. This cake is better after refrigerated overnight, so think of preparing it in advance.