Store-bought granola is one of those products deceptively labeled as a healthy food in stores but if you read the labels and understand the ingredients granola is made of, even the healthier versions, you will want to make one at home. This crunchy granola with green plantain recipe is lectin-free, gluten- and grain-free, vegan and it has no added sugar. It is made with wholesome, healthy ingredients and it's super delicious.
Vegan, sugar-free, lectin-free granola, easy, smells like heaven
Do you want more reasons to try this lectin-free crunchy granola recipe? One of my favorite things about making granola at home is the smell. The whole house smells like heaven the day you make it.
This recipe is super easy to make, but you will need an ingredient that's not available everywhere in the world. If you live in the North, Central and South America, Asia, some parts of Africa and even many areas in Europe (those who have ethnic markets), you will certainly find green plantains.
Green plantains look like bananas, just bigger and much more difficult to peel. The green plantains are the unripe version of the yellow ones. We use the green version because they contain less sugar and have a more sticky, hard texture. In this recipe, they successfully replace oats, while their stickiness helps with the formation of the granola clusters.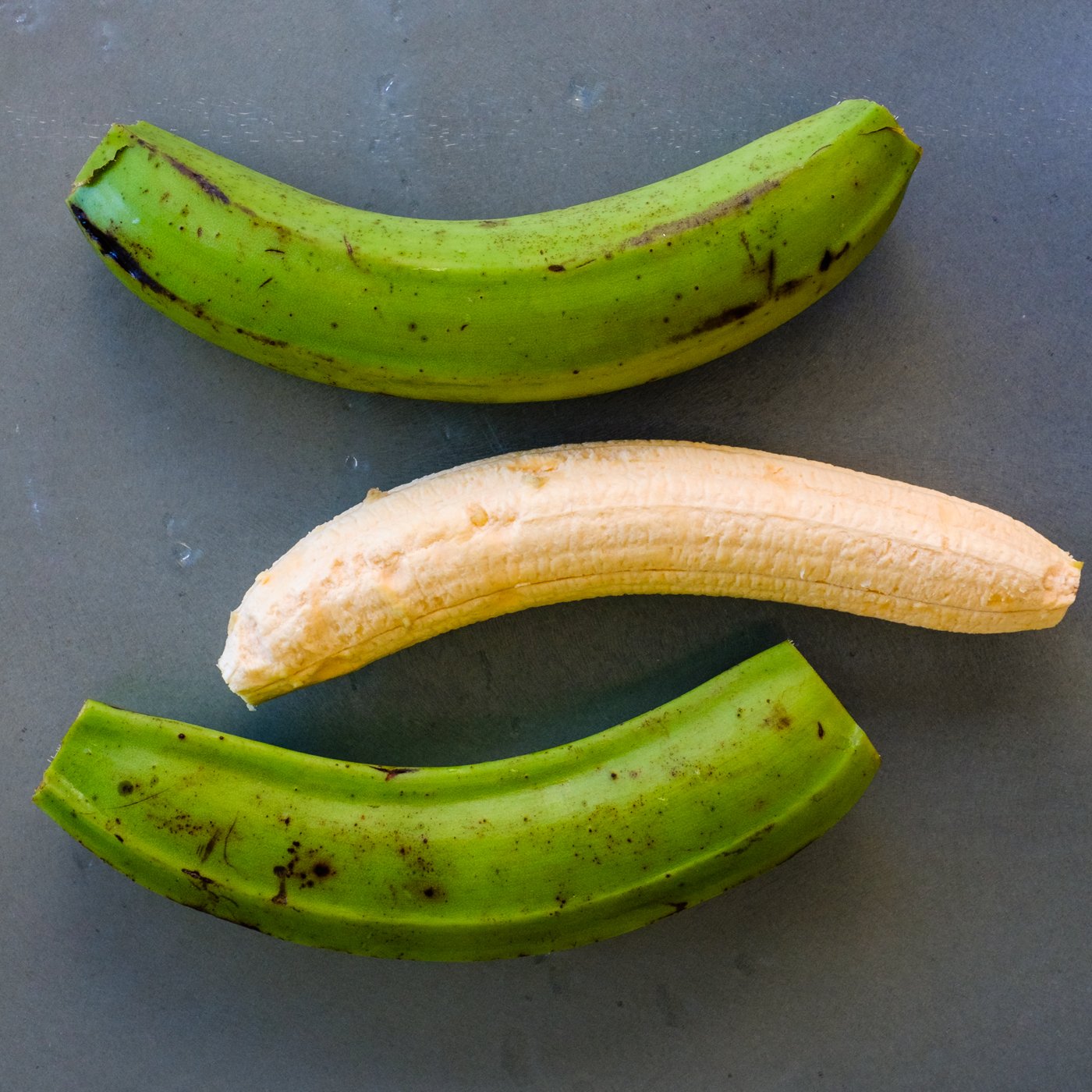 Crunchy granola only with healthy ingredients
The mix of nuts can be anything you like or have on hand, but below you will find my suggestion; I do love the taste of roasted pecans and walnuts. Skinless almonds, whole or slivered, hazelnuts (but be careful hazelnuts will shed some of the skin while roasting) can be added to the mix.
As a fat, you will use coconut butter/manna and coconut oil and for nutritionally dense adds-on you will add coconut flakes, hemp hearts (they add to the crunch and are super tasty when roasted). To sweeten the mix I used dry figs, cut very small which is an approved sweetener if you are following the plant paradox, if used in moderation and occasionally. Yacon syrup can be a great calorie-free sweetener. Once the mix is roasted, you can add cacao nibs or chopped dark chocolate before storing. There are so many ways to eat this yummy granola.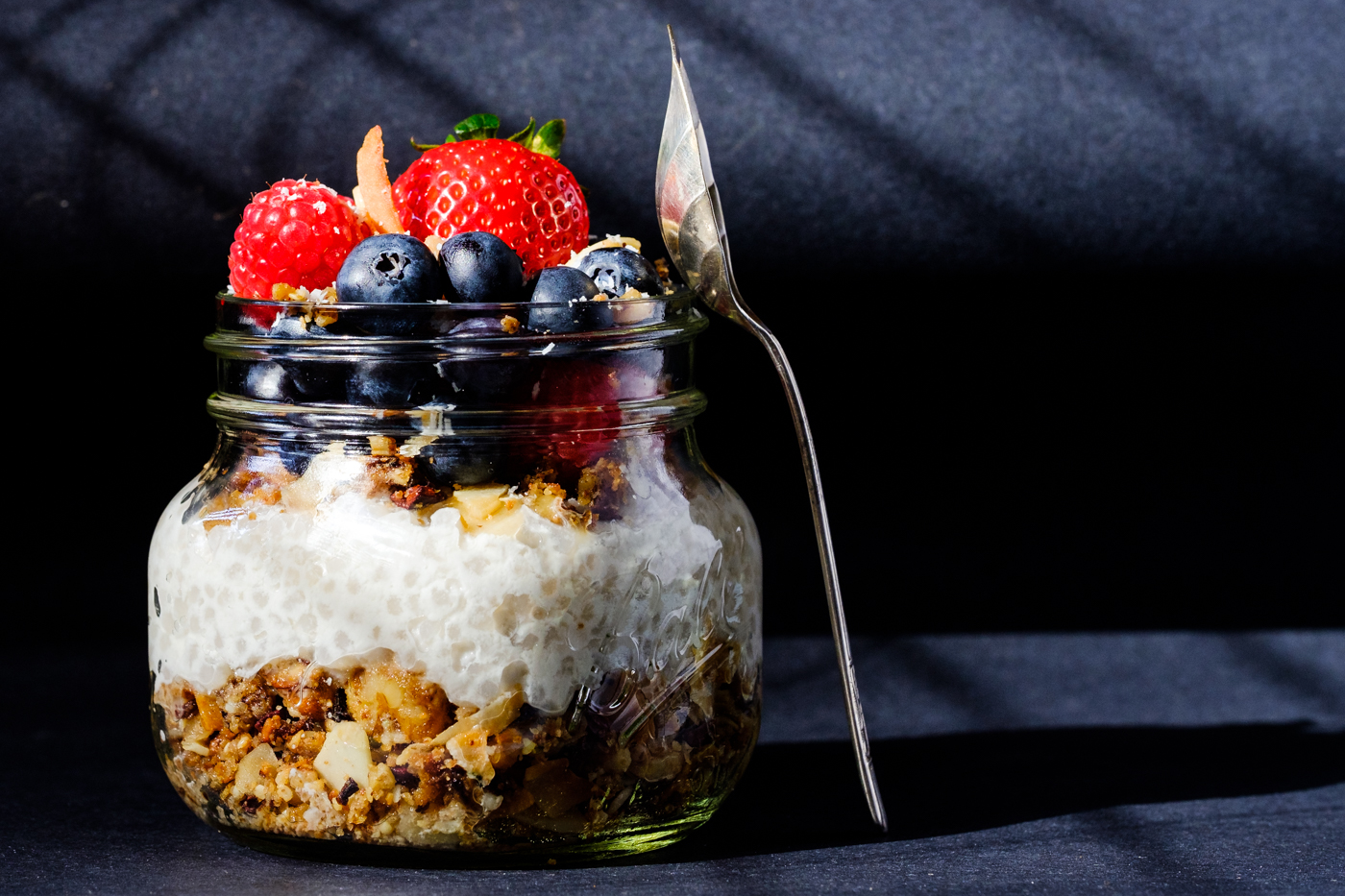 Another reason why I love this recipe so much is that I can freeze it and eat almost straight from the freezer. It's crunchy and my preference when it comes to granola has always been to eat it cold. I love to serve mine with hemp milk, which is my favorite non-dairy milk. I like it in this case even more because it doesn't have a strong taste and allow my granola flavors to shine.
And remember you can always check out my shop page for recommendations on lectin-free pantry items and ingredients.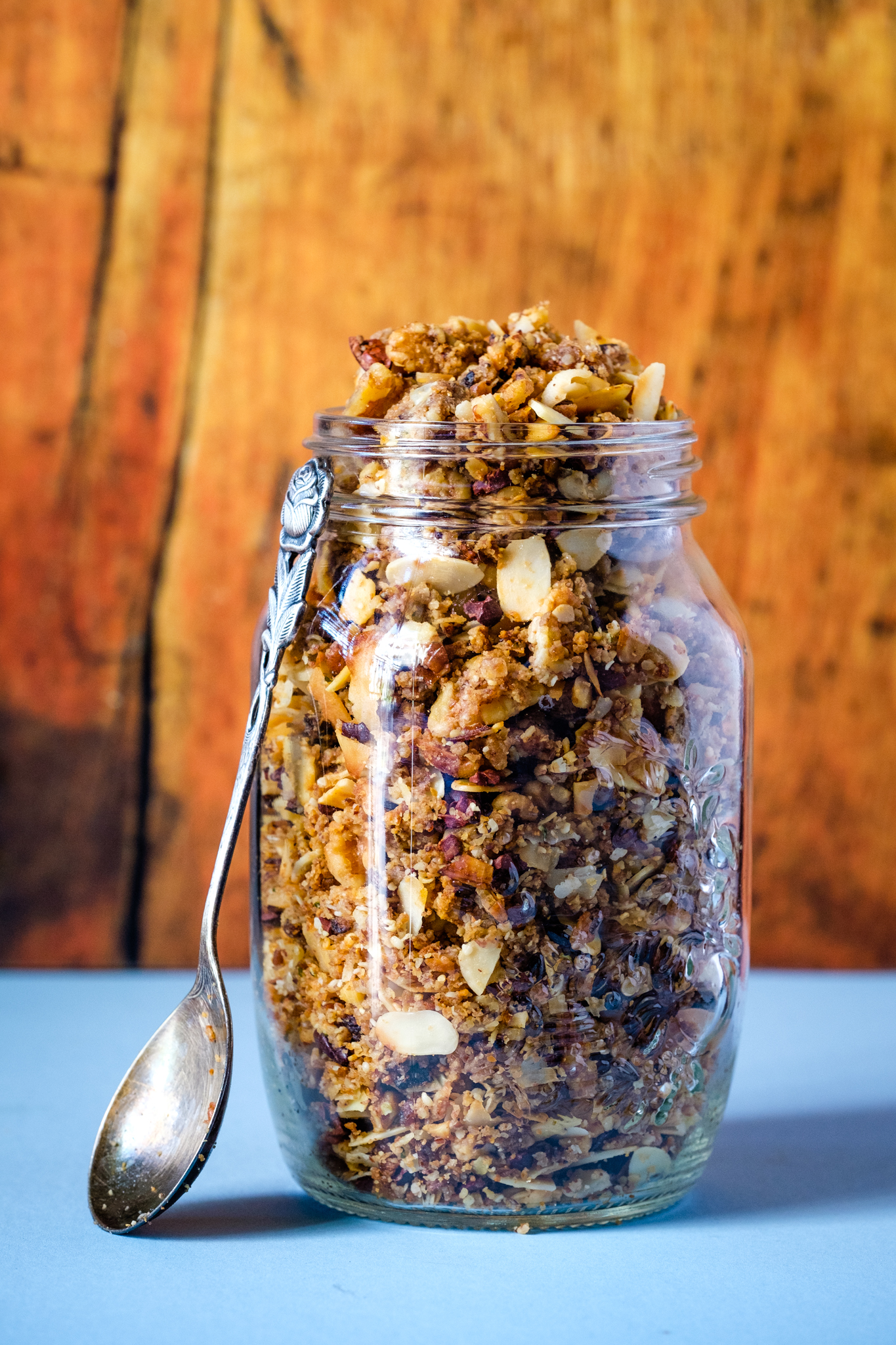 Granola for breakfast, as a sweet treat, or a snack
Although a breakfast food in general, I rarely have granola for breakfast, I like it more as a sweet treat or snack. The granola can also be turned into bars. Follow this recipe Green Plantain Coco-Nutty Granola Bars. And be sure also to try my Pumpkin Pie Spice Granola (Lectin-Free, Sugar-Free, Gluten-Free).
This recipe is part of The Ultimate Lectin-Free Breakfast Guide, Recipe Round-Up. Check it out for more tasty and satisfying lectin-free breakfast ideas.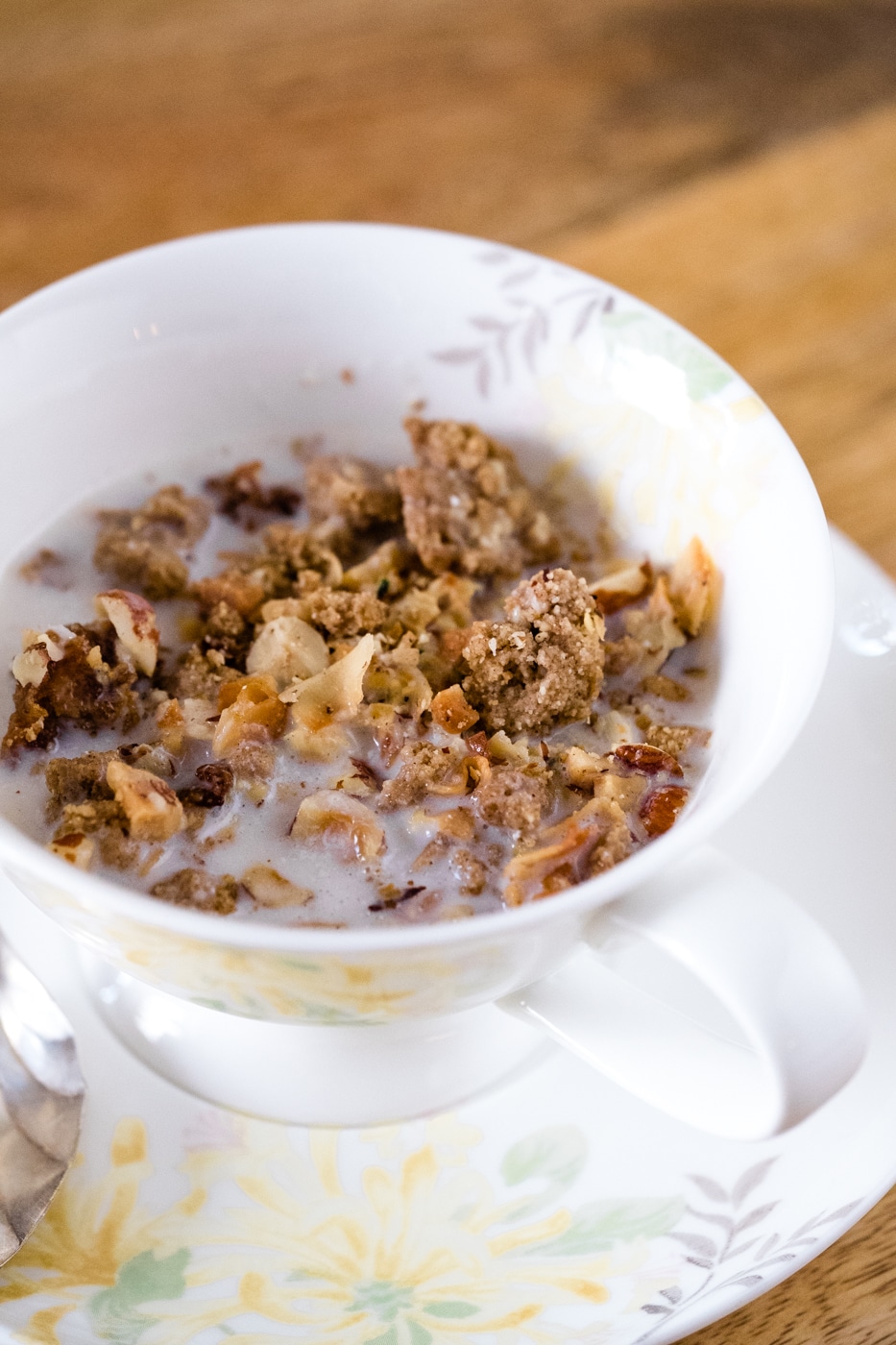 *This post contains affiliated links, which means I get a small commission if you choose to purchase something via one of my links, at no extra cost to you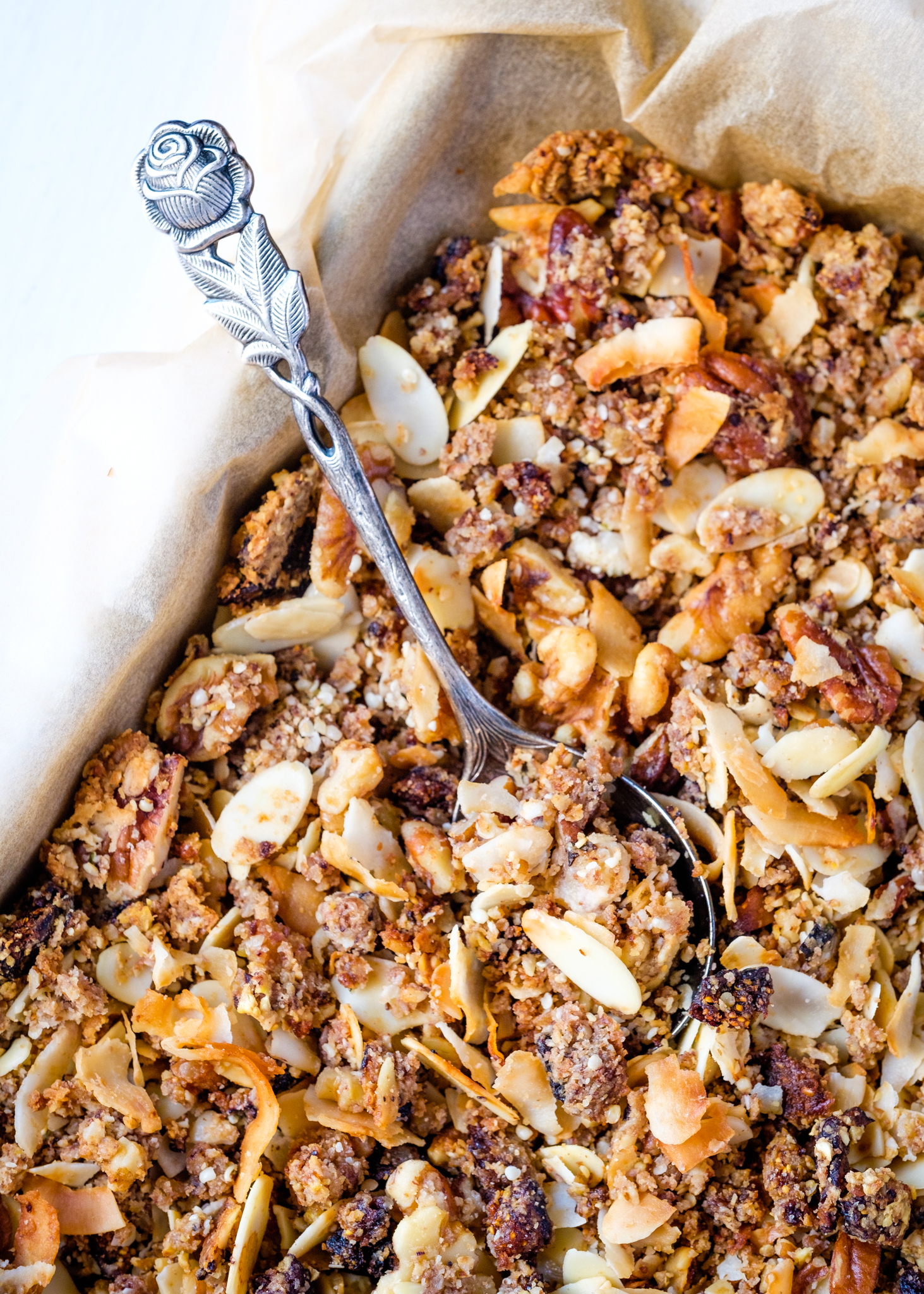 Print Recipe
Coco-Nuts Crunchy Granola with Green Plantain
The most delicious lectin-free treat or breakfast
Ingredients
1 green plantain, peeled and sliced

1 cup walnuts

1/2 cup pecans

1 1/2 cup unsweetened coconut flakes (divided)

4 tbsp hemp hearts

4 dry figs

3 tablespoons coconut butter

3 tablespoon coconut oil

1 teaspoon pure vanilla extract

pinch of salt

Optional: unsweetened cacao nibs or chopped dark chocolate (to be added after cooking). You could also add different nuts and slivered almonds or almond flakes.
Instructions
2
In a food processor, pulse the nuts and 1/2 cup coconut flakes, until they break down but they are not completely ground. You want some texture, with the nuts having different sizes. Add the mixture to a bowl.
3
In the same food processor, add the sliced banana, coconut butter and oil, and chopped figs. Pulse until mixed. Add this mixture to the bowl of nuts.
4
Add the hemp hearts, vanilla and salt. Add the 1 cup of coconut flakes left. Mix well with a spoon.
5
Add the mixture to a sheet pan lined with parchment paper.
6
Bake for about 40 minutes to even one hour, stirring occasionally and keeping an eye on it at the end to make sure the coconut flakes do not burn.
7
Add the cacao nibs if using.
8
Let cool, and store in a glass jar in the fridge for about a week or freeze immediately and eat straight from the freezer.
9
Serve with cold alternative milk of your choice (I prefer unsweetened original hemp milk).
Notes
Vegan, lectin free, sugar free, healthy. Double or triple quantities if you have a big family, it stores well in an airtight glass container in the fridge. It also freezes well. Great replacement for cereals.