Is the stinging nettle season, spring is here and I just need a quick fix lunch or dinner. Luckily I have some good lectin-free, millet pasta that is ready in three minutes. And this easy green nettle pasta sauce is a quick but nutritious fix coming to complete the picture.
You don't have stinging nettles around you? Try this with spinach, throw in a handful of arugula, and that would work as well.
You can leave it as it is, and you have a perfect vegan meal, or you can add some chicken, ground beef, bacon or prosciutto, and you have a meal to satisfy even the hungriest member of your family.
Every time I get fresh stinging nettles from the farmers market I need to make something new. See what else I love to make with stinging nettle:
We got a new big batch of nettles and blanched them all, and making a quick and easy green pasta sauce with nettles and garlic just made sense to me.
How to blanch stinging nettle
Firstly, wear gloves. It's not for nothing they are called stinging. Then wash really well, until the nettle water comes out clean. Bring a large pot of water to a boil, add the nettle and cook for five minutes or so.
Take them out with a slotted spoon and let them drain. You can press down with a spoon to take as much of the water out as possible. Store them until ready to use or use them immediately.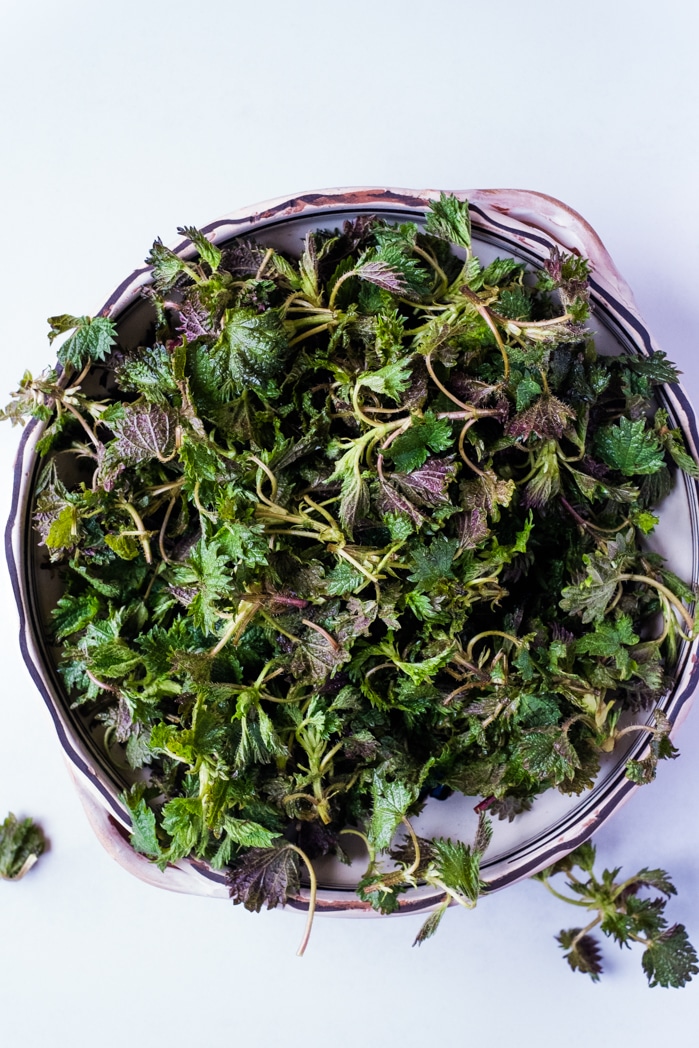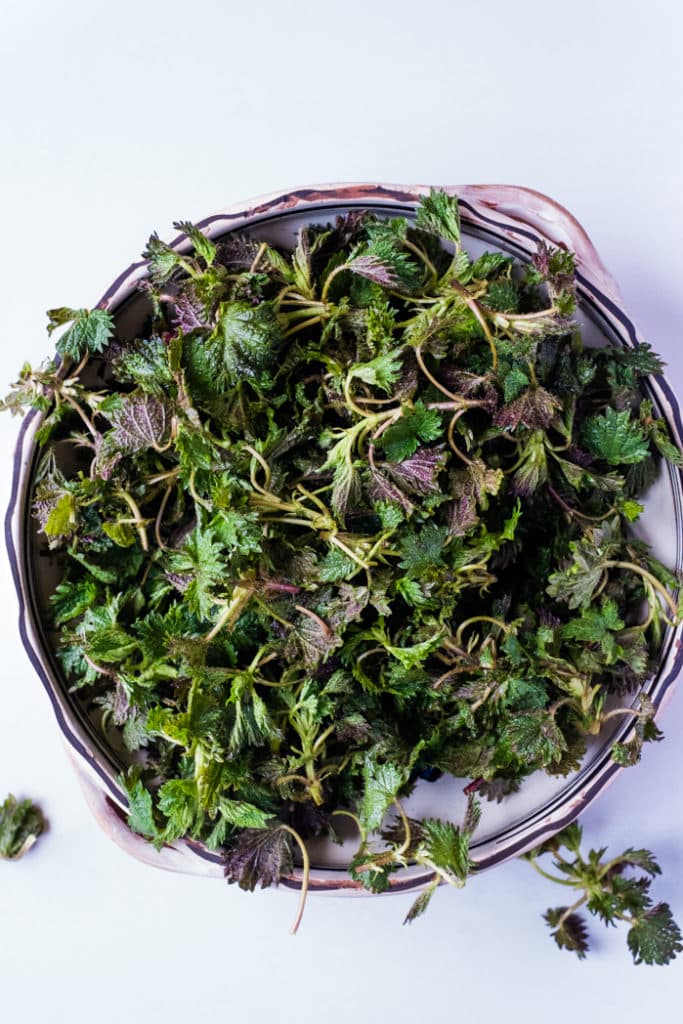 How to make green nettle pasta sauce?
It lives up to its name, so it's super easy. Just add all the ingredients to a high-power blender or a food processor and mix until creamy. You can adjust liquid if needed.
I like to use hemp milk for these types of dairy-free sauces. It's super easy to make at home, here it is how to make hemp milk. Almond milk can also be used (but not coconut milk, too overpowering).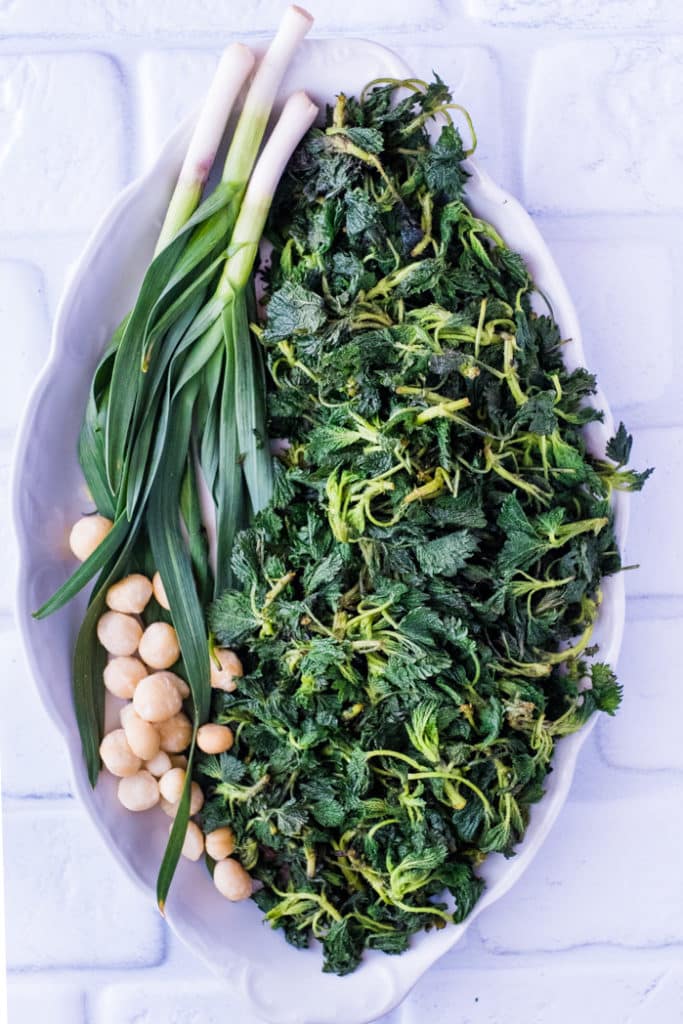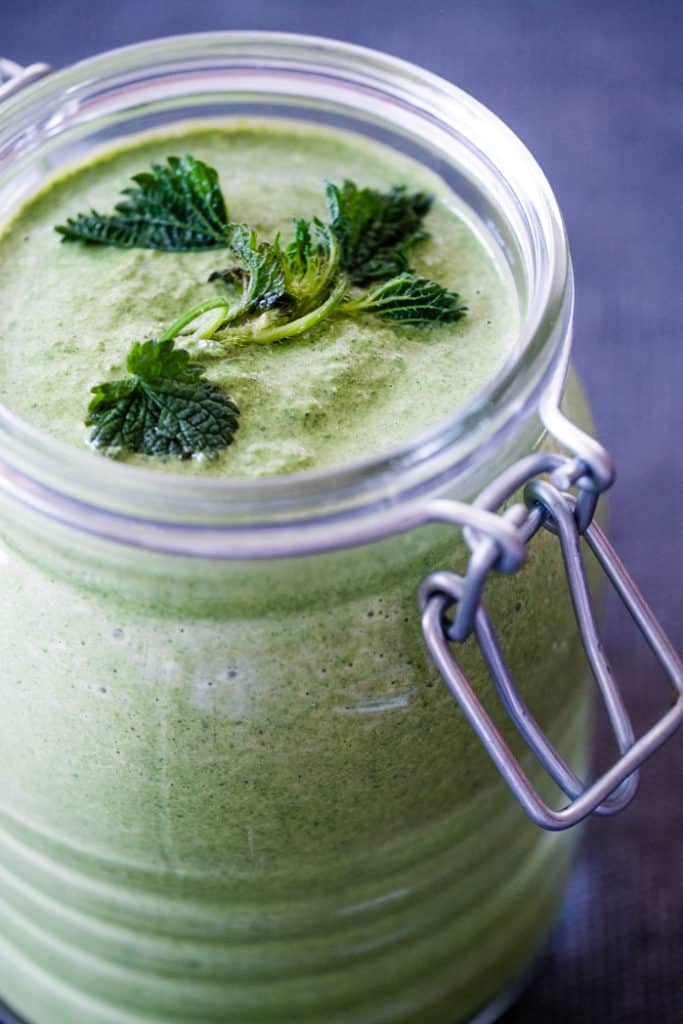 Taste and add more salt and pepper if desired, it also depends if you are using it as it is or adding some protein to the dish.
When the pasta is ready, you just need to warm it a little bit in the pan, add the cooked pasta over with a few tablespoons of the cooking water and combine. If you are adding protein, first cook the ground beef, chicken stripes or sausage, bacon or prosciutto. When the protein is ready add the sauce and the pasta. Serve immediately.
You can grate some Parmigiano Reggiano on top if you want, or sprinkle some toasted almond flakes or toasted pine nuts. Finish with more freshly ground pepper and extra virgin olive oil. If you want to get fancy, add some Polyphenol Olive Oil Pearls by Gundry MD.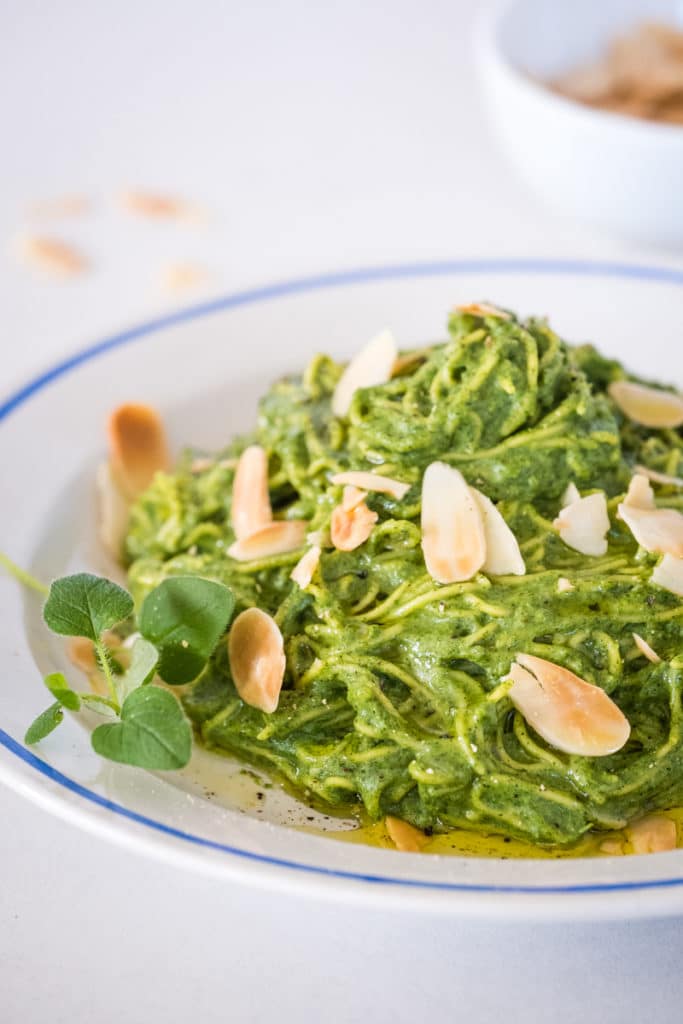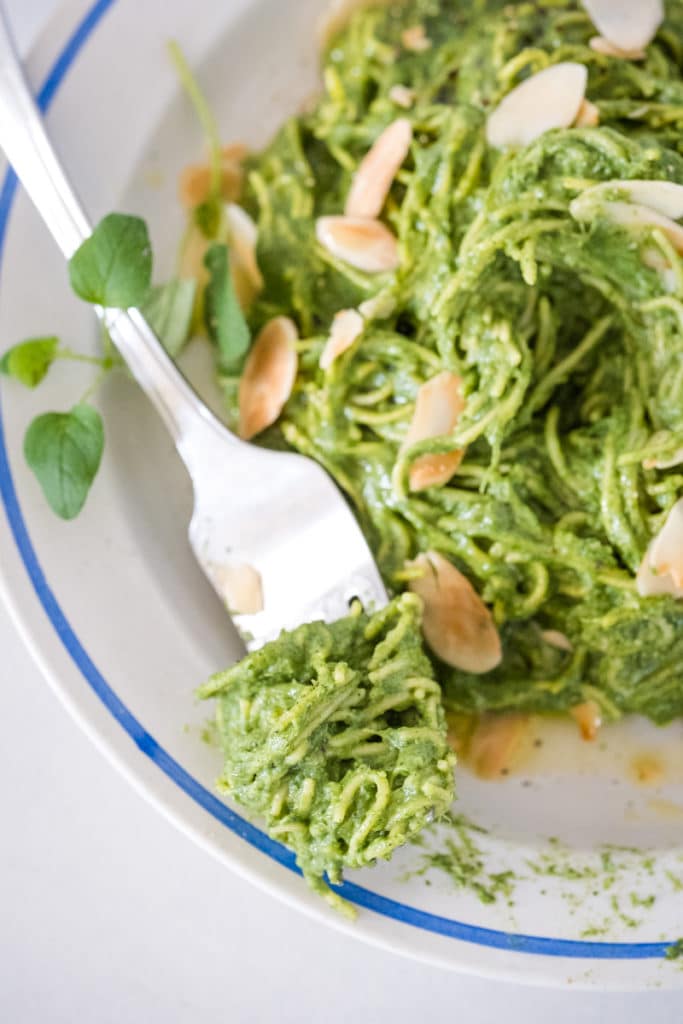 More pasta recipes
For lectin-free, gluten-free pasta options check my SHOP page.
*This post contains affiliated links, which means I get a small commission if you choose to purchase something via one of my links, at no extra cost to you.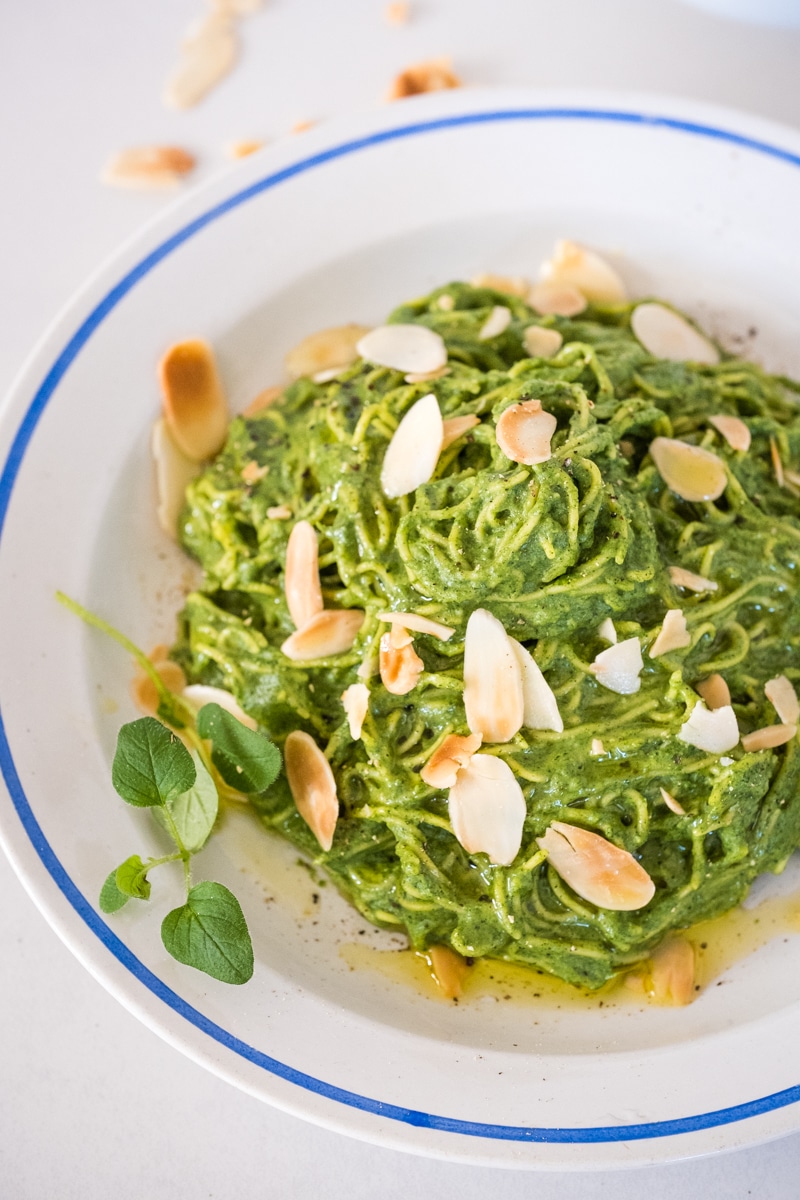 Print Recipe
Easy Green Nettle Pasta Sauce
This easy green nettle pasta sauce is a quick but nutritious fix when you don't feel like cooking much. Lectin-free and dairy-free.
Ingredients
2 cups blanched stinging nettles, super well packed (press down as much as you can)
2 pcs spring garlic, or garlic cloves (about 4)
about 10 macadamia nuts, roasted (raw can also be used, blanched almonds would work too)
1/8 - 1/4 cup hemp milk (adjust liquid depending on your blender and the desired consistency)
1/4 cup extra virgin olive oil
1/4 teaspoon salt (or more to taste)
1/4 teaspoon freshly ground pepper (or more to taste)
2 teaspoons nutritional yeast (optional)
1 tablespoon lemon juice
1/4 cup toasted almond flakes
fresh or dry oregano
more extra virgin olive oil for serving
Instructions
1

To blanch the nettles: wash them very well and add for a few minutes to boiling water. Take out and drain.

2

Mix all the ingredients in a high-power blender until creamy.

3

Warm it in a pan and add the cooked pasta, along with a few tablespoons of the cooking water.

4

Serve immediately, with almond flakes. Sprinkle with some fresh or dry oregano and add some more extra virgin olive oil.

5

The leftover uncooked sauce can be stored in a jar in the fridge and used the next day.
Notes
You can add chicken, ground beef, bacon, or prosciutto to this sauce. Just start with cooking the protein first and add the sauce when the protein is ready. Is delicious.