Macaroni and cheese must be the ultimate comfort dish in many cultures. Although it is not something I had often growing up and I don't feel the need to have it now. But, for the sake of experimenting and giving y'all some more kids (and adults) friendly recipes, I tried this turmeric version and it came out super tasty. This is a grain-free macaroni and cheese but is not dairy-free because I used Parmigiano Reggiano and ghee. Which can be totally skipped if you want a complete dairy-free option. For the macaroni, I used the Ziti shirataki noodles from Miracle Noodle.
Turmeric in macaroni and cheese will make you feel good
And if you are surprised by the bright yellow color, that is the Turmeric Tonic from Further Foods I used, because well, I'm obsessed. Now in all seriousness, this turmeric tonic makes me feel so good. I'm not a big fan of drinking stuff other than water and coffee, occasionally tea, so for me, the most convenient way to use it is to add it to my food. Normal people use it to make a golden latte. That's not something I enjoy that much, especially in the summer when is hot outside.
The other ingredients, besides turmeric, are cardamom, cloves, cinnamon, ginger, black pepper, boswellia serrata, schisandra berry. It tastes a little bit like if you added turmeric and pepper to pumpkin pie spice. And you can buy it here with 10% off on your first purchase if you use my code CREATIVEINMYKITCHEN10.
A healthy way to have your favorite comfort food
Back to this grain-free turmeric macaroni and cheese. For the noodles, I used one pack of shirataki Ziti noodles from Miracle Noodle. If you want with more noodles and less sauce, you can even add two packs. Mine was slightly runny.
I used macadamia butter I made at home. I didn't soak the nuts so it was a little crunchy, which I personally like. If you want the texture to be completely smooth, use a store-bought pure macadamia butter. It can be hard to find, and a little expensive, but this is the one I get from Amazon. Or soak your nuts overnight before you make the butter.
If you have your butter ready this is a super fast and easy recipe to make, and you can store it in the fridge for days. I even had some cold and I liked it, but not everyone is weird like me. You can warm it in the microwave, on the stove, or in the oven. If you choose to go dairy-free, you can totally replace the Parmigiano with few extra tablespoons of nutritional yeast and the ghee with coconut butter, but it won't taste exactly the same.
*This post contains affiliated links, which means I get a small commission if you choose to purchase something via one of my links, at no extra cost to you.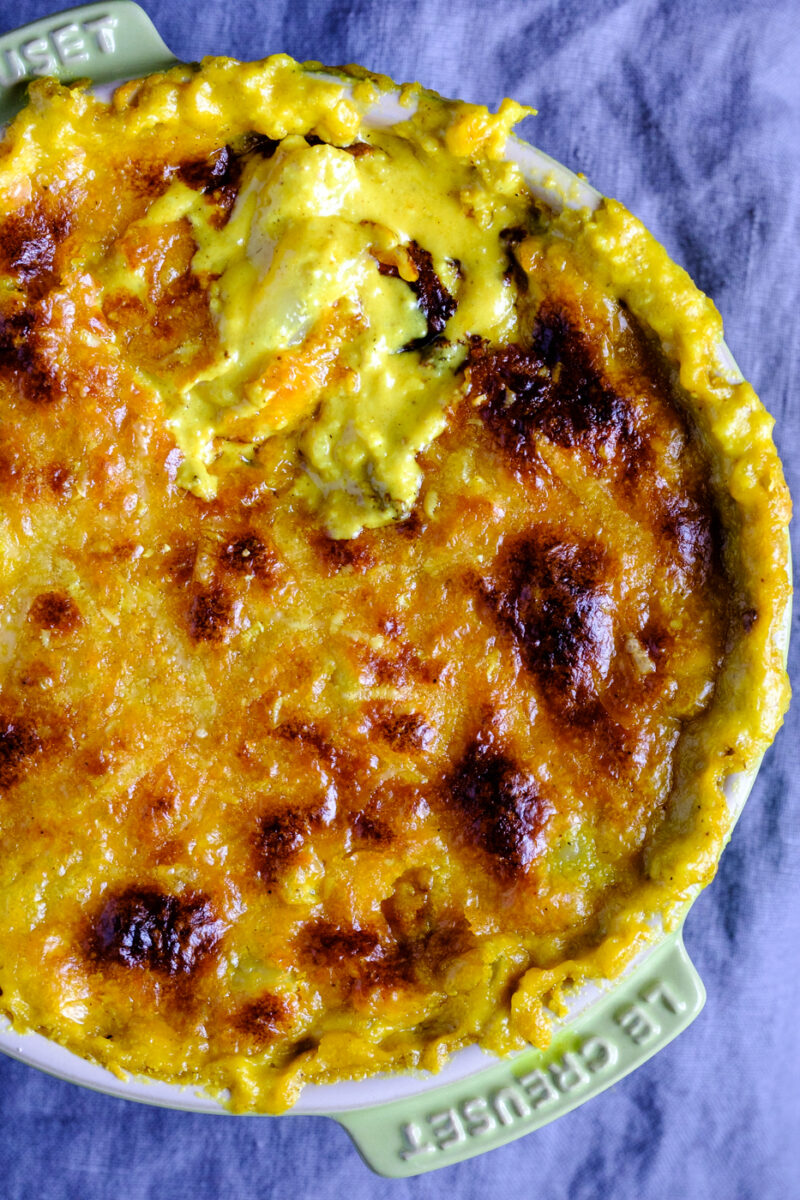 Print Recipe
Turmeric Macaroni and Cheese with Macadamia Butter
An easy and healthy way to have you favorite comfort food, macaroni and cheese.
Ingredients
1 pack of Ziti noodle from Miracle Noodle, prepared as per the instructions on the pack.

1/2 cup raw macadamia butter

1/2 cup coconut milk

1/2 cup grated Parmigiano Reggiano (packed)

1 tbsp nutritional yeast

2 tsp lemon juice

2 scoops turmeric tonic

1/2 tsp mustard powder

1/4 tsp salt

2 tsp grass-fed ghee
Instructions
1
Preheat the oven to 350F.
2
Prepare your Ziti noodles, as per the instructions on the pack.
3
Add the macadamia butter, coconut milk, Parmigiano, mustard powder, nutritional yeast, lemon juice, salt, turmeric powder to a food processor and mix until smooth.
4
In a saucepan warm the ghee and add the sauce, and let simmer for about 10 minutes. Add the noodles, mix well and taste, you can season more if you want. Add the whole mixture to an oven-proof small baking dish (like a casserole, I have a 5 inch one) and bake for 10 minutes. If you want the top to get a little brown, you can turn the oven up to 425F and broil for maximum 5 minutes (keep an eye on it).