If you ask me what food I ate the most growing up, and really what I eat the most when I go home to my parents, the answer has to be chicken schnitzel. That's how we call it in Romania, I guess here in the US is mostly known as breaded chicken. Today I felt the need to recreate my mom's famous schnitzel but in a grain-free, lectin-free version. This is the easy, grain-free chicken schnitzel.
My mom's go-to meal for hungry kids
Making schnitzels is something my mom does almost every day, or at least a few times a week. I'm not sure why but it became quite a tradition in Romania, and it's something we eat warm or cold, in sandwiches or with salad, or simply have one on the go as a snack.
I've already breaded chicken after starting the Plant Paradox program, but never in the form of a schnitzel. And here it is, a grain-free chicken schnitzel, super simple to recreate, even the taste is very similar.
Made with cassava and almond flour
I use one part cassava flour and two parts almond flour and one egg, for one chicken breast (not the full breast but the usual cuts we find when we buy it). From one of these pieces, which is about 4, 5 oz, I make 3 rather small schnitzels. So you have to multiply for every extra chicken breast you use. Now, a small but important note. My cuts, as you can see in the picture, are still quite thick, but my mom pounds them really thin. If you pound them thinner than mine, you will most probably need more flour mix and more egg.
You can play as much as you want with spices. I like it simple, just well-salted and lots of pepper (I personally love the extra peppery taste). I season the breast after pounding, on both sides, and I also mix a pinch of salt and pepper in the egg and flour.
Grain-free chicken schnitzel, perfect for meal prep
One of the reasons I wanted to put this together was that we are getting closer to the end of the summer, and I want to prepare a list of meals that are easy to make, are excellent for meal prep and your kids would love. Some back-to-school plant paradox friendly ideas for all the lectin-free moms and dads out there. I promise I'll be back with more.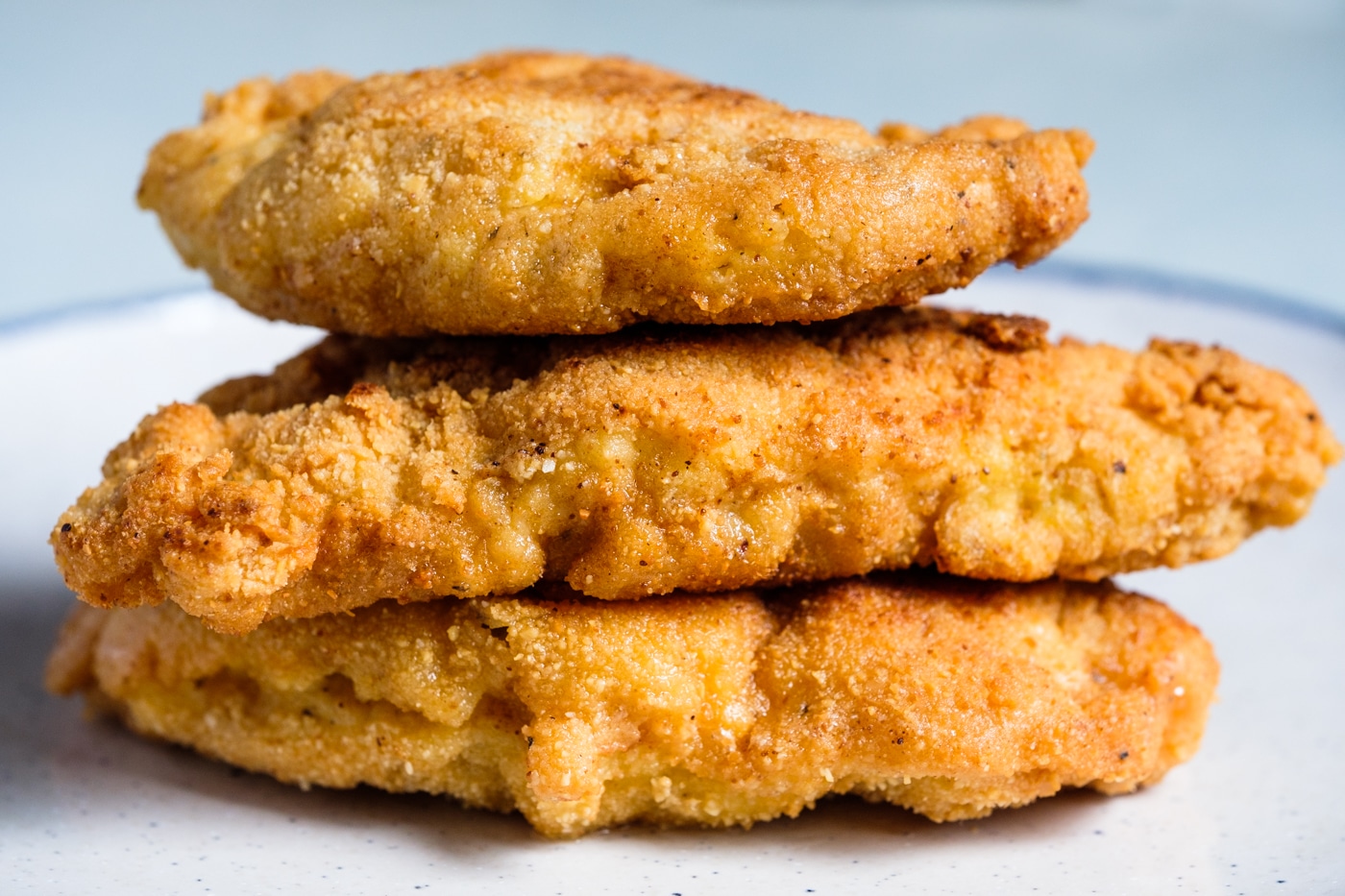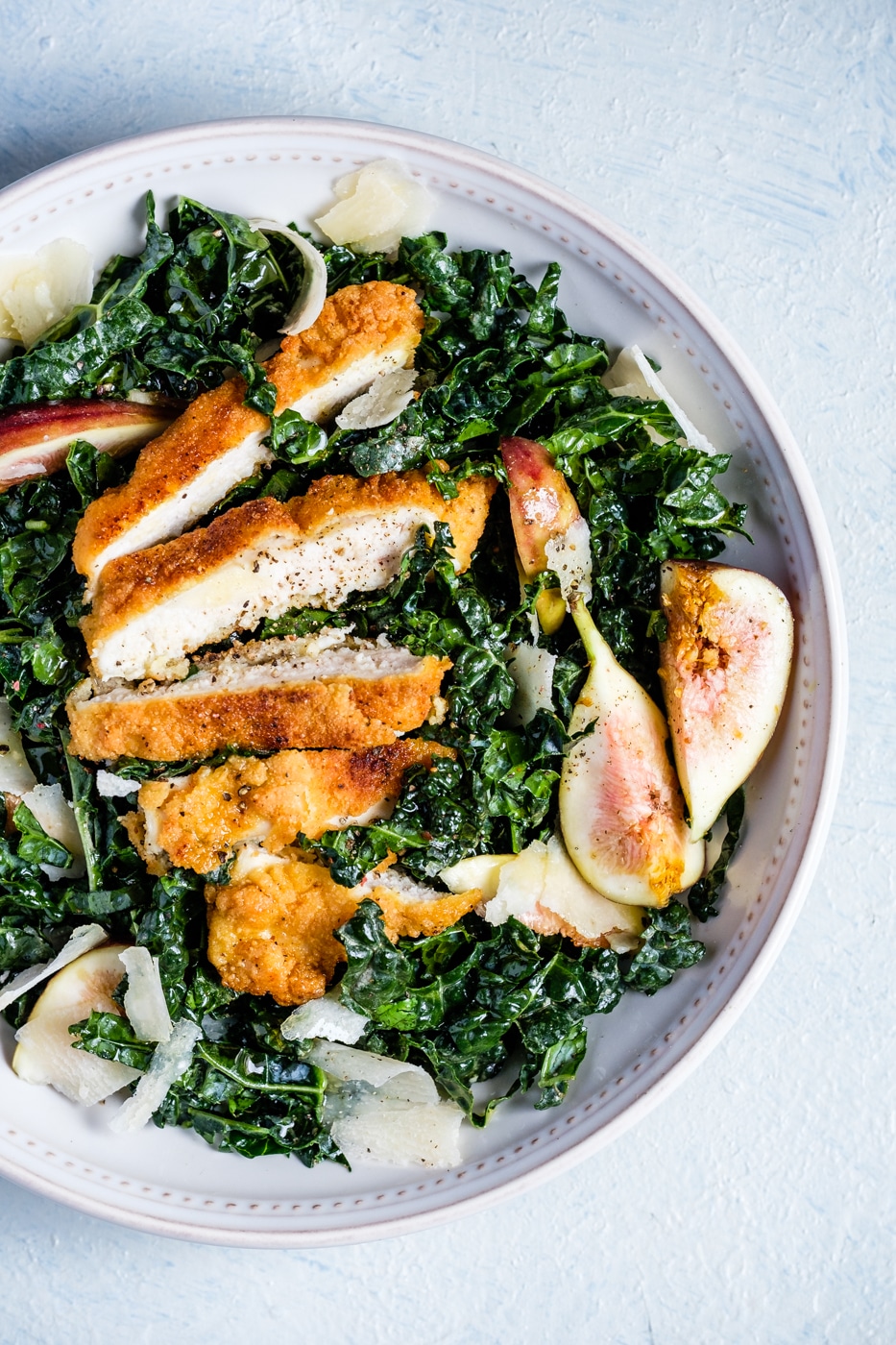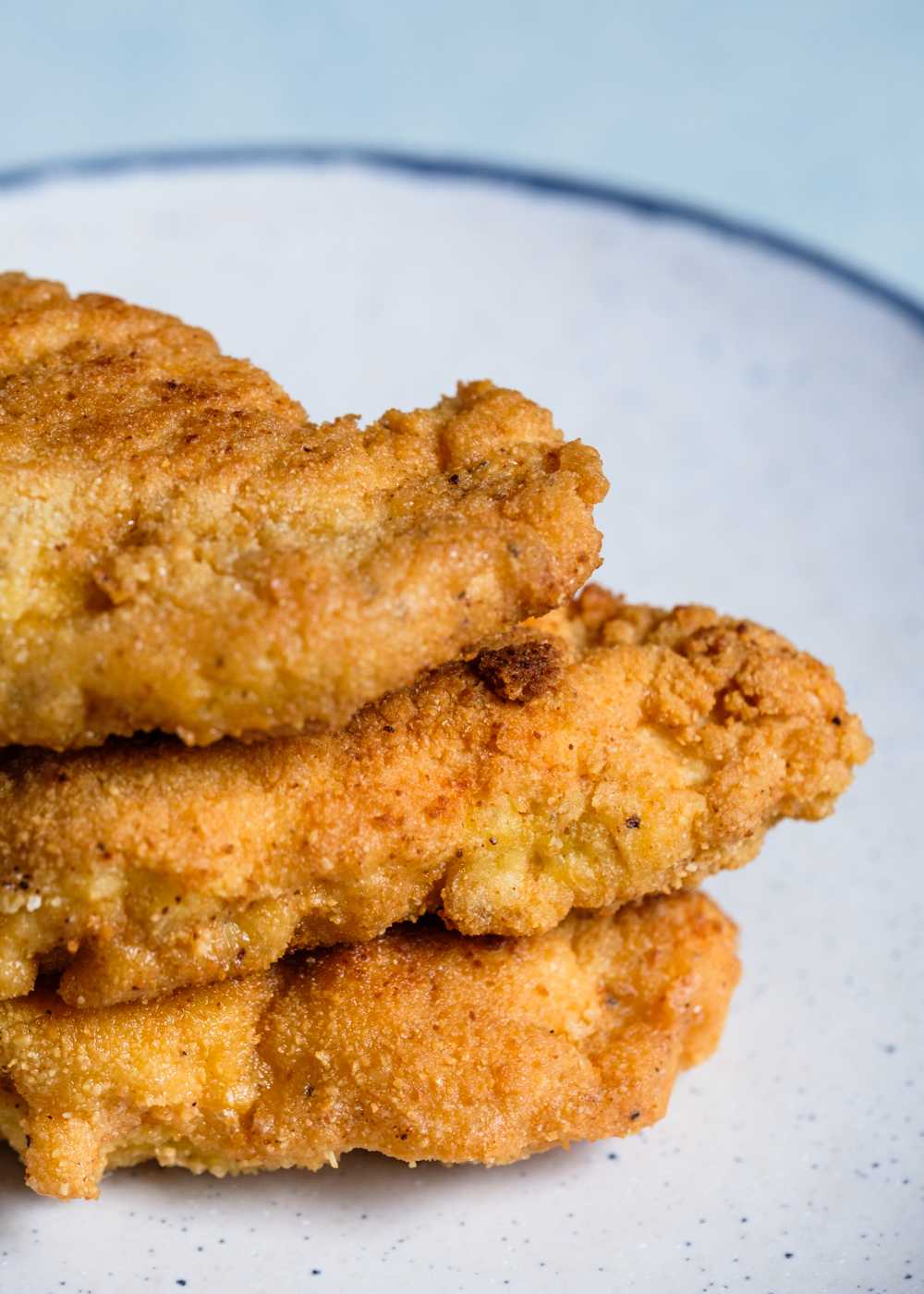 Print Recipe
Easy, Grain Free Chicken Schnitzel
A grain-free chicken schnitzel that is easy to make and kids friendly.
Ingredients
1 pasture-raised chicken breast (about 4, 5oz)

1 pastured egg

3 tbsp almond flour (for a nut-free version replace with tigernut)

3 tbsp cassava flour

avocado oil or olive oil for frying

salt and pepper to taste

other chicken spices, optional
Instructions
1
Prepare a frying or sauteeing pan with a generous amount of oil, but it will only be shallow frying, so not too much. Heat on medium.
2
Slice the chicken so you have 2 or three equal thickness parts and pound each piece in between two parchment paper sheets (you can do it without but I imagine there are things splashing out from the chicken and I don't like that). Season with salt and pepper on both sides.
3
Wisk one egg in a deep plate, season with salt and pepper (you can add another egg if you run out).
4
On another plate add the two flours and mix them well. Add a pinch of salt and pepper.
5
Prepare a frying pan with avocado oil, on medium heat.
6
Coat the chicken on each side with flour, then dip in the beaten eggs, then coat again with flour (it's a great idea to handle the pieces with two forks because if you touch it with your hands, clumps will be formed).
7
Dip the chicken again in egg before adding to the heated pan. Fry on each side for a few minutes, until golden, light brown. Take out on a paper towel to absorb the extra oil.
Notes
Eat warm or cold, add it to salads or bento meals, it goes really well with cabbage salad or coleslaw, or umami sauce. Perfect for your kids' launch box. Goes well with mashed sweet potato and steamed broccoli.