Spring and early summer is the season of the stinging nettles, where the young nettle buds can be collected. The most classical way to eat nettles is in a nettle soup. While the traditional ways of making nettle soup involve using milk, sour cream and/or potatoes, or even bacon and eggs, this recipe doesn't include any of these.
My inspiration for this nettle soup
My inspiration for this simple nettle soup was the soup created by Alexandra Binder, founder of Autoimmun Lifestyle and shared on my St. Patrick's Day Food Ideas guide. Alexandra's recipe asks for a few things I didn't have available, such as vegetable stock and sunchokes. I wanted this nettle soup to have a lot of flavors and a creamy texture, so I had to improvise.
When applying so many changes to a recipe, the result can be entirely different. So I decided to share the new recipe.
What is stinging nettle?
According to Wikipedia and to my own book about medicinal plants (in Romanian), Urtica dioica, often known as common nettle, stinging nettle or nettle leaf, or just a nettle or stinger, is a herbaceous perennial flowering plant in the family Urticaceae. Originally native to Europe, much of temperate Asia and western North Africa, it is now found worldwide, including New Zealand and North America. (Source: Wikipedia).
Stinging nettles love humid environments so you will find them in shaded areas in forests, near rivers, in plains, hilly, or mountain areas. The collection time is in spring and early summer. They are, as their name says, stinging if you touch them so you have to wear gloves to handle them from collection to cooking.
Stinging nettle nutrional benefits
As you can imagine, nettles have a lot of nutritional benefits. Some of the most popular uses are as a natural allergy relief remedy, but can also benefit skin, bone, joint and urinary health. According to Dr. Josh Axe, cooked nettle is a great source of vitamin A, C, protein, and iron. It tastes almost like spinach and can be used like it: in stews, soups, pestos, or dressings.
However, while spinach can be eaten raw, don't try that with the stinging nettle. Nettle has to be blanched first before preparation.
For more creative uses of stinging nettles, try my Green Cassava Flour Tortillas recipe. The crispy tortillas chips made with this green cassava tortilla are the perfect accompaniment for the nettle soup.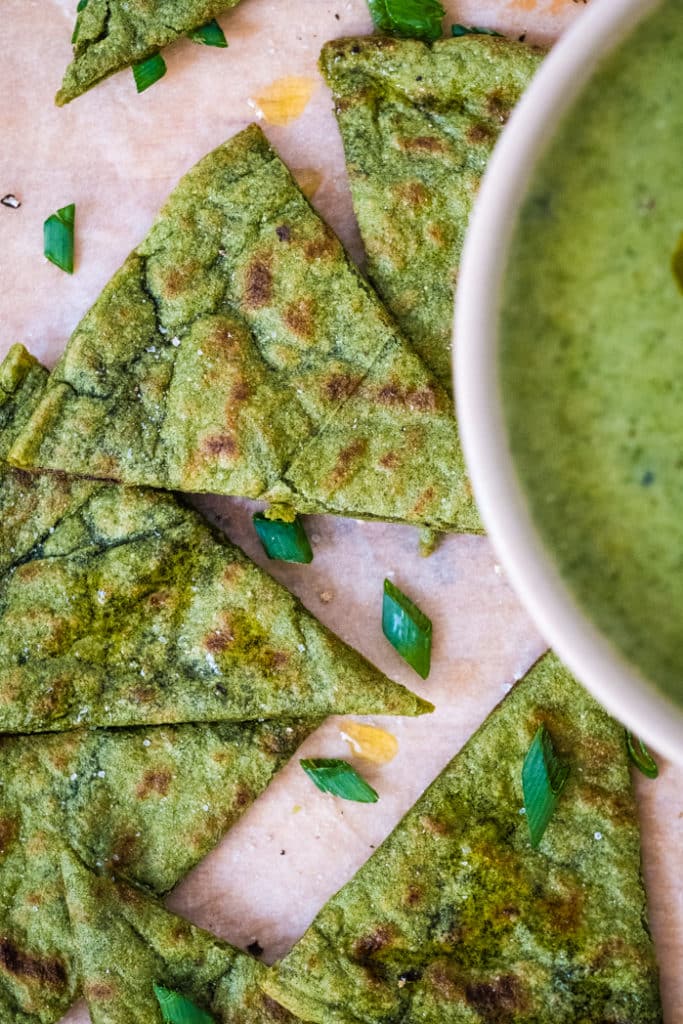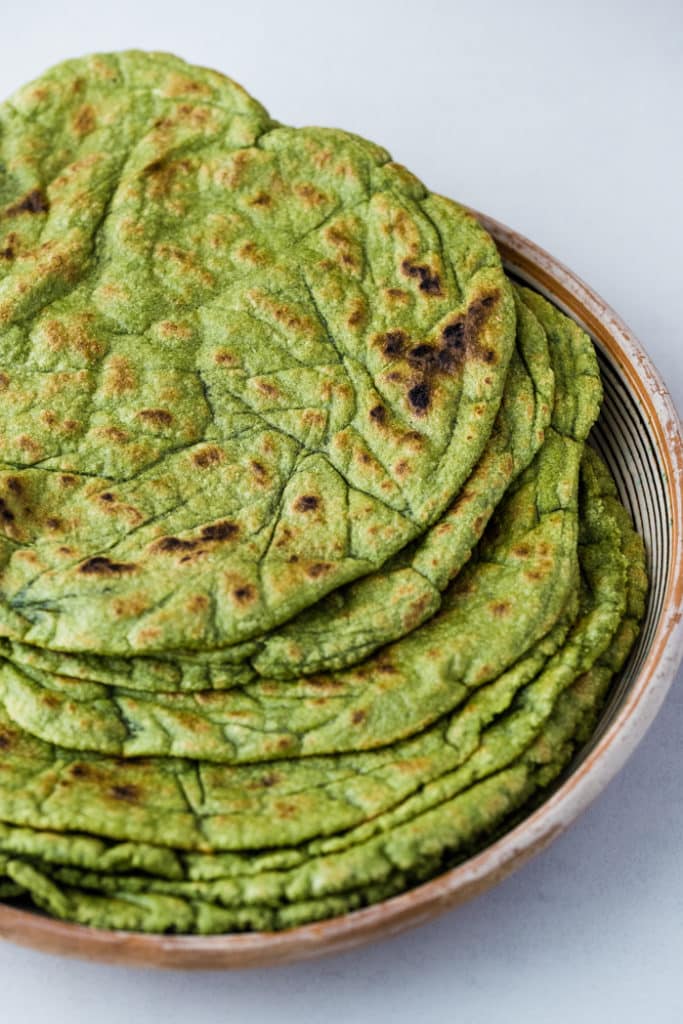 Cooking and preparing stinging nettles
You will have to wash nettle very well first, using gloves. Immerse them in cold water and drain them in a colander and repeat this step several times, until the water comes out clean. Handle them gently as they will be bruising. Don't let a water jet run on them directly.
Heat a large pot of water with one teaspoon of salt. When boiling, add the nettles and let them in the hot water for 1 to 2 minutes. Take them out and drain in a colander and run them under cold water. It's the blanched nettles you will use for this nettle soup or any time you are preparing something with nettles.
The other ingredients for this nettle soup
Since I didn't have a lectin-free vegetable stock, which is difficult to find anyway, I decided to add more veggies for more taste and nutritional value. I replaced Alexandra's sunchokes with cauliflower and added: more onion, one carrot, half a fennel bulb, celery, and fresh garlic from our greenhouse.
I also added some toasted Nigella Sativa Seeds / Black Cumin Seeds. They add a great flavor and have powerful anti-histamine properties.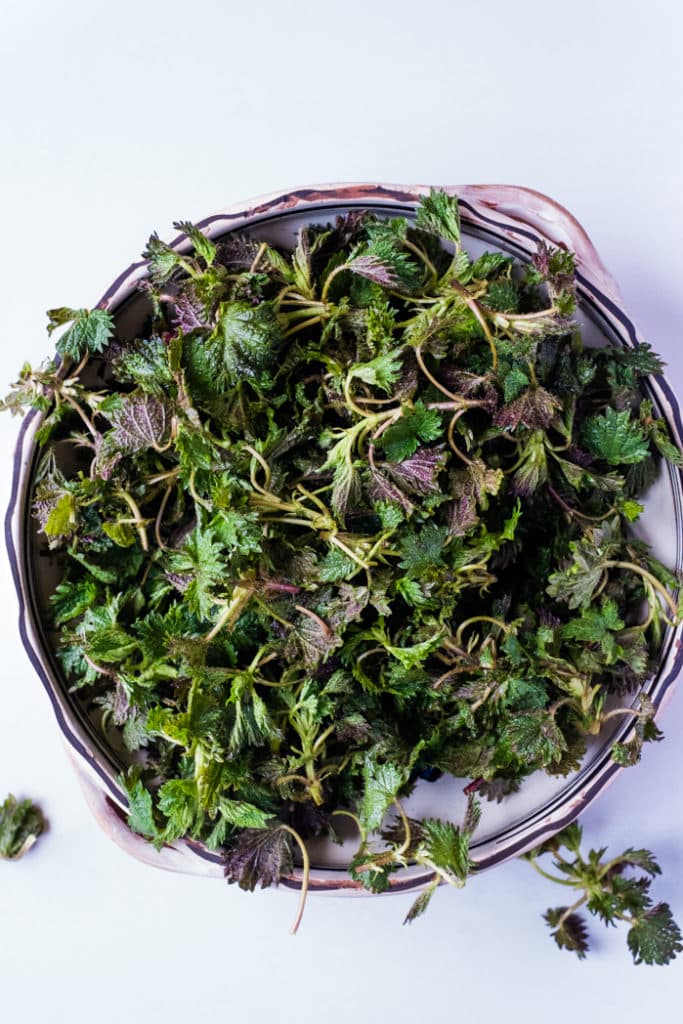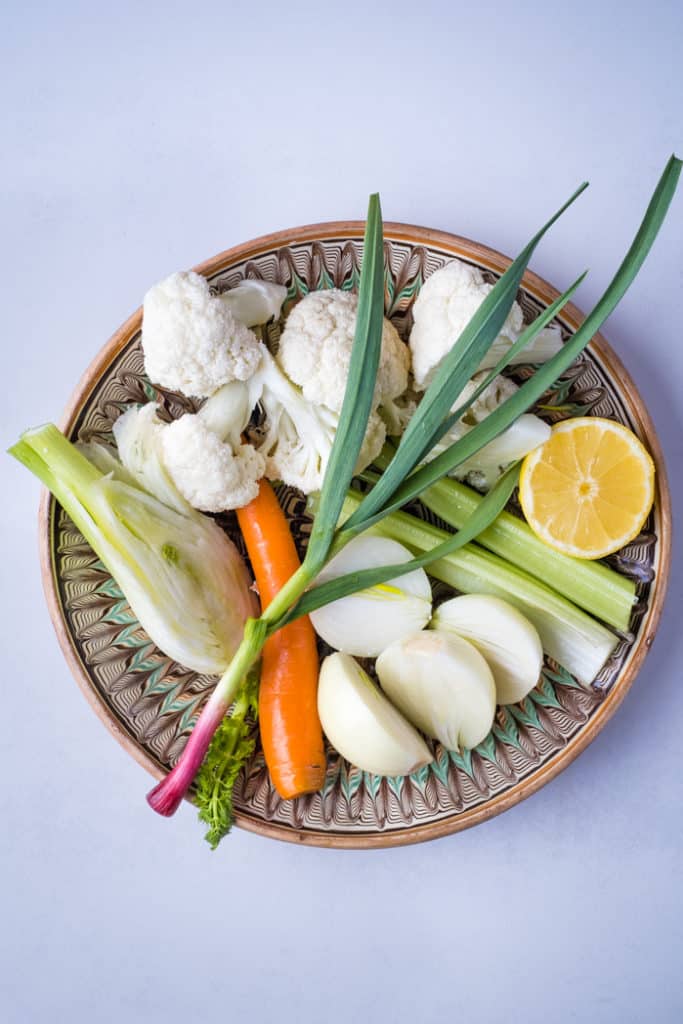 Enjoy this nettle soup.
*This post contains affiliated links, which means I get a small commission if you choose to purchase something via one of my links, at no extra cost to you.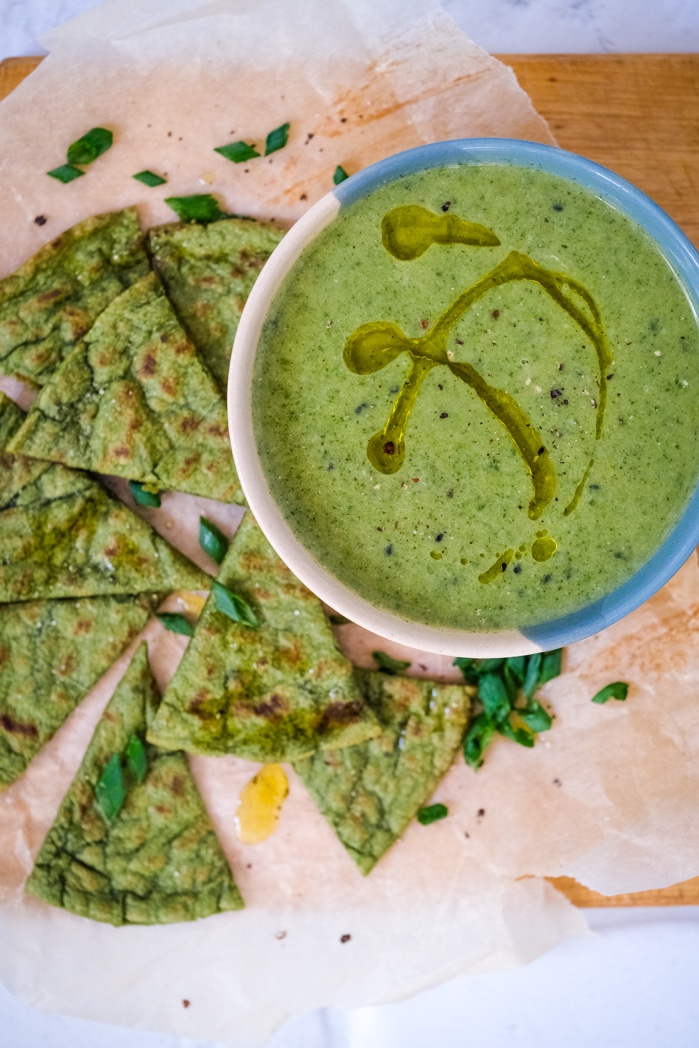 Print Recipe
Creamy Nettle and Cauliflower Soup (Dairy-Free)
This creamy nettle and cauliflower soup is the perfect lectin-free, nutritious, and healthy creamy soup you can have in the spring and early summer.
Ingredients
6 handfuls of fresh stinging nettles, very well washed
4 tablespoons extra virgin olive oil
2 yellow onions, chopped
1 carrot, chopped
1 celery stick, chopped
1/2 fennel bulb, chopped
1 spring garlic, chopped
6 medium cauliflower florets, chopped
1-liter water
1 teaspoon salt
1/4 teaspoon fresh pepper
1/8 teaspoon nutmeg
2 tablespoons coconut cream
juice from one lemon or more to taste
optional: 1 tablespoon Nigella Sativa seeds
more extra virgin olive oil for serving
Instructions
1

Using gloves, wash the nettles very well, in more waters. Heat a pot of water with one teaspoon of salt and when the water is boiling, add the nettles, submerged in the hot water, and blanch for 1, 2 minutes. Take them out and drain.

2

Have 1 liter (about 4-5 cups) of hot water ready for the soup.

3

In a soup pot, heat the extra virgin olive oil on low to medium heat and add the onions, carrots, celery and fennel and saute until they are fragrant and golden for about 10 minutes. Stir occasionally.

4

Add the garlic and chopped cauliflower, stir well and saute for a couple more minutes.

5

Add the seasoning: salt, pepper, and nutmeg and stir well for 1 minute.

6

Add the hot water, bring to a boil and simmer on low heat for about 10 minutes, then add the nettles.

7

Toast the nigella seeds if using in a small skillet, for just a couple of minutes so the beneficial oils are released.

8

Simmer for 5 more minutes, or until the veggies are soft enough to be blended.

9

Transfer the soup to a blender or blend with an immersion blender until creamy. Add the coconut cream and lemon juice, taste, and season to your taste with more salt and pepper. You can also add more lemon.

10

Serve with some compliant crackers or cassava tortillas.