If it's Friday afternoon is pizza and red wine time. As usual, my lectin-free, grain-free, gluten-free pizzas are made with Simple Mills pizza dough flour mix, and I'm so happy with it I don't feel like changing it. But I go crazy with the toppings and try to make it different each time.
These days I'm obsessed with Zaatar – after I finally found sumac in one of the supermarkets here in Dallas. I skipped the basil pesto that has been a staple ingredient for my plant paradox compliant pizzas, and made a zaatar mix as a base. Cheese was Buffalo Mozzarella and toppings were Italian Porchetta, and arugula and pickled red onion salad. Everything just goes really well together in this white pizza.
My zaatar and pickled red onion obsession
I lived in the Middle East for eight years, but I haven't had zaatar since I moved to the US, almost three years ago. Zaatar is a Middle Eastern herb and spice mix and today I made it with dry thyme, oregano, rosemary, sumac, cumin, salt and pepper, black and white sesame seeds and extra virgin olive oil. It's really good as a flatbread topping and I thought it would work really well with this pizza crust.
The arugula salad is just arugula (or rucola) mixed with pickled red onion and extra virgin olive oil. It's a common salad in the Middle East, where is made with rucola and red onion and a lot of sumac and lemon (it's very sour).
The pickled red onion makes it a little more interesting. The other three ingredients are Buffalo Mozzarella, Italian uncured Porchetta (you can also use Prosciutto) and green olives.
This white pizza tastes super good and it's ready in no time. I usually have a glass of Merlot with the pizza but this time I had a wine we discovered recently and really loved: Garzon, Tannat Reserve 2005, from Uruguay. Super yummy.
For another white pizza check out Lectin-Free Pizza with Wild Caught Salmon and Caviar.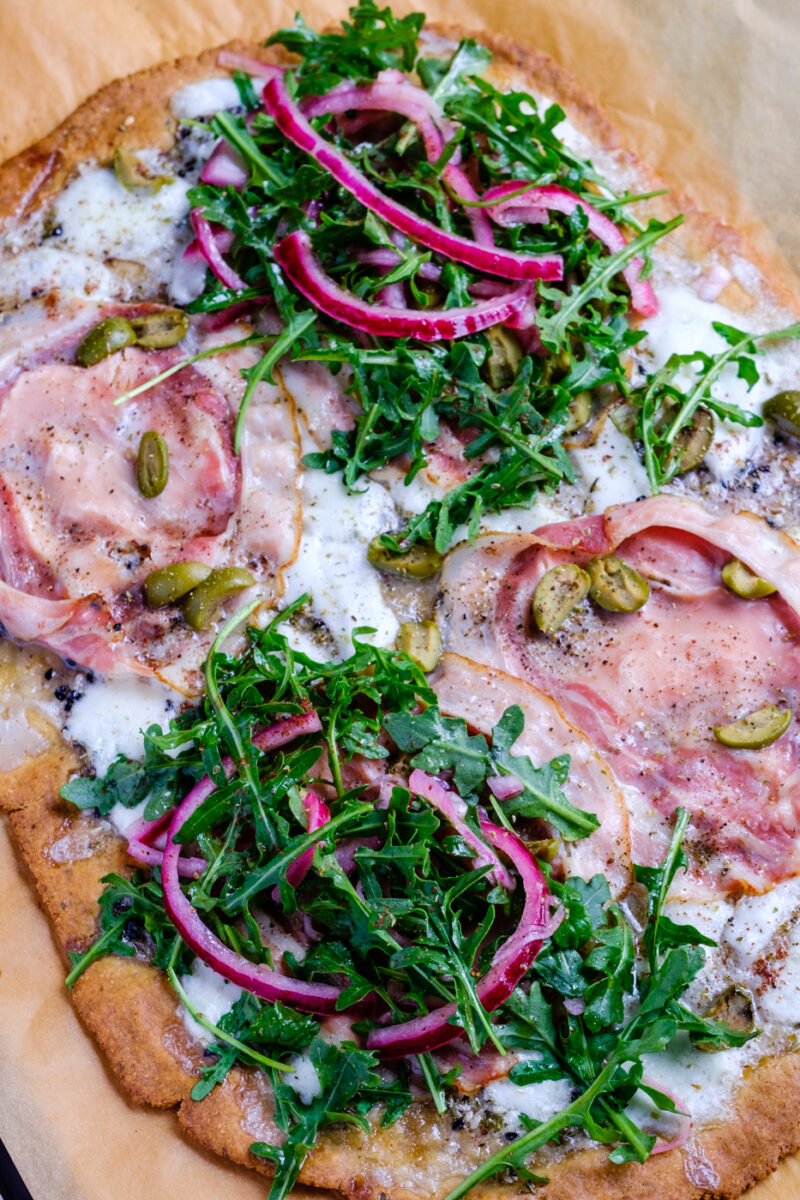 Print Recipe
White Pizza with Zaatar, Italian Porchetta and Arugula
Ingredients
Simple Mills pizza crust prepared as per the pack instructions

1 box Buffalo Mozzarella

4 thin slices of Porchetta (or as needed to cover the crust)

a handful of pitted green olives, sliced

1 - 2 cups arugula

1/2 - 1 cup red pickled onion

extra virgin olive oil

FOR ZAATAR:

2 tbsp extra virgin olive oil

1/2 tsp of each: dry oregano, thyme, rosemary

1 tsp sumac

pinch of salt and pepper

1 - 2 tbsp sesame seeds (I used black and white)
Instructions
2
Prepare the pizza crust as per the pack instruction, roll it thin between two parchment papers and cook it for nine minutes before you apply the toppings (I put it in the oven only on the bottom parchment paper, directly on the oven rack, placed in the middle)
3
Take out and spread the zaatar mix (just mix all the ingredients together)
4
Cut the mozzarella and place it on top (I like to cut it and pat dry it with some paper towels so it doesn't release too much moisture on the crust).
5
Cover with the slices of porchetta. And add the lives on top.
6
Bake for another 9 minutes or so (I like mine to get really crusty, and sometimes depends on the moisture in the toppings). It's ok if the sides get brown, the middle of the crust won't burn.
7
Take out and sprinkle dry oregano, some more sumac, and add the arugula salad.
8
How to make the pickled red onion (It's good to make in advance but it also works if you make it and use it immediately): slice the red onion finely and add it to a glass jar. Add a liquid made of half water half apple cider vinegar, 1 tsp of swerve and 1 tsp of sea salt. Cover and keep in the fridge.
Notes
During the entire process, this pizza dough never gets into a pan. It's rolled on parchment paper and inserted in the oven on the same sheet, after removing the top one. I take it out and add the topping and put it back in on the same sheet (sometimes my husband helps me with holding a cutting board beneath). Yes, once we dropped it and we don't want to do that again :).