I've been using sugar-free pickled red onions on almost all my meals lately, they make everything taste better without the strong taste, and aftertaste onions can have. It's a simple recipe, and you probably can find various of it everywhere online, but I tested a few ways of making it and reached something I am happy with. You will love these pickled red onions with no sugar.
I may or may not be a pickle monster
I grew up in a family in Eastern Europe where pickling and fermenting are yearly traditions. Also, eating one whole jar of pickles with one meal was not frowned upon in our family (hello lectins!). But the past is the past, and I have no problem giving up pickled cucumbers and peppers.
My parents never made pickled onions, though, and I don't think it is something common in Romania, the country of pickles. There are many ways to make this, and if you search online, you will see some blanch the onions, some do not, some boil the vinegar, some do not, some add spices, some do not, some add sugar, some do not. It's really up to you to discover what you like most.
What spices to add to pickled red onions with no sugar?
For me, spices are essential, so I felt I needed to step up my spice game after I made this several times without spices. I thought, what would my dad add to a jar of pickles? For sure, mustard seeds, fennel, bay leaves, and pepper. But then it was the dilemma, blanched or not blanched, boiled vinegar or not. In the end, I ended up using a mix of blanched and raw onions and didn't boil the vinegar.
The pickled red onions recipe below, feel free to freestyle your own and let me know if you have better ideas. And below is a picture of one of the best use for these onions, arugula, and pickled red onions salad. I mix arugula / or rucola (for European and Middle Eastern friends) with the onions, add lots of extra virgin olive oil and sumac. It's super delicious and my favorite way to eat arugula.
The pickled red onions are also a great topping on my white pizza with zaatar, Italian Porchetta and arugula.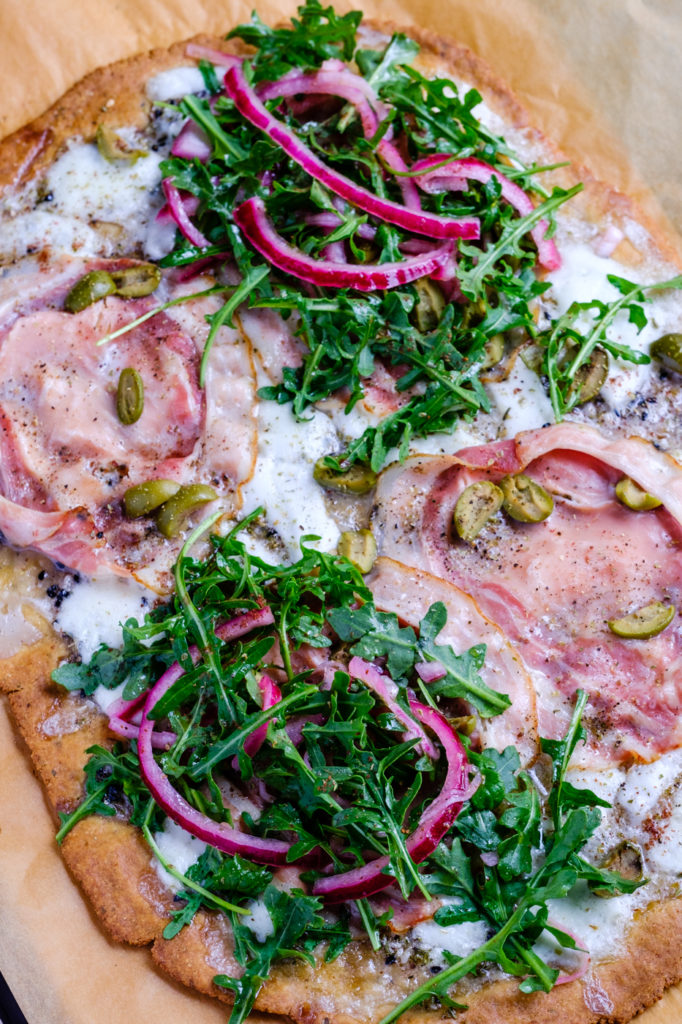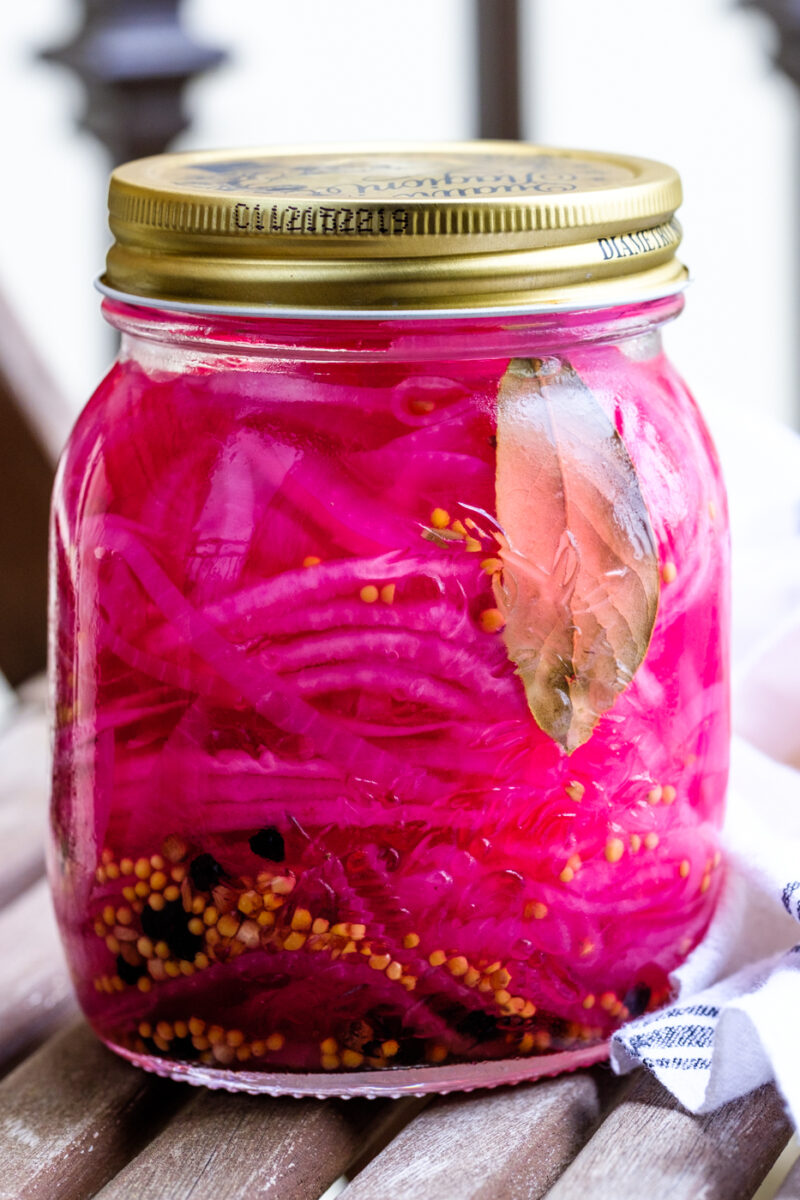 Print Recipe
Pickled Red Onions
Pickled Red Onions, sugar-free
Ingredients
3 medium red onions / or two big ones, or just enough to fill a glass jar of your choice

apple cider vinegar to fill half of your jar

cold water to fill the other half of the jar

1 tsp swerve

1 tbsp sea salt

Spices: mustard seeds, one bay leaf, peppercorns, fennel seeds
Instructions
2
Finely slice the onions, split them in half.
3
Blanch half of the onions in the boiling water, take them out and drain (just for 1, 2 minutes).
4
Add the spices to the empty jar (no quantities here, just follow your instincts).
5
Start adding the onions by layering the blanched ones with the non-blanched ones.
6
Mix the vinegar and water with salt and swerve and add the mixture on top of your onions, to fill the jar and cover the onions.
7
Refrigerate for few hours at least before serving.
8
It lasts for two weeks in the fridge (this is not the type of pickle you keep in your pantry, it has to be refrigerated).
Notes
You can blanch them all or use them all raw, but I wanted a balance between softer ones and the more vibrant ones that are not blanched. You can't go wrong with this, so follow your heart.