This lectin-free Asian noodle bowl is loaded with veggies and super low carb (thanks to Miracle Noodles). It's infused with fresh ginger, fresh turmeric, and garlic and tastes amazing. Plant Paradox nutrition at its best.
Lectin-free Asian bowl – Easy, nutritious, healthy, packed with flavors
A meal that starts with fresh ginger, fresh turmeric, and garlic can't be a bad meal. At least not to my taste. Complete that with wild-caught shrimps, red cabbage, broccoli slaw, shiitake mushrooms, and miracle noodles, and you have a super healthy and nutritious dish packed with flavors. This was so delicious that if I ever publish a Plant Paradox Cookbook, this recipe will make the book, hahaha.
I always prefer to use shelled shrimps. Because they have so much more flavor and cook better in their skin. But I still deveined them before (which is the step I absolutely hate, but I have no choice). When I feel lazier I buy them deveined, without skin, everything will go faster. Also, easier and cleaner to eat. Which side are you on, more flavor or less work?
For another lectin-free Asian-inspired recipe, you can also try my Five-Spice Pork Belly with Cauliflower Rice and Broccoli Sprouts or the Thai Style Curry, Low Histamine.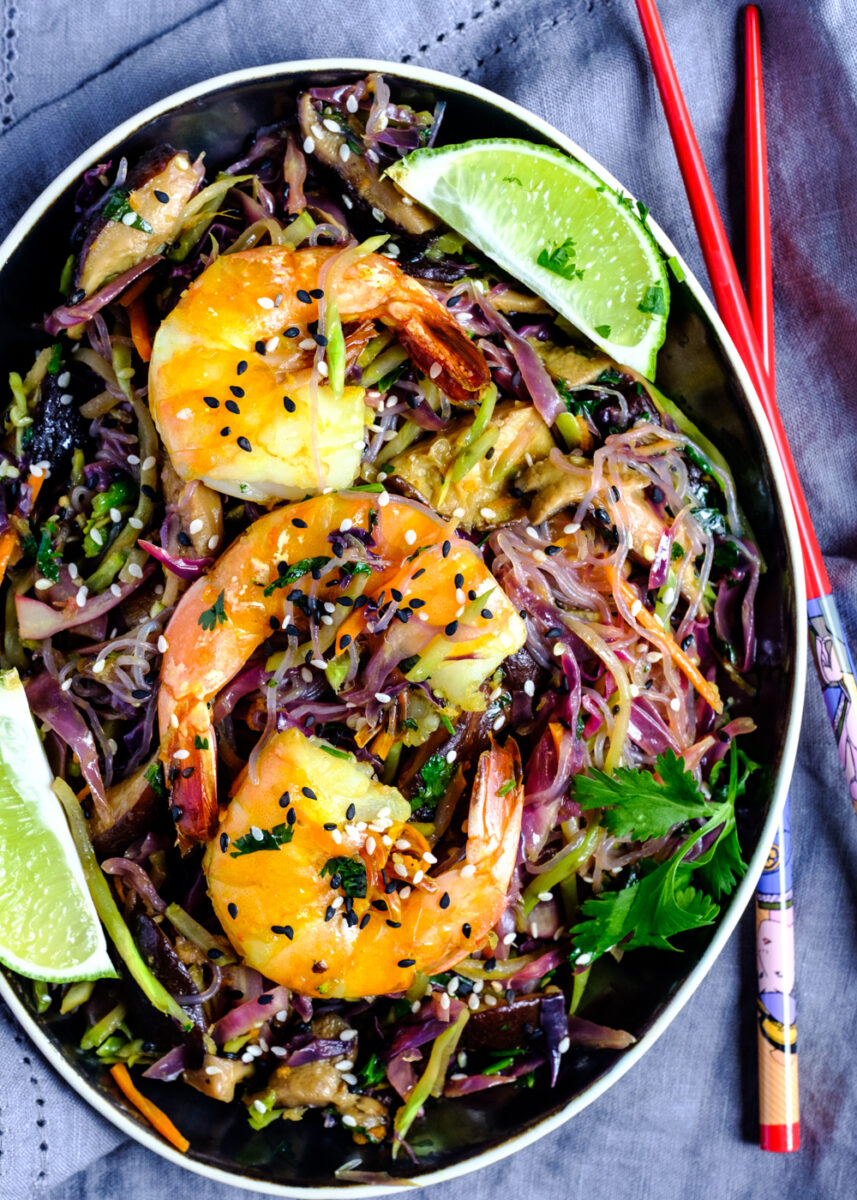 Print Recipe
Lectin Free Asian Bowl with Miracle Noodles and Shrimps
This lectin-free Asian noodle meal is loaded with veggies, super low carb (thanks to Miracle Noodles), it's infused with fresh ginger, fresh turmeric and garlic and tastes absolutely amazing. Plant Paradox nutrition at its best.
Ingredients
1 bag Capellini Miracle Noodles, prepared as per the instructions on the pack.

10 small to medium wild-caught shrimps (I used them with skin, but deveined, for extra flavor, it works without skin too)

2 cups finely sliced red cabbage

2 cups broccoli slaw

6 medium shiitake mushrooms, washed, dried and roughly sliced (shiitake stems are not edible!)

handful of fresh cilantro, chopped

thumb size piece fresh ginger, grated

thumb size piece fresh turmeric, grated

2 big garlic cloves, grated

salt and pepper to taste

1 tbsp coconut aminos

1 tsp rice vinegar

1 tsp toasted sesame oil

1 tbsp of sesame seeds (used both black and white if you wish)

lime wedges

avocado oil for sautéing
Instructions
1
Prepare your noodles as per the instruction on the pack (drain, since, boil and dray).
2
Heat the avocado oil in a big sautéing pan, on medium to low heat and add the grated ginger, turmeric and garlic. Stir and sauté for 30 seconds or so, until all fragrant. Add the shrimps and cook on each side for 1 minute or until they are pink (adjust the time depending on the size of your shrimps or if they are in skin or not). When they are pink take them out on a plate.
3
Add the sliced mushrooms to the pan, stir and sauté for few minutes until they become fragrant, and release a little of their juices. Deglaze the pan with the rice vinegar, coconut aminos and the toasted sesame oil. Add the cabbage and broccoli, stir and mix well and cook for 5, 7 minutes or until the vegetables are softening but they don't overcook.
4
Add salt and pepper to taste, and at this point you can add more coconut aminos or toasted sesame oil if you feel like a more intense flavor.
5
Add the shrimps back in, add the prepared noodles and stir well. Finish with fresh coriander and some lime juice.