There are infinite possibilities when it comes to combining real, nutritious foods to make a creamy mash. I've been trying a combination of cauliflower, parsnip, and celeriac for a long time and always felt like it needed a little something else. I think I found the right formula, so I will share it here. Not only is it delicious and creamy, but it's super easy to make in a manual pressure cooker or Instant Pot. Try this root vegetable puree with cauliflower as a side to any meat, chicken, or even seafood.
A great combination of vegetables
In fact, I had a cauliflower and carrot puree with scallops in a great restaurant in New York a few years ago, and I loved the combination. It will work the same with this cauliflower and root vegetable puree. Also, this can make a great puree for babies after they are introduced to real food. If they are under one-year-old skip the salt and spices. Turmeric is generally recognized as safe for babies after 8-12 months old.
Cauliflower puree is great, but I feel it doesn't get super creamy unless you add dairy, which I don't want to do. And adding coconut cream will overpower the taste. I've been making this puree with only cauliflower, parsnip, and celeriac for quite some time now, but changing the cooking method and adding sweet potato and some interesting spices made it more flavorful and creamier.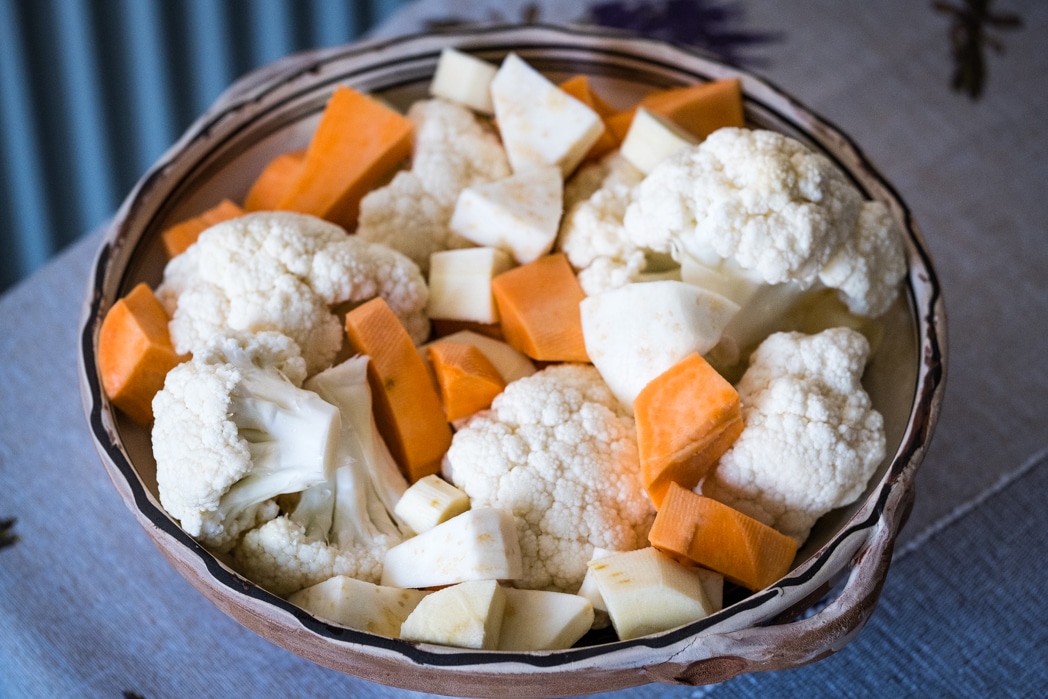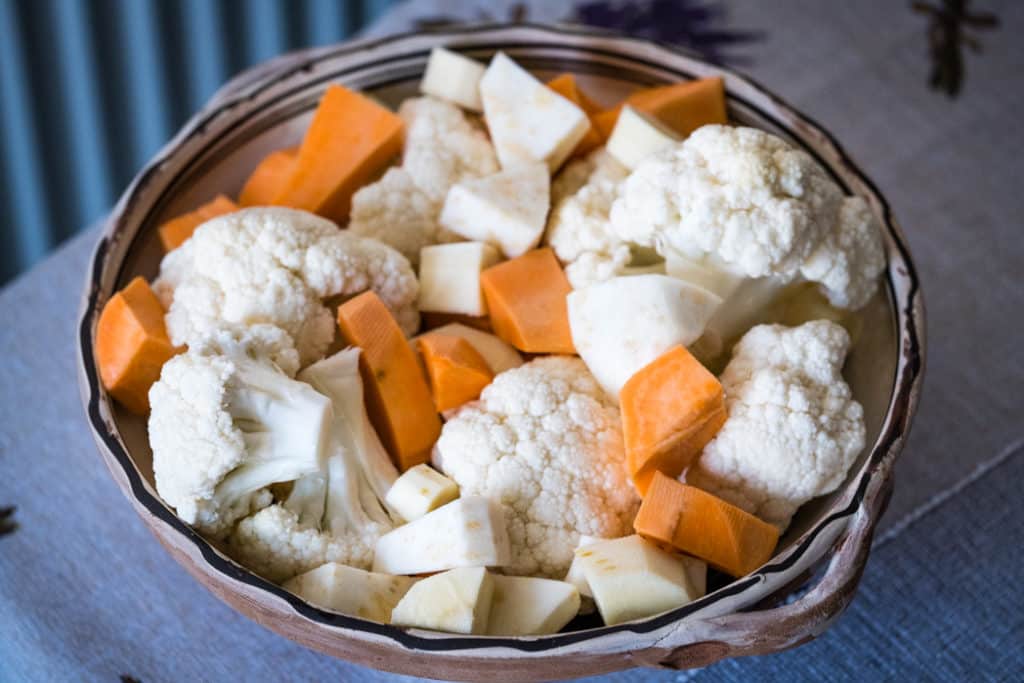 How to make root vegetable puree
I usually boil or steam the vegetables when I make a mash, but this time I decided to use a pressure cooker and start with sautéing the aromatics and spices first. If you have an Instant Pot, you will use the Saute option. If you have a normal pressure cooker, start on low to medium heat with a little extra virgin olive oil and add the smashed garlic cloves and the mustard seeds.
Stir and sauté them for about two minutes. Add the turmeric powder, and all the veggies, stir well and add the water, salt and pepper. Set on the pressure cooker for 3 minutes and release the pressure after the pressure cooking time is done. Take the lid off and try to see if the veggies are fork-tender. They will be cooked through at this point. You can leave the lid on top until you are ready to mash the veggies. It will stay warm.
Start by transferring half of the liquid to a mug and keep it aside if you need more liquid. Blend everything using an immersion blender or transfer it to a blender. Add apple cider vinegar and some high polyphenol extra virgin olive oil for some healthy fats and more of the liquid if there is a need. Season with salt and pepper. The apple cider vinegar will help balance out the sweetness of the vegetables. Mix in or sprinkle fresh or dry chives. You can even prepare this in advance. Save the extra liquid, and you can add a little bit more when you reheat if needed.
TIP: I made some duck breast with this mash, and I used the extra liquid from pressure cooking the veggies to make a gravy.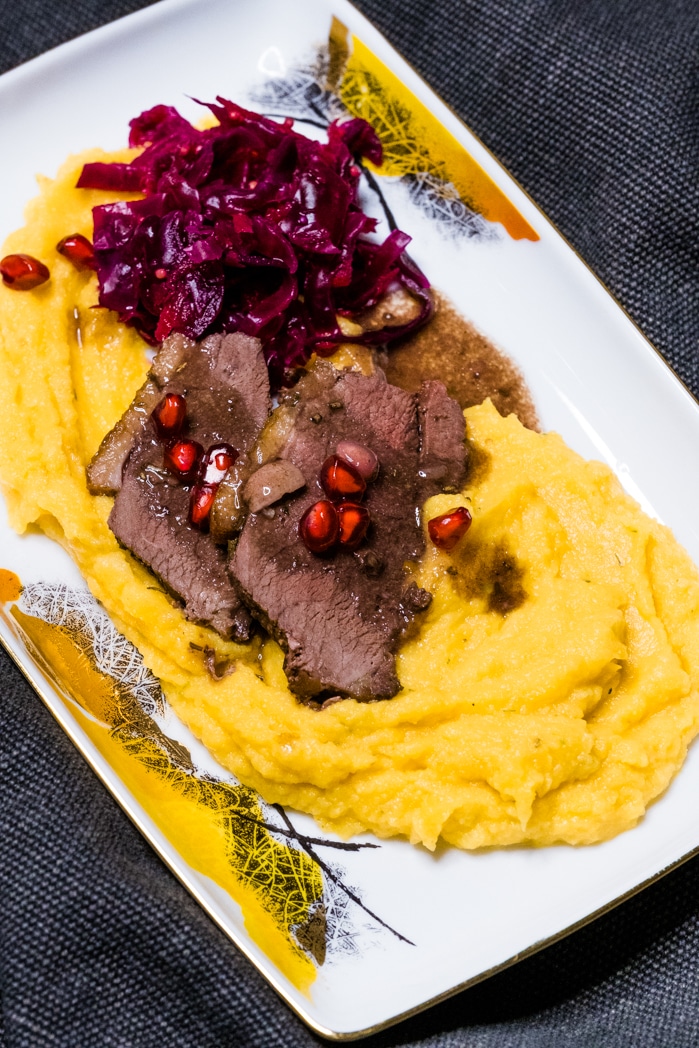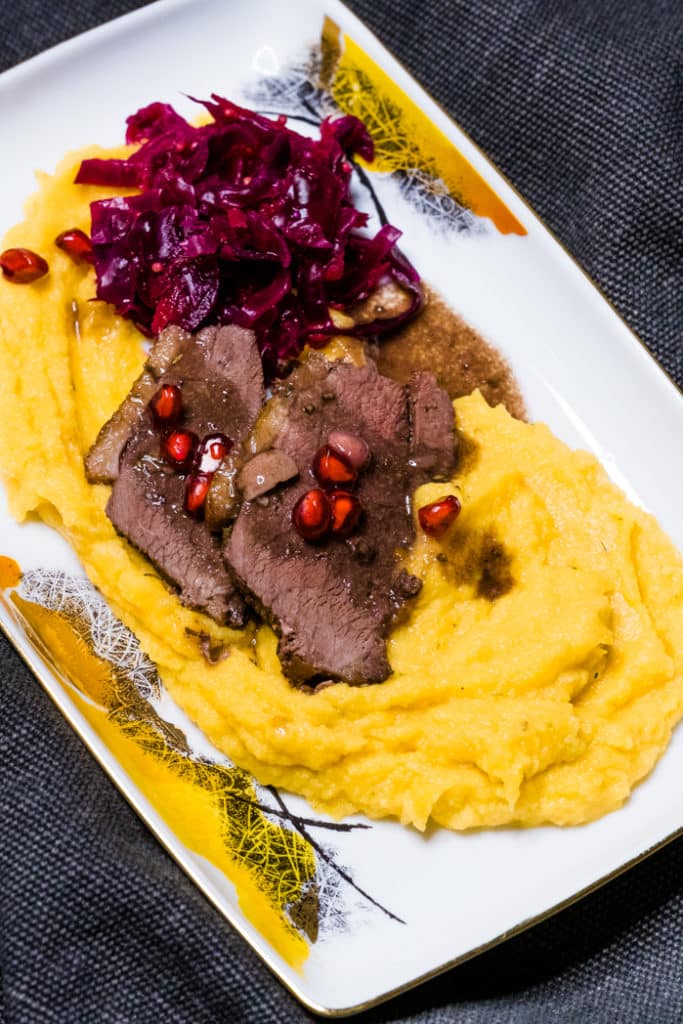 How to serve root vegetable puree with cauliflower
Serve this root vegetable puree as a side dish for meat, chicken, or seafood. Add a green salad or some sautéed greens. As mentioned in the beginning, it will work well with seared scallops.
More puree recipes
For more puree recipes be sure to try our:
*This post contains affiliated links, which means I get a small commission if you choose to purchase something via one of my links, at no extra cost to you.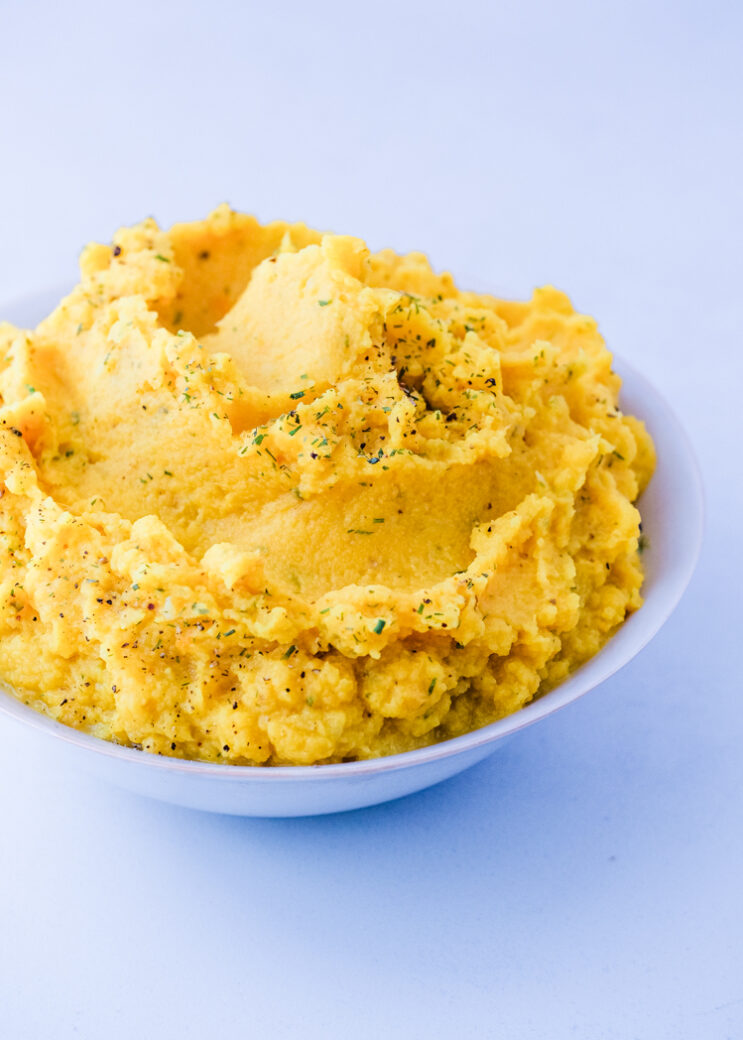 Print Recipe
Cauliflower and Root Vegetable Puree with Turmeric and Chives
This cauliflower and root vegetable puree is the perfect comforting, nutritious and delicious side to meat, chicken, or seafood.
Ingredients
1/2 big cauliflower head (or one small one)
1 big parsnip, peeled
1 small celeriac, peeled
1 medium sweet potato, peeled
2 tablespoons extra virgin olive oil
4-5 garlic cloves, smashed
1/2 teaspoon mustard seeds
4, 5 all spice berries (or use 1/4 teaspoon powder)
1 teaspoon turmeric
1/2 teaspoon salt
1/4 teaspoon pepper
1 tablespoon apple cider vinegar
1 cup water
1, 2 tablespoons extra virgin olive oil
1/2 teaspoon dry chives or a small handful of fresh
more salt and pepper to finish to your taste
Instructions
1

Prepare all the vegetables and cut them into cubes. Leave the cauliflower in big florets (bigger than the chunks of root vegetables).

2

Add the olive oil to a pressure cooker on low to medium heat (or the saute option in Instant Pot) and add the garlic and mustard seeds. Sautee for 2, 3 minutes.

3

Add the turmeric powder and all the veggies. Stir well so all the veggies get coated with the spices and oil and add the water, vinegar, salt and pepper.

4

Cover and pressure cook for 3 minutes.

5

When the time is done, let the pressure release naturally for about 5-10 minutes. Release the rest if there is more.

6

Take more of half of the liquid out and blend everything with an immersion blender or transfer to a normal blender.

7

Add some extra virgin olive oil, taste for salt and pepper, blend again or mix well and add the chives.