It's the season for cranberry everything. And the only time when we find fresh cranberries in shops, so we better take advantage of it. I made my own cranberry sauce (that was delicious and a holiday hit) but I had to try and mix some of my two favorite flavors: orange and cranberries. And that's how these lectin-free orange cranberry muffins were born.
A delicious, seasonal, festive and lectin-free treat
I won't lie, I took a shortcut here, I almost replicated my GRAIN FREE LEMON BLUEBERRY MUFFINS. Because if it works, we ain't break it. And full disclosure, someone else before me tried the fresh cranberries in these muffins, a reader of this blog. I don't remember exactly who that was, but if it's you leave a comment (you planted the idea in my brain, so thank you).
Oranges are also in season, and it's easier to find organic oranges for using the zest. As you can imagine, I would rather not use the zest of conventional oranges, God knows what they are sprayed with.
This will be a great dessert or breakfast or coffee/tea cake for the holidays. As you can imagine it works really well with warm tea and coffee. I made it into muffins because it's easier. You can also make it in a square pan, as a cake or even in a small loaf pan. Or if you want a more festive look, a small bundt pan (but you have to know how to handle that well). I think I'd like to try that by the end of the holiday. In case you are wondering what products I used, here is a list:
BOB'S RED MILL SUPER-FINE ALMOND FLOUR
COCONUT MILK, 365, full fat, organic, canned
As usual, I can't wait to hear if you make and love them. Take advantage of the fresh cranberry and orange season. If you decide to make this at a later stage and don't find fresh cranberries you can use dry unsweetened cranberries; this is the brand I always have in the freezer. It may seem slightly pricey, but the bag is huge, because the cranberries are not loaded with any additives and sugars, so they are very light.
Unsweetened Dry Cranberries, Low Moisture Dried, 1 lbs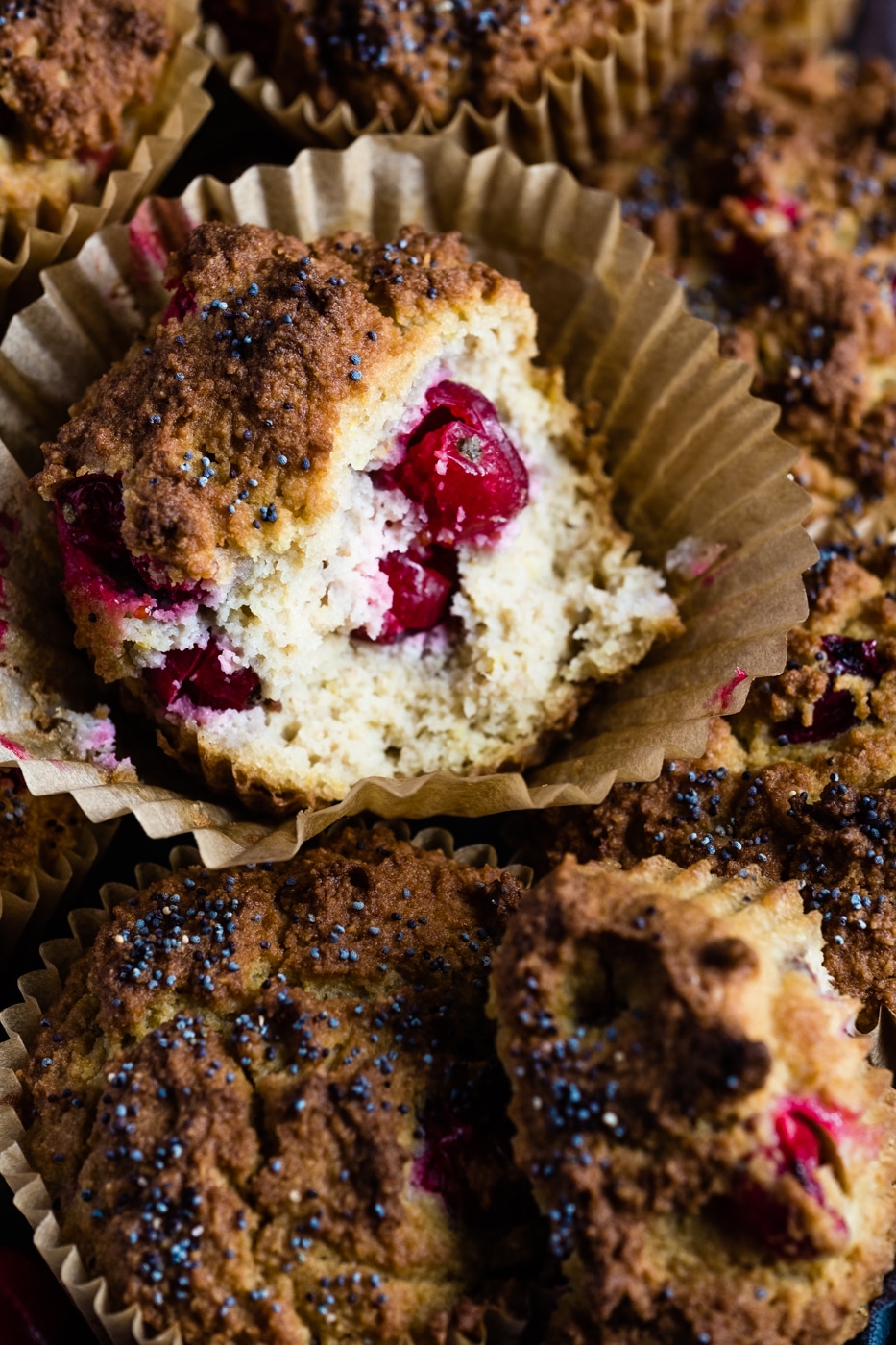 *This page contains affiliated links, which means I get a small commission if you choose to purchase something via one of my links, at no extra cost to you.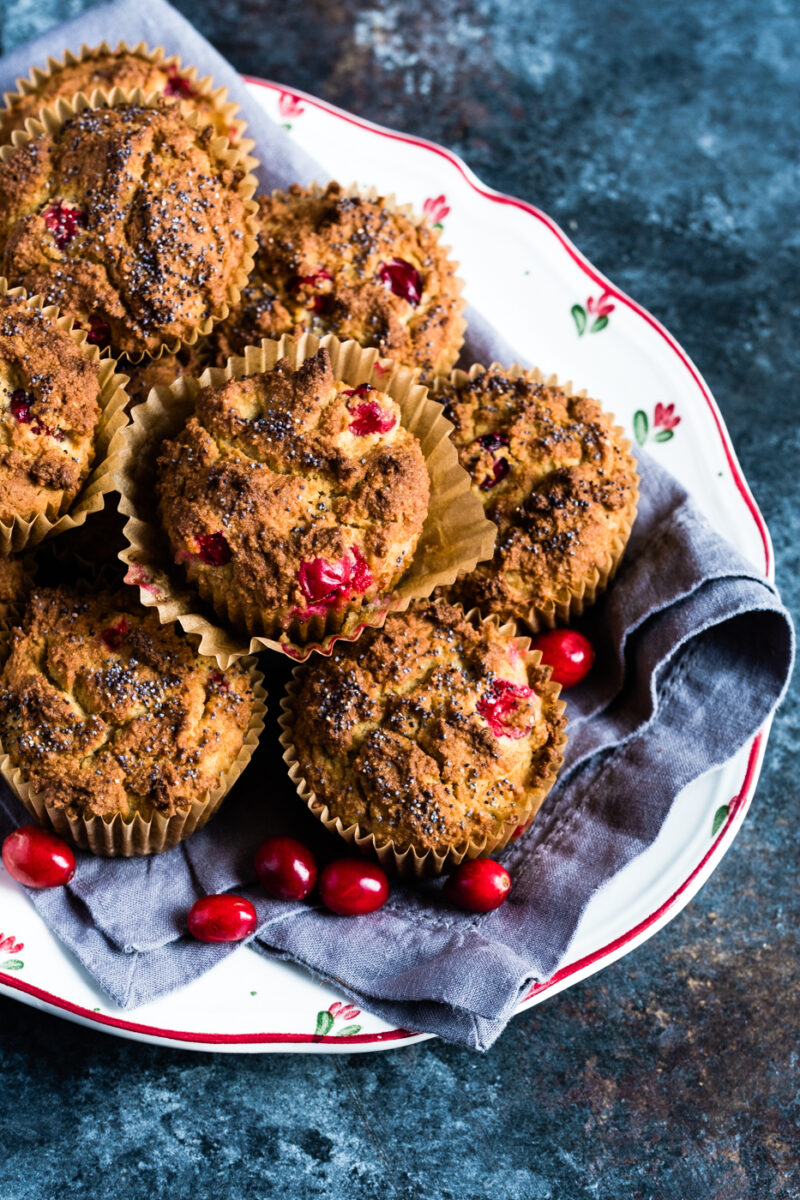 Print Recipe
Lectin-Free Orange Cranberry Muffins
A delicious, seasonal, festive and lectin-free treat.
Ingredients
1 cup organic fresh cranberries

1 1/2 (packed) cup blanched almond flour

1/4 (packed) cup coconut flour

1 tsp baking soda

1/2 tsp salt

3 pasture-raised eggs

3 tbsp Monkfruit sweetener (or you can use Swerve)

1/4 cup avocado oil

1/4 cup full-fat coconut milk (in a can)

4 tbsp orange juice

1 tbsp lemon juice

zest of 3 organic oranges

zest of 1 organic lemon

1 tsp vanilla extract

1-2 tbsp poppy seeds (optional)
Instructions
1
Preheat the oven to 350F and line a muffin pan with 12 muffin paper cups. Wash and dry the cranberries.
2
In a big bowl mix almond flour, coconut flour, baking soda and salt. In another bowl whisk the eggs, avocado oil, coconut milk, vanilla, orange and lemon zest, orange and lemon juice and monk fruit. Add the wet ingredients into the dry ingredients and mix until all incorporated. Add the cranberries to the dough and mix gently with a spatula.
3
With a big spoon, start adding the dough to the muffin cups. It can make 12 smaller muffins, but I like to make them bigger so I only fill 11 of the 12 cups. Sprinkle some poppy seeds on top.
4
Bake for 25-30 mins (but keep an eye on them as ovens are always so different). Do the toothpick test if in doubt.
Notes
The way you measure the flour for these is essential. The cups should packed (press down the flour with the back of a spoon or your hand and keep adding flour until you reach the 1 cup (or 1/4 cup) mark. Coconut flour and almond flour tend to be fluffy so if you don't add enough your cake will end up being way too moist.