If you're looking to add a burst of flavor to your dishes, a za'atar seasoning is what you need. This fragrant mix of herbs and spices is a staple in Mediterranean and Middle Eastern cuisines and for good reason.
It's versatile, easy to make at home, and adds a unique depth of flavor to everything from roasted vegetables to grilled meats, to sauces and dips, to pizza, crackers, or bread.
Learn how to make your own za'atar seasoning recipe in just a few simple steps and take your cooking to the next level!
What is za'atar seasoning?
Za'atar is a traditional Middle Eastern and Mediterranean seasoning made from a combination of herbs, spices, and seeds. The exact ingredients can vary depending on the region and personal preferences, but common za'atar ingredients include oregano, thyme, marjoram, sumac, and sesame seeds.
I discovered the taste of za'atar when I moved to the Middle East. I immediately fell in love with it, and even after I left, I tried to recreate those flavors in my own cooking.
It is often used as a dry rub for meat, poultry, and fish or sprinkled over bread, vegetables, and dips. Za'atar is prized for its complex, earthy flavor and is believed to have a range of health benefits due to its antioxidant and anti-inflammatory properties.
Since the authenticity of za'atar depends on personal preferences and can differ from household to household, I created my own za'atar seasoning recipe. While you can buy a za'atar spice blend in stores, I don't think anything can compare with one made at home, using the best quality ingredients.
Good quality spices, freshly toasted and blended, will be indefinitely more flavorful and potent than any store-bought mixes.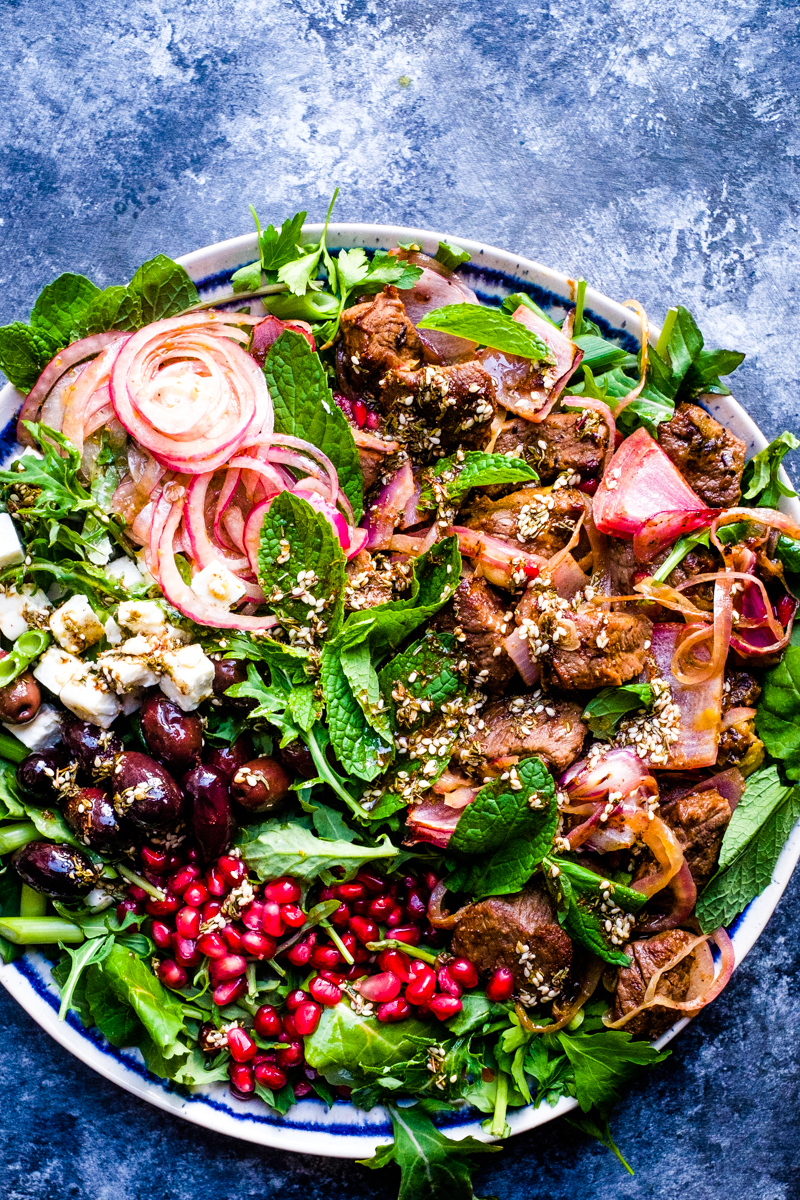 How does za'atar taste
Za'atar is one of the most flavorful and aromatic herb and spice blend I know.
The za'atar I make has a distinct herbal flavor that is reminiscent of thyme and oregano. It also has a nutty undertone, from the sesame seeds and the toasted coriander seeds. The tanginess comes from the sumac, which adds a slightly sour taste.
Finally, there is an earthy quality to za'atar, which can be attributed to the inclusion of dried marjoram and toasted cumin seeds.
Overall, za'atar has a complex and satisfying flavor that is both savory and slightly tangy, making it a versatile ingredient that can be used in a variety of dishes.
Health benefits of za'atar
Not only does it taste great, but it also has several health benefits. The main ingredients of this homemade za'atar spice blend – oregano, marjoram, thyme, and sumac – boast an impressive amount of polyphenols, which are powerful antioxidants that can help protect the body against cellular damage and inflammation.
What are the ingredients for our homemade za'atar seasoning?
There are multiple recipes for za'atar, and I went with what resonated with me the most at this time. Sometimes it depends on what I have available, but this would be my master formula.
I'm not claiming any authenticity on this za'atar recipe. I just went with what I love and tried to create a taste profile that reminded me of some of the most beautiful years of my life.
These days I don't have much access to Middle Eastern restaurants, so being able to create this at home and experience familiar tastes is a joy.
So, what do you need to make this homemade spice blend?
sesame seeds
coriander seeds (whole)
cumin seeds (whole)
dry oregano
dry thyme
dry marjoram
sumac
salt
Not all za'atar mixes have all these dry herbs and spice ingredients, but that's how I love it. If you can't find marjoram in grocery stores (which is similar to oregano), you can use just oregano and thyme. Some blends don't have coriander and cumin, but to me, that's the best thing about this mix.
And please don't skip toasting the whole cumin and coriander seeds; this step adds a lot of flavor to the mix.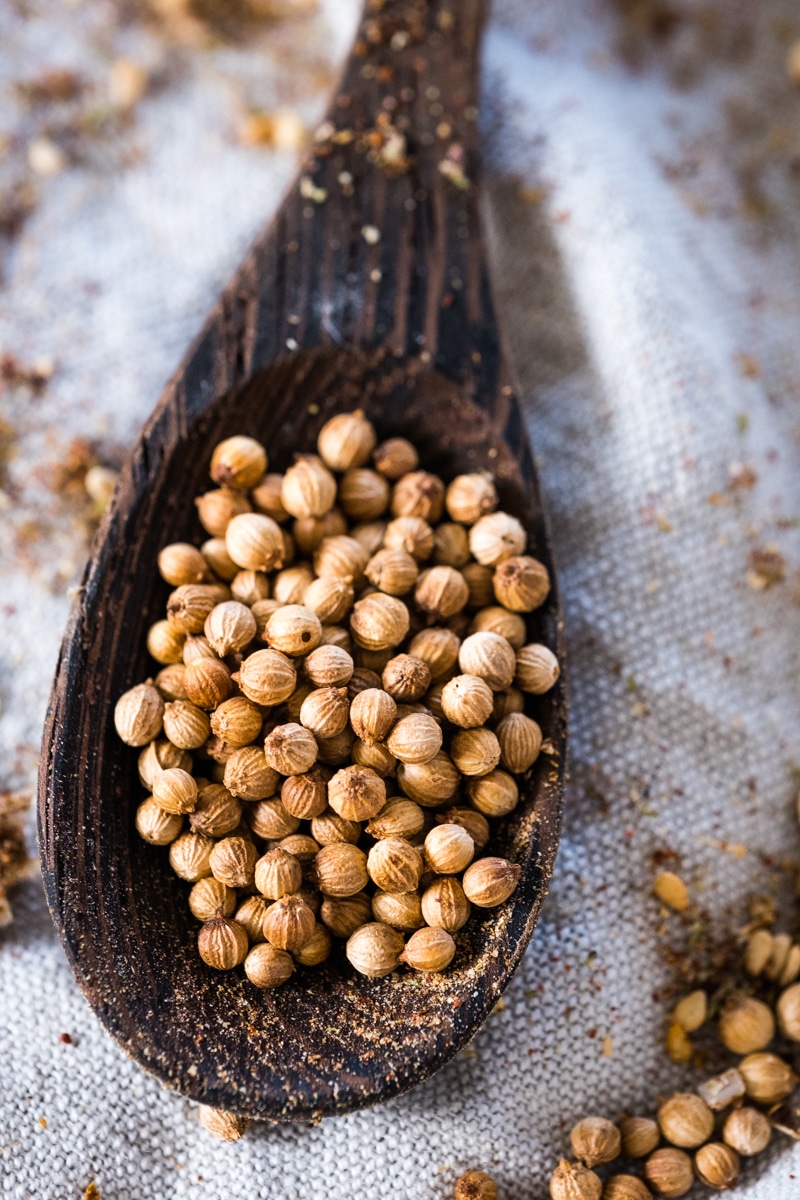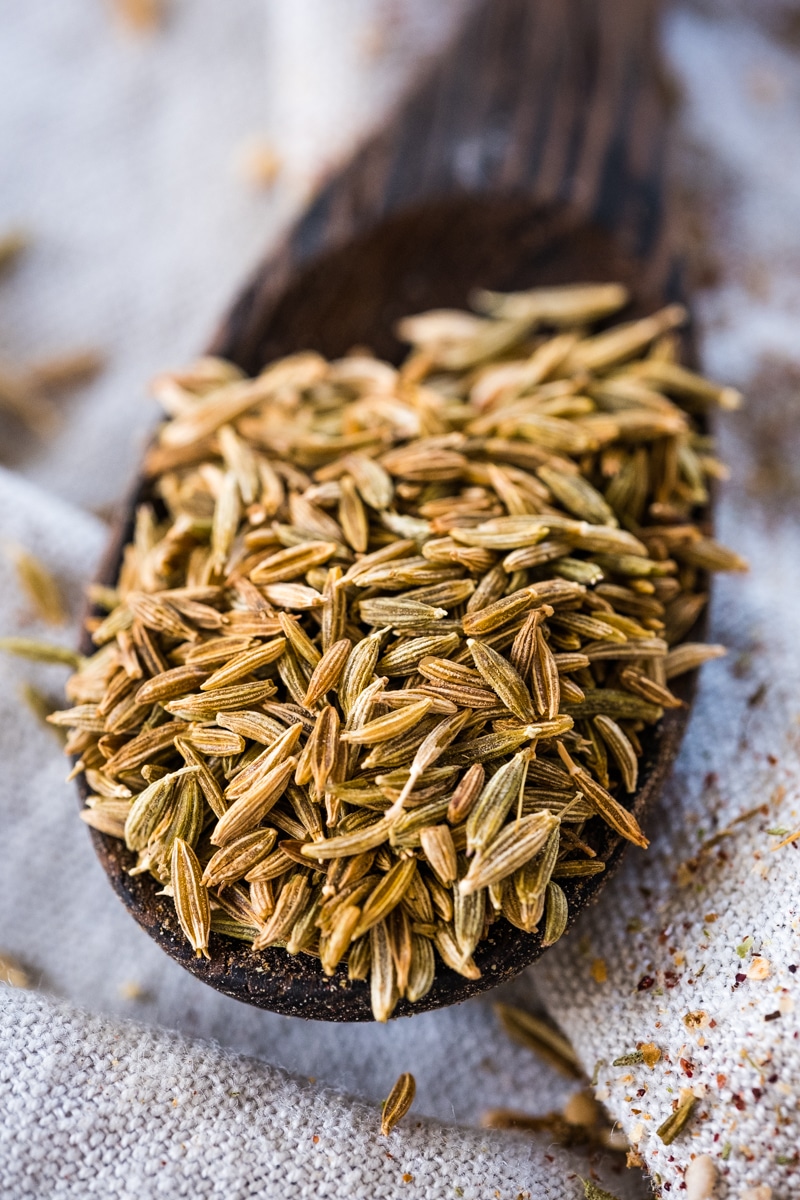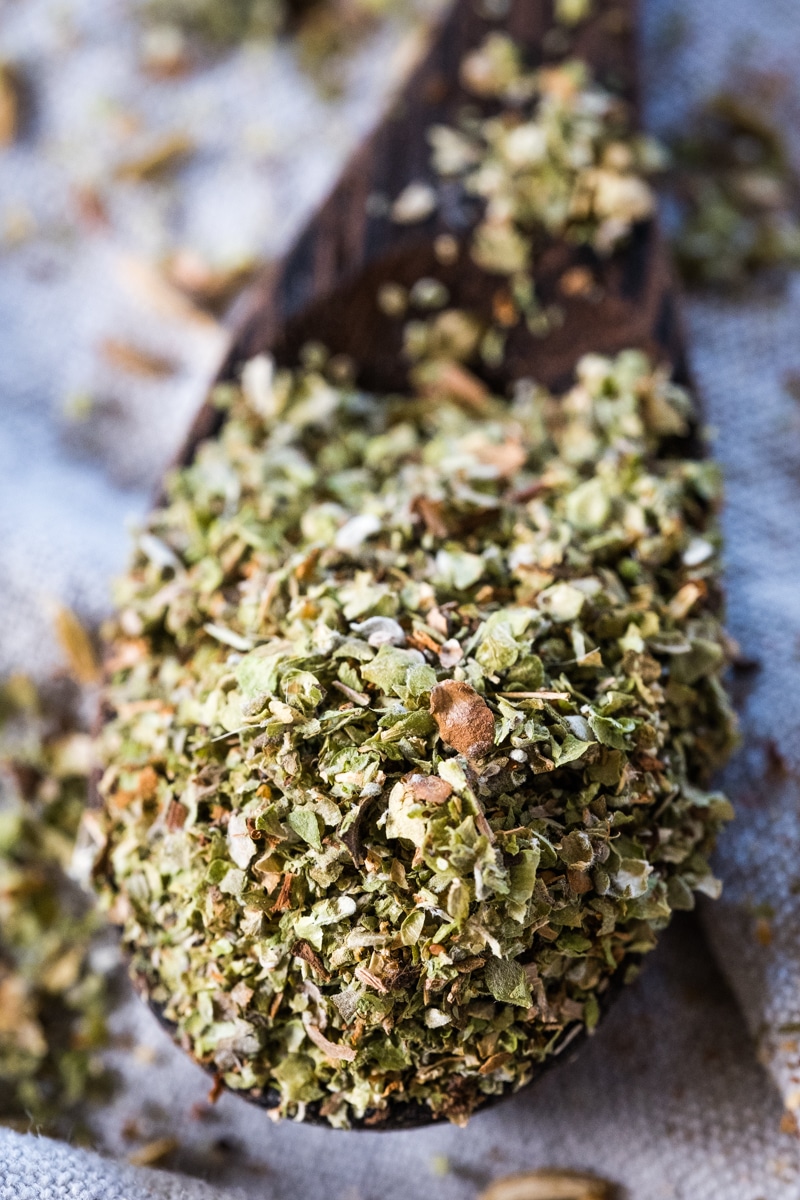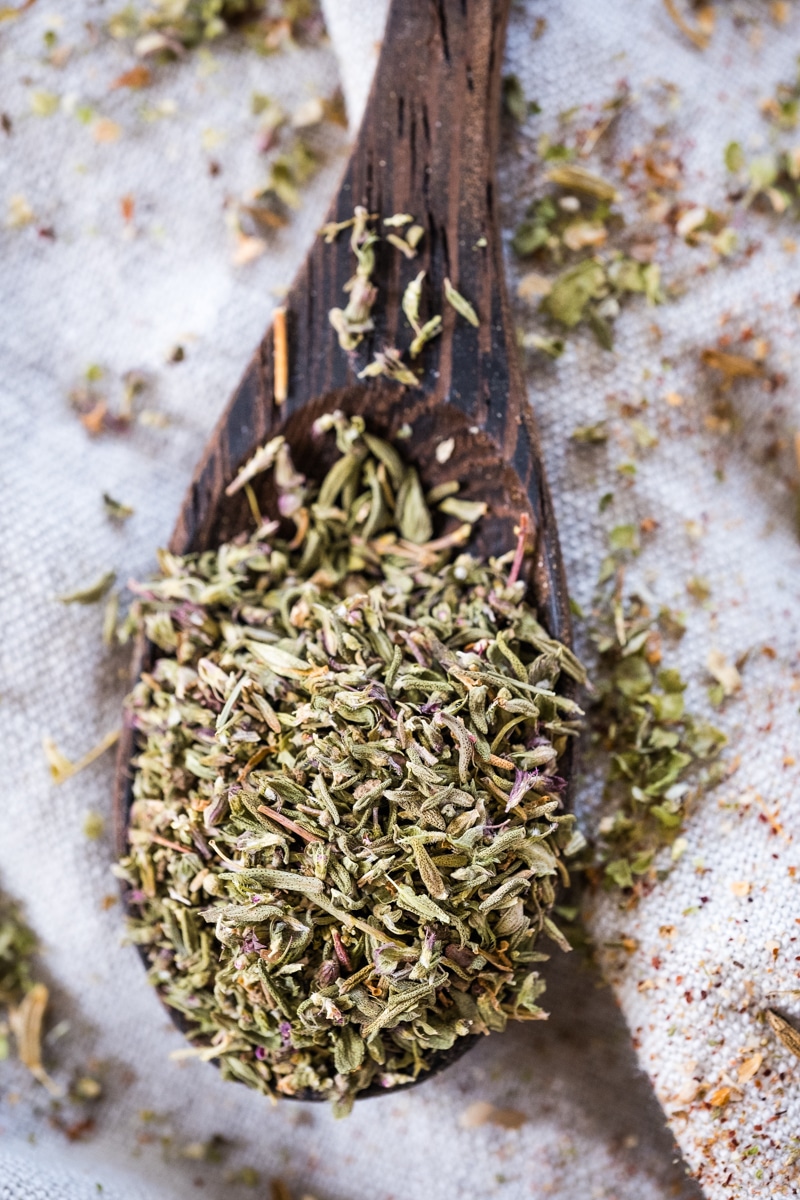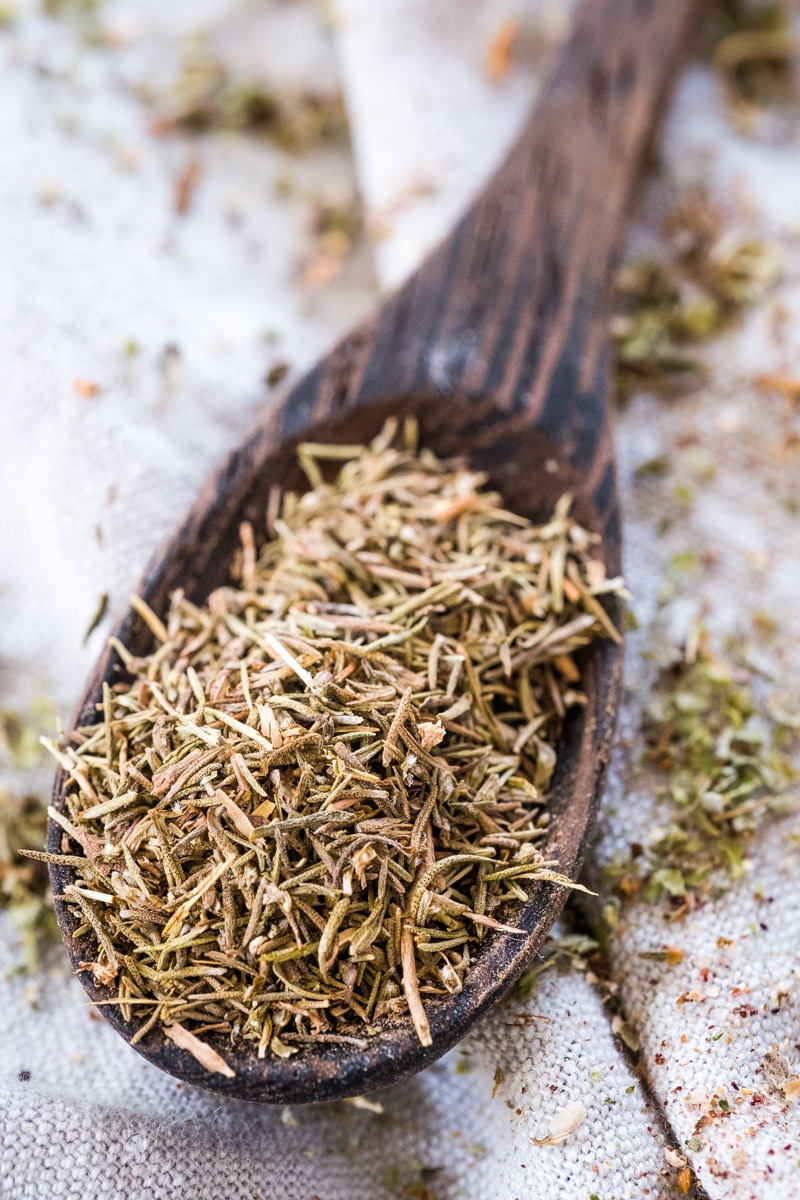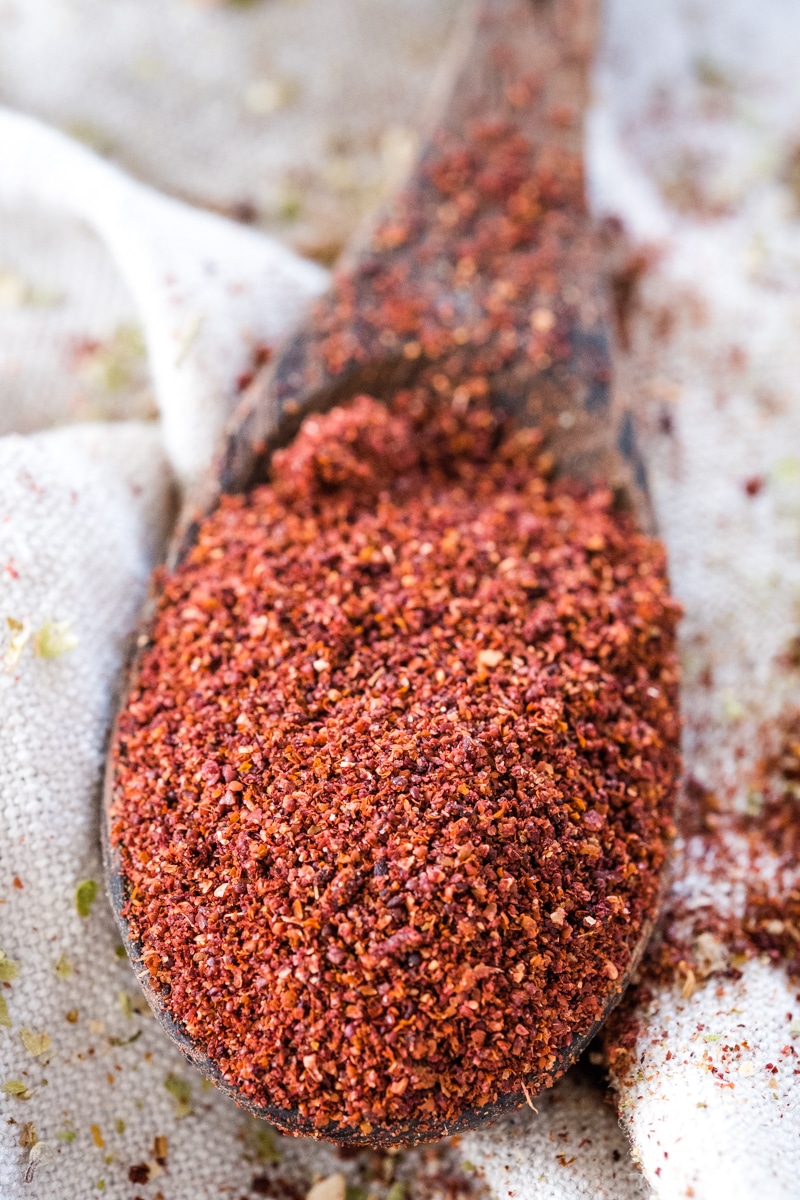 Tools you need
You also need a spice grinder, which is not expensive at all and is such a useful tool to have at home.
I use my Nutribullet, which has a milling blade. Unfortunately, it is hard to find a Nutribullet that comes with a milling blade, but you can buy it separately (see the links above).
A coffee grinder can work too, but you have to be careful with flavor contamination. No matter how much I love coffee, I don't want my spice blend to smell or taste like coffee.
And if you have none of the above, a mortar and pestle will work too.
How to make the za'atar seasoning at home
When it comes to spices and herbs, I don't compromise on quality. I buy the best I find, preferably organic, from brands I trust. That's one of the reasons I like to make my own blends.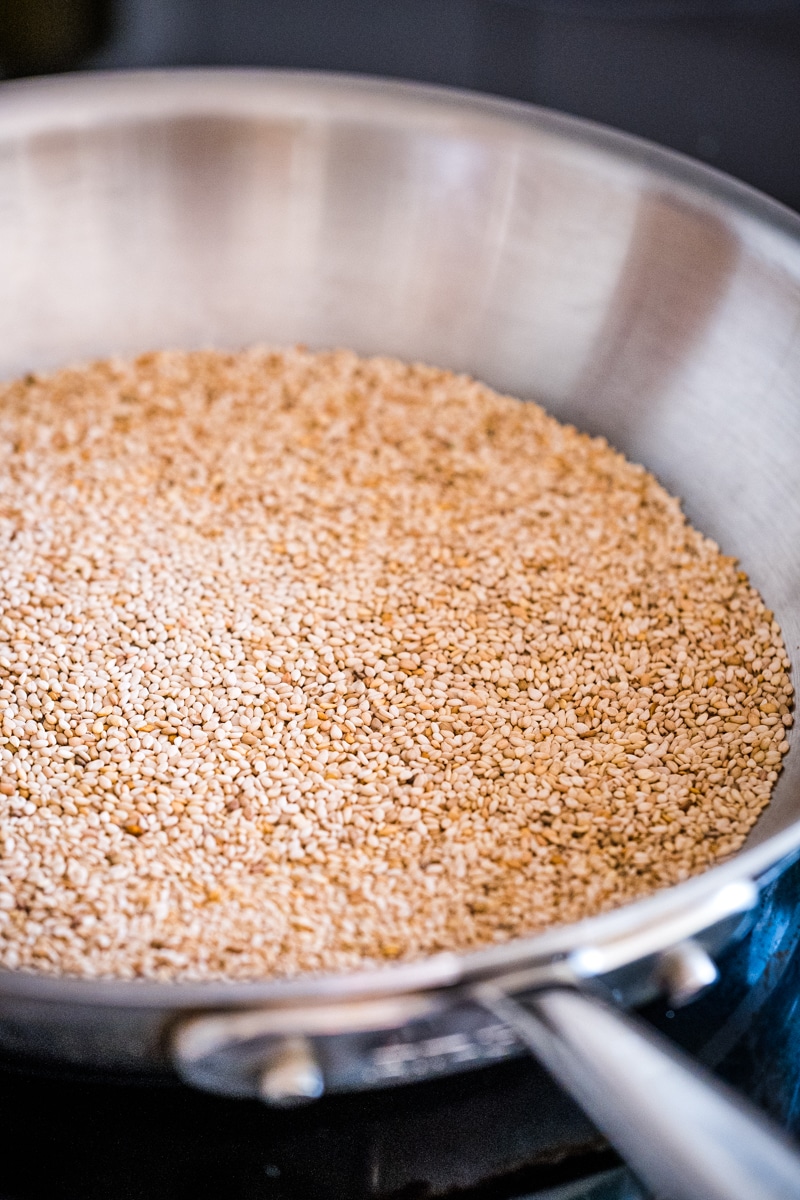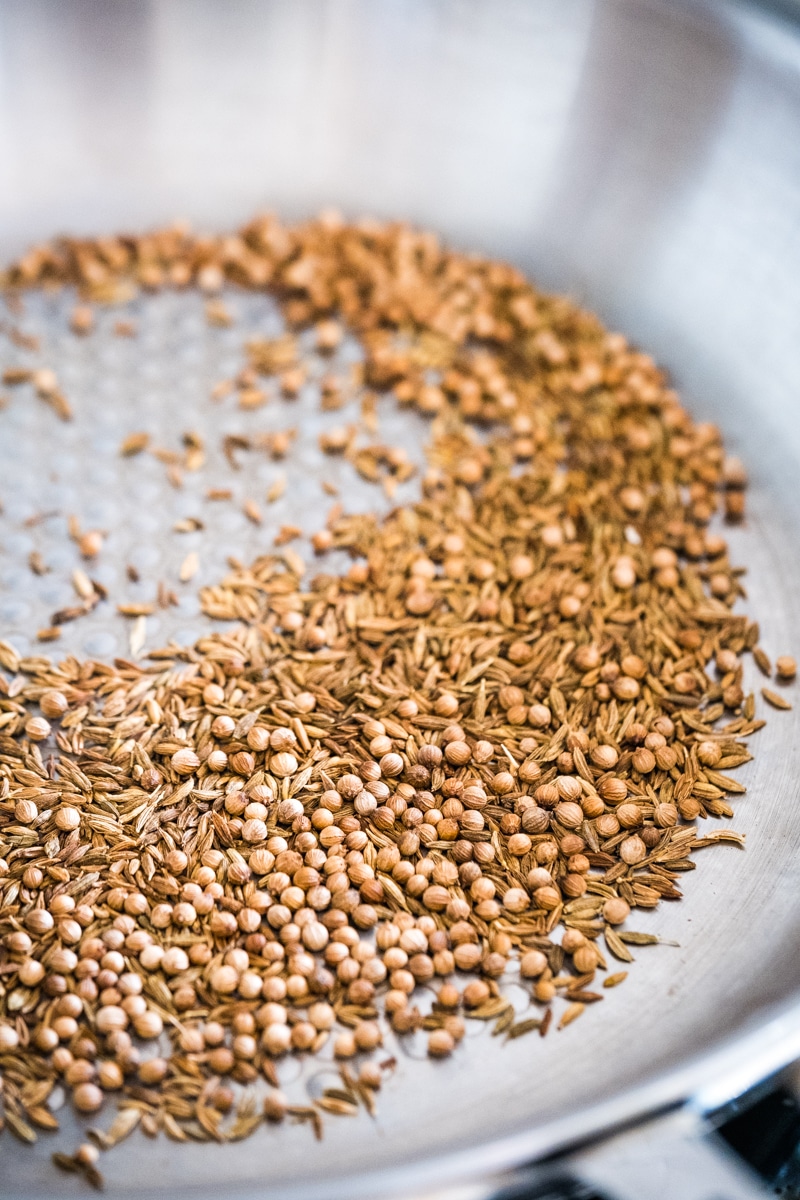 Once you have all the ingredients, these are the steps to follow:
Lightly toast the sesame seeds.
Lightly toast the coriander seeds and the cumin seeds.
Grind the toasted coriander and cumin with one tablespoon of toasted sesame seeds.
Add the oregano, thyme, marjoram, sumac, and salt to the grinder and pulse a few times, so everything combines.
Transfer the content to a small bowl, add the rest of the sesame seeds, and taste.
You can add more salt if it needs or more sumac for a more tangy taste.
How to store homemade za'atar
Store in an airtight glass jar, in a dark and cool place, for up to six months. But don't worry; it's not going to last that long.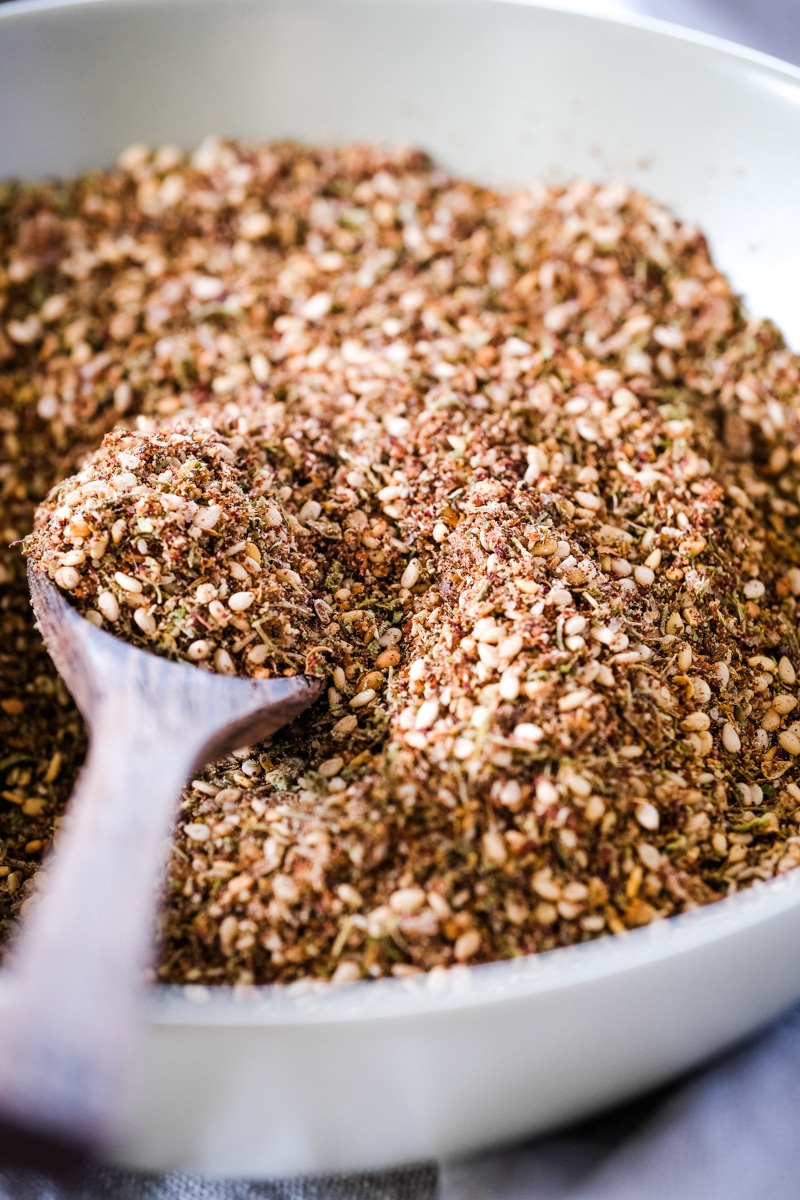 How to use the za'atar spice mix
You can use this middle eastern spice blend on your avocado toast, on eggs, or add to an olive oil dip. It works beautifully with cheese and flatbread.
Sprinkle on roasted vegetables for extra flavor or on top of any kind of hummus or dip (like baba ganoush).
I love to make keto za'atar crackers:
I use this za'atar seasoning blend to make za'atar oil for this delicious one-pan meal:
I love using this herby nutty spice blend with roasted chicken. Use it as a dry rub, or mix za'atar with extra virgin olive oil, lemon juice, and zest to spice the chicken. The flavors will be amazing!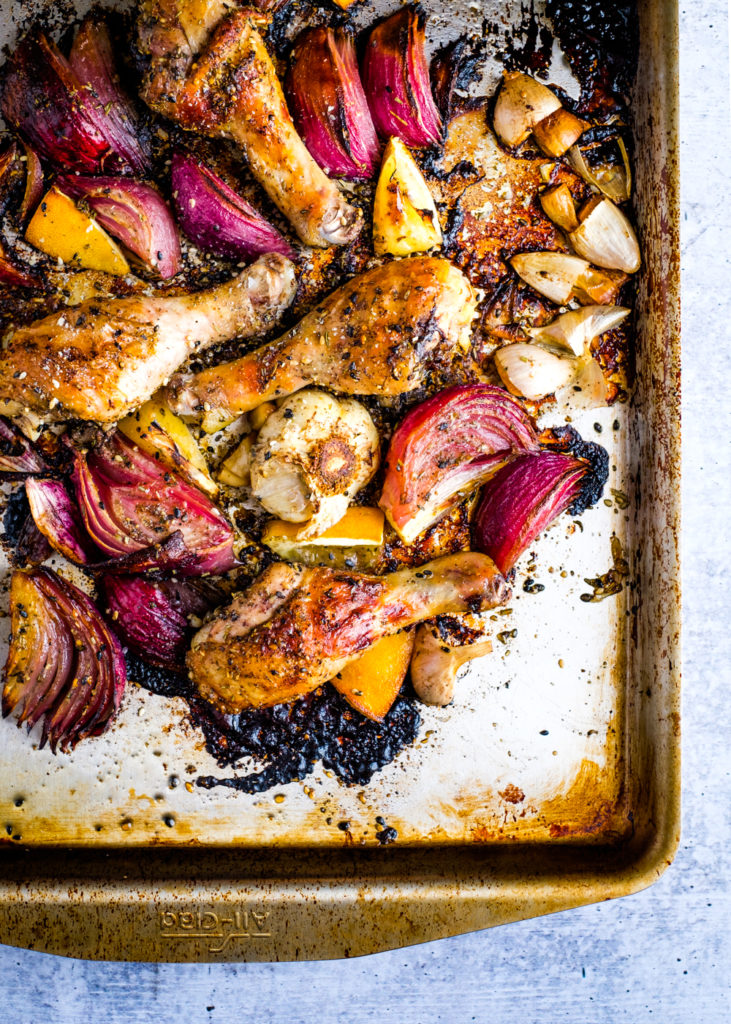 And the za'atar seasoning works so well with our chicken meatballs:
This za'atar seasoning pairs beautifully with anything bread. Sprinkle on flatbread, pizza, or on toast. I love to pair it with my gluten-free and lectin-free sourdough bread.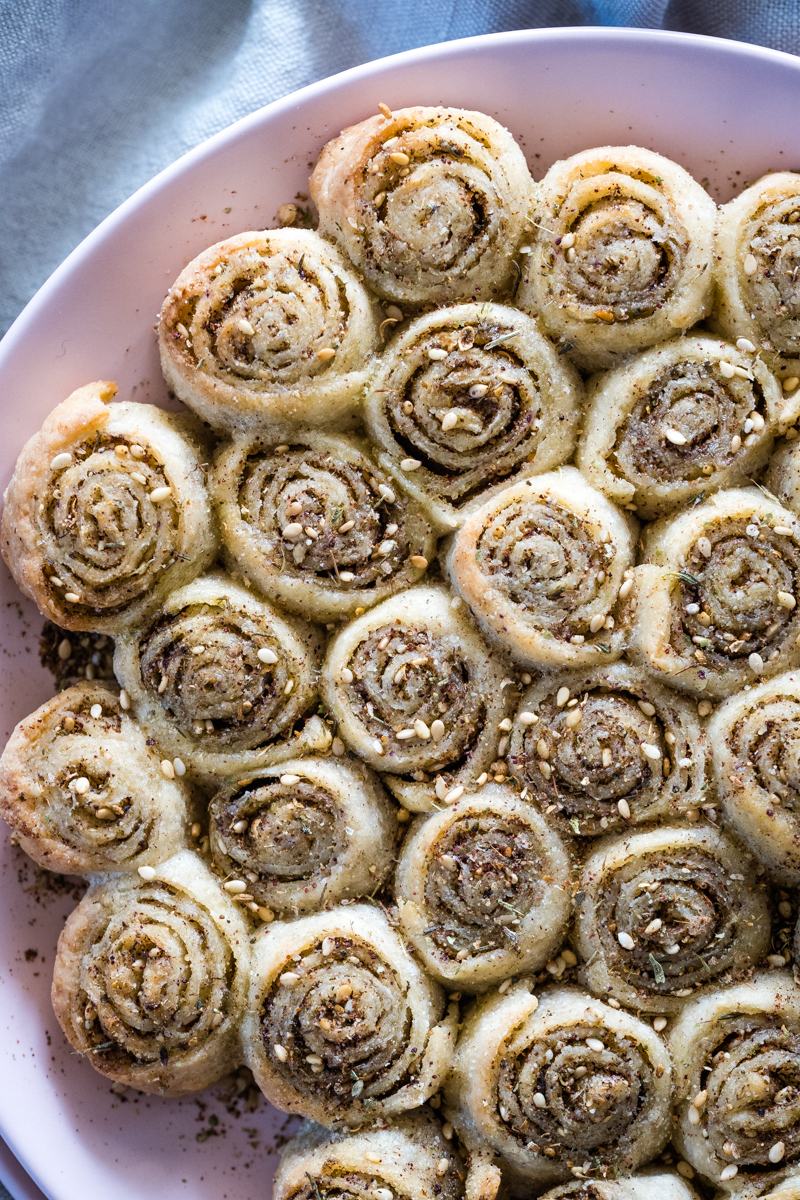 More spice blends
One of the latest herb and spice blends I created is this festive warming spice mixture. It is a perfect holiday seasoning blend:
In my latest book – Everyday Low-Lectin Cookbook – you will find a recipe for a Dukkah spice blend.
This post contains affiliated links, which means I get a small commission if you choose to purchase something via one of my links, at no extra cost to you.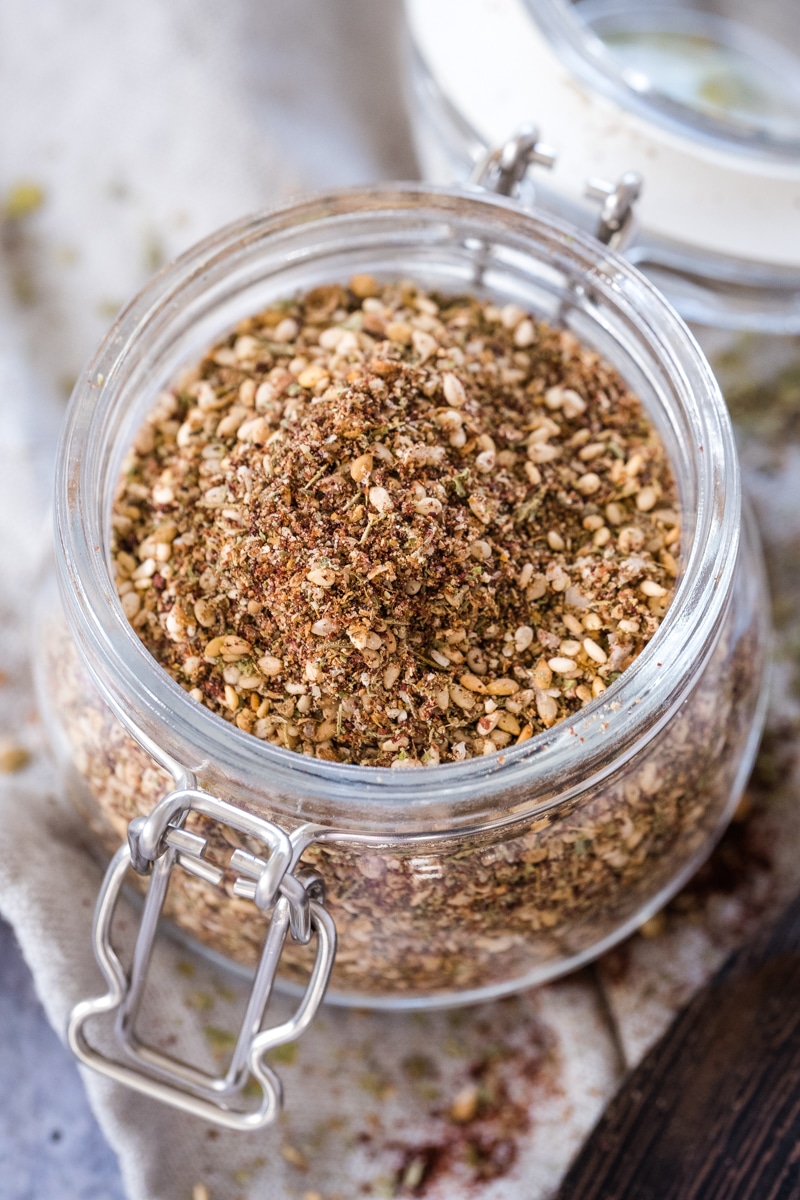 Print Recipe
Homemade Za'atar Seasoning
This homemade za'atar seasoning is my take on one of my favorite spice blends. I use it to make crackers, as a dry rub for chicken, sprinkle on hummus, add it to an olive oil dip, or make specialty sourdough bread. While you can buy za'atar already mixed, I do prefer to make it at home with my own spices, in the proportions I like and personalized to my own taste.
Ingredients
1/4 cup sesame seeds
1 tablespoon coriander seeds (whole)
1 tablespoon cumin seeds (whole)
1 tablespoon dry marjoram
1 tablespoon dry oregano
1 tablespoon dry thyme
1 1/2 tablespoon sumac (or more to taste)
1 1/2 teaspoon sea salt or Himalayan pink salt (or to taste)
Instructions
1

In a skillet, on low to medium heat, lightly toast the sesame seeds until they become fragrant (about 3-4 minutes).

2

In the same skillet, lightly toast the coriander seeds and the cumin seeds until they start releasing their flavors (about 2-3 minutes).

3

Grind the toasted coriander and cumin with one tablespoon of the toasted sesame seeds.

4

Add the oregano, thyme, marjoram, sumac, and salt to the grinder and pulse a couple of times, so everything gets combined.

5

Transfer the content to a bowl, add the rest of the sesame seeds, and taste.

6

You can add more salt if it needs or more sumac for a more tanginess.

7

Store in an airtight glass jar, in a dark and cool place, for up to six months.