A dipping sauce is essential in a healthy diet, and if it looks beautiful, even better. We do eat with the eyes first, right? Since we roasted our peppers in the fall and froze them, I've been thinking of more unconventional ways to use them. I love the taste of the roasted peppers, but the vibrant red color mainly attracted me. This roasted vegetable hummus came to life on one of my meatless days when I wanted to experiment with adding more vegetables and color to the menu.
The result is delicious, and I love it because it can be used in so many creative ways. As a dip for more crunchy veggies or your favorite lectin-free crackers, a creamy salad sauce, or even a tomato-less red sauce for pizza.
Preparing the peppers for the roasted vegetable hummus
While both tomatoes and peppers are high in lectins, most of the lectins are being removed if they are peeled and deseeded. But, while tomatoes are acid and high in histamine and can bother some people even if delectinized, peppers actually contain quercetin and are low in histamine. Plus, they taste so much better than tomatoes, especially roasted.
For more about how to prepare nightshades to make them lectin-light, plus a delicious phase 3 compliant plant paradox recipe, check out this post: Zacusca – A Traditional Nightshade Spread Made Lectin-Light.
If you don't feel like roasting peppers at home, many of the roasted peppers you will find in health stores are compliant. I used to buy them from Whole Foods and something like this fire-roasted, organic one on Amazon. Check out the ingredients before you buy. Make sure they are drained well; even rinse before you use them. They will probably have vinegar or citric acid in them, which might be too much for this hummus.
How to make roasted vegetable hummus
This roasted vegetable hummus is super easy to make. You can bake some sweet potatoes in advance as part of your meal prep. I always have roasted potatoes on hand. If not, you can even peel and cube and roast them in the same tray as the cauliflower, garlic, and onions. They can be mixed together on the tray or separate, whatever comes easier to you. Once everything is cooked, add them all with the rest of the ingredients to a blender. Adjust spices to your taste and serve warm or cold.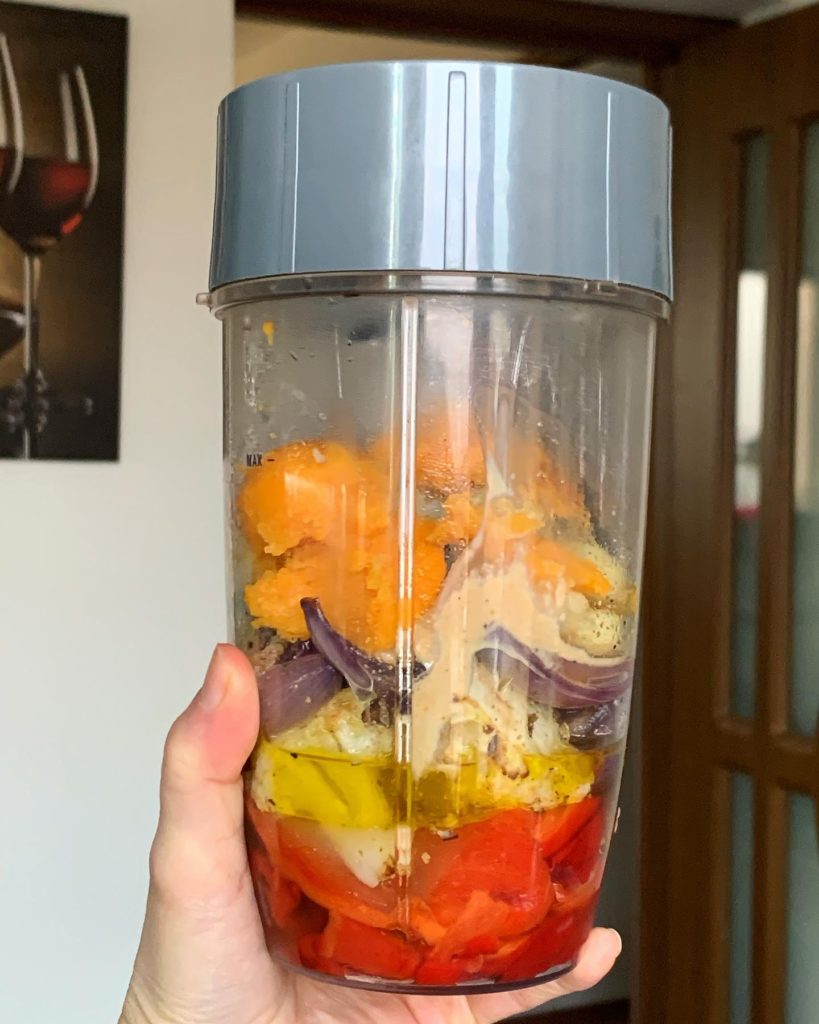 How to serve roasted vegetable hummus
Use it as a dipping sauce with raw vegetable sticks or compliant crackers such as these Keto Flaxseed Crackers with Zaatar Spices (Vegan). I also love to spread it on a compliant pizza crust or cassava tortilla, add a fried egg on top, some more veggies, and a green sauce or pesto and have it for brunch.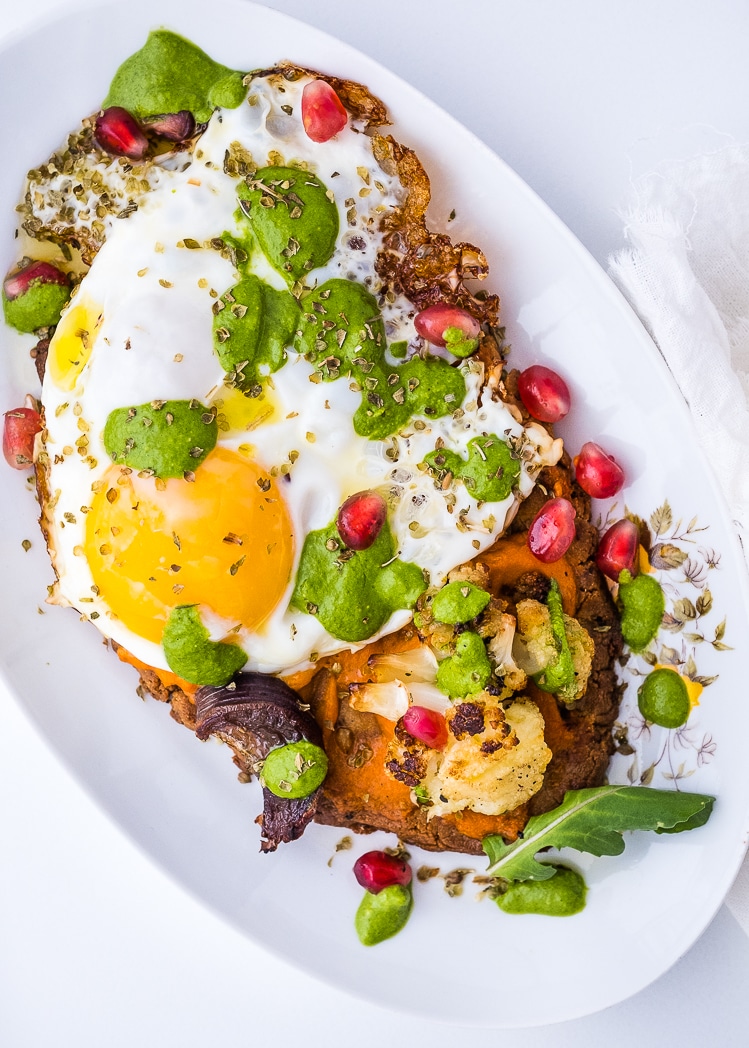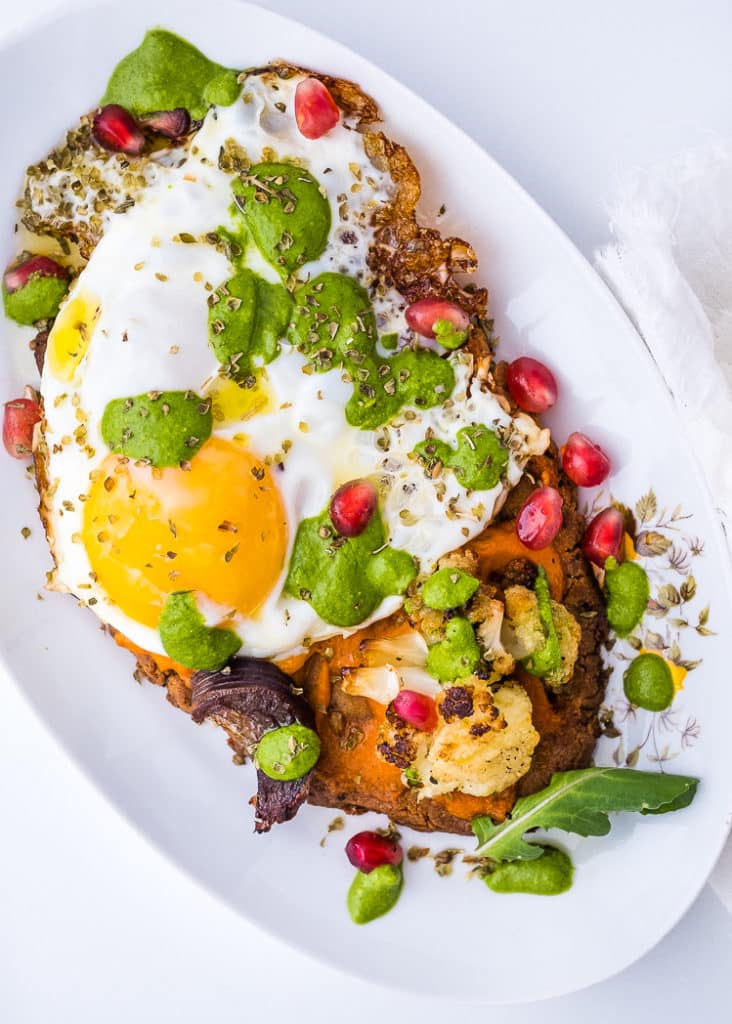 *This post contains affiliated links, which means I get a small commission if you choose to purchase something via one of my links, at no extra cost to you.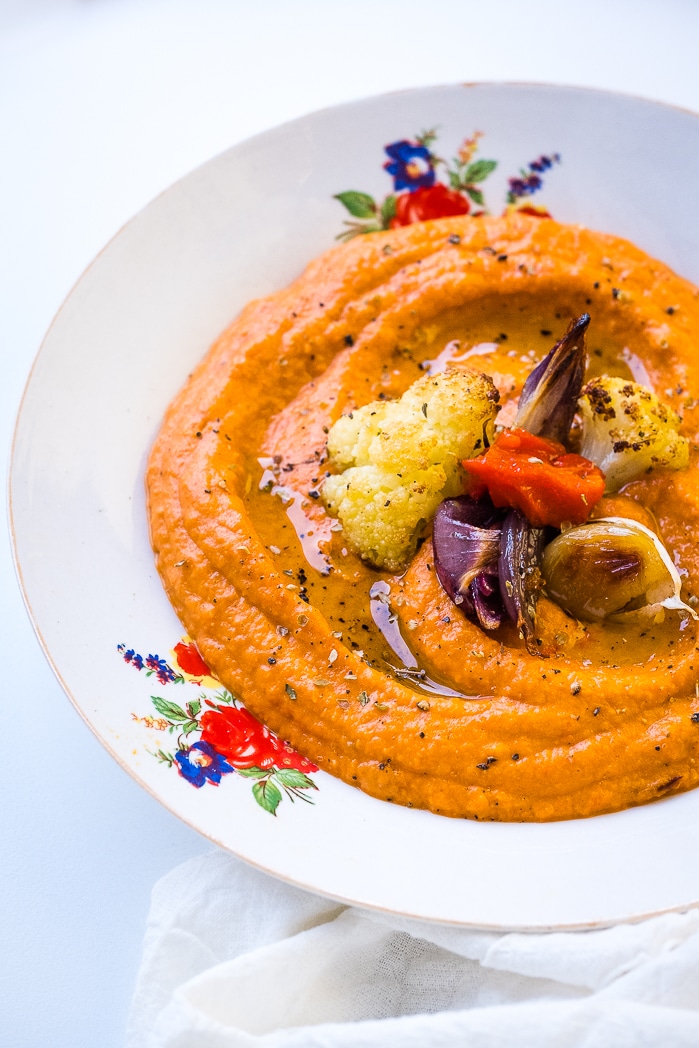 Print Recipe
Lectin-Light Roasted Vegetable Hummus
A multi-purpose, nutritious lectin-light sauce that you can use to brighten up your meals.
Ingredients
1/2 cup roasted red bell pepper (skins and seeds removed)
2 cups roasted cauliflower
1 big roasted red onion
4 roasted garlic cloves
3 tablespoons roasted / baked sweet potato
1 tablespoon tahini
1/2 teaspoon cumin powder
juice from one lime
1/4 cup extra virgin olive oil
2, 3 tablespoons water
salt and pepper to taste
Instructions
2

Preheat the oven to 400F. Add the veggies to a baking tray: cauliflower in small florets, whole garlic cloves, red onion wedges and sprinkle with salt and pepper, drizzle with extra virgin olive oil and add more of your favorite herbs (I like to use herbs de Provence, rosemary or oregano). Mix well to get everything coated and roast for about 30 minutes, stirring after 15 minutes. You can put one small sweet potato at the same time to bake with the veggies, or you can make more in advance as part of your meal prep. You can even use canned but I only recommend that in case of emergencies. Plus, the canned sweet potato is very watery so you might have to skip the water in the recipe if you are using canned.

3

Add 1/2 cup of roasted sweet bell pepper in a blender, add the rest of the ingredients, keeping some on the side for garnishing. Blend well until creamy and smooth. Taste and add more seasoning if you like.
Notes
You can use this as a dipping, as a red pizza base sauce or as a sauce for meat, eggs or even salads.