Let's take one thing out of the way. I love olives. I'm obsessed with olives. This is a long-time love affair, I've been obsessed with olives since I was a kid. I could eat so many of them it's crazy.
When I read the Plant Paradox book, at one point Dr. Steven Gundry makes this statement: "all olives are allowed". That was the decisive moment for me when I thought I could totally do this.
"All olives are allowed"
Maybe if you are not the biggest olives fan, you will like them better this way. I'd be curious to know. Anyhow, this is an amazingly simple way to elevate a normal snack to a gourmet experience. Plus is a super simple recipe, I can't even think about what to fill this space with.
Infused with olive oil, citrus and spices
Yesterday I did a fridge clean and I kid you not, I had five jars of different olives open, plus two that were not open. So I decided to take all the open jars out, rinse the olives with water, pat dry them and infuse them with olive oil, citrus and spices.
It's not the first time I'm doing this, and the picture I'm posting is from the last time I made them, but it was too late last night to take a picture. Most of the time I use pitted Kalamata and green olives and as spices, I use lemon and orange zest, coriander powder, aniseeds and fennel seeds. They make an amazing appetizer or snack, or even a great addition to a salad (you can even use the marinade as a dressing).
I make about one cup of olives at a time, but you don't have to be precise with this recipe. Follow your heart and you can even change the spices if you want. This combination though, if you like the anise and fennel flavors, it's pretty amazing.
I hope you like these citrus and aniseeds infused olives. You may also like my Artichoke Tapenade with Mixed Olives.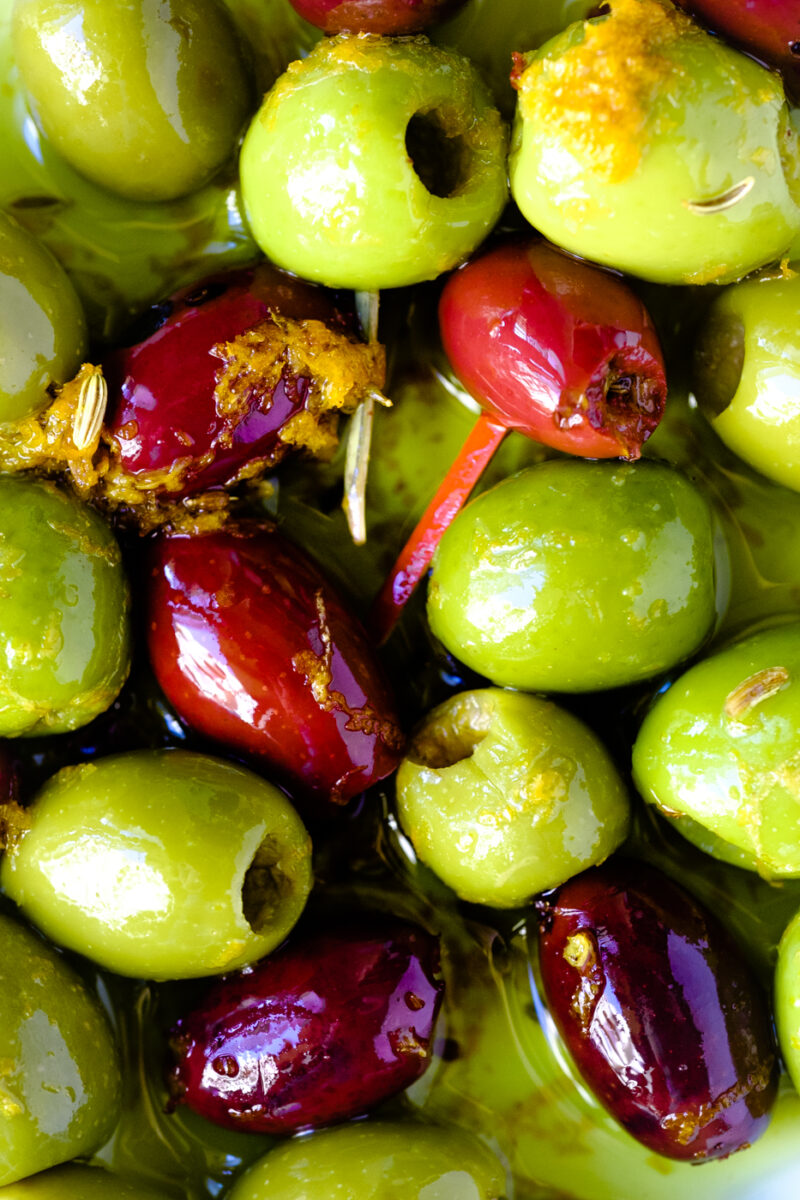 Print Recipe
Citrus and Aniseeds Infused Olives
A simple way to turn olives into a gourmet experience.
Ingredients
1 cup mixed pitted olives, drained, rinsed and pat dried (I use kalamata and green olives)

about 2-3 tbsp of quality extra virgin olive oil

zest of 1-2 organic lemons

zest of 1 organic orange

1/4 tsp coriander powder

a sprinkle of fennel seeds (a little less than 1/4 tsp)

a sprinkle of aniseeds (a little less than 1/4 tsp)
Instructions
1
Add the olive oil to a small saucepan and warm it on the lowest heat. (It's important there is no frying involved in this process, so the setting should be on low all the time).
2
Add the spices and olives to the oil and keep it on low heat for about 15 minutes. Stir regularly.
3
Eat warm or cold (store them in a mason jar on the counter). You can also re-warm them if you wish.