Sometimes I take on a too big of a challenge, like this one of making the famous traditional Romanian sweet bread 'cozonac', which is very similar to babka (probably more known internationally).
But a no gluten, no lectins, no sugar cozonac is not an easy task; after a few trials, I realized that the same thing can't be achieved, but the good news is that the result of my trials deserves its own league and to be here on the website. The texture is far from what a 'cozonac' is (not in a bad way though). But the taste is for me more than satisfying.
So, after asking for feedback from some of you, I decided to share this recipe, which is not exactly a cozonac, or babka, but it is an interesting, delicious and healthy sweet bread, a cross between cozonac, babka, American biscuit and… wait for it…
Pinwheel cookies
…Pinwheel cookies! My Instagram friend Tess Wendorf (@my.functional.life) suggested my bread reminds her of pinwheel cookies, and yes, even the ingredients are similar (but lectin-free and sugar-free). I stored my sweet bread in a cool storage room (almost the same temperature as in the fridge), wrapped in parchment paper and in a closed plastic bag.
And the next morning I tested it again with my coffee. It holds better together, it's not that crumbly anymore, a common thing with butter dough. Feels a little denser, but moist and soft, perfect with a cup of coffee or tea.
You can also make a chocolate glaze, especially if you want it to feel more festive. Follow the steps in the recipe.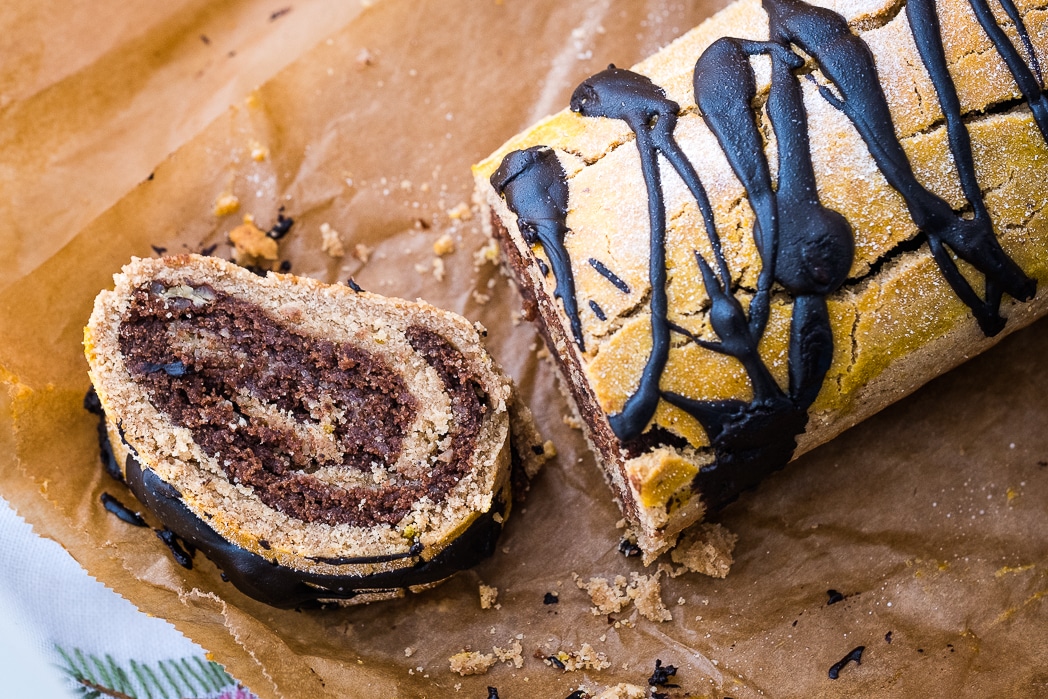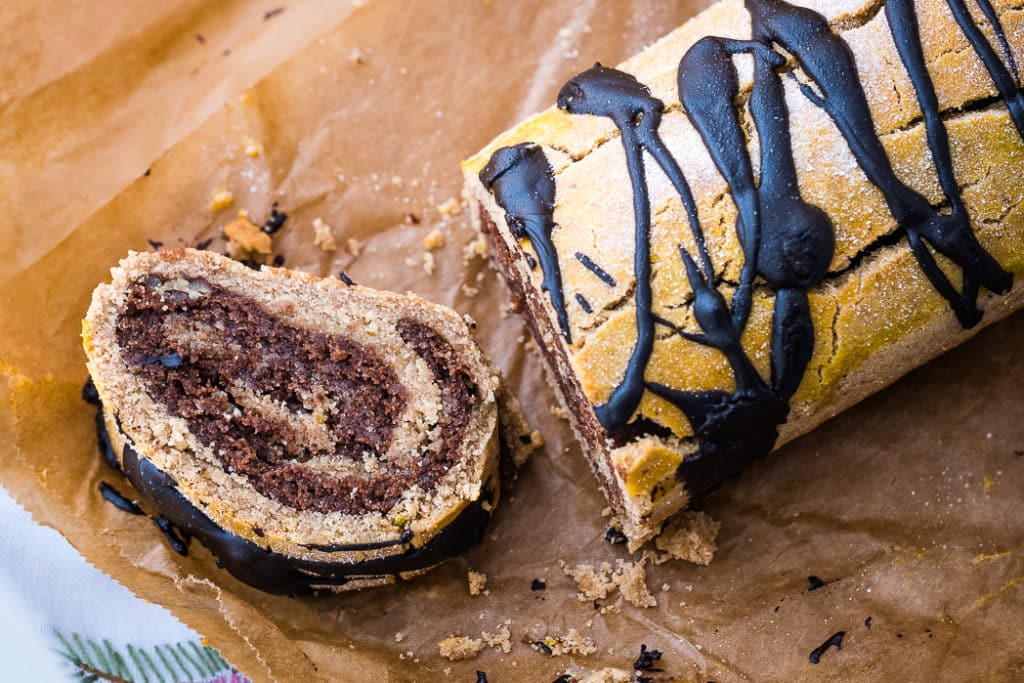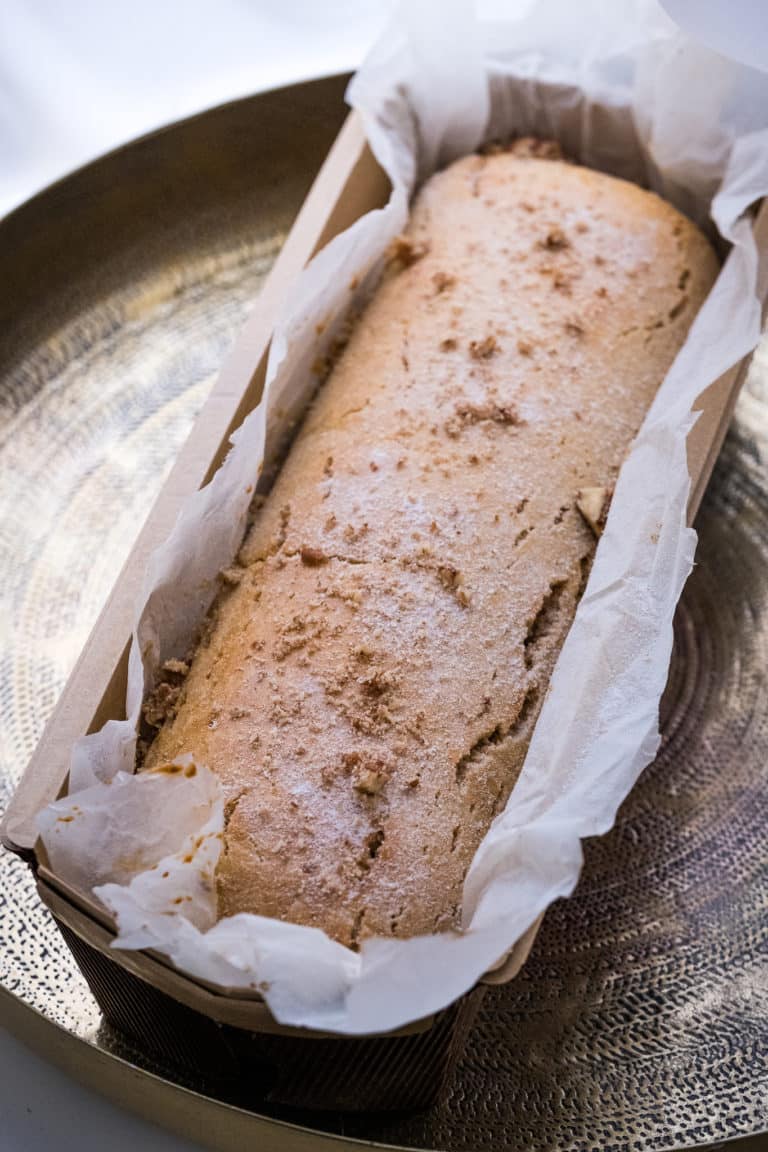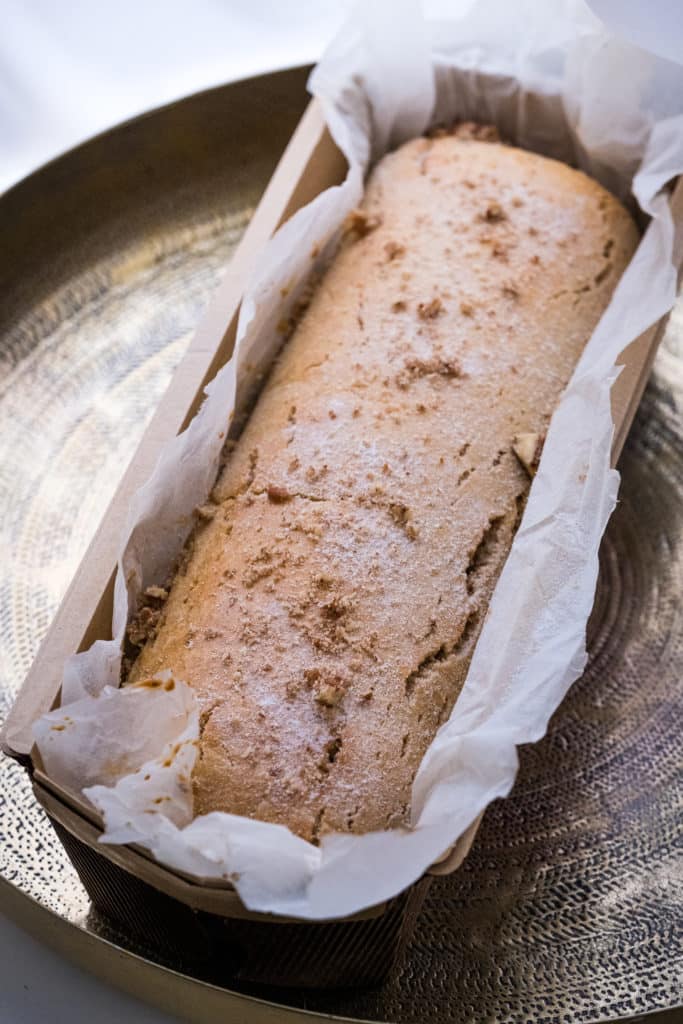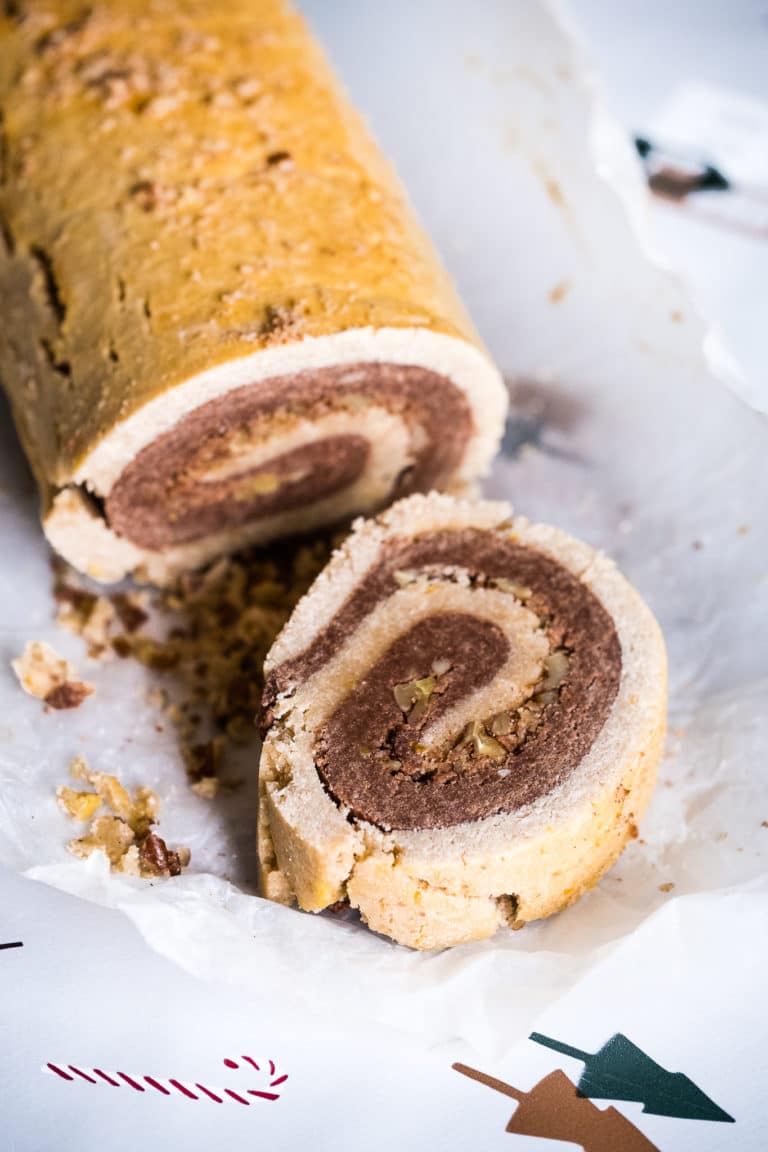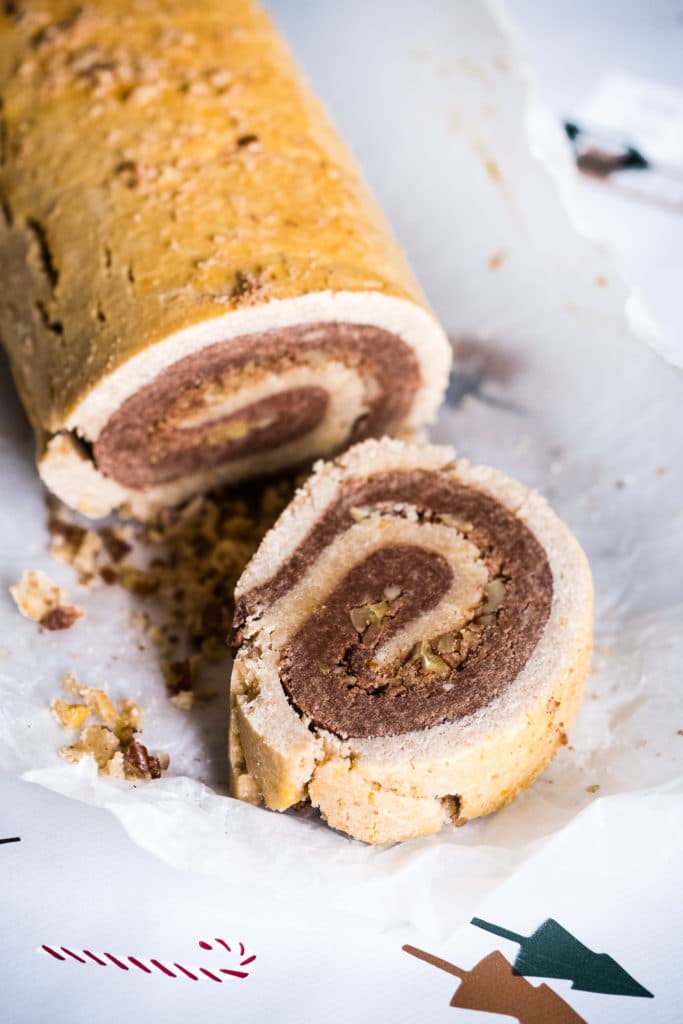 Ingredients for the pinwheel sweet bread
I made this version with French butter (an organic version – I find the brand President here in Romania where I am at the moment). I don't eat dairy, but every now and then I use butter in baking. It can be replaced with ghee if you want no milk protein at all.
Anyway, when you melt the butter the milk solids separate at the bottom, so you will be able to scoop only the fat on top, but you won't achieve the purity of ghee. I tried a version with avocado oil and it works well, so that's a good replacement for butter. I haven't tried coconut oil but I'm sure it will work, although it will probably have more of a coconut taste which I didn't want for this particular recipe because coconut is not a common Romanian flavor.
The flour mix
For the flour mix, I used cassava, almond, coconut and tapioca flours. For sweetening, I use inulin powder, my favorite sweetener at the moment. But you can replace it with your favorite and even add more if you have a sweet tooth. I like to keep my sweet treats minimally sweet, and for this, I used 1/4 cup sweetener. If you are new to lectin-free baking, you find all the basic baking items and more lectin-free pantry stuff on my SHOP page.
Even though my working surface was pretty messy and I had to wash my hands after each step, I wanted to take pictures of the process; I know how helpful that is, especially for visual people like myself, and it makes preparation so much easier.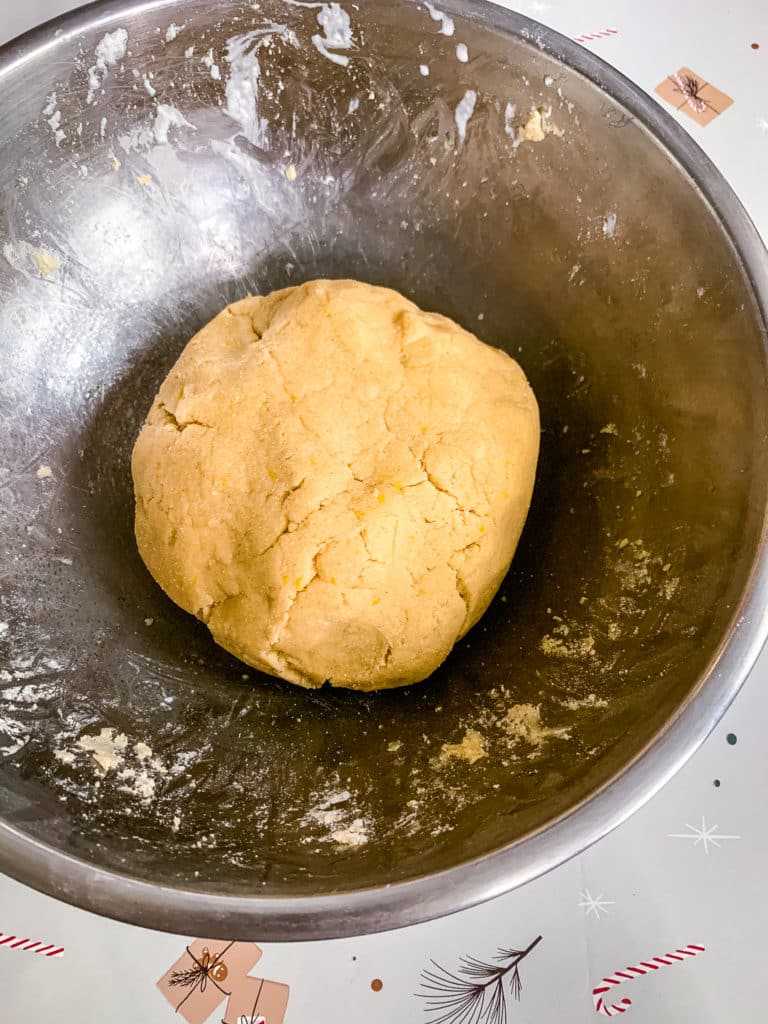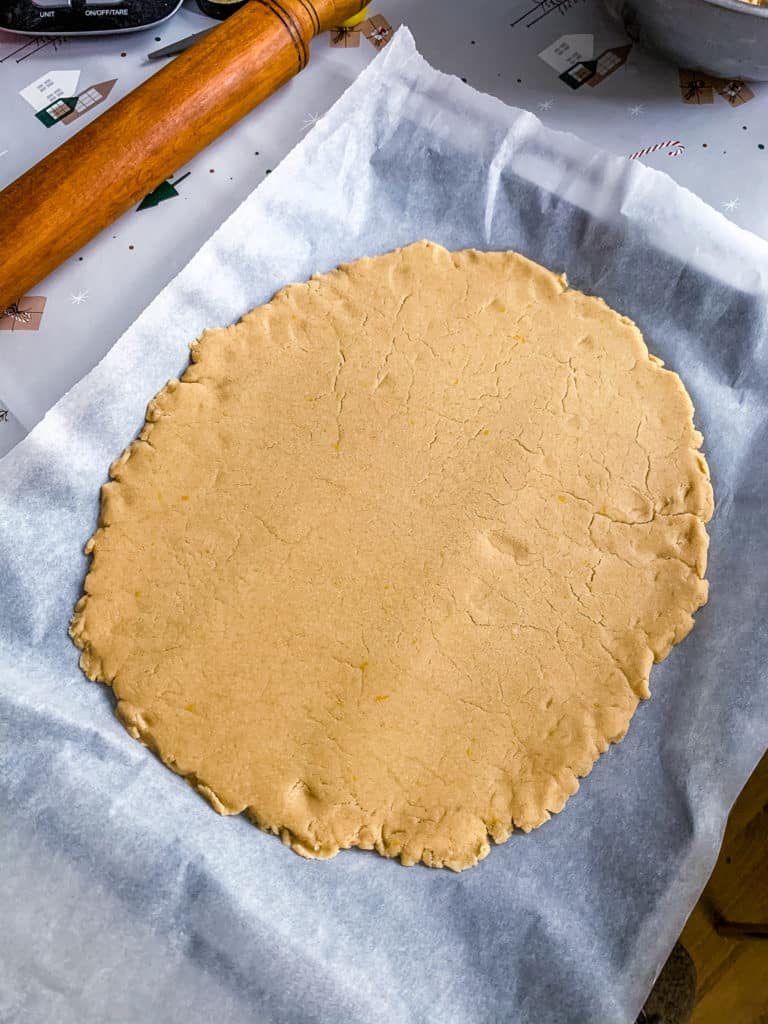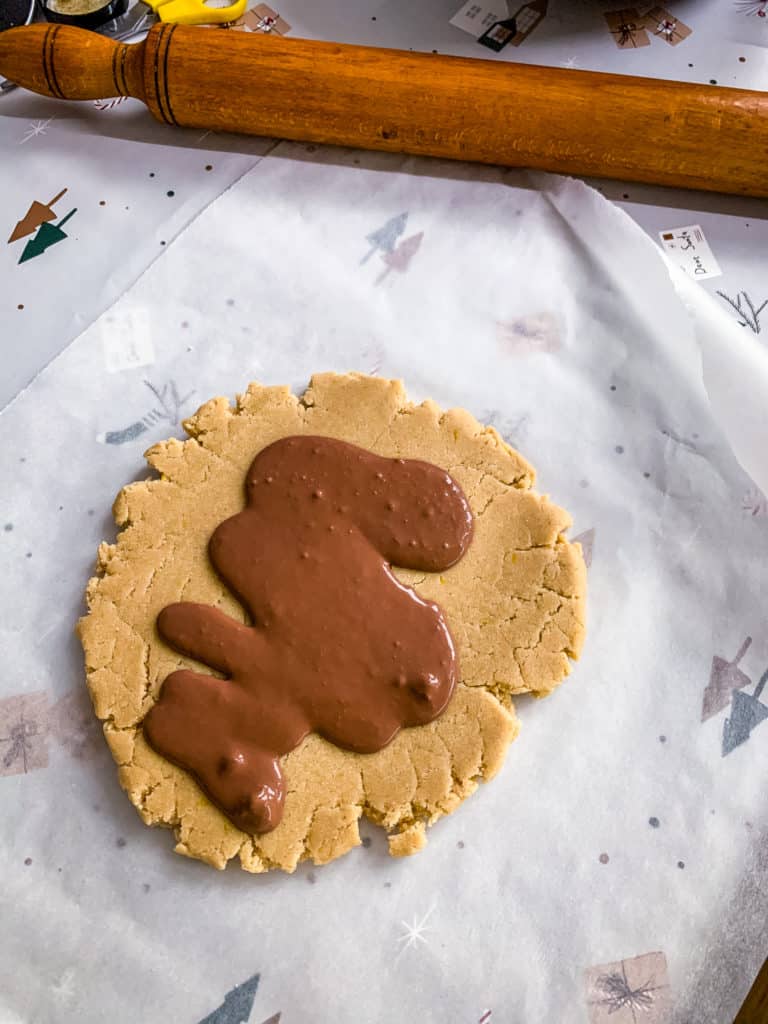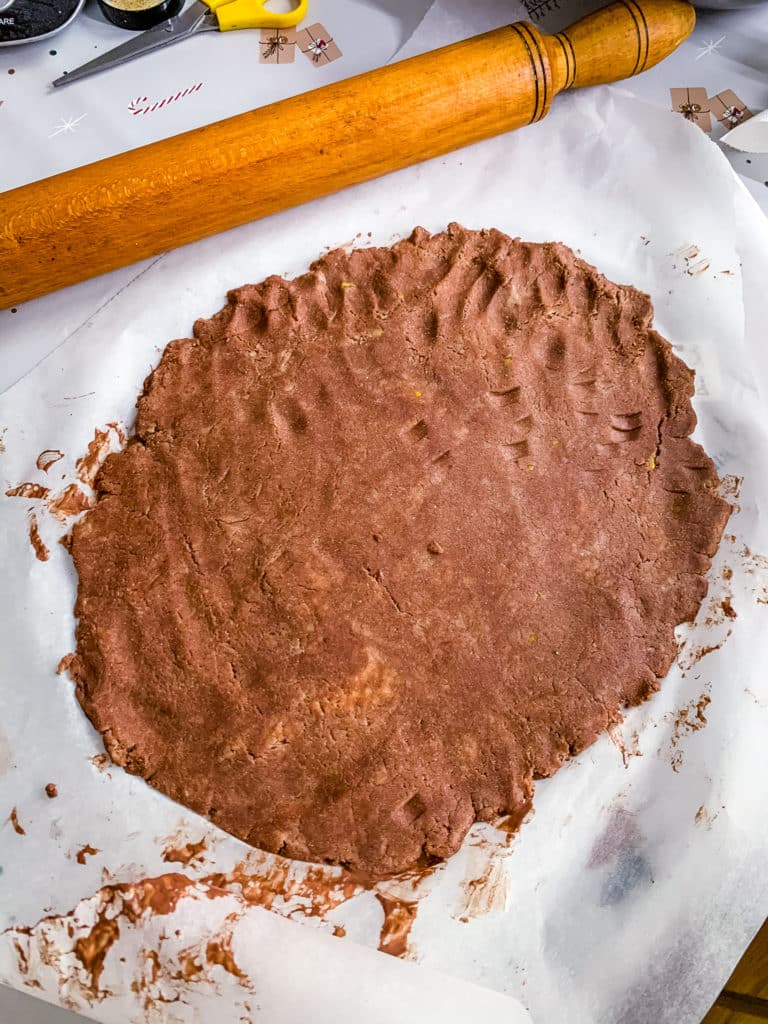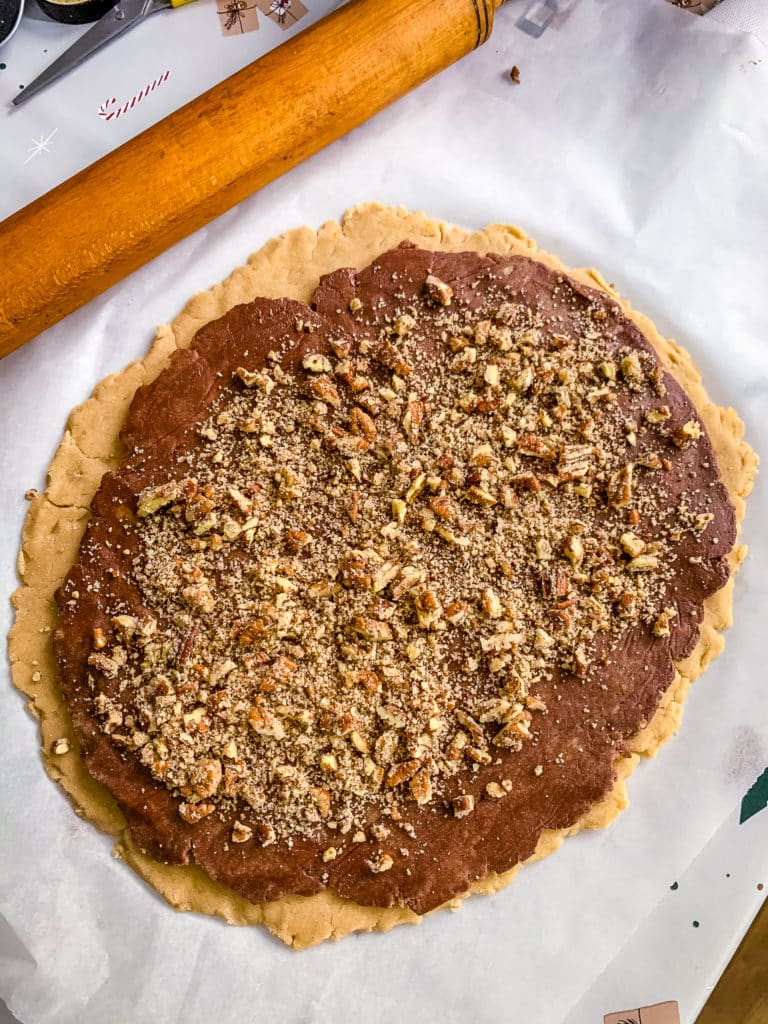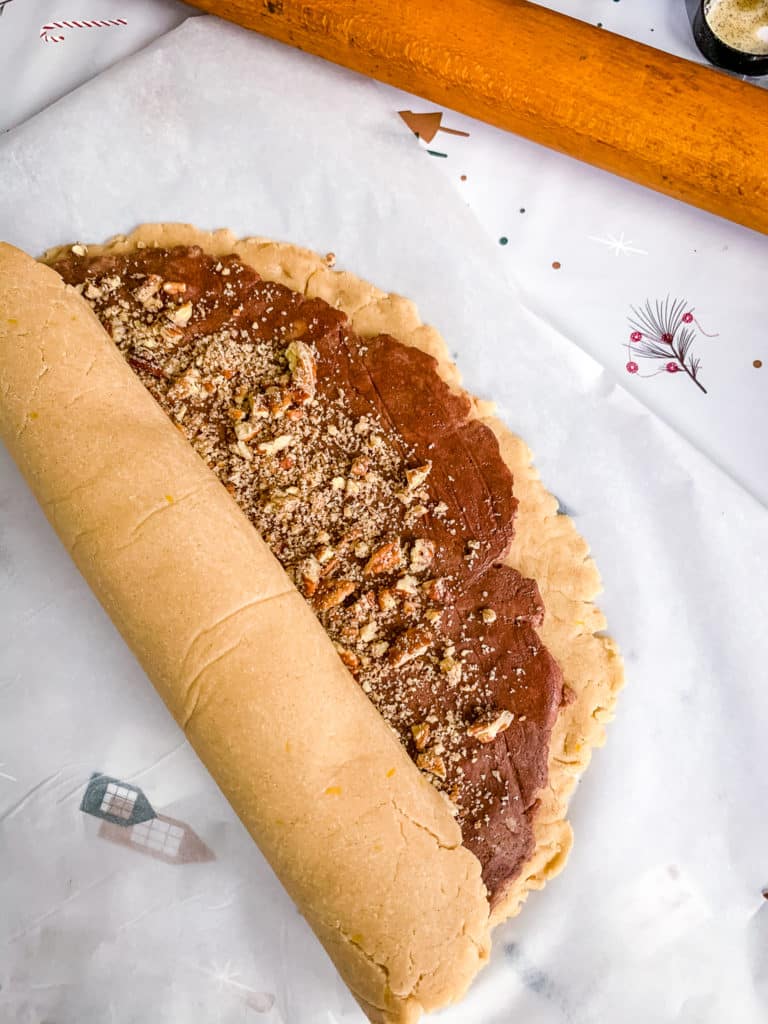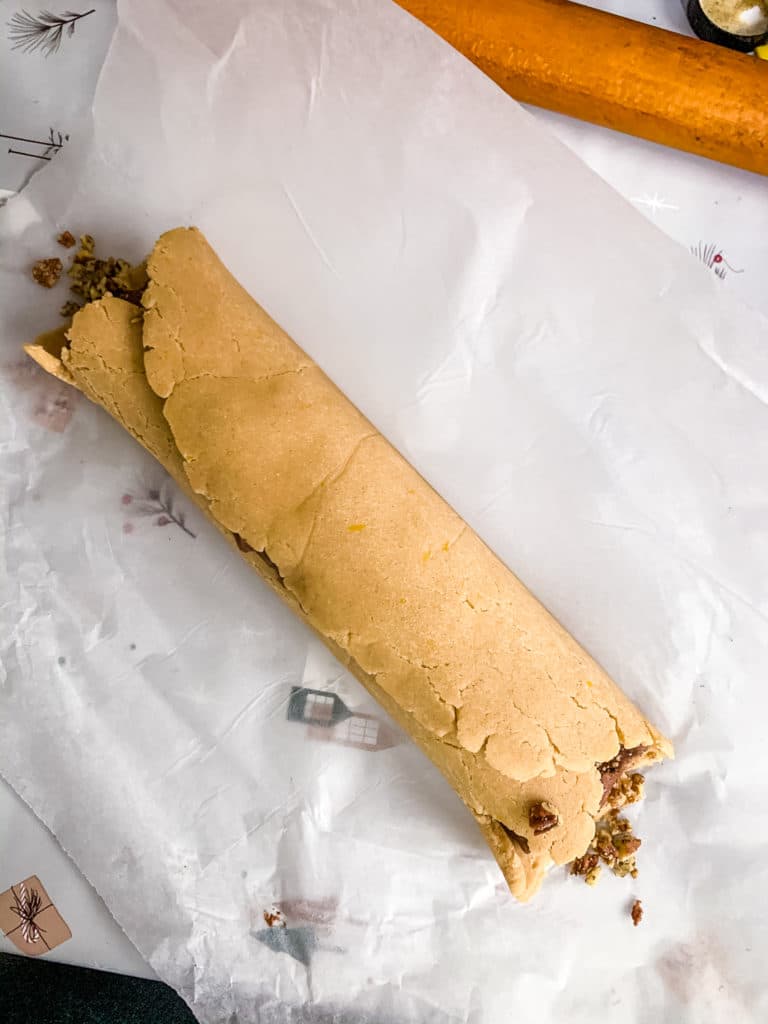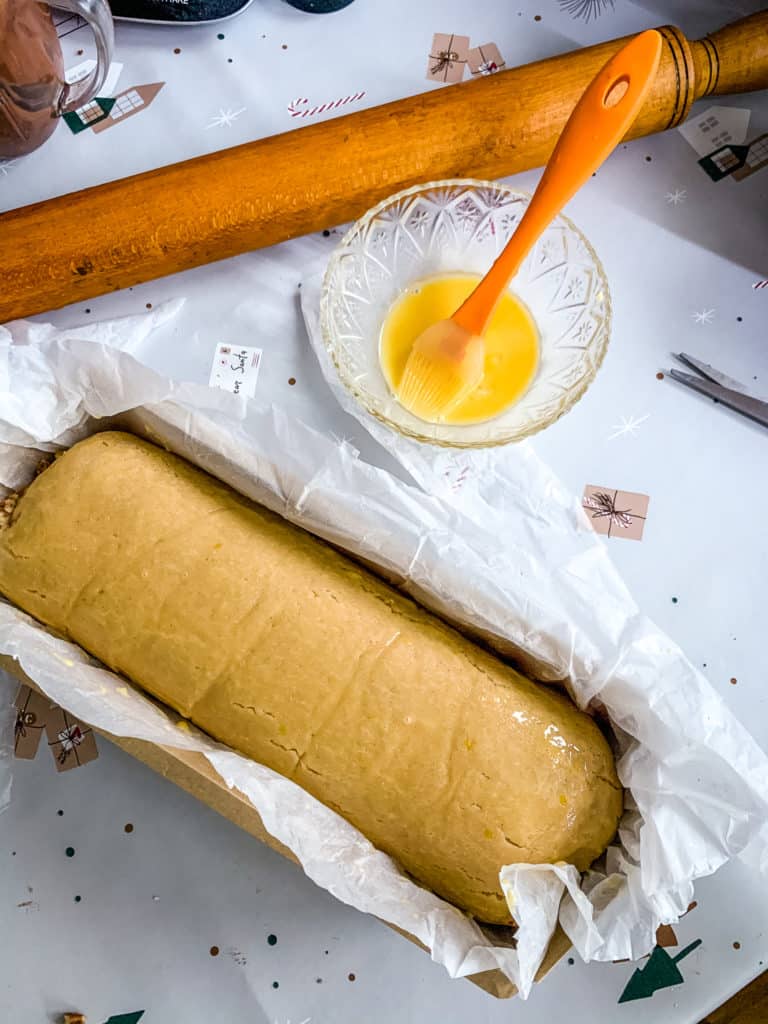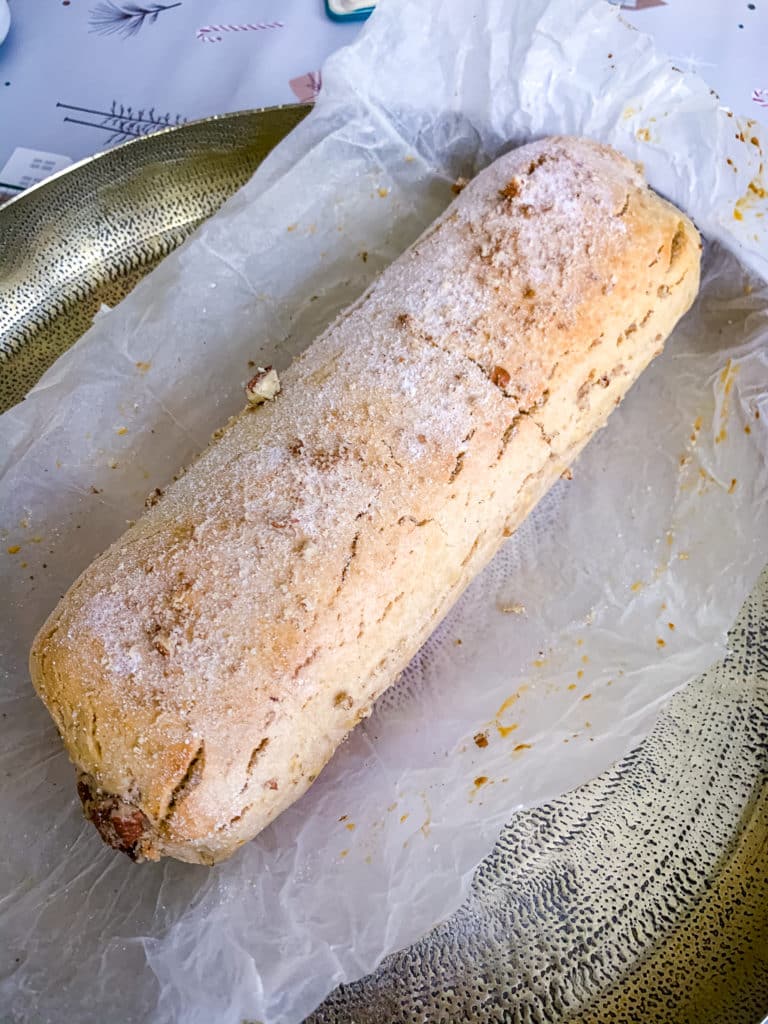 Let me know if you make it, make any modifications and how it comes out.
Later edit to the pinwheel sweet bread
LATER EDIT: For those of you asking about measurements in cups, here they are, but they are approximate. If the dough comes too soft, add more flour, if too thick add more fat or coconut milk (better to have it softer, as it's easier to add more flour than add more liquid when the dough is formed).
200 grams cassava flour = a little bit more than one cup
150 grams almond flour = a little bit more than 1/5 cup (not pressed down)
70 grams tapioca flour = 1/4 cup
50 grams coconut flour = 1/4 cup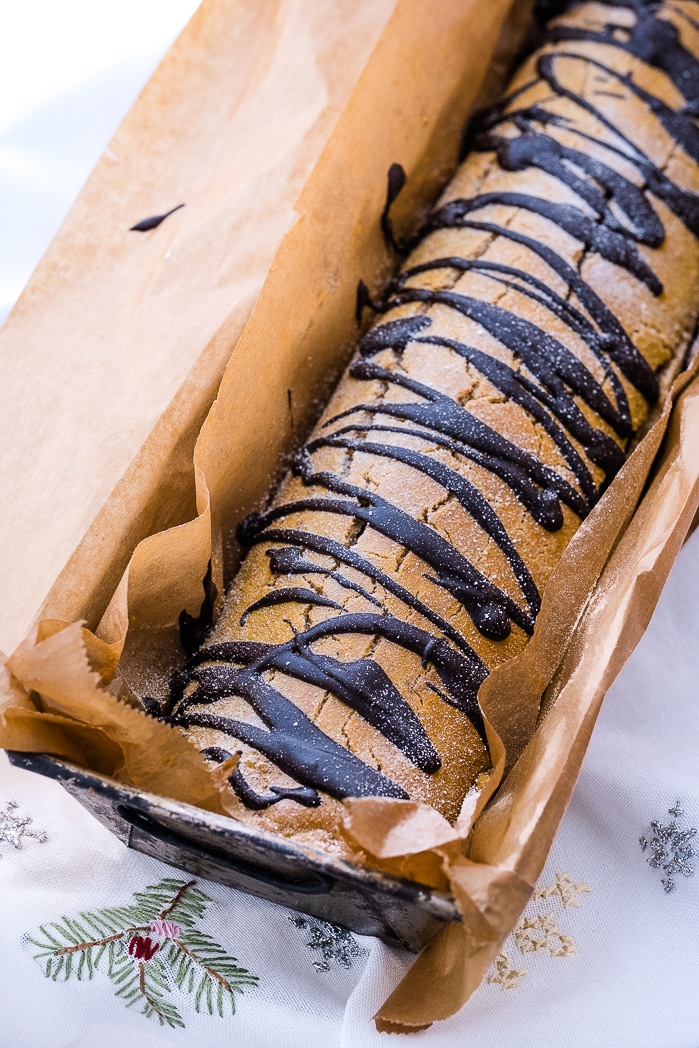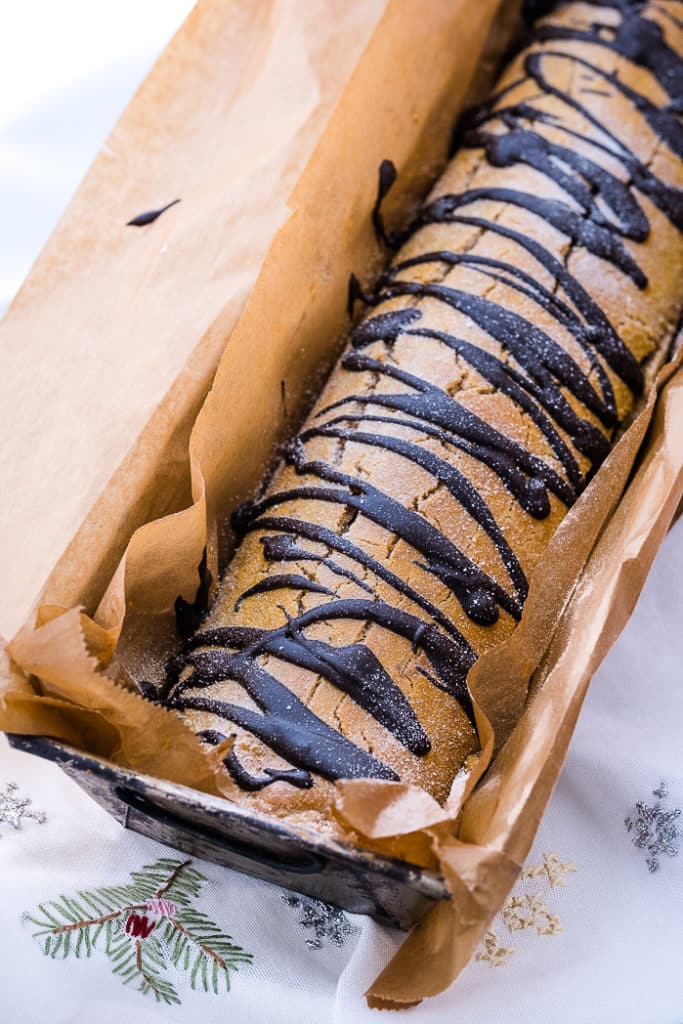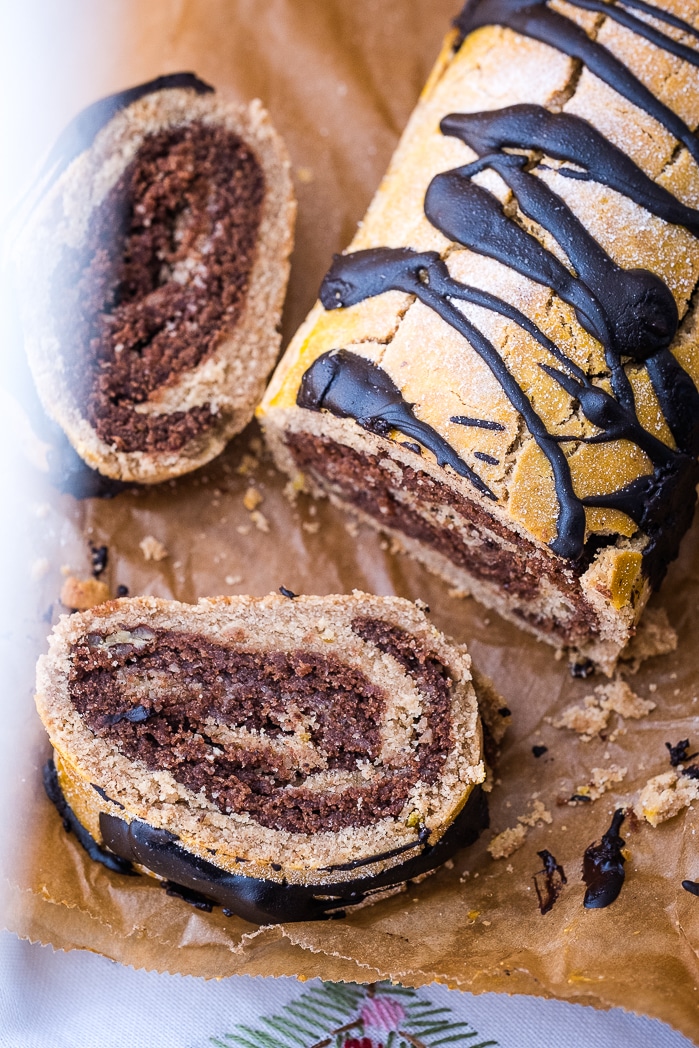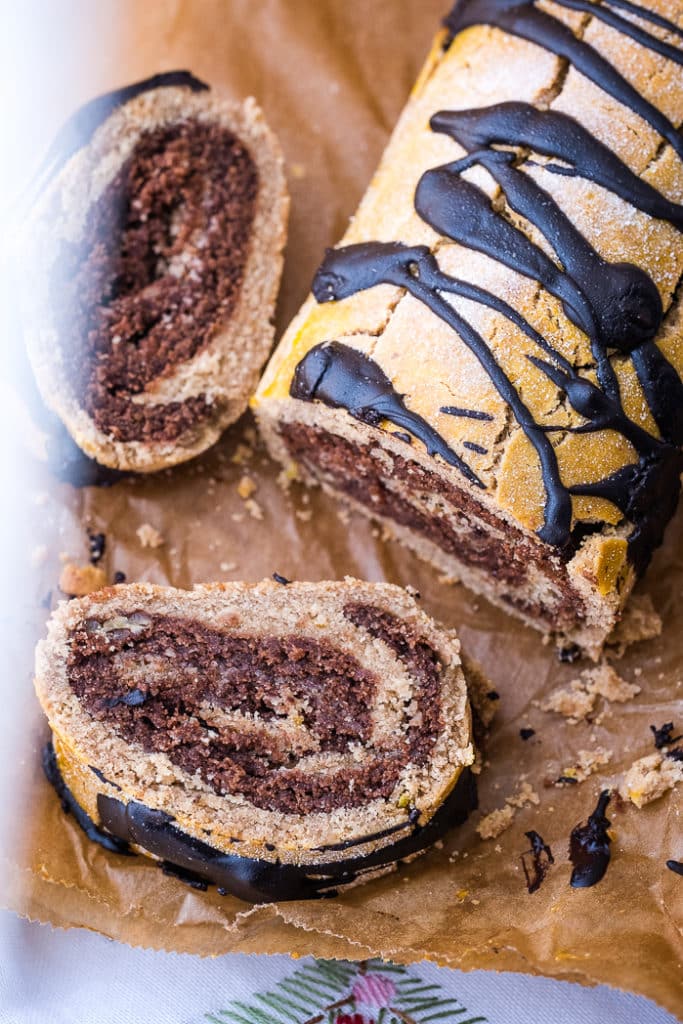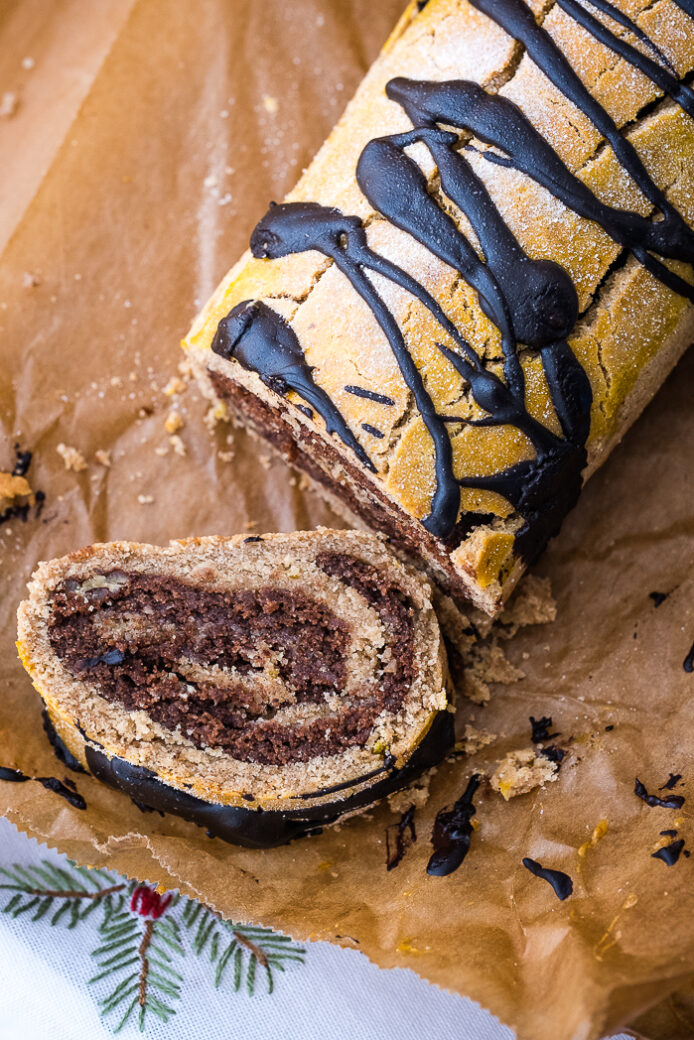 Print Recipe
Pinwheel Sweet Bread. Lectin-Free, Sugar-Free
A healthier version of traditional sweet Christmas bread.
Ingredients
THE DRY MIX
200 grams cassava flour
150 grams almond flour
70 grams tapioca flour
50 grams coconut flour
1/4 teaspoon salt
1 teaspoon cinnamon
1/4 teaspoon nutmeg
1 tablespoon baking powder
1 teaspoon baking soda
THE WET Mix
5 egg whites
4 egg yolks (keep the fifth one for an egg wash).
1/4 cup inulin powder/monk fruit (or more if you have a sweet tooth)
lemon zest of 3 organic lemons
1 teaspoon vanilla
1/4 cup melted butter/ghee (can be replaced with avocado oil or melted coconut oil)
1/4 cup liquid coconut cream + 3 tablespoons
1 tablespoon apple cider vinegar
FOR KNEADING AND FILLING
5 tablespoons melted butter/avocado oil or as needed
2 tablespoons cacao powder
4 tablespoons coconut cream
1/2 cup roughly chopped/ground walnuts (pecans can be used instead)
OPTIONAL: Chocolate glaze
60 grams dark chocolate
3 tablespoons coconut cream (or more as needed)
sweetener if needed
Instructions
1

Preheat the oven to 350F. Make sure all your ingredients are ready to use. Prepare a loaf pan and a few sheets of parchment paper, a rolling pin and a few mixing bowls (one for dry mix, one for egg whites, one for egg yolks and a small bowl for the egg wash).

2

Combine all the DRY MIX ingredients in a big mixing bowl.

3

Beat the five eggs white in a separate bowl until it forms stiff peaks.

4

Beat the four egg yolks and the inulin powder or the sweetener of choice in another bowl until it becomes creamy. Add the lemon zest, vanilla, melted butter or oil, coconut cream, apple cider vinegar and combine well.

5

Add the egg whites to the egg yolks bowl and incorporate with a spatula without over mixing.

6

Add the wet ingredients to the dry ingredients bowl. Start combining with the spatula. When it starts getting hard, start kneading with your hands, in the bowl, or on a working surface. Add the extra tablespoon of melted butter or other oil and knead until the dough becomes homogeneous and forms a nice bowl, It is pretty hard though, and if you feel it needs more fat add more oil and continue to knead. Once done add it to the bowl and let rest for 10-15 minutes.

7

In the meantime mix the cacao powder with the coconut cream in a blender (I use a magic bullet for such a small quantity) until is well combined.

8

Separated less than half from the dough ball (you don't want the cacao layer to be equal or bigger than the white part, that's why you need a little less than half).

9

Roll out the bigger part of the dough on a piece of parchment paper, until about 1/2'' thick. The long side should be about the size of your loaf pan. Set aside.

10

On another parchment sheet, add the smaller part of the dough, add the cacao and coconut cream mixture and knead until all incorporated. This step is a little messy but fun (at least you don't have to touch your phone and take pictures of the process, haha). You can add some of the ground nuts to the mixture before rolling out. Roll out this dough until about the same surface as the white one, it will be thinner and a little smaller. With the help of the parchment paper flip it to cover the white layer.

11

Sprinkle the nuts and a little sweetener (even more cinnamon and a little grated chocolate if you wish) and start rolling the two layers with the help of the parchment sheet (see pictures).

12

Transfer, with the parchment paper, to a loaf pan, brush a little egg yolk mixed with cold water on the top and bake for 30 minutes at 35F. The top will be hard and slightly golden, a toothpick will come out clean if inserted.

13

If you choose to make the chocolate glaze, melt the chocolate in the microwave or in a stainless steel pan on top of another pot with hot water (bain-marie or hot water bath). Add coconut cream and a little bit of sweetener (to your taste) and mix well until you get a thick consistency that will be easy to pour over the cake.

14

Take out and let cool. Add the chocolate glaze if using.

15

When ready to serve, slice carefully with a good knife, but not serrated, holding carefully on the sides so the outer layer doesn't break. I like to store it in the loaf pan it was made in, wrapped in the parchment sheet and in a plastic bag closed well, in a cool place (fridge or a cool pantry). The next day the texture will be less crumbly and denser, but moist and soft.

16

It can be frozen. Slice first and add slices in separate bags or add a sheet of parchment paper in between each slice. Take out about one hour before wanting to serve.
Notes
Feel free to add more flavors. Christmas and holidays, in general, are all about specific flavors, so I invite you to experiment (and let us know in the comments if you do). To me, it's all about the combination of cacao, walnuts, vanilla and lots of lemon zest… with a touch of cinnamon and nutmeg. But zest from organic orange added to the lemon zest would only make this sweet bread better.