Who doesn't love a gluten-free flatbread that is easy to make, nutritious, and looks and tastes like normal bread?
This version of a gluten-free flatbread recipe is made with green plantain, sorghum flour, and extra virgin olive oil. Add fenugreek for extra flavor.
A flatbread that stays soft
While flatbread or pita bread can take many shapes and forms, flatbread (especially gluten-free flatbread) usually has a hard element. It can be difficult to roll out, or it gets hard if not eaten immediately. It might also have a weird texture or unusual taste.
But this flatbread made with green plantains and sorghum is easy to make and roll out, easy to cook, and stays soft and pliable even after one day on the counter. But I don't promise you it will last that long, because it is also delicious.
What is a plantain?
But firstly, what are plantains? As you would expect, they are a member of the banana family but a little bigger in size. They are technically a fruit, but they are prepared like a vegetable in many cuisines worldwide.
They are a major food staple in Africa, Latin America, and some parts of Asia, particularly in tropical areas, where they grow natively. Plantains are, in fact, the 10th most important food staple in the world. 
Nutritionally, cooked plantains contain vitamin A, vitamin C, potassium, vitamin B6, magnesium, and iron. They are mainly a carbohydrate but with lots of fiber and resistant starch benefits (suitable for feeding your good gut bacteria).
For more information on green plantains, like where to find them and how to peel them, check out this post: How to Make Tostones (Double-Fried Green Plantain Slices).
Plantains help make this dough soft and stretchy in the absence of gluten.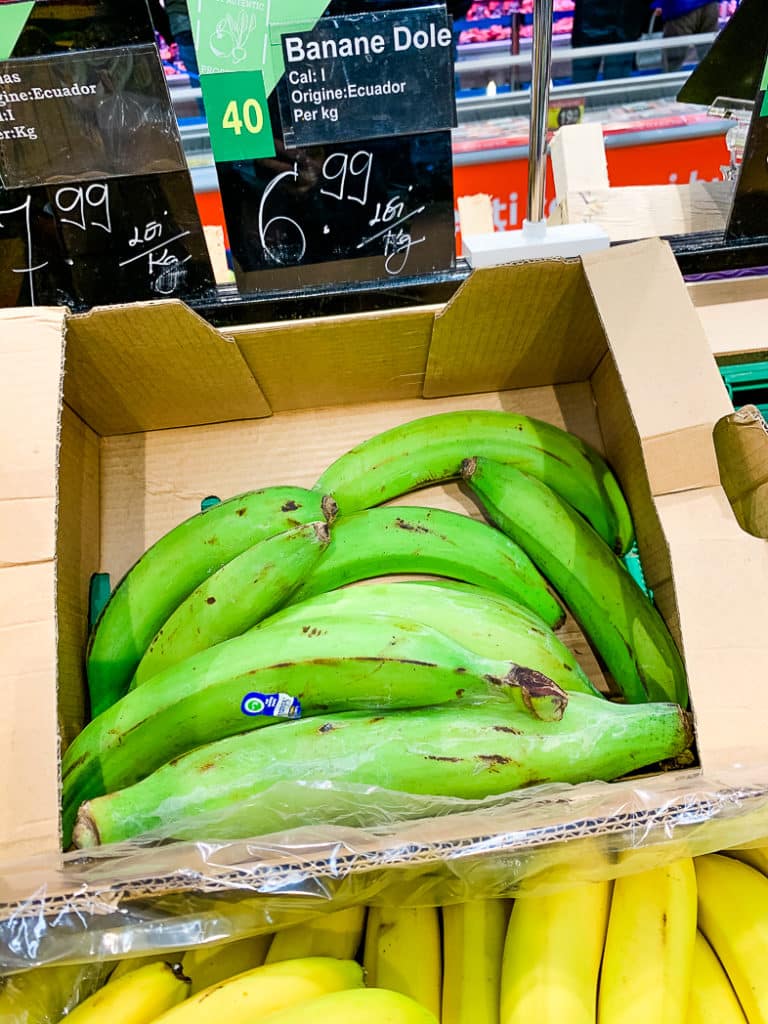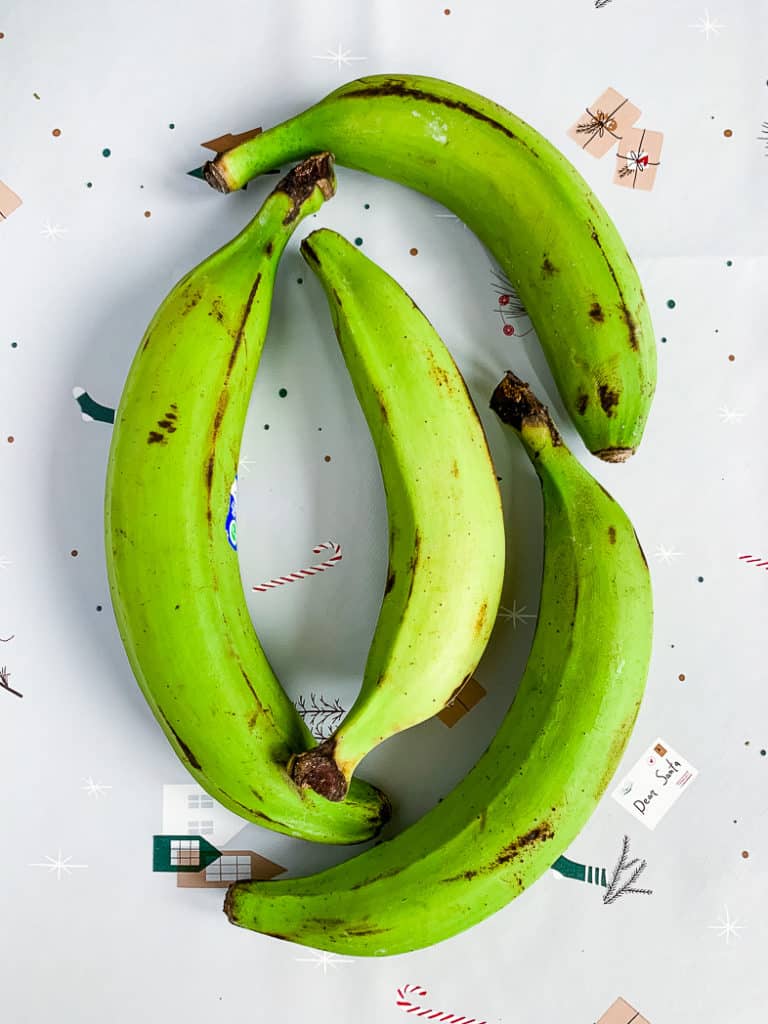 What is sorghum flour?
Sorghum flour is obtained from ground whole-grain sorghum, also called jowar flour.
Have you ever heard of jowar roti? Rotis are Indian flatbreads that require quite some skills, made with only hot water, sorghum flour, and salt. While I'm still perfecting the technique to make Jowar roti, using green plantain and olive oil makes working with sorghum flour a little easier.
Sorghum flour is also very popular for lectin-free, gluten-free baking, especially for making sourdough starter and bread. 
Sorghum flour can be a little dry and doesn't come together as dough without a binder like the plantains. Hot water is really helpful too, that's why I use the hot water from boiling the plantains. Jowar roti is also made by adding flour to hot water.
With a mild and slightly sweet and nutty taste, sorghum flour reminds me of graham and spelt flour, and I use it with a few other lectin-free flours to make a gluten-free flour blend for our Sugar-Free 'Graham' Crackers / Digestive Biscuits.
For more information on lectin-free and gluten-free flours, check this post: Quick Guide to Gluten-Free, Lectin-Free Flours. And for more recipes, check out our roundup: 10+ Sorghum Flour Recipes (Gluten-Free).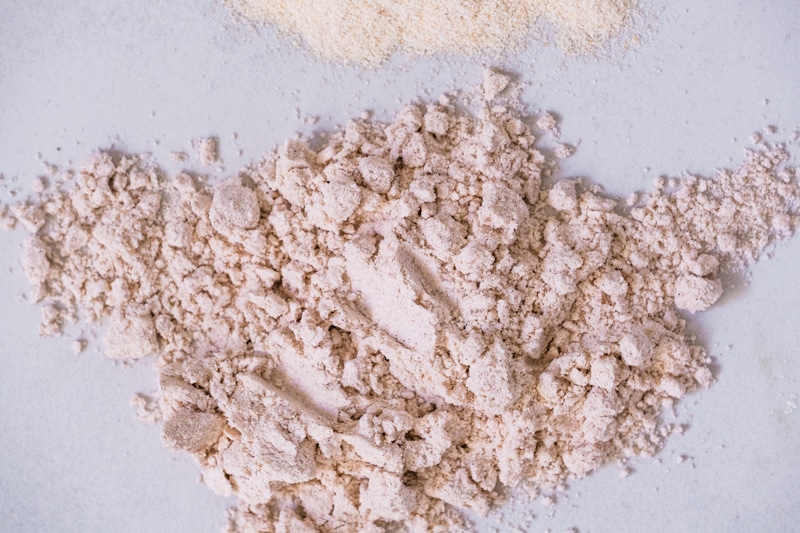 Fenugreek powder
But what is fenugreek powder? Fenugreek is a spice used mostly in the Indian subcontinent cuisine called methi. In fact, a very popular type of flatbread is made with fenugreek leaves.
While fenugreek leaves are not easy to find in Romania, where I am as I write this, fenugreek powder will give a similar flavor. Fenugreek powder is also popular as a supplement and superfood spice.
Ingredients you need for this gluten-free sorghum flatbread
This is the ingredient list:
green plantain
sorghum flour
tapioca flour
extra virgin olive oil
fenugreek (optional, you can also use other flavors or spices)
sea salt
baking powder
water
The tools you need to make this gluten-free flatbread are:
blender
parchment paper
mixing bowl
spatula
cast iron skillet or griddle
rolling pin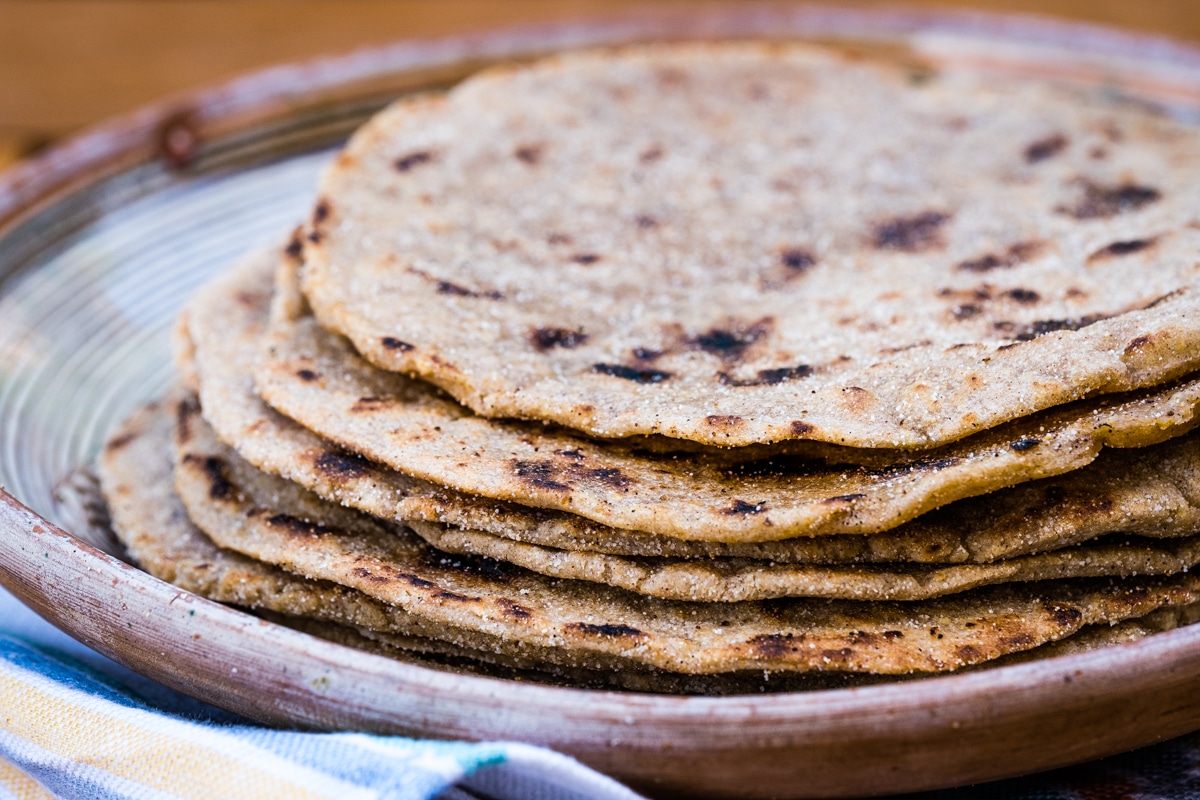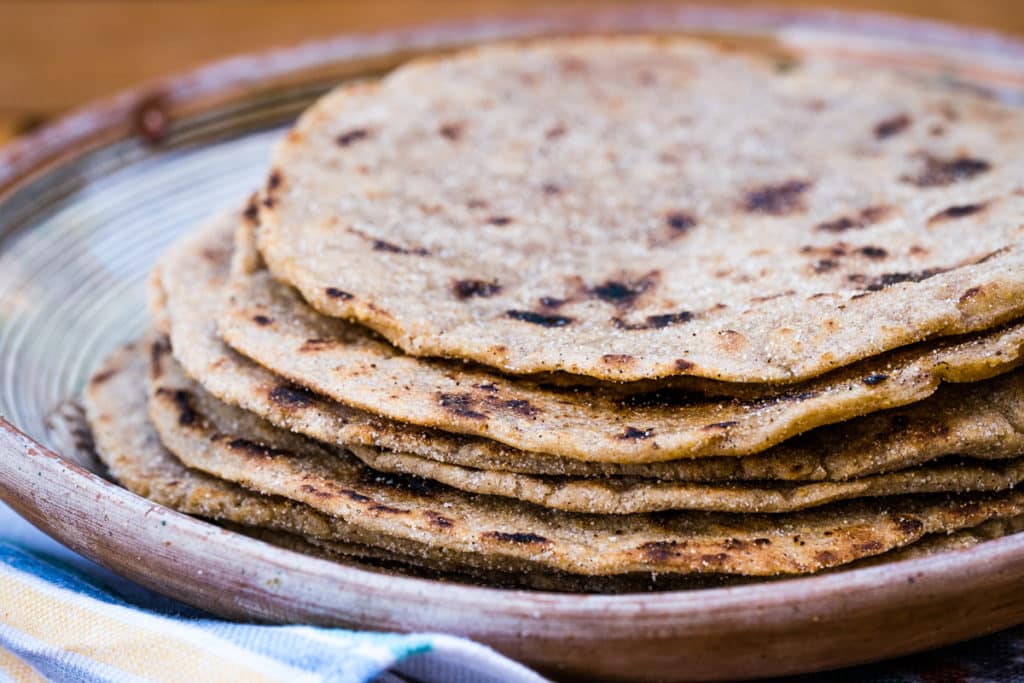 How to make this gluten-free flatbread with sorghum and green plantains
While the process might seem complicated when explained, it's actually pretty easy. I just wanted to give you all the details in case you are making this type of bread for the first time.
If you've made my easy cassava tortillas before, this flatbread's rolling out and cooking processes are similar.
The steps to make this easy gluten-free flatbread:
Peel and boil the green plantains
Blend the wet ingredients, salt, and fenugreek: plantains, hot water from boiling them, olive oil
Mix the baking powder with the sorghum flour
Transfer the creamy batter obtained to a large bowl and start adding the sorghum flour, then the tapioca flour.
When doughy enough, knead the dough with your hands.
Divide the dough into 8 equal parts, form small balls and dust them with sorghum flour
Take each dough ball on a lightly floured surface (parchment paper) with sorghum flour, dust the top and start rolling out the dough. You don't need parchment paper on top; from my experience, it won't stick.
After rolling it out, transfer the dough to the hot skillet.
While the flatbread cooks on the first side, roll out the next one.
Cook the flatbread, flipping from one side to another. It will puff up in some places and form blisters. By gently pressing on the surface with a spatula, you might help them to puff up more. They are ready when puffing up and golden brown on each side (with brown blisters).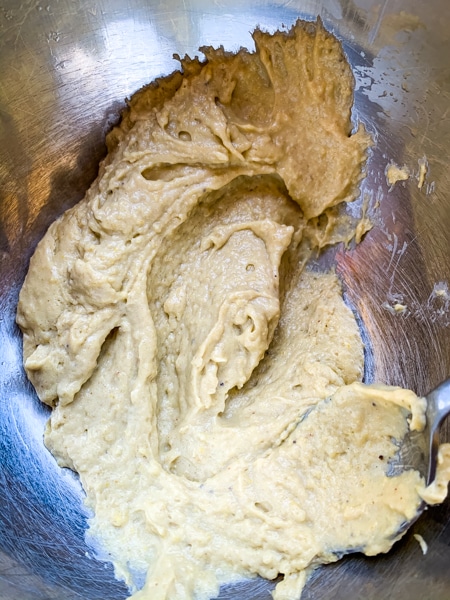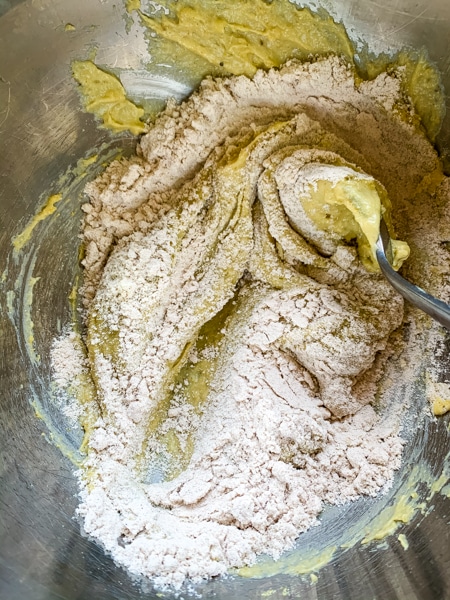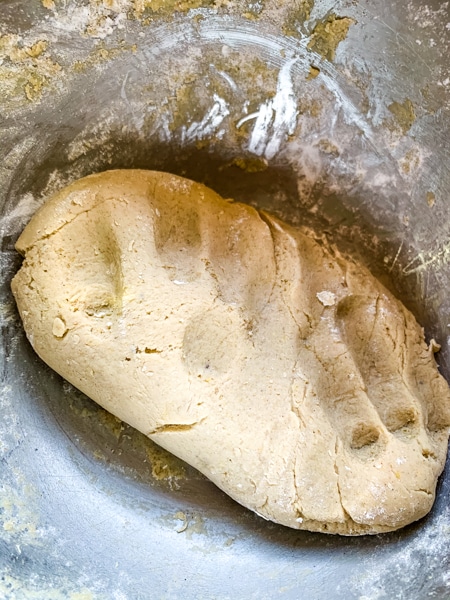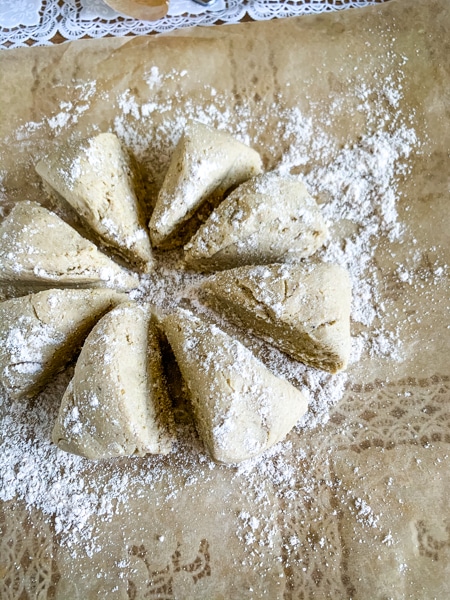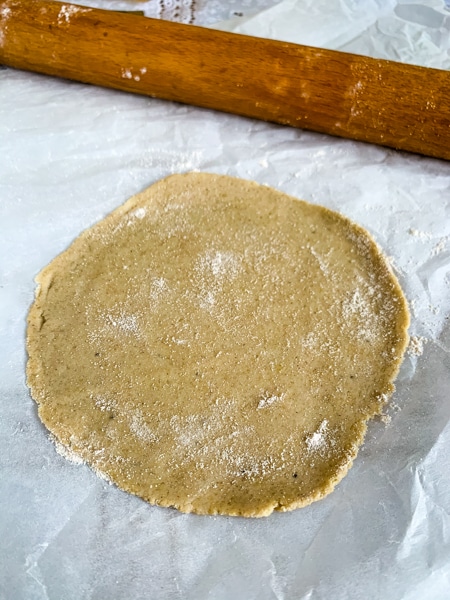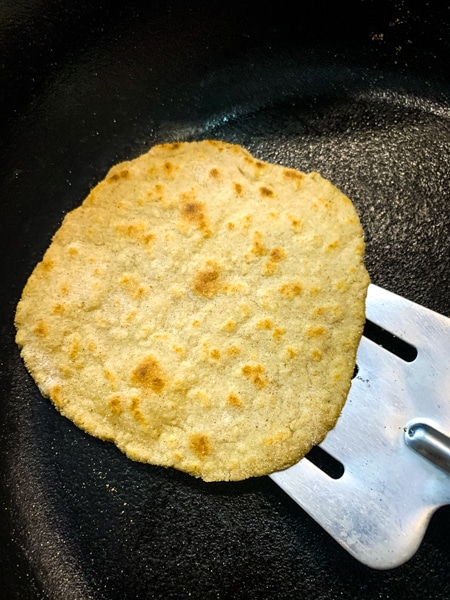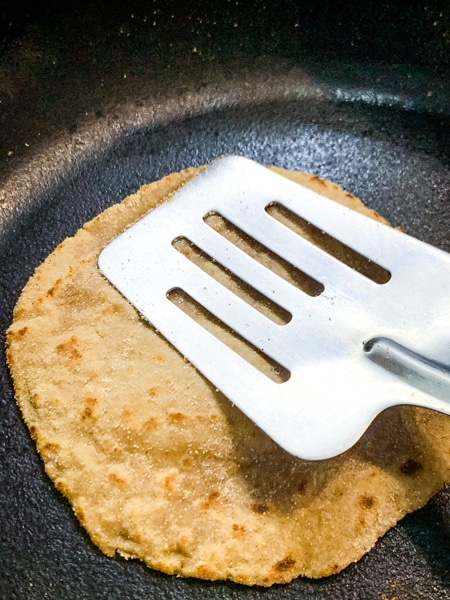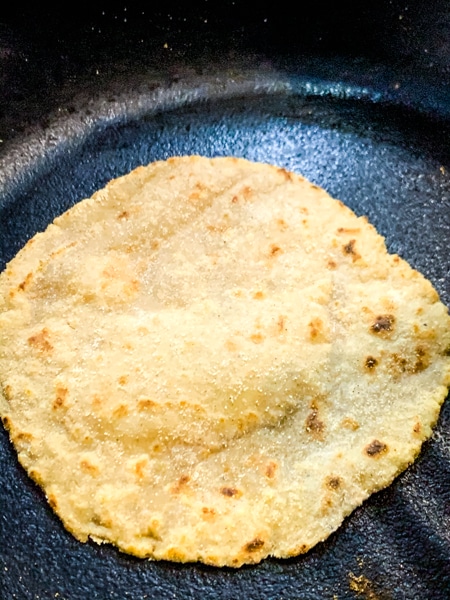 I hope you love this gluten-free flatbread made with sorghum flour and green plantain. It's not only gluten-free but also:
lectin-free
dairy-free
vegan
delicious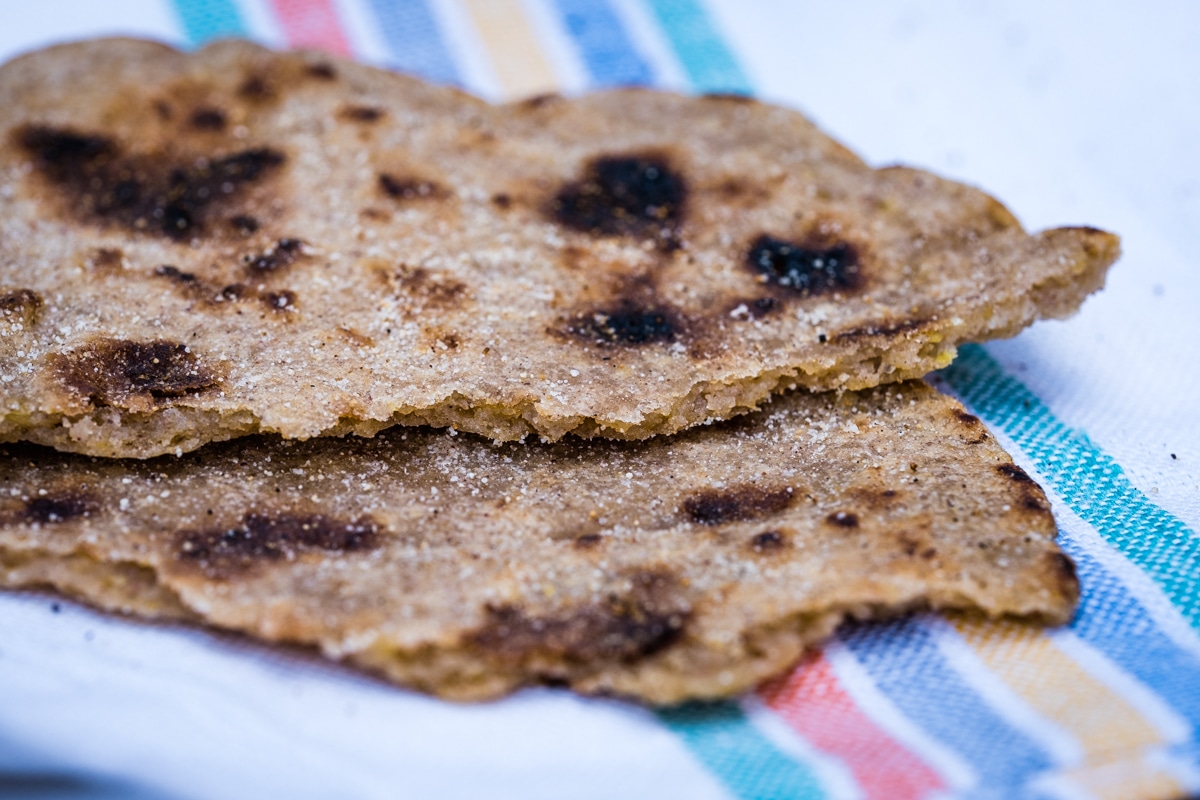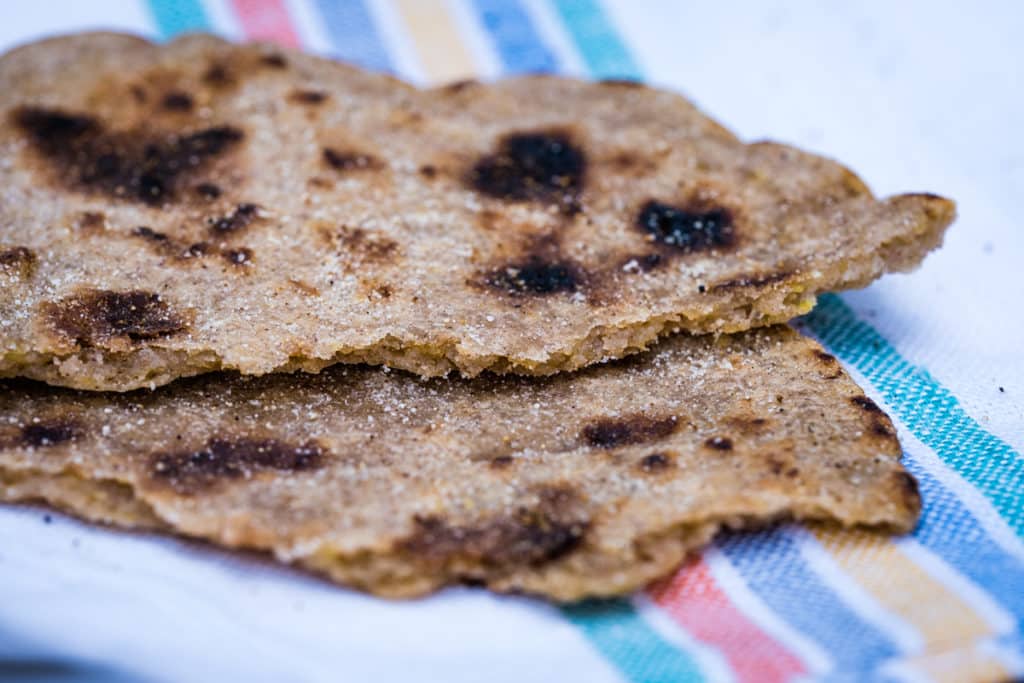 Plus, compared to other flatbreads, it stays soft, so you don't need to rush and eat it immediately. The taste is similar to that of a whole wheat flatbread.
It's a perfect addition to any Mediterranean-style meal or with curries and stews. Check out THIS VIDEO on my Instagram to see the texture of this flatbread.
More sorghum bread and flatbread recipes
For other gluten-free flatbread style bread options, check out our:
And for another bread recipe with sorghum flour, try my Sorghum Bread Rolls.
This recipe is part of our 10+ Sorghum Flour Recipe Round-Up.
*This post contains affiliated links, which means I get a small commission if you choose to purchase something via one of my links, at no extra cost to you.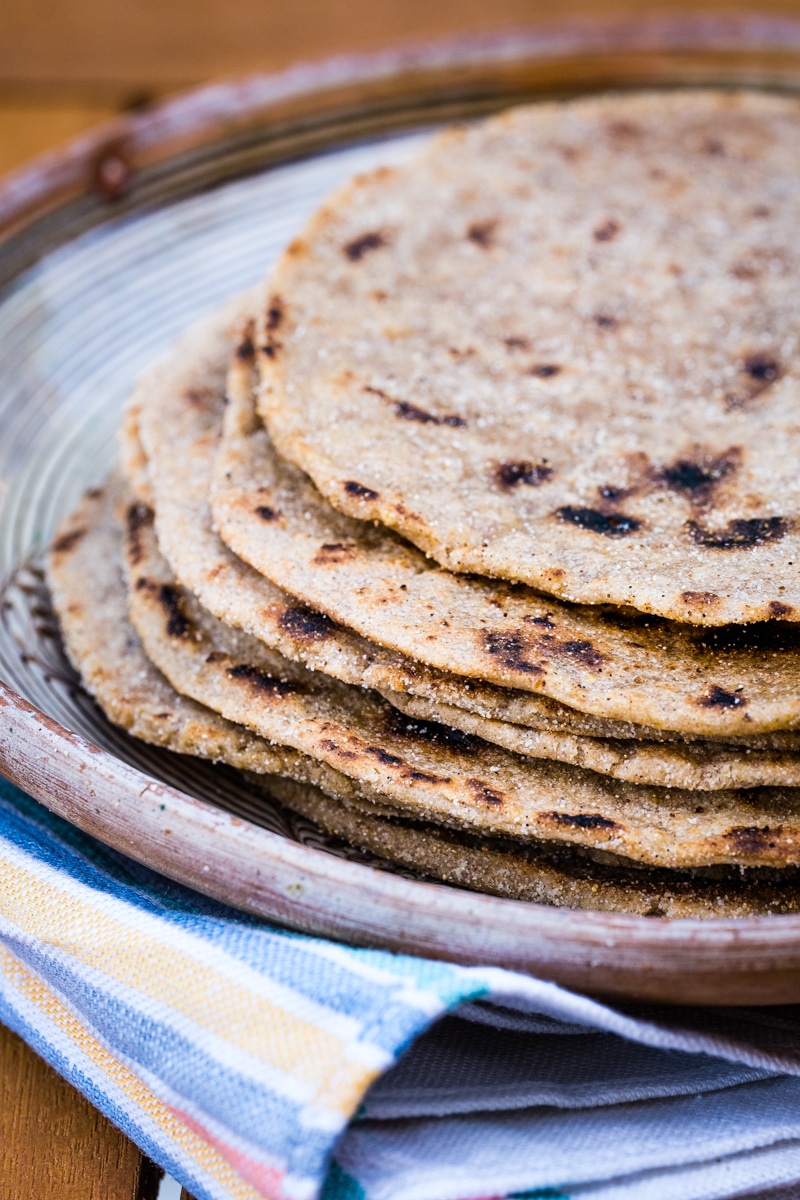 Print Recipe
Gluten-Free Flatbread with Sorghum and Green Plantain
Who doesn't love a gluten-free flatbread that is easy to make, nutritious, and looks and tastes like normal bread? This version of gluten-free flatbread is made with green plantain, sorghum flour, and extra virgin olive oil. Add fenugreek for extra flavor.
Ingredients
1 green plantain, peeled, boiled for 20 mins
1/4 cup boiling water from the plantain boiling water
20 ml extra virgin olive oil (about 1/8 cup)
1 teaspoon salt
1 tablespoon fenugreek powder
1/2 cup sorghum flour plus more for rolling out
1/2 teaspoon baking powder
2 tablespoons tapioca flour
Instructions
1

Boil water in a pot with 1/2 teaspoon salt. Peel the green plantain, cut it into 4 pieces, throw it into the boiling water and boil for 20 minutes, or until fork-tender. If any dark spots on the banana, clean them with a knife.

2

Add the boiled plantain to a blender with 1/4 cup of the hot, boiling water (it's important for the water to be hot), 20 ml extra virgin olive oil (about 1/8 cup), salt and fenugreek powder. Blend until smooth. You will get a creamy, sticky consistency.

3

Mix the sorghum flour with the baking powder.

4

Add the batter to a mixing bowl, add the sorghum flour in stages and mix with a spatula. When it gets doughy enough, start kneading with your hands. Add all the sorghum flour and then the tapioca and knead. The dough will be pretty moist, but it will hold together well. You will use more flour for kneading and dusting anyway.

5

Make a big ball out of the dough and split it into 8 equal pieces. Dust everything with sorghum flour.

6

Heat a nonstick cast iron skillet or a griddle. It's important to be hot when you add the flatbread to it.

7

Take one of the balls, dust your hands and a parchment paper with sorghum flour, gently flatten the dough into a round, with your hands, dust with a little bit of sorghum flour, and then roll out with a rolling pin, as thin as you can (they are about 7 inches in diameter).

8

Transfer the first flat bread to the hot pan, by flipping it with the help of the parchment sheet.

9

Let cook on the first side for about 2 minutes, then flip with a spatula, let cook for 1 or 2 minutes, then flip again. You will flip it several times, and the total time for each flatbread will be about 6 minutes. While cooking, press with the spatula on the surface of the flatbread, it will help to bubble up. While one is cooking you can roll out the next one.

10

When the flatbread is done, transfer it to a plate and cover it with a towel.

11

Serve warm or cold. Store in a closed container or in a bag, on the counter or in the refrigerator, or freeze and rewarm in the oven or on the stove.
Notes
Like with anything gluten-free, but especially bread, you might need a little bit of practice if you are trying something like this for the first time. For everyone will be a little different as the heat source, the skillet, slight differences in measurements can make a difference. But once you figure out how it works, it becomes very easy to make them.