Hello from Denmark. I'm here missing a lot of the usual treats I had in the US, but that only motivates me to create more. I haven't missed crackers in my life so far. There were plenty of options in the US, and my Sweet Potato Crackers in my book – The Living Well Without Lectins Cookbook – are better than any store-bought crackers I have ever had.
But I missed something else: biscuits. Now, if you are reading this in the US, you think of something different when you read or hear biscuits. But what I mean by biscuits is what you might call crackers, however, there is a big difference between biscuits and crackers. Crackers are really crunchy, while biscuits are more floury. This recipe is what you would call "graham crackers", or what in Europe we would call "digestive biscuits". So, lectin-free graham crackers it is.
When I first had the idea to make a replacement for graham crackers or digestive biscuits, I started with a vegan option, using cooked sweet potato, as I know how beautifully sweet potato works in so many of my recipes. I use them extensively in my cookbook and based on the feedback I get, all recipes are a success.
A healthy graham crackers recipe without added sugar
However, while the taste was amazing, the texture was a little chewy. They are good, but not exactly what I had in mind (I have the recipe written down, so maybe I'll work further on a vegan option to improve the texture).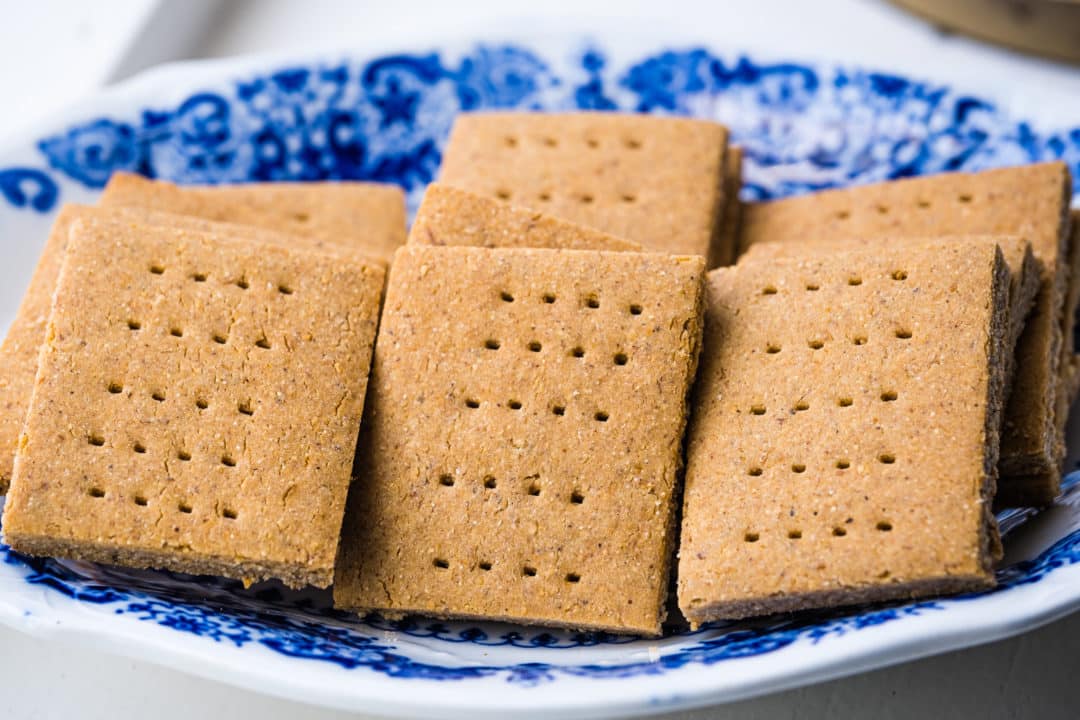 For this recipe, I added one egg and extra virgin olive oil. I'm using honey as a sweetener, but only two teaspoons for the whole batch, so Phase 3 plant paradox compliant. You can replace it with any sweetener you want: yacon syrup, monk fruit syrup, or even granulated sweetener, but I prefer honey. I bought local honey here and it's so tasty.
If you know me a little bit, you know my recipes are not overly sweet. I believe the whole point of eating healthier is to re-educate our palates to be very sensitive to the sweet taste, regardless of where it comes from.
Using the right flour mix
When it comes to flour, I wanted to replicate the texture, taste and color of graham flour, which is in fact whole wheat flour, ground in a special way. As you can imagine, a lectin bomb.
I used as the main flour sorghum, since it's a lectin-free whole grain and added to the mix tigernut flour and chestnut flour, which are naturally sweet and will allow us to use a sweetener to a minimum (graham crackers and digestive biscuits have quite a lot of refined sugar added).
From my experience with gluten-free baking, although it might be a pain, I know that we need a good mix of flours to replicate what the gluten can do, so I added to the mix: coconut flour, almond flour, psyllium husk (binding properties). I know not everyone has chestnut flour on hand, so if you need to replace it, you can add extra tigernut flour instead. I like to add chestnut because it has great taste and I feel it really fits the profile of this biscuit.
Optionally, you can add a little bit of hemp protein powder. If your dough is too dry, add more milk, if it's too wet add more sorghum flour.
CHECK OUT MY SHOP PAGE TO FIND ALL THE BAKING ESSENTIALS IN ONE PLACE
Important note: if you ever want to replace coconut flour, keep in mind that the ratio of coconut to other flours is 1:4. Coconut flour absorbs four times the liquid than other flours.
Cinnamon gives the specific taste of graham crackers/digestive biscuits
The specific taste of graham crackers or digestive biscuits is given by cinnamon. I didn't add too much because cinnamon can be high histamine. Although I can tolerate it, I like to keep it to the minimum. Depending on how much you know you like cinnamon, you can adjust the quantity. My husband said these lectin-free graham crackers/biscuits taste like Christmas.
Baking the graham crackers
When it comes to baking, they need to be baked at low heat. I tried 350F and it didn't work well, but 300F worked perfectly. When it comes to crackers, because thickness may vary, you have to keep an eye on them and take out the edges if they start browning.
These are much thicker than the usual crackers (about 1/4 inch). So you are not looking to make them crispy, but more floury and dry, like a digestive biscuit. If your sheet of dough is thinner, it will take less to cook, that's why you need to keep an eye on them.
I also recommend separating them at half time, so more air is circulating among them and they'll cook more evenly. At the end of 30 minutes, I turn off the heat and open the door of the oven, but let them in for another five to ten minutes, they'll dry further without burning.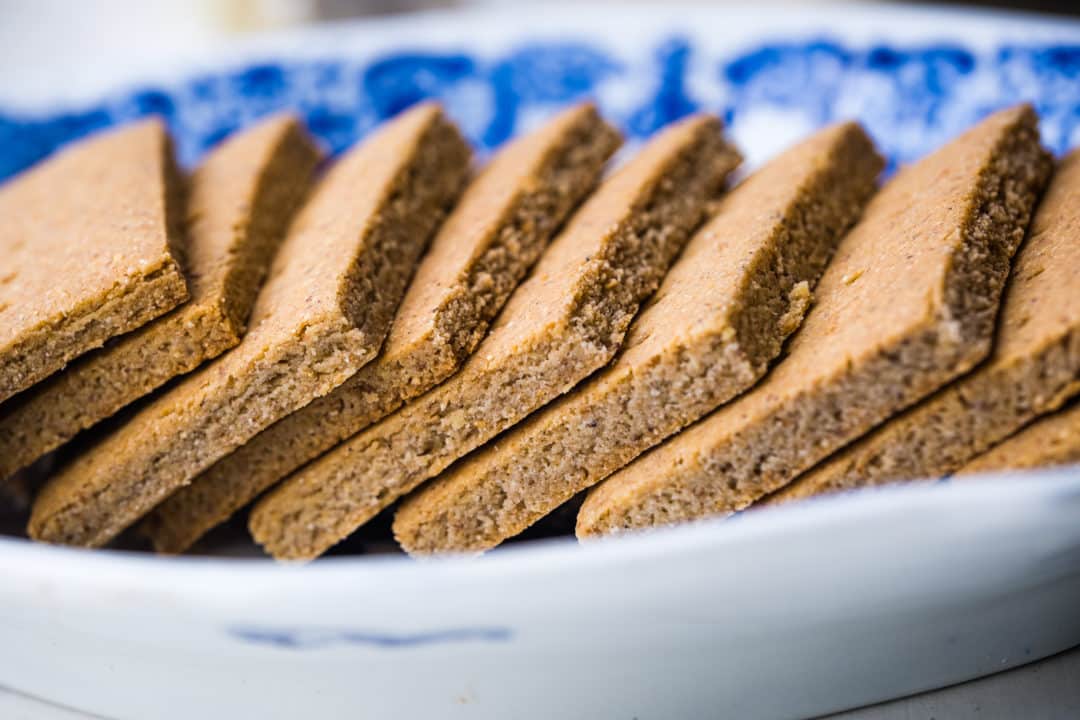 This is a super easy recipe, but there is always a little trouble when there are so many flours or dry ingredients to mix. When I visited my sister-in-law in Copenhagen, she absolutely loved the biscuits. But she was not familiar with all the ingredients, so I pre-mixed all the dry ingredients for her so she can skip that step. She was so happy to use them and made the biscuits with no issues.
How to store the crackers
To store them, you can place them in a Stasher bag, a covered glass container or you can even freeze them. I hope you love them. If you have any questions please comment below and if you make them I'd be happy to see them on Instagram, so don't forget to tag @creativeinmykitchen.
Perfect for a mini picnic, create something special
The lectin-free graham crackers are perfect for a mini picnic. Take some with you when you go out in nature, with a hot Tulsi tea, you will love it.
And, if you are a little more creative and patient, you can create something more special and beautiful, like Angela, aka @angelamgarr on Instagram. Give her a follow, she creates some of the most beautiful lectin-free recipes and photos, and every time she touches one of my recipes, she turns them into magic. These are the lectin-free graham crackers she made, following this recipe.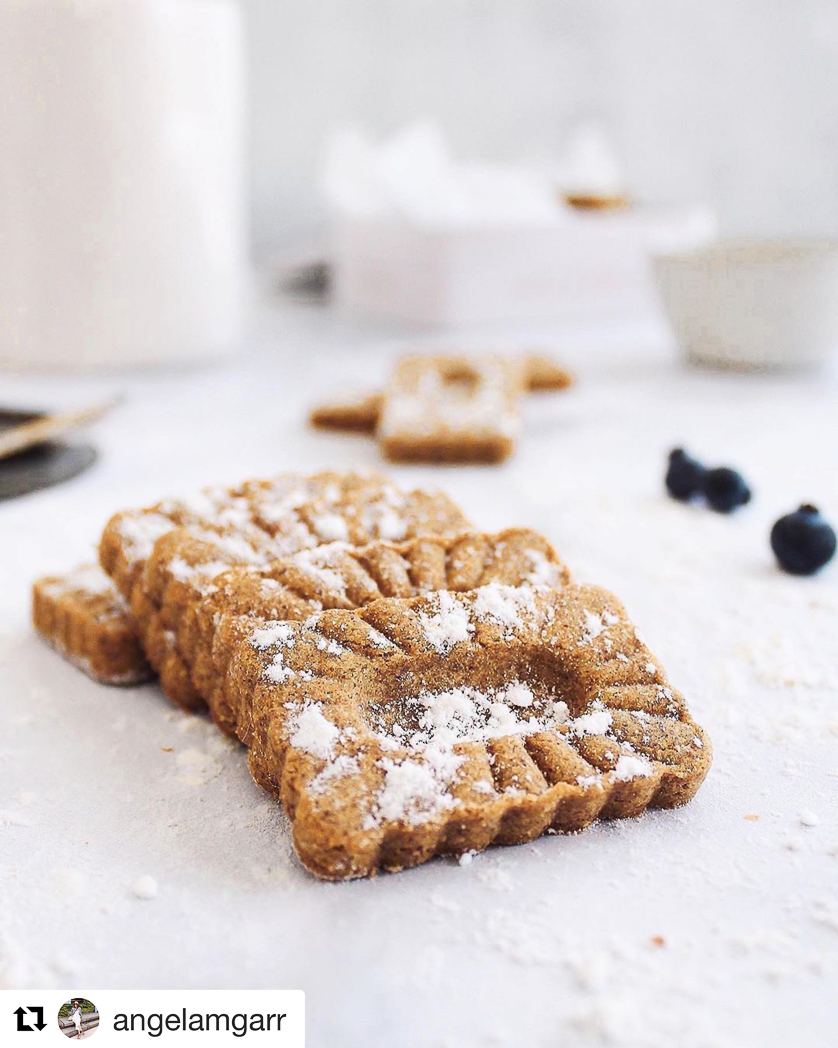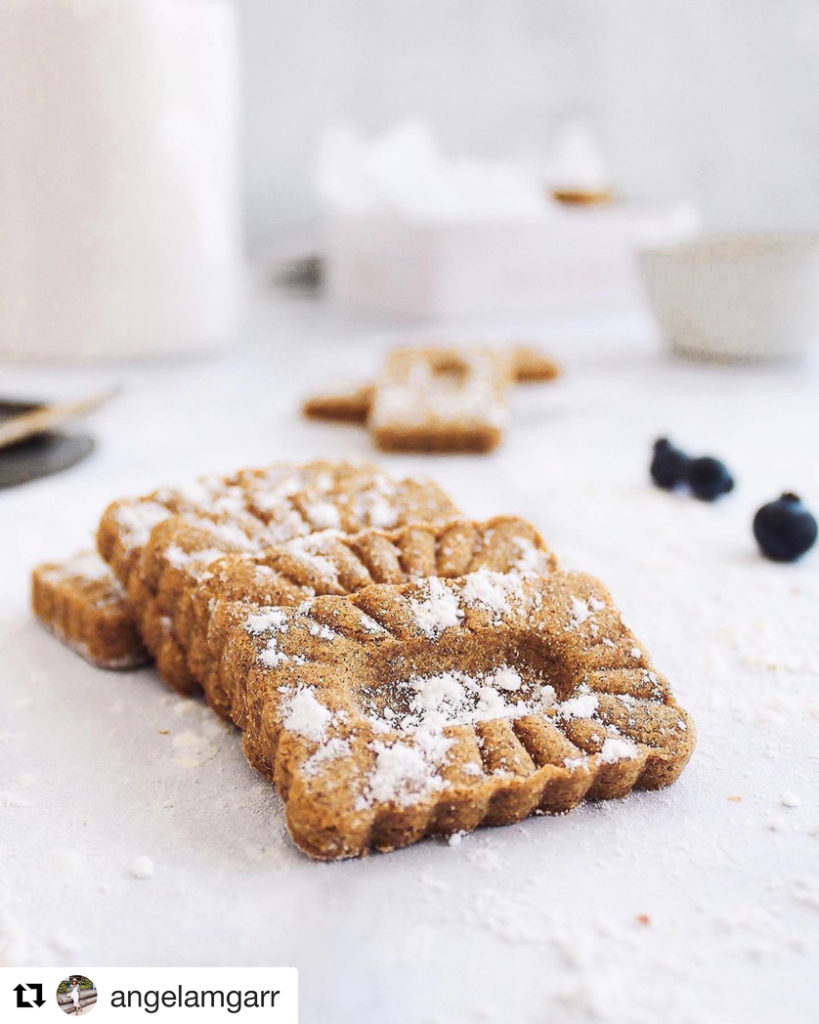 Hello Valentine edition! You can use a cookie cutter to make any shapes you want.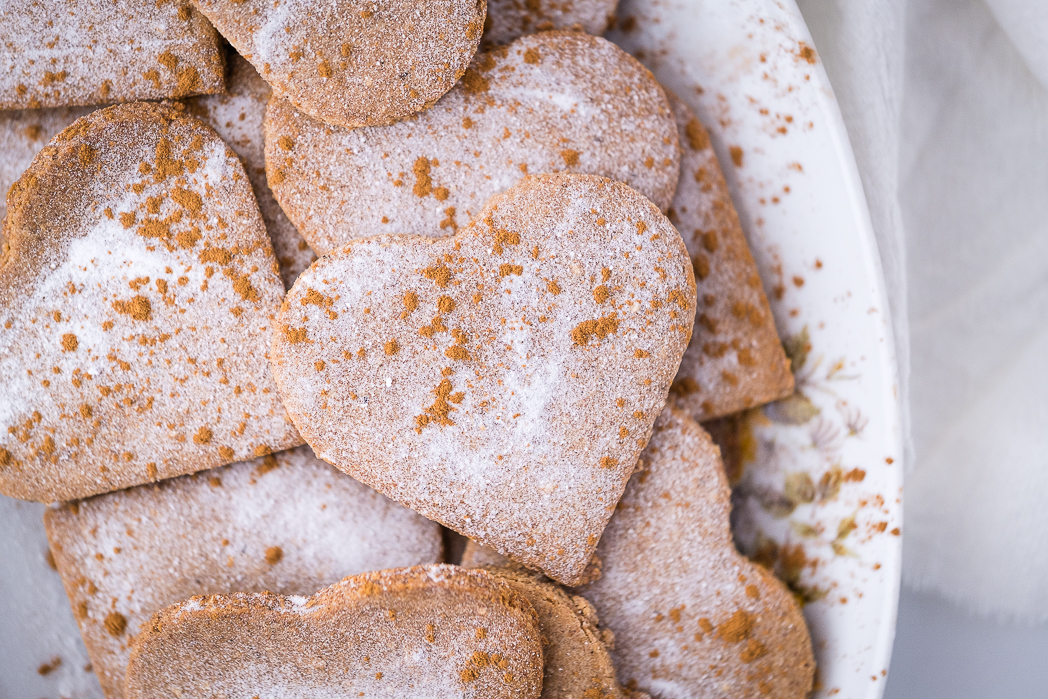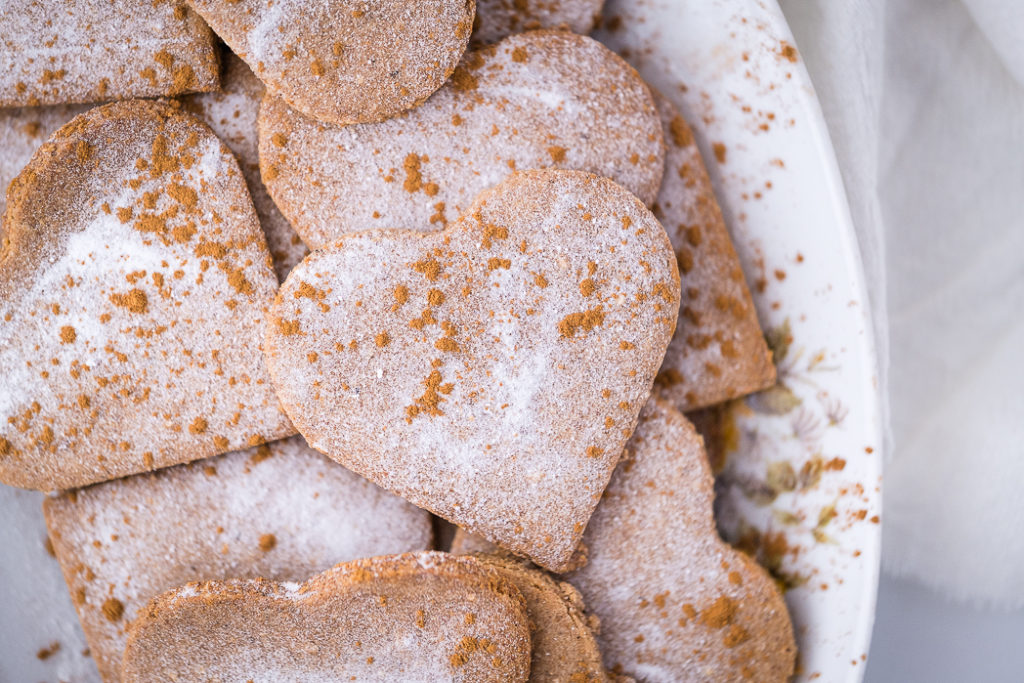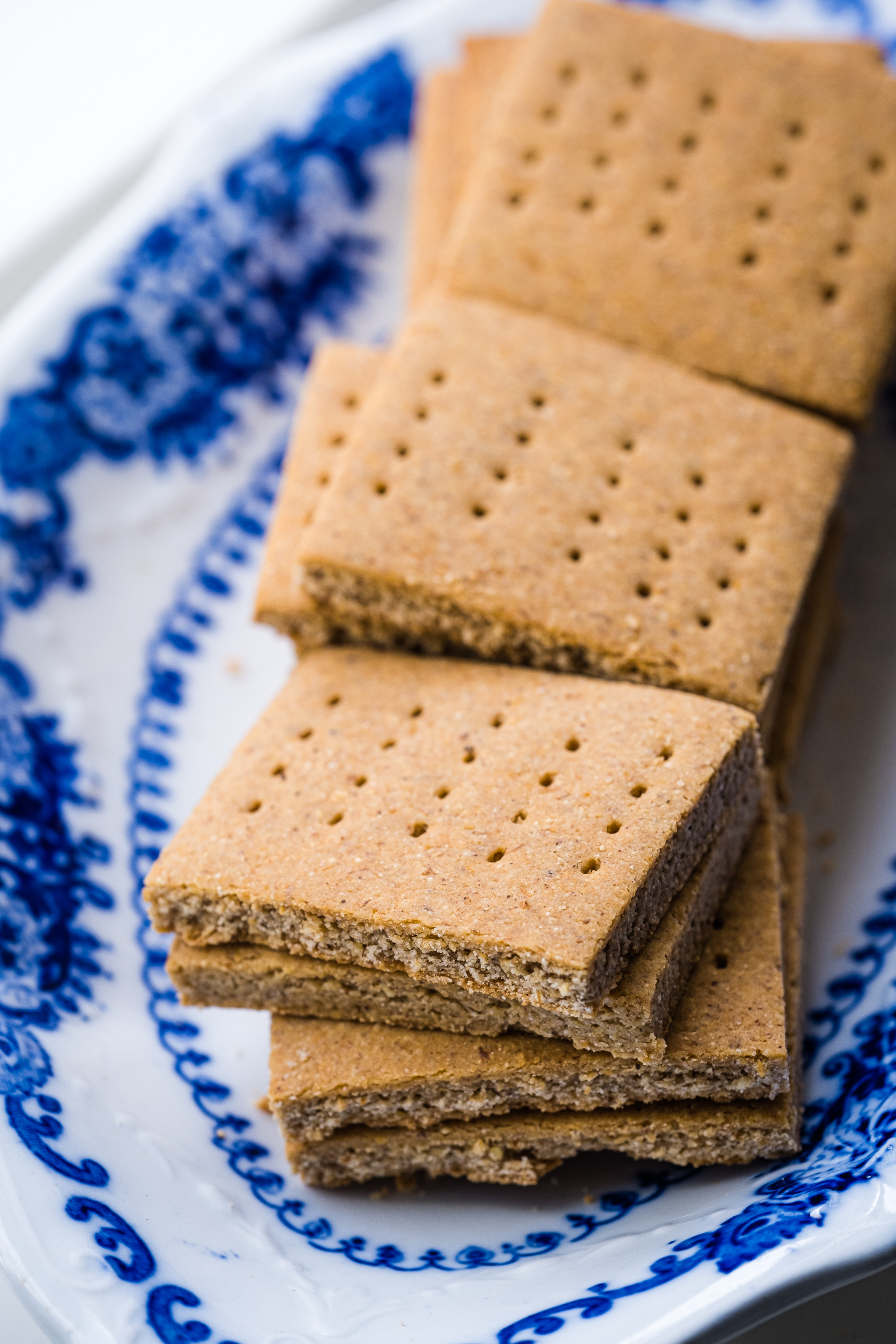 Print Recipe
Lectin-Free Graham Crackers or Digestive Biscuits
A delicious and easy lectin-free version of the much-beloved graham crackers or digestive biscuits.
Ingredients
1 pastured egg
2 teaspoons honey (or replace with your sweetener of choice)
1 teaspoon vanilla extract
4 tablespoons extra virgin olive oil
4 tablespoons coconut milk (or replace with the milk of your choice)
3 tablespoons tigernut flour
1 tablespoon psyllium husk flakes
1 tablespoon chestnut flour (replace with tigernut if you don't have)
1 tablespoon almond flour
1 tablespoon coconut flour (if you want to replace, consider the ratio 1:4 coconut to other flours)
6 tablespoons sorghum flour
1/2 teaspoon baking powder
1/8 teaspoon salt
1 teaspoon cinnamon (or more for a stronger taste)
Instructions
1

Preheat the oven to 300F and prepare two parchment paper sheets and a rolling pin.

2

In a medium mixing bowl, add all the flours, baking powder, salt and cinnamon and mix well.

3

In a smaller bowl, beat the egg, honey, vanilla, olive oil and milk.

4

Add the liquid ingredients to the dry and mix with a spatula then with your hands until you form a nice ball of dough. If it's too wet, add more sorghum flour if too dry add a little more milk.

5

Place the dough on parchment paper and flatten with your hand and trying to form a rectangle as much as possible. Add the second paper on top and roll the dough about a little less than 1/4 inch thick. Remove the top paper and with the help of the bottom paper transfer the dough to a baking sheet (keep the bottom paper). Cut in the size of your choice and poke holes with a fork (see pictures).

6

Bake for about 30 minutes but keep an eye on them and if the edges get browned quicker remove them from the pan. I suggest you also separate all the biscuits/crackers after about 15 minutes as they will cook more evenly.

7

At the end of the 30 minutes, turn the heat off and open the oven door and let them in for another 5, 10 minutes. Remove them from the oven and let them cool. Serve them as a snack, alone or with nut butter, use them for s'mores, or as tea biscuits.
Notes
Please read the entire recipe and post before you make them. The thickness of the biscuits is about 1/4 inch, maybe a tiny less). So much thicker than the usual crackers (especially if you are used to making my sweet potato crackers from my cookbook, which are very thin). If you stack four cooked biscuits together you'll get 1 inch, with little space in between them.