A sophisticated treat, this olive oil walnut spice cake features warming spices and lovely herbal notes from olive oil. Pair a slice of this bread-like spice cake with a good strong cup of coffee or tea. For an extra special treat, spread a little coconut whipped cream on your cake, or add some seasonal fruits to it as I did. Either way, it is positively decadent!
Like anything on this website, this olive oil walnut spice cake is gluten-free, lectin-free, and sugar-free (keto). It is also dairy-free.
The best quality extra virgin olive oil, warming spices, and walnuts, what's not to love about this combination, especially when it comes in the shape of a decadent, but a healthy slice of cake. And if you were not convinced yet, imagine this cake can also be classified as keto, while it is lectin-free and sugar-free.
Olive Oil Walnut Spice Cake: a guest recipe by Dr. Steven Gundry
This is another guest recipe, and the guest is quite a special one: Dr. Steven Gundry, the author of The Plant Paradox, The Longevity Paradox, and The Energy Paradox, and the reason behind my health journey and the existence of this website.
In collaboration with Gundry MD, I will not only share this recipe with you, but I will give you my own version of it.
Dr. Gundry also gave me some helpful tips on how to choose the best olive oil, please find the guide here: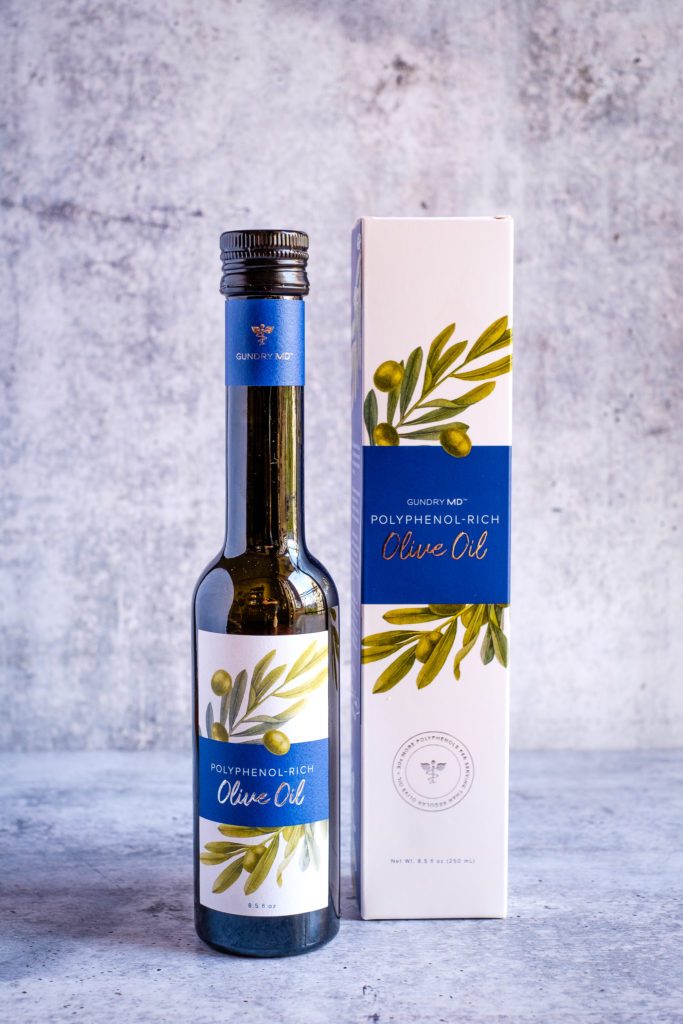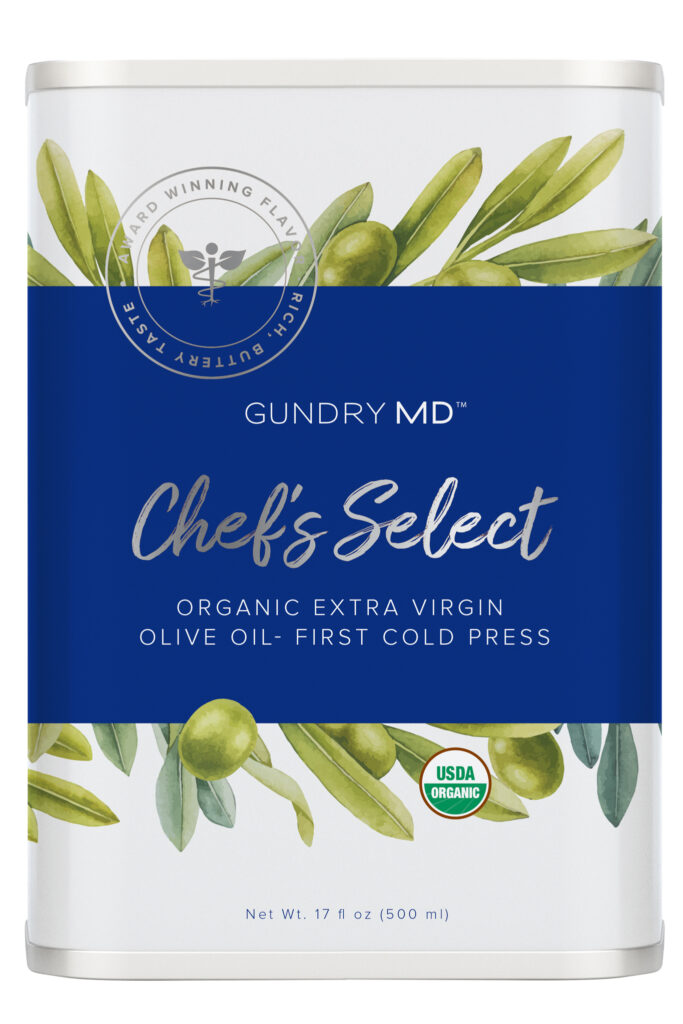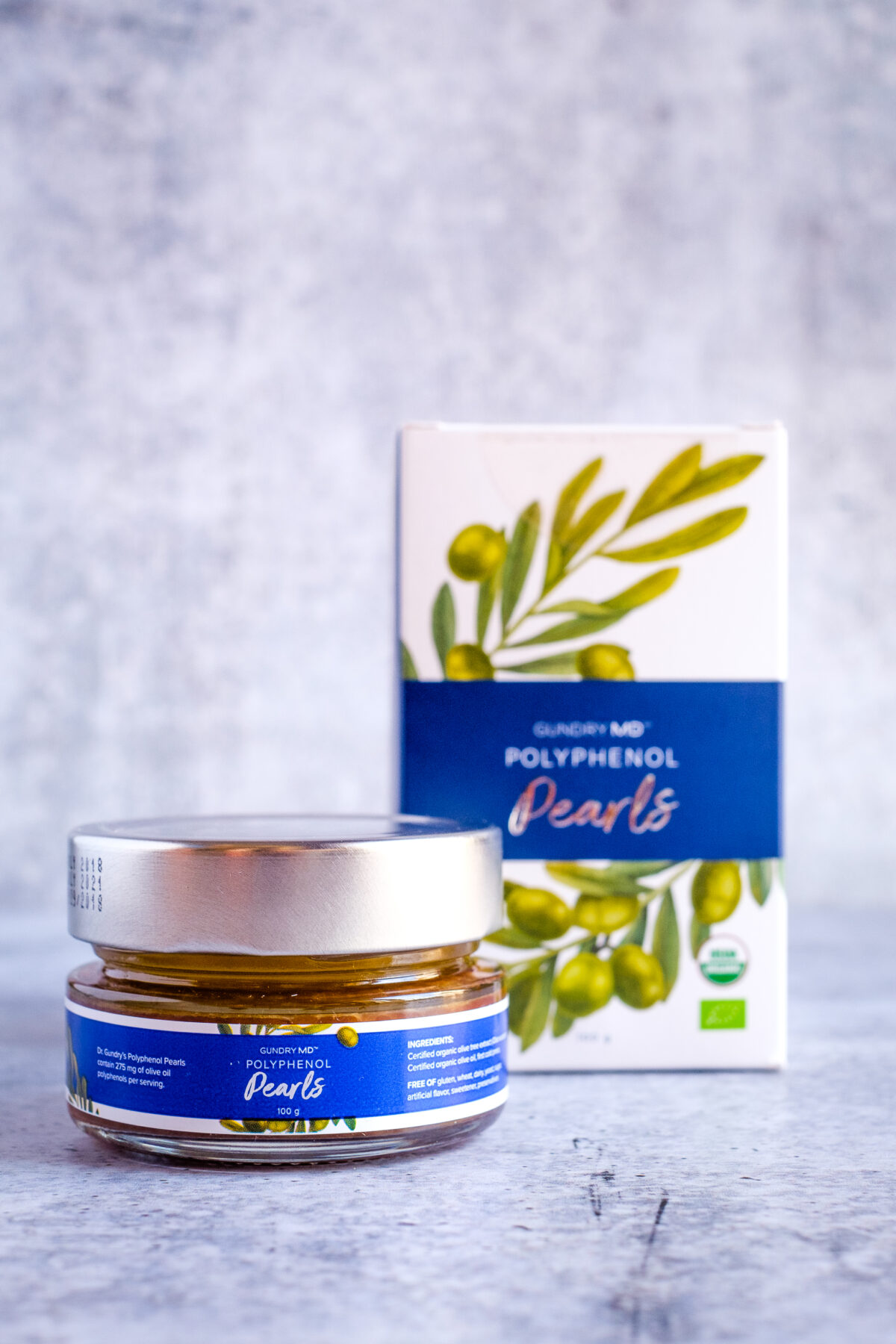 SAVE more than 25% on ALL Gundry MD olive oil products, on my Ambassador Store.
My version of Dr. Gundry's Olive Oil Walnut Spice Cake
I like to put my own spin on everything, some of you know that. Firstly, I changed the cooking method, because I'm camping at my parents' place in Romania as I write this and I don't have my Instant Pot with me. We do have a manual pressure cooker but I have no idea what a "cake" setting would be on that one.
Secondly, I had some strawberries I wanted to pair with this cake, so I gave it a try. I don't regret it.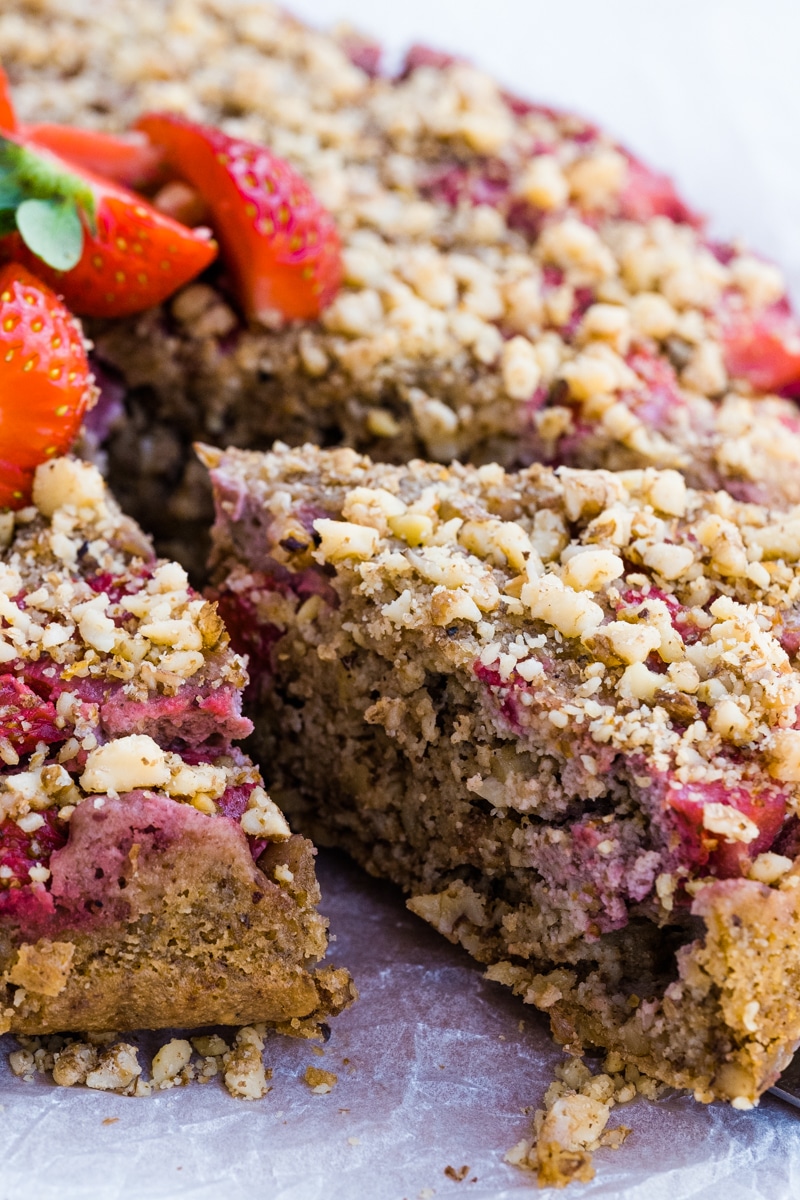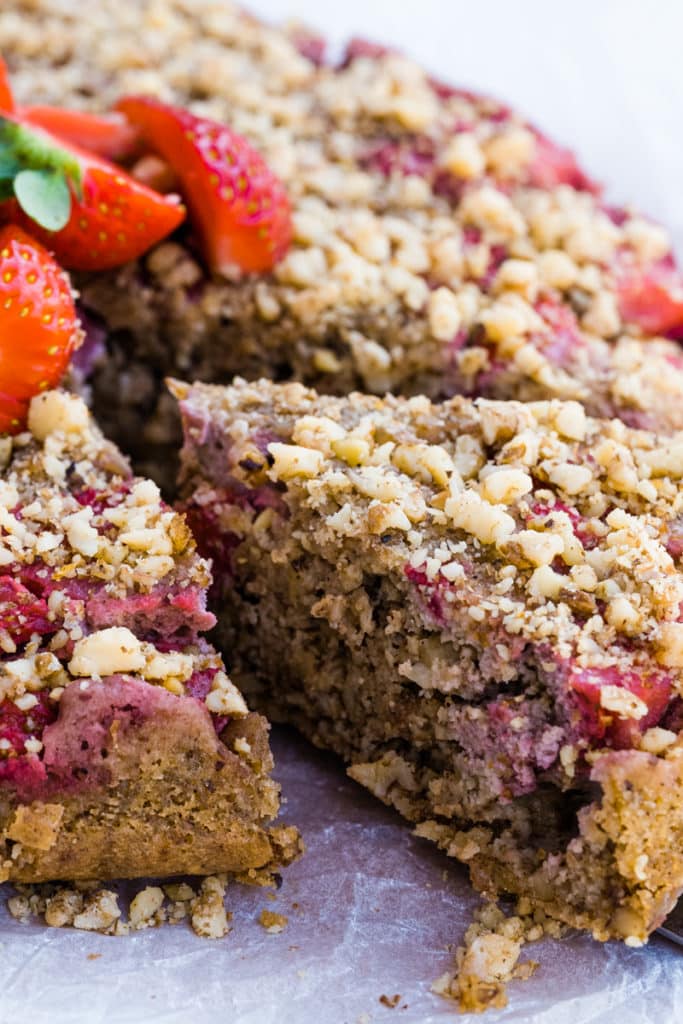 Cooking the cake in the oven
As you can see in the recipe card below, this is a cake cooked in the Instant Pot. I never thought that can be possible, but I wonder what the Instant Pot can't do. I don't even remember if my 9in1 Instant Pot, now in a warehouse in Denmark, has cake settings.
So one of my missions while testing this cake was to find out how it works if I cook it in the oven, the traditional way.
I used a glass pie dish for the cake, and one of the oven trays to add some water under the cake, to somehow recreate the steam and humidity I imagine happens in an Instant Pot while on the cake setting. This is a bigger size than the 7in pan in the recipe, so my cake was thinner.
Happy to report that it worked. The cake went on the middle rack, and on the lower rack, I added the deep oven tray with water in it.
I set the temperature at 350F (180C) and cooked the cake for about 26 minutes. It's very easy to see if it's cooked, especially if in a glass dish. It will get golden brown on top, it will no longer be soft to touch, and will smell of Christmas in your kitchen. However, if you are not sure, do the toothpick test. The toothpick inserted in the middle of the cake should come out clean.
The sweetness
For full disclosure, I skipped the sweetener – Swerve – and I only used a couple of tablespoons of inulin powder. It works either way, so do whatever you feel more comfortable with. You can even use another sweetener, like monkfruit. My cake only had a hint of sweetness from the strawberries, but I am weird and don't like my cakes sweet.
Adding strawberries
As per the strawberries, I only used about five big strawberries, chopped in big chunks, and added them to the bottom of the oiled dish, before adding the batter. You can use more or other seasonal fruits. A few more strawberries were used for decorating the cake.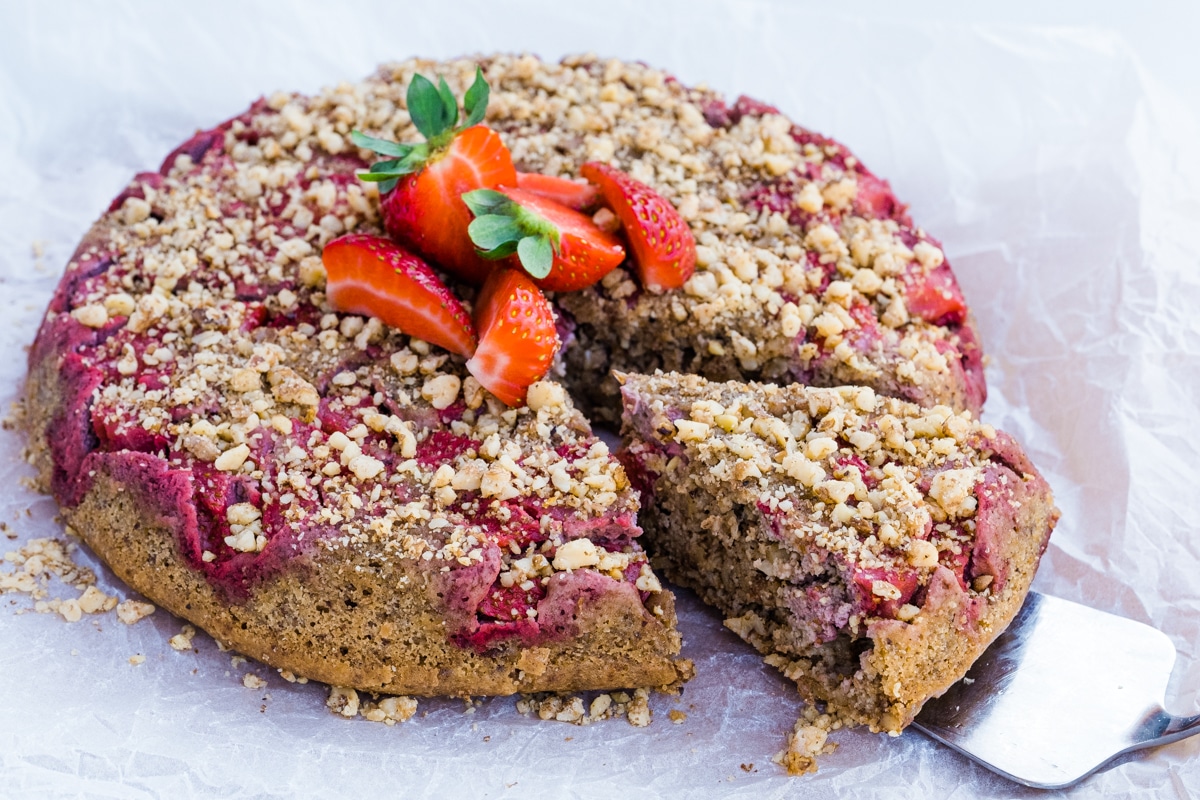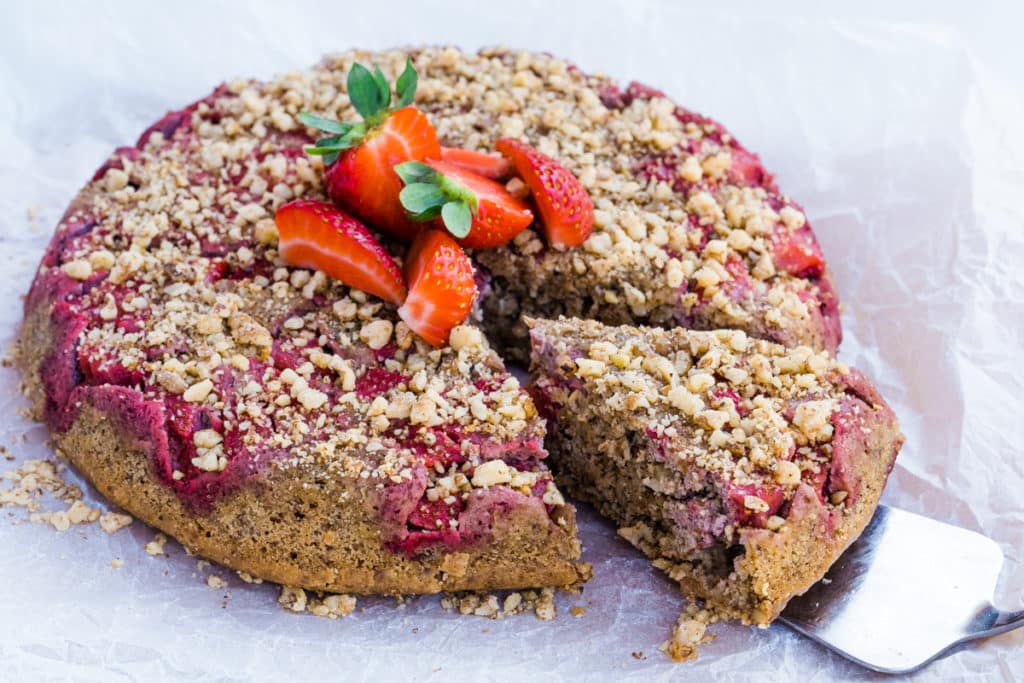 Serving the olive oil walnut spice cake
My version can be served straight from the dish, if you want, or can be turned upside down as I did here (see pictures). Sprinkle some more toasted walnuts on top and if you didn't use much sweetener, you can even drizzle a little bit of local honey or yacon syrup on top.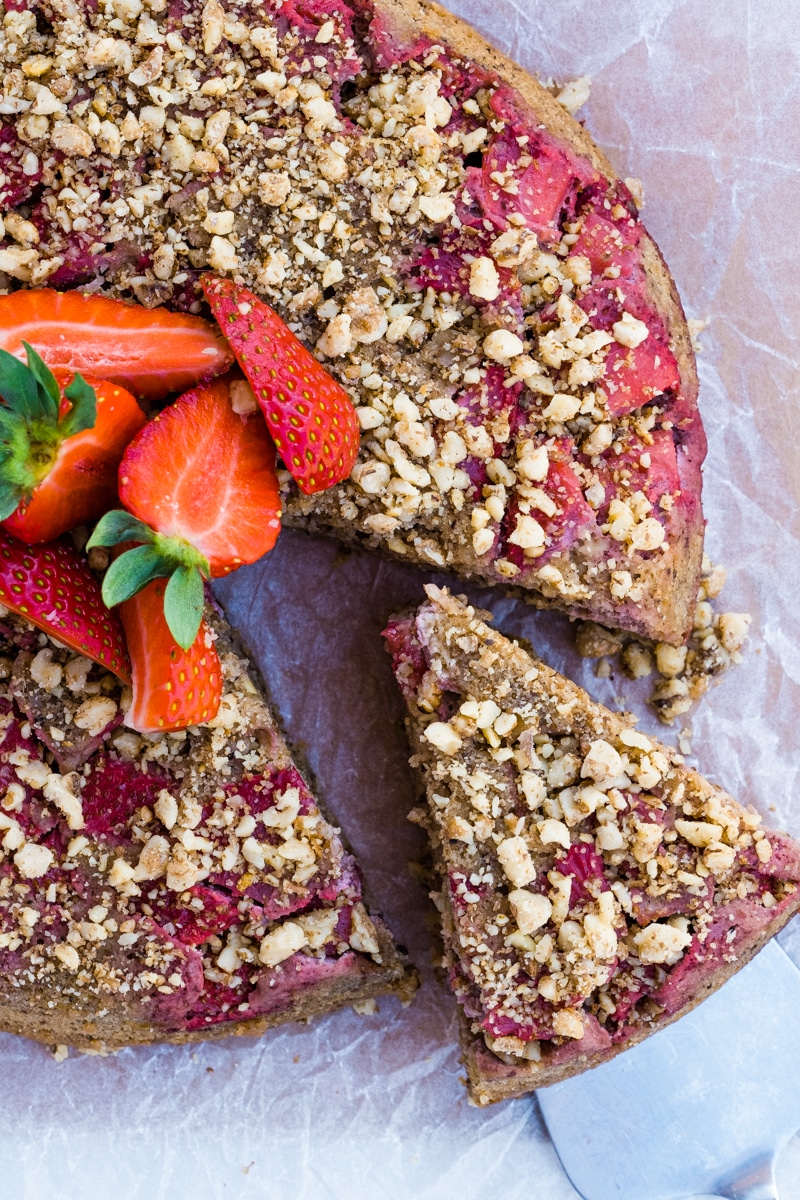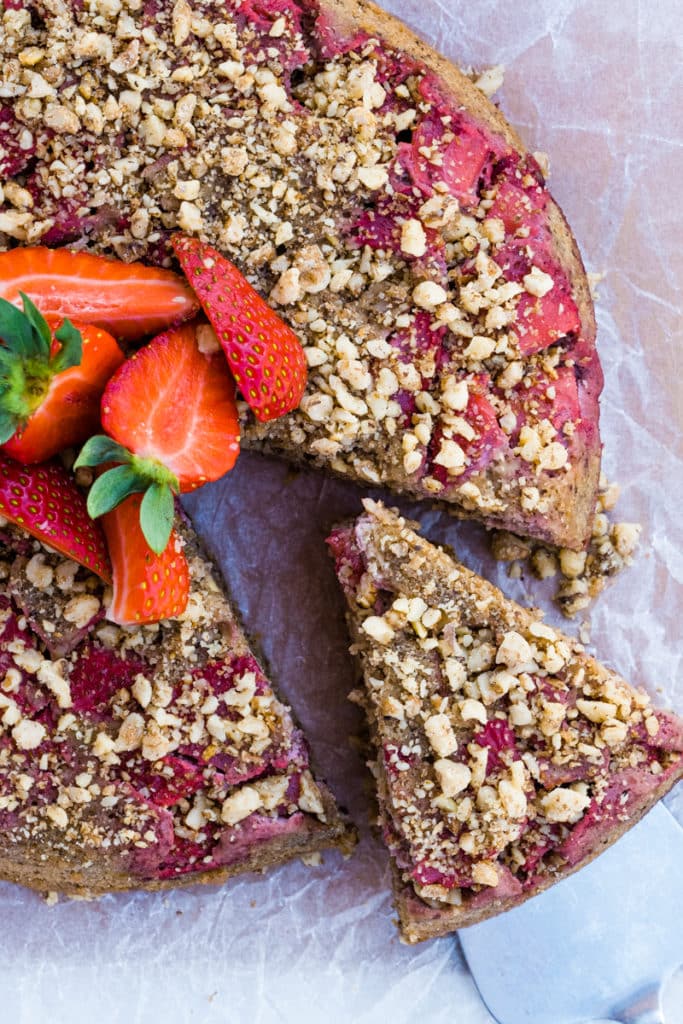 I do use olive oil in my cakes often, and one of my favorite cakes using olive oil is the Parsnip Apple Cake with Rosemary and Olive Oil.
*This post contains affiliated links, which means I get a small commission if you choose to purchase something via one of my links, at no extra cost to you.
Featured Photo and Recipe: From the book THE PLANT PARADOX FAMILY COOKBOOK by Steven Gundry. Copyright © 2019 by Steven Gundry. Published on November 19, 2019 by Harper Wave, an imprint of HarperCollins Publishers. Reprinted by permission.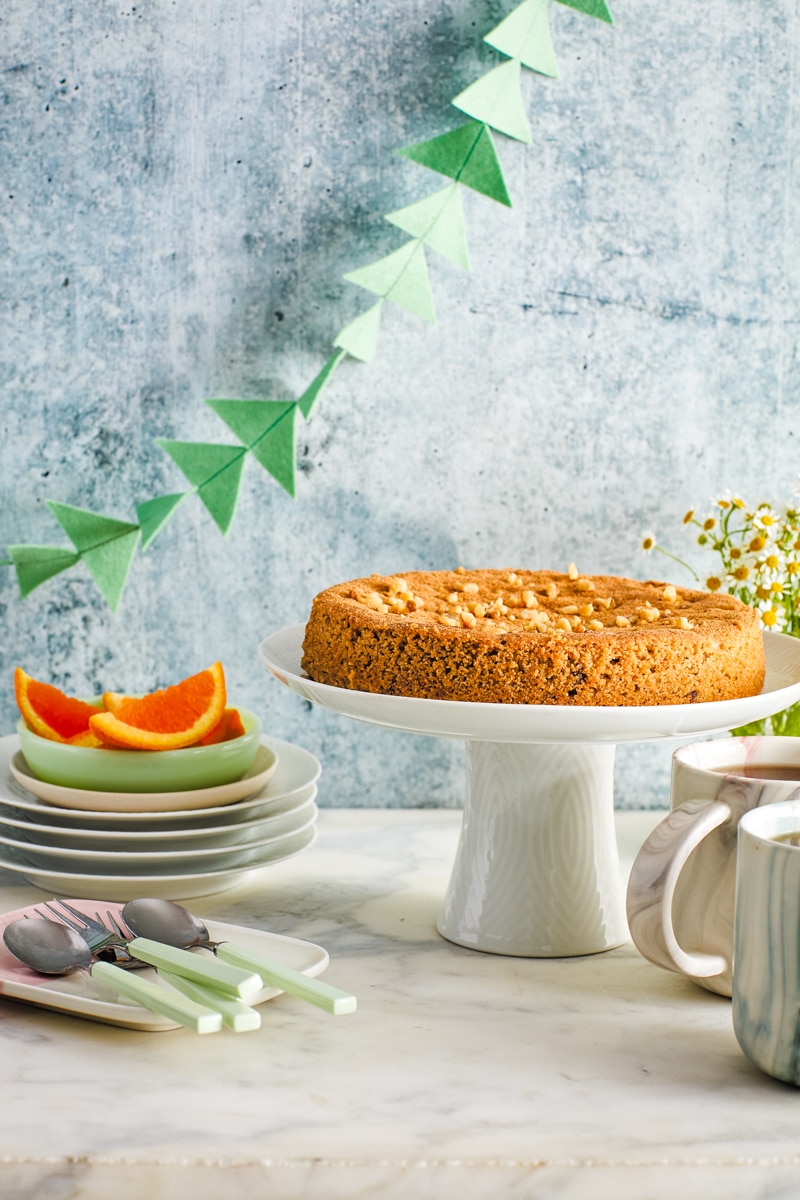 Print Recipe
Olive Oil Walnut Spice Cake
A sophisticated treat, this bread-like cake features warming spices and lovely herbal notes from olive oil. I like to pair a slice of this spice cake with a good strong cup of coffee or tea. For an extra special treat, spread a little coconut whipped cream on your cake, it is positively decadent!
Ingredients
1/3 cup extra-virgin olive oil, plus more for greasing
2 cups almond flour
1/2 cup Swerve
2 teaspoons baking powder
1/2 teaspoon ground cinnamon
1/2 teaspoon ground nutmeg
1/2 teaspoon ground ginger
1/2 teaspoon ground allspice
1/4 teaspoon ground cloves
1/8 teaspoon freshly ground black pepper
1/4 teaspoon sea salt
2 large omega-3 eggs
1/3 cup coconut milk
1/2 teaspoon vanilla extract
1/2 teaspoon almond extract
1 cup chopped toasted walnuts
Coconut whipped cream, for serving
Instructions
1

Grease a 7-inch oven-safe dish such as a cake tin or souffle pan with olive oil. Line the bottom with parchment, and set it aside.

2

In the bottom of your Instant Pot, place the trivet and add 1 cup of water to the pot.

3

In a large bowl, whisk together the flour, Swerve, baking powder, cinnamon, nutmeg, ginger, allspice, cloves, pepper, and salt.

4

Add the eggs, oil, coconut milk, and vanilla and almond extracts, and whisk until well combined. Fold in the walnuts.

5

Pour the batter into the prepared baking dish and cover it tightly with aluminum foil. Set the baking dish in the Instant Pot on top of the trivet.

6

Cook on the "cake" setting, then allow the pressure to release naturally for 15 to 20 minutes.

7

Carefully remove the pan from the pot, and let cool to room temperature.

8

Serve with coconut whipped cream.
Notes
For an oven-cooked version of this cake, please check the post above for details.