I made these beauties yesterday with a friend of mine. I absolutely love purple sweet potatoes, going by the name Stokes Purple here in the US, and I made a lot of crazy stuff with them, but never attempted a cookie.
Yesterday was National Cookie Day and although it wasn't planned, it was quite fitting to the occasion. I not only love these purple sweet potato cookies because of how pretty they are, but they are a great way to eat resistant starch that is cooked and cooled, which is really smart if you want to triple the benefits for your gut health.
One of the smartest way to eat resistant starch
Resistant starches are really good for us and for our gut health. They are also carbs and if our goal is to lose weight, if we eat too much sweet potato (like every day), our weight loss might suffer.
But, if resistant starches are cooked and cooled before eating (even better if reheated again), their resistant starch benefits triple and they is a better chance you can go on with your weight loss. Moderation is still key here, just don't have one sweet potato every day.
Purple sweet potato cookies are not your traditional cookies
This purple sweet potato is one of my favorites, because it is purple (DUH!) but also because of the taste and texture. It's earthy and drier than a normal sweet potato, also doesn't taste as sweet. If you ever had chestnuts, it tastes like chestnuts.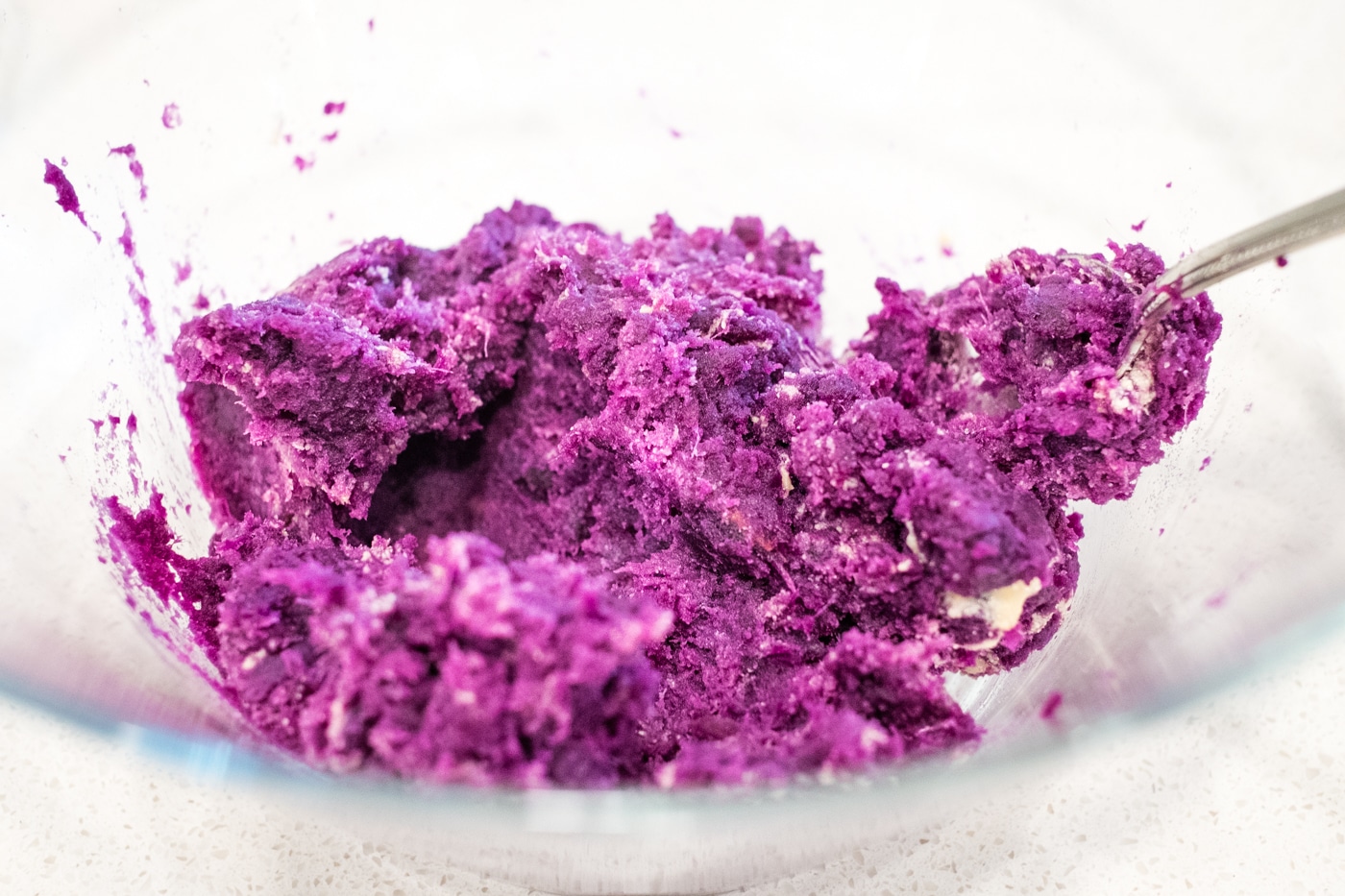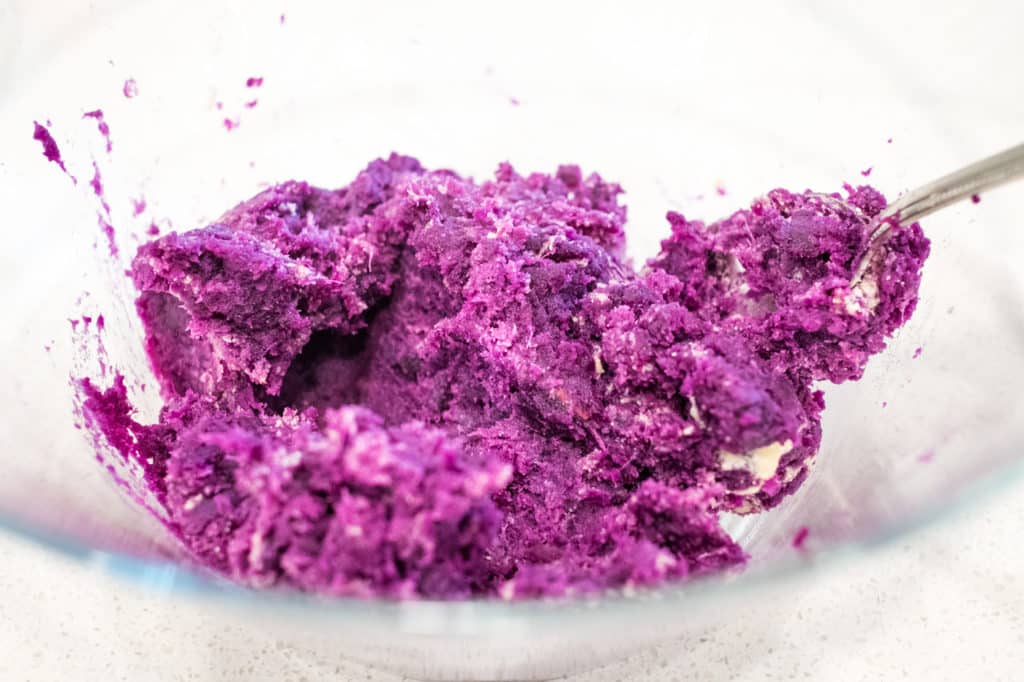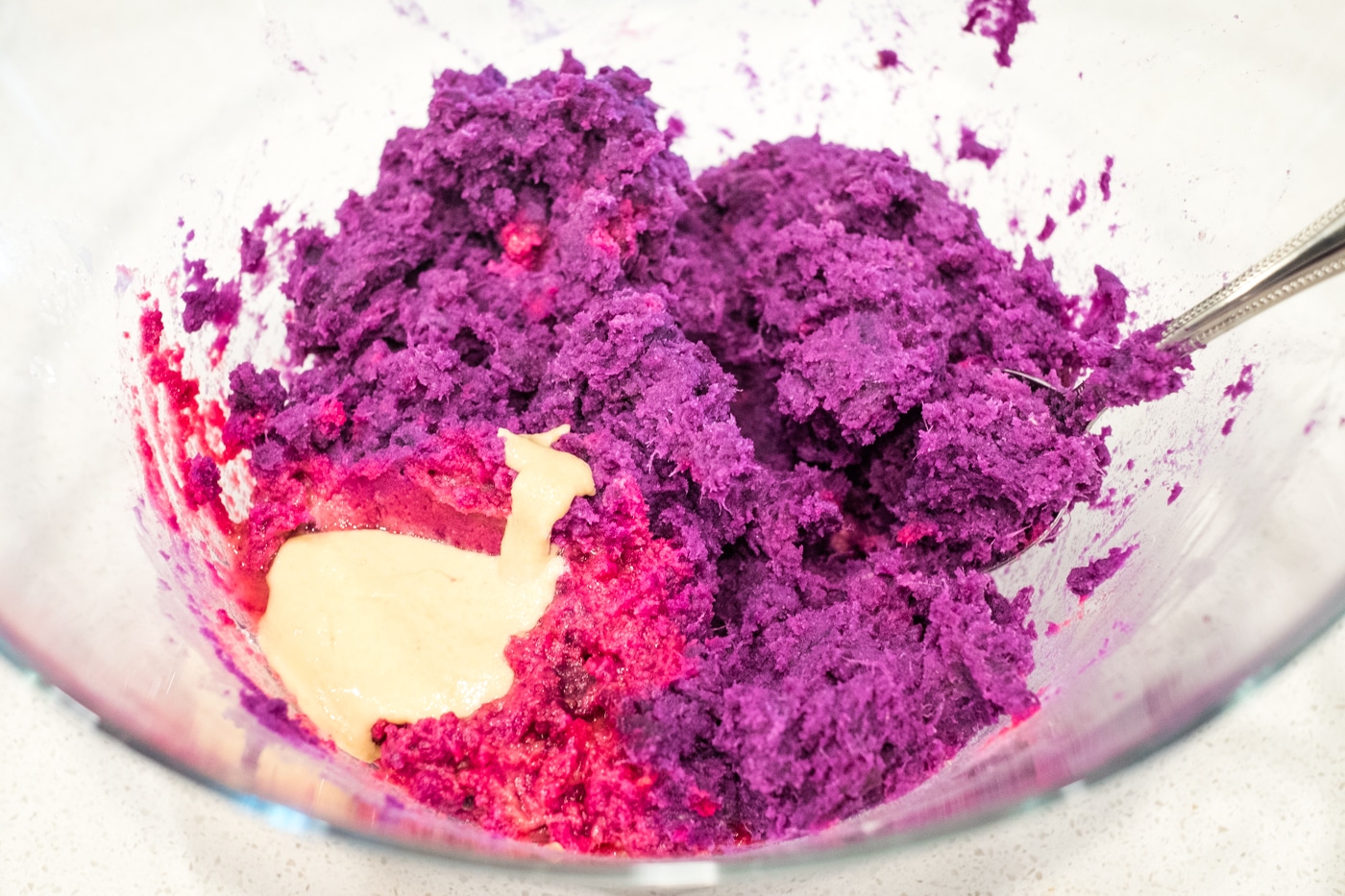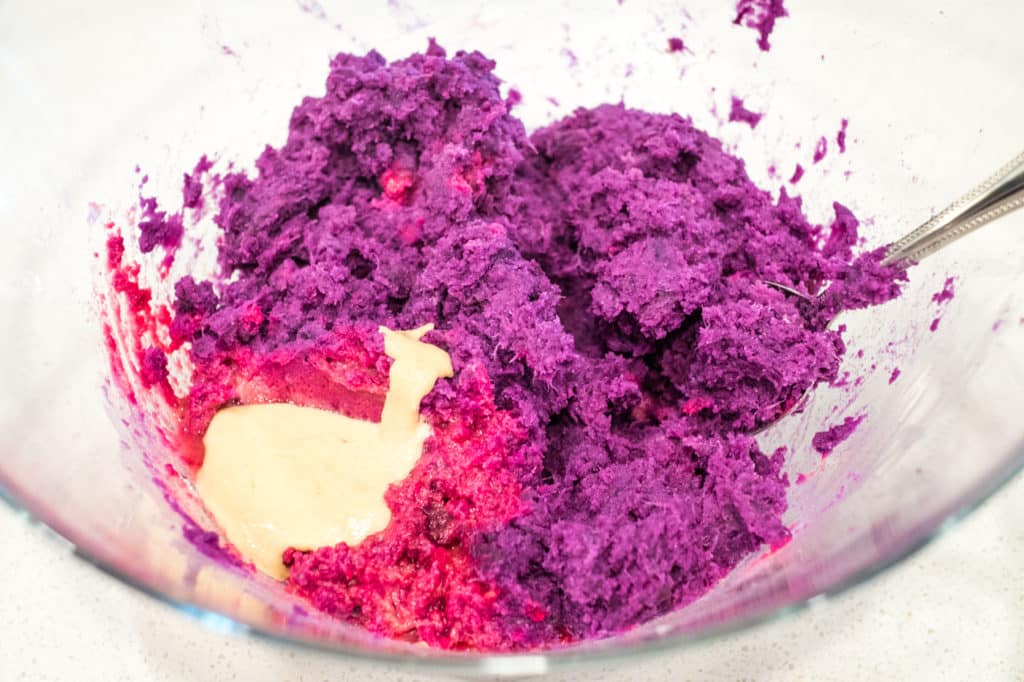 I want to set the expectations right: these 'cookies' are not really what you expect from traditional cookies. The dough is soft and they taste like sweet potato (makes sense, right?), but that's why I love the idea. They are 100% plant-based, no eggs, no butter, so good news for those that are following a 100% plant-based diet and/or are sensitive to dairy and eggs.
They are good for breakfast, lunch or dinner, savory or sweet. You can add some nut butter on them, add a boiled or poached egg, a slice of prosciutto or have them with a hot cup of tea or coffee. You can even use them to make a sandwich.
Kids will love them, and even more so if you involved them in the making process. I bet they'll love the bright colors and how it all works together with the rest of the ingredients. For example, you will notice a change in color when you add orange and lime juices. It was exciting for me, haha!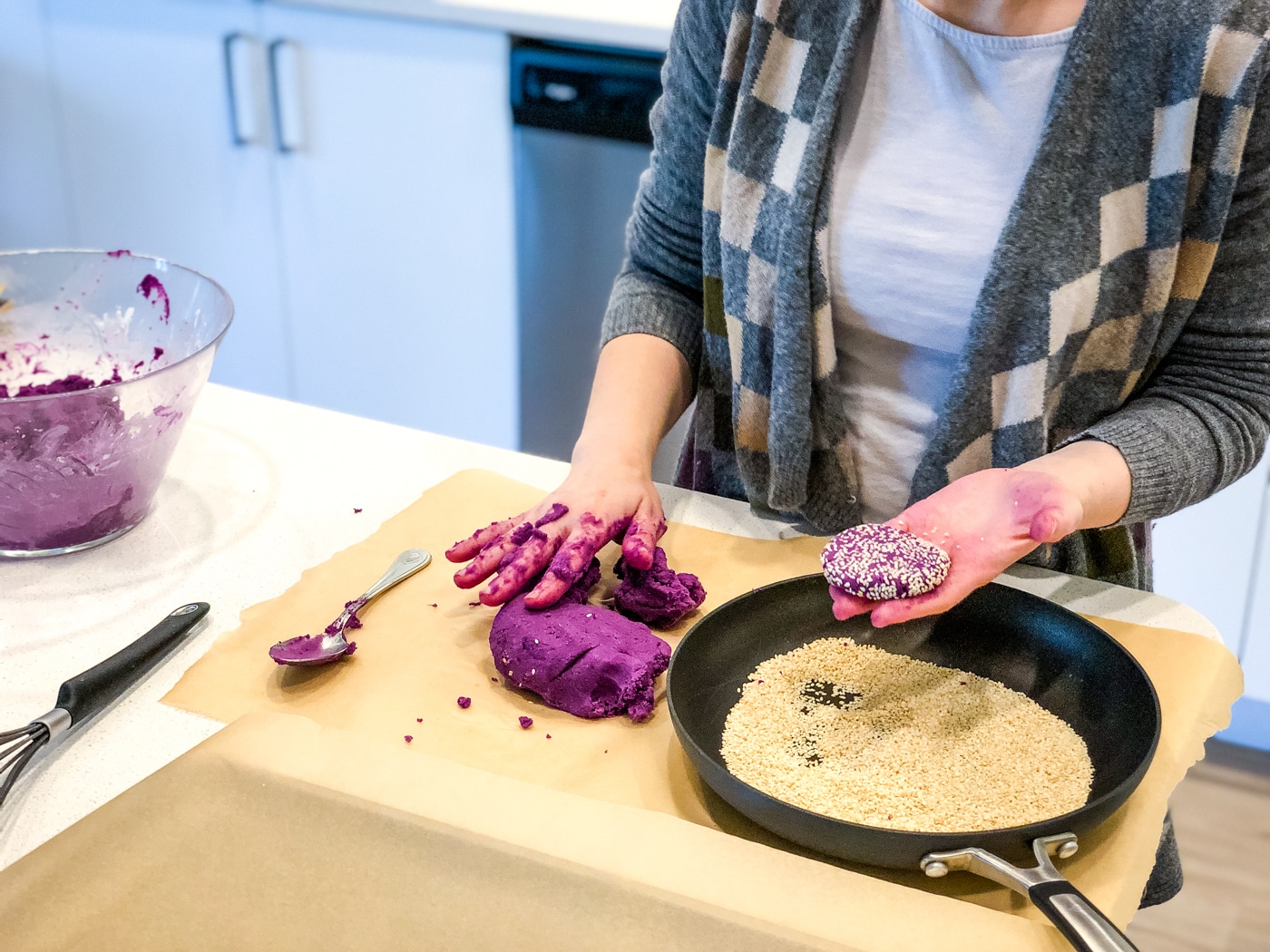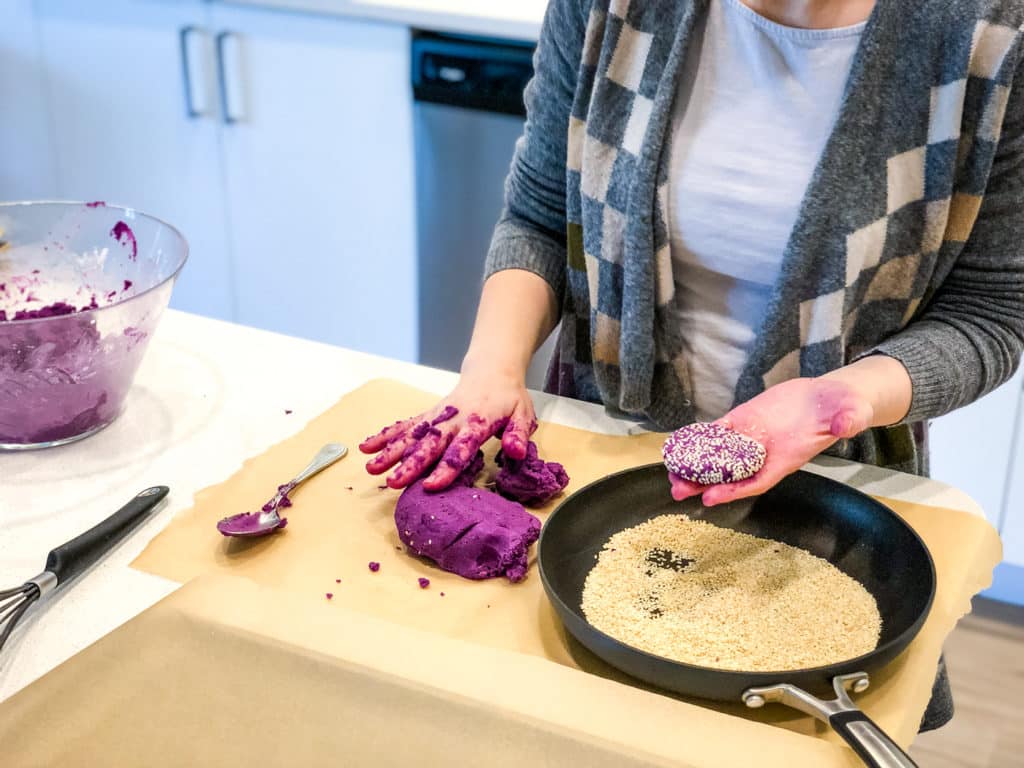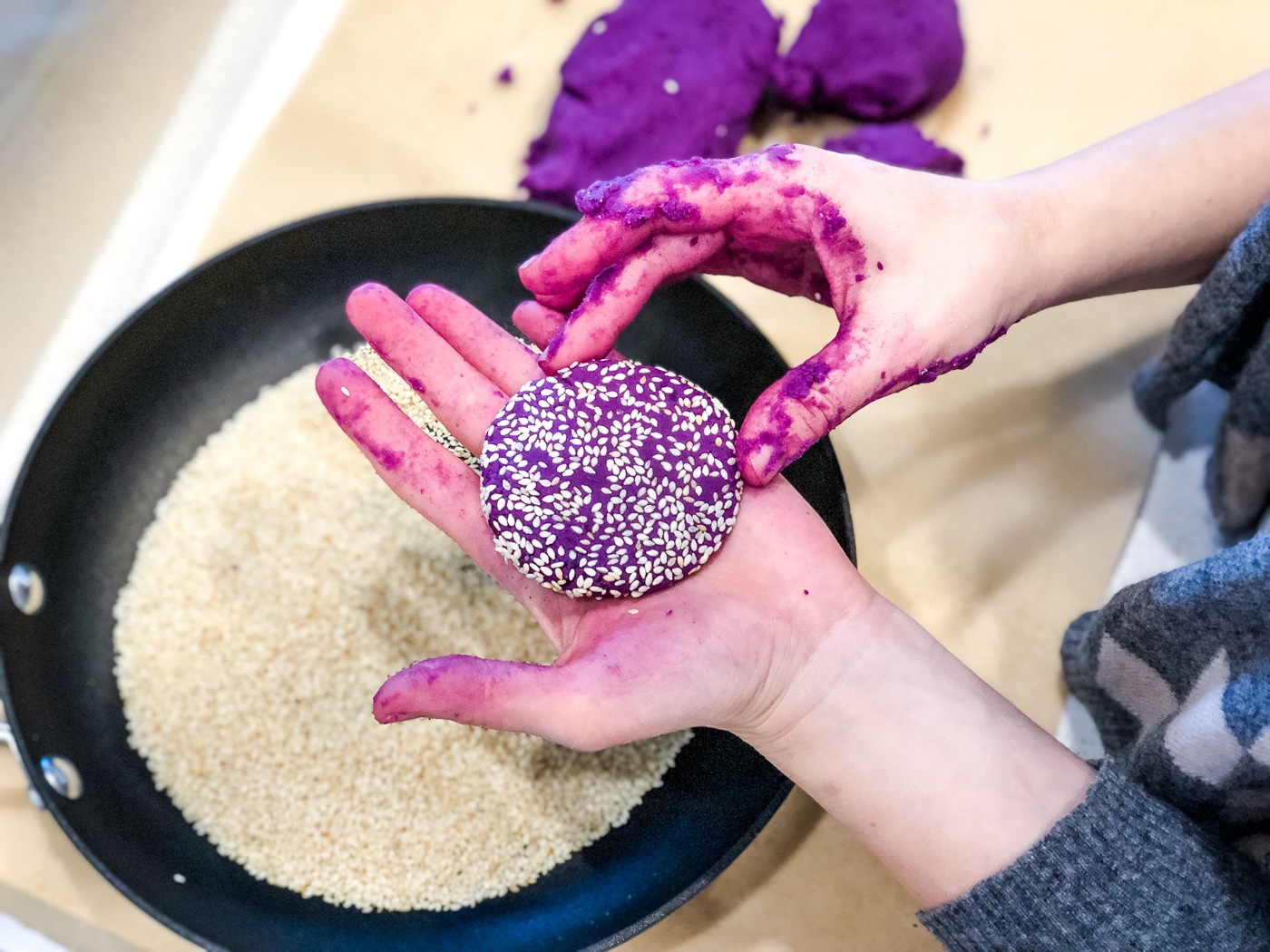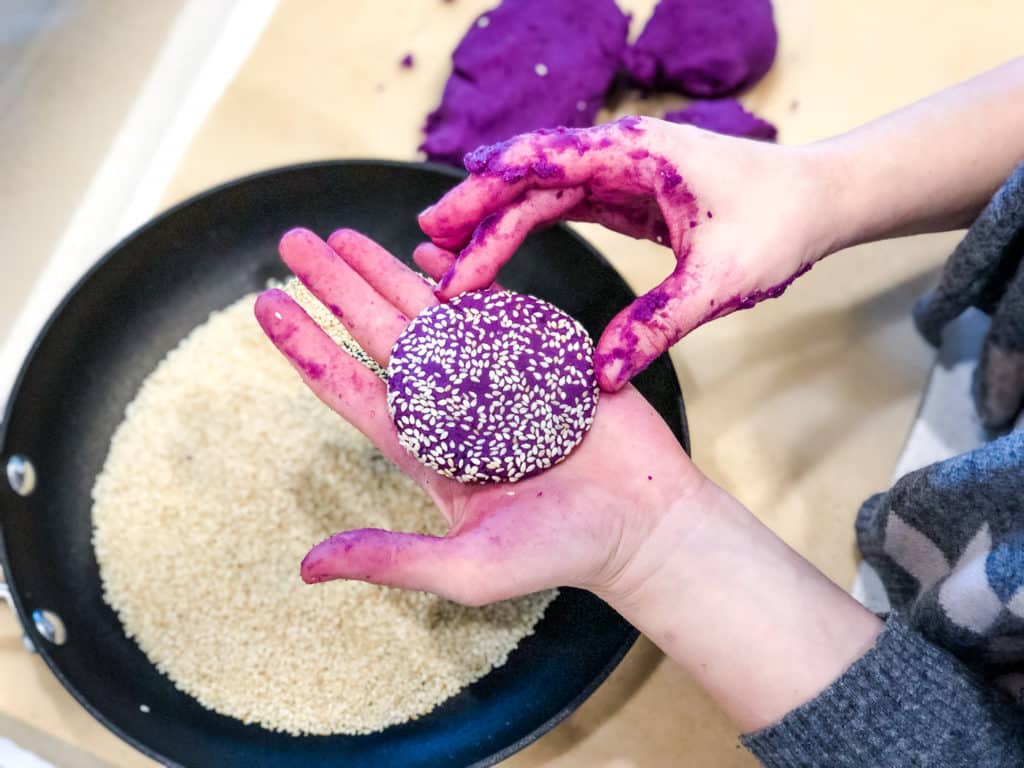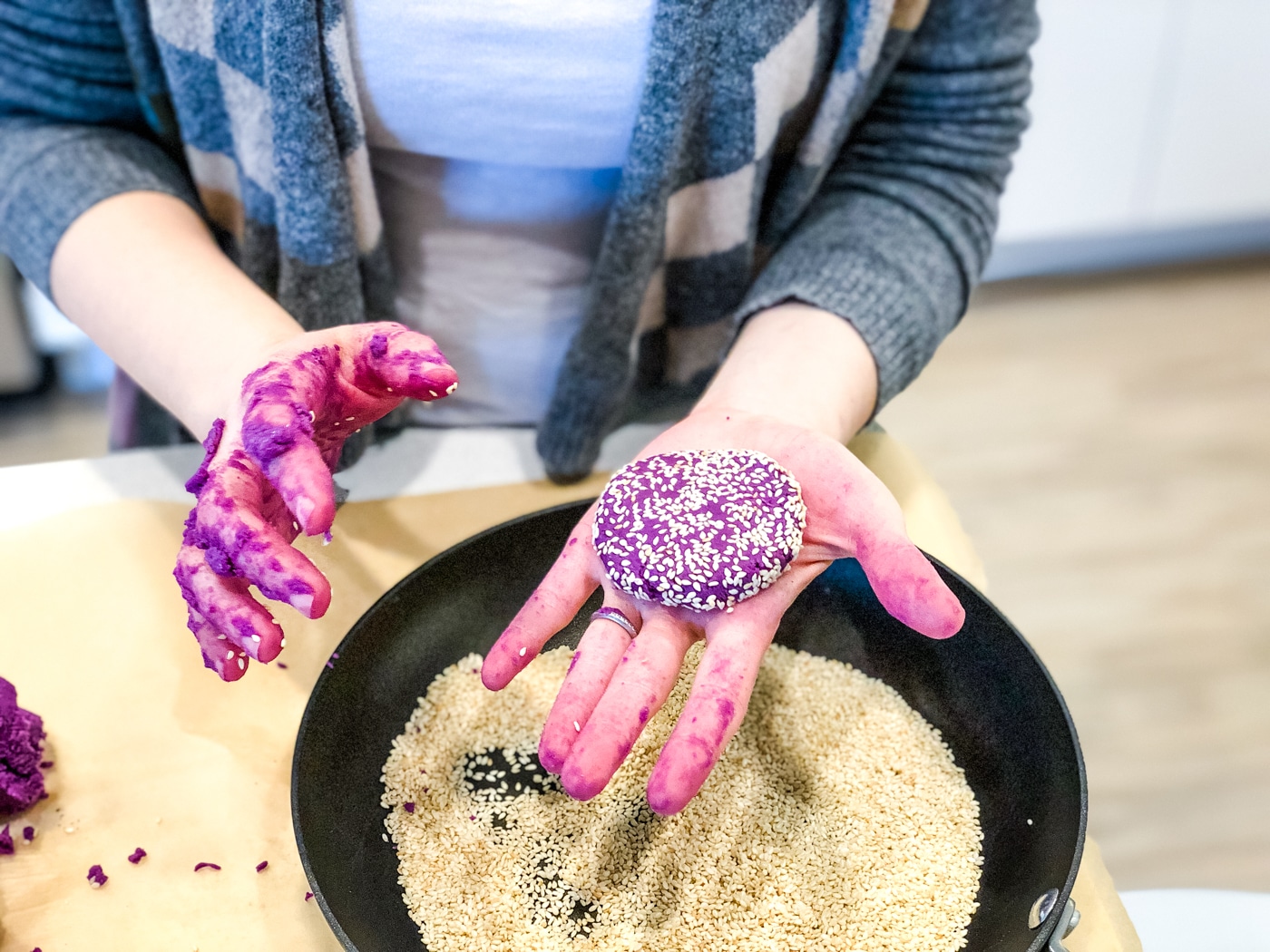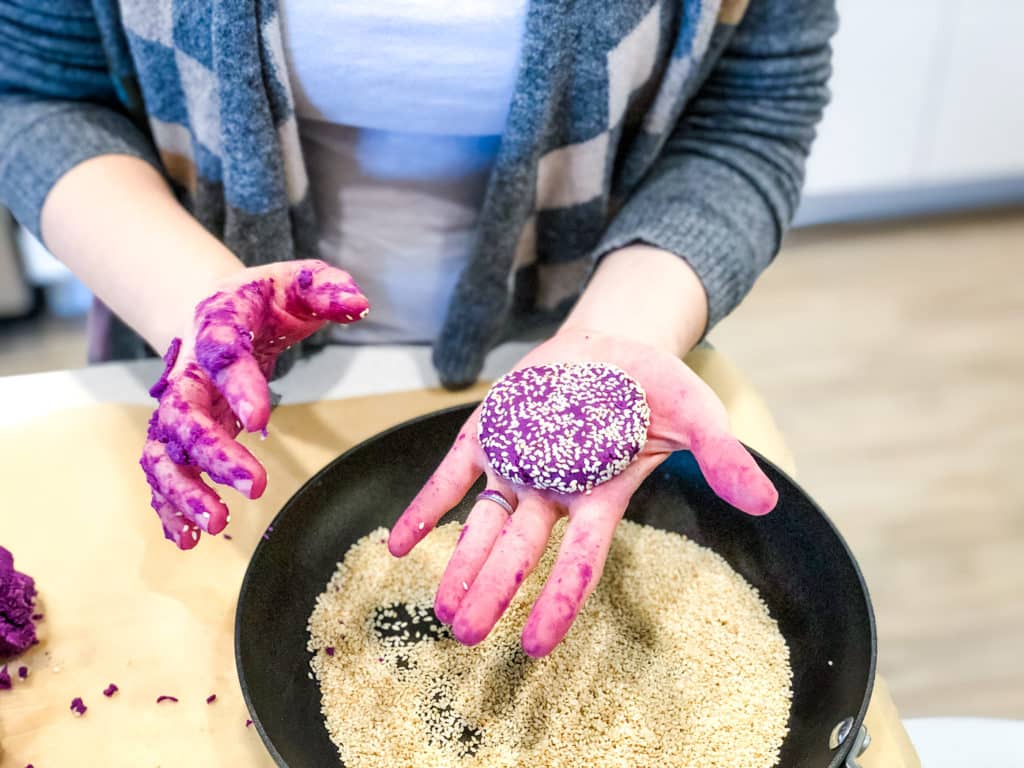 Add some sea salt flakes
I did not add salt or sweetener to them. I would personally never add sweeteners, but my friend who helped me make them loved them dipped in confectioners Swerve.
So if you know you have a sweet tooth you can add some sweetener to the dough. (Although I would never recommend feeding your sweet tooth because the more sweet you give it the more sweet it wants, and your brain will start getting signals to raise insulin levels even when given approved alternative sweeteners!).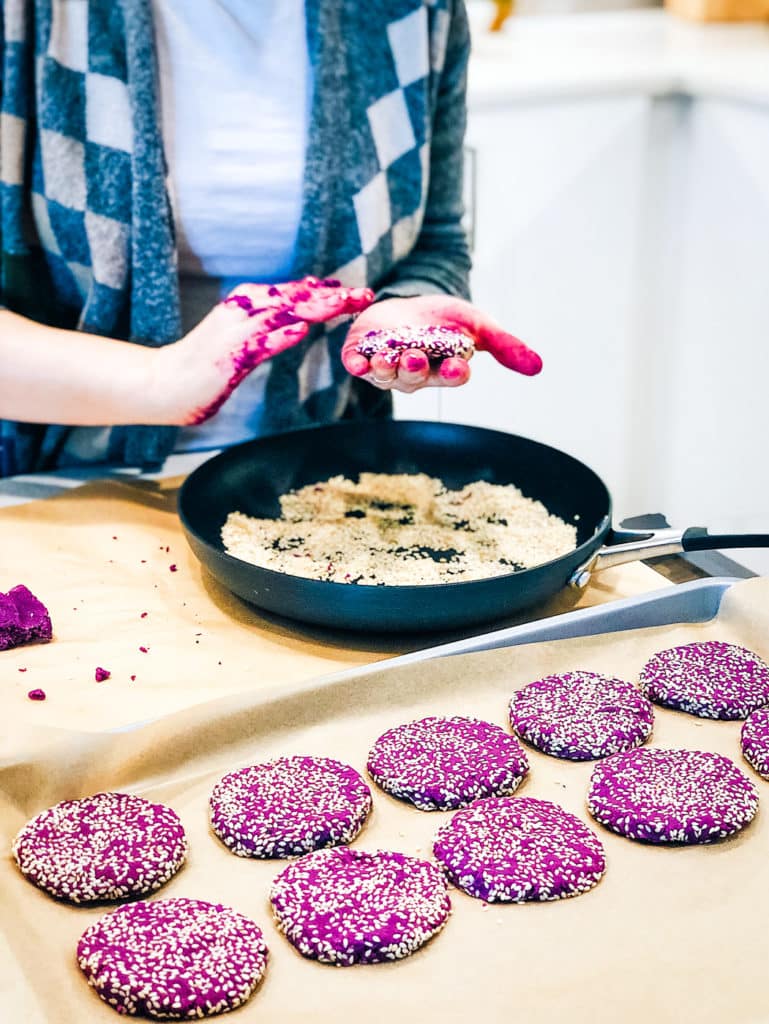 I, on the other hand, totally recommend adding some sea salt flakes or Himalayan pink salt (in the dough or sprinkled on top). Or just leave it the way it is and only add whichever you want when you eat.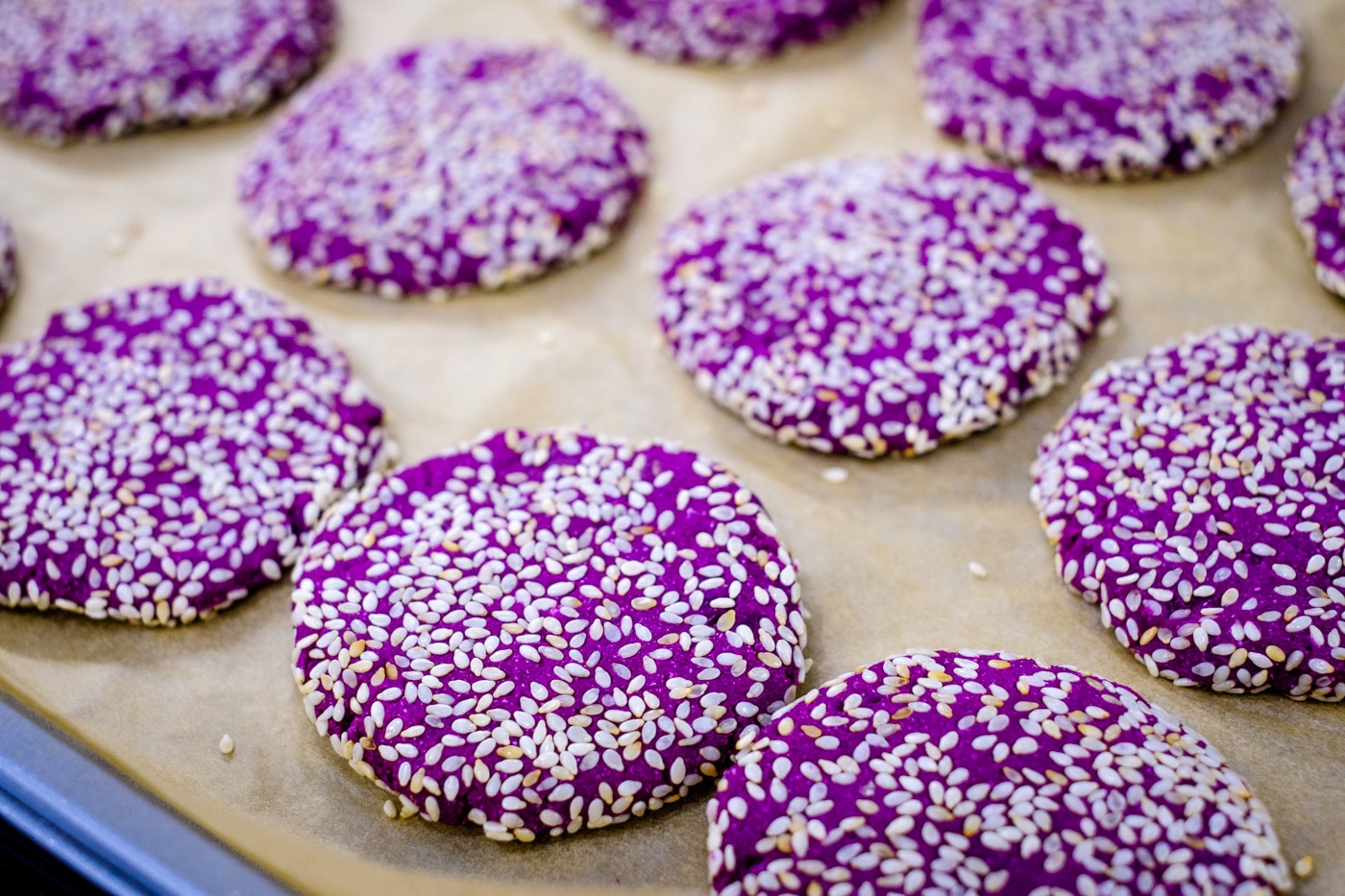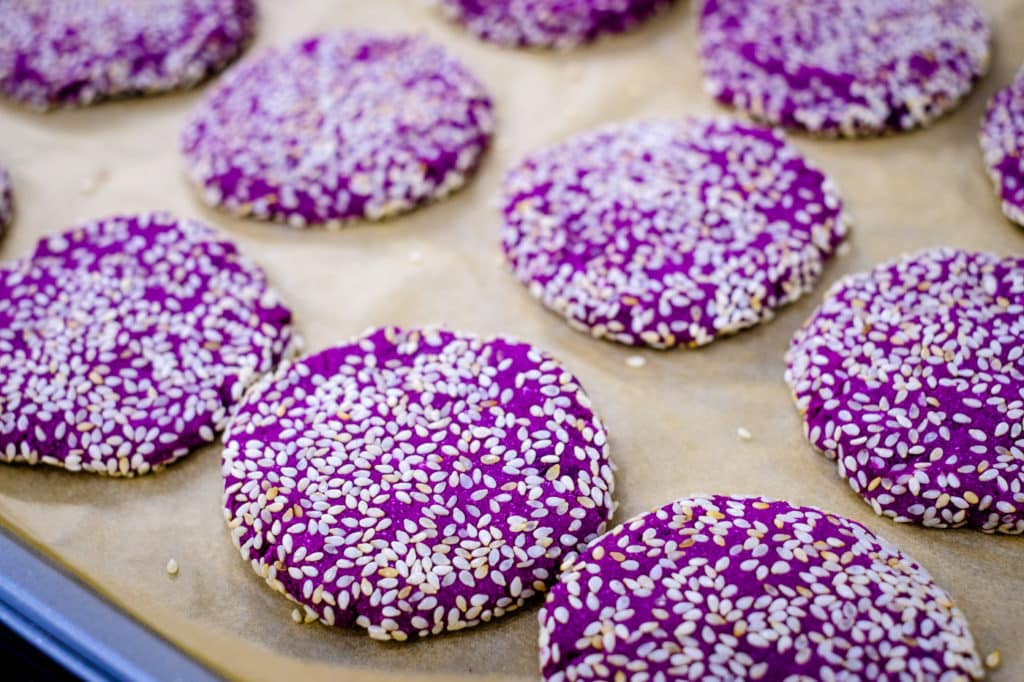 The other ingredients in this sweet potato cookies recipe are tahini, sesame seeds, Pacific Hemp Milk (original, unsweetened), orange and lime juice, arrowroot powder and almond flour.
Regarding the cooking time, I did not add the cooking of the potatoes in the cooking time, which takes between 30-40 minutes depending on how big your potatoes are.
*This page contains affiliated links, which means I get a small commission if you choose to purchase something via one of my links, at no extra cost to you.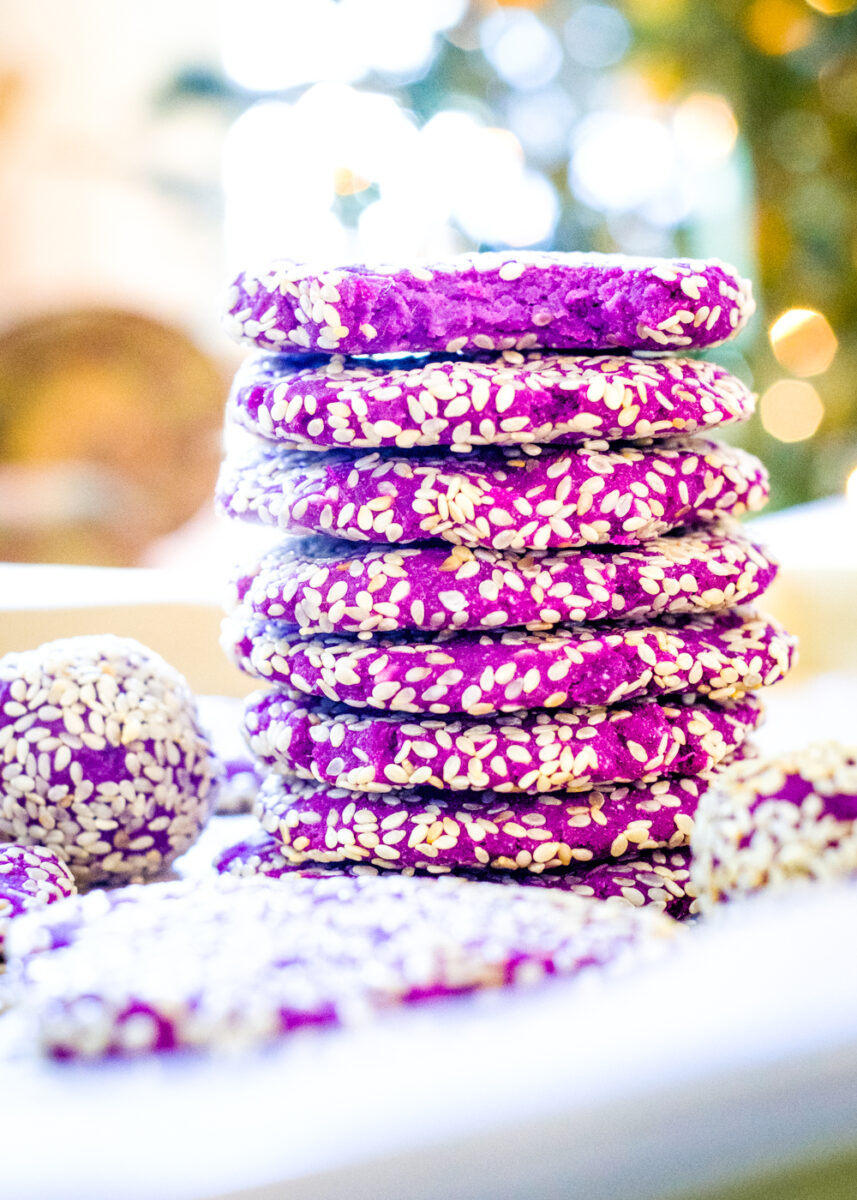 Print Recipe
Soft Purple Sweet Potato Cookies with Tahini
Gut friendly, plant paradox compliant and purple. What more can we ask for?
Ingredients
3 1/2 cups mashed cooked purple sweet potatoes

3 heaping tbsp tahini

1/2 cup hemp milk

1 tbsp lime juice

1 tbsp orange juice

4 tbsp arrowroot flour

1/4 cup almond flour

sesame seeds (about 1/3 cups)

salt - optional (see notes in the post)

sweetener of choice - optional (see notes in the post)
Instructions
1
To cook the potatoes, wash them, pat dry, grease them with coconut oil or avocado oil, section them in half and bake them, flesh down, at 400F until tender (30 - 40 minutes, depending on their size).
2
Lightly toast your sesame seeds in a pan on the stove.
3
Turn the oven to 320F. Prepare a large cookie sheet with parchment paper.
4
Scoop the flesh of the potatoes (3 1/2 cups) in a mixing bowl, avoiding the hard, caramelized parts (eat them they are super tasty). Add the tahini, the hemp milk, the lime and orange juice, mix well. Add the flours and knead the dough. It should become sticky, holding together well. Start making small balls with your hands, dip them in sesame seeds and flatten them out to be quite thin.