These lectin-free ginger and turmeric sweet potato muffins are delicious. I've been considering making sweet potato muffins for a few months now. But sometimes I'm too lazy to think of something new. So I stick with the old good recipes that are tried and tested. Yesterday I was finally inspired and motivated enough to give this idea a try.
Sweet potato muffins recipe
I knew Dr. Gundry posted a ginger sweet potato muffins recipe at one point, but the one I found didn't really inspire me. I think it had 5 eggs and I wanted to try something less 'eggy'. What I really love about sweet potato treats is that I don't need to add extra sweetener, since sweet potatoes are already sweet.
I am not against the sweeteners approved on the Plant Paradox program, but I think they are abused in many recipes. We end up giving our brains the same stimulants as sugar which keeps us from curing the 'sweet cravings'. The thing is, when you taste sweet in your mouth, your brain process the information the same, no matter where the sweet taste is coming from. And the reaction of your body might be the release of insulin.
A funny little story about sugar
One funny little story. When I was about 10 years old, for some reason I don't remember, I decided that I didn't like my tea sweet (by default everyone was adding one or two tsp of sugar to their tea or herbal infusion). I don't know how the idea came to me. That was about 30 years ago and I had no access to information about sugar and all that.
I must have heard people talking about it. I also remember in my class we had a colleague who had Type 1 diabetes, which was something unheard of at the time, he was the only one in the entire school actually, so I remember being super curious about it. So I remember how I made the decision I don't want sugar in my tea or infusion. Since then I've never wanted a sweet drink again.
I still loved cakes, always did, but even with cakes, if I made them I always used half of the quantity of sugar required. And today, when cooking with approved sweeteners, I add one-third or half of the recommended quantity. The sweet tooth is a habit and it can be unlearnt, but we need to start from somewhere. Plus, sweeteners, even if approved, are highly processed foods, so another reason to limit their use.
How to make ginger and turmeric sweet potato muffins
But back to my muffins, I wanted something seasonal, spicy, warming, and free of sweeteners.
I used freshly grated ginger and two scoops of my magic powder – Turmeric Tonic from Further Food – which is a mix of turmeric, schisandra berry, boswellia, ginger, cardamon, cinnamon, cloves, black pepper. So if you don't have the Turmeric tonic, use some of the spices in the mix, like turmeric, pepper, cloves and cinnamon, cardamon, eventually nutmeg.
Since I additionally used freshly grated ginger, I only used two scoops of turmeric tonic for this recipe. You can add three or four if you wish. I also used chopped walnuts, which I think are essential to break the smooth texture of the sweet potato and give it a crunchy bite. You can use pecans instead if you wish.
Alternatively, you can get the Turmeric tonic on the Further Food website and if you use this code – CREATIVEINMYKITCHEN10 – you get 10% off your first order.
For flours, I used a mix of almond and tigernut flours. Also, make sure you use full-fat coconut milk (as opposed to the Light version). I use the Whole Foods brand, which is also BPA-free.
Warming, spicy, seasonal: the perfect lectin-free muffins
I believe these lectin-free muffins will make a nice addition to your Thanksgiving dinner, Christmas, or even a nice healthy treat for Halloween for your kids and neighbors (maybe you are super talented and can make them look scary (haha, let me know if you do). They smell and taste festive and you can only feel good about serving them to your loved ones.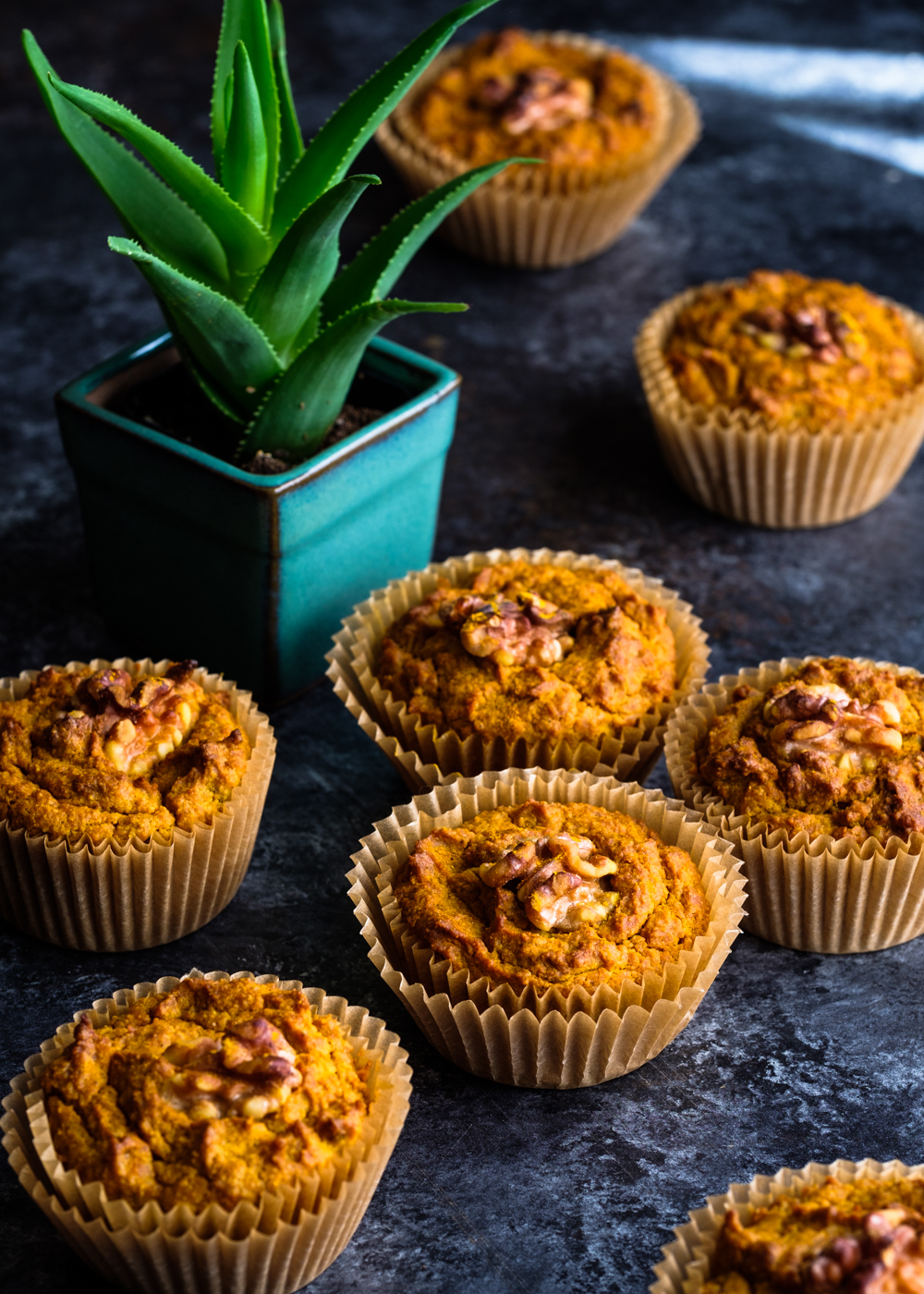 You might also like my Grain-Free Lemon Blueberry Muffins and Lectin-Free Orange Cranberry Muffins.
This post contains affiliated links, which means I get a small commission if you choose to purchase something via one of my links, at no extra cost to you.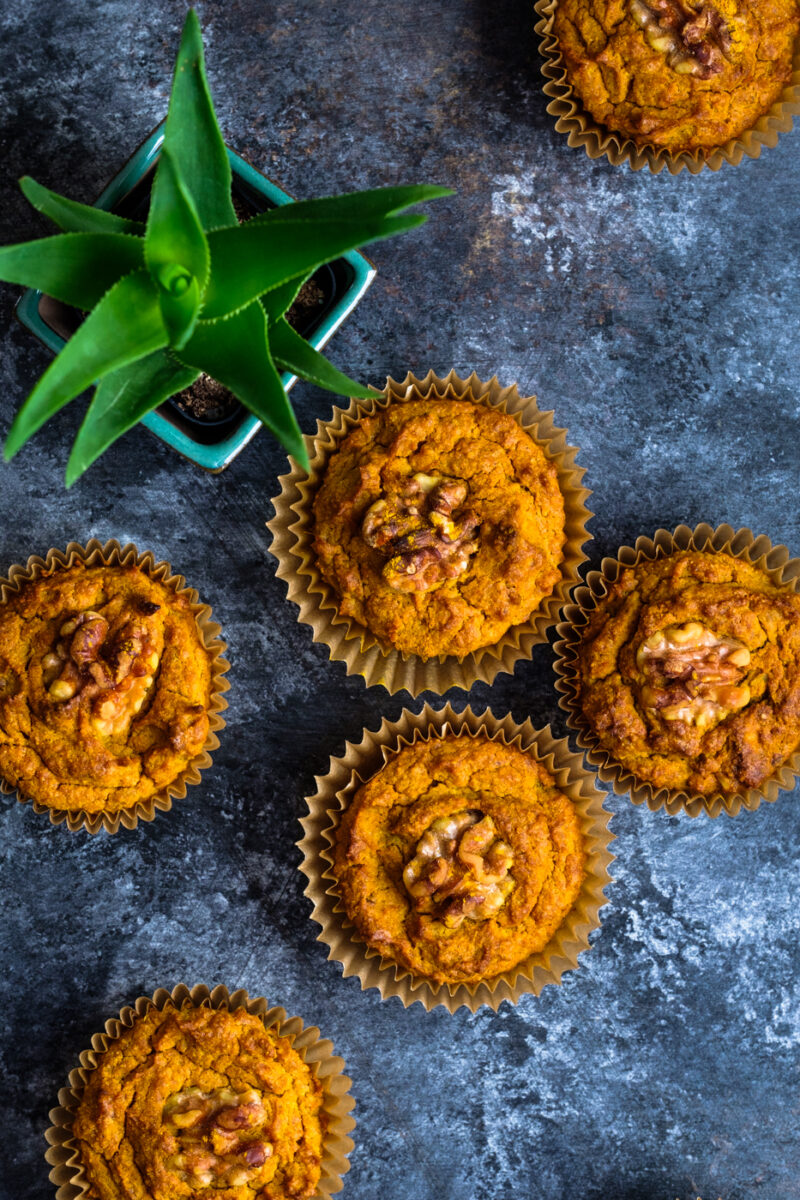 Print Recipe
Ginger and Turmeric Sweet Potato Muffins
A healthy addition to your Thanksgiving dinner, Christmas, or even a nice healthy treat for Halloween for your kids and neighbors.
Ingredients
1 cup mashed cooked sweet potato (about one medium baked sweet potato, peeled)

1 heaping (or 2) tsp fresh grated ginger

1 cup full fat coconut milk

2 pasture raised eggs

1/3 cup coconut oil, softened

1 well packed cup almond flour (press it down in the measuring cup to make sure you add enough)

1/2 cup tigernut flour

2 scoops turmeric tonic

1 tsp pure vanilla extract

pinch of salt

1/2 tsp baking soda

1/2 cup chopped walnuts, plus 12 whole walnut halves for adding on top of each muffin)
Instructions
2
Mix the powder ingredients in a bowl: almond and tigernut flour, baking soda, salt, turmeric tonic.
3
In a big bowl (or even a food processor, don't over process though) mix the sweet potato, eggs, coconut milk, coconut oil, vanilla, grated ginger. If your eggs and milk are cold, your oil might solidify, so be prepared for that. Mine did but it didn't really bother me because I don't think it changes much, but if you want to avoid this make sure your eggs and milk are room temperature.
4
Add the dry ingredients to the wet ones, mix to incorporate, add the chopped walnuts and scoop in 12 muffin paper cups (in a muffin pan). Add one whole half walnuts on top of each muffin.
5
Bake for 40 minutes. Take out and cool down before removing them from the pan and serving.
Notes
Freeze or keep in a tight glass container or Stasher bags in the fridge.