While I find it easy now to bake a grain-free, lectin-free bread, I don't always feel like it. Lettuce is a great replacement for bread in many dishes. This salmon egg Benedict was what I had for brunch today, my only meal until dinner (which is cooking in the oven and smells amazing).
Seven layers of goodness
That is romaine lettuce, avocado, smoked wild-caught salmon, pasture-raised egg, chives, olives and almond ricotta. Lots of extra Virgin Olive Oil, lemon juice for the salmon and avocado, salt and pepper. This is brainpower, so many amazing ingredients for this filling and tasty breakfast.
This recipe is part of The Ultimate Lectin-Free Breakfast Guide, Recipe Round-Up, check it out for more tasty and satisfying lectin-free breakfast ideas.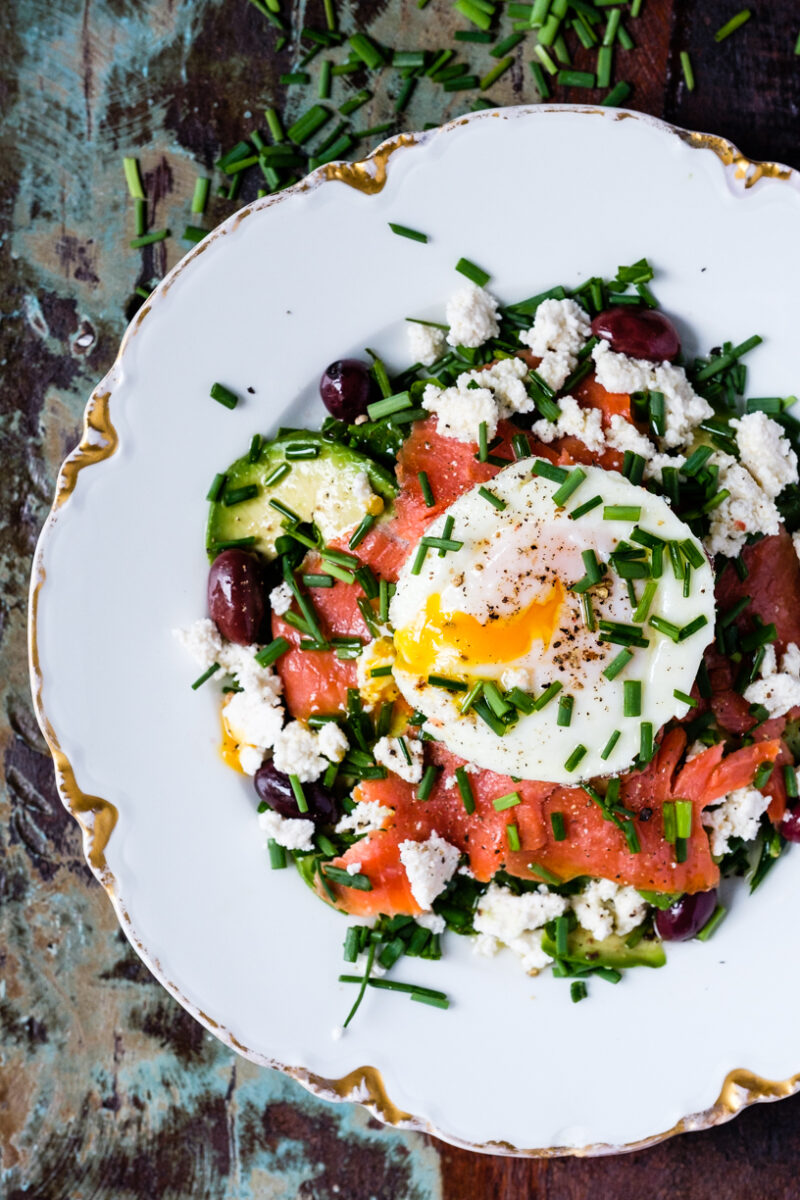 Print Recipe
Salmon Egg Benedict on a Bed of Lettuce
Ingredients
few leaves romaine lettuce or butter lettuce, washed and dry

1/2 avocado

2 oz smoked wild-caught salmon

fresh chives, washed and dried

1 pasture-raised egg

2 - 3 tbsp almond ricotta

1 tsp lemon juice (or more, to taste)

2 tbsp extra virgin olive oil (or more)

few Kalamata olives

salt and pepper to taste
Instructions
1
First step is to make sure your lettuce and chives are washed and dry.
2
Start making the poached egg (I used a silicone mold, is much easier).
3
Meanwhile, prepare all the ingredients on a cutting board or platter. Slice the avocado at the end and drizzle with lemon juice so it doesn't oxidize. also add salt. Drizzle the salmon with lemon juice.
4
Start preparing your plate: add the lettuce first, top with avocado, salmon, chives, ricotta, drizzle some more lemon juice and extra virgin olive oil. Add the olives.
5
When the egg is ready add on top. Salt and pepper. Add more chives, drizzle with more extra virgin olive oil.