There are two easy ways to eat a lot of veggies at one time: smoothies and soups. Smoothies are a little restrictive, as you can't make collard greens and cauliflower smoothies, right? But soups, you can add any vegetables you want, cook, and blend them and you get some creamy goodness. This lectin-free creamy soup, only plant-based, it's delicious and packs a lot of nutrients.
Simplify your meals. Make a lectin-free creamy soup.
I always wondered how my mom managed to have a full-time job, two kids (and a husband), and feed us with home-cooked food every single day. Well, one of the techniques used a lot in Romanian cuisine, is making soups and stews that last for few days and everyone loves (try the Romanian meatball soup).
Making a soup that lasts few days in the fridge and it's tasty and nutritious, is one of the easiest ways to stay plant paradox compliant or just eat healthy, wholesome food every day.
A creamy soup made of a variety of vegetables is also a great base for specific additions. I had my soup with a boiled egg, but I knew my husband needs a little animal protein next to it, so I added sausage to his portion. Add hemp seeds if you want to keep it plant-based, egg if you are vegetarian, bacon or sausage if you'd like more protein. You can even add some grated cheese or cream.
Ras el Hanout spice mix
If you wonder what Ras el Hanout is, is a Moroccan mix of spices, has a curry-like flavor with a spicy kick and literally means 'top of the shelf', a mix of the best spices a merchant had in their store. The spices in different mixes you'll find differ, the one I have has rose petals and I love that.
I bought mine from Whole Foods, but it's not always available, so if you don't find it in stores you can get it from here. There are more brands available on Amazon but I chose the one I would buy.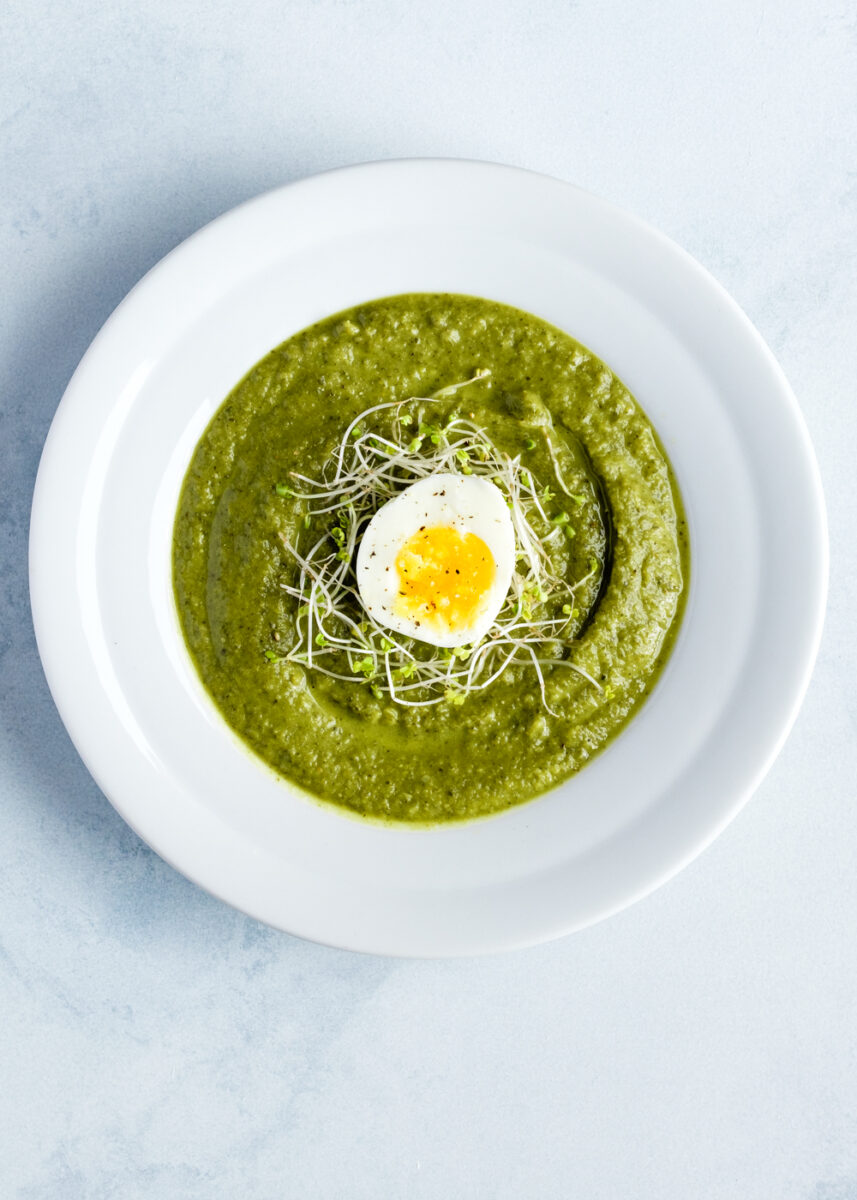 Print Recipe
Cauliflower, Collard Greens and Spinach Creamy Soup
An easy and nutritious creamy and hearty soup.
Ingredients
2 medium onions (I used one yellow and one red), chopped

3 cloves garlic, peeled, smashed and chopped

1 thumb-size fresh ginger, grated

1 thumb-size fresh turmeric, grated

1 parsnip, peeled and chopped

1/2 head cauliflower, florets

1 bunch collard greens, washed, thick part of stems removed, chopped

1 bunch mature spinach, washed and chopped

2 tsp Ras Al Hanout spore mix

avocado oil

water

salt and pepper to taste

Optional: boiled egg, extra virgin olive oil, broccoli sprouts
Instructions
1
Warm about 1 .5 quart water and have it on the stove, ready.
2
In a big soup or stew pot, add avocado oil and sauté the onions, until translucent, about 10 minutes. Stir regularly.
3
Add the garlic, ginger and turmeric, stir well ad sautéed for about 5 more minutes. Add a little bit of the warm water if it starts to stick to the pan.
4
Add the cauliflower and parsnip, stir well, add the Ras Al Hanout spice mix, stir well so everything is coated with spices and oil, add a little water if necessary. Cook for about 10 minutes.
5
Add the chopped green collards and the chopped spinach, mix well, add about 2 cups of warm water (or more, you want enough water to cook the veggies but not too watery (you can always add more later). add salt and pepper. Cover the pot and simmer on low heat for about 15 minutes, checking regularly.
6
Once the vegetables are soft blend the soup in a blender or with an immersion blender. Taste for salt and pepper. Adjust thickness if necessary. Serve with a boiled egg, hemp seeds, broccoli sprouts, sausage or bacon.
Notes
Add some extra virgin olive oil after blending or when you serve.