Converting classic traditional dishes from different countries and regions to healthier versions, aka lectin-free, is my passion. I absolutely love the process of re-creating these types of dishes.
Most of the time they are the result of my own travel and food experiences. But sometimes, like in this case, I am just being curious about what other people's favorite foods are.
I asked my Peruvian friend to tell me one dish that is signature Peruvian and everyone loves. And by that, I didn't mean ceviche (which by the way is the first dish he named). So he gave me Aji de Gallina.
Lectin free spicy creamy chicken with miracle rice, walnuts and Parmigiano
What I wanted was something that is less known and not really a fancy dish. Something that is Peruvian cuisine, a family favorite and it's considered comfort food. Aji de Gallina. I knew what 'gallina' means – hen – but this is something you don't really find in the western world. In Romania (where I come from) is a staple in cooking, old chicken – aka hens – makes the best soups, we say.
Back to Aji de Gallina, after a quick search, I knew I wanted to give it a try, although some of the ingredients were quite outrageous for a plant paradox girl (haha!). Like many of the recipes, I saw online suggested using one full loaf of bread to make the sauce (whaaat?). Simply adding two tablespoons of Cassava flour to the sauce made it so creamy and thick that I wonder where the idea of adding bread to such a good dish came from.
Evaporated milk was replaced with full-fat coconut milk, vegetable oil with avocado oil, and white rice with miracle rice (shirataki rice from Miracle Noodle).
Aji Amarillo
I did not have Aji Amarillo chili paste. And although my friend offered to give me some, I didn't know if that would be plant paradox compliant (but if red chili paste is, this one I linked must be too – probably because the peppers are roasted and skins and seeds are removed) so I passed on the offer.
I decided to use whatever chili paste or spicy sauce I had at home. I ended up using red chili paste and Smoked Jalapeño Sriracha from Wild Brine.
My dish was not really spicy, simply because we don't eat spicy. But you can double or even triple on the quantity of chili paste if you want a spicy creamy chicken.
Making a healthy Aji de Gallina
A little bit about the process. First, you have to make the chicken stock and in the process boil the chicken. For that, you have to use pasture-raised chicken with bones. I had one chicken carcass, half of the full breast, and two wings frozen, so I used those. You can use the full breast with bones, or a mix of breast and tights, whatever you want but with bones. I boiled the chicken with one carrot, one parsnip, celery and onion for about 30-40 minutes (until the chicken is cooked).
The vegetables will be discarded and you will use some of the stock (I had a big jar left I stored for later use). You will also need some hard-boiled eggs, so go ahead and make that in advance if you want to plan. The miracle rice – or whatever you are using for serving can be also made in advance because the actual dish doesn't take that long.
Since I never tasted the authentic dish, I can't compare. But I promise you everyone in your family will love this healthy Aji de Gallina recipe – and I hope my Peruvian friends will do too.
More chicken recipes
For more delicious chicken recipes, make sure to try below:
*This post contains affiliated links, which means I get a small commission if you choose to purchase something via one of my links, at no extra cost to you.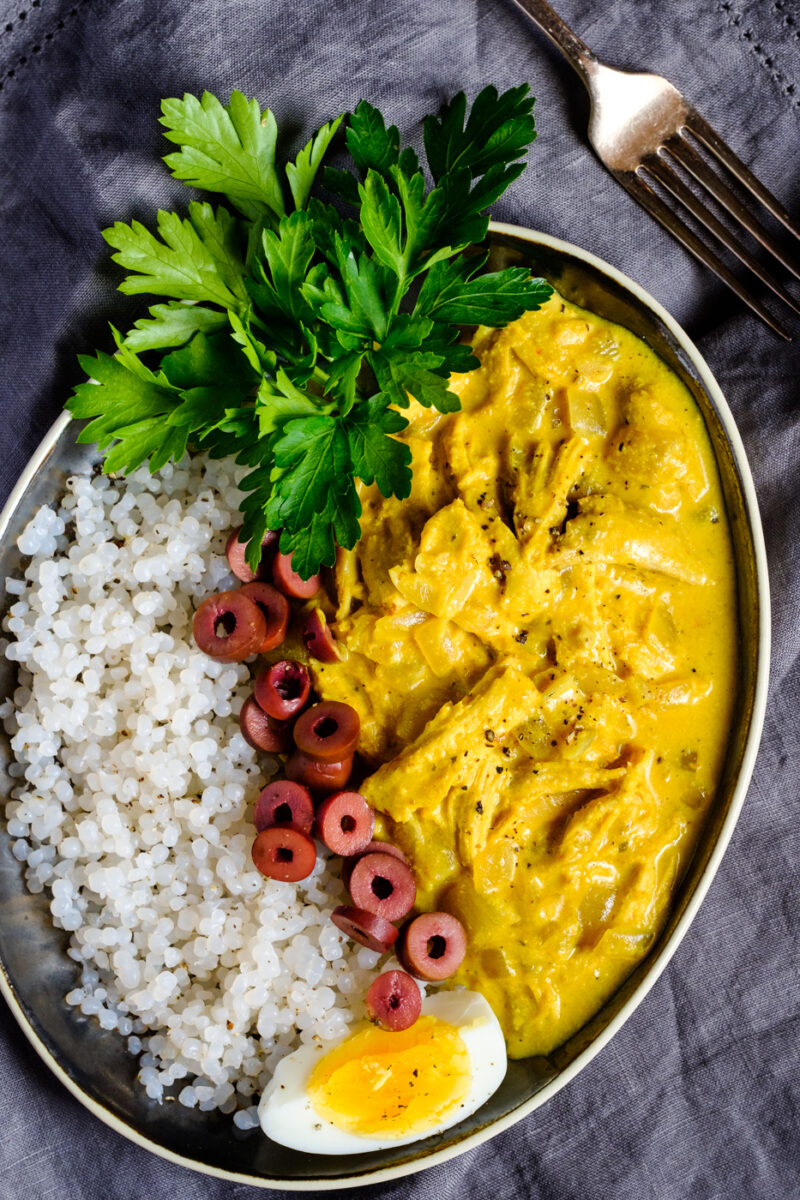 Print Recipe
Ahi de Gallina, a Classic Peruvian Made Healthy
Comfort food made healthy: a lectin-free spicy creamy chicken.
Ingredients
FOR THE CHICKEN STOCK:

Chicken with bones (one full breast from a chicken on bones OR breast mixed with tights plus a chicken carcass if you have one).

1 yellow onion

2 big stacks celery

1 carrot

1 parsnip

FOR THE DISH:

shredded chicken (about 2, 3 cups)

1 cup chicken stock

1 can full coconut milk

1/2 cup walnuts

1/2 cup grated Parmigiano Reggiano

2 tbsp Cassava flour

1 big yellow onion, chopped

2 big garlic cloves, smashed and chopped

2 tbsp avocado oil

1 tsp red chili paste + 2 tbsps Smoked Jalapeno Sriracha (or any compliant hot sauce)

2 tbsp turmeric powder

salt and pepper to taste

kalamata olives, 2 hard-boiled eggs (pasture-raised and fresh parsley for serving

3-4 bags of miracle rice (to serve 4)
Instructions
1
Make the chicken stock. Put the chicken, roughly chopped vegetables in cold water and boil for 30 to 40 minutes until chicken is cooked. Strain the stock, take the chicken out and when cold shred all the meat on the bones (minus the skin). Discard the vegetables. You only need one cup of the stock so you can store the rest in the fridge for later use.
2
While the stock is cooking, hard boil two pasture-raised eggs, by boiling them for at least 5 minutes (counting from the moment the water starts boiling. Peel them and put them on the side.
3
Prepare the miracle rice as per the instructions on the pack: drain, rinse, boil and dry.
4
Chop one big yellow onion and the garlic cloves. Sauté them in avocado oil in a big pan, until fragrant and translucent, about 5 minutes. While the onion and garlic cook, mix in a blender until creamy: coconut milk, chicken stock, walnuts, parmesan and cassava flour.
5
Add the shredded chicken to the onion mix, add the chili paste or whatever spicy sauce you are using, mix well so everything warms up, add the blender mixture and bring to a boil (on low to medium heat). Add turmeric, mix well and simmer for another 5 minutes. Add salt and pepper to taste.
6
Serve the creamy chicken with miracle rice, fresh parsley and boiled egg and sprinkle with kalamata olives.
Notes
This makes four generous portions, or more if some of the people eating are small children. We used two miracle rice bags for 2 people, so depending on how you like miracle rice and how many people are eating, you can prepare one per person or 3 bags for 4 people. I personally think half a bag is too small for one person.