Having a delicious baked chicken satay when you don't eat soy and peanuts is now possible. It all started with finally creating a satay sauce that was pretty close to the original, without peanut butter and soy sauce. It was only natural to create the chicken skewers that go perfectly with the sauce. And this is how this easy, juicy, and flavorful baked chicken satay recipe came together.
While chicken skewers are traditionally grilled, I don't have a grill, and I know many of us don't have access to one, or sometimes we don't want the smoke that comes with making a grill on the stove. I love the oven-baked version, but you can use the same recipe and change the cooking method.
How to make the satay sauce without peanuts
While the satay sauce is traditionally made warm at the same time as the chicken, I created a version that can be made in advance, stored in the fridge, and warmed up a few minutes before the chicken is ready.
To make this a super simple meal to prepare, I recommend making the sauce in the morning or one day before. This is where you find the recipe for the Satay Sauce without peanuts. Don't worry; it's super easy and fast.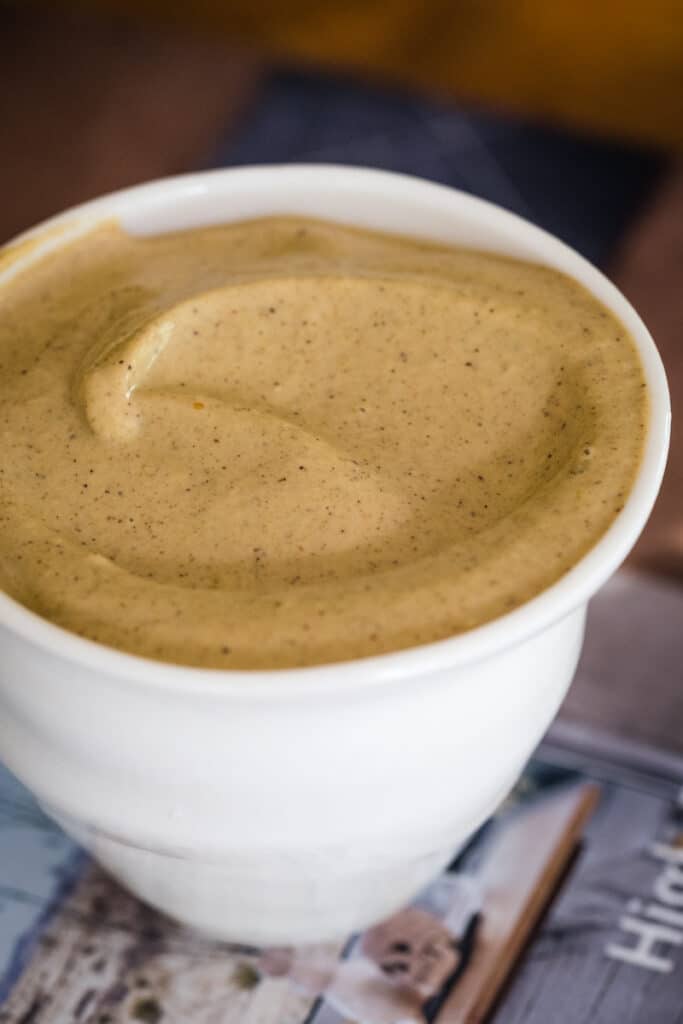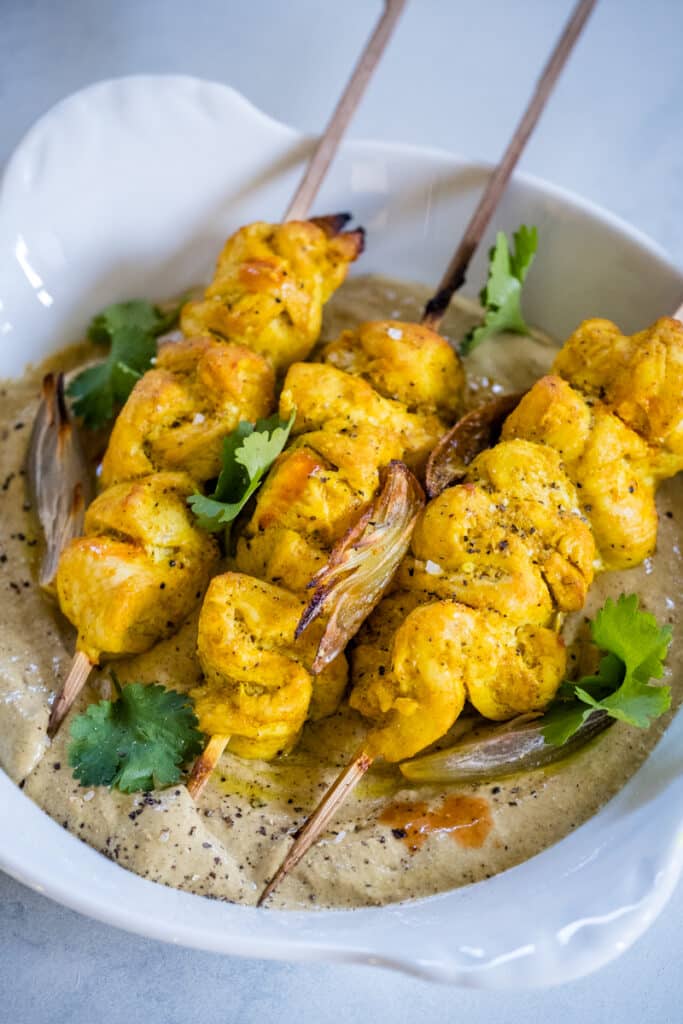 Make the baked chicken satay
This chicken needs to marinade; the longer, the better. That's another opportunity to make the easy marinade in the morning and let the chicken marinate until dinner time. You can also let it marinate overnight, but I avoid such long times because of histamine sensitivities.
So when you are ready to eat, you will need 10 minutes to make the marinated chicken skewers and 15-20 minutes for the chicken to cook in the oven, while you can prepare a side dish, and that's an easy and fast dinner.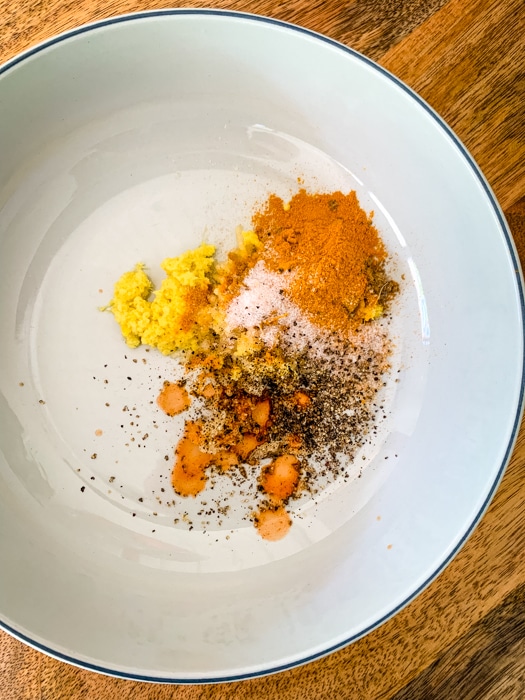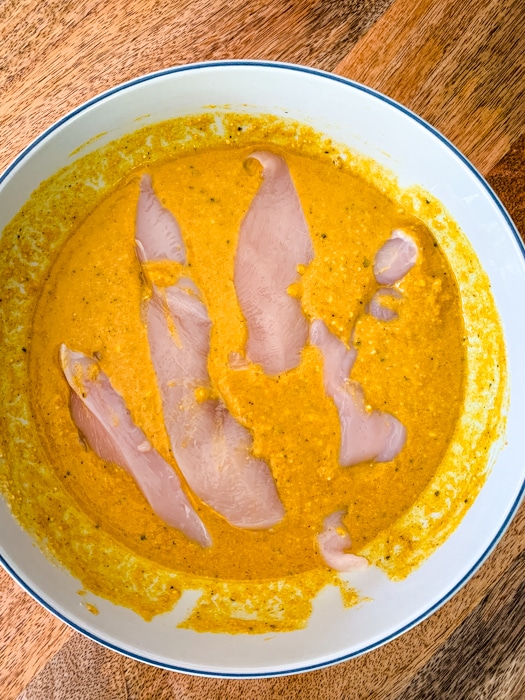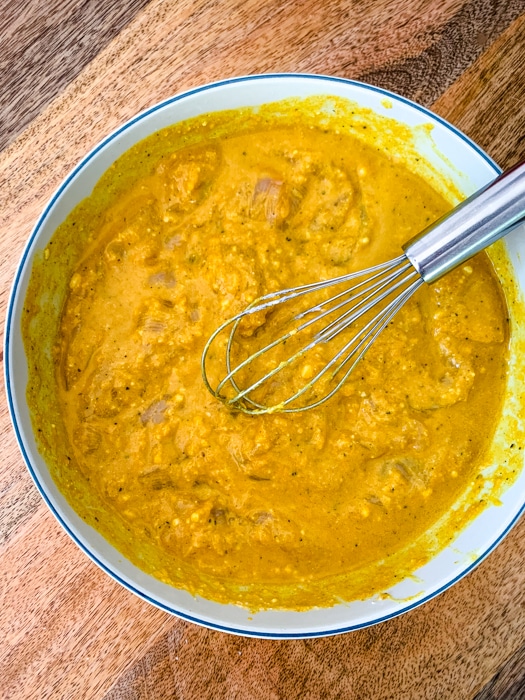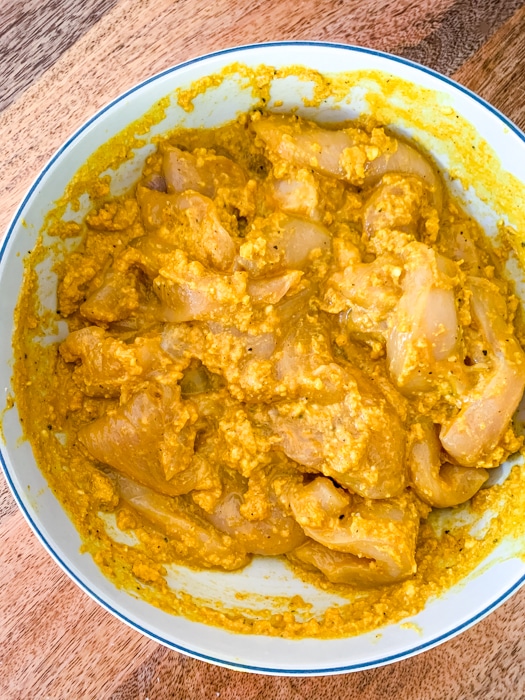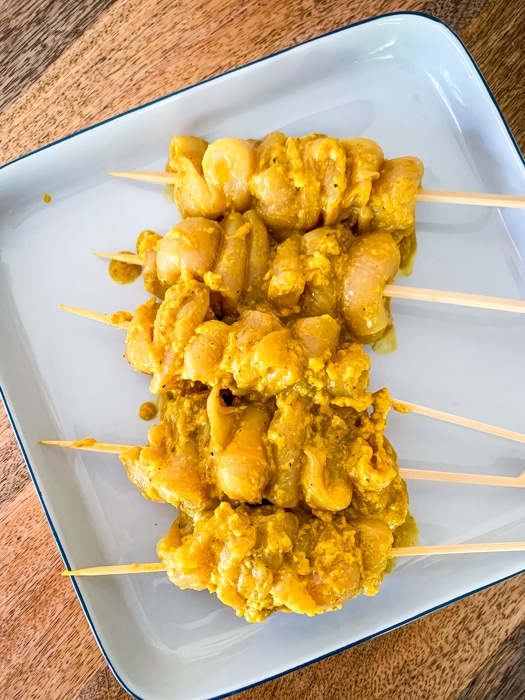 Cooking method: baking the chicken satay in the oven
If you have a grill and it's easy to use, you can use this same recipe and change the cooking method. I don't have a grill at the moment, and I'm not a fan of grilling on the stove because of the smoke/smell, so I use the oven whenever I can.
I also have a new oven, and I tried the grill setting and loved the result. And I made this chicken on both the normal baking setting at 400F (200C) and with the grilling setting, for which a temperature of 220C is recommended.
I think the grilling method gives a better result, but the difference is just slight. For the first one, the chicken was ready in 20 minutes, and for the second, in 15 minutes.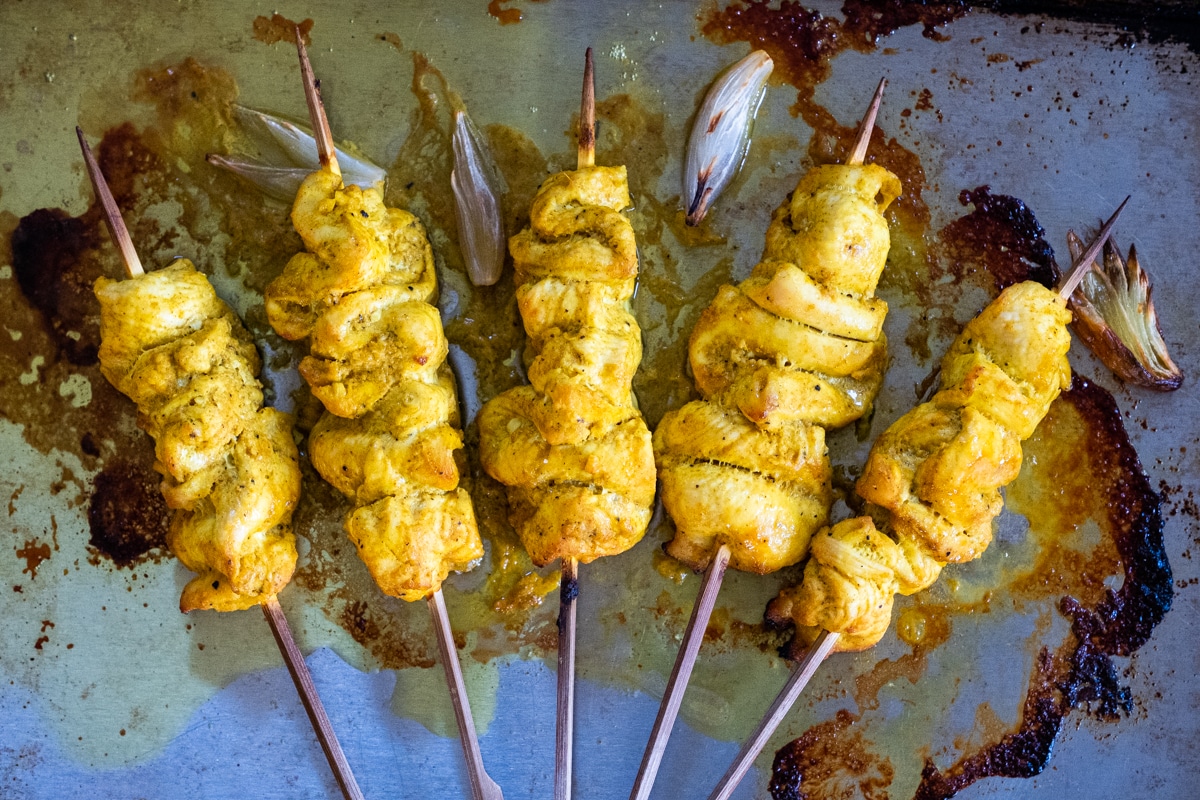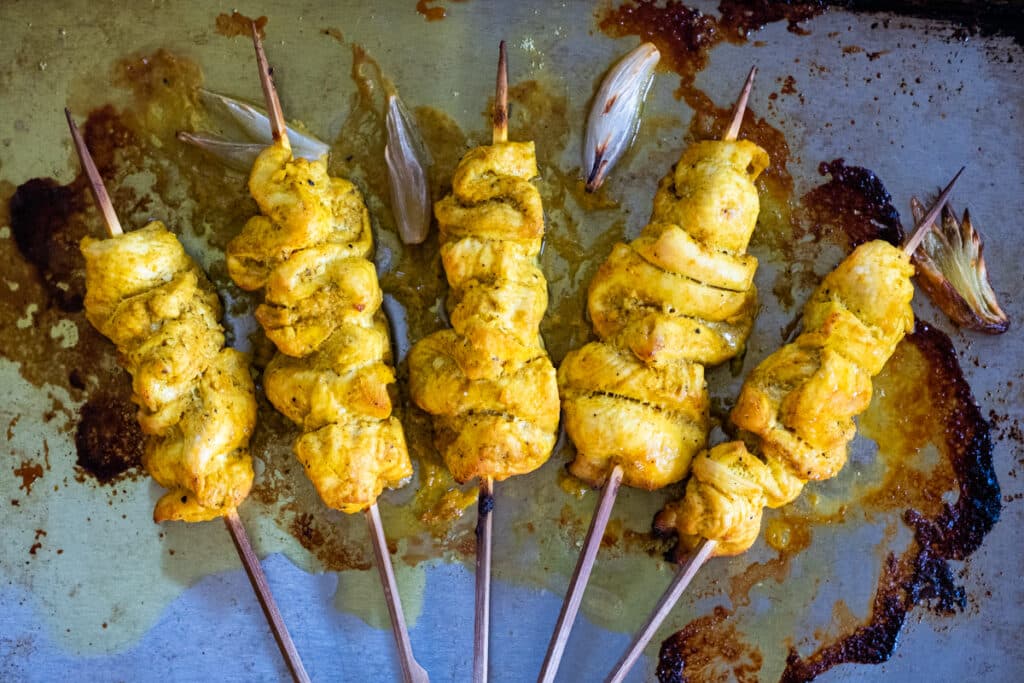 The chicken is cooked through but soft, juicy, and full of flavor from the marinade.
How to serve the lectin-free baked chicken satay
This chicken can be part of a tapas-style meal, be served as an appetizer, use smaller skewers or serve as a main dish.
We like it as a main dish, and my favorite side to have with this dish is boiled savoy cabbage. You need to boil some water in a pot, add some salt, and boil the cabbage cut in four wedges until tender but not too soft. It only needs about 5 minutes.
Let it drain in a colander, arrange on a serving platter, sprinkle with good quality sea salt flakes, freshly ground pepper, and drizzle with lots of good quality extra virgin olive oil. It goes perfectly with the baked chicken satay.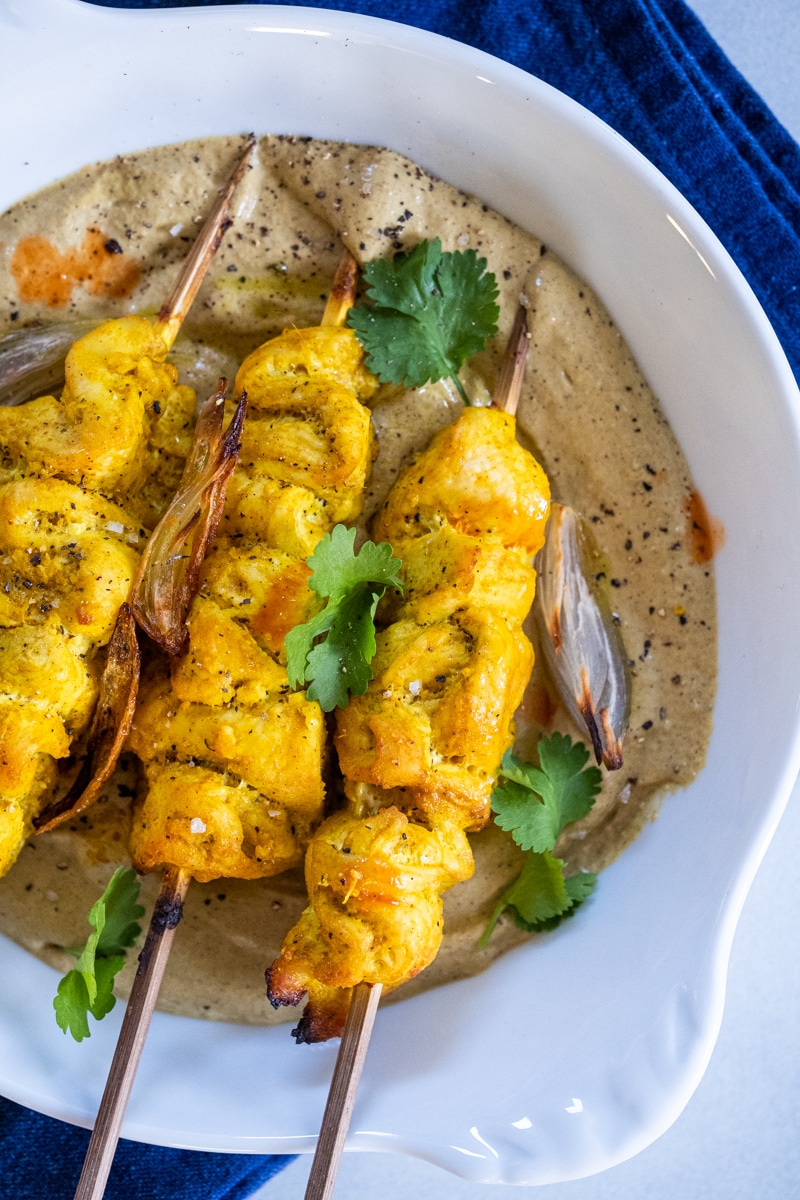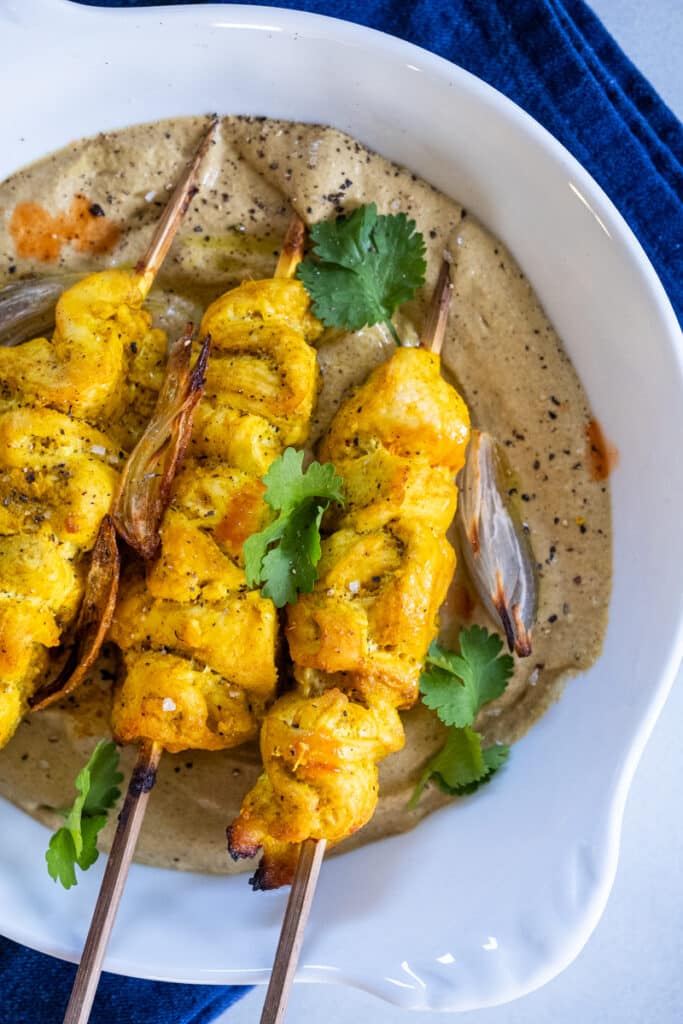 More chicken recipes
If you like this baked chicken satay recipe, you might also like:
*This post contains affiliated links, which means I get a small commission if you choose to purchase something via one of my links, at no extra cost to you.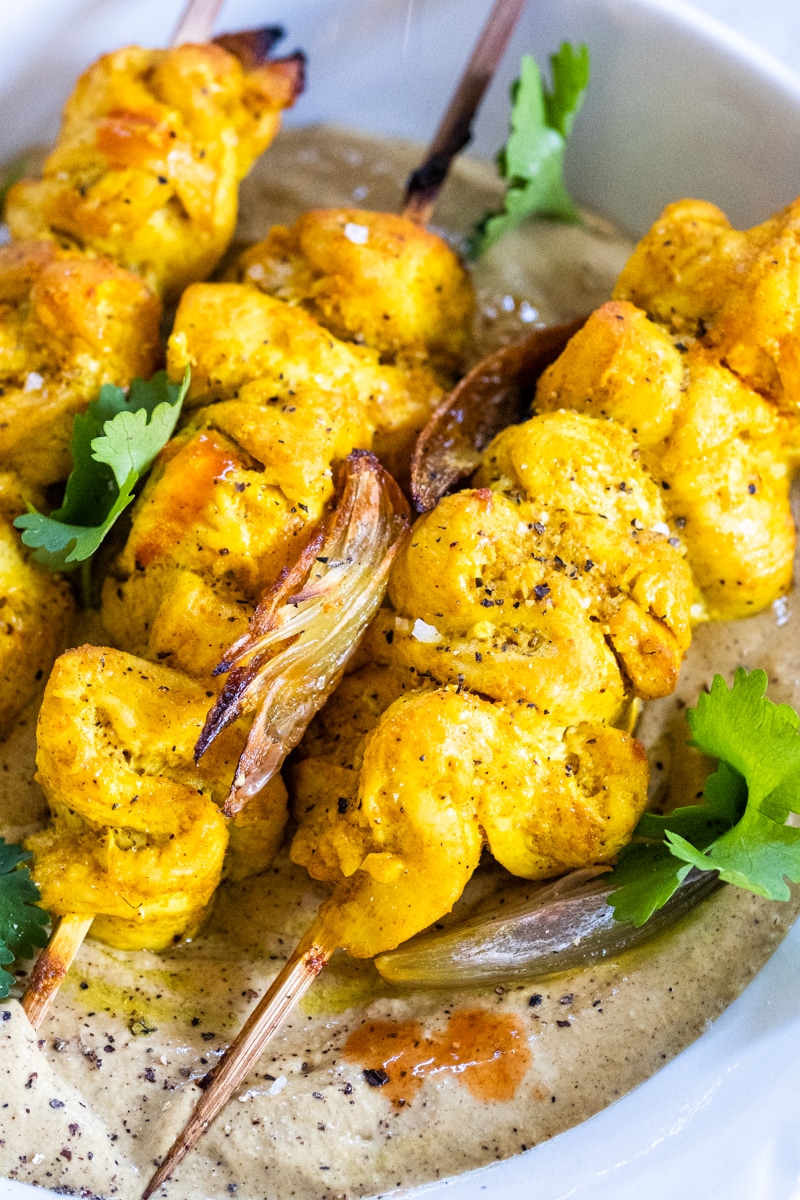 Print Recipe
Lectin-Free Chicken Satay (No Peanuts, No Soy)
Tender, juicy, and flavorful lectin-free chicken satay made in the oven, perfect for an easy and delicious dinner. No peanuts or soy were used in this recipe.
Ingredients
1 cup lectin-free satay sauce (check post for a link to recipe)
1 lbs / 400 grams skinless, boneless chicken breast (pasture-raised)
1/2 cup full fat coconut milk
3 tablespoons extra virgin olive oil
3 big garlic cloves, grated or mashed
1 thumb-size piece ginger, grated
1 teaspoon coriander powder
1 teaspoon turmeric powder
1 teaspoon salt
juice of 1/2 lime
1/2 teaspoon ground pepper
5-6 drops red tabasco (or more if you want them hot)
1, 2 shallots
Tools: you need bamboo or wooden skewers (pre-soaked)
Instructions
1

Cut the chicken and portion it into thin strips. They don't all have to be the same length (that's not possible) but about the same thickness and width.

2

Make the marinade by mixing all the ingredients, except for the chicken and the shallots, in a mixing bowl or a bigger glass container with a lid (the chicken can be covered and put in the fridge to marinate).

3

Add the chicken strips to the marinade, toss well, cover the bowl or the container, and place in the fridge until you are ready to cook the chicken. For best results, try to marinate it for at least 2 hours, it can even be done overnight.

4

After you prepare the chicken marinade, soak your bamboo skewers in water, the more the better (so they don't burn).

5

About 40 minutes before the meal, preheat the oven to 400F/200C or, use the grill setting if you have that, with 220C.

6

Take the chicken out, skewer the strips onto the bamboo/wooden skewers, and arrange them on a baking sheet. Add the quartered shallots to the pan.

7

Bake for about 20 minutes at 400F, on a normal baking setting, or for about 15 minutes on the grill setting. At about half time, you can turn them.

8

Meanwhile, add the satay sauce to an ovenproof serving dish and insert it in the oven for a few minutes, for the sauce to get warm.

9

When the chicken is ready, arrange the skewers on the serving dish, on top of the warm satay sauce. Garnish with fresh cilantro, freshly ground pepper, sea salt flakes, red Tabasco if you want, and the shallots.

10

Serve with boiled savoy cabbage or with a big, green salad.
Notes
This quantity makes about 2, 3 main portions, depending on who is at the table and their need for protein and appetite (my husband's portion will be bigger than mine, for example). Or, this can be served as an appetizer or part of a tapas-style dinner, and it will be enough for 5, 6 people. I made 5 big skewers but you can make 6 smaller ones.