It's summer and peaches are in season and peaches in Texas are especially awesome. So I'm trying to put them to good use as long as they are in season, with this grain-free peach tart with almond and green banana flour. A tart that is also lectin-free and sugar-free.
There are many myths out there that you can't have fruits at all if you are following the Plant Paradox program. But this is not true at all unless you are on the keto intensive program. Having fruits in season, in moderation and preferably grown locally is just common sense and how it should be.
Guilt-free summer treat
Fruits are also not allowed during Phase One, which is a three-day cleanse to kick start the program, but more about this here.
So back to this grain-free peach tart with almond and green banana flour. When I bought these two peaches for the tart I had quite a dilemma. Peaches are on the dirty dozen list, which means they are full of pesticides if they are grown conventionally. I can't find any Texas peaches that are organic. So I had to choose between California, organic peaches, which were those perfect round, big peaches, and Texas peaches, that looked more what I remember peaches looked in my childhood, but conventional.
I ended up going with the Texas peaches, because I figured having two peaches with pesticides is not going to kill me, and supporting local farmers is quite important to me. Now I wonder how the Texas conventional peaches if analyzed, will compare with those too good to be true-looking organic California peaches.
A recipe with green banana flour
I didn't want a lot of dough, that's why I opted for a tart, not a pie. I've never made this before so it was an experiment, but it came out nicely, hence I'm sharing it here.
I used a combination of almond flour and green banana flour. The latter is my latest obsession when it comes to grain-free baking. I love the taste and texture, and I think green banana flour compliments almond flour really well. I also used some tapioca, to make sure it sticks together. It has one egg, butter, swerve and vinegar.
Check all the ingredients in the recipe below. If you want it a little richer, add one extra peach. I only had two and I had to space them out quite a bit to fill the dough (I used two medium-sized peaches).
If you follow this blog for a while, you know I'm obsessed with adding Turmeric Tonic from Further Food on anything. So this was no exception. It is my way to add more nutrition and taste to food, but it is totally optional (or you can use some cinnamon instead). If you haven't done that yet, you can use my code 'CREATIVEINMYKITCHEN10' for a 10% discount on your first purchase. It now comes in a much bigger size which I love.
In case you have troubles finding it in stores (like I did), this is the green banana flour I use and you can order it from Amazon. Another ingredient I had trouble finding in stores is cacao butter, at the moment I use Navitas brand (I don't have a preference yet but that's what I found and it has a decent price compared to some other brands).
A grain-free peach tart not too sweet
Just a heads up, if you made any of my recipes before you know I don't make stuff that tastes too sweet, once I always have very small quantities of sweeteners in my recipes. So don't expect too much sweetness from this – just setting the expectations haha. I hope you like it, I sure enjoyed it with a cup of coffee.
*This post contains affiliated links, which means I get a small commission if you choose to purchase something via one of my links, at no extra cost to you.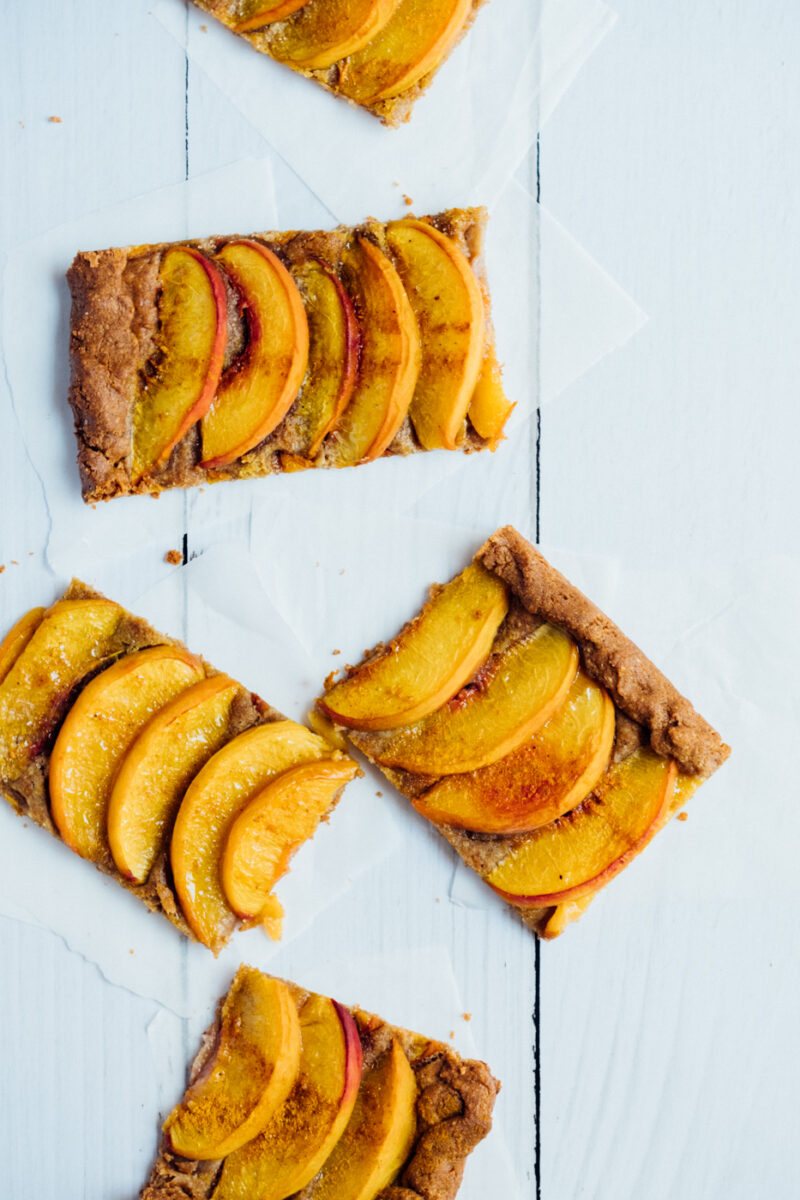 Print Recipe
Grain Free Peach Tarte with Almond and Green Banana Flour
Grain-free, sugar-free summer peach tart
Ingredients
2-3 medium-size peaches, sliced

1 cup almond flour, fluffy (that means don't press it down, measure it as you pour it in the cup)

1/4 cup green banana flour (same as above, don't press it down)

1/4 cup tapioca flour (same as above)

5 tbsp grass-fed, French or Italian butter, cold, cubed

1 egg

1tsp Swerve

1/4 tsp salt

1/2 tsp vinegar (you can use apple cider or any good quality vinegar you have, but not balsamic)

1/2 tsp cream of tartar

1/4 tsp baking soda

2 tsp water

1 - 2 tsp monk fruit sweetener (I use Golden)

few sprinkles of cacao butter (grated) - optional

1 scoop of Turmeric Tonic - optional
Instructions
2
Mix almond, banana, tapioca flours with salt, cream or tartar and baking soda.
3
Mix the egg with Swerve and vinegar, and add the mixture to the flour mix. You can mix it with a dough electric mixer, or a food processor. I used a food processor but I needed to work it extra with the hands as the tapioca and banana flours are very powdery and they spread all over the walls of the food processor. Add some water if you feel like it needs more moisture, but not more than a few tsps.
4
Put this mixture in a big bowl and add the cold, cubed butter, and mix with your hands until everything is combined but you still have lumps of butter. Shape it in a ball, cover and refrigerate for about 30 minutes.
5
After 30 minutes take it out, put the ball on a parchment paper, flatten with the hands and cover with another parchment paper and roll in a thin sheet (as thin as you can do it so it doesn't break and can hold the peaches). Slowly remove the top paper, and carefully transfer the dough with the bottom paper to a baking sheet.
6
Add the sliced peaches on top, in whichever shape you want, push the sides in a little bit, sprinkle 1 or 2 tsp of monk fruit sweetener on top and bake for about 40 minutes at 350F.
7
Optional - Grate some cacao butter on top. I also sprinkled some Turmeric Tonic from Further Food, it is also optional.
Notes
While I was writing this I realized that writing the recipe makes it look much complicated than it is, but it is in fact an easy recipe to make, especially if you have a tiny bit of training in the kitchen. FYI, the preparation time includes the time in the refrigerator, so it won't take an hour to prepare it. Let it cool before your slice it.